Did you know that the oldest public library in the UK is Chetham's Library in Manchester?
This ancient book trove was founded in the 16th century by Humphrey Chetham as a gift to the city and has had many famous historical figures use its archives including John Dee and Karl Marx.
You do have to book a guided tour to explore the medieval buildings but I assure you that it is well worth your time and money.
If you're a Potterhead, you will absolutely love Chetham's Library as it looks like something straight out of a Harry Potter movie set.
You can meander down their ancient cloisters and feel like you've entered the restricted section of Hogwarts Library (no invisibility cloak required)!
Here is how to visit Chetham's Library in Manchester & all the details you need to know.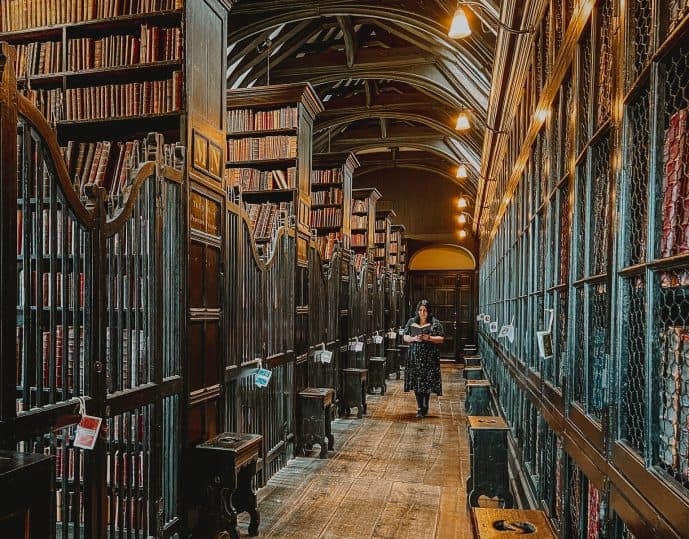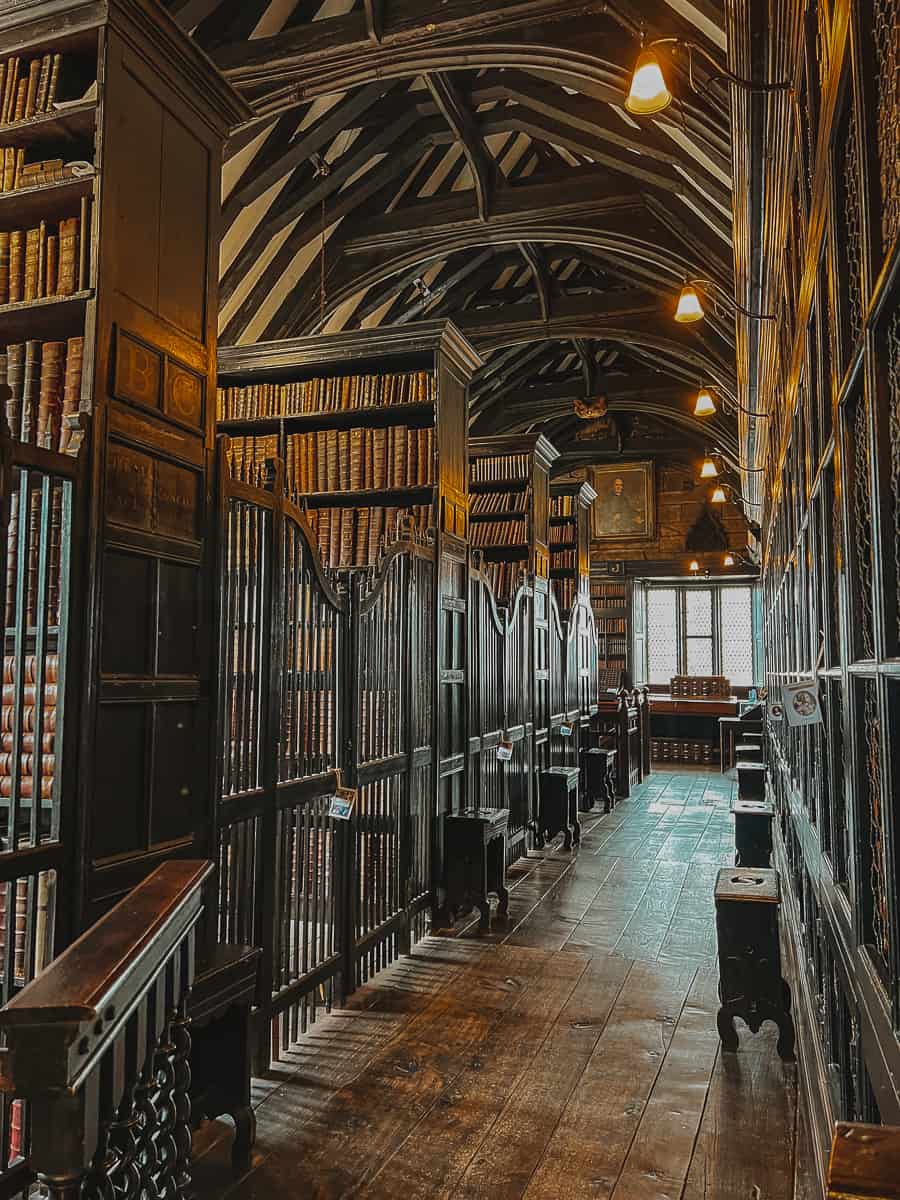 What is Chetham's Library?
Chetham's Library is not only the oldest public library in the UK but also the oldest free public reference library in the English-speaking world!
It was founded by Humphrey Chetham (believed to be pronounced Chee-tam) who believed that education and knowledge should be free to access for all.
He gifted this library to the city on the condition that it would remain free to visit and anyone, no matter their background, could access the books and read what they wanted.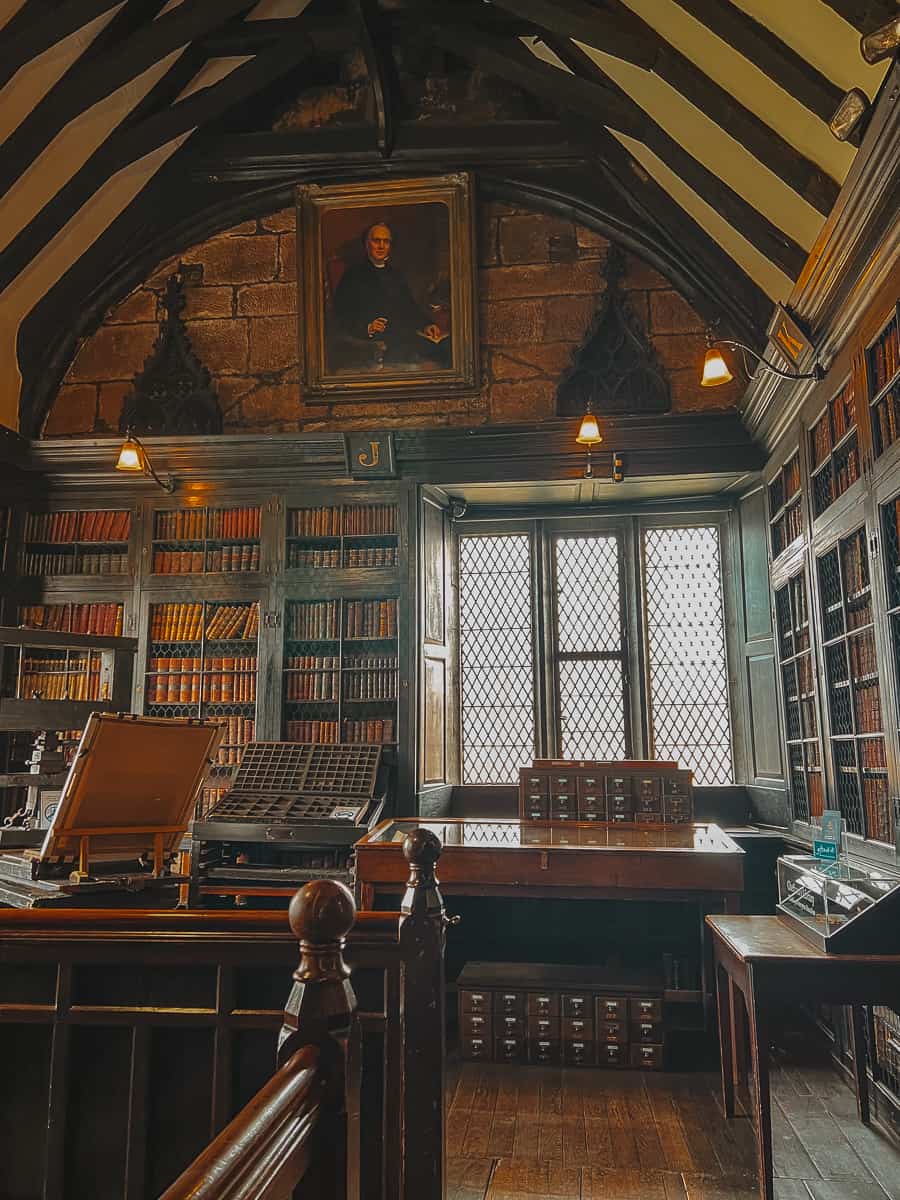 The library holds around 120,000 tomes and many of these were printed before 1851. Plus, they have many manuscripts and medieval texts in their collection.
They continue to collect books, mostly about local culture, for future generations. Many of these are also digitized for public access online.
Today, Chetham's Library is still a working public library in Manchester and an accredited museum where you can book a guided tour of the historic medieval rooms.
Chetham's Library history
Chetham's Library was founded in 1653 by Humphrey Chetham, a wealthy banker, textile merchant, and landowner.
He purchased a set of medieval buildings called 'College House' that was originally built in 1421 but was subsequently abandoned after the English Civil War and was falling into neglect.
His idea was to create a free library and a 'hospital' for forty poor boys to provide them with education.
After the purchase, Humphrey Chetham then set out to acquire a large collection of books for the library archives to rival the colleges of Oxford and Cambridge.
To avoid damp damaging the tomes, the library was placed on the first floor and to avoid theft they were chained to the bookshelves.
Twenty-four carved stools with 'S'-shaped hand-holds were provided as seats for readers to move around the shelves. Fun fact, these original stools are still in use today!
Over the centuries there have been many famous figures who have haunted these halls. One of those is John Dee who was an advisor to Queen Elizabeth I.
He was a mathematician but gained a reputation as a 'sorcerer' due to his fascination with astronomy, astrology, dark magic, and the occult.
Dee worked at Chetham's for a time whilst he was a warden at the college, although his darker interests meant he wasn't very popular. They still have five books from his original library collection.
Also, you will see an alcove where Karl Marx and Friedrich Engels researched texts here to create The Communist Manifesto.
The library has remained a free public library for over 350 years and still adheres to the conditions that were stipulated in Humprey Chetham's last will and testament.
Where is Chetham's Library in the UK?
Chetham's Library is located in the city of Manchester which is in the north-west of England. You'll find these historic buildings in the heart of the Medieval Quarter.
This is in touching distance of Manchester Cathedral and can be found almost opposite the Football Museum. The library lies within the grounds of Chetham's School of Music and Stoller Hall.
Manchester is a very easy city to access in the UK as Manchester Piccadilly Station connects you by train with most major cities. It takes only 2 hours to visit Manchester from London by rail.
Manchester is very easy to explore on foot but they do have many transport options like buses, trams, and a metro link to get around.
The nearest tram stop to Chetham's would be Victoria Station and the nearest bus stop would be Corporation Street.
Chetham's Library address is Chetham's School of Music, Long Millgate, Manchester M3 1SB. Click here for a Google Pin!
How to visit Chetham's Library
The only way that you can visit the historic rooms at Chetham's Library is by a guided tour. These are run by expert volunteers .
As the library buildings share the grounds with Chetham's School of Music, all tours take place on a weekday and must be booked before you visit.
Ticket slots are released around a month in advance so make sure to set a reminder in your calendar to guarantee a booking for your travel dates.
Tours usually take place from Monday – Friday at 11 am, around 1 pm, and then again around 2/3 pm.
They often run evening events like 'Chetham's after hours' where you can see it lit up after dark!
Click here to book a tour of Chetham's Library
How long is the Chetham library tour?
Tours of Chetham's Library last for around an hour and I was pleasantly surprised at how much of the medieval buildings we got to see on the visit.
Also, it was an amazing opportunity to learn what medieval Manchester was like during the time when this library was built. There is precious little left of Tudor Manchester in the city these days.
We didn't just explore the ancient library, we also got to see many of the rooms here that were used by famous figures throughout history like John Dee and Karl Marx.
There's so much more to this tour than just exploring the magical library and I would definitely recommend leaving some time in your Manchester itinerary to go.
Chetham's Library tour prices
Chetham's Library tours cost £12 per adult, £10 for students and concessions, and £6 per child (13+). Under 12s get in for free.
After having been on the tour myself, I found it great value for money as we got to see and learn so much.
The money they make from these tours helps to fund the library and the great work they do to preserve these historic buildings. But, it also helps their educational programmes as well.
Chetham's ethos since its foundation has always been that access to knowledge should be free to anyone and without condition and your contribution is vital to maintain that oath.
Things to see on a Chetham's Library tour (review)
So, on the day of your visit, you should make your way over to the welcome desk for Chetham's.
As the medieval museum buildings are on the Chetham's School for Music grounds, you will have to wait outside the gates until your tour guide comes to collect you.
You'll be given a lanyard with a visitor pass that you have to wear at all times and then you'll make your way through the courtyard to the historic college buildings and library.
It's hard to imagine today that medieval Manchester outside of these walls was quite poor and there were many slums that surrounded this college back in the 16th century.
Being surrounded by poverty was probably the major reason why Humphrey Chetham wanted to create a free library and hospital school for the poor.
Today, you just see high-rise buildings, wealth, and industry. But, back then, it would have been a bustling area around a river filled with markets, pilgrims, and hordes of people.
Cloister Court
As soon as you enter the medieval buildings, it will feel like a step back in time with its timber-framed cloisters that look like something out of Hogwarts.
Today, these cloisters have flagstone flooring, doors, and windows. But, in Chetham's era, it would have been a spartan earth floor and the place was filled with rushes.
The cloisters are on a quadrant that leads you to many of the Fellows of the College rooms and to public spaces like the Great Hall and the historic library on the first floor.
There were no windows here in medieval times and so this area would have been freezing! So, many of the scholars at the college would have met in the Audit Room.
The Audit Room
The Audit Room was a place where guests/dignitaries would have been welcomed and Fellows of the College would have met.
As many of the rooms and cloisters had no fire, this room would have been much more preferable and cosy due to the fireplace.
Inside, you'll find a large oak table to sit on and several ladderback oak chairs dating back to 1770.
Here, we learned about how Dr. John Dee used to work here and his love of the occult meant that he wasn't very popular with the Fellows of the College.
There is still a table left behind from his era and a local legend says that a burn mark scorched into the table was made by the hoof of Satan after Dee summoned him!
If you look up at the ceiling, you'll find some quirky moral reminders to be 'good' and the consequences of evil. An interesting sculpture, similar to an eves-dropper, was of a Devil who appears to be eating an angel whole.
There are lots of hidden gems to find here including portraits of famous fellows, sigils of Chetham's family tree, Atom's Cruciform, an old clock, and an ornate fireplace.
Baronial Hall
Next, you'll make your way into the Baronial Hall which was where the students and fellows would eat.
It's a great example of a medieval timber hall and again it would have been an earth floor laid with rushes in Chetham's time.
In the corner, you'll find a kitchen and at the back of the room, you can see a huge fireplace. Back then, there were no chimneys and so the entire room would be filled with smoke!
There is a raised dais at the far end of the room and this is where the fellows and dignitaries would sit and dine at the high table.
The students would then sit on long tables below to take their meals (kind of like Hogwarts Great Hall).
If you look around the room, you'll find sigils of a gryphon, Cromwellian weapons and a bust of Humphrey Chetham.
Plus stained-glass windows, historic portraits, and a round chandelier that would have been candle lit.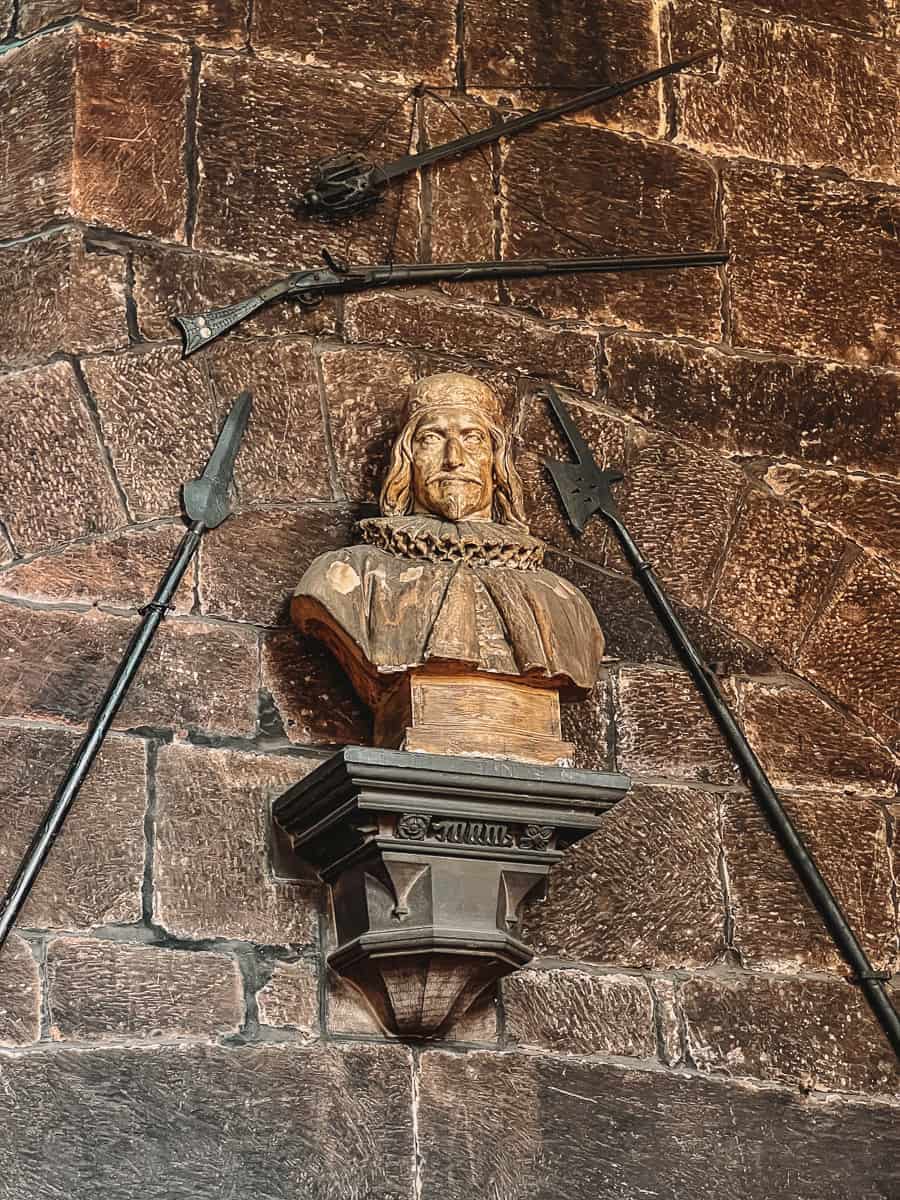 Chetham's Library
After the Great Hall, it was finally time to visit this incredible library and I was so excited to finally see it in person.
The library was like you had stepped back in time as it had high-arched timber-framed ceilings, busts and ancient portraits.
All of the historic tomes were shelved on dark oak bookshelves and locked away in different cases and alcoves.
You could still see the original oak stools that were used back then when the books were all chained to the shelves.
I've seen this library so many times on social media but seeing it in real life was breathtaking! It's the perfect place to study or read one of my Romantisy novels.
Reading Room
Then, we entered a large Reading Room where studying and important meetings would take place. Back then, it would have been part of the Warden's accommodations.
There was a large round table with original oak furniture from Chetham's time. These were purchased in the 1650s to hold meetings of the feoffees.
A large fireplace can be found at the back with a portrait of Humphrey. You'll also see ornate carvings of his coat of arms flanked by symbols of knowledge and learning.
In this room, we could see an example of a chained parish church library and the famous alcove where Karl Marx and Friedrich Engels studied to produce The Communist Manifesto.
You can find the exact texts that they used to research on the table display.
See a chained book library!
Years ago, to stop people from taking books from the library all of the books here used to be chained to the bookshelves.
You'll see many stools perched up on the side of the library corridors and these stools were transportable so a reader could take it with them to sit and read the book whilst it was chained up.
Although many of the books in Chetham's today are no longer chained, they did have an example of what it used to look like in the Reading Room.
I loved the fact that many of the books were shelved page forward. But, I do wonder how the librarians were able to tell which book was which this way if you couldn't read the title on the spine!
Free time to explore
After that, we were free to explore the library at our leisure and browse the entire upper floor.
You will find shelves upon shelves of old books to gaze upon and as a huge reader I was in my element here.
I honestly felt like I was walking through the restricted section of Hogwarts Library. Funnily enough, I actually brought my Advanced Potion Making book for a few photos whilst I was here.
Love Harry Potter? Click here to see all of my Harry Potter travel guides!
Final thoughts – my honest Chetham's Library tour review
I knew that I was going to see this fabulous historic library on my Chetham's Library tour but I had no idea that we would be exploring an entire complex of medieval buildings.
It was fascinating to see how well-preserved the entire place was. All the books, furnishings, and portraits were so perfectly preserved!
My guide was fabulous and I found the entire tour very informative. I am so glad I decided to book, it's well worth planning ahead for.
The entire place was so magical and it felt like you'd entered a Harry Potter movie. If you're a history lover, bibliophile, or a Potterhead – you won't regret booking this tour!
Explore Manchester's Medieval Quarter
I have to admit that whenever I've been to Manchester I've only ever seen the modern and industrialised areas of the city like the canals, shopping centres, and music stadiums.
There's precious little that remains of Tudor Manchester aside from Chetham's and so I was interested to seek it out.
As a lover of history, I was happy to find an entire historic area and it was filled with amazing timber-framed buildings.
At the heart of the Medieval Quarter, you will find Manchester Cathedral. This impressive building is completely free to enter and is a lovely peaceful space.
You will find a statue of Humphrey Chetham inside along with lots of modern artworks and stained glass windows.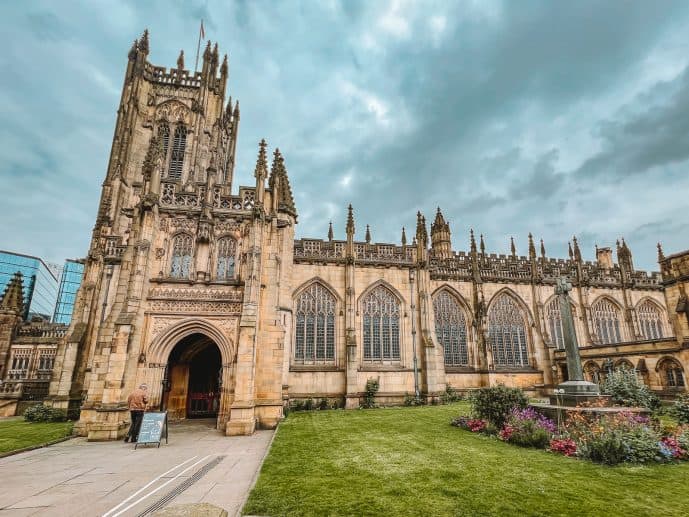 If you were looking for a pick-me-up, I would recommend checking out some of the historic pubs and inns around 'Shambles Square'.
The Old Wellington is right next to the cathedral and is a lively pub with an outdoor seating area. It's one of the only surviving Tudor buildings in the city.
You can also visit Sinclair's Oyster Bar, the Crown & Anchor, and the Mitre Hotel. All make a great historic stop after you've explored this medieval library.
Looking for more bookish things to do in Manchester?
If you're a bibliophile, there are plenty more bookish things to do after your tour of Chetham's.
One of my favourite Manchester libraries has to be John Ryland's Library. You will feel like you've landed straight into Hogwarts.
The producers of the Harry Potter movies actually used this library as the inspiration for the movie sets and so you will love exploring their historic reading room, staircase, and cloisters.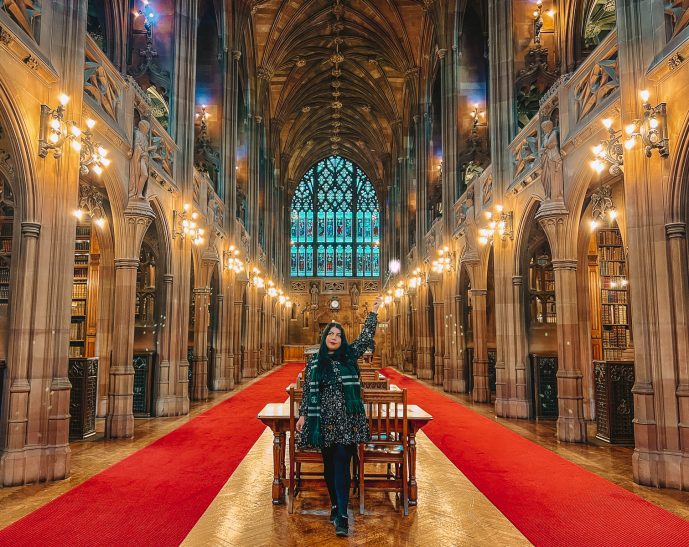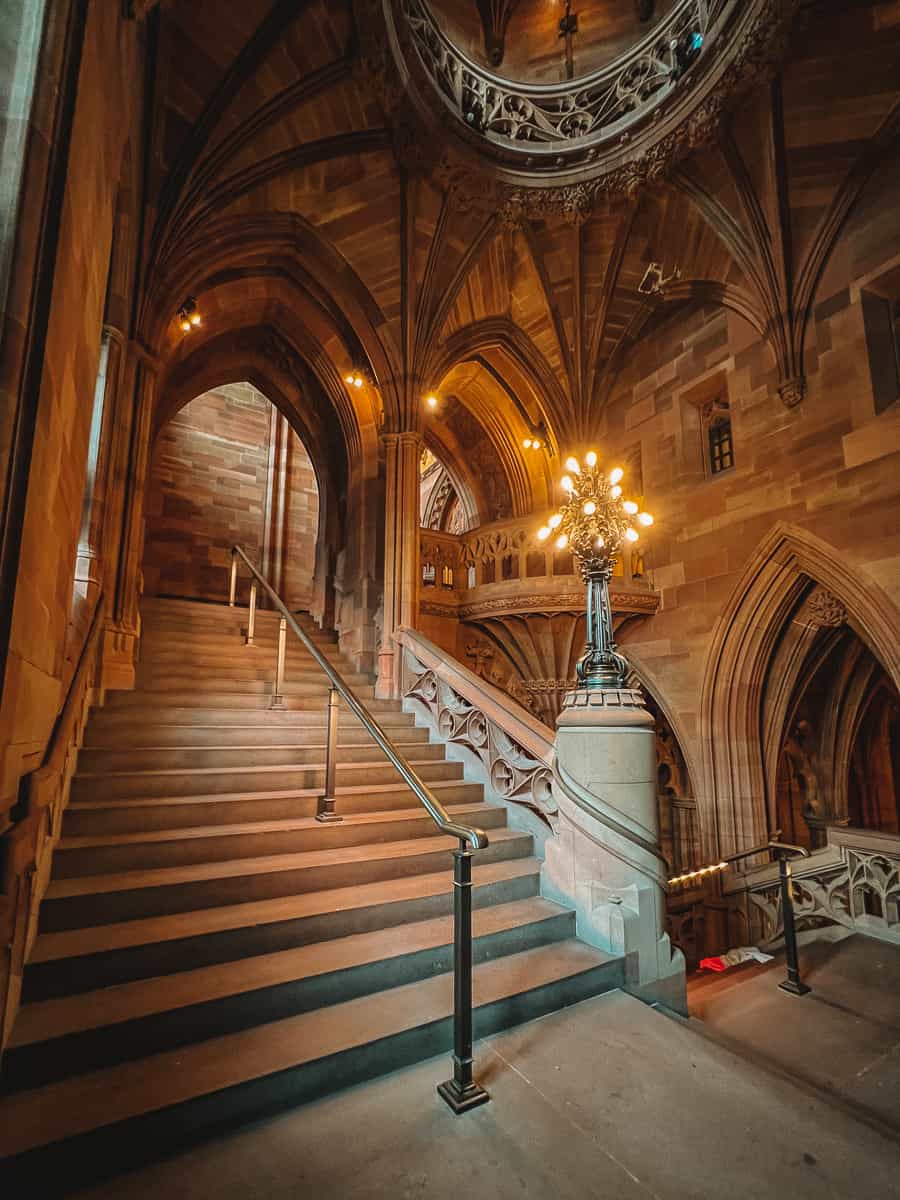 Just nearby, you can visit the Portico Library which is a great place to have lunch or a drink. This is a Georgian library that has a café at the centre. So, you can sip tea whilst surrounded by endless knowledge.
Lastly, you should visit the Manchester Central Library which feels like a step back in time. It's circular and you'll be surrounded by historic colonnades!
If you're interested in travelling further afield, why not head to Salford and visit the Working Class Movement Library?
As the name suggests, it was a library founded during the industrial revolution by working-class men and women who wanted access to knowledge for education.
Read more of my North England travel guides
Harry Potter – a Forbidden Forest Experience Review
How to visit Mr Darcy's Pemberley aka Chatsworth House
How to get to Thor's Cave in the Peak District
How to get to the incredible Bamford Edge
How to find Robin Hood's Cave in Stanage Edge
A magical easy walk to Lud's Church
How to visit & cross Dovedale Stepping Stones
A complete guide to Peakshole Water Castleton
How to visit Little John's Grave in Hathersage
Dunham Massey Christmas Lights Trail Review
Liverpool Fantastic Beasts filming locations
Having afternoon tea in the Blackpool Tower Ballroom
How to visit Rydall Hall Waterfall
Discover the Bridge House in Ambleside
Stock Ghyll Force waterfall walk
The Witcher filming locations in the Lake District
How to visit Cathedral Cave in the Lake District
Malfoy Manor location at Hardwick Hall
Monsal Head Viewpoint Visitor Guide
How to get to Solomon's Temple in Buxton
Best things to do in Ashford in the Water
The best things to do in Milldale
Save Chetham's Library Manchester for later!