I'm gonna be honest. India Train travel is pretty rough.
From the hair pulling never-ending ticket booking process, finding your carriage car, dealing with the dirty stations, and even worse, the toilets which have god knows what in; you're in for a wild ride.
But it's not all bad. The carriages are relatively clean, people are always friendly and up for a chat and it's a new adventure every day!
It's the place where no one uses headphones for calls and music, crowds of people are sitting on the floor, people hang out the doors and the sweet sound of 'chai, chai ,chaiiii' is like music to your ears as the chai walla makes his way through the train.
You'll truly be travelling like a local if you pick India train travel over planes.
There really isn't anything more beautiful than the infamous train journeys here and arguably it's a bucket list item in itself.
These are the 14 things I wish I knew before about India train travel!
Spoiler alert: It's NOTHING like the Wes Anderson movie The Darjeeling Limited *sigh* :P
All the things I wish I knew before travelling by train in India
1. You must book India Train Travel online
Before I got to India I thought that you could just wing train travel. You see the typical scenes of people on the rooftops and you think it's going to be easy!
But no, due to the crazy amount of population and, if you can believe it, rules on safety you have to have a designated seat and ticket to board.
India train travel isn't the same as the UK where you can just turn up on the day and buy a ticket.
Although it is possible to buy on the day if you want a designated seat and carriage class you will need to book in advance.
The good news is if you already know your travel plans you can book tickets up to 6 months in advance. Even before you land in India.
Booking tickets for trains via their IRCTC train website is a ball ache. I swear I was literally pulling my hair out by the end of it.
They seem to shut down their site for 20 during the day at random times, international cards hardly ever work and it's difficult to navigate.
It's so not worth skipping paying a commission!
2. Using Cleartrip for India train travel
That's why I use Cleartrip now. I'm not sponsored at all, I just love their site.
I can see the train, know how much and if there is a waitlist, and how many are on it. What's more, I can book a ticket for the day!
They also give a guaranteed refund if your waitlisted ticket is unsuccessful.
They only charge a 10% commission so it's nothing to stop the stress.
You'll then need to print your tickets for inspection before you board the train and always keep your passport handy. But showing it on your phone is fine too.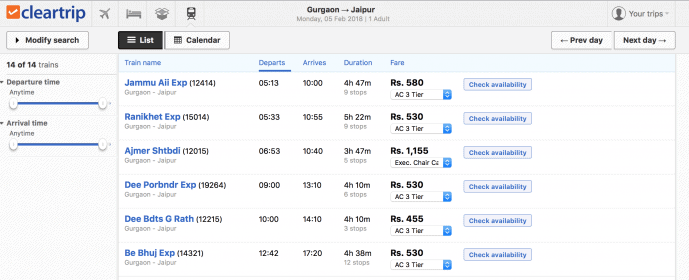 3. You're not guaranteed a seat with your party
It's good to note that you're allocated a seat randomly. There's no guarantee you will get the seat you want or your party will be sat together.
Knowing this I usually request the 'Side – Lower' options so I have my own privacy!
4. Be careful buying day tickets
If you book a ticket on the day at the station you'll be given an allocated day ticket.
It's dirt cheap around 75 rupees and if you can handle the people massage it comes with.
In the busy economy carriages, you can save some serious pennies! Avoid rush hours. Trust me.
5. Be aware of the waitlist
Because of the ever-growing population in India, travelling on trains can get crowded.
Therefore, to crowd control, they have a waitlist system. It doesn't mean you won't get a seat, but it's not guaranteed either.
On Cleartrip and on the IRCTC website they will tell you how many are on the waitlist already.
This should give you an idea of how successful you will be.
There's an awesome free app called 'Trainman' on the App Store which not only allows you to track Indian trains in real-time. But, it also gives you an indication of what percentage of success you have if being successful on the waitlist with your booking reference (you will have to buy your ticket to do this).
I've not been unsuccessful yet for a waitlisted ticket, but it is possible.
Cheaper carriages will always sell out fastest so book a 1 or 2 AC carriage for a better chance of success.
6. Book an AC carriage
AC is pretty much my life in India. I cannot survive without air con, even in winter. I just get far too hot and I hate feeling dirty from sweating all the time!
Indian summer is particularly gruesome with temperatures soaring to 45 degrees.
So, unless you'd like it to be tropical, I would book an Air-conditioned or AC carriage for India train travel.
These usually come in the options of 1, 2 or 3 AC. 1 being first class.
7. Know the differences of 1, 2, and 3 AC
Personally, for short journeys, I find there isn't much difference between 1, 2, or 3 AC.
It's the same quality of beds and air conditioning. Plus, if you're on during the day everyone usually sits on the bottom seats anyway.
1 AC class
If you're travelling overnight I would recommend 1 AC, the quality of food and bedding is just better and you (fingers crossed) may have more chance of sleeping!
You get nice curtains for privacy, a private fan in the compartment, and a charging point.
2 AC class
2 tier is also fine and has two beds on either side of the compartment like bunk beds.
Curtains are present here but no private fan. There is a shared charging point.
3 AC class
This has 3 tier beds meaning 3 beds on either side of the compartment.
Best to get a top bed if you want to sleep during the day as the middle and bottom beds won't be available until everyone wants to go to sleep.
No curtains are here so no privacy either. And more people means way more luggage everywhere.
My favourite is 'side lower' as there is just a single bunk on the top and below. So you can chill out behind the curtain and just look at the world outside!
The bedding you get is pretty tired and worn out and the best not to look at the colour of the pillow underneath the cover!
You should get new ones but I'm not sure if they change them in between stops for new passengers. So bring your own travel pillow and a blanket I say.
The Shatabdi express trains are the best for day trips. They're more expensive but you receive air conditioning, 2 meals of decent food, and a comfy seat.
Booking chair car or executive class, there's little difference. So if you needed to save a few rupees just book a chair car.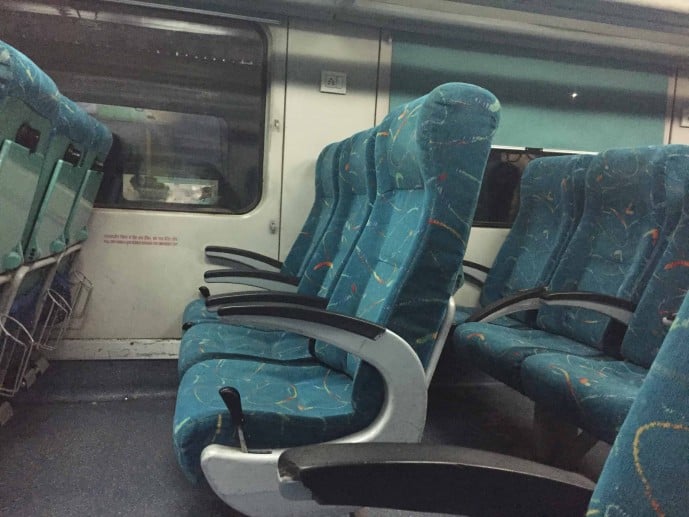 8. Keep track of your train via train man
This app is awesome. It's completely free via the App Store. It allows you to keep track of Indian trains in real-time.
Just put in your train number on the app and it will tell you where the train is.
This is particularly helpful with delays so you can see how long you have left.
9. Know where your carriage is going to pull up on the station before you get on the train
I can't tell you the number of times I have been on the wrong part of the station.
I get on the train and had to drag myself and my stuff through endless hot, sweaty, carriages with people everywhere. Ew.
It's not pretty and if you can avoid it, it's so much better.
The carriage numbers are noted along with the station, but it's not always obvious.
When I've asked station wardens and locals about which part of the station my carriage will arrive in, people don't always know which I took comfort in that I wasn't the only one.
There was this time that I thought I was in the right place, but When the train arrived my carriage flew past me and I had to run.
I lost my step, tripped, dropped my luggage, and a can of coke flew and dropped all over me. I then had to pick myself up and run into the first carriage as it was leaving the station. haha! oops!
Don't end up like me, make sure you get to the right place. Well, I guess that bit was like the Darjeeling Limited ;)
10. Come prepared with food and distractions
When I've been wandering around the train carriages, I've seen the 'kitchen' on board. It's really dirty!
Plus, if you're not used to the food and eat from the train menu you may find yourself needing the toilet… a lot!
So, unless you want to risk it, I would suggest bringing your own food or buying some snacks before you board the train.
You can always find Coca-Cola, cold bottled water, crisps, cookies etc. At the station at cheap prices.
You're given water for long journeys free with your ticket (I think it's a litre every 12 hours). But, there are people who wander through selling water on the train selling cold drinks, snacks, and chai for cheap.
The Shatabdi express trains have a 'meals on wheels' company order which is delivered from a kitchen outside of the train.
Fingers crossed I've never gotten sick from this food as it's all packaged well and looks clean.
If you're really feeling peckish and have an Indian phone, you could order some food at the station.
I saw this one Dominos guy at Alwar station who was waiting to deliver a pizza to a hungry passenger! Awesome idea.
11. Prepare for the toilets on Indian trains
This one really speaks for itself. Depending on what carriage class you're sitting in, you may or may not get a western-style toilet.
This will mean you'll have to get your balancing act on pretty quickly.
Although the trains are pretty sturdy on the tracks, they're pretty bumpy so you'll have to make sure you can hold onto something.
I'd also recommend being prepared with tissues and/or baby wipes. If there is a loo roll it's in limited supply.
I've now just started carrying a toilet roll around with me on journeys.
In Asia, many stores sell a single toilet roll that you can pack. Saves a lot of hassle! I'm just not ready for the bum gun or bucket just yet!
12. Set an alarm
There are limited calls at stations and even if they are present they aren't always clear.
I'd set an alarm on your phone around 30 minutes before you're due to arrive, that way if you fall asleep you won't miss your stop!
In those sleeper carriages, it's all too tempting to have a nap and you could end up in the middle of nowhere!
13. Keep your valuables safe
Although I've been pretty lucky on trains in India with my valuables, it's important to keep them safe.
Luggage locks, lock wires, and keeping your valuable items near you can really help to make you feel more secure.
Personally, I have luggage locks on both my rucksacks and I put a rain cover over my big one.
That way I can hear if someone is going to try and get inside. If I'm sleeping, I always keep my daysack on my front so I know where it is.
14. Finally, enjoy travelling around India by train!
The most important travel tip of all, enjoy your Indian train travel journey!
It really is an adventure in itself and will provide some of the most awesome memories of your time travelling around India.
Heading to India? Read more of my articles!
The ultimate Rajasthan itinerary
A first timers guide to Jaipur
My complete guide for Rishikesh
Like it? Pin it!