Trakai Island Castle was, quite honestly, the highlight of my trip to Lithuania.
A fairytale castle that sits in the middle of a beautiful lake?! I mean, you can't help but be drawn in and captivated by its magic!
It's the only island castle in Eastern Europe and one of the most popular tourist attractions in the whole country. So, you must schedule a day trip here if you're in Vilnius.
In only 30 minutes, you'll escape the busy streets of the capital and find yourself immersed in the beautiful Lithuanian countryside.
As well as the obvious attraction, there are also many amazing things to do in Trakai that make the journey worth your while.
Here's how to spend a day at Trakai Island Castle!
What and where is Trakai Island Castle in Lithuania?
Trakai Castle is a rose-coloured gothic fortress that is perched on an island in the middle of Lake Galvé.
It's located in the old town of Trakai Lithuania which, once upon a time, used to be a historic city.
The word Trakai means "forest glade" in Lithuanian and it's easy to see where the name comes from as soon as you arrive. The whole town is like an emerald paradise surrounded by woodlands!
The castle forms part of Trakai Historical National Park which is the smallest national park in the country.
What is the best season to visit Trakai Castle?
Trakai is only located around 30 minutes from Vilnius so it's really easy to access all year around.
You'll also be happy to know that the castle is open all year too. But, if you were planning a trip and looking for the best seasons to visit I'll go through some recommendations here;
Winter: This is when I visited and, although FREEZING, it was magical in the frost! Unusually, it was quite 'warm' for December when I went and the snow hadn't settled yet. Usually, the lake freezes over and you can go ice skating! Although pretty, there are limited places open for food and some attractions are closed off too. But, it didn't stop tourists and the castle was packed by 11 am.
Spring: This is when all the flowers will be in bloom, making it a great time to go for a walk in nature. Some of the attractions and restaurants may still be closed in the early spring but there will be far fewer people than in summer.
Summer: Probably the best time to visit as you'll have the best weather and all the attractions and restaurants will be open in Trakai. But, you will be battling with tour groups so I'd head here as early in the morning as you can.
Autumn: According to recommendations this is the worst time to visit as it will be pretty bleak if it's cloudy and raining. But, if the leaves are changing colour it will make some fantastic photo opportunities.
Vilnius to Trakai: Bus vs. Train?
So, what is the best way to get to Trakai from Vilnius? Well, you have three options; by car, bus or train. All of these are easy ways to travel self-guided;
Bus to Trakai: Personally, the bus wins for me as the best way to get here. Not only are there countless options for buses running to Trakai throughout the day, but it's also a little cheaper and the station is closer to the castle. I checked the official Lithuanian bus website for timings and just bought a ticket on the bus. It cost me 2 Euros each way and the journey took a little less than 30 minutes. Some buses are like minibuses and some are like coaches, it's luck of the draw.
Train to Trakai: The train to Trakai takes around 40 minutes from Vilnius and they are a little less frequent than the buses. The ticket price is around the same at 2 Euros a ticket. You can check the train times here on the official Lithuanian railway's site. It's in English, easy to buy tickets online and the conductor just scans a barcode on the way through to the carriage on your phone.
Car or Taxi to Trakai: If you have your own transport or are renting a car, a journey to Trakai castle is a breeze. Head out of Vilnius on the A4/A16 road heading to Varšuva/Trakai and pull off when you see the turn. There is amble parking in the area.
Read more – 5 ways to reach Trakai from Vilnius!
How to get to Trakai Island Castle from the Bus and Train Stations
Once you've reached Trakai, if you've travelled on public transport, I will warn you now that the walk over to the castle is around 2.5 kilometres from the bus station. It's also 3 kilometres from the train station.
Luckily, the walk is easily signposted, on a flat path and the town is picturesque. So, if the weather is fine, it's a lovely leisurely stroll down to the lakeside.
Another bonus for coming in winter near Christmas is that they put on a cute little Santa train for visitors to get to the castle for only 2 Euros.
As I had got up early to get empty photos, I decided to take the train to save my legs in the cold…joining around 60 school kids who were going to see Santa!
I felt like such a goober, but I just thought I can pretend I'm one of their teachers or something lol.
Guided tours of Trakai Castle
If you'd prefer to go on a guided tour of Trakai Castle, there are a few options below that you can take from the main city of Vilnius;
12 things to do in Trakai on a day trip
As I rode along on the back of the Christmas train, listening to cheesy Christmas songs with all the kids screaming with excitement to see Santa. It started to snow and I suddenly got really excited to see the castle.
But, more than that, I couldn't believe how quaint and pretty the area of Trakai was too.
So, I popped into the Visitor Information Centre and grabbed some leaflets about things to do in Trakai and found out there was a lot to get my teeth stuck into while I was here.
Here are my top recommendations to make the most of your trip.
1. Take a picture-perfect photo from the lakeside observation deck
As soon as the festive toy train came to a halt at the lakeside, I saw what I finally came to see; the beautiful Trakai Island Castle!
As it was December and nearly Christmas they had a beautiful Christmas tree that was glitzing and Santa himself came out to greet us. I have to admit, It did warm my heart to see all the kids so excited.
Aside from the festive pieces, the observation deck by the lakeside is the best place (in my opinion) to take some photos of the castle.
On a clear day, you get the most beautiful reflections in the water and as it's over the lake. You can also get some lovely clear shots without masses of crowds.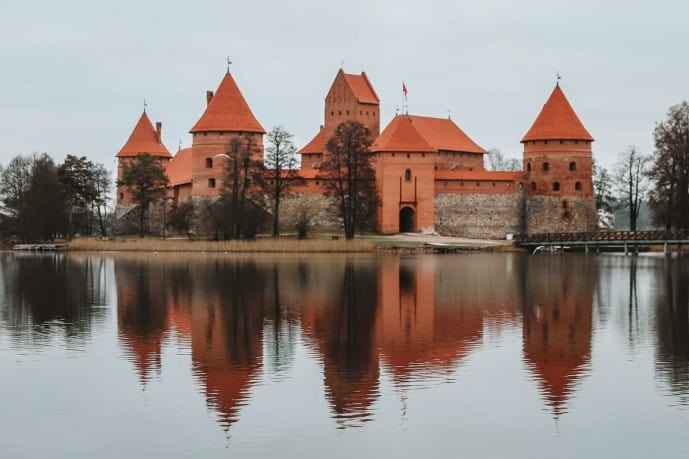 2. Cross over the bridge and walk around Castle Island
You may be surprised to know that you can actually walk over the bridge and over to the island with Trakai Castle on it for FREE.
So, if you're not really into history, you're more than welcome to admire it from the outside without spending your money on a ticket.
In fact, even if you do plan on going inside, the walk around the castle is totally worth it.
As it's perched in the middle of a lake, you can see the most spectacular views of the houses on the lakeside, the gleaming Uzutrakis Manor in the distance and there are even little beaches too!
The bridge crossing over to Trakai castle is another incredible photo opportunity too. I would get here early to make sure you get some clear shots as it does get packed with large tour groups later in the day.
3. Go inside Trakai Island Castle and learn about the history
If you are the sort of person that loves to explore castles, then I would recommend you spend 8 Euros on a museum ticket. You'll also need over an hour to see all the exhibits.
Not only will you get to see what's inside this fairytale fortress but you'll also get to learn about the amazing history of the people that lived here, the years of reconstruction, and the Karaite ethnic community too (more on that later).
In winter, they had decked out the whole castle in Christmas decorations and it was breathtaking. I couldn't believe my eyes!
You do need to pay 1 Euro 50 for a photo pass, so if you're not bothered about capturing it, I'd save your money.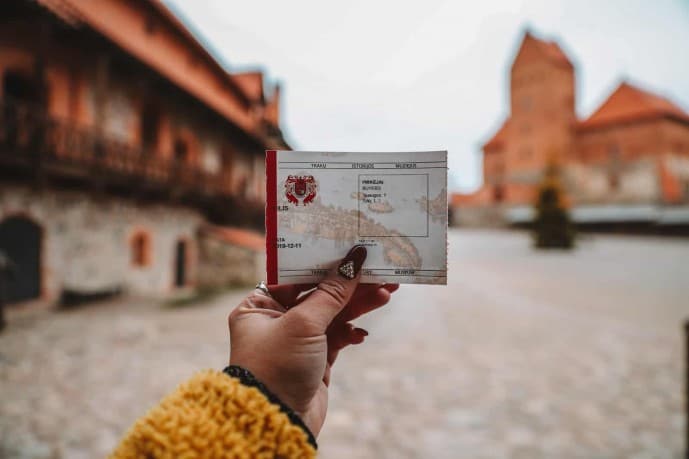 The History of Trakai Island Castle
If you're basing yourself in Vilnius and have had a chance to look around, you've probably already heard the name Gediminas from the iconic Gediminas Tower.
The Grand Duke Gediminas was the founding father of Vilnius and created the capital city after his prophetic dream of the iron wolf on a hunting trip.
But, years before that, Gediminas held his court in the medieval capital city of Kernavė. One day, he went on a hunting trip (yep, he loved hunting trips) and discovered an incredible lake area that we know today as Trakai.
He fell in love with the area so much, that he decided to build a castle there which is now known as Senieji Trakai Castle (Old Trakai Castle) in 1320. Once the castle was built he moved the capital of Lithuania to Trakai.
Then, once he established Vilnius in 1323, he moved the capital yet again and left Trakai's rule to his son, Kęstutis.
As the new Duke of Trakai, Kęstutis wanted to leave his own mark in the area, so he built a new castle on an island.
The Grand Duke of Kęstutis was the man who started the construction of Trakai Island Castle in the latter half of the 14th Century.
Once it began, he moved his court and treasury inside the castle. It was then entirely finished by his son Vytautas in the 15th Century.
Back then Trakai was a major city in Lithuania. It was the residence of the Grand Dukes after the Battle of Grunwald and had had a thriving community of residents and merchants from abroad too.
Trakai Castle Reconstruction
In the 16th-century, the castle was abandoned for Vilnius and so became a prison for Noblemen. Then, unfortunately, in the 17th century, Muscovy troops raided the castle and burned it to the ground. So, the castle that we see today is a reconstruction.
Inspired by Romanticist painters, engineers and architects made a plan to restore the castle to its former glory.
The work first began on the south-eastern tower and then from 1929 – 1941 foundations were laid to rebuild the castle entirely.
After World War II In 1953, construction started again and by 1962 the castle looked like the Island Castle that would have stood there in the 15th century.
Since then, it has opened as a history museum and has become one of the most popular attractions in the whole of Lithuania!
4. Go shopping for boutique souvenirs
After you've explored the castle, there is only one way out. Through the gift shop!
Personally, I found that gifts inside the castle itself were quite overpriced with a limited range. So, if you're looking for gifts to take home, save your cash until you get to the plethora of gift shops over the bridge on the lakeside.
Here you can find a whole range of Trakai magnets, t-shirts, bags, jewellery, and even woollen clothing which would be perfect in the winter.
Lithuania is also famous for its Amber which is found in the mines and washed up on the Baltic Sea. So, in Trakai, you'll also find lots of shops selling Amber gemstones, jewellery, magnets, carved ornaments, and more.
Even in winter, there were outdoor stalls open and the staff must have been freezing!
5. Try the famous Trakai Kibinai Pastry
If you're feeling peckish then the one thing you must eat when you visit Trakai is the famous Kibinai pastry.
They originate from the Karaite ethnic minority who settled here in Trakai in the 14th century and still live here today.
The pastry is traditionally filled with mutton and onions but they are served with all sorts of meat, vegetable, and cheese fillings too!
Where to try Kibinai – Senoji Kibinine
In the winter season, hardly any restaurants were open. Not the swanky Bona Lounge opposite the castle that Lonely Planet recommended or any cafés on the lakeside for that matter.
But, luckily, I stumbled on a place that is famous for its handmade Kibinai pastries. As a bonus, it's still run by a Karaite family in the area!
Plus, not only is Senoji Kibinine located in an adorable traditional Karaite lodge but it also has one of the most extensive menus of Kibinai pastries to boot.
They actually have three branches in Trakai and some in Vilnius. I went to the one a little further up on Karaimų street due to everything being closed. But, in the summer there is one near the first bridge you cross over to the castle!
Check out the menu for Senoji Kibinine here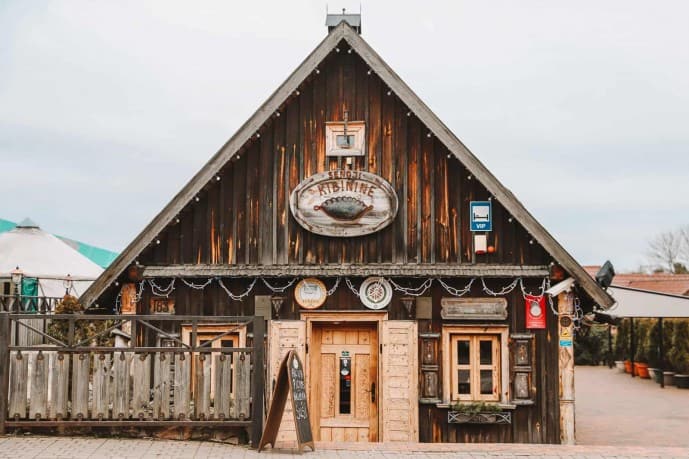 6. Talk a walk through the colourful Karaite neighbourhood
So, how did a Crimean Karaite community first settle in Lithuania?
Well, according to sources Grand Duke Vytautas relocated a community of Crimean Karaites to serve him in Lithuania in the 14th century.
He ordered to build them a town, which is known as Trakai today. They were guards in the castle and some acted as his personal bodyguards too.
They continued to use their own language, which is of Turkic origin, and worship in their own Karaite kenesa (synagogue) too.
But, through Russian invaders, plague, and tensions with the Rabbinites (another Jewish community) the population slowly dwindled.
During the holocaust, many Karaites survived due to the Nazis deeming them Turkish, but it didn't stop many from fleeing the country.
Today, there are only 20 families in Trakai that identify themselves as Karaites.
Traditional Houses in Karaimske
The colourful Karaite Houses on Karaimų street are very distinctive in their architecture.
Each house will be wooden, and have three windows facing the street. An old wives tale says that a Karaite would build one window for God, one window for Grand Duke Vytautas, and one for the owner.
But, actually, it was due to the fact that you could only install a window after you gave an offering to the duke. So many had only one or two windows on the streetside to save money.
If you take a walk up Karaimų street nearby the castle, you can see all sorts of traditional Karaite Houses and admire the colourful homes for yourself.
Trakai Kenesa
The Trakai Kenesa is a Karaite House of Prayer that sits in the Old Town of Trakai.
Originally, in the 14th century, this was a wooden structure. It had the main prayer hall for men and a balcony area for women who pray separately.
Through the centuries, the Kenesa suffered many fires. So, it was completely rebuilt in stone in 1890 and is still in use by Karaim today.
The Trakai Kenesa was locked in winter on my visit and I'm not entirely sure if you're allowed to visit without being Karaite. But, you can admire the Kenesa from the outside. It's a beautiful building with a blue dome and eight pillars.
Seraya Shapshal Karaite Ethnografic museum
If you're eager to know more about the Karaite community in Trakai, there is an ethnographic museum you can visit.
The building is named after Seraya Shapshal who was a Karaite social activist and leader of the community. He was named hachan, which is the highest title for a Karaite clergyman.
It opened in 1967 and contains over 300 items that relate to Karaite culture and traditions. Tickets only cost 2 Euros so it's well worth checking it out!
7. See the Mother of God of Trakai in St Mary's Church
Did you know that Trakai had its own Catholic icon, the Mother of God of Trakai?
St Mary's Church in Trakai is a beautiful Roman Catholic temple that was founded by the Grand Duke Vytautas the Great in 1409. Originally, this was built in the Gothic style but this has changed drastically over time, especially during the Baroque Period.
The inside of the church is the most impressive part. You can have a look at the Roman Catholic icon the Mother of God at the altar. The painting is in the Byzantine style and is more like a portrait but it's spectacular to see.
Just to let you know, you do have to be completely silent when you walk into the church out of respect. It didn't help that my shoes were squeaking and my camera shutter was loud, but hopefully, they let me off!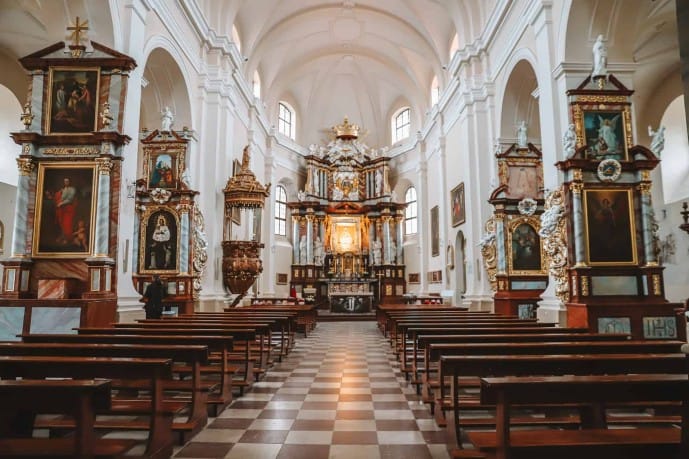 8. The Old Post Office Building / Old Trakai Castle
If you start heading back towards the bus station, at the end of Karaimų street you'll come across a bright blue building.
This used to be the Old Post Office Building. Like its vibrant blue paint, the traditional Trakai building has had a colourful history!
Originally it was built in 1810 by the Dominicans, an order of monks who used to live inside the Peninsula Castle.
It then became a police station once the friary shut down and then from the 1920s – 60s it was a Russian Imperial Port Office! Today it's the headquarters of the national park.
In this area, you can also spot another Trakai History Museum which looks like it's part of the castle but I believe is now closed due to the museum inside the Island castle.
9. Užutrakis Manor
If you did take a stroll around Trakai Castle, you may have noticed a gleaming white building that sits on the banks of Lake Galvé.
This beautiful house is Užutrakis Manor which was the residential home of the powerful Tyszkiewicz family in the 19th century.
It was owned by the family until it was nationalised by the Soviet Union. After World War II, it was even a sanatorium for Soviet soldiers!
Nowadays it is owned by the National Park and has been beautifully restored back to the era when the family lived there. It also houses a small art gallery and museum.
The manor house is only open in the summer months and costs 3 Euros a ticket.
10. Trakai Orthodox Church of the Nativity
What is incredible about this little area is how so many religious communities live in harmony together today.
The Orthodox Church of the Nativity of the Most Blessed Virgin Mary was originally built in 1861.
Tsarina Maria Aleksandrovna paid 6,000 roubles for the construction. It finally opened in 1863 and was a commemoration of the defeat of the Polish-Lithuanian uprising.
The church is very quaint from the outside, but the inside is just beautiful. With bright blue silks, the smell of incense, gold statues, and portraits – it's definitely got an atmosphere you can't explain.
Interestingly, there weren't any seats inside the church and there was a bell tower – but it's shut off to the public. Again, you need to keep completely silent whilst inside the church out of respect.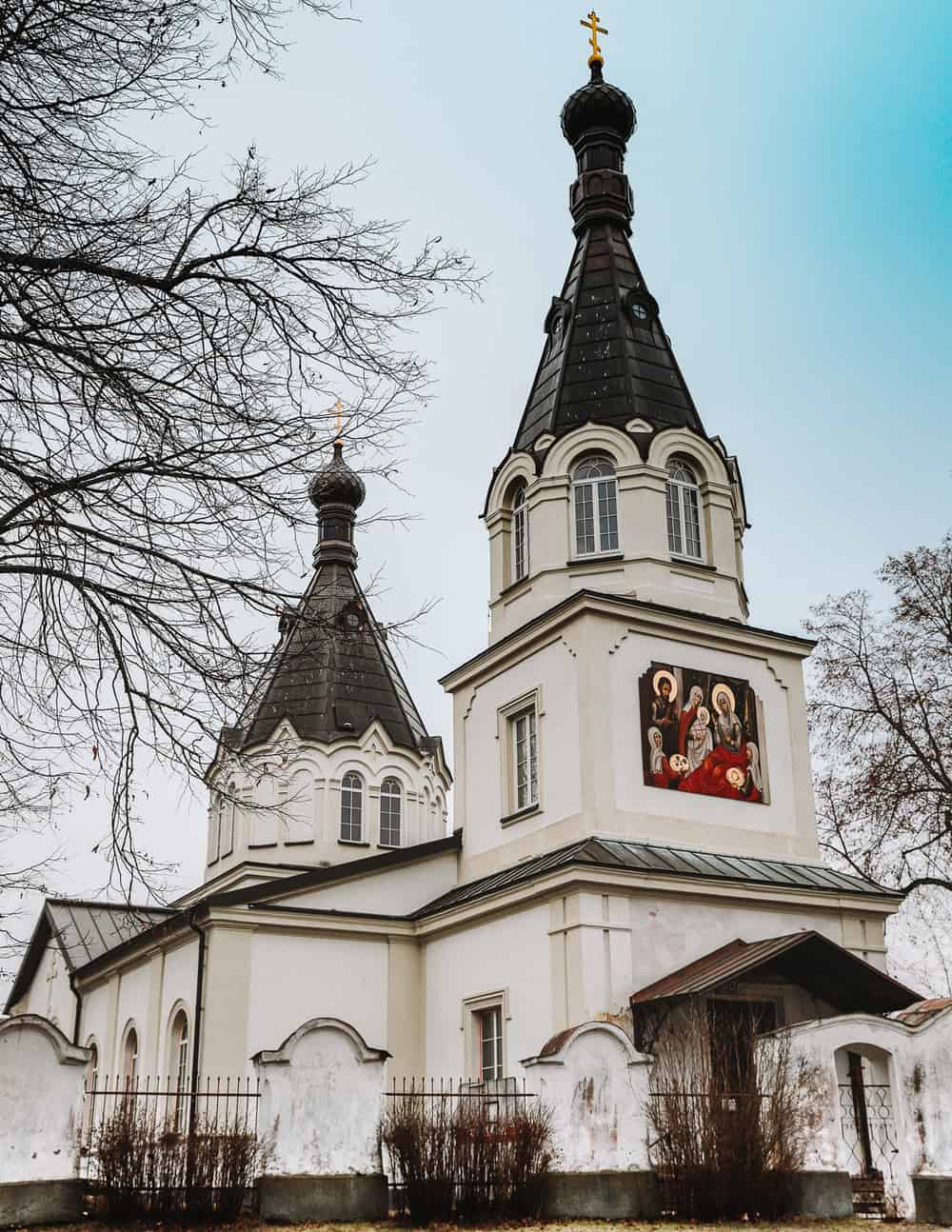 11. Hill of Angels (Angelu Kalva)
Around 4 kilometres away from Trakai is Angelu Kalva or the Hill of Angels. It's one of the newest sites to be built in the area opened in 2010. It was made for the Millennium of Lithuania and the 600th anniversary of the Trakai Church.
This attraction has 36 carved oak angels that were funded by organisations and families. The angels all represent Christian values like Love, Faith, and Peace of Mind. So, the prayers of those who visit are heard by the angels on this hill!
Every visitor is allowed to bring their own angel to the hill if they please, so you'll find little angels and offerings all around.
As it got dark super early here in December, I ran out of time to visit the Hill of Angels but I'd love to go back and see it for myself.
It reminded me a little of the Hill of Crosses which has over 250,000 crucifixes left by visitors. Maybe the Hill of Angels will be the same in years to come.
12. Or, take a Trakai Hot Air Balloon Ride!
If you're looking for some unique experiences around Trakai Castle then why not take a Hot Air Balloon ride over it?!
Your tour will start with a pick-up from Vilnius, which includes a glass of champagne and you will be able to see truly unique birds-eye views of Trakai Island Castle too.
I visited Vilnius with Tinggly who is a gift card experience company. They sell gifts that are perfect for travellers as they are experiences that can be used all over the world rather than a gift that can clutter your room.
Tinggly does have its own Best Balloon Guides experience box which includes a Hot Air Balloon Ride in Trakai. So, if you're looking to surprise a loved one this is a perfect idea!
Where to stay in Trakai
There are plenty of hotels to choose from in Trakai if you fancied spending some time in the countryside. There are even hotels that look directly over Lake Galvé and over to the castle. Here are some of the top picks;
Looking for more travel inspiration for Vilnius and Lithuania?
I stayed in Vilnius for a week with Tinggly and I was able to cover a lot of ground while I was here. Not only did I explore the capital, but also neighbouring cities like Kaunas and even the Hill of Crosses!
So, if you're looking for some inspiration for your travels, make sure you check out my detailed guides below;
40+ places to visit in Vilnius
A photography guide to Vilnius
The Instagrammable Love Story Cafe of Vilnius
The best viewpoints in Vilnius
The ultimate guide for Three Crosses Hill
The top attractions in Užupis, the free republic
Hill of Crosses: How to reach there from Vilnius
Why you need to visit Vilnius in December
Save this things to do in Trakai for later!