Welcome to my ultimate Chefchaouen travel guide!
Here I'm going to be taking you through all there is to know about this beautiful blue city before you make your way there.
From how to get here, what to do, where to eat, what you can shop for, and a little bit of background about why it's blue and my top travel tips to prepare you for it. Sound good? Sweet, well keep reading.
Ever since I got a Pinterest, Chefchaouen has been on my hit list.
It looked like a beautiful town that held the promise of an awesome adventure and a mystery that held a few secrets in tow.
Even though there were a few Pinterest/Instagram vs. Reality moments, Chechaouen was the most beautiful place that I went to visit in Morocco with the second being the Sahara Desert.
It just has that laid-back, peaceful vibe that the likes of Marrakesh and Fes lack.
Compared to the big cities, the blue pearl was an absolute dream. Hidden in the mountains, with friendly peaceful locals, you really can't beat it. There's no harsh selling here, or heckling and I never once felt unsafe, even in the evenings.
So, let's get started on the ultimate Chefchaouen travel guide!
A little bit of background: why is the Chefchaouen blue?
Chefchaouen, often referred to as just Chaouen, was founded in 1471 by Moulay Ali Ben Moussa Ben Rached El Alami (now, try pronouncing that!).
At that time, the only notable landmark was the Kasbah to protect the city against Portuguese forces. A place you can still visit today that now acts as a museum.
Over the years, the settlement began to grow with the addition of the souk which saw many Moorish, Spanish and Jewish settlers finding a home in the area.
In the 1920s, the Spanish captured Chefchaouen, and during the 1930s and the Second World War, many Jewish people fled Europe due to anti-Semitism.
After the Second World War, many Jewish settlers made their way over to Israel in the 1950s with the city being handed back to Morocco in the independence of 1956.
Now the big question, why is Chefchaouen city blue?!
Reports of the city being blue have existed since the 15th century. But now there are many theories to this including that painting buildings blue was a Jewish tradition as blue reminded people of the sky and ultimately God.
Other theories are that blue keeps mosquitos away, it represents the ocean and blue paint helps to keep the buildings cooler in the searing heat. Or, it may just be kept blue to keep the tourists coming, who knows!
Either way, it's downright pretty and I love the fact that it's kept its tradition. Every part of the city is like something out of a postcard.
How to travel to Chefchaouen
There's no airport in Chefchaouen, so you will either need to fly into the likes of Tangier, Fes, or Rabat and arrive in the blue city from there. I personally flew into Fes, spent a few days there, and then made my way over to the Chefchaouen via the CTM bus.
It is possible to grab a taxi from Fes or Tangier or even from Marrakesh to reach the blue city but I suggest hiring a reputable driver from one of the transport offices in town.
Driving in Morocco can be quite an adventure and you definitely don't want to hire somebody unsafe. Saying this, the roads are pretty good quality so you shouldn't have much difficulty. The cost of a private taxi varies but most of the quotes I got were averaging around £50 one way.
Personally, I went with the CTM bus to Chefchaouen from Fes which is the most popular option.
It's a plush coach with air conditioning that comes at an affordable price. Although it does say online it will take international card payments, I couldn't process mine. The price of the bus ticket is 75MAD for a one-way ticket (approx £6) and it's a reliable service which takes around 4 hours.
You won't be the only one wanting a ticket though, especially in peak tourist season, so make sure you book your ticket as far in advance as possible. I managed to score the last ticket heading there the day before which was lucky!
When you reach the bus station, you will need to check-in for your journey and pay an extra 5MAD to store luggage inside the coach.
The best places to stay in Chefchaouen
There are many beautiful Riads and guesthouses in Chefchaouen. It's good to note that the whole of the city isn't blue, just the Medina area. So, if you did want to stay within the blue souk, you'll have to double-check the location.
Top tip: if you want to stay in the medina, the old city is a car-free zone. So, you'll be hiking your luggage with you to find it! I would ask your guesthouse owner to send someone to meet you and guide you through to your guesthouse.
Saying this, there are many hotels that are located on the edge of the medina which is good value for money including Hotel Tedar.
The rooms are clean, comfortable, with good running hot water. Personally, my favourite part was eating breakfast on their fabulous roof overlooking the mountains.
Other great guesthouses include Dar Baibou, Lina Ryad & Spa and Casa Perleta.
Places to visit in Chefchaouen
Aside from the blue medina, there is So much to get up to Chefchaouen. As it's surrounded by the Rif mountains, there are plenty of treks if you wanted to explore outside too.
For a detailed post on some fun and unique things in Chefchaouen that people don't really talk about, see my guide with places to visit here. For now, I'll list out the main things you can get up to in the blue pearl.
Explore the blue souk
This is the main draw of tourism to Chefchaouen and rightly so, it's gorgeous!
The whole of the old medina is painted blue and each corner of the city is a dream. As one of the most visited places in Morocco, don't expect to be the only one.
My top tip for visiting is to go as early as possible to avoid the crowds and queueing for photo spots (Oh yea, you have to queue).
You won't mind getting lost here as you never know what pretty spot you could find. But, if you do get really lost, ask a local – people are so friendly here and happy to help!
Climb up to the viewpoint in the Kasbah museum
As mentioned before the Kasbah is the original landmark that was built after it was founded in 1471 and nowadays it acts as an art gallery and museum!
At 60MAD (£5) a ticket it's not really worth a visit for the museum alone, but what is worth your money is the view from the top of the fort itself.
You can see for miles everything from the blue city, the Rif mountains, and beyond. For Moroccan residents, it's only 10MAD.
Shop your heart out in the Bazaars
In Chefchaouen you can really shop your heart out.
Here they have plenty of boutiques selling all things such as textiles, spices, clothes, carpets, handicrafts, art, aromatherapy, slippers, and leather all the way down to your typical touristy shops selling the regular fare. I personally loved shopping here as there was no hard sale.
A lot of the things on offer were handmade in Morocco. However, haggling here I found much harder than in Marrakesh and Fes so you may struggle to find a good price.
There is literally no end of shops in the most unlikely corners, so make sure you leave enough time to explore!
Head to the Spanish mosque for Sunset
This is the most famous spot to visit for sunset in the blue city and it's easy to tell why, it provides the most amazing view of the blue city with a dramatic backdrop of the mountains.
It's a quick 15-minute hike uphill from the main city and notoriously busy with tourists. But, saying that I'd say it's definitely worth your time plus it's FREE.
If you were hoping to get photos my top tips would be either to stop off on the way up to the mosque (as it's actually more pretty) or avoid the crowds by stepping down the hill to get the best view.
I personally stood to the side to get my shots from a different perspective which paid off with no other photographers/tripods in sight ;).
What to eat? Tagine!
You will find it hard not to overdose on Tagine while you're in Morocco but it is the tasty local dish to try that most of the time is a budget-friendly option too.
Tagine comes in all different varieties, but most of the time it's a sizzling hot plate with meat such as chicken, lamb, or beef cooking in its own juices with vegetables and topped with olives.
Many districts in Morocco have their own specialty with Tagine, for example in Fes it's with Lamb and prunes, but either way it's super tasty.
There were so many restaurants around the main square that sold a set menu (starter/desert and Tagine) so just pick one that looked busy.
Personally, I loved the main square to eat due to the buskers providing entertainment but, you can also find really good restaurants serving up their versions too! Bon Appetit!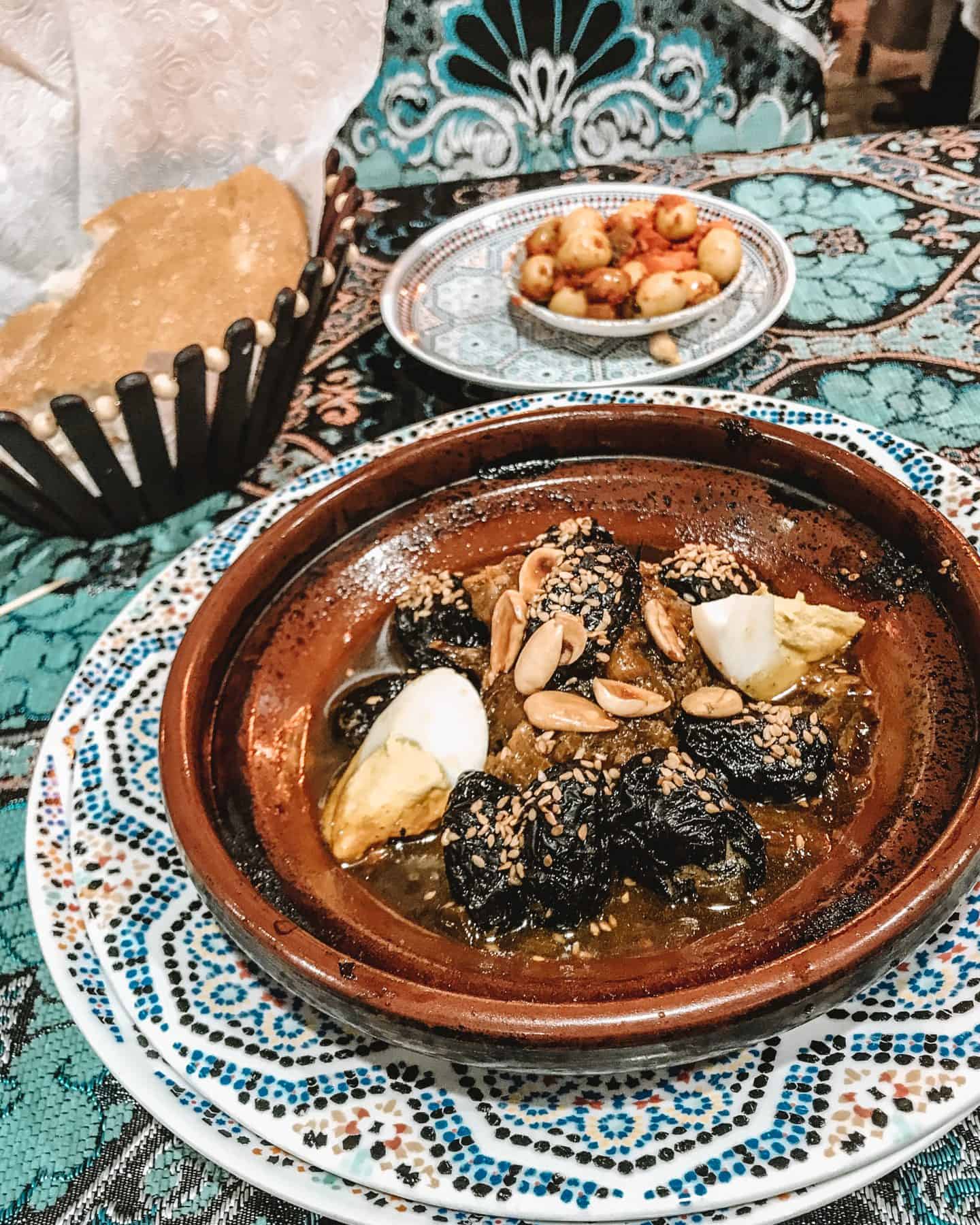 Kif in the Rif
Kif may be something you will become quickly accustomed to hearing in Chefchaouen. Kif is referred to as the local Hashish or Marijuana in this town and you will be offered it at some point. Although it's still illegal in Morocco it's estimated that more than 800,000 work in the trade.
For example, did you know that 50% of the world's hash comes from Morocco? No? Well, you do now!
Chefchaouen is kind of like a haven for stoners seeking the 'Kif in the Rif' but I wouldn't say it's any sort of druggie town or has a reputation. In fact, if you didn't know, you'd hardly guess while you're there! It's got such a friendly peaceful vibe and most of the plantations (yes, they cultivate a lot here) are based in the Rif mountains away from sight.
So, if you did want to visit some in the local area you can do so while hiking in the Rif mountains. But, if not, you're not really going to get any hassle, just an offer or two. Note that it is still illegal in Morocco so exercise caution.
My top travel tips for visiting the blue city
So here are some of my top tips for visiting the Blue city of Chefchaouen;
Book your bus tickets via the CTM website or in Fes/Tangier/Marrakesh as early as possible to avoid having to buy an expensive private taxi. I managed to get the last ticket the day before but I was told I was extremely lucky. You can book online but I couldn't manage to get my card to work to make the payment.
If you're staying in the medina itself, not that cars are not allowed in the souk. So, you will be carrying your luggage from the taxi to your guesthouse.
Head to the city early if you would like to take photos. Even after sunrise at 6 am, I wasn't the only one there and by 10 am you'll be greeted with masses of tour groups (it's an extremely popular tourist destination).
You will be completely safe here even at night, I was a female travelling solo and no one approached me or made any comments. The most I had were people asking me questions (or offering me Kif) and it was friendly for the most part.
If you get lost in the medina, or you're looking for a particular place, I found the best way was to screenshot a place on my phone and show it to a local. They are more than happy to guide you here and won't charge you.
If your next stop is Fes, make sure you check out my complete guide for Fes here to help you on your journey!
So, that's the end to the ultimate Chefchaouen travel guide!
Chefchaouen was one of my all-time favourite places to travel to and I wouldn't hesitate to go back.
The peaceful, friendly vibe, blue houses, and epic mountain scenery made their way up to one of my favourite places in Morocco beyond a shadow of a doubt and should make its way up to your bucket list too.
So, over to you! Would you like to visit this blue city? Or is there anything you would like to know? Let me know in the comments!
Read the top places to visit in Chefchaouen next!
Heading to Morocco? Read more of my articles!
The ultimate 2 weeks in Morocco itinerary
The top things I wish I knew before travelling to Morocco
What to wear in Morocco as a woman
Solo female travel tips for Morocco
Visiting the Golden Doors of Fez Royal Palace
Trying a Camel Burger in Morocco
How to avoid scams at Fez Tannery
Is Riad Fes worth the price tag?
Taking a Sahara Desert Tour from Marrakesh
Save this Chefchaouen travel guide for later!