Welcome to your ultimate Fes travel guide in Morocco.
When you land in Fes, you'll quickly discover that it's one of the most rambunctious cities that you can visit in Morocco!
It's a labyrinth of medinas, colours, mosques, madrassas, tagine, and beautiful chaos around every corner. You will really enjoy getting lost and discovering its hidden secrets.
I have to admit that at first, I was a little overwhelmed. With 9,000 streets in the Old Medina alone, it can be like working out a puzzle.
Although I'd been to Marrakesh, Fes was more of a deeper experience in exploring Moroccan culture.
I would see beautiful leather shoes one minute, then a goat's head on a spike the next. It wasn't as glamorous, but it was richer in so many ways.
So, let's start this Fes travel guide, Morocco's cultural capital!
How to reach Fes
If you're flying internationally into Morocco, Fes has its own airport 'Fes Saiss' which has just had a bit of a make-over.
There are regular, daily flights to Fes from London through the likes of Ryanair and Air Arabia Maroc which I flew with.
The airport is located around 17km out of the city, so you will have to organise a taxi or a pick-up from your hotel to reach the old Medina.
Taxi prices range from around 100MAD to 200MAD depending on where you would like to go and what hotel you're staying with.
If you're already in Morocco then you can reach Fes within 8 hours by train from Marrakesh, around 5 hours away from Chefchaouen, or 4 hours from Casablanca.
If you're planning on getting the bus through Morocco, I would highly recommend the CTM services. They can book your buses the whole way through the country and are safe, cheap and efficient.
I personally found my card didn't work on their website to book in advance (which is highly advised) but you may have more luck!
Planning your trip to Morocco? Read the ULTIMATE Morocco Itinerary here
Things to know before you arrive s & top Fes travel tips
The local currency is Moroccan Dirhams (MAD) and at the time of writing in 2018, £1 is the equivalent to 12.3MAD. A lot of the time in this article I will be referring to prices in MAD.
Islam is the most practiced religion of Morocco with over 93% of the population recognised as being Muslim.
The Medina is car-free and so if you're driving yourself you will need to park up outside. That also means you will need to carry your luggage through the Medina if you're staying inside.
The red Petite taxis are an easy and cheap way of getting around Fes outside of the Medina. Just ensure the meter is switched on. Some of my journeys cost as little as 6MAD.
Women should dress respectfully and cover their shoulders and knees unless they want lots of unwanted attention.
I did see some women wearing shorts and strappy tops but personally, if you're travelling alone, I would stick to conservative clothing.
Stuck to knowing what to pack? Read my guide on what to wear as a woman in Morocco here.
I think in all of Morocco, Fes was the place where I faced quite a lot of aggression from men particularly if I didn't respond to cat calling. There were a lot of unwanted comments about my appearance and If I was after a Moroccan husband but for the most part it was harmless.
Be selective on who you ask in the Medina to give you directions. You will be expected to pay if you're guided to a location. Google maps does work but it doesn't have all the streets on there so use it as a general direction. I used to use Google Maps to direct me to my restaurant, then I would follow my route back at night to be safe.
Although I felt safe in the Medina during the day and at night, women should use caution when being outside of the Medina at night especially around the Marinid tombs.
Tourist police are everywhere here and due to the government of Morocco wanting to increase tourism, you shouldn't face any troubles. But, should you face any (like I did), the police will do everything they can to make it better!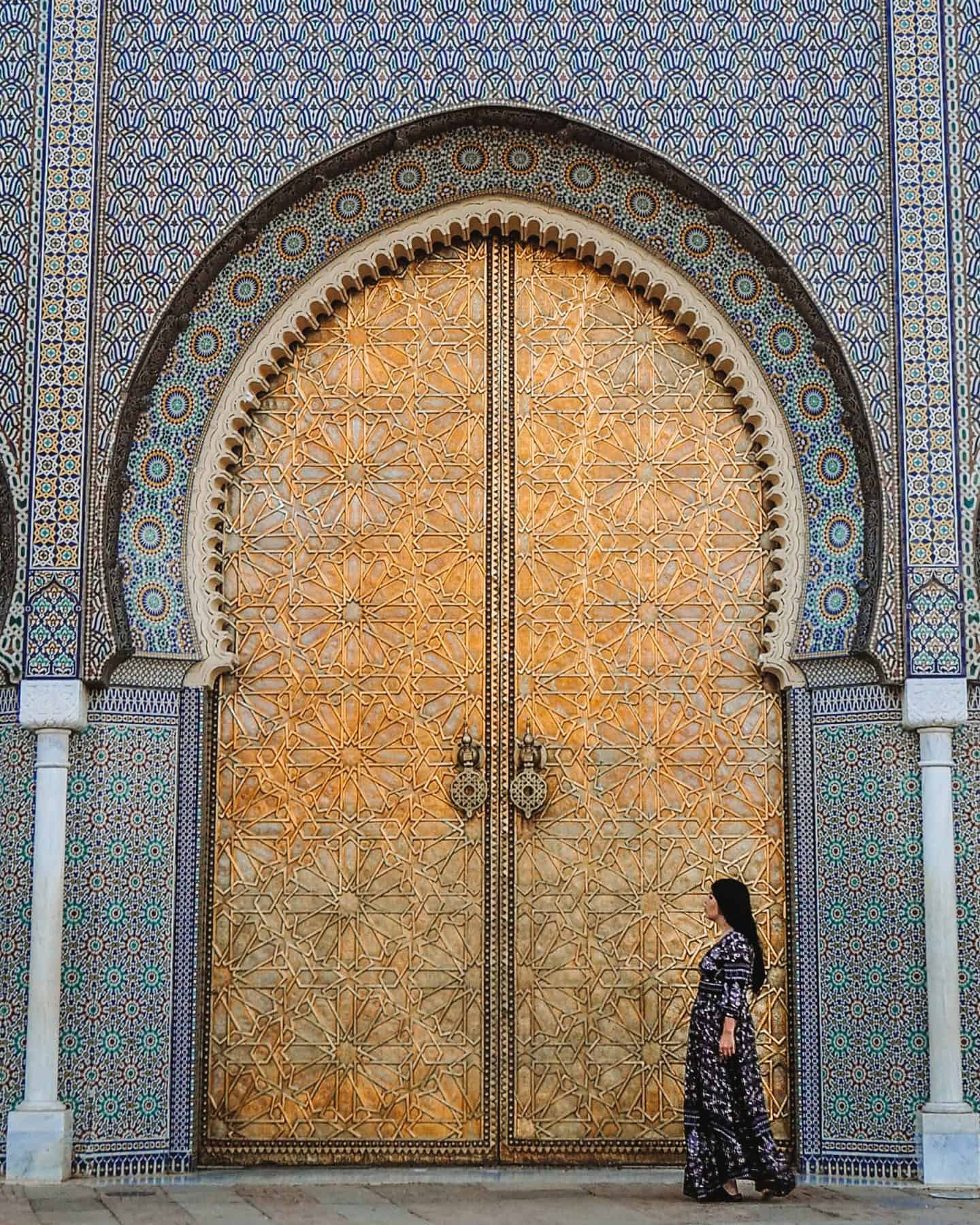 Where to stay in Fes: Dar Seffarine
If you're staying in Fes or Morocco, then you have to experience a boutique Riad. Dar Seffarine is as old as Fes itself and is based in the heart of the Medina.
It was only a two-minute walk from the Chaouwara tanneries and Kairaouine Mosque you have Fes right on your doorstep!
It was revived by its current owners from ruin but most of the original details have still been retained and with only 7 rooms and suites, it has more of a cosy, family feel. You will certainly feel right at home here and it's an oasis from the chaos outside.
Don't forget to take in the sunset from their incredible terrace! I had an excellent stay here and you can read all about it in my review here.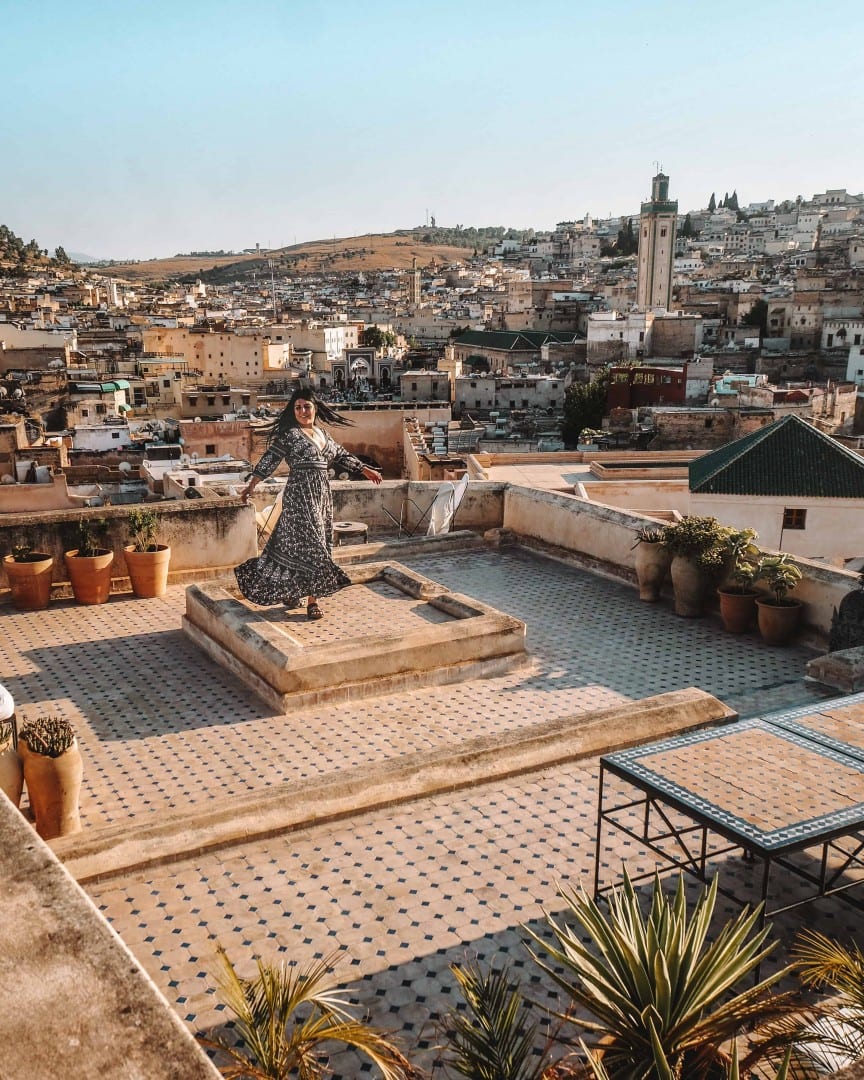 Or the luxurious Riad Fes
If you require 5* luxury on your visit then the sumptuous Riad Fes is it! As soon as you arrive, you will smell jasmine in the air and be greeted with a wet towel and a tier of snacks and fresh juice.
I was upgraded to a suite for my stay which had the biggest comfiest bed, two showers, black-out curtains, and a flat-screen TV in the middle of my room!
You can relax by their pool, have a massage at the spa, take a meal in their fine dining restaurant, or be spoilt by the spectacular views at sunrise or sunset from their rooftop bar. It's definitely worth the splurge.
You can read my full review of Riad Fes here.
Things to do in Fes
The Chaouwara tanneries
You'll most likely smell these before you see them but as Fes' most iconic site, you cannot leave without a peek. Let's just say it's a mix of poop and pee to make all those spectacular leather goods that you will see for sale at the markets.
Although the tanneries themselves should be free to visit, it's a bit of a tourist trap. Traditionally you will be approached by someone working at the tanneries to give you a tour.
They will give you a Moroccan gas mask (a sprig of mint) to mask the smell! Or, someone from the leather shops will have 'guides' who will happily show you the view.
You'll be told 'no money, I'm not a guide' and 'looking is free'. But, it's often expected to buy something in the shops or give them a tip.
I just took my pictures at shop N0.10, left my tip, and went with it. I also heard that Shop 64 has a good view.
I didn't technically have to pay but as Fes Medina is only 40% employed, it doesn't hurt. Although I paid 10MAD, I personally wouldn't pay any more than 20MAD (some people were being quoted 200MAD, that's just ridiculous, they shouldn't cost a penny).
They're extremely photogenic to look at and actually, you get used to the smell after a few minutes. These people at the tanneries work long hours in the pits and the extreme heat. It really makes you appreciate the effort that goes into the leather products!
Read more – How to avoid scams at Fez Tannery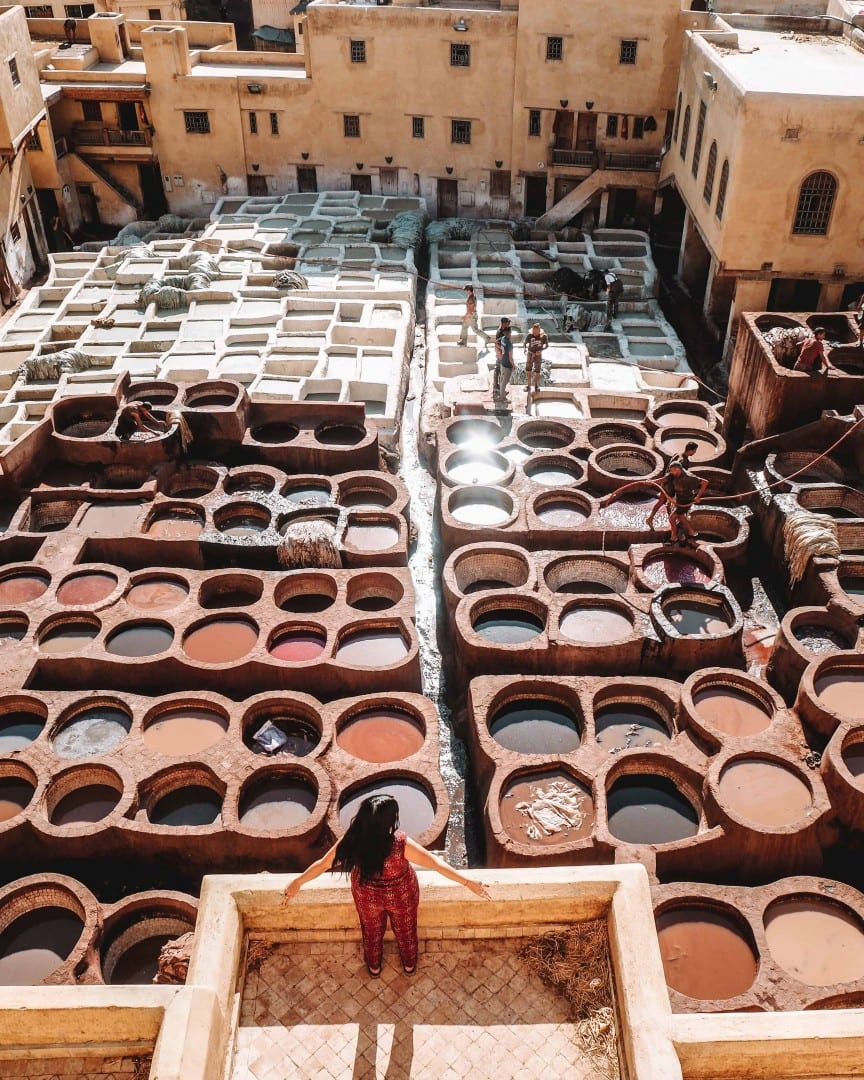 Bou Inania Madrassa
Although you can't enter any mosques in Fes without being Muslim (don't ask me how they can tell, I have no idea) you can enter the amazing Madrasa's that are dotted around.
A Madrasa is typically a college for Islamic instruction. The ancient ones in Fes are active but also used as tourists sites throughout the day.
Unfortunately for me, the Al-Attarine Madrasa was closed. But, the more impressive Bou Inania Madrasa was open for business. They're not necessarily large places to explore but good things come in small sizes!
For 20MAD you can appreciate the detailed Islamic architecture, archways, and patterns. If you prefer a place without crowds I would come for opening at 9 am or wait until after 4 pm. In peak season, it will be packed with tour groups all day.
The Royal Palace of Fes
Although you cannot enter the Royal Palace of Fes, the place itself is worth a visit to witness the fantastically detailed doors in the foreground.
It's truly spectacular in detail and you will wonder at the mystery of what's behind those huge gold doors.
The palace is located around an hour from Fes Medina by foot, but a Petite Taxi here is only 10MAD.
Click here for my complete guide for Fes Royal Palace with photography tips!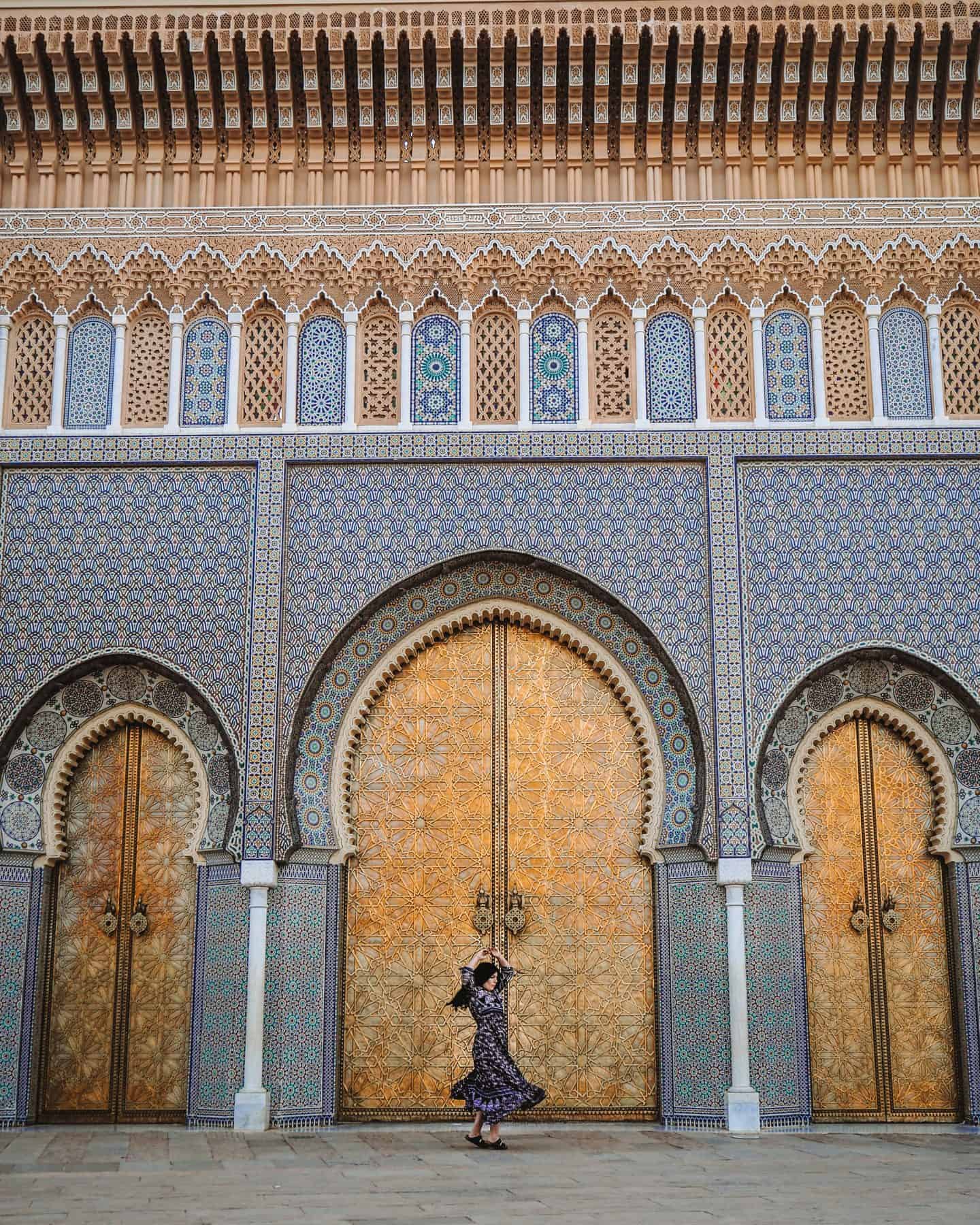 The Marinid Tombs
The perfect spot for sunrise or sunset, the Marinid tombs are perched high above the city on al-Qula hill Which means it will give you the most amazing view!
Built in the 14th century, there's actually little information available about this place and what this was originally used for. Research has led to believe it was a palace hall and mosque of the Marinid's.
But, regardless of the history, it's one of the most incredible views of the whole city. So, grab a picnic and enjoy it. It will really take your breath away. It's especially beautiful watching the sun go down over the Call to Prayer (Azan).
I had a bad experience on the way here with two men following me. One in a van and one on foot from the bus station. I didn't have a guide with me so I was a little afraid.
Luckily the police were on call to help but I would certainly take a taxi or guide with you to be on the safe side. I was also advised not to visit after dark as there have been reports of muggings.
Click here for my complete guide for the Marinid Tombs with top safety tips!
Get lost and discover the secrets of Fes Medina
Beyond all the tourist attractions, Fes itself is a tourist attraction. You will find beauty all around every corner. The sights, smells, colours, people, and alleyways will be enough to assault all your senses and you will love it!
You will find everything here from leather goods shops, Moroccan souvenirs, spices, meat, fruits, orange juice stands, pashmina's in all different colours, jewellery, paintings, pottery, and anything else you can think of.
So, get lost! You never know what you will find. But be warned, this is the only Medina where I felt well and truly lost but the locals are always on hand to help you out.
Where to eat: Café Clock
This has to be the trendiest café in the whole Medina. Café clock is a tall building tucked behind the Bou Inania Madrasa which sees countless locals and tourists every day. With three floors, incredible Wifi and a marvellous rooftop terrace, you can relax from the Medina with some amazing music and good eats.
They have a variety of tasty food options ranging from super healthy salads and smoothies to their burgers and fries.
I personally went for their avocado smoothie on pretty much every visit which will set you back 30MAD.
Although controversial, they're famous for their camel burger meal. Now, you may think that's crazy but it's amazingly tasty and extremely popular. I did go in for a taste and can confirm it's incredible. It will set you back 95MAD.
Click here to read my experience of Trying a Camel Burger in Morocco
Don't leave without trying the local Tagine
If there is one thing you have to try in Morocco it's tegine. Although tagine refers to the North African cookware it's served in, it's a way to refer to the popular dish here, and trust me, you'll see it on every menu.
Traditionally, it's a stew with meat which often comes with vegetables and, especially in Morocco, fruit! But, they also just do vegetable ones for all your veggies out there.
The Fes specialty is a lamb tagine served with prunes and roasted almond and it is to die for. I tried many while I was here but the best had to be the homemade one served in my Riad at Dar Seffarine.
But, if you're not staying there you can easily bag a tasty one pretty much anywhere in the Madina. Usually, they do a set menu of a starter, main, and dessert with coffee/tea for around 50MAD. It's a steal.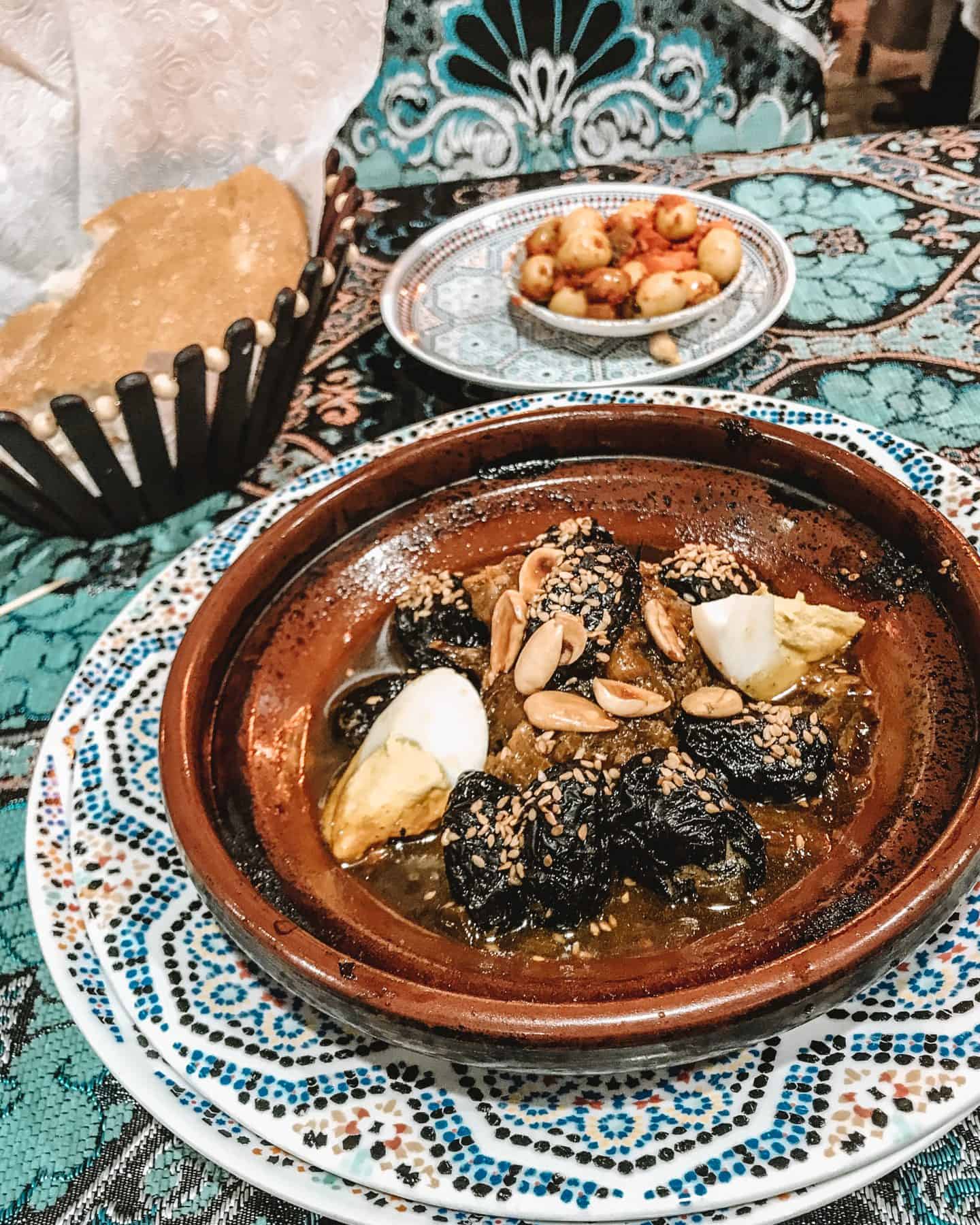 Heading to Chefchaouen from here?
So that's my Fes travel guide, but let's start thinking about onward travel!
Fes is located around 5 hours from Chefchaouen and you really can't miss a visit to the 'Blue Pearl' of Morocco. It's the town where every house, even the plant pots and doors are painted blue!
Although you can hire a taxi, I personally got the CTM bus as it was cheap and safer than a car. A ticket one way will cost you 75MAD and it's an air-conditioned bus.
These usually get packed up pretty quickly so just make sure you book your tickets as soon as you can.
You can find my ultimate guide to Chefchaouen here or 15 places to visit in Chefchaouen (that people don't really talk about) post here.
Heading to Morocco? Read more of my articles!
The ultimate 2 weeks in Morocco itinerary
The top things I wish I knew before travelling to Morocco
What to wear in Morocco as a woman
Solo female travel tips for Morocco
Is Riad Fes worth the price tag?
Taking a Sahara Desert Tour from Marrakesh
Save this Fes Travel guide for later!