This is the ultimate Lumbini travel guide and will give you all the information you need to know about the world-famous Birthplace of Buddha.
Lumbini draws thousands of pilgrims and tourists every year and has now become a UNESCO world heritage site.
Beyond the birthplace, there are also some awesome Buddhist temples and monasteries to visit that have been donated from all over the world!
You can visit shrines from Myanmar, Vietnam, Cambodia, and even France! It almost felt like I was travelling South East Asia all over again.
I'd say that if you're not really into your temples or Buddhism in any way, this may not be an enjoyable place to spend your time.
Add the fact that the hotels and restaurants in the area are not even close to passable and it may be your worst nightmare!
But, if you're interested in discovering some Buddhist culture, learning a bit about the history of Buddhism, and want to see some pretty architecture, it's definitely worth a night here (but no more than that!)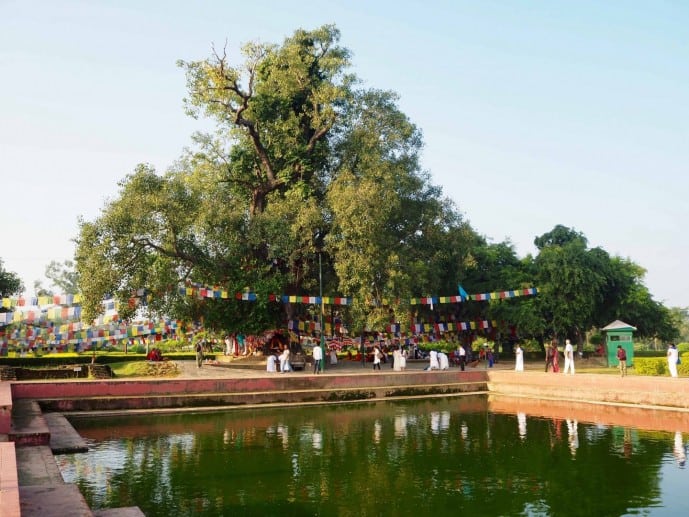 How to reach Lumbini
You can approach Lumbini from both Pokhara and Chitwan in a reasonable amount of time by bus.
From Pokhara, the journey is 5/6 hours and from Chitwan, it's around 3/4.
From Chitwan, there are no luxury A/C tourist buses and so a local bus is a way to go!
We had to catch 2 buses to get there. One from Chitwan to Baiharawa, then we had to make the short journey to the Lumbini 'bus stand'.
If you want to find out more about travelling in Nepal, you can read my 'simple and helpful guide to bus travel in Nepal'.
The bus stand in Lumbini is literally just a road and from here there will be a crowd of rickshaw drivers waiting for you.
I'd research where your hotel is before you take one. Stupidly, as I was so hot and delirious from the journey, I agreed to a rickshaw ride for 100 rupees to my hotel, only to find out my hotel was less than 500 meters down the road! Cheeky guy.
But, I negotiated the price of it into my tour which I arranged with him for the next day. Maybe that was his plan all along, who knows.
The best hotels in Lumbini
Oh, my word. I cannot begin to tell you how bad the hotels and restaurants were in Lumbini. This is not an exaggeration.
I decided to stay in the overpriced 'Hotel Peace Palace' and took a gamble.
So many reviews of the hotels in the area were terrible. But I was lucky and pleasantly surprised. I guess I was expecting the worst and anything that looked clean and that I could actually sleep soundly in was a bonus!
The hotel peace palace had a spartan room but the facilities were clean and there was good aircon! The bathroom by the end of checkout did have a tonne of flies in it though.
Other travellers I met stayed in some of the monasteries around Lumbini which I would 100% do next time.
It was $5 a night for the Korean monastery and you got 3 meals of Daal Bhat included!
It's good to be aware a lot of people head out at 5 am for temple visits so you may get an unwanted early wake-up call!
I had no idea you could stay in the monasteries and it sounded a better option. Plus, it will avoid the restaurants in town…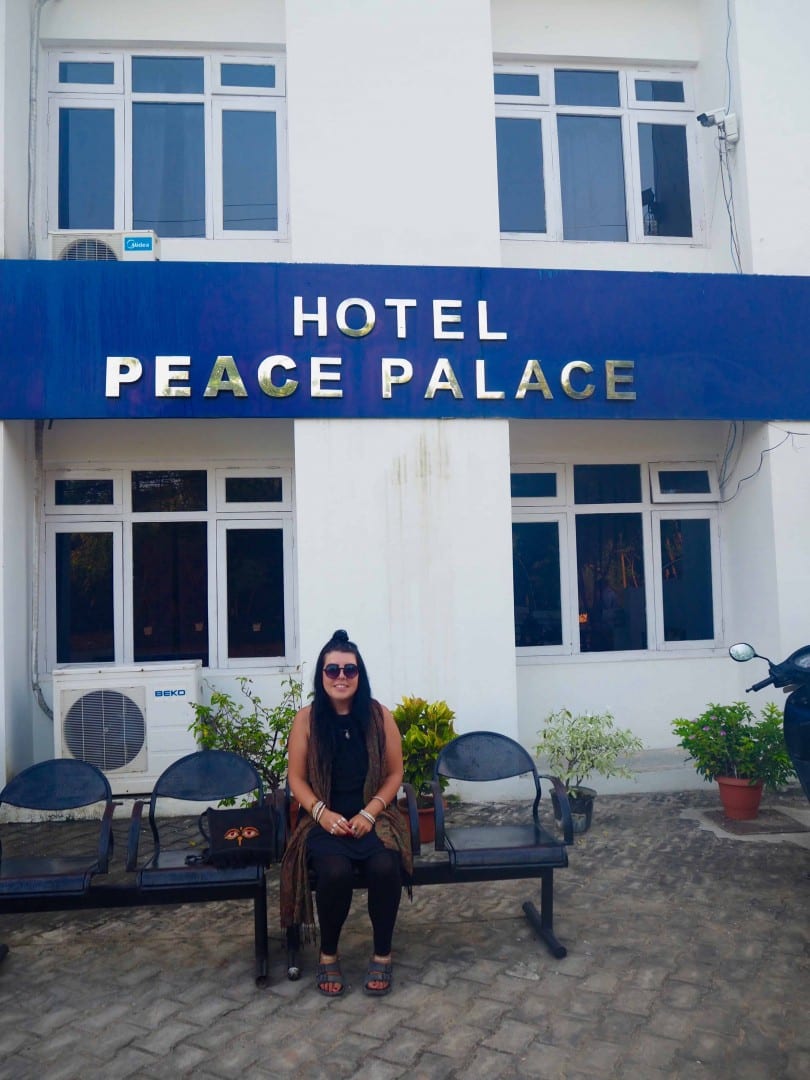 The best restaurants in Lumbini
Restaurants in Lumbini were BAD… And I mean really bad!
The restaurant in my hotel brought my Thukpa to the table with ants swimming in it!
I immediately sent it back and headed outside to try some of the local restaurants. The third vision restaurant was the only place I would recommend eating.
Located in the main bazaar; It was cheap, cheerful, and didn't make me sick. There are A LOT of flies though so be prepared to be joined by them for dinner!
There are literally 5 restaurants on Tripadvisor and all have mixed reviews (google if you don't believe me).
I even asked locals to recommend a good place and they all said there wasn't one! Haha!
So, we tried Third vision as it had a review of it being the only western restaurant that had a traveller vibe.
This for me was the only letdown about Lumbini. I can't believe how a famous site visited by so many, could be so badly set up for tourists.
All the money seemed to be pumped into the temples. But I guess it's a pilgrimage site and not really a tourist attraction!
How to get around Lumbini
In early October, the heat in Lumbini was the worst I had in Nepal. It was sweltering. I couldn't walk outside without feeling like I was burning.
So, instead of renting bicycles to get around (which is a good option too), we opted for a Rickshaw.
You only need around 4 hours to cover all the temples and birthplace of Buddha if you're getting a rickshaw tour (I'd say you need more if you're cycling). I'd start out early to avoid the heat at around 7 am.
Also, the temples close for lunch at 1 pm and then reopen later in the day at 2/3 pm until 5 pm. So, you need to decide what time of day you'd like to cover them all.
What I thought was cool was that a lot of the rickshaws in the area were donated to Lumbini by different countries.
This one below was donated by Japan! It was fun, but was quite snug in the back for two ;)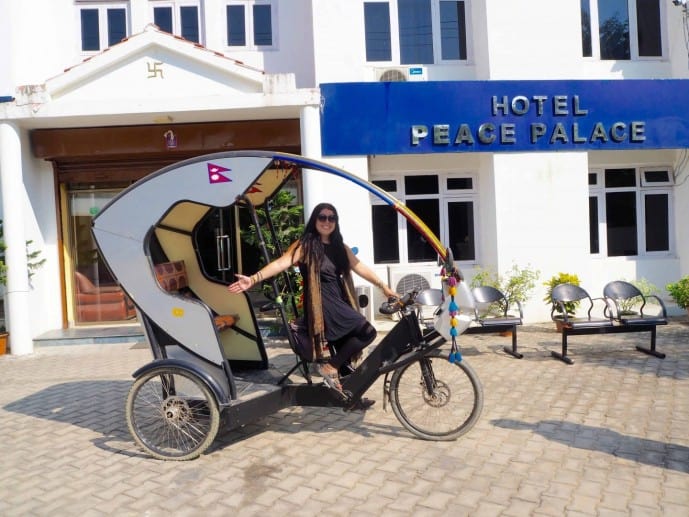 Things to do in Lumbini
In Lumbini, there are literally only temples to explore and the whole tour takes roughly 4 hours.
That's why I would personally suggest spending no more than one night here as once you've done all the temples, there is nothing else left.
Even the rickshaw driver told us there was nothing else worth seeing and he would charge us for anything he could!
Maya Devi Temple Lumbini, The birthplace of Lord Buddha and Peace Gardens
This was the highlight for me of my Lumbini adventures. We headed there first to beat the crowds despite our rickshaw driver advising otherwise.
I didn't mind some crowds but I heard it just gets over-packed and I really wanted to enjoy it!
This is the only temple on the whole site that charges for a visit, all the rest are free. Tickets for foreigners are 200 rupees and for locals/SAARC countries it's 30 rupees.
You cannot wear shoes inside and so you need to put your shoes in a hold outside the entrance. The grounds are pretty hot and gritty, so this is another reason to go early.
Once you get inside, you can hear the beautiful chanting from all the monks and pilgrims who visit. You'll see big groups of people visiting to learn from Buddhist teachers and those who came for meditation.
Most base themselves around the sacred Bodhi tree to learn as this is the exact birthplace where Buddha was born.
Make sure you light an incense stick and circle the tree clockwise for a small donation. For more information, see here.
What I loved is the beautiful colours from the monk's clothes, to the flags and the people around it!
The bathing pond is so beautiful in the middle and it has cute little turtles who swim in there.
Turtles are sacred animals in Buddhist scriptures, so this is why they are placed near the site.
The temple opposite is also worth a peek inside and was the first temple ever built here.
You can see some of the excavation works which revealed some ancient stone carvings.
Photography is strictly prohibited inside and you must keep silent in the temple.
I really loved visiting here as it just felt so calm and peaceful. If you do nothing else in Lumbini make sure this is it!
Lumbini Buddhist temples from all over the world
The next coolest thing to do in Lumbini is to visit all the temples which have been donated here from all over the world!
The complex is split between the East and West monastic sites and is easy to explore by bike, foot or by rickshaw.
My first long-term backpacking trip was to South East Asia two years ago and so, for me, it brought back a lot of good memories!
I could visit Thailand, Vietnam, Cambodia, and Myanmar all in one day and, I didn't need to pay for expensive Visas to boot.
All the temples have their differences but they all centre on a place to worship Buddha and a peaceful oasis from the city outside.
It's good to note that the temples are not open all day. Most open from 6 am to 1 pm then 2 pm to 5 pm.
Chinese Temple Lumbini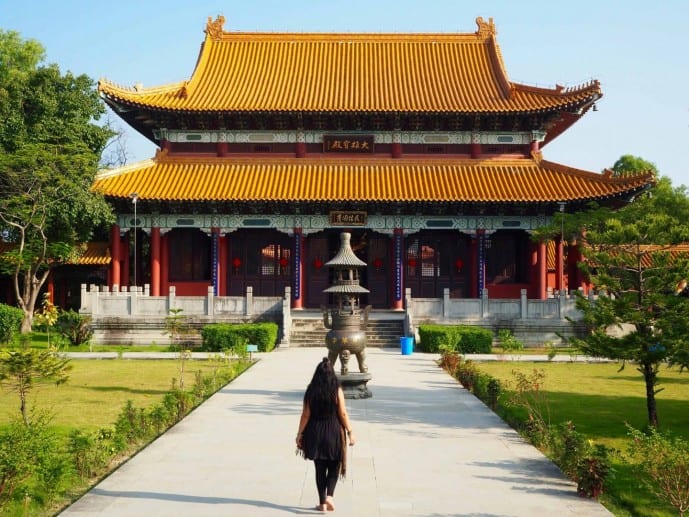 South Korean Temple Lumbini
German Temple Lumbini
Thailand Temple Lumbini
Cambodia Temple Lumbini
Little Buddha
Directly opposite the entrance to Buddha's birthplace is the little or baby Buddha.
This gold statue points towards the birthplace and was donated by Japan.
Of course, you can get a cheesy photo of you doing the same pose here! Most just get a selfie-and leave.
Lumbini Peace flame
The Eternal Peace Flame is a constant flame that is guarded and burns here at the start of the river, 24 hours a day, 364 days a year.
It burns to symbolise world peace and is very pretty when the sun goes down to see the full effect.
A boat ride on Lumbini river
The monastic sites are huge and so it's worth finding a quick way around to avoid the strong heat here.
One of those ways is the cute little boat ride that can take you from one end of the park to another.
From the peace flame side, you will get incredible views as you head towards the Peace Pagoda.
My favourite part was seeing the reflections of the numerous bridges that provide a crossing on the river.
You can wave at the locals and feel the breeze in your hair. It's also quite beautiful as you head back at night time as you can see the peace flame and other temples lit up against the night sky.
It's a sharing boat ride and will cost 50 INR or 70 NPR for each person, each way.
Peace Pagoda or Shanti stupa Lumbini
If you have time, it's well worth heading to the peace pagoda for sunset.
Although it doesn't have as great a vantage point as other Shanti Stupas in Nepal, it's a beautiful and peaceful place to watch the sun go down.
During the mornings and afternoons, there are no mats to place your feet and so be prepared for the floor to feel like lava!
It's best either early morning at sunrise or sunset.
Here, you will see people meditating, strolling clockwise around the Stupa, and relaxing in the cooler temperatures.
It's quite a far way out in the monastic areas so it's best to cycle or get a rickshaw there.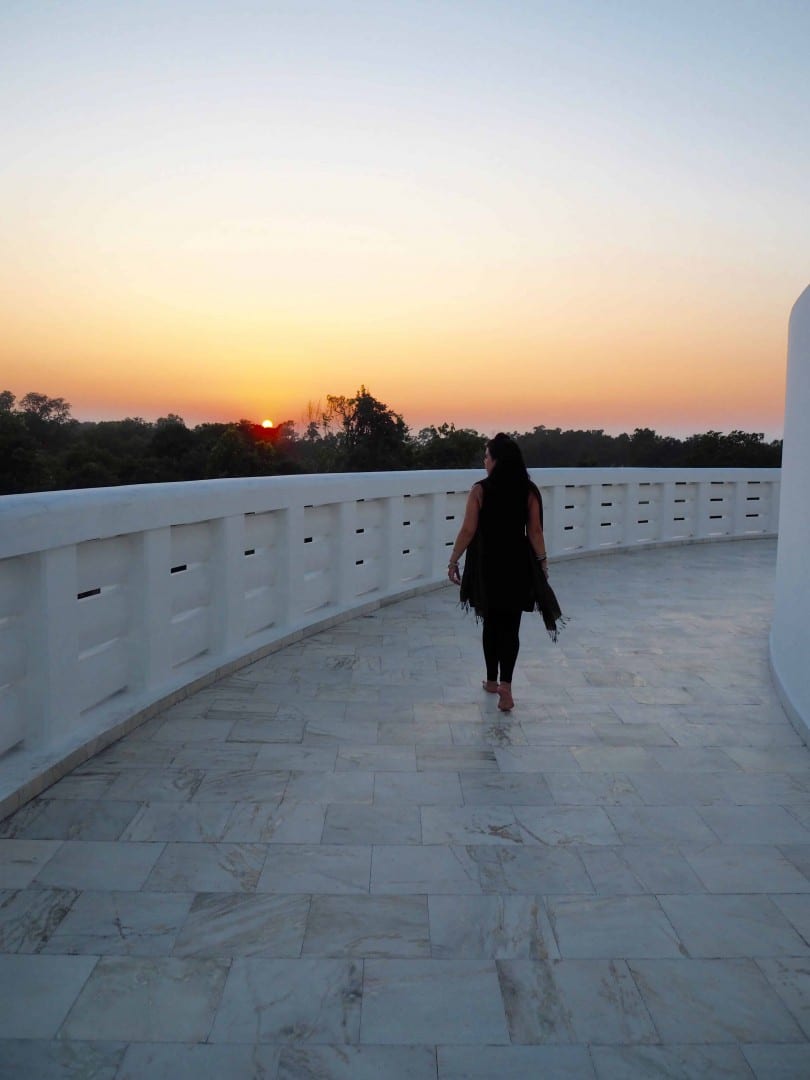 The ultimate Lumbini travel guide
Lumbini was a mixed place to visit in my books.
On the one hand, you had these beautiful Buddhist temples from all over the world to explore. On the other the hotels and restaurants (and bugs) were so bad, I wanted to get out as soon as I could.
I don't regret my visit as I loved learning about Buddhism and the peaceful vibes but next time I wouldn't spend a night there, I would just do a day trip.
I'd say that it is definitely worth a short visit if you feel drawn here to learn about Buddhism and visit the birthplace of Lord Buddha.
But, if you're not into your temples or are a little bored of them in Nepal, you may find it won't be your cup of tea.
Need more information on Lumbini?
If you're looking for more information after this Lumbini travel guide.
Read my article with even more Lumbini travel tips here!
Read more of my Nepal travel guides
My ULTIMATE Kathmandu bucket list
A complete guide for the Garden of Dreams in Nepal
What to expect at Pashupatinath Temple
Taking an Everest Flight from Kathmandu
How to get from Kathmandu to Pokhara
A complete Pokhara travel guide
What to expect in Chitwan National Park
Travelling overland from Nepal to India
Save this Lumbini travel guide for later!