This is a complete Pokhara travel guide, full of where to stay, things to do, where to eat and more.
Compared to the hectic, dusty and busy capital of Kathmandu in Nepal, Pokhara was an oasis of calm.
I instantly felt a bohemian traveller vibe, which was exactly what I was after. A great place to find peace and relax, I knew I was going to love it here.
The locals were so friendly and welcoming, there were plenty of amazing restaurants and all the action was centred around a majestic sparkling lake with a backdrop of the Annapurna mountain range!
Could this be heaven on earth?
I took a few days out of the blogging/social media world here just to chill out and unwind and I would highly recommend Pokhara as the place to take it easy on your Nepal travels.
Here's a helpful Pokhara travel guide on what to do, and where to stay and eat!
The ultimate Pokhara travel guide
How to reach Pokhara in Nepal
There are no trains in Nepal due to the mountain ranges which pretty much cover the whole country, so if you're heading here overland buses and private taxis are the only way to travel.
Air-conditioned tourist buses will cost you anything from $8 (800 Nepalese rupees) to $35!
To be fair, this 'luxury bus' had a hostess, fridge, massive seats and drinks and meals included but it's SO not necessary to pay that much.
It will still go the same old route as all the others. Popular bus companies are Blue Sky Travels and Greenline (both recommended in Lonely Planet).
But there are also plenty of other companies too. I would definitely recommend that you try to get a seat near the front of the bus as the roads are pretty bumpy, winding and sketchy.
You'll be spinning around the corners of mountain ranges at top speed and then drop down is pretty scary to look at!
I've written a detailed guide to bus travel in Nepal that covers all bus routes!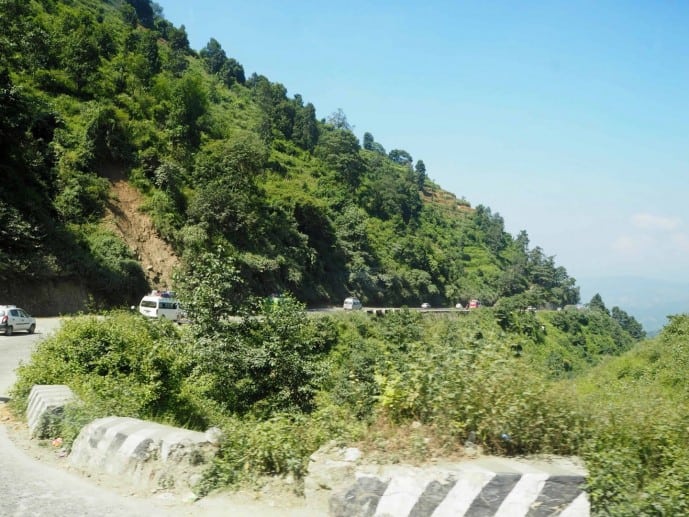 Local buses are around $5 (500 NPR) but I wouldn't recommend it. The dust pollution on the roads is some of the worst I have come across in my travels in Asia.
Depending on the time of year, it will also be HOT. So, you'll need the window open and you'll breathe in all the dust yuck!
I would also try not to travel over the festival period as when we were here during Dussehra in October all the buses were charging double.
Taking the bus from Kathmandu to Pokhara
All 50 bus companies which were heading to Pokhara were sold out as locals wanted to visit their hometowns over the festival period.
In the end, as all the A/C tourist buses seem to leave at 7 am to Thamel, the traffic on the roads was so bad that it took us 12 hours to get here instead of six. It was a bit of a nightmare.
You can avoid all the above and fly for around $100 but this may be out of the price range of many backpackers and travellers.
From here Pokhara has bus links to Chitwan, Lumbini and Kathmandu.
Kathmandu has the only International airport in Nepal, so if you were thinking of heading to a different country, you have to return there.
For more detailed information on bus travel in Nepal, see here.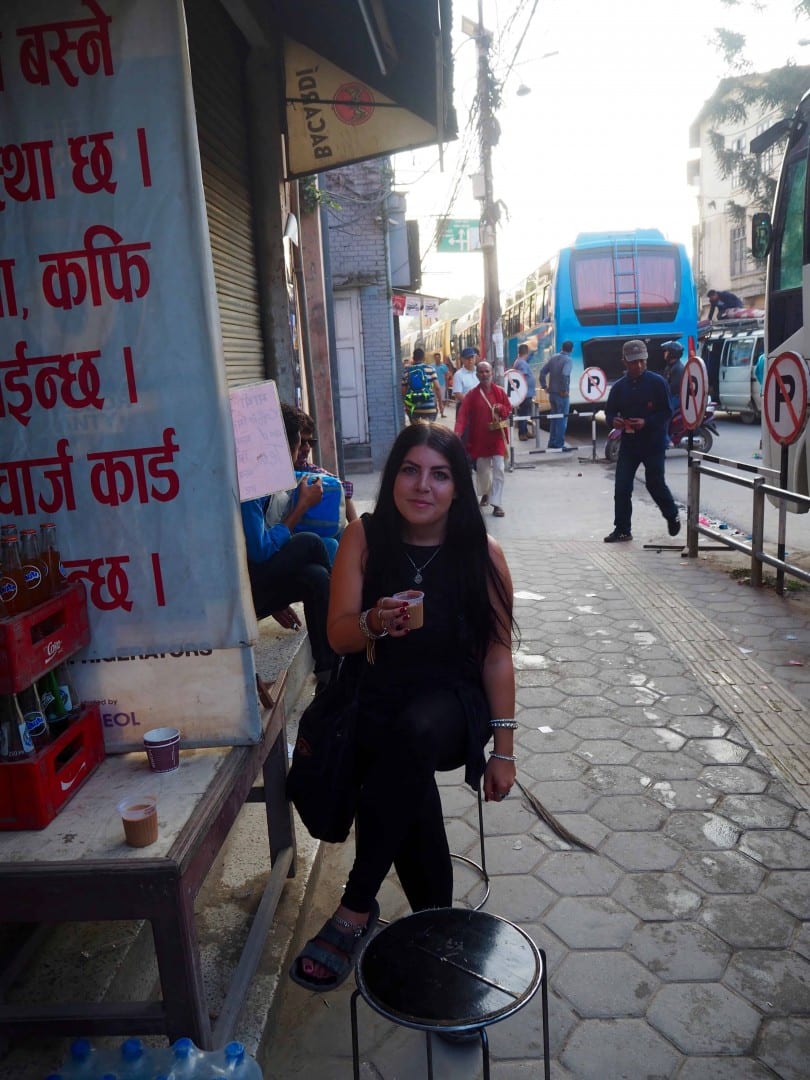 How to travel around Pokhara in Nepal
Nepalese rupees, US dollars and even Indian rupees are accepted in Nepal.
Namaste means hello and goodbye in Nepalese
Taxis are the main way to get around the town and to visit the tourist attractions. These all seem to have a hefty price tag.
If you're willing to give it a try, there are local buses which can get you around the town for pennies. The buses will head out opposite the Barahi temple (Barahi Chowk). These will take you to a place called Pidota (I'm not sure how it's spelt but that's what it sounded like), then from here you can catch a bus to Devi's falls, the Mahendra caves and even the Peace Pagoda.
The best hotels to stay in Pokhara
There are a plethora of different hotels all over Pokhara, but by far the best area to stay is as near to Fewa lake as you can!
Personally, I stayed at both the Silver Oaks Inn and Hotel Iceland which had an awesome pool to take the heat off.
Both included breakfast ranging from $20 – $30 a night and had a gorgeous view of the mountains from our window.
There are also a fair few luxury options including the Fish Tail Lodge which is situated on the lake and has a fine dining restaurant.
For budget options, there are plenty of hostels, guest houses and homestays which you can stay in starting from $2 a night!
I found that most hotels all over Nepal were spotlessly clean and had excellent hospitality. So, you don't need to spend an awful lot to get a great night's sleep.
Top things to do in Pokhara
Most of the action in Pokhara centres around the gorgeous Fewa lake.
My personal favourite moments were just relaxing in one of the beach hut type bars/cafés set up with a drink and a good book.
But, there is plenty more to keep you occupied here than just relaxing. If you've got itchy feet and want to explore, here are some places to visit in Pokhara.
Phewa Lake
When you first see Phewa lake, you can't help but just gasp.
Not only because it's absolutely gigantic, but because it has the most stunning colour which sparkles in the light.
You will instantly fall in love with it and want to come back forever.
It would be almost criminal to come to Pokhara and not take a boat ride on the lake while you're here. So, get your arms ready!
Although you can get a boat ride with a guide, a self-guided tour is all the more fun. I got a two-hour ride as I wasn't sure how long or how far I would go in that time! But, if you're relatively fit, you can easily explore the lake at this time.
A two-hour ride cost 620 Nepalese rupees which included the compulsory life jacket hire. It was tough work, well for my boyfriend at least ;).
But, when you stop to take a break, it is so calm on the lake. You'll feel like you've entered paradise.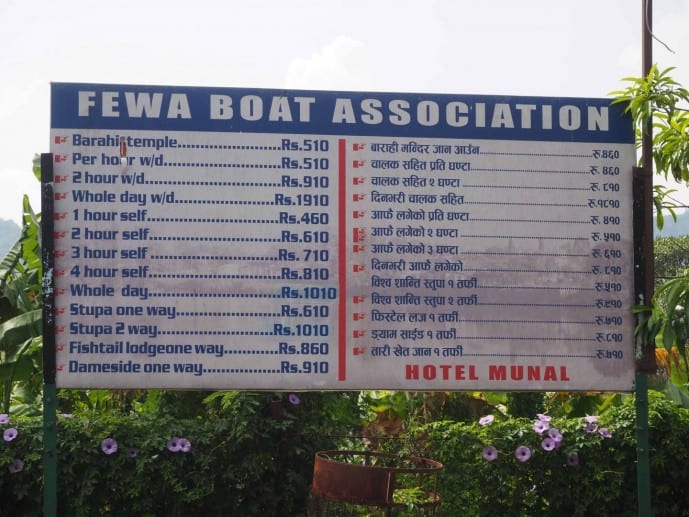 Barahi Temple
The Barahi temple has an air of mystery to it as it's situated on Fewa lake and can only be accessed by boat.
It's a Hindu temple that's dedicated to the Goddess Durga who is the protector of the gods.
As we were here over the Dussehra festival period, the temple was extremely busy with pilgrims offering and being blessed by the priests in the temple.
Personally, I had the most fun feeding the many pigeons which reside here. I think a bag was around 100 NPR but it was such a laugh.
The children who were visiting the temple were scaring the crap out of them and when the pigeons flew, I also got scared!
A boat ride here from the Barahi ferry dock will cost you a 100 rupees return.
You have to pay 10 rupees for a compulsory life jacket which will be quite disgusting in the heat.
Then it's a bit of a cattle market to get on the ferry. As usual in Asia, there are no queues. It's every man for himself. So, just hop on!
Peace Pagoda (Shanti stupa)
The Peace Pagoda (Shanti Stupa) can be seen from the Fewa lake and has fantastic views of Pokhara, Fewa Lake, Annapurna and beyond.
This temple is relatively new and officially opened as a tourist attraction in 1999.
Built by the Japanese, it was the first Peace Pagoda that was built in Nepal. This is a fantastic place for the sunset and there are a number of ways to reach it.
One is to grab a return ferry from the Barahi dock and walk the steep climb up to the top for 800 rupees.
The other is to get a taxi there for 1500 rupees or, you can do what I did and get the local bus all the way up.
The price for the bus was around 75 rupees one way (I caught 3 buses in total from the lakeside) but, be prepared for not having a way back down!
As we got up here, we were expecting buses to be making their way back down the hill but to our surprise, there weren't any at the Peace Pagoda entrance after sunset!
We then had to head back down the winding hill in the dark. It was pretty sketchy as it was pitch black but luckily, as we were taking photos to remember our ridiculous mistake a local bus pulled up to take us back to Pokhara. Life saved.
Devi's falls
Both of these attractions are in the same place on opposite sides of the main road and so only need a short bus or taxi journey from the main Pokhara area.
Devi's Falls is a waterfall that heads underground and you can hear its roar from far.
Supposedly, a Swiss traveller called Miss Davis was taking a bath in the falls and was swept away with her husband.
Her body took a few days to retrieve and hence the name Devi's falls. But, there are numerous legends around this – I'm just quoting the one from the signs there.
It is pretty but you only really need around 20 minutes here as a lot of the falls are barred up to save other tourists from making the same mistake.
I really enjoyed the garden surrounding the falls and the cute little wish fountain at the end!
I'm always addicted to these things and threw quite a few coins to make my wish come true! :p
Devi's Falls ticket prices are 30 Nepalese rupees
Mahendra cave
The inside of the Mahendra caves was a little disappointing and was really just simply a cave with a small deity statue inside and a plastic cow in the 'cow shed'.
But the colourful architecture of the winding staircase to enter the temple was the part that I loved the most.
You don't need long to explore the cave, I'd say like 15 minutes at most. But, if you're feeling hot you could stay longer as a respite from the heat.
It can get super slippy inside so make sure you hold on to the railings if you don't have a grip on your shoes like me (lol).
Mahendra Cave ticket prices are 50 Nepalese rupees
Annapurna Circuit (ABC)
Although I didn't personally undertake this trek (criminal I know but I just wanted to relax), the Annapurna circuit is one of the main reasons why people flock here.
This trek is one of the most beautiful that you can undertake in the entire world and if you're visiting when the weather is clear you get crystal clear views of the Annapurna mountain range and the famous 'Fishtail' mountain.
There are many different options for treks here including the Poon hill trek and the Annapurna Base Camp (ABC) depending on your time and budget.
You can pay for a guide and a porter to take your luggage but a lot of backpackers were just going it alone without a guide and staying in the tea houses which sounded cool.
I visited Pokhara in the 'shoulder' season, so we didn't have crystal clear views of the mountains which I would have liked every day.
But, on the last day, we did get a glimpse of the Annapurna mountain range and the Fishtail! Finally, I got a glimpse.
If you have the budget you can also undertake paragliding or a helicopter ride to the Annapurna base camp which will take 15 minutes as opposed to 15 days haha!
But it's entirely dependent on your budget and the weather. A helicopter ride was around $350 per person.
Best restaurant in Pokhara: Tara's Nepalese vegetarian restaurant
A lot of the restaurants in Pokhara can stretch a traveller budget for sure.
Mainly, the ones by the lake or on the main street have big price tags and add around 23% in service charges and tax.
So, if you're strapped for cash there are a few options that are kind to your wallet and provide tasty wholesome meals.
One of these restaurants is Tara's. Hidden off the main street with only around 5/6 tables, Tara cooks up Nepalese homemade meals at an affordable price.
We tried the veg and chocolate momo's, egg curry and the lunch special and all were yummy and hygienic.
Also, no meal goes above 300 NPR and includes service and tax. You can't ask for better.
If you're wondering what goes inside a chocolate momo, it's chocolate, coconut, cinnamon and nuts! I honestly wasn't sure what to expect but they were so delicious! They use a sweeter batter so it works. Weird, but it works.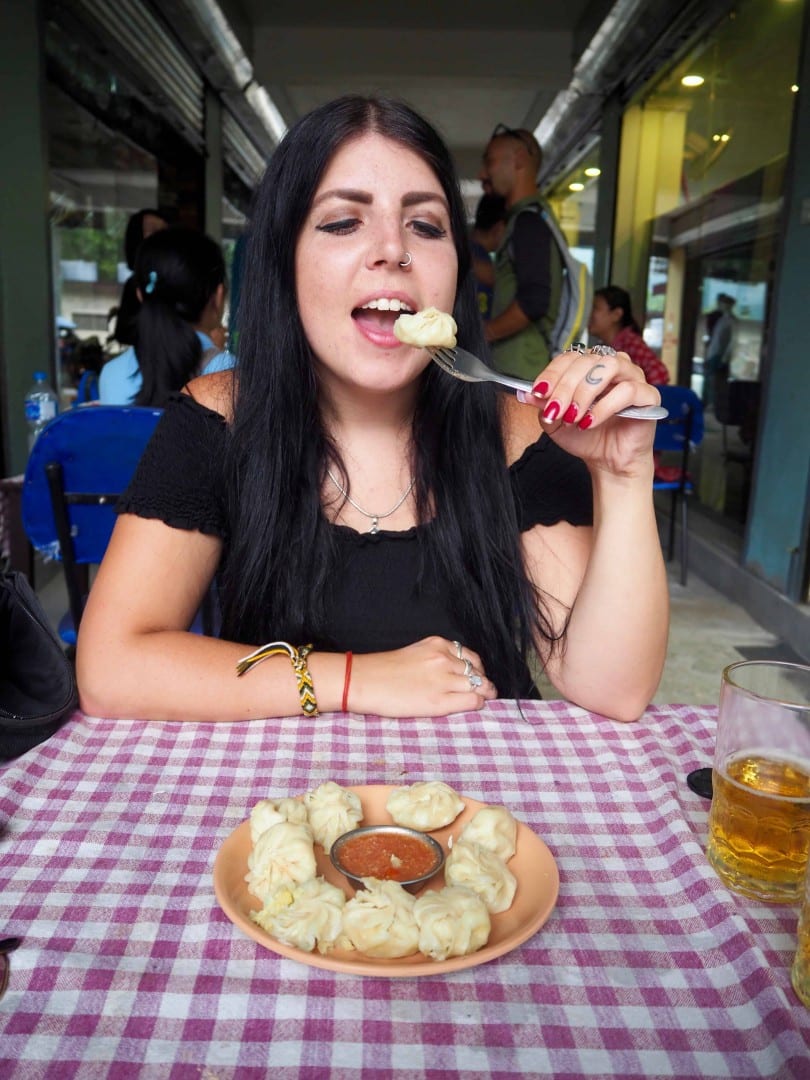 Make sure you put Pokhara on your bucket list!
Pokhara is a traveller haven for a good reason in Nepal, it's laid back and will make you want to stay forever.
You can chill by the lake, take it easy before/after a long trek or just enjoy the calm nature and beauty of the mountains.
I'd definitely leave some breathing room for Pokhara in your Nepal itinerary as you may arrive and never want to leave!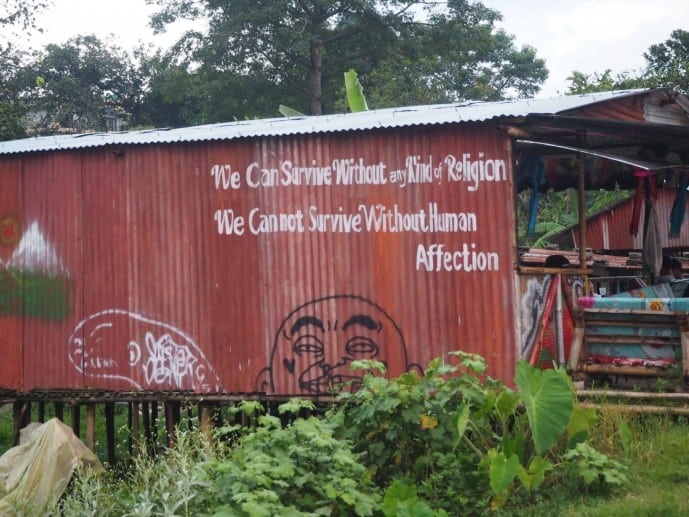 Where are you heading next in Nepal?
If you liked this Pokhara travel guide, make sure you read some of my honest and informative guides about Nepal;
The ultimate Kathmandu Bucket List
What to expect at Pashupatinath Temple
A guide for Garden of Dreams in Kathmandu
Everest Flight from Kathmandu – is it safe?
How to get from Kathmandu to Pokhara
Why you need to visit Chitwan National Park
Taking a wild walking safari in Chitwan
The honest truth of elephant safaris in Chitwan National Park
My top travel tips for visiting the Birthplace of Buddha
Travelling overland from Nepal to India
Save this Pokhara travel guide for later!