If you're drooling over those lavender fields in Provence and are looking for a place similar closer to home you need to visit Cotswold Lavender fields.
Keep reading for some essential Cotswold Lavender fields travel tips for your visit.
I honestly think it could be criminal that I've been living on the gateway to the Cotswolds all my life and I haven't visited a Lavender Field yet. But, hey, here I am!
I always thought that the endless rolling fields of purple were in the likes of Provence in France or in London in UK. Little did I know that there was a beautiful farm called Cotswold Lavender and it was right on my door step.
So, this year, for fear I'd miss out on yet another year without Lavender in my life; I drove on over to see what it's all about. I was not disappointed, I was head over heels about it. As I approached, all I could see was a sea of purple and the smell of lavender filling the air. I let out a little squeal, I finally made it.
So, grab your straw hat and your flowy white dress and follow me to the Cotswold Lavender fields! I'm going to lay out my top tips to ensure you know what you're in for.
Here are my top tips for your visit to Cotswold Lavender fields
1. You can only visit the Cotswold Lavender fields from June – August each summer
The Cotswold Lavender fields are at their peak in English summer which is from around early/mid-June to late July. So, there's a limited time that you can visit the fields each year. Always check their official website which will give you the information you need about the harvest timings.
Unfortunately, the Cotswold Lavender fields aren't just made for pretty 'gram photos (disappointing I know).
It's a crop and when it comes to its peak bloom, it's collected for the harvest later in the year to make all the yummy smelling Lavender products that we love like essential oils, hand creams, chocolate, and gin (mmm).
It's quite an interesting process and, as the lavender is distilled the same day it's cut, you can watch it in action at their distillery at the farm.
2. It's in a remote part of the Cotswolds, so plan your journey beforehand
Cotswold Lavender Fields & Farm is based in Broadway near Broadway Tower in Gloucestershire and the nearest notable place is Snowshill by Snowshill Manor.
It is quite remote with the nearest train station being Morton in Marsh which is 6 miles away from the farm. So, if you're without a car the best way is to grab a taxi from the station to visit there.
Once you get near to the farm, you can't miss it as you'll just see a sea of purple!
If you are heading by car, I would recommend plugging in the postcode on your Satnav or Google Maps (but be warned, there's limited signal!) to find the address. Their address is;
Hill Barn Farm, Snowshill, Broadway, Worcestershire WR12 7JY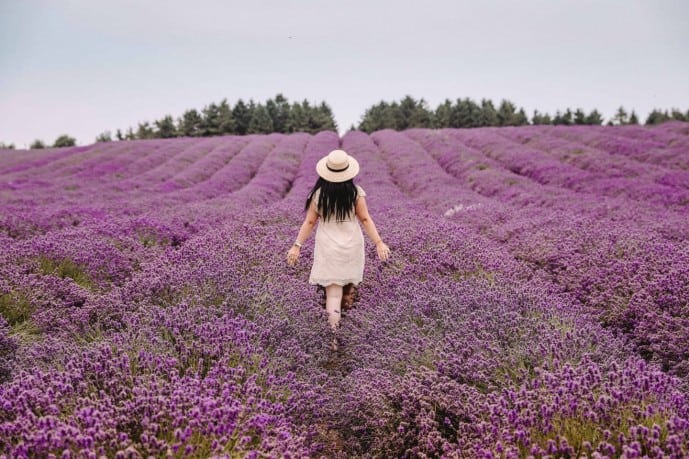 3. Get there early to avoid the crowds
If your main aim is to take photos of the Cotswold lavender fields or shoot video, then I would highly recommend getting there as early as you can. This is especially important on weekends and when it's coming up to the last few weeks of the crop in late July.
The farm officially opens at 10 am. But, we managed to get there a little earlier at 9.45 am and the owners were kind enough to let us in a little earlier. This gave us a good head start to get some photos without anyone there.
By 10.30 am, it was packed as three coach tours pulled up all at once! So, get your snaps in quickly.
Saying this, there is always a part of the lavender fields you can get to yourself but you may need to walk a while to find it.
This also goes for the facilities and the tea rooms. I think at one point I queued 20 minutes just to use the bathroom so, make sure you use them early if you aren't prepared to wait. It was absolutely rammed!
4. There will be hundreds of bees munching on the crop
If you have a fear of bees, wasps, or flying things in general, you may struggle a bit here as there are hundreds of bees in amongst the lavender crop.
They're buzzing all over the place and when you're walking around you can hear a low humming sound. If this is the case, maybe just view the lavender from the outside as you can only really see them when you're walking inside the crop.
Luckily, I love bees so I didn't have much of a problem. Although, when I was walking through I did flinch a few times that I would knock a bee over and it would come back for vengeance!
5. Don't miss out on the Lavender cakes and ice cream at the tea shop
After you've had enough of frolicking in amongst the Cotswold lavender fields, you must stop at their tea rooms for some Lavender treats.
Here you can pick all sorts of tasty morsels with or without lavender. As I just couldn't decide which one of their colourful fusions to pick; I picked them all!
I sampled their lavender and lemon cake (my personal favourite), lavender flapjack, lavender shortbread, and even some lavender ice cream (don't worry, I had my family with me to help out)! They even had lavender tea but, I think there's only so much lavender one can have in one sitting.
It's not a cheap visit but as these are all homemade from the farm, you know that they will be wholesome and tasty.
6. It's only £7 a ticket, which is a bargain
I couldn't believe that such a pretty place could only cost £7 per person to enter. It was a total bargain for a day out as, once you bought your ticket, you could come in and out all day if you wanted to.
There was no limit on your time which was perfect for me as I wanted to take lots of photos and videos on my trip.
It's quite a large field so there's plenty of Lavender to see and even some picnic benches if you fancied taking your own lunch there.
7. It's not just Lavender, you can see beautiful wildflowers too
In amongst all that purple, the glittering yellow wildflower field really steals the show! I absolutely loved seeing all red, blue, white, and purple flowers dotted in amongst the golden petals. It felt like I was having a real Kate Bush moment for a while.
It's just so picturesque and you'll wonder why you can't visit these fields every day?! It's just not fair I tell you :P
So, that's a few of my top tips for making sure you have a beautiful and quintessentially English day out at Cotswold Lavender Fields.
I have now vowed that each year I will make a visit to the Cotswold Lavender fields as it's just such a relaxing day out.
For more information, you can visit their official website here.
Looking for more Lavender places to visit?
This was my first time visiting a lavender field and I am completely hooked on seeing more. If you're near London, you may want to visit Hitchin's lavender or Mayfield's which are a little closer afield.
Or, if you want a real adventure then hit up Valensole in France which is one of the most photographed lavender farms in the world.
Or, at least it seems to be, as hundreds of pictures are on my Instagram feed at the moment and it has now got a prized place on my never-ending bucket list.
If you wanted to see another incredible flower field in the Cotswolds, I would try to book the Confetti Flower Fields that open up in early July.
Don't miss out on a visit to Cotswold Lavender Fields, you won't regret a thing!
Save these Cotswold Lavender Field tips for later!