If you want to discover the best things to do in Jaisalmer, keep reading.
Rajasthan is my favourite state in all of India and I like to feel like I know my way around now.
I've visited Jaipur, Pushkar, Jodhpur, and Udaipur many times but none of them compares to the breathtaking golden city that is Jaisalmer.
As soon as I pulled in, I was dumbfounded and my heart stood still. It was like I'd gone back in time by a few centuries.
I was in awe of the honeycombed buildings, getting lost in the ancient market streets, and the plethora of colours in the sarees and turbans.
The promise of adventure in the sandcastle fort and the mystery of the desert made this like something pulled straight out of a fairy tale.
A lot of travellers complain about Jaisalmer being 'too touristy' but honestly, I didn't care.
It quickly knocked the other cities off the top spot to become my favourite city in all of Rajasthan!
It is truly something that you cannot miss in India and this guide will make sure that you cover all the essential things to do in Jaisalmer some best-kept secrets too.
How to reach Jaisalmer in Rajasthan
Jaisalmer is the furthest tourist stop on the West side of Rajasthan near the bordering country of Pakistan, so it can be a little complicated to get here if you're stuck for time.
Flights to Jaisalmer
Daily flights with Spicejet are running to Jaisalmer from Delhi and Jaipur. It's worth checking skyscanner.net for options and booking well in advance to get the best deals.
Having flown with Spicejet before, I can recommend them and they supposedly have the best track record for timekeeping. But, this is India, so don't hold your breath!
Bus to Jaisalmer
If you're on the backpacking trail, the easiest way to get here is by bus from Jodhpur. The Jodhpur – Jaisalmer highway is awesome as it's a direct road that has barely any traffic.
So, you'll find it's a smooth 5-hour journey without much delay. For a non-air conditioned bus, it will cost you around 250 rupees, or for air conditioning, it will be around 500 rupees.
Train to Jaisalmer
By train is also possible from Jaipur and Jodhpur, I would personally recommend cleartrip.com for booking tickets.
The official IRCTC website and I are what I would call 'frenemies'. i.e. I love and hate the site at the same time!
I would save pulling out your hair and using an external site like Cleartrip. You pay a small commission but it's so much simpler. Trust me.
Click here to read more of my Indian train travel tips
Where to stay in Jaisalmer
There are some luxury options in Jaisalmer including the Jaisalmer Marriott Resort & Spa and the exquisite Suryagarh (which is on my list to stay at one day!).
Also, there are some really beautiful luxury camps, like the Serai, if you were looking for a break with a difference.
But, bear in mind that these luxury options may take you a little further out of the city than you would like.
For example, Suryagarh is 14km away. As you're quite remote, you'd have to get private hotel taxis unless you have your own means of transport.
There's no Uber in Jaisalmer yet! I personally wanted somewhere close to the city, quiet, with a view of the fort and a Haveli which looked traditional to Jaisalmer.
When doing some research, I stumbled across the perfect match; Helsinki house!
Named after the owner's love for travelling and settling in Finland, this place is beautifully decorated with modern amenities.
This place also doubles up with Zostel Hostel, so they cater to all budgets! They have a stunning open terrace rooftop that overlooks the fort.
When I wasn't exploring the city, I was relaxing on their balcony taking in the views. At night, the fort lights up and it's so romantic.
Can you stay inside Jaisalmer Fort?
Staying inside the fort isn't recommended as it's deemed unethical.
Lonely Planet has cited that the fort is literally 'self-destructing' due to the number of tourists and the infrastructure including the ancient sewage system cannot take it.
So much so, that Lonely Planet is no longer recommending any hotels inside the fort.
To see a full article on this issue, click here.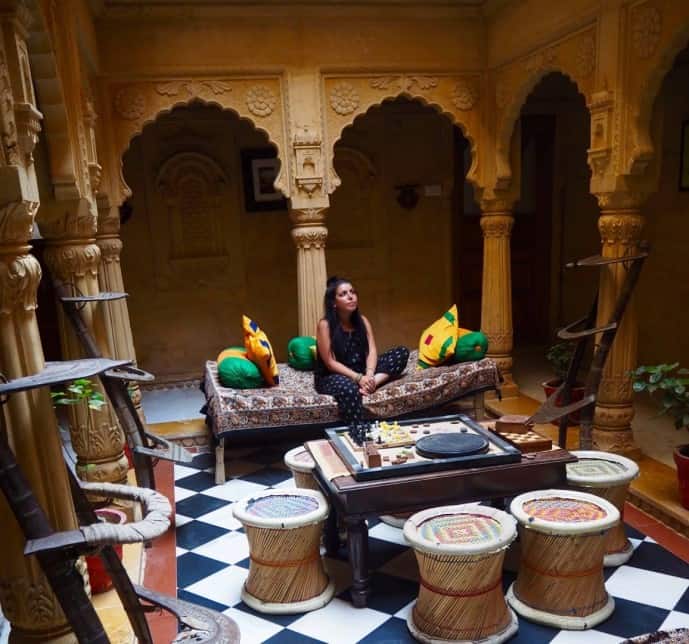 My top 9 essential things to do in Jaisalmer
1. Start the adventure at Jaisalmer Fort
Out of everything that I did in Jaisalmer, simply wandering around this amazing fort was my favourite thing to do.
From the city palace to the temples, the cafés, and market stalls, this fort has it all.
Yes, there are so many forts in Rajasthan that you may get bored of 'yet another fort' but this one is different.
It's completely free to enter and as it's a living fort, it has everything you need inside. It's like its own village.
As you walk up through the fortification gates, you literally feel like you've stepped back in time to an ancient faraway land.
You're not in a museum looking at history, you're living it!
It's worth spending at least half a day exploring here. There is so much to see and do.
You can hire a guide for a bit of a history lesson but I wouldn't say it's necessary, discovering things for yourself is much more fun! It's one of the top things to do in Jaisalmer!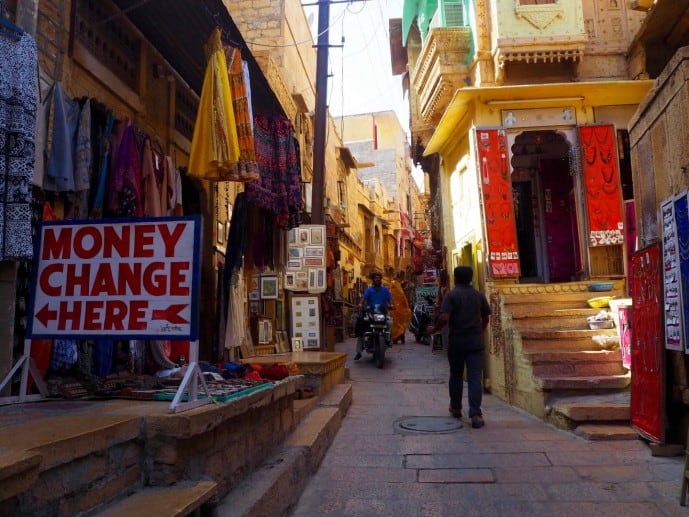 2. Enjoy birds-eye views of the golden city
There are advantages to being in a fort that's so high, one is getting the most gorgeous views of the whole city!
Jaisalmer Fort is full of sunset points to take in the sights and most of the cafés and eateries are set up for this purpose. You'll see 'sunset view' or 'city view' on almost every sign.
I would personally recommend Café de Kuku which served up the best, espresso-based coffee around.
I literally think I have caffeine rather than blood in my veins so I was in love.
If you didn't fancy sipping a coffee or having dinner in the fort then you should definitely check out the big cannon viewpoints. These easily provide the best photo opportunities.
3. Get lost in the ancient market streets
The Jaisalmer fort can feel like a labyrinth at points when you're wandering around but don't worry, you'll find magic on every street corner.
There are markets selling everything from clothes, souvenirs, shoes, carpets, antiques, and more.
My favourite was a perfume seller called Krisha, who had his own box of natural oils and perfumes.
He lets you try them on and you can buy a vial for next to nothing.
Apparently, having a dab of the perfume on cotton wool and putting it in your ear will make you smell it all day!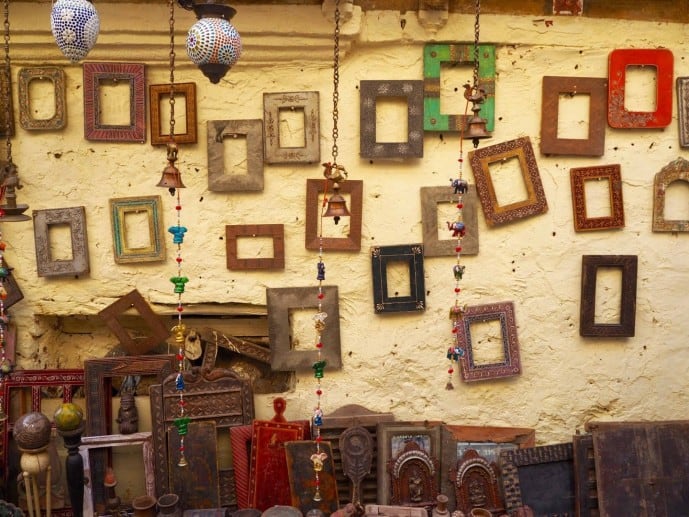 4. Marvel at the carving work at the Patwa Haveli's
After you've had enough of the fort, it's time to head on down towards the Patwa Havelis. This is one of the best things to do in Jaisalmer.
These Haveli's showcase some of the finest Jaisal carving work and are so beautiful to look at from the outside.
Although there are 3 Haveli's in total, there's really only one worth seeing called Kothari's Patwa Haveli museum.
As this is privately funded, it is well maintained whereas the other two are government museums and the only thing residing in them are bats and dust now.
Inside, you can have a look at what luxurious life was like back in the Rajasthani days of old.
Gaze at the sumptuous rooms, old fashioned kitchen and take in the views from their rooftop!
The only thing I personally didn't like was the fact the whole of the bottom floor was a gift shop. It felt like a bit of a cash cow.
There's no denying it is! But, it's a little overbearing sometimes.
Click here to read my complete guide for Patwon Ki Haveli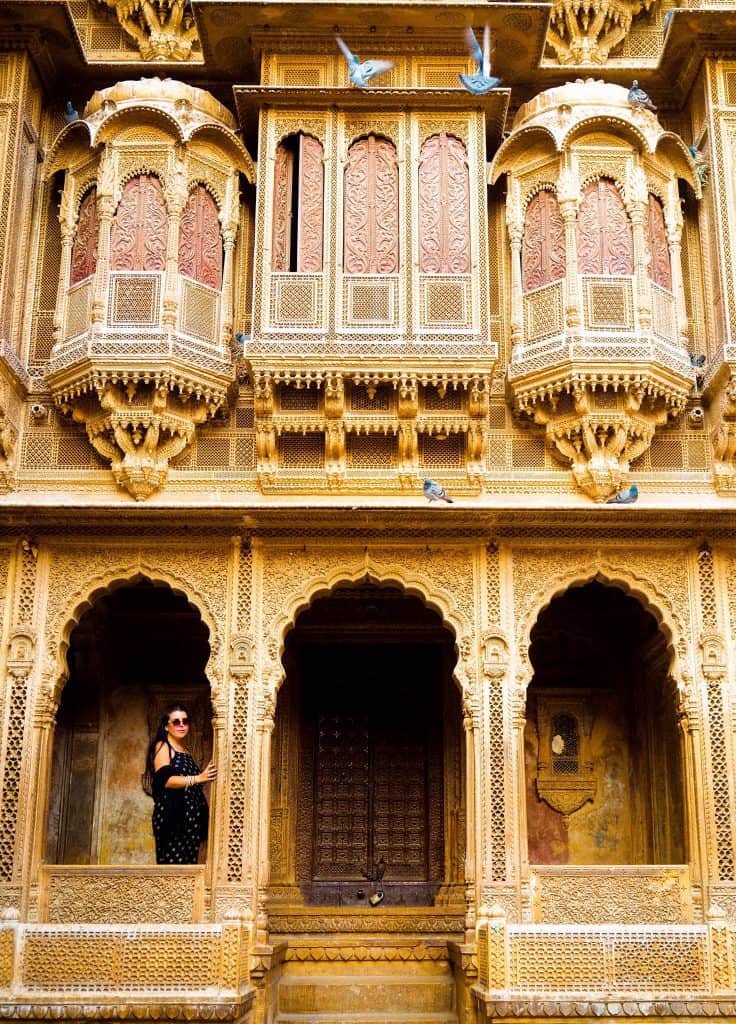 5. Chill out at Gadisar Lake
One of the best things to do in Jaisalmer at sunset is to visit Gadisar Lake. Jaisalmer seems to effortlessly ooze beauty and the Gadisar lake is no different.
Although there is an overwhelming smell of sewage at points, the views from all sides of the lake are stunning at any point of the day.
Sunset is especially beautiful to watch the colours of the sky change. I found it was best viewed from the lake itself by riding one of the swan boats around for a while.
These are surprisingly cheap and were a bit of a laugh too. 30 minutes will cost you around 100 rupees.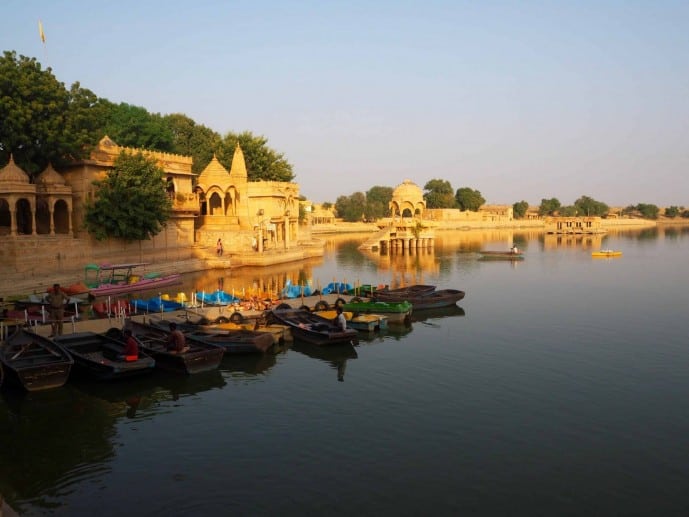 6. Explore Bada Bagh
Bada Bagh is an ancient cemetery that is full of picturesque sun-baked cenotaphs.
It's a photographer's dream and It's best to visit here at sunrise or sunset to get the best lighting.
It's around 5km out of the city so it's best to hire a tuk-tuk to take you here and even more essential to book one in advance if you have a 5.30 am start!
I would definitely put this on your list if you have time, but it's not essential to getting the best out of Jaisalmer.
The cost of getting here was around 300 rupees return with an entrance fee of 300 rupees per foreigner.
Click here for my complete guide for Bada Bagh!
7. Eat at 1st Gate Home Fusion
If you're looking for the perfect place to watch over the fort, you have an endless list of options available in Jaisalmer.
Restaurant Romany and Gaji's restaurant were the two that were competing for the top spot on TripAdvisor when I was there.
They both offered amazing views of the fort from afar paired with tasty authentic local food. But, if you're looking to splurge on a nice meal with a dramatic backdrop of Jaisalmer fort then 1st gate home fusion is just the place.
Specialising in Italian, (and I mean real pizza and pasta not just pizza crust with ketchup and mayonnaise on top!) it's comfort food with a beautiful atmosphere!
The food is actually pretty reasonable too which surprised me as it looked so swanky. A pizza was around 400 rupees.
You have to make a reservation, but it's worth it as the food is to die for.
8. Take a camel safari to the dunes
No visit to Jaisalmer is complete without a trip to the Thar desert dunes and a camel safari is, without doubt, the best way to see it!
Pretty much every hotel and tour booking office in town offer this safari at negotiable prices so I wouldn't recommend booking anything in advance.
Prices can range anything from 1500 rupees to 3000 depending on your budget and where you want to stay.
Sleeping out on the dunes is obviously going to cost a lot less than booking a camp for the night so it's all down to your preferences.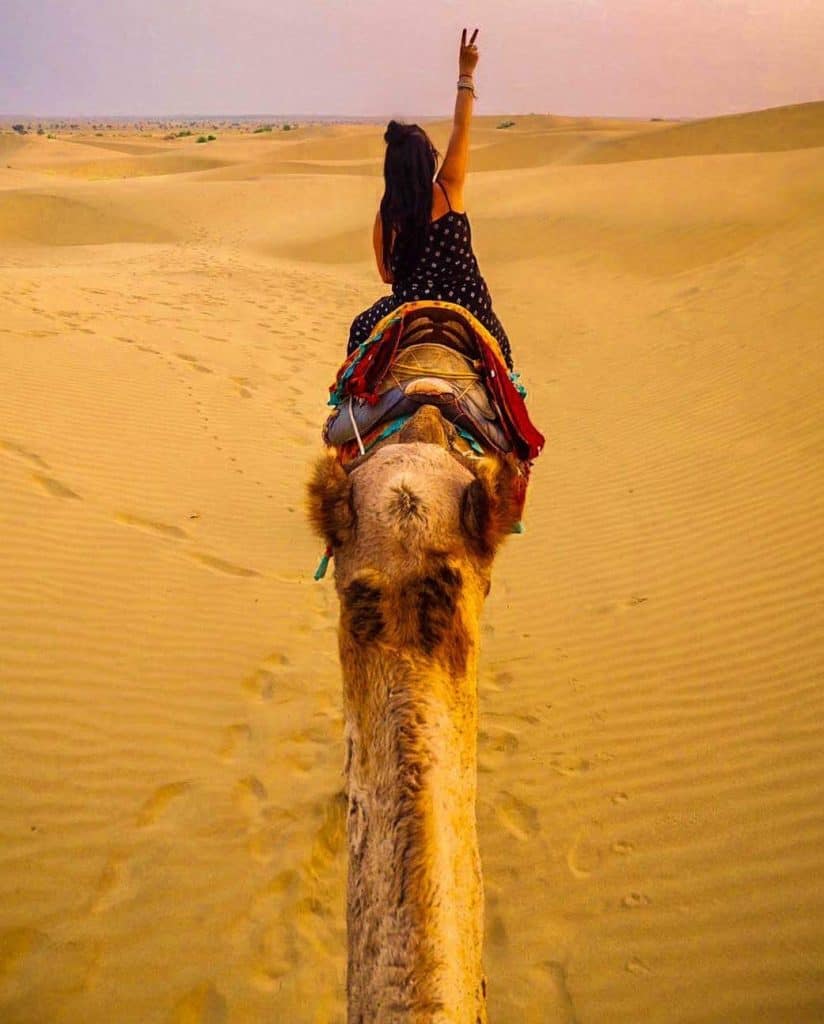 For example, Helsinki house had an offer for a shared transfer to the desert, camel safari to private dunes, a cot for the night, and meals for 1800 rupees (£20).
But, if you were after more luxury you could get a private transfer, extended camel safari, and a night in a private camp with buffet and entertainment for 3000 each.
Now, when we say camp, we are actually in India, I mean glamp! You will have a tent, but it will have a double bed, running shower, and a tiled bathroom.
It is such a unique experience sleeping out under the night sky and experiencing real peace and quiet from the outside world.
For some important tips to make sure you have an awesome camel safari see here!
9. Pick a private dunes over Sam Sand Dunes
For me, I wanted to experience more private dunes as I wanted to take awesome pictures but more importantly, have time there to myself rather than with a hundred tourists joining me!
I would definitely double-check which sand dunes you're going to be visiting on your tour with your operator before you book.
Sam Sand Dunes, which is the closest and most famous, sees over 400 tourists per day.
Luckily for me, Helsinki House owned sand dunes a little further afield and it was completely private!
In fact, I didn't see another soul on my journey through the dunes.
Apart from the camel owner's fluffy companion that was following us about – and getting his paw prints in my untouched sand dunes, haha!
It was the perfect setting for sunset and is on my list of top experiences on my travels through India.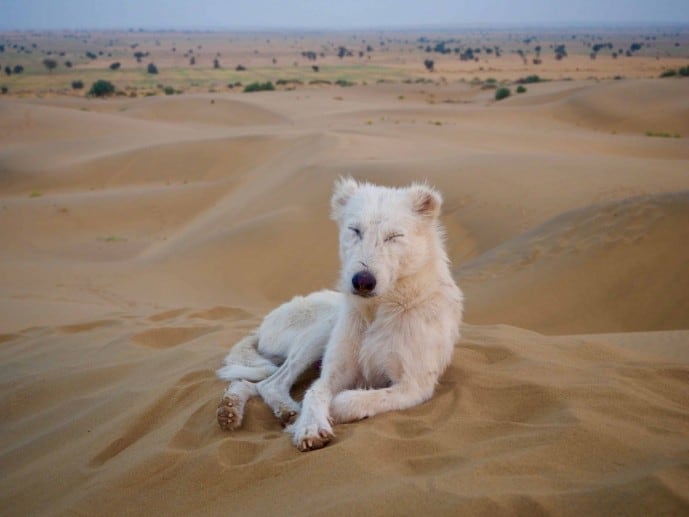 Save this Jaisalmer travel guide for later!
Jaisalmer satisfied my lust for a real Indian adventure. Endless desert, sand dunes, camel safaris, starry nights, ancient forts, vibrant markets, and the most breathtaking sunsets.
It is the definition of Rajasthan and simply cannot be missed out on your itinerary.
Explore the mystery of the Thar desert and discover Jaisalmer's hidden secrets for yourself!
Heading around Rajasthan? Check out these posts!
If you liked these things to do in Jaisalmer, make sure to read more of my Rajasthan guides;
My complete guide to the Pink City of Jaipur
A photography guide for Jaipur
A complete guide for the Blue City of Jodhpur
Why Bundi has to be on your bucket list
Top places to visit in Bikaner
Visiting the rat temple in India
Read more of my India articles
My complete guide for Rishikesh
Saves these things to do in Jaisalmer for later!