So, you want to visit Longwa in Nagaland huh? We'll be prepared for a real adventure and you have to have a little bit of faith, trust, and pixie dust.
Personally, looking back I loved Longwa. I loved the remoteness of it, the adrenalin it gave me by giving me a real travel adventure.
Meeting fearless head hunter warriors and being offered opium by a Chief Konyak king is certainly going to be a hard travel story to beat!
But, I stress, that there are quite a few things you need to read up on and prepare for before your visit.
So, buckle up, It's a wild ride but I've got you covered. Here are my 16 Longwa travel tips I wish I knew before I went.
My top Longwa travel tips
1. You can only reach Longwa by road
There are no flights to Mon or to Longwa. You'll be travelling over the bumpy, dusty, rocky roads of Nagaland! Although this is an adventure, don't expect the journey to be pretty.
If you're travelling by public buses and jeeps, you'll be sharing with 10 others plus their luggage, shopping, and sometimes their pets (dinner).
The roads in Nagaland were some of the worst I've experienced in India and I've travelled around!
Plan your journey in advance as the transport in Nagaland is challenging.
2. The public transport in Mon and Longwa is limited
I got a night bus from Kohima to Mon from the Hornbill festival. Which was a cold and bumpy 15-hour ride. I was exhausted and when I got to Mon, I found out most of the jeeps were sold out for that morning.
I was on a time limit and needed to get up to Longwa that day. There were only 2 guest houses on Mon and all were closed and expensive.
Luckily there was an extra sumo jeep put on that day as a few extras wanted to head up to the Arunachal Pradesh border. It cost 100 rupees more and the ticket was 250 rupees. A steal!
Sumo Jeeps only run up until around 11 am with one going each hour or so. So, book in advance or go to the counter early in the morning around sunrise.
This goes for your return journey too. This is the only way locals can get around and they fill up in no time, so make sure you book up early.
The sumo counter in Mon spoke no English so I had to ask a local to help and translate! Kindly the sumo counter kept my heavy backpack with them so I could find some breakfast- I had time to kill!
It takes two hours from Mon to reach Longwa, high up on top of the Naga hills.
Read my top tips for travelling around North East India here!
3. Longwa is mostly a car free village
The sumo jeeps can only reach a certain drop-off point and after that, you're left to your own devices. So, if you have heavy luggage prepare to be lugging it around.
Luckily for me, my guesthouse owner knew I was coming and so met me at the sumo counter and helped me with my giant backpack.
4. It's extremely remote…like really remote
Picture no telephones wires, TVs, traffic (there are no cars in Longwa), or restaurants. Just tribal huts, green valleys, peace, and quiet.
Although for people like me this is paradise, for some, going off-grid is their version of hell!
You'll have limited phone service, zero wifi, no hospitals nearby, or police. It's literally in the middle of nowhere. So come prepared for it.
5. There are only 2 guest houses – stay at Traveller's inn
Tourism isn't massive over this side of Nagaland and, as such, there are hardly any guest houses. You won't find them online before you visit either.
There are 2 in Longwa. One is Traveller's inn and the other is Auntys guest house.
Travellers in are more of a cemented building with electricity, a private bathroom, beds and blankets, and hot water on request.
From what I read up about Aunty's guest house it's a traditional hut with a typical cot-type bed. I'm not sure if there's electricity.
So, depending on what type of traveller you are there are those options. Personally, I wanted a few comforts and it was recommended to me by Holiday Scout.
Traveller's inn was a lovely place to stay and comfort in amongst the remote village of Longwa.
It was warm, prepared meals daily, and even played music which made the who experience a little more comfortable. Read up on my full guide of Longwa to find out what I mean by Longwa being uncomfortable haha.
For availability contact +91 9856015152 or email travellerinn12@gmail.com.
6. There will be limited phone service as you're on the border of Myanmar
As Longwa is off the beaten track and 50% of it is in Myanmar. You can expect limited phone service or no service at all.
There was no data or wifi, so I had to call my local friends to let my parents know I was okay. I was there 3 days and not being active on my social media or WhatsApp would raise concerns back home.
But being on the border of Myanmar does have some benefits. I mean look at those views! I would totally recommend the hike up to the border point; it's a beauty.
7. You will need a local guide who speaks Nagamese to show you around
The language barrier here was one of the hardest challenges to overcome. The language is Nagamese and it's not an easy one to follow.
Add that hardly anyone spoke English and it can be difficult to get around. Not that I expect them to know it, that's just plain ignorant, but it was definitely a task.
I would highly recommend a local guide that can speak the language for your visit. It can literally open doors for you.
People aren't overly friendly in a Longwa and if you're going to meet the Head Hunters here then you'll be going into their homes.
Best to hire a guide from Longwa who knows the people, the language, and the best spots.
A hired my guide from Traveller's Inn and paid a daily fee of around 1200 rupees. But, that's for 8 hours so you may want to spread that cost out.
8. It will be freezing, especially at night
Like Kohima, Longwa is on the top of the Nagaland Hills. That means you're in a windy area!
The temperatures at the peak time of year (October – Feb) are also pretty brisk at night. So, make sure you bring layers and something warm to sleep in. Or you'll be shivering all night.
It's really nice and warm during the day but it gets dark at around 4 pm each day, so after that wrap-up!
9. There are no restaurants
There are no restaurants, cafés or Dhabas here in Longwa. But, the guest houses will put on meals for you from their kitchens.
Traveller's Inn put on a breakfast, lunch, and dinner buffet for 350 rupees a meal. Breakfast was included so it was only 700 rupees a day for meals.
That included tea, water, Naga Dahl, rice, bread, veggies, potatoes, and pork/chicken. It was so yummy and filling.
The hot food was needed on those cold winter nights.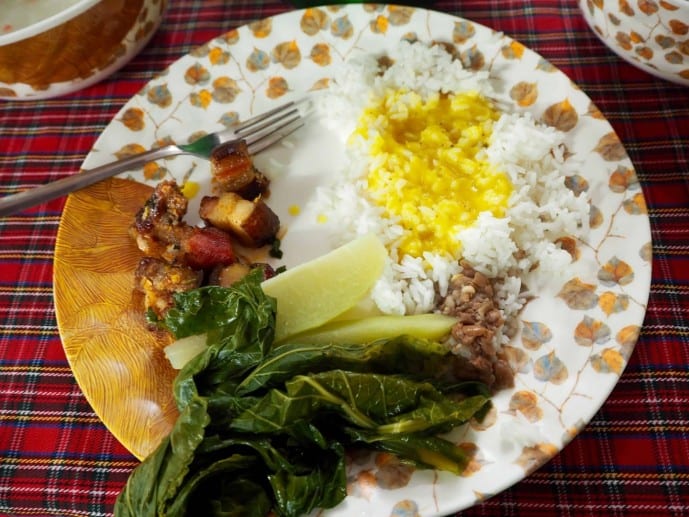 10. Everyone is devout Christian
You'll find a massive church in the middle of Longwa, Christian verse played in a loudspeaker which can be heard all over and every local worships the holy book.
You can attend a service while you're here too. Just make sure you don't insult the bible – people don't take kindly to that.
11. On Sundays, everything is closed
As Nagaland is a Christian state, Sundays are a day of rest by law. That means no buses, no ATMs, no shops, no one working. Nothing.
I came here on a Friday and found that out the hard way. As I didn't want to leave so soon I had to factor in an extra night I wasn't prepared for.
That also means Mondays are hectic and on Mon, expect massive delays for cash! I waited for an hour.
12. Opium is smoked on a daily basis and you'll be offered it too
All visitors who visit Longwa are to visit the Chief Angh or King of Longwa in his residence. The visitor's room is more like a drug den with opium fumes that fill the air.
Opium can be found everywhere here and although it's not compulsory to try, you'll be offered it. A lot.
13. Getting away can be a challenge
Like the sumo jeep fiasco heading in, prepare for the same getting out. Not only do you have to head out of Longwa, but it can also be a challenge leaving Mon as well.
I would recommend booking your jeep out as soon as you arrive if you know how long you want your visit to last. As I was here over a Sunday, I booked mine for Saturday morning.
Then trying to find a jeep to head out to Jorhat in Assam was another challenge. The first jeep that I bought a ticket for went off without me as there was no luggage rack.
Then almost all the jeeps were sold out. So, it was a mad rush and we had to fit 12 of us in a 10 person jeep. Cramped much?
Then I had to head to Shiva Sagar via local bus then from Shiva Sagar to Jorhat. It was a tough 12 hours but we got there in the end.
Although costly, if you have the funds I would recommend a private hire or to go with a tour.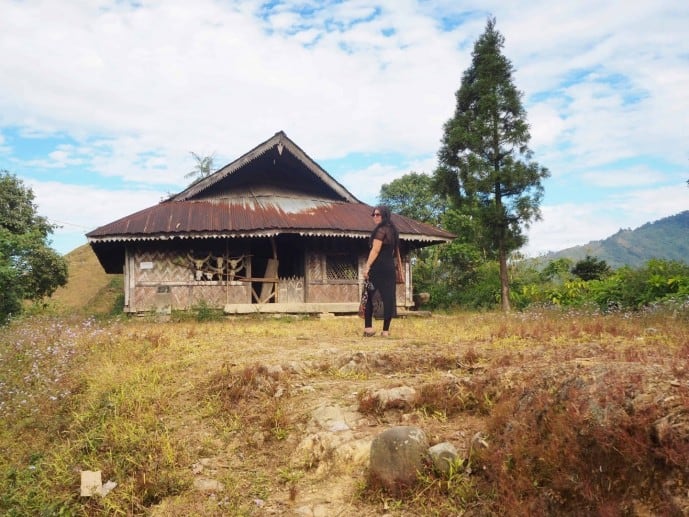 14. Electricity is available once the sun goes down – charge up at night!
Longwa doesn't keep the electricity on all day, so you'll have to charge up your gadgets at night.
I had electricity in my guest house but not all do. There was no wifi in my guest house either. So, find distractions!
15. Watch out for the local kids
Weird tip but they honestly terrified me at times. I mean, they look adorable but I had rocks thrown at me, a kid threatened me with a makeshift sword and was teased and pulled – all because of my camera!
In the end, I would use it to scare them off as they would run whenever I pulled it out.
The only thing that kept them happy was the Dapostar and Snapchat filters on our phones. So try these? Haha!
16. It's totally and irrevocably beautiful
Often remote places come hand in hand with natural beauty and in Longwa Nagaland, it was an emerald paradise. The rolling Naga hills, the serenity, meeting head hunters from decades past.
The whole thing was incredible which completely trumped a lot of the challenges I've faced.
I'm not sure if I'll come back any time soon but my head, heart, and camera reel are full of the best travel memories of my trip to North East India.
Put Longwa on your bucket list! You won't regret it if you decide to live the adventure. No matter how difficult, it's always an amazing travel story.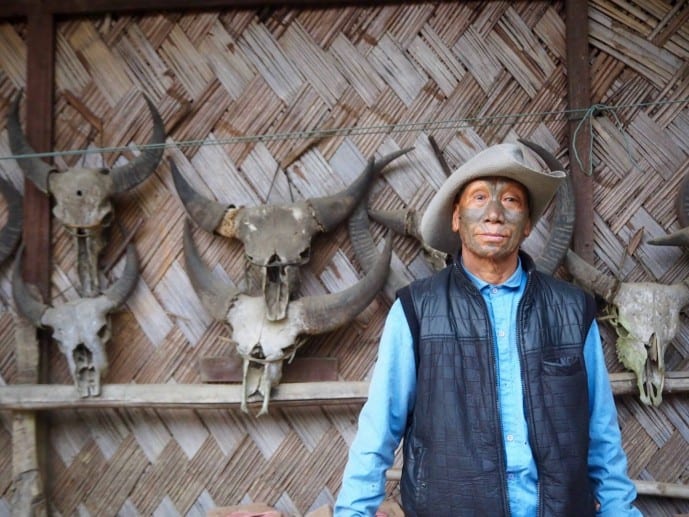 Read more of my Nagaland articles
If you liked these Longwa travel tips, make sure to read more of my articles on Nagaland!
My complete Longwa travel guide
Top tips for meeting the Headhunters of Nagaland
The ultimate Hornbill Festival guide
Top tips for Hornbill Festival
How to get the best photos at Hornbill festival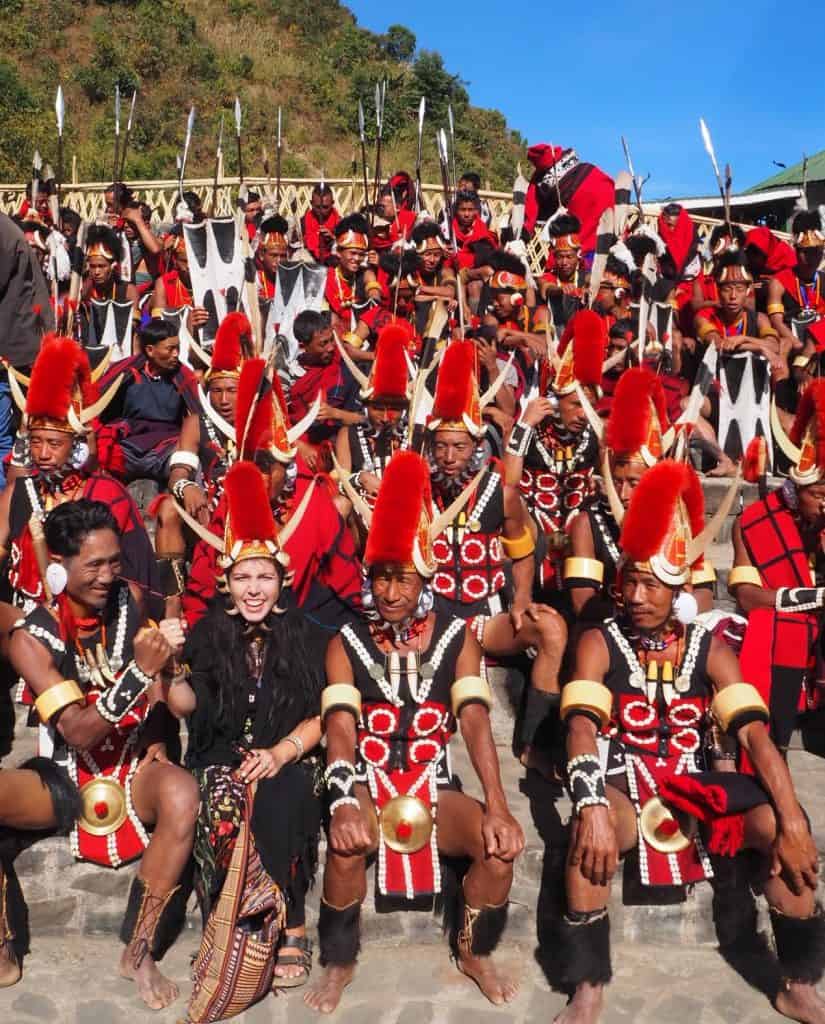 Read more of my North East India articles!
Top things to do in North East India
Best places to visit in Arunachal Pradesh
My ultimate Tawang travel guide
How to find the double-decker root bridges in Meghalaya
A complete travel guide for Guwahati
A complete Kaziranga Safari guide
My top North East India travel tips
Save these Longwa travel tips for later!