Although the UK has had an obsession with tea for centuries, it's always been imported from other countries like China and India.
That's until Tregothnan Estate Cornwall came along.
That's right, England now has its very own tea plantation that puts the English back into English tea.
If you were wondering how on earth that is possible, you just have to ask Tregothnan Estate in Cornwall. They are proud to boast their very own tea plantation!
I was invited on a private tour to see where they grow Cornish tea and see how they are shaping the future of tea in Britain.
Here's an essential guide to visiting Tregothnan Estate Cornwall and how you can buy some of their tea for yourself!
Heads up: my visit to the Tregothnan tea plantation was kindly sponsored. Although I was a guest, all opinions and photos are my own.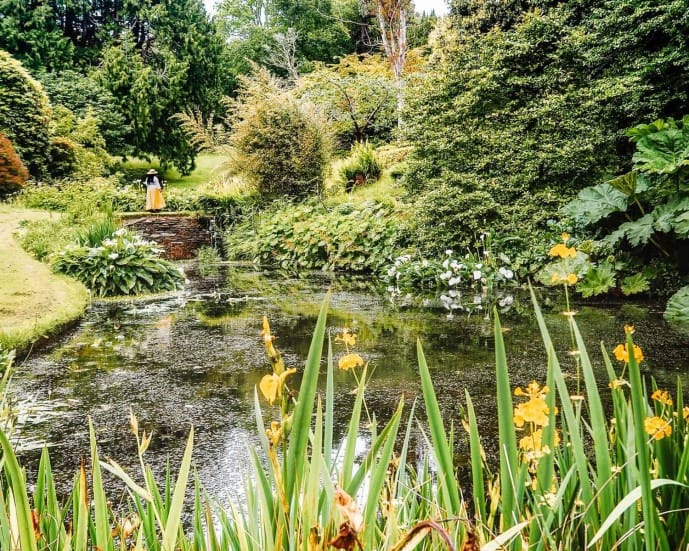 A brief history of the UK's obsession with tea
Tea culture is ingrained in the UK, in fact, most Brits would probably class tea as a food group in their daily diet!
But, many don't stop to wonder how tea became so popular.
Nowadays, you'll find tea everywhere in the UK and you can buy it for mere pennies.
However, centuries ago, tea was an extremely expensive item only afforded to the rich and wealthy.
Early beginnings
In China, locals had seen the medicinal benefits of tea for centuries.
According to legend, it's said that in 2737 BC a Chinese Emperor named Shen Nung accidentally found some Camellia sinensis leaves that fell into his boiling water. That is when the first cup of tea was born.
By the 4th Century AD, it took China by storm, and in the East everyone wanted a piece of it. So traders would travel far and wide to the Himalayas and the silk road to sell it.
But, they couldn't quite get it to last on long enough on voyages to the West and Europe. That was until they invented new methods to protect it during shipping.
The courts and kingdoms of Europe would finally be introduced to this new fangled drink in the 16th century and it became extremely fashionable.
Due to its lengthy transportation from the East, it came with a huge price tag.
Tea was the new fashion
By the 17th century, tea was being sold in general stores in London by the likes of Thomas Garway. He had a coffee house on Exchange Alley and introduced the drink to his customers.
However, it was the Portuguese Catherine of Braganza, future wife of Charles II, that made it fashionable at English court.
By the time the Hanoverian's were on the throne, it became a Georgian obsession!
Due to the hefty transportation costs, if you were able to afford tea, you were seen as fabulously rich.
It was a precious commodity. Something that would be locked away in stately homes so that the servants couldn't get at it.
You'd offer it to guests to show off in your parlour. Tea salons were created for the aristocracy. Tea was a symbol of status. It was a luxury not afforded to many.
Counterfeit products were invented to try and slake the thirst for tea for the lower classes.
It would usually be a disgusting concoction made with hawthorn, ash, or sloe mixed with sheep dung!
The problem became so bad, an act was passed by parliament and it became a crime to create 'Smouch Tea'.
Tea for everyone and today
Eventually, in the 18th century, tea became almost a monopoly by the British East India Company.
As Britain went on to colonise more countries for the British Empire, drinking tea sourced from the Commonwealth was seen as a sign of power and of being completely 'British'.
It became more popular than tobacco, chocolate, and alcohol. It was even advertised to form part of your wage packet in a job! It was still seen as a commodity.
In the 19th century, tea prices drastically fell and it was becoming more accessible. As well as serving it in the stately homes across Britain, the working classes were able to afford it too.
It eventually became an everyday necessity to all classes across Britain and it still is to this very day.
Tea is now a major part of British culture that many couldn't live without!
Now, it seems like we have brought our craze of tea to the next level and we now have our first ever tea plantation on English shores!
So, wait, England now has a tea plantation? How?!
Tea, throughout the centuries, has always been sourced from just one species of plant; Camellia sinensis. Whether you're drinking green, black, or white tea, it comes from that one plant!
It may surprise you but it's actually the oxidisation within the tea production process that creates the differences in colour and taste.
Camellia sinensis is native to tropical climates found in China, India, Sri Lanka, Nepal etc. and it requires a very particular environment to grow in.
So, the question remains, how on earth can we grow tea in a country that has a cold and wet climate most of the year?! Well, the Tregothnan Estate Cornwall has an extremely special micro-climate.
This area encompassing the River Fal almost has a secret pocket of warm weather that allows tropical plants to thrive there.
It's been something that the owners of Tregothnan, the Boscawen Family, have known about since the 14th century.
For years, the grounds have managed to grow plants here from around the world. They were pioneers for it!
Some of the plant life on the estate has even shocked scientists because of the successful growth against impossible odds. It's like magic.
Putting the English back into English tea
Tregothnan Estate was a pioneer in planting Camellia plants in England around 200 years ago. They are now home to two RHS National Collections of natural Camellia in the UK.
But, Tregothnan's tale of growing tea started two centuries later in 1999.
The head gardener, Jonathon Jones, believed that if the estate could have a Camellia flower plant they could possibly have a tea plant too!
So, he decided to plant the Camellia sinensis experiment in the Kitchen Gardens. Just to see whether such a thing could be possible.
After six years of giving it all the love and care it needed, it finally yielded 28 grams of tea! A pretty long wait for a humble harvest but I can't imagine just how good that first cup of tea must of tasted.
From here, the rest was history and now Tregothnan has over 150 acres of tea plantations with 20,000 tea bushes.
It's a small player in the tea plantation world compared to the likes of Asia but Tregothnan Tea is now a luxury brand that has a unique selling point.
It's tea grown right in the heart of England, where we're tea obsessed and not many plantations can say that!
As well as their classic blend, they now have Earl Grey, Green Tea and plenty of herbal infusions too. All the infusions are grown organically onsite.
Can you visit Tregothnan Estate Cornwall?
YES! If you were interested in seeing England's first tea plantation, you can pay them a visit right on their estate in Cornwall.
But, you'll have to plan your visit in advance as the gardens and arboretum are private;
Tregothnan open days: happen one weekend of the year and they are a charity event. All the proceeds go towards a good cause and it will allow you can explore the gardens at your leisure for one day only. Tickets are around £12 per head.
Tregothnan private tour prices: if you can't wait that long and are really eager to see the estate and gardens then you can organise a private visit. This will include a complete tour of the estate with the head gardener and will finish with a Tregothnan cream tea. Tickets are £65 per head.
Tregothnan experiences: There are also some workshop experiences that you can book with Tregothnan such as tea workshops, Beekeeping and Floristry courses.
Click here to see all their experiences and open day events.
What to expect on a tour of Tregothnan Estate & gardens
So, as you can probably tell, a tour of the estate doesn't come very cheap if you're visiting privately. But, if you were particularly green-fingered, the gardens here are a delight.
Not only does it have some of the rarest plants growing here in the entire world, but it also has tea plantations, the stately Tregothnan house and you can get lost in an award-winning Camellia maze!
Even getting here is part of the journey as you will drive down Europe's longest driveway to the Tregothnan estate Cornwall. Continue walking on it until you reach the ancestral home of the ancient Boscawen family.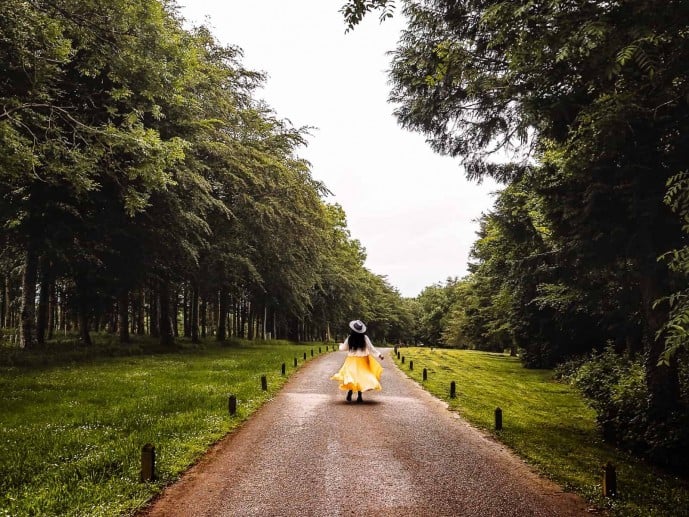 Tregothnan House
A long line of Boscawen's have lived on this estate since the 14th century and they hold the official seat of the Viscount Falmouth.
John de Boscawen was the first to purchase the property when he married the heiress, Joan de Tregothnan. No prizes for guessing where the estate gets its name!
If you were interested in the Cornish translation it means 'The House at the Head of the Valley'.
Before the glorious house that stands here today, there was a medieval property but it became ransacked and destroyed during the Civil War.
So, another was built in its place and then further enlarged by architect William Wilkins in the 19th century.
Today, the Boscawen's still live on the property and they like their privacy, so, unfortunately, no photos can be taken of the property.
But, it's still an amazing place to admire and it almost feels like you're watching a period drama! We saw horses coming out from the stables and it felt like going back in time.
Speaking of period dramas, fans of a certain Ross Poldark will recognise the surname Boscawen.
They feature in the book series and TV series on BBC! Sorry to disappoint you, none of the series was filmed here.
Tregothnan Gardens
Once you've walked past the magnificent ancestral home, you'll then enter Tregothnan gardens and the wider estate.
Here you'll find a planned arboretum that was specifically designed to be pleasing to the eye.
You'll notice lots of layers, textures, and heights of trees. These were all purposefully designed and landscaped for paintings!
In the 18th century, many families were eager to grow tropical plants that had been discovered in the 'new world' in their own gardens.
Again, like tea, it was a big status symbol. So, efforts were made to secure them and try and make them thrive.
As I mentioned earlier, Tregothnan really has its own micro-climate. So, they were pioneers in growing Camellias and Rhododendrons over 200 years ago. These are still something you can see today.
Even in recent times, the family is eager to find and plant rare species. A tree root from the Jurassic Period was found by chance by a mountain climber in Australia.
It was extremely rare and many thought it extinct.
The Boscawen's purchased a specimen of it at auction for a hefty price tag and enabled it to grow in the UK. It's a tree specimen that's thought to be millions of years old!
You can also find monkey puzzle trees, or Araucaria araucana, from Chile. The name comes from the belief that a monkey would be unable to climb it.
They also grow pepper, the list is endless!
There's so much to look out for here and so many unique planned gardens that you couldn't find anywhere else in the UK.
Tregothnan Tea Plantation
A tour of the Tregothnan estate will also allow you to take a peek at their tea plantation here and you can see where their crop grows.
They have 150 acres of tea but don't worry, you won't see all of it!
They will just show you a small part of what they do. It's incredible to see how tea is grown here and feel a change in the atmosphere too.
Usually, when I've been to tea plantations in India or Sri Lanka, it's around really hot conditions. Although Cornwall can be chilly most of the time, this area of the estate was quite warm!
The smell of it is also incredible so make sure to ask if you can explore.
Tregothnan Camellia maze
Did you know that Tregothnan has the world's only Camellia maze on the grounds? It's even won awards!
Walking around here, especially when the Camellia's are in bloom, will make you feel like you're walking through chapters of Lewis Carroll's Alice in Wonderland. You could almost imagine finding the gardeners painting the roses red for the Queen of hearts!
It's definitely easy to get lost in here, so make sure you have enough time on your tour. Apparently, deer love to explore this labyrinth and munch on them. So, you never know what you mind find.
Sampling a cup of Tregothnan Tea
After your tour, you finish off your trip with a well-deserved cup of Tregothnan tea! So, you're really drinking it from farm to cup here.
While speaking to the team, we learned that most standard brands of tea use a lot of oils, tannings, and plastics in the process of making their teabags. So, the tea has more colour and can steep in water faster.
At Tregothnan, they don't use anything nasty like that in their bags.
The tea is changed as little as possible to get the best cup and reap the most flavour out of the product.
We sampled both their (truly) English Breakfast tea and also an Earl Grey (my personal favourite) and it was incredibly delicious.
Where to buy Tregothnan Tea
You can buy Tregothnan Tea in their estate office on site which is open during office hours. Plus you can order the tea online that can be delivered to you for FREE.
The quality and uniqueness of Tregothnan tea grown in England are not lost in stores in the UK.
You can find the tea being sold in Fortnum and Mason, St Pauls Cathedral, plus select garden centres and boutique stores.
Click here to check for a stockist closest to your area.
Can you stay on the Tregothnan Estate Cornwall?
YES, The Tregothnan Estate stretches far and wide and they have a number of Wild Escape holiday cottages that you can rent out.
Some of these are located in rural areas but most are nestled on the Fal Estuary, so you can get magnificent views being situated right next to the river!
They look like the perfect retreats for some peace and seclusion. They even have unique accommodation like shepherds huts where you can go back to a bygone era for the weekend!
Click here to check out all of their bespoke properties, availability and rates
Where is the Tregothnan Estate in Cornwall?
Tregothnan Estate is located just four miles south-east of Truro in Cornwall. You can easily access the estate from the A30 near the town.
There will be signs for Tregothnan to guide you to the estate and you'll be driving on winding country roads.
It is easiest if you have your own means of transport to reach the estate as it is in such a rural location of the countryside!
There is a limited bus service to Tregothnan that stops around 5 minutes away from the Old Rectory on the estate. You'll need to grab the 491 services heading to St Michael Penkivel.
Tregothnan Estate opening times
If you were looking to buy tea from the estate office, Tregothnan is open 9am – 5pm, Mondays to Fridays.
But, if you were looking for a tour of the gardens you will need to book at least 24 hours in advance.
Tregothnan is very much a private estate and walk ins are not possible.
Visiting St Michael Penkivel Village
After your tour of Tregothnan, you may be interested in visiting the quaint hamlet of St Michael Penkivel.
It's perched right in between the River Fal and the River Truro and was founded in 1261. It's as cute as a button.
It lies on the gateway of the Tregothnan Estate and you'll find notable monuments for some of the Boscawen family members here.
Today, there are 257 lucky residents who call it home.
The church where the parish gets its name dominates a large part of the village and the houses that encompass it are extremely sweet.
Did you know? Fans of 'Keeping Mum' starring Dame Maggie Smith and Rowan Atkinson will recognise this village that featured heavily throughout!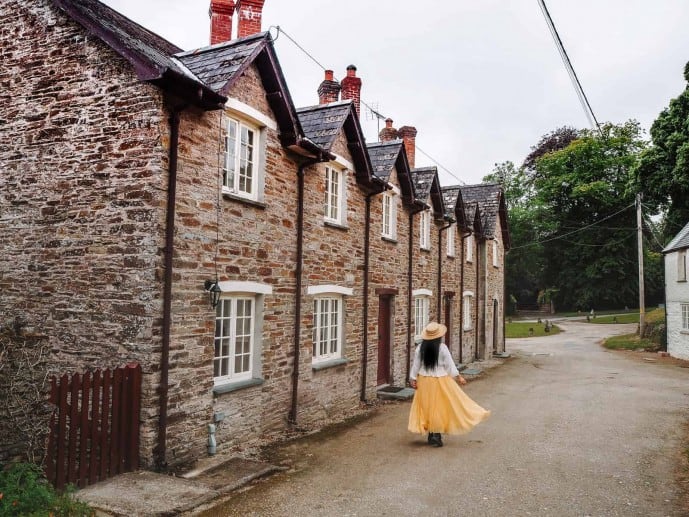 Read more of my Cornwall guides
St Aubyn Estates Cottages review
How to visit Tregothnan Estate in Cornwall
St Aubyn Estates Cottages review
Things to do in Mousehole Cornwall
How to visit St Michael's Mount in Cornwall
Things to do in Charlestown Cornwall
The Museum of Witchcraft in Boscastle
How to visit the Lost Gardens of Heligan
Things to do at the Jamaica Inn
How to visit Golitha Falls in Cornwall
A complete guide for the Cheesewring Hike
A complete guide to Porthgwarra Cove
Why you must visit Minack Theatre
Secrets of the Admiral Benbow Inn
Where is Driftmark filmed in House of the Dragon
How to visit Holywell Bay from House of the Dragon
Magical things to do in Kynance Cove
Save how to visit Tregothnan Estate Cornwall for later!