Out of all the historical streets in Cambridge, Trinity Lane has to be up there as one of the prettiest.
It's a medieval lane that is lined with rows of Tudor chimney stacks and you can admire some of the oldest buildings in the city from here.
It's a popular commuter route with locals and tourists alike and is also a favoured photography location. But, it can be a hard street to capture without the crowds.
Here is a complete guide for visiting Trinity Lane Cambridge, one of the prettiest streets in the city!
Trinity Lane history
Trinity Lane Cambridge was recorded in one of the oldest maps made of the city by Richard Lyne in 1574. This lane originally linked Cambridge High Street with the wharves on the River Cam.
Back then, it used to be in two separate parts. One part was called 'Find Silver Lane' or 'King's Childer Lane' and the other was called 'Mill Street'.
Eventually, it became Trinity Lane as it leads off Trinity Street and you could access Trinity Hall which formed part of Trinity College.
It is lined with a beautiful row of red-brick Tudor chimney stacks on the right and some turrets from Gonville & Caius College on the left. This lane has changed very little since the 16th-century.
Today, it's a popular through route and tourist hotspot that provides access to many of the oldest colleges and landmarks in the city!
How to visit Trinity Lane in Cambridge
Trinity Lane Cambridge is tiny and can easily be missed if you're not looking for it. It can be found on Trinity Street which is just beyond Trinity College and Newton's Apple Tree.
Although vehicles can drive down here, it's only available for access so it's best to arrive here on foot or bicycle.
You can find Trinity Street from King's Parade and you'll see Rose Crescent shopping street almost opposite the turning for the lane.
Alternatively, you can find this lane from Senate House Passage which can be accessed from the right side of Senate House on King's Parade.
When you head to the bottom of the passage, make a right turn and you'll reach the bottom of Trinity Lane. Then, loop around towards Trinity Street again.
Trinity Lane is right beside Trinity Street & Trinity College – Click here for a Google Pin!
Things to see on Trinity Lane
As well as the historic chimneys, towers, and gables at the beginning, there are some fabulous buildings to see on Trinity Lane Cambridge.
Don't forget to walk to the very end of the lane as you'll get to see some gorgeous historic buildings, part of the King's College Chapel, and even some greenery.
Here is what to look out for on your visit;
Trinity Hall – Founded in 1350 by Bishop Bateman of Norwich, Trinity College is the fifth oldest surviving College of the University of Cambridge.
Clare College – Clare is the second oldest surviving college in Cambridge founded in 1326. It was constructed by an endowment from Elizabeth de Clare.
Cockerell Building – You'll find the Cockerel Building at the end of Trinity Lane leading onto Senate House Passage. It was built in an old hall of King's College as a Squire Law Library.
King's College Hall & Chapel – Founded by King Henry VI in 1441, you'll find the hall & side of the chapel at the end of Trinity Lane. It is one of the greatest examples of Gothic architecture and I would recommend paying to visit the inside!
Trinity Lane photography
I've wanted to take photos of Trinity Lane Cambridge for an age and it always looks so sleepy and quiet on Instagram photos and reels. How utterly wrong I was!
I'm rarely rattled when it comes to photographing busy places as I visit very early and come armed with patience but Trinity Lane was one of the worst location experiences.
It's a beautiful place but, even really early in the morning (eg. 6.30 am when I was there), this little lane is bustling with people.
I was moving out of the way of bicycle riders, vans, huge cars, bin lorries, and commuters every few seconds. It was unrelenting and savage.
So, I'm going to put some photography tips below to help you avoid the same grisly experience.
My top Trinity Lane photography tips
If you can believe it, this is one of the busiest lanes in Cambridge so expect commuters, crowds, and bicycle riders throughout the day. I would try to visit as early as possible for photos.
I visited on a weekday and it was very busy with commuters! Early morning on a Sunday may be a better time to capture Trinity Lane Cambridge.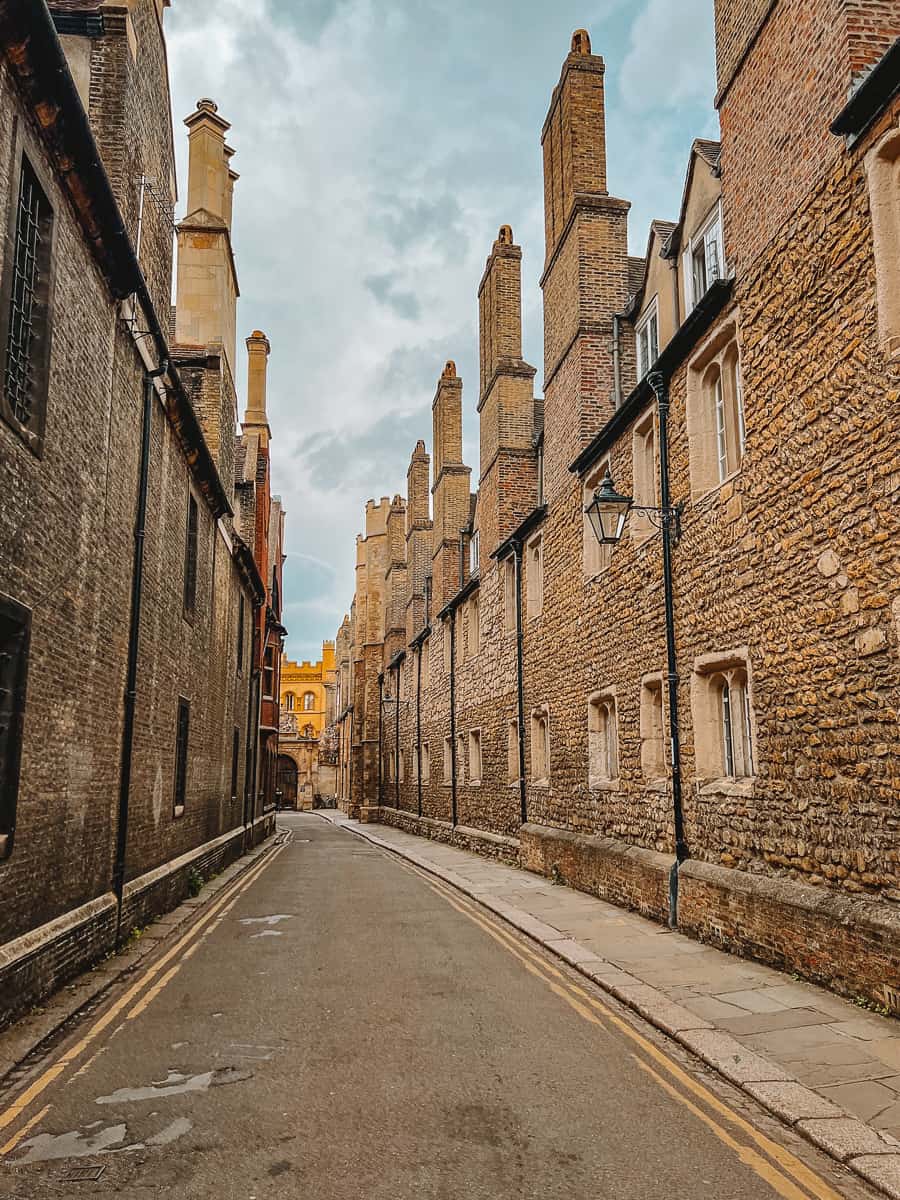 Cars, vans, and huge bin lorries do drive down this tiny lane. So, watch out for vehicles when you're taking photos of this street. I had my tripod out and it nearly got knocked over!
Both sides of this lane are beautiful for photos. I think the bottom of the lane, near Senate House Passage, is a little prettier and (sometimes) quieter.
It's dark down this passageway, even during the day, so consider a tripod!
Visit Senate House Passage next!
Another beautiful but crowded lane is Senate House Passage which was one of my favourite places in all of Cambridge. It dates back to the medieval era and was recorded on Braun's map of Cambridge in 1572.
You can see Gonville & Caius College from here on the left with their gorgeous turrets. Caius College entry gates are located here and are called Humility, Virtue, and Honour.
Also, you will find Senate House which can be seen on your right built in the 1720s. It is a building that forms part of the University of Cambridge and used to be used for lectures. Now, it is mainly used for graduation ceremonies.
Luckily, this lane is completely vehicle-free but it is still very busy throughout the day with commuters and cyclists. So, the earlier you can visit to photograph it – the better!
Looking for more photography spots in Cambridge?
Cambridge is filled with historic streets and Dark Academia buildings to capture and you will never get bored exploring.
Rose Crescent is a shopping street near Trinity Lane that has wonderful bunting, old oil lanterns, and a Harry Potter shop to check out.
You can go punting on the River Cam to see 'The Backs' with famous bridges like the Bridge of Sighs and Mathematical Bridge.
This is the only way that you can see some of the famous colleges that make up Cambridge University as the grounds are not often open to the public!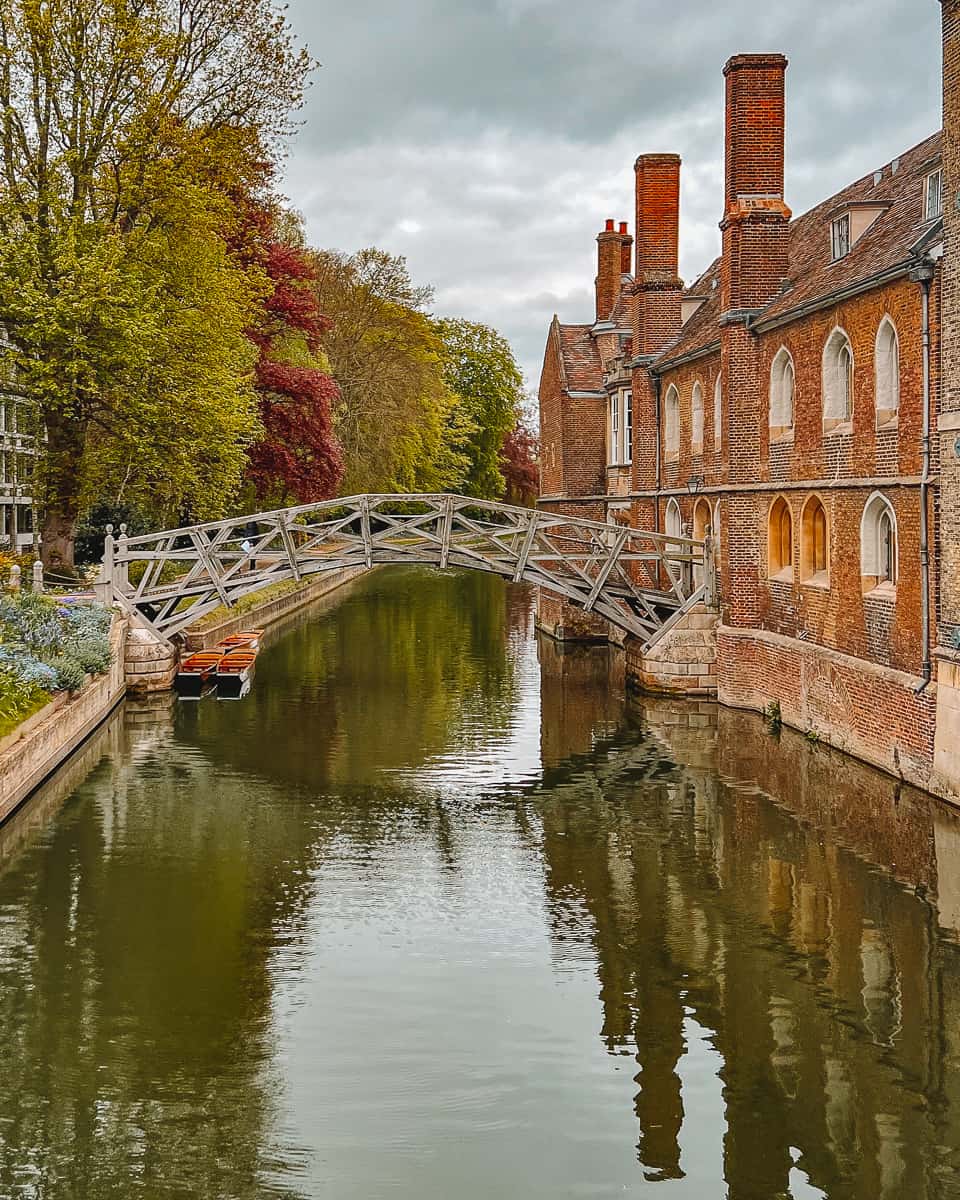 King's College Chapel has an incredible vaulted ceiling and stained glass windows which will take your breath away. Look out for King Henry VIII and Anne Boleyn's initials on the Tudor Choir Screen!
The entry hall of the Fitzwilliam Museum has one of the prettiest interiors I've ever seen with Classic columns and statues. They also have some fabulous art exhibits.
If you wanted to see some of the best views of the city, I would head up to Great St Mary's Church Tower. From here, you can get some incredible views of King's Parade and beyond.
Looking for more places to visit in Cambridge?
Beyond photography locations, there are plenty of incredible experiences that you can have in Cambridge.
There are oodles of museums to choose from in Cambridge like the Museum of Zoology and the Sedwick Museum of Earth Sciences.
You can take a tour around St John's College or Trinity College and check out their famous Wren Library.
Indulge in a Chelsea Bun from Fitzbillies or dine in The Eagle pub that can be found on King's Parade along with the quirky Corpus Clock.
There are also other landmarks to see like the Round Church, Reality Checkpoint, and Cambridge Castle Mound.
Read more of my East Anglia guides
How to visit the Norfolk Tulip Fields
Harry Potter guide for Lavenham – Godric's Hollow filming location
Save Trinity Lane Cambridge for later!