If you've heard (or even better, recognised) that there was a Troon Outlander filming location in the series, you're very much correct.
In the last episode of season one Claire, Jamie and Murtagh go to board the Christabel ship to Paris and say farewell to the MacKenzie clan and Scotland. Those scenes were all filmed on location at Troon beach.
Troon is a popular holiday destination in Scotland and can see droves of tourists when the temperatures are high…well, high for Scotland anyway!
So, beyond an Outlander location, it's well worth a day trip to the seaside to discover what this town has to offer.
Here's the ultimate Troon Outlander location guide.
What and where is Troon beach in Scotland?
Troon beach and resort is a world-famous and popular holiday destination in Scotland.
It's a town based in South Ayrshire on the West coast of Scotland that looks over the Isle of Arran and Alisa Craig.
As well as a holiday destination where you can chill on the beach and take in the fresh sea air, it also has 7 award-winning golf courses, including Troon North and the Royal Troon, and a working fishery and marina.
It's also bustling with independent cafes, art galleries, boutiques and you can find some ideal locations for a spa break.
What was the Troon Outlander location in the series?
In series 1, episode 16 'To Ransom a Man's Soul', Jamie escapes from Wentworth Prison and recovers in the Abbey in Scotland, or St. Anne de Beaupré for the book lovers here.
They decide to leave Scotland as the redcoats will be searching for Jamie and he wouldn't be safe. So, Murtagh finds them passage on the Christabel ship leaving for Paris.
The scenes at the end of the episode where Jamie, Murtagh and Claire leave Scotland for The Christabel. This is also where Willie, Rupert and Angus say goodbye. Although Angus doesn't do a very gentlemanly job!
All these scenes take place at Troon south beach.
Troon South Beach
After I spent a considerably long amount of time thinking that the location was on Troon North Beach and nearly getting stuck during high tide in the process.
I discovered I was actually in the wrong location and what I actually needed was Troon South Beach! Urgh.
It's well signposted once you get into the main town and you need to head to the scenic main Esplanade.
From here, you can access Troon beach and the sand dunes which is where the Outlander location is!
How to find the Troon Outlander location when you're here
Once you've parked up or walked towards the main esplanade, you need to head over to the beach where the Troon sand dunes are.
There's a moment when the esplanade breaks off behind the sand dunes and you can get some great photos with the brush just like the opening scene at Troon. Although The Christabel won't be there haha!
But, I did have fun trying to recreate some photos while breathing in the fresh sea air and enjoying the views.
Can I visit the Christabel ship from Outlander?
Yes! It's actually called the Reaper in Fife and is located in the Scottish Fisheries Museum in Perthshire.
It's birthed in Anstruther Harbour not far from Dysart Harbour so it's the perfect accompaniment to an Outlander day out.
It was built by J & G Forbes in their port near Fraserburgh in 1902 for the Buchan family.
She was a two-masted sailing lugger and in 1930 held the record for the largest catch of herring in Shetland, a quarter of a million fish (or 223 crans if you can speak sailor).
She was donated to the Scottish Fisheries Museum in 1974 and today she is a museum boat for everyone to enjoy. The boat often tours around the country, so double check she will be there before you visit.
I was gutted as she was undergoing renovations when I visited Scotland and she opened the day I left! I guess it gives you a reason to go back.
Find more about visiting the Scottish Fisheries Museum here!
Other beaches to explore in Troon
Although I did like the south beach, I actually found the North beach far less crowded and more enjoyable. As it had rugged rocks lining the shore, it was far prettier and made for a more interesting walk.
I loved the rock pools around the area to see what was inside and you could hop along and take in some of the fantastic views.
This does have a pretty fast high tide coming in, so don't get stuck or you'll be scrambling over the rocks to get back to land. So, I got my feet wet walking along the shore.
The one thing I didn't like was seeing a lot of jellyfish that had washed up on the shore. I guess that's normal for sea towns but I'd never seen anything like it before.
How to reach Troon in Scotland
Troon is located just a few miles from Glasgow Prestwick Airport in South Ayrshire on the West coast of Scotland. So, if you're flying into Scotland, is the perfect place to start your adventures in the country.
If you're arriving by car, it's a 40-minute drive from Glasgow on the M77 and then the A77 road.
By train, it's only a 40-minute direct train journey from Glasgow on Scotrail Railway. You can use Travel Line Scotland to plan your route by public transport from other destinations too.
Parking at Troon
I loved the fact that Troon has big car parks right by the beach and esplanade and they're completely free for visitors.
In summer these pack out really easily and you may be struggling to find a spot!
If you can't find any right next to the beach, you can park up at North Beach or there are some car parking spots dotted around the town. Free of charge!
Outlander locations around Troon
Further along in Ayshire is Dunure village with Ayr Harbour. Dunure Castle played the ruin on the Silkies island and the beach below played the spot where Claire and Jamie watch young Ian get captured.
If you head over to the harbour, you can see the spot where Jamie and Claire hop aboard a ship to Jamaica and then Bree and Roger catch separate ships to Carolina in Season 4.
Or, head on over to Dean Castle Country park, in Kilmarnock, East Ayrshire. The castle located in the park is featured in The Fox's lair. But, there are renovations taking place until 2020.
Hunterston House, which is the seat of Clan Hunter, was used multiple times in series 1 and 2. Firstly, it featured as the room Claire and Frank stayed in Mrs Baird's B&B and also it was the interior of the Reverend Wakefields house.
You can read my ULTIMATE list of Outlander locations in Scotland here, or read my Outlander in Edinburgh & Outlander in Glasgow guides
Outlander locations in Glasgow
Glasgow has plenty of Outlander locations and you'll need at least a day to explore them all!
Start off at the University of Glasgow to find Havard University where Frank was a professor in Boston. Or, take a walk up Dowanhill street to find Claire and Frank's house in Boston.
Take a stroll through Kelvingrove Park to see where Claire walks to study and pushes Bree in her pram.
George Square was the spot where Claire and Frank were married in London.
Or, you can visit the interior of L'Hopitale De'sange at the Glasgow Cathedral and Pollock Country Park has scenes from the grounds of Castle Leoch and the duel between Jamie and Black Jack Randall in Paris.
Don't forget you can find my whole list of Outlander location guides here!
Save time and book a tour!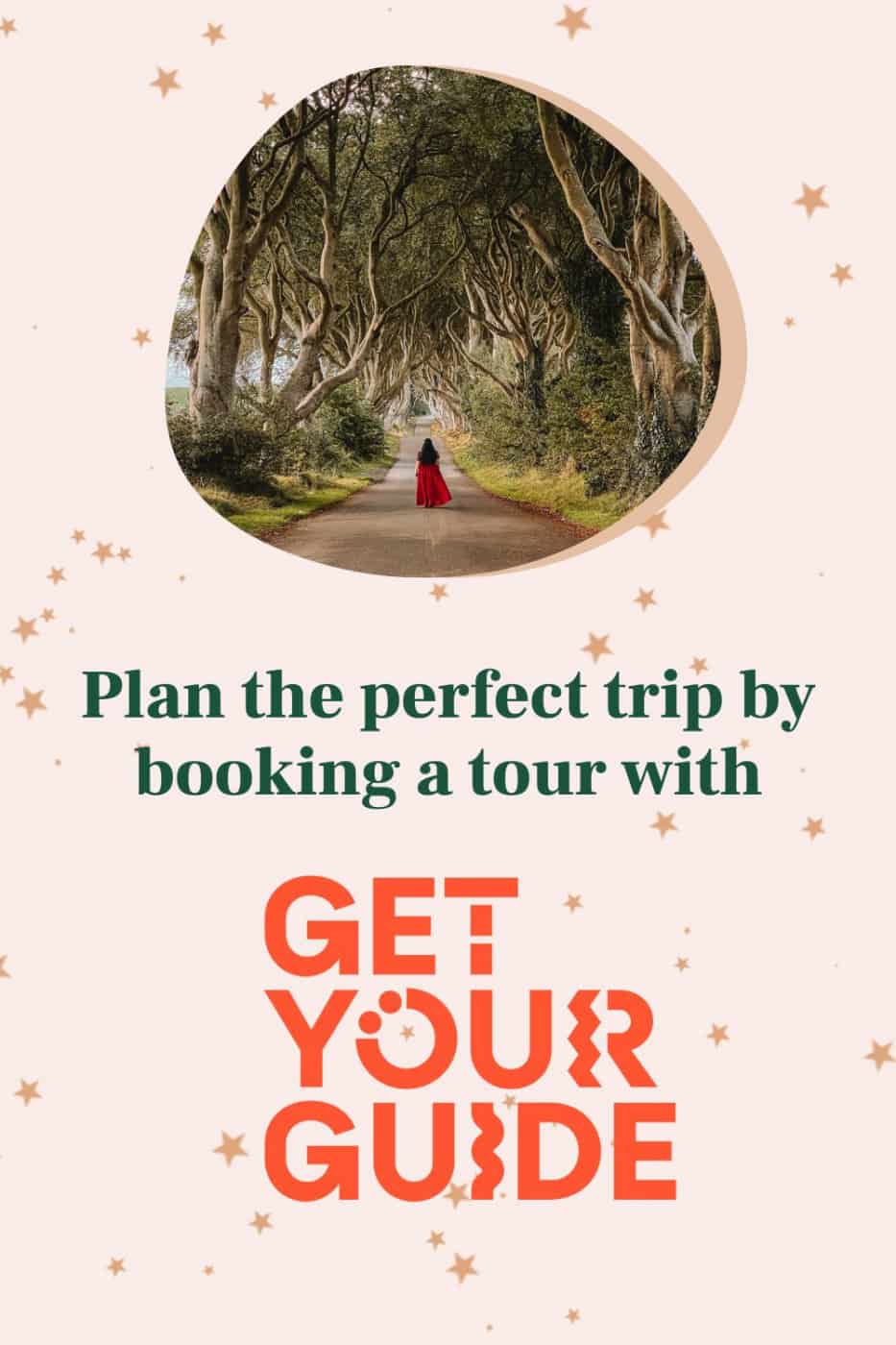 Book tours & tickets for Glasgow!
Save this Troon Outlander guide for later!