I've been meaning to head out on a trip to Wales for years now to retrace some of my heritage (as my whole family are Welsh) but I just never made it round to it. Until, quite recently, I set my eyes upon the incredible Tu Hwnt I'r Bont in Wales!
Instantly, after researching it on my Pinterest board, I was hooked and knew I just had to visit. As sad as it sounds, photographing this cottage was just the motivation I needed to finally book my trip.
I knew that this incredible vine-covered house was going to transform into a cosy autumnal treat around September time. Where, each year, the Virginia Creepers that cover the entirety of the house would turn a delicious ruby red.
Then, on further research, I found that not only is this unique 'living' house on the fringes of Snowdonia National Park open to the public. It was also a historic 15th-century building, National Trust property, and tearoom which looked a delight!
So, with autumn being my favourite season, I instantly booked myself in for a little visit here on an unusually warm and sunny afternoon in October.
Here's when Tu Hwnt I'r Bont turns red & why you cannot leave Wales without visiting this incredible vine-covered tearoom!
What is Tu Hwnt I'r Bont?
Tu Hwnt I'r Bont is a gorgeous, twee cottage that is located on the fringes of Snowdonia National Park and is just in arms reach of the charming tourist hub of Betws-y-Coed.
It's perched on the West Bank of the River Conwy in the delightful historic market town of Llanrwst and sits in the heart of the Vale of Conwy in Wales.
In recent years this unique tearoom, which is completely covered in vine leaves, has become quite the icon in North Wales. For both photographers and passing tourists alike.
I mean, it's easy to see why, really. What could be more picturesque than a gorgeous leafy cottage on the river? It's like walking through an oil canvas painting hanging in a gallery!
However, what many people do not realise is that this stunning property has a history that spans over 500 years. It's now a grade II listed building.
Also, surprisingly, its original purpose was far more gruesome than the cosy tearoom that prettily sits here today.
The incredible Tu Hwnt I'r Bont history
Originally, this house was built around the year 1480 as a farmhouse and residential dwelling. Back then, Llanrwst's main trade was wool.
You may be surprised to know that this cottage was built a good century before the triple-arched Inigo Jones bridge that it sits beside today!
Later on, the building was used as a courthouse for the surrounding area. This is where the local magistrates would be trying criminals and issuing fines and sentences.
The most serious criminals would then be transported from Tu Hwnt I'r Bont to the nearby Tan Y Craig.
They would spend some time rotting in Llanrwst gaol waiting to be hanged.
Then, they would then be executed in public and left to hang outside the walls of the prison! A horrible reminder to all those who considered being on the wrong side of the law.
Over the centuries, this historic home lost favour as a courtroom due to its size, and, eventually, it fell into disrepair. But, thankfully, this building survived over the years due to the generosity of people in the town who paid for renovations.
Eventually, in the 1950s, the National Trust acquired the property for its protection and made the decision to lease the property to locals in the town.
The lease owners then decided to transform this amazing vine-covered cottage into a traditional Welsh tearoom for all to enjoy. It has proved massively successful and has been drawing tourists inside ever since.
It's even made the front covers of the Lonely Planet Wales travel guide and the Beano comic!
Nowadays, it's an award-winning tearoom, family-run business, and one of the must-see attractions in Snowdonia National Park!
A tearoom covered in a blanket of Virginia Creepers!
The main reason why this location is so unique is due to the fact that it is completely covered in Virginia Creepers that transform with the seasons.
I've looked everywhere to see how, why or when, the house became completely engulfed with vine leaves. But, I guess it must have formed naturally over time when the building was abandoned and no one was there to remove it?!
The Virginia Creeper is a five-leaved vine leaf that can be a menace for some if they don't want it crawling over their foundation walls and inflicting damage.
However, if you can prune it and care for it in the right way, it can really add some character and bring some old buildings to life.
Tu Hwnt I'r Bont is the perfect example of this and in the spring and summer months the tearoom is completely 'living'. It almost looks furry with a fluffy blanket of dark green leaves covering it.
But, a really special time of year to visit the tearoom would be in the autumn when the vine house transforms into a bright shade of red!
If you want to capture the tearoom at this time, you will have to plan your trip in advance and keep a close eye on the leaf changes.
This is because the colour change into red only happens once a year in a short window. Plus, the time it happens varies on the temperature and the weather.
When will Tu Hwnt I'r Bont turn red?
The exact dates of when the vine leaves on the cottage turn red change every year.
But, you can definitely guarantee that the leaves will change to red around the autumn season. Autumn in the UK officially starts in mid-September around the 22nd.
Although, on a rare occasion, the leaves changing colour has been known to happen earlier in September if it has been a particularly cold summer!
The lease owners state that the best time to visit for red leaves is around the third week of September. This is when the leaves usually start to 'peak'.
The vibrancy of the red leaves completely depends on whether the creepers have had a good 'growing year', the temperature, how much frost there has been, sunlight, and a variety of other factors.
Usually, the tearoom starts getting very excited around this time of year and starts to post updates on their Facebook page of the transformation.
Also, you'll usually find that this tearoom appears on social media a lot around this time. Everyone loves to like a picture of this incredible autumnal tearoom with its finest ruby-red leaves!
Why does Tu Hwnt I'r Bont turn red each year?
I'm not green-fingered in the slightest and would never even attempt to call myself a botanical expert. But, apparently, it is quite unusual for a Virginia Creeper to turn such a vibrant shade of red at all.
According to the owners, the creeper turns such a lovely ruby shade due to the minerals from the Conwy river.
As the cottage sits so close to the river bank and the building does see flooding each year. The creeper is well fed with these sediments.
Then, when the autumn weather and cooler temperatures decide to show. As if by magic, the leaves on the cottage transform from a green dream into a scarlet wonder!
How long does it stay red for?
The reason why you'll need to keep an eye on this wonderful tearoom and plan your trip accordingly is that there is only a small window where this leafy phenomenon happens each year.
Although it does usually happen around September time, there is never a guaranteed way to predict when the leaves will change colour or when they will peak.
Again, according to the owners, there is usually a period of five weeks between when the leaves start to change colour and when they drop off.
So, it's best to keep a close eye on this leafy tearoom at the beginning of September and plan your visit around when it starts to turn.
I was incredibly lucky this year as my visit was at the end of September and it 'bloomed' late around this time.
Although, I don't believe I got it at the perfect 'peak' time with all the leaves intact. When I did visit, every vine leaf that was on the house was completely red and amber which is what I wanted at the end of the day!
Top photo tip: the sun sets behind this tearoom! So, for the best lighting, I'd visit at sunrise, in the morning, or just after the sun has set as I did.
How to keep updated on when Tu Hwnt I'r Bont turns red!
Without actually being there in Llanrwst, it can be quite hard to check for updates as to when this red vine leaf house in Wales is set to turn!
However, I found that these were the best ways to keep updated to check on the transformation;
Tu Hwnt I'r Bont social media channels – They regularly post updates of their tearoom online. Plus, the transformation is usually celebrated each year and they love to show it off! So, make sure you follow them on their social media channels and set your notifications to receive updates.
Contact Tu Hwnt I'r Bont – I'm sure these guys get this question a lot! But, there really is no harm in asking them for an update. Especially, if you're planning on booking your afternoon tea anyway. Click here for reservation details.
Check the Tu Hwnt I'r Bont Instagram location tag
Admittedly, I did feel like a bit of a stalker here. But, I regularly checked for the Tu Hwnt I'r Bont location tag on Instagram running up to my visit.
Many people post photos of this tea room on social media and tag it. But, you can never guarantee that the photo posted is an up-to-date one from this current year.
So, I checked the stories that were posted with the location tag as these are usually posted on the day. Some were nice videos, so you could see the leafy colours working its natural magic ;)
To find the location tag on Instagram, just type in Tu Hwnt I'r Bont on the app and click the tag name. This is not an account but the name of the tearoom in bold with a Google Pin icon next to it.
Then when you're on the location tag, click the image at the top. If it has a pink circle around it, that means there are stories that have been posted from there! (Note: you can only see videos/posts that are made public!)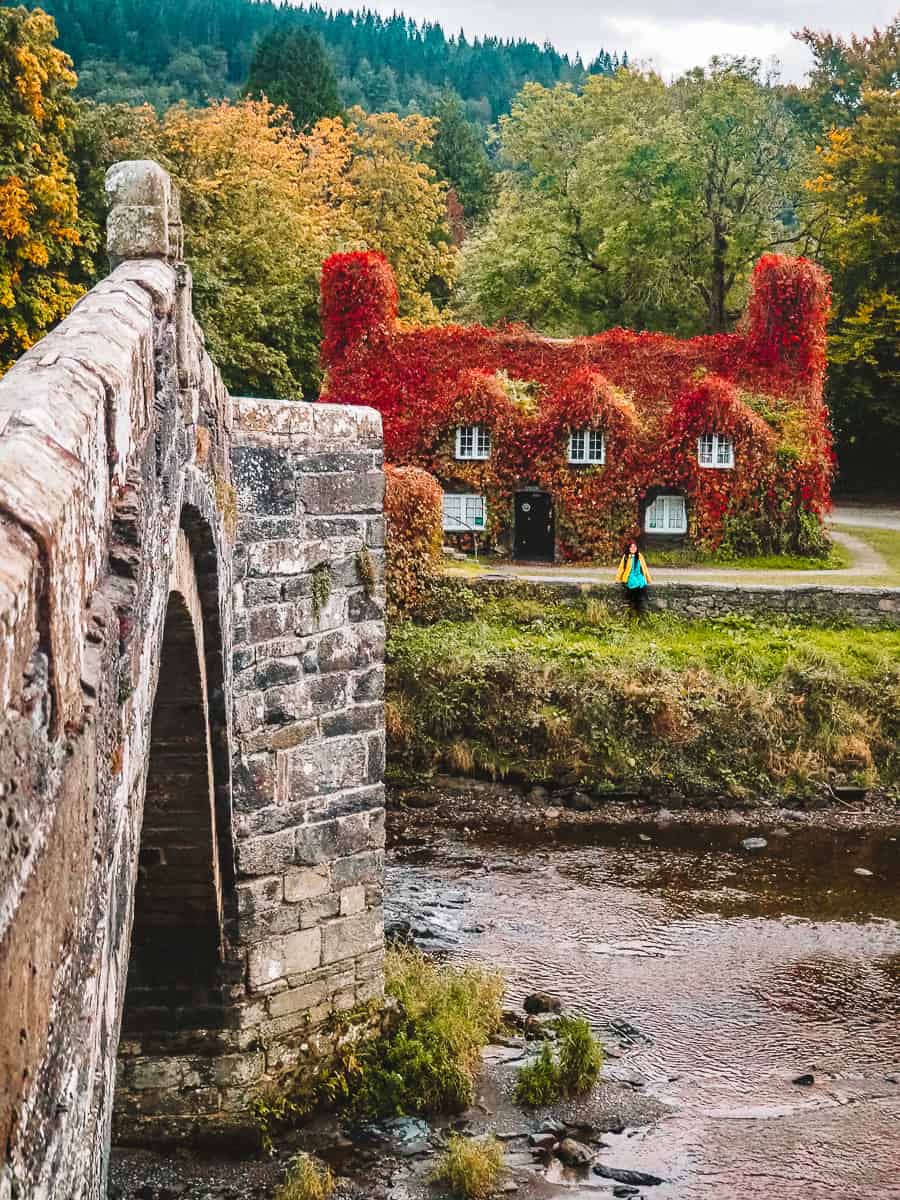 Why you must have their delightful Tu Hwnt I'r Bont afternoon tea
Beyond just visiting this quaint place for some amazing photographs, I would highly recommend that you stop by here for a spot of afternoon tea as well!
As I was coming to the end of my incredible trip through Wales, I decided to treat myself to one of their full Welsh afternoon teas with all the trimmings.
As soon as I walked in the tearoom, I was so happy with my decision to book as the whole place was incredibly cosy and quaint. It had flagged floors, a roaring cast iron fireplace, low ceilings, and fantastic exposed beams.
There were traditional portraits, copper kitchenware, and a hotchpotch of historic photos of Llanrwst placed on the walls.
But, I have to say, I think my eyes were a little bigger than my belly! When my cake tier arrived it was laden with all sorts of amazing treats.
What's included in the Welsh afternoon tea?
On the bottom layer was the sandwich that I had selected, which was Welsh ham and mustard. Then, close by was a traditional slice of their homemade Bara Brith.
Bara Brith, which translates to "mottled bread", is a traditional Welsh fruit loaf cake. The fruit that goes into it is soaked in tea overnight and so the flavours are absolutely incredible. It also came with lashings of salted butter to offset the spices and I was completely in love!
Then, on the top layer was a whole range of goodies to sink my teeth into.
There was one of their secret recipe scones which they have won awards for – even today the recipe is top-secret. It was bursting with fruit and came with an accompaniment of cream and jam.
Also, there was a buttery flapjack, a traditional Welsh cake and, to top it all off, was the coffee and walnut cake that I selected. I washed it all down with a pot of their house blend loose leaf tea!
I honestly thought I was going to burst at the end of it and even asked the waitress if this was an afternoon tea for two. But, she did confirm it was for one person.
For the amount of quality food that you get here, it's incredible value for money! My afternoon tea cost me just £17.40 which is a bargain for such a unique and wonderful location.
Do they just sell afternoon tea there?
No, you don't have to have afternoon tea here if you're not in the mood. In fact, they serve up late brunch and dinner here too (dinner being the word for lunchtime meal in Wales!).
Even if you're not in the mood for a meal, they also just serve up a great coffee or a fine cup of loose leaf tea if you fancy a pick me up.
If you don't fancy sitting inside, the cafe also operates an outdoor takeaway in the summer months. They serve up drinks and some creamy homemade ice cream too!
There is always going to be an endless list of reasons to visit, so why not make it a scrumptious one?
Remember to purchase from their cute little tearoom shop
As well as gorging on my massive afternoon tea, I loved the little farm shop that they have in the corner of the tearoom.
Here, they sell a great selection of potted preserves, locally sourced honey, freshly baked bread, and even little pouches of their own loose leaf tea!
Although I was quite disappointed there were no magnets for my endless collection. They did have a great group of souvenirs like table placemats, coasters and even playing cards with the tearoom on there.
It's definitely worth having a browse if you have the time.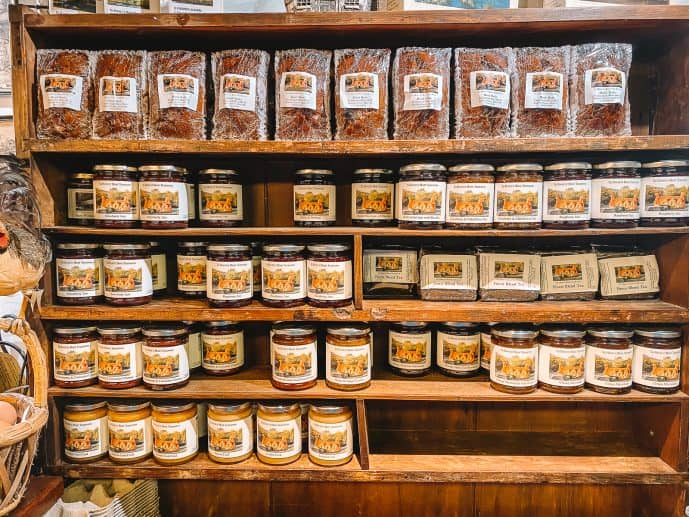 How to get to Tu Hwnt I'r Bont?
Tu Hwnt I'r Bont is located in the small market town of Llanrwst which is conveniently located on the A470 road out of Conwy.
So, if your hotel was based in the town, you could be here within a 20 minute drive. Also, if you are on a road trip through Snowdonia National Park this is a great access route to the town, park and tearoom as well. It's the perfect place for a pitstop!
But, if you weren't driving around the area, Llanrwst is also accessible by bus and train too.
By public transport: I would always say that the best way to explore North Wales is by driving. But, there are bus connections to Llanrwst from the bigger towns like Conwy, Llandudno and Betws-Y-Coed as well. It's easiest to catch a train from Llandudno Junction and you can be in Llanrwst in 30 minutes!
By car: By far the best way to get around Wales as you have more freedom and many places in Snowdonia have limited infrastructure! You can easily access the tea room along the A470 road and then cross over the memorable Inigo Jones bridge. But, make sure to give way as the bridge is single track. I saw so many people have to reverse all the way back.
Parking facilities: There is limited parking available at the tea room for customers only. But, there is plenty of off road parking and pay & display car parks in the town if you're just here for photography.
Why not visit The Ugly House or Ty Hyll next?
Just nearby is another amazing historic property located 3 miles from Betws-y-Coed. It's called the Ugly House but, there is honestly nothing remotely ugly about this place at all!
It's owned by the Snowdonia Society and leased out to the same owners of Tu Hwnt I'r Bont as an incredibly popular tearoom.
Although the recorded history of this house isn't well known, it's thought to be a 15th century home that was built by two outlawed brothers!
According to Welsh law, the house was built Ty Unos, or a house of the single night.
According to Ty Unos, if you could build a house with four walls and have smoke coming out of it between sunset to sunrise, you got freehold of the land. Equally, afterward, you could stand on all four corners, throw an axe and claim the land where the axe landed too!
I stopped here for a late lunch after hiking and treated myself to their Ugly sausage sandwich. It was delicious and there was some incredibly friendly service. I would highly recommend stopping by!
Click here for my complete visitor guide with why it's called ugly!
Exploring the quaint town of Llanrwst & beyond
After your visit, there is no better way than to burn off those calories than a stroll around the adorable town of Llanrwst on your visit. You could even see the Old Gaol at Tan Y Craig?
You can walk over the famous 17th-century Inigo Jones bridge, this is one of the best places to take photos of the tea room sitting over the river. But, mind out, as it is a bridge that cars drive over!
Or, you can sit beside the River Conwy and watch the world go by. There are a few benches just outside the tearoom. You can also take a stroll for a short while along the river banks.
In terms of attractions, you have the famous Gwydir Castle and also the Grey Mare's Tail Waterfall.
Gwydir Chapel in Grwst's Church is also meant to be the final resting place of Llywelyn the Great, the 13th-century Prince of Gwynedd.
Plus, remember, you're on the gateway to Snowdonia National Park! It's now only a quick drive to the likes of Betws-y-Coed with it's gorgeous Pont-y-Pair bridge. There is also Swallow Falls, Sappers Suspension Bridge, and the Fairy Glen.
Or, you could drive up further to the amazing historic town of Conwy to see its impressive castle and the Smallest House in Great Britain! Plus, I loved the scenic marine drive on the Great Orme near Llandudno.
Read more of my North Wales posts
A complete Conwy Falls & cafe guide
How to find the Roman Penmachno Bridge
Where is the Lone Tree of Llyn Padarn?
The legend of Gelert & how to visit his grave
The top places to visit in Beddgelert
A complete guide for the Conwy Town Walls walk
How to do the Llyn Idwal Circular Walk
A complete guide for the Dinas Emrys Walk & Dragon legend
How to see the Bodnant Garden Laburnum Arch
How to visit Pistyll Rhaeadr Waterfall
Gladstone's Library – Stay in the UK's only residential library
How to visit Dinorwic Quarry Wales
Save this Tu Hwnt I'r Bont guide for later!