If you're an Outlander fan, you've surely heard of Bakehouse Close. It doubled up as Carfax Close for those iconic print shop scenes where Jamie and Claire reunite. But, did you know that Tweeddale Court was also featured in Outlander?
This hidden close-off of the Royal Mile was transformed into a bustling 18th-century market street in season 3 of the series.
Stepping off the Royal Mile and into the closes of Edinburgh is a bucket list item in the city. You never know what you may find when you walk down the wynds. But, it's even better when they transport you into the world of Outlander too!
Here's a complete guide to the Tweeddale Court Outlander location and how you can see it for yourself whilst in the city.
Where is Tweeddale Court in Edinburgh?
Tweeddale Court is one of 80 closes that fall off the Royal Mile. As one of the busiest roads in Edinburgh, it can get overwhelming to walk down at times. So, escaping into the quiet closes is a lovely respite.
'Close' is a Scottish word for alleyways, but they can also be called wynd, court, and entry. They were often named after a notable person or family that lived in the close. Or, after the traders that settled in that area.
Tweeddale Court gets its present name from the 1st Marquess and 2nd Earl of Tweeddale, John Hay. He was a senior advisor to Charles II and was appointed as the Lord President of the Scottish Council.
Tweeddale Court Directions
Tweeddale Court is really easy to find along the Royal Mile. Notable landmarks nearby will be the famous World's End pub which is right next door. It's also a favourite haunt of Douglas Mckenzie in the Outlander Novels.
Opposite this is the Scottish storytelling centre and just a little further up is the Scottish childhood museum.
If you're heading here from Bakehouse Close, it's just a five-minute walk up the Royal Mile. Make sure to head in the direction of Edinburgh Castle.
The most likely giveaway will be the gorgeous ornate entranceway with Tweeddale Court on it. Or, the Tweeddale Court sign at your feet at the entrance, before you walk inside.
The nearest bus stop is opposite Cafe Truva on the Royal Mile and the number 35 service stops there. Also, if you're driving, there are a few parking spots in Canongate.
Tip: these parking spaces are free between 6.30 pm-8.30 am!
Tweeddale Court opening times
Tweeddale Court is a public pathway and residential area. So, it's FREE to visit and open 24 hours a day! I did see the gate at the entrance but I don't believe this is ever locked.
In my opinion, the best time to visit Tweeddale Court is early morning or in the afternoon for photography.
It's usually quite quiet at all times of day as it's hidden off of the Royal Mile. But, if you want those clean shots; before or after working hours are the best times.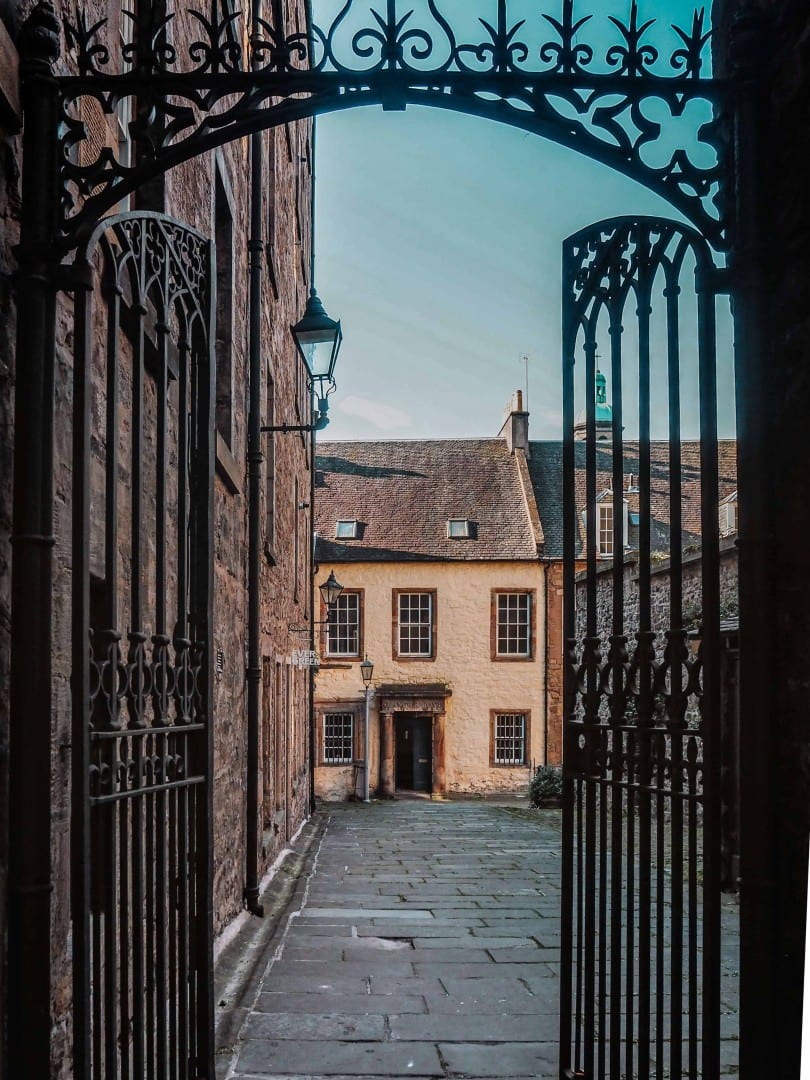 Tweeddale Court Outlander Location
In Outlander, Tweeddale Court featured in season 3, episode 6 as the bustling market streets of Edinburgh.
After Jamie and Claire are reunited, Jamie asks her to accompany him to his appointment.
Tweeddale Court is the scene where we see Jamie and Claire walk through the market together. Eventually, Claire is reunited with Fergus on this street too!
Tweeddale Court is usually a very quiet close, but for the series, it was full of people, stalls, barrels, and carts. This was to give the illusion of the congested Edinburgh streets in years gone by.
Although there will be no evidence of a market scene now, as soon as you walk through the alleyway, you will feel like you've travelled through time.
Along with Bakehouse Close, Tweeddale Court is a stunning and historically preserved street. It's a beautiful example and really gives you an idea of what Edinburgh would have looked like centuries ago.
Tweeddale Court History
You wouldn't think that such an adorable little close would have such a striking and colourful history. But, Tweeddale Court will surprise you with its interesting tale to tell.
Tweeddale House
The first known record of Tweeddale House was in 1576. We know this as we can still see it carved on the wall today. Neil Lang, who was Scotland's senior legal officer at The Signet, built his townhouse down this quiet street on the Royal Mile.
Eventually, it was owned by the Marquess of Tweeddale. He made several renovations and extensions to the property and it was renamed 'Tweeddale Court' in honour of the title.
In the 18th century, Tweeddale House was abandoned and was recommended to be demolished. But, by the end of the century, the British Linen Bank took over it and established it as its head office.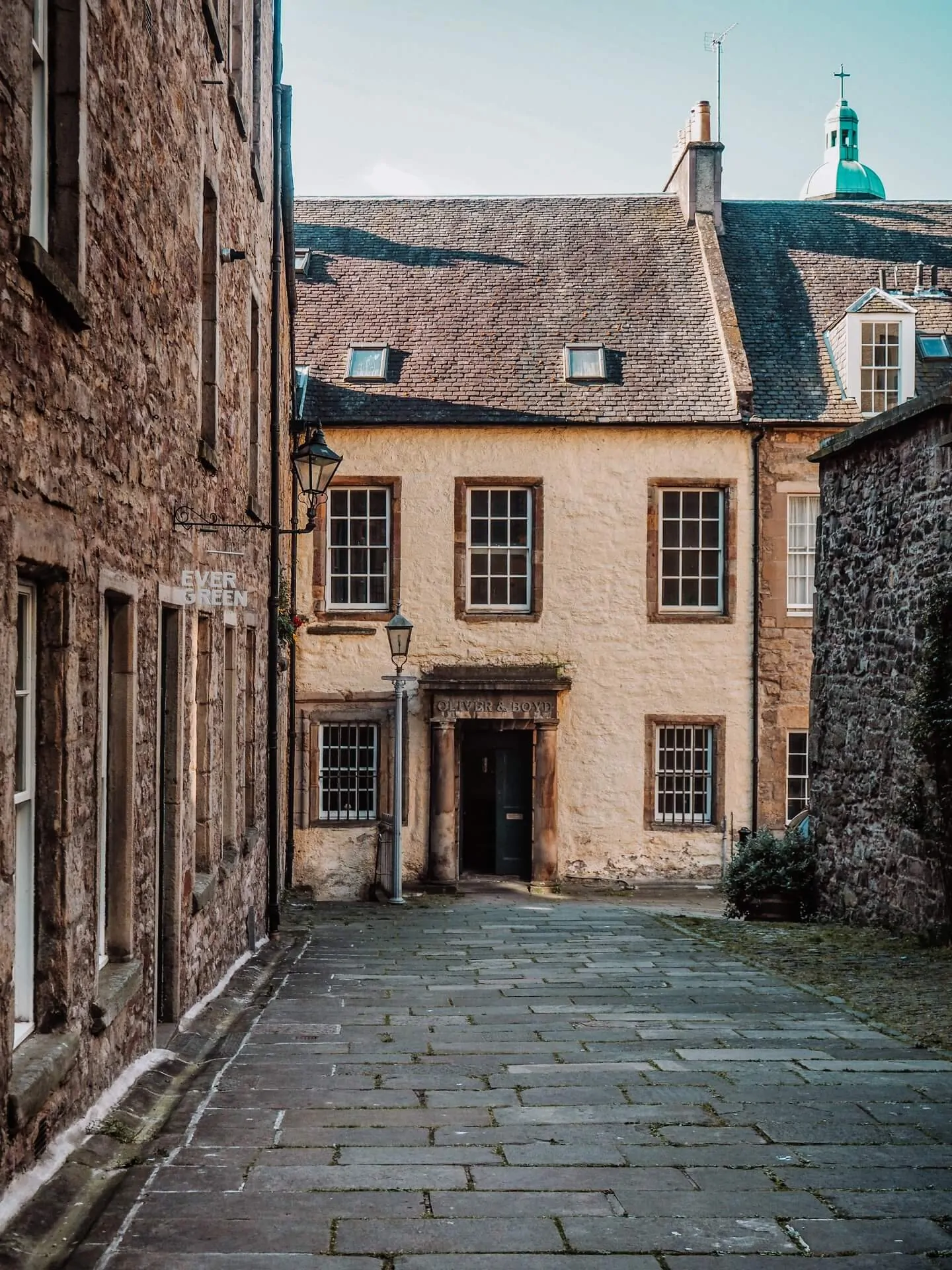 Murder, Print Presses and Hidden Gems
Edinburgh is full of ghosts and here also lies the spot where a banker, called William Begbie was murdered!
He was found in cold blood in 1806 with a knife in his heart. He was missing £4,000 pounds worth of banknotes that were due to be delivered to a branch in Leith. No one was ever caught for the crime.
Today, you'll see Oliver & Boyd carved above the door. They were two printers who purchased the house for their print shop.
You may also be surprised to know that Tweeddale Court is home to Edinburgh's smallest listed building. If you enter the court from the Royal Mile and look to your right, you can find a Sudan Chair House.
If you're not familiar with Sudan chairs, they were made for the aristocracy to be carried about it. Servants would carry their masters around in the chairs to deliver them to their destination. I don't envy that job!
Bakehouse Close
Who can forget that pivotal moment when Claire is finally reunited with Jamie in season 3 of Outlander?!
Claire walks into Carfax Close and finds the sign for Alexander Malcolm's print shop. She then walks up the stairs to find him after twenty years apart.
There were so many emotions in that iconic scene and it's gone down as one of the best in the Outlander TV series so far.
Outlander fans will be happy to know that you can actually visit the Outlander Print Shop in Edinburgh! Well, the outside anyway.
Bakehouse Close, which is in Canongate off the Royal Mile, was used to film Carfax Close. Of course, A. Malcolm's print shop sign isn't there and the steps aren't covered. However, you can walk up the stairs like Claire. It makes for a fab photo opportunity!
To read more about the Outlander print shop you can read my Outlander guide for Bakehouse Close here.
Outlander walking tours in Edinburgh
The Royal Mile is really easy to explore and self-guided. But, if you did fancy doing more of a guided walking tour of Edinburgh, there are quite a few on offer.
It's not just the Outlander TV series that feature parts of the city. In Diana Gabaldon's novels, she mentions many spots like Canongate Kirk, Holyrood Palace, and the World's End which is Dougal Mckenzie's favourite pub.
Click here to read my complete Royal Mile self guided Outlander walking tour
Looking for Outlander locations around Edinburgh?
There are so many Outlander film sites in and around Edinburgh, that you'll be spoiled for choice. So, check out my list of Outlander locations in Edinburgh here. Or, if you're really keen, check out this complete guide of Outlander filming sites in Scotland and around the world.
Inside the city, there are some more spots that you can visit including Summerhall, which has a lecture room that Claire used in Boston.
The Colonnades at the Signet Library on the Royal Mile doubled up as the Governor's mansion in Jamaica and Craigmillar Castle, which lies just outside Holyrood Park, featured as Ardsmuir Prison.
Gosford House featured as Helwater Estate and Preston Mill was used to film Lallybroch Mill in Season one. The Roslin Glen Gunpowder Mills were used for a heartfelt argument in season one and Glencorse Old Kirk was where Jamie and Claire tied the knot.
Popular locations from Edinburgh are Midhope Castle as Lallybroch or Broch Tuarach and Doune Castle as the seat of Clan Mackenzie Castle Leoch.
Deanston Distillery is where you can find Jared's wine store in La Havre and Drummond Castle gardens were the royal gardens in Versailles.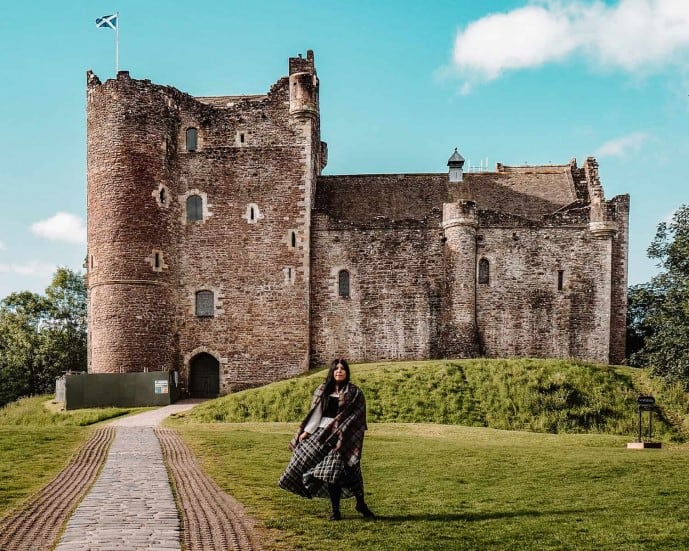 The Hopetoun Estate has over 17 Outlander Locations including the Duke of Sandringham's Home and Abercorn Church nearby.
Blackness Castle as Fort William and Linlithgow Palace as Wentworth Prison. The royal borough of Culross doubled up as Cranesmuir with its West Kirk featuring as the Black Kirk.
Falkland played the iconic scenes of 1945 Inverness, with Mrs. Baird's B&B, and Bo'ness station featured when Claire and Frank said goodbye.
Heading to Glasgow next? Don't miss this list of Outlander locations in Glasgow here
Read my Edinburgh travel guides
All the Outlander locations in Edinburgh
Harry Potter locations in Edinburgh
How to visit the Harry Potter graveyard
A complete guide for Armchair Books
Why you must visit Dean Village
A complete guide for the Vennel
How to find Bakehouse Close from Outlander
The hidden gem of Whitehorse Close
Signet Library Afternoon Tea review
Why you must visit the World's End
A complete guide for Circus Lane
The mystery of the Burke and Hare Coffin Dolls
Queen Mary's Bath House in Edinburgh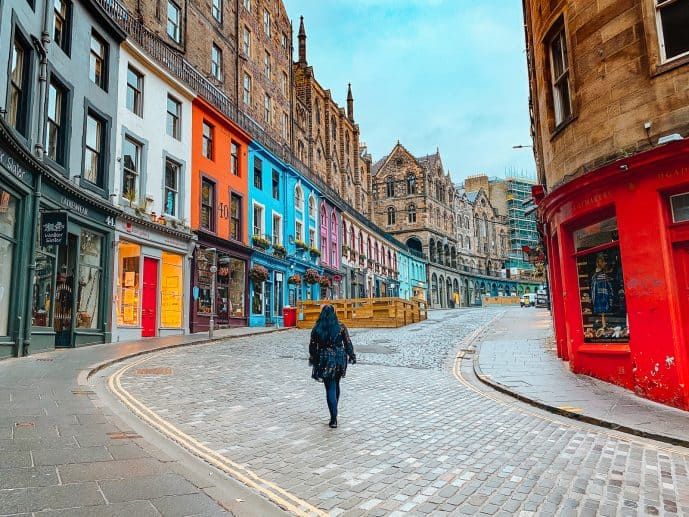 Save this Tweeddale Court Outlander guide for later!