Yes, there is Uber in Egypt and this ended up being my go-to option for getting around Cairo. It took away a lot of the headache of negotiating with local taxis and was so much cheaper too.
I knew where I was going to end up, what price I was going to pay, and felt safe as I had an escalation route should anything go wrong.
Egypt is far from a budget destination and scams happen often, so if you haven't thought about using Uber or are curious about how to use Uber in Egypt. This is the post for you.
Here, I'm going to tackle everything you need to know about Uber in Egypt; where they run, how to use it, safety, tipping, and some top tips! Yalla!
Disclaimer: Not sponsored by Uber but I do get some nice credits on the app if you use my code. some of the driver information, such as photos, has been redacted from screenshots for sensitivity.
What cities have Uber in Egypt?
At the moment, Uber can only be found in the cities of Cairo and Alexandria.
But, business is booming! It's only opened four years ago, but there are currently over 80,000 Uber drivers in Cairo alone.
So, you won't have any issues finding a cab! It's fast becoming one of the most popular ways to get around the city due to the taxis being a lot cleaner and allowing more driver accountability.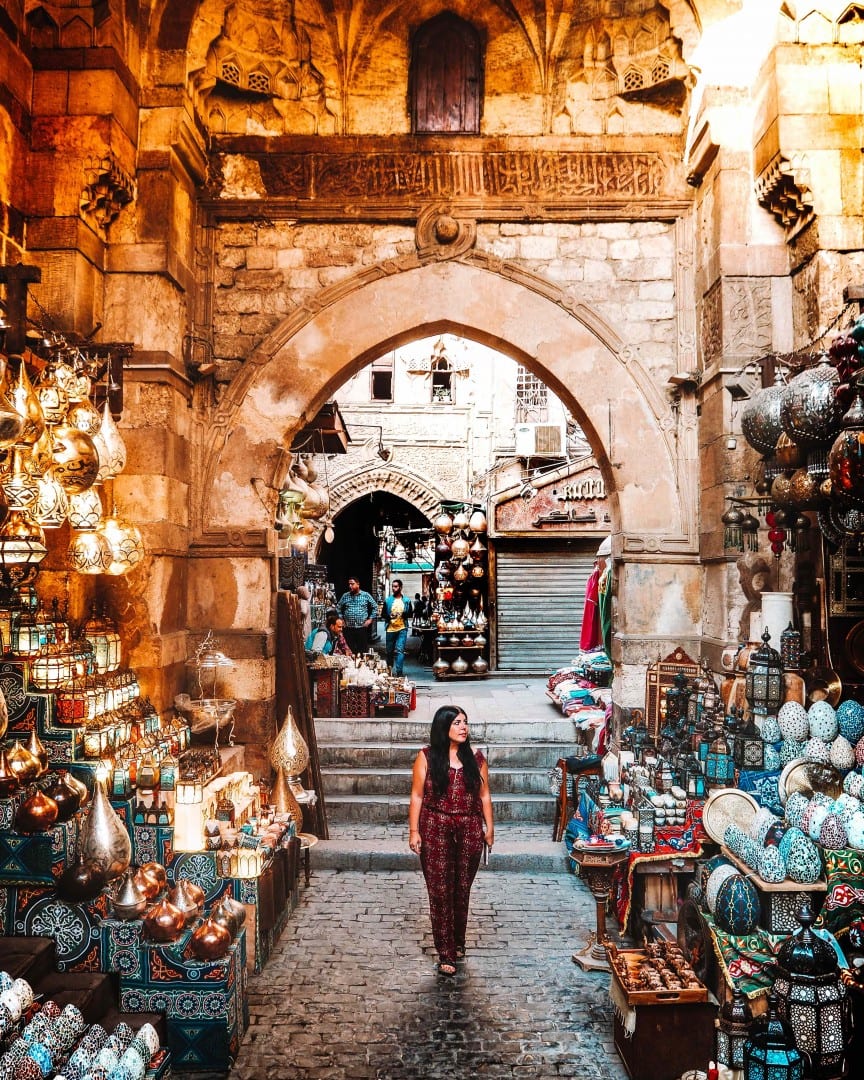 What do Uber taxis look like in Egypt?
Unlike government/normal taxis, Uber doesn't have a uniformed car fleet. You wouldn't recognise an Uber to be any different than a normal car.
But, don't worry. You will always be told the make, model, and license plate of the taxi you have ordered on the app before you receive it. Every Uber driver will have a profile with their name and profile picture, so you know who you're expecting!
How Uber works is it hires taxi drivers who own their cars already to work with Uber by becoming a 'captain' for their company.
The drivers don't wear a uniform. You may see an Uber sticker on the bumper and they will have a smartphone with the Uber driver app. But nothing more.
Uber Vs. Careem and Normal Taxis
Uber in Egypt
Uber has a fixed fair price for everyone with a meter and you know what you're going to pay
You're protected by Uber for the journey and can report problems
With Uber you will need to wait a little while for a driver to find you
You can just go from A to B on your journey
Uber drivers drop you off at the exact location of where you need to go
You will need WiFi or roaming (Data) to order a taxi and preferably a local SIM so the driver and you can call each other.
Normal Taxis in Egypt
Taxi prices are hard to negotiate, drivers don't start the meter for foreigners and sometimes the prices go up after you've arrived
Aside from the police, there is no one to report the driver too should something go wrong
Normal taxis can be found everywhere and you leave in an instant
Sometimes when taxi drivers drop you off, you get hassled to go to shops to buy things or visit other locations
Drivers sometimes drop you off in the wrong locations if there is heavy traffic and you don't know where you are (this happened to me and I had to walk an extra 30 mins on my own through the Khan and I had no idea where I was going – scary!)
You don't need Roaming or Wifi to Order
Careem Taxis
can be found in Cairo and are the original taxi app ordering service before Uber hit the scene to rival them.
Prices and the service are pretty similar, I chose to use Uber as I had the app already and was familiar with the company.
But, if you're travelling around Egypt, Careem can be found in more cities such as;
Cairo – Sahel – Alexandria – Gouna – Damanhour – Tanta – Mansoura – Hurghada – Port Said – Suez -Ismailia – Zagazig – Damietta – Banha – Asyut – Sokhna- Minya
Is Uber safe to use in Egypt?
This question always pops up when discussing using Uber in different countries. Personally, I always find that Uber is incredibly safe to use and I actually feel more protected when I use them.
I have their name and picture on my phone, I know the make and model of their car and have a record of their license plate.
The fact they use a GPS for the journey means that anyone could know our current location and the details of our journey.
There's now even an option to share my journeys with a loved one so they know I'm safe. I also have an escalation route with Uber should anything happen or I leave my things in the taxi.
I don't have any of these options with a random taxi I pick up off the street.
Is Uber in Egypt safe for female travellers?
I was a solo female traveller in Egypt and found that all the Uber drivers I had were lovely.
They offered me tissues, fed me, sweets, offered me water, would shut the windows, actually turn on the A/C so I didn't have to breathe in pollution, and would let me choose music.
I found it was a much nicer experience than when I chose a normal taxi.
What I also loved is there were a lot of female Uber drivers in Cairo and, although I couldn't choose a woman driver via the app, I always felt more assured in that cab.
Tips on safety with Uber in Egypt
The number one thing that frustrated me was that licence plates on the Uber app were Alpha Numeric and Arabic, but on the cars, they were often just in Arabic. I didn't have a clue about reading Arabic so I always double-checked with someone. Also, pay attention to the profile picture of your driver to ensure you're getting in the right car.
An Uber driver will always have a smartphone with the Uber Driver app with them. They will ask you if you want to start the journey. They have a GPS map similar to Google Maps on their smartphone to track the journey and the cost. DO NOT, let them start without starting the journey on the app.
You can report any bad situation to Uber via the app and also alert loved ones of your journey should anything happen.
An Uber driver would not be able to 'wait and stay' for another journey. Always order a fresh Uber for each journey. Also, don't allow an Uber driver to take you to any shops or anywhere other than where you're meant to be going. If they try to, instantly report it.
How much do Uber rides cost in Egypt?
Compared to normal taxis in Egypt, Uber's are a steal!
Locals would always tell me what price they would usually pay (which was next to nothing!) and to ask local taxis to put the meter on.
But, putting this into practice was impossible! There would be countless reasons why they couldn't do it and it would be a never-ending haggling process.
A big example of this is taxis at the airport. As you have just walked off the plane, these guys are masters at trying to rip you off.
I wanted to go to Giza and a local told me I shouldn't pay any more than £200EGP (£8). The airport quoted £600EGP (£25) for a limousine which isn't what we know as the celebrities baller car FYI, just a slightly nicer cab.
Then, when I got outside, I was swarmed by cab drivers. All were quoting £400EGP (£20). I had to seriously haggle and finally got them down to £200EGP (£8).
If I had simply caught an Uber from the airport, it would have cost me an easy £150EGP (£6) – £200EGP (£8), and the service would have been far nicer.
When you're travelling around Cairo, Uber journeys can cost as little as £20EGP (£1) to get around the city, whereas normal taxi drivers quote £200EGP (£8) for a 10-minute journey by car!
Download the Uber app and get a discount by signing up with my invitation code:
If downloading for the first time use my invitation code sophiep4481ui for a discount on your first ride!
How to use Uber in Egypt
Firstly you need to download the Uber App. If you already have an Uber app from elsewhere in the world, you don't need to download one specifically for Egypt. Uber's app automatically detects and updates to your current location.
If downloading for the first time use my invitation code sophiep4481ui for a discount on your first ride!
Then set up your profile and preferences. You can set a profile picture so the driver can recognise you. You can opt for the app to take money from your debit card or set it for the driver to take cash payments from you.
Click "Where To?" and it will set the pick up point from your current location. You can change the pick up location if you wish to be picked up from somewhere else i.e Giza Necropolis. Then you type in where you would like to go i.e. Cairo International Airport.
This should then give you a list of options including the length of the journey, the time the driver will take to reach you and the estimated price of the journey. Uber X is a private taxi. Select your choice then press 'Confirm UberX'
Now is the waiting game. Uber will find you a suitable driver that is in your area or close to you. But, this is Cairo and things run on Egyptian time. If in doubt, contact the driver on the app or call them. If they only speak Arabic ask a local to help you or if you don't have roaming, use a local phone.
You will receive a nudge on the app that the driver is waiting for you. Double-check the profile picture of the driver and the licence plate before entering the Uber and make sure they 'start the journey' via their Uber driver app.
Tips are expected for Taxi drivers in Egypt and Uber is no different. You can tip in cash or ask them to raise the price of the journey on their app before they stop the journey. Also, remember to rate the driver through the app with compliments if he/she did a good job!
That's it! You can also pre-order Uber's. These are ideal for really early airport drop-offs or late at night journeys. You may find there are no drivers around at that time without doing this!
Tipping Uber drivers in Egypt
A Baksheesh or tip for a service received is a big part of Egyptian culture and Uber rides are no different. Tips aren't included in the total price.
Depending on the service I received, I would usually tip between £20EGP – £50EGP for a good drive. But, you don't have to tip this much if you don't want to. Some drivers would refuse tips!
I would certainly keep a small change spare for taxi tips when you need them. If you've set your Uber app to take debit card payments, the Uber driver can raise the amount they will charge you via their app.
Scams to watch out for with Uber in Egypt and how to report it
I mean, it all seems plain sailing, right? But, this is Egypt and scams are common. So, it's best to also keep your wits about you.
I met a couple of tourists who caught an Uber but then were brought to a random shop to buy some 'souvenirs' on the way, they were also bribed to keep him as their driver for the whole day. This shouldn't normally happen!
I also met a guy who said the driver started their journey at the beginning, but then stopped it halfway through and quoted a massive price compared to the app. Always make sure the journey is started and ended and keep an eye on the GPS.
Also, watch out for taxi drivers who will cancel journey's on you and then charge you. Some will not be able to reach you due to traffic but then lie and say you didn't turn up. Request a refund with Uber.
In the unfortunate event, something bad happens to you, even something like the air conditioning not being turned on. Report it immediately. You don't want it happening to the next tourist that gets in!
Top tips for using Uber in Egypt
Grab a local SIM card from the airport, a popular choice is Vodafone. It's handy to have a local number so you can talk to drivers and order on the go!
Not all drivers will speak English, ask a local to help with directing them to you
Licence plates will often be in Arabic, always double-check the profile picture and make of the car
Like everything in Egypt, Uber runs on Egyptian time. The original time to get to you may be extended due to traffic. If you're running on a tight schedule or need to make a flight, always pre-order an Uber.
Are you looking for things to do in Cairo?
Cairo is an incredible city full of adventures to suit everyone. There is so much to do here beyond the Pyramids of Giza. You can go temple hopping, shop in the oldest souk of the Middle East, see the Nile, and find an oasis in the urban desert.
For more informative guides on Cairo, see here;
21 essential tips to survive visiting the Pyramids of Giza in Egypt
9 of the absolute best places to visit in Cairo you don't want to miss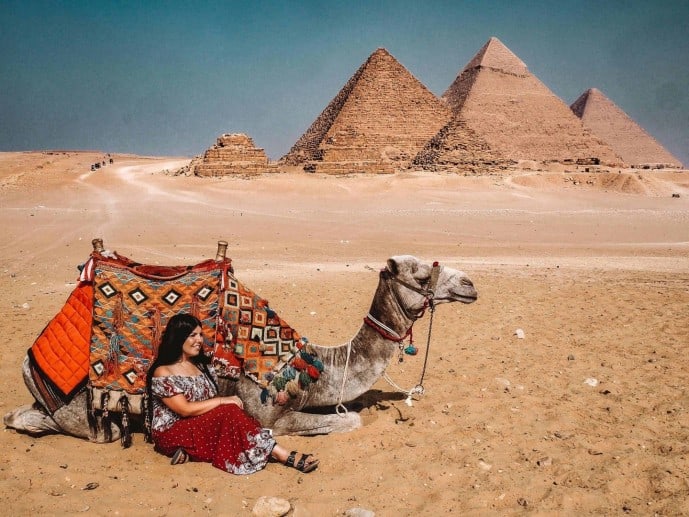 Read more of my Egypt articles
My perfect 2 week Egypt Itinerary
The perfect Egypt packing list
The most Instagrammable places in Egypt
My guide to the Valley of the Kings
The ultimate 4-day Nile Cruise
Top places to visit in Luxor at night
The perfect guide for Abu Simbel
Why you NEED to visit Alexandria
Top tips for riding a hot air balloon in Luxor
Like it? Pin it!