I love Uber in India and is something I use all the time when it's available in the city I'm travelling in.
It's quickly taking Indian cities by storm, becoming a fashionable way to travel and transforming the way both locals and tourists get around.
Personally, I love it as I know exactly what car to expect, what price I'm going to pay before my journey, and how long the journey is going to take.
I'm safe in the knowledge that I won't get ripped off, taken off somewhere incorrect, or have to negotiate (argue) for an honest price. Well, sometimes. I'll cover some mishaps below.
Taking Uber in India is super simple to use and can save you a lot of hassle. Here's a simple guide on how to use it.
Disclaimer: some information (licenses, card info, addresses, driver pictures) has been redacted from photos using the app for privacy. This is NOT sponsored by Uber but my referral code means I get some credits
First things first, download the Uber app and get a Uber India discount code by signing up with my invitation code:
What cities currently have Uber in India?
It's good to note that not every city will have Uber in India, but it's on the rise and growing all the time.
You can check on the app when you arrive in a city or google it beforehand to check.
So far, Uber in India is available in;
Bangalore – Delhi – Mumbai – Kolkata – Hyderabad – Chennai – Pune – Jaipur – Chandigarh – Ahmedabad – Kochi – Ajmer – Udaipur – Jodhpur – Surat – Vadodara – Bhubaneshwar – Guwahati – Coimbatore – Indore – Mysore – Nagpur – Vishakapatnam – Nashik – Thiruvananthapuram – Mangalore – Bhopal – Ludhiana – Lucknow
Uber Vs. Tuk Tuks (Auto Rickshaws)
Getting Tuk Tuks is still something I do all the time, especially if I don't have data on my phone.
Although there is a certain novelty to them when you first arrive, It can get exhausting constantly negotiating for an honest price.
As I've lived here for over a year, I have a good idea of the costs of journeys now. I hate it when Tuk-Tuks try to rip tourists off.
Sure, it could only be £5 for 5 kilometres which is nothing compared to the UK, but it's the principle. If I pay it, the next tourist will be victim to it too.
I'm never really completely sure of the cost of trips and if I'm paying way over what a local would pay. That's where Uber helps out.
I actually sometimes use an Uber price for the journey as leverage when negotiating with Tuk Tuks.
It's quite a sensitive subject for Auto-Rickshaw drivers as Uber is stealing their business which is sad.
But, then again, if they charged an honest price, it may not be so easy to choose an Uber over an overly expensive Auto. That's just my opinion.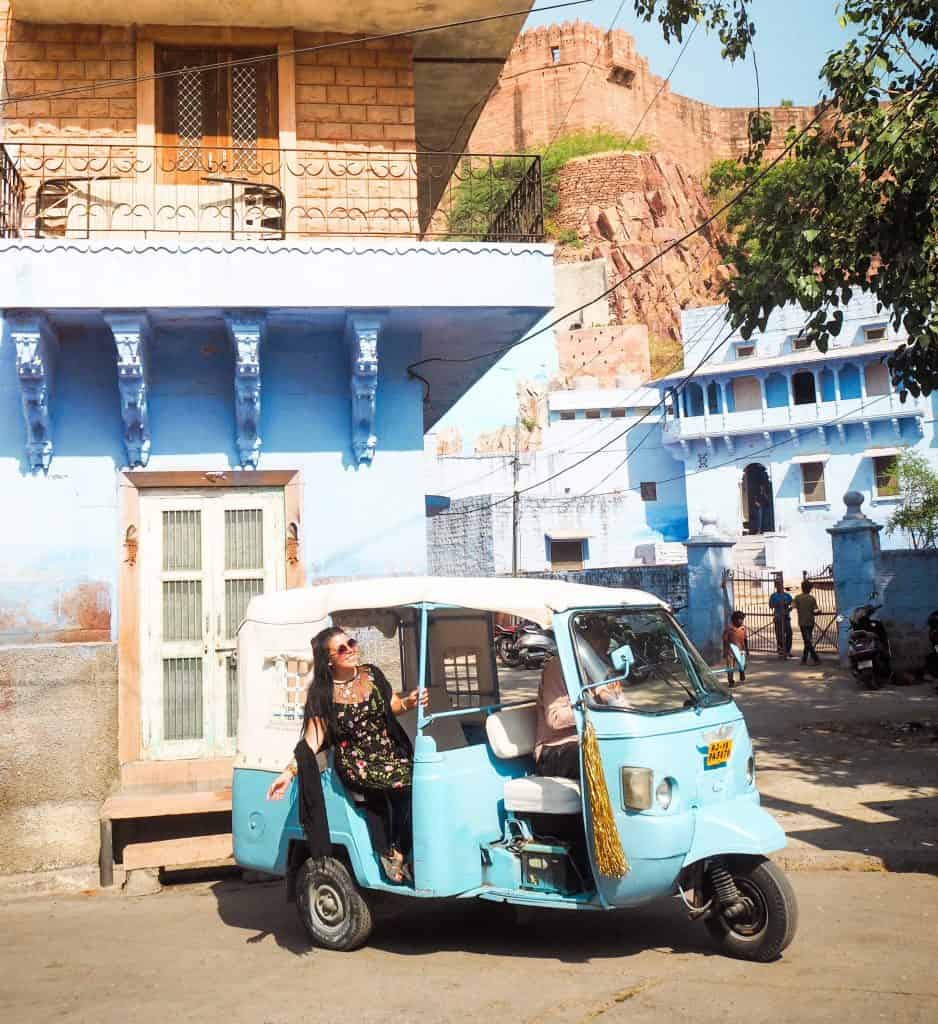 The Pro's of using Uber in India
There are countless benefits of using Uber for short journeys in a city. Here are a few;
It's air-conditioned which is perfect for the heat and doesn't let in pollution – a lifesaver for places like Delhi where pollution is horrendous.
You know what the price is before you get in the car, no surprises. You won't get taken to any shops or commission places. Just where you need to go.
The driver's Uber app uses google maps based on the map pin you set as the drop location. This way they know where to head and you don't have to direct or end up lost. There's no chance they won't know the address and it saves time.
You can schedule an Uber. So, if you have an early or late night pick-up, you can set the time to suit you.
There is now a 'chat' facility kind of like Facebook messenger so you don't need to call and can discuss pick-up location.
As you're getting a taxi through Uber there's an official complaint route should anything go wrong or if your Uber is not driving properly. I mean I know it's India but some drivers are plain dangerous.
Con's of using Uber in India
Although it's great, there can be some downsides to using Uber which frustrate me;
You do need the app which requires wifi or data. So you can order on wifi but when you're out of range you can't keep track. The drivers do not call international numbers. So, it's a confusing waiting game.
Sometimes drivers will not wait at the designated pick-up area which means you can't find them easily as traffic is cray!
I have found that sometimes Uber drivers aren't in my area and so I'm stuck. They also can sometimes cancel on you if it takes them too long.
If you need an Uber really early or late at night they aren't usually around. Make sure you schedule for the best results.
You need to call them and if you don't have an Indian SIM that can get expensive. There is a messenger chat option now to talk via wifi but if they're driving they don't always respond.
If their app isn't working and the ride won't 'start' some drivers will ask you to cancel on your side. If you cancel you get a 50 rupee cancellation charge. Which can get annoying if you didn't need to cancel. In these situations, I ask them to cancel or contact Uber.
If you cancel after 5 minutes time from your booking, you'll get a cancellation fee. If the driver thinks you're a 'no show' that also applies. A nightmare if you can't call!
Sometimes the 'drop' pin isn't in the correct location and so you end up in the wrong place or having to pay more to drive further.
Is Uber in India safe?
In the past, there have been some problems with the safety of Uber, especially in cities like Delhi.
There was an instance where a lady was raped by her driver and subsequently Uber was banned for a long time. But, the service has improved massively since and it's by and large very safe.
The feature on the Uber app I like is having the driver's name, profile picture, and license number so I know what car I'm getting into and It's the correct car. It also uses google maps so if it goes off route, it will show on Uber's records.
The driver starts the journey, follows google maps to your location and that's it.
No one should come into an Uber with you unless you've selected the UberPOOL option. If this happens stop the journey immediately and escalate to Uber.
As a woman alone I've used Uber a lot and haven't (touch wood) had any complications. Sometimes I don't like a seatbelt not being there but, that's India!
Remember you can complain about a driver to Uber if he drives irrationally or does anything to harass you.
Do I need to download a different Uber app to use Uber in India?
Uber is in many countries now and continually growing. The great thing is, if you have the app in UK or US, you don't have to download a separate app for India or any other country.
You can easily download the app from the App Store anywhere in the world!
Uber in India takes card and cash payments
Once you download the app, you can set it up with your card details.
That way Uber will automatically deduct the fee from the bank account you've set up. This was a lifesaver in the dreaded demonetisation phase and can also be useful if you're stuck somewhere with no cash.
If you did want to pay cash this is also an option. Just change the option in your settings. Try to have small change as 2000 rupee notes and even 500 notes cannot easily be changed!
Instructions on how to order an Uber in India
If you're not familiar with Uber, it's really easy to order a cab with them. You simply click the 'where do you want to go?' button and put in the location. It has almost exactly the same features as google maps. It will tell you the distance and approximate cost for the journey depending on what service you choose.
Once you've ordered it, you can keep track of where the car is via the map and the little car icon. It's pretty cool as it will show a real-time location. You can then see how close the car is to reaching you.
Choosing between UberPOOL, UberMOTO, UBerGO or UberX
UberMOTO is a scooter service which means a guy will pick you up on a motorbike to take you somewhere. Great for short little journeys, not so good for carrying shopping or luggage!
UberPOOL is where you share a car with others. I haven't personally used this but it's super cheap. Just prepare for going around the houses before getting to your destination. Not ideal for drops for trains, flights, or work.
UberGO is one I use the most. It's a private taxi service and gets you from A to B. It's not luxury all the time, but it's an air-conditioned cab. You'll find you'll be picked up in small cars for up to 3/4 people at a time.
UberX is the more luxury option. I ordered these a lot when I was in Mumbai. The benefits are a more spacious car, usually leather seats, the driver can speak better English and is more professional I have found. It's a slight premium from UberGO but sometimes it's worth it.
Tripadvisor and Uber for sightseeing
I'm continually amazed at how many big applications are teaming up with each other nowadays to help customer satisfaction and Uber Is no exception.
On Tripadvisor, there is now a 'get there with Uber' feature which means you can easily press that button on an attraction or restaurant you're interested in visiting.
When you press it, Uber's app will pop up with the pin already located and the journey pieced up. Press order and you're all set – easy peasy
Free tips and offers
Due to competitors like Ola cabs (a similar service), Uber offers discounts to those customers that refer friends to use Uber.
On the app, Uber gives you an individual code. If your friend uses that code to order an uber you get some Uber credits to use on your next journey.
There are always offers from Uber in India for big cities such as 'power hours' and discounts. So check emails and the app for offers.
Once you're all set up, Uber is an easy, convenient, and cheap option for travel in India.
That's all you need to know about Uber in India
That's all you need to know about Uber in India. It really is a great and convenient option to use. And, of course, Uber isn't the only company on offer.
Ola is also a competitive option that I have used in the passed. With this, you actually have to give them an OTP before they can start the journey, adding another element of safety to it.
So, download and start using Uber in India today. Remember to recommend friends so you can both take advantage of free trips.
Happy cabbing.
Read more of my India articles
The ultimate Rajasthan itinerary
Why Bundi has to be on your list
Why do you need to visit Shimla
A first-timers guide for Mumbai
My complete guide for Rishikesh
Like it? Pin it!