Rajasthan has my heart but Udaipur truly has my soul.
It's straight from the pages of a bohemian romantic fairy tale and you will feel like royalty as you wander around the breathtaking Lake Pichola.
Udaipur is more like a mood and you will surely follow its rhythm while you're here.
It's often called the Venice of the East due to the 5 gorgeous lakes, romantic atmosphere, and pleasant weather.
You will fall in love with the mysticism, the floating palaces, the architecture, and the life force that runs through this city.
These are all the unmissable things to do in Udaipur!
12 unmissable things to do in Udaipur
1. Feel the breeze of the majestic Lake Pichola
There are many lakes in Udaipur but Lake Pichola stands the test of time by being one of the most romantic lakes in the East.
The sparkling waters surrounded by the Aravalli mountain range create a cool breeze that has a certain magic to it.
Add on the fact that it boasts a majestic floating palace in the middle and you've landed in a dream world!
Although there isn't a specific route to explore Lake Pichola, the many Ghats which are pick-pocketed around provide a great panoramic view of it all.
Ambrai Ghat is the best for a view of the Taj Lake Palace in the open garden nearby.
2. Check into the Taj Lake Palace
This will cost you a pretty penny but how many times in your life can you say you've made residence on a floating palace?!
Only accessible by boat from the royal dock, this hotel is up there as one of the best in the entire world.
Its white archways laced with bougainvilleas create a spectacular retreat.
Famous for its feature in the James Bond movie Octopussy, it was originally built as a summer palace for the Maharana of Udaipur (Maharaja being a king that was defeated in battle and a Maharana being undefeated).
Even in the peak temperatures of Indian summer, the whirlwind breezes create a cool respite.
When you check in, you're made to feel like royalty. The Taj group cannot be beaten in service and during my stay, they outdid themselves as I had quite a few calamities.
Check out 'Checking in: Taj Lake Palace, Udaipur' for a full review and some funny travel faux pas I made!
Want to stay? For available dates and rates click here.
3. Step back in time at the Udaipur City Palace
Out of all the city palaces in Rajasthan, Udaipur City Palace is by far my favourite.
There's just so much colour and character in every room.
It certainly packs out during peak season and sometimes the narrow corridors to make your way through can get claustrophobic!
The views of the lake and beyond are spectacular and you can spend at least a few hours here enjoying the grandeur.
Be sure to check out their restaurant and bar on the exit, I sipped a delicious rose flavour Gin and Tonic.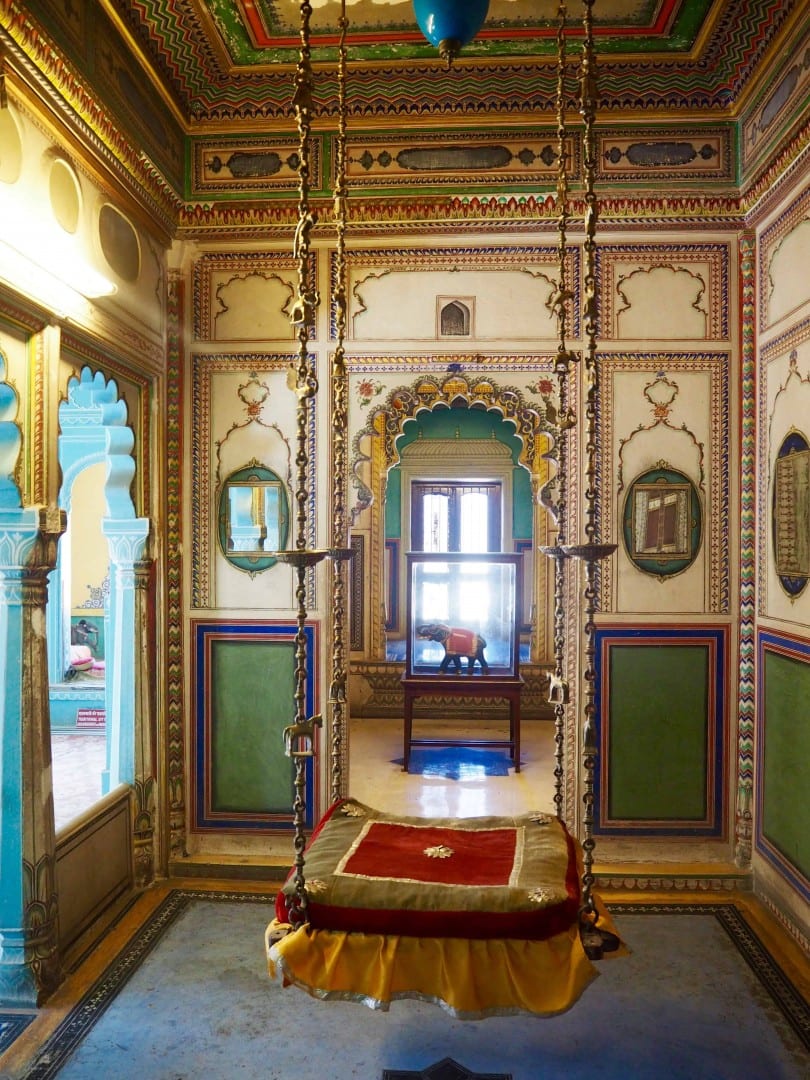 4. Take a boat ride on Lake Pichola
It's almost criminal to visit Udaipur and not take a boat ride on Lake Pichola.
Here, you can get up close and personal with famous sights and luxury hotels.
I booked my boat tour through the city palace and rode at sunset. You'll be paying more for a sunset cruise, but it's totally worth it for the colours the setting sun makes on the city palace and houses on the lake!
I fell in love with it and couldn't stop snapping my camera. It was a golden hour on steroids.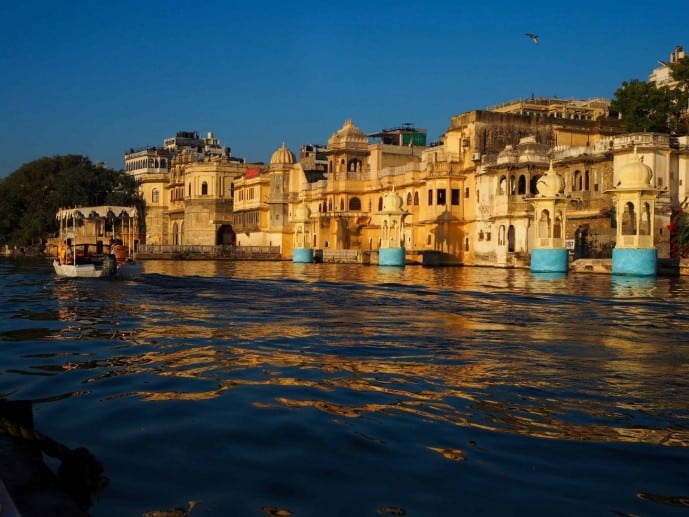 Typically the boats do a 360 turn and pull up at the Jag Mandir which sits across from the Lake Palace.
Here, you can have a look around for as long as you like.
After the sun has set behind the mountains, it creates an awesome purple glow in the sky. A beautiful backdrop for the skyline.
5. Watch the sunset at the Monsoon Palace
Another beautiful place is perched on a hill towering above the city. You can make your way up by Land Rover from the booking office or take a breathless hike to the top.
Amazingly, you'll be waiting for a 5-minute sunset. But, it's 5 minutes worth waiting for.
I almost missed the whole thing as I was busy snapping the views from the other side!
Luckily the kind security guard pointed me in the right direction.
Watch out for the monkeys that play mischief here, they'll be on the prowl for all things shiny and edible. They will also sit on top of your car and refuse to leave!
The winter season in Rajasthan creates a romantic orange glow at sunset and luckily these guys were the perfect muse for photos.
6. Grab a cheap Tali at Neelam's restaurant
It's the number one place to eat on Tripadvisor but Neelam still charges next to nothing for her homemade Tali.
A typical Tali consists of two Indian vegetarian dishes, dal (lentils), chutney, chapatis, and rice!
It's a massive meal and it only costs 150 rupees which is perfect for the budget-conscious traveller.
Neelam makes all her food herself and the service has a friendly guest house feel to it.
You can find her place behind the Jagdish temple. You and your wallet won't regret it!
7. Visit the Jagdish temple
Sitting in the middle of Main Street by the City Palace, the Jagdish temple is a beautiful place to visit.
It was built in 1561 and is dedicated to Lord Vishnu the creator of the world.
It is still actively used for Hindu worship today, so remember to dress appropriately.
The carvings are the most spectacular part of the architecture here and tell the stories of the creation of the universe.
It was so peaceful walking around here and listening to the Bhajans being sung.
Remember to take your shoes off and not bring your camera inside as photography is strictly prohibited.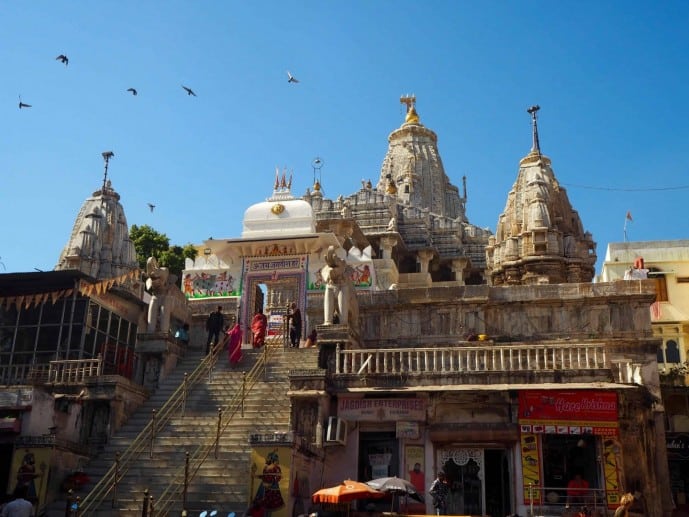 8. Let the Bagore Ki Haveli dance show bedazzle you
This fun and lively cultural show will transport you all over Rajasthan to watch in wonder at the different dancing styles, puppet shows, and religious prose along with traditional music.
The vibrant costumes in all different colours make a real statement on the stage.
The dancing is the most impressive part and you'll see the Chari dance with pots of fire placed in their heads!
The ladies are all so beautiful. The most prestigious however was a 70-year-old lady, who balanced and danced with 7 heavy pots on her head! It was aging goals.
I kept thinking, I can hardly sit with my legs crossed for an hour yet without fidgeting and she can carry all those pots, walk-on glass, and dance?! Crazy.
It packs out almost every night, even in the off-season, so get in the queue promptly at 6.15 pm to guarantee a ticket and a good seat. Shows are from 7-8 pm daily.
9. Dine like royalty at Upré
There are many luxury dining options to choose from by Lake Pichola, but nothing quite beats Upré.
You can lounge on their royal cots overlooking gorgeous views of the lake and city palace.
Food is midrange to high in price but the flavours, quality, and service are so worth it!
In high season it is worth making a reservation here to save waiting. The service and location make you feel like Maharani with a feast for a queen!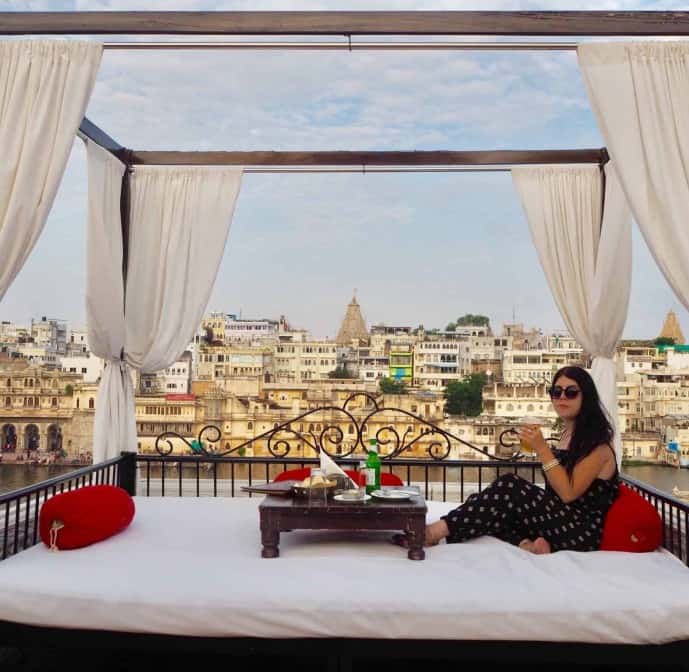 10. Ride the ropeway to the Karni Mata temple
Another way to get an aerial view of the city and beyond is to visit the Karni Mata temple via the ropeway.
I wouldn't recommend walking up the hill as there are warning signs for panthers and cobras everywhere.
Tickets are 97 rupees return (I've never understood these figures as anyone ever has those 3 rupees change, they usually just give sweets).
It's a hot ride to the top and there is a typical Indian queue to wait in line and by that I mean there really isn't one!
Despite the ride, the views from this side are outstanding and it's worth sticking around a while getting a birds-eye view of the whole city and beyond.
On the way back, you will need to hand your ticket to the ropeway counter and receive a number.
Once your number is called on the tannoy, you can go back down via the cable car.
It took around 15-20 minutes in peak season for my number to be called, but there's a good café nearby to pass the time with a cold drink.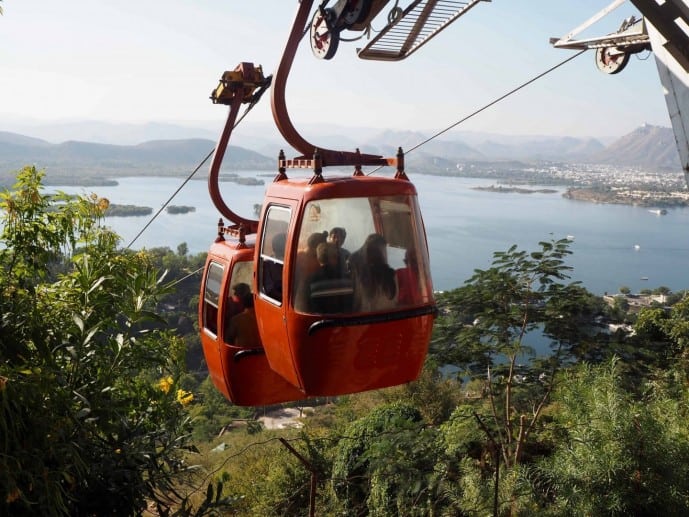 11. Visit the Ahar Cenotaphs
This place is a little-known secret in Udaipur city centre which is located a few kilometres away from the tourist hub of Lake Pichola.
It's a labyrinth of archways and has cenotaphs for days.
You can visit at sunrise and watch the rays of first morning light slowly cover them in a golden glow.
Be warned that there is a fee for photos by the security guard who runs a little monopoly on the side.
I guess this is India and a business can be found anywhere.
Click here to read my complete guide for the cenotaphs here!
12. Take a day trip out of the city
After you've ticked off all the things to do in Udaipur is fantastic but the majority of it can be covered in one to two days.
After that, there are a wealth of day trips you can organise out of the city for a cheap price.
You can visit the beautiful living fort at Chittorgarh, marvel at the unique carvings in the Ranakpur Jain Temple, or climb Khumbarlargh fort; the second largest in the world (the first being the Great Wall of China).
Private taxis should be around 2000 rupees for a full day tour or you can go on a sharing tour for 600/700 rupees per person.
Khumbarlargh fort and the Ranakpur Jain Temple you can cover together in one full day trip and Chittorgarh you can cover in another day as both are in polar opposite directions of Udaipur!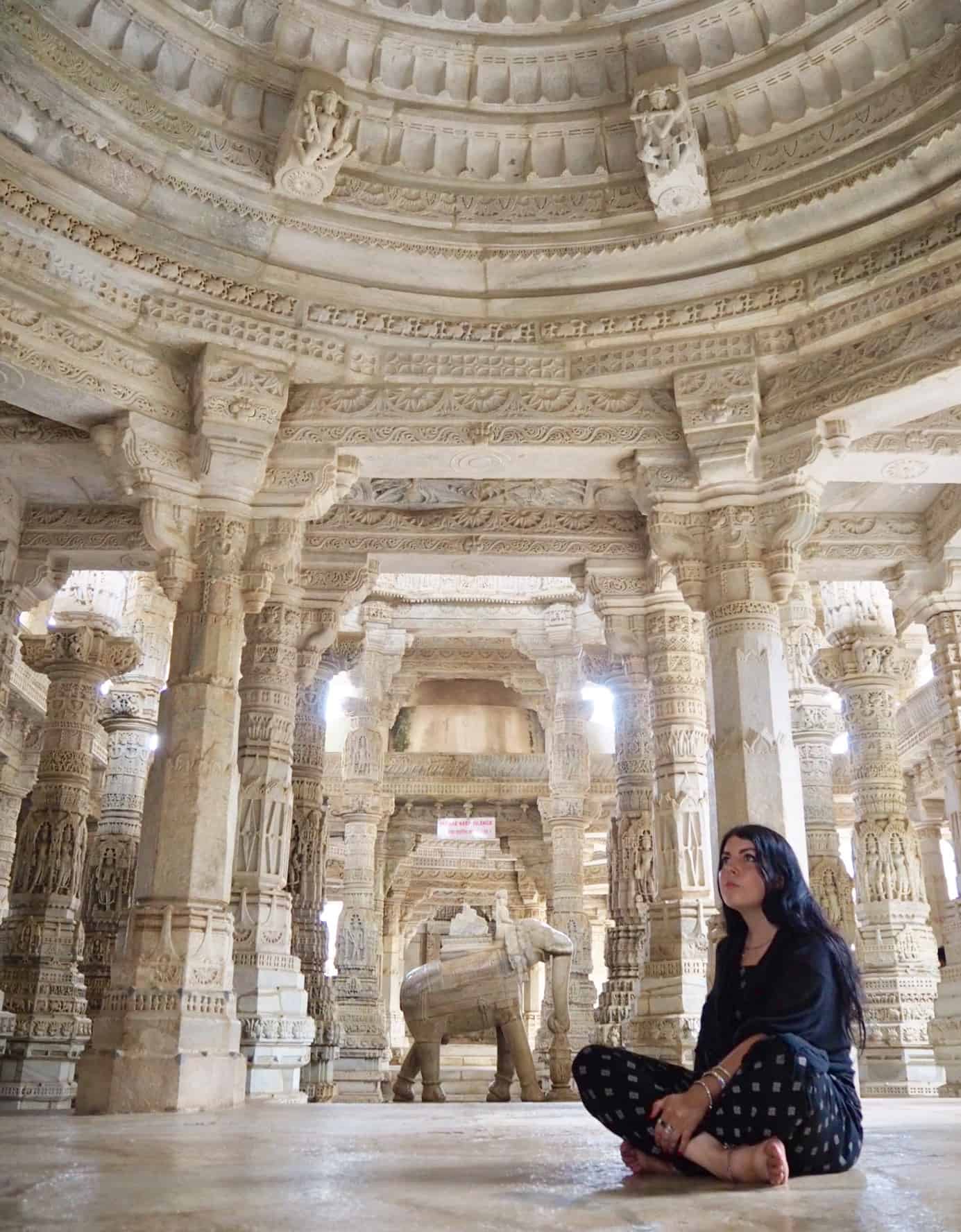 So, that's all the best things to do in Udaipur!
So, these are my personal 12 things to do in Udaipur. But, there are plenty more things to get up to in this romantic city of lakes.
There are still so many nooks and crannies of Lake Pichola I haven't explored and cafés I haven't had chai in yet.
It's a city that will make you want to come back for more and I plan to do just that!
Heading around Rajasthan? Check out these posts!
My complete guide to the Pink City of Jaipur
A photography guide for Jaipur
A complete guide for the Blue City of Jodhpur
My top travel tips for Jaisalmer
A camel safari in the Thar desert
Why Bundi has to be on your bucket list
Top places to visit in Bikaner
Visiting the rat temple in India
Save these places to visit in Udaipur for later!