A weekend in Istanbul is the perfect city break! There's enough to do in two or three days and it's just East of Europe enough to be exciting and a bit of a culture shock.
Earlier this year I landed for the second time in Istanbul, one of my all time favourite cities in Europe…or Asia, depending which side of the city you'd like to explore.
As the city straddles on two continents, you're sure to be bedazzled by the mix of cultures, history and madness that comes with this surprisingly cosmopolitan city.
If you're heading for a weekend in Istanbul, I've got the perfect itinerary of how to spend your time there and get the most out of your city break. So, buckle up and I'll show you around!
Here's the perfect weekend in Istanbul itinerary.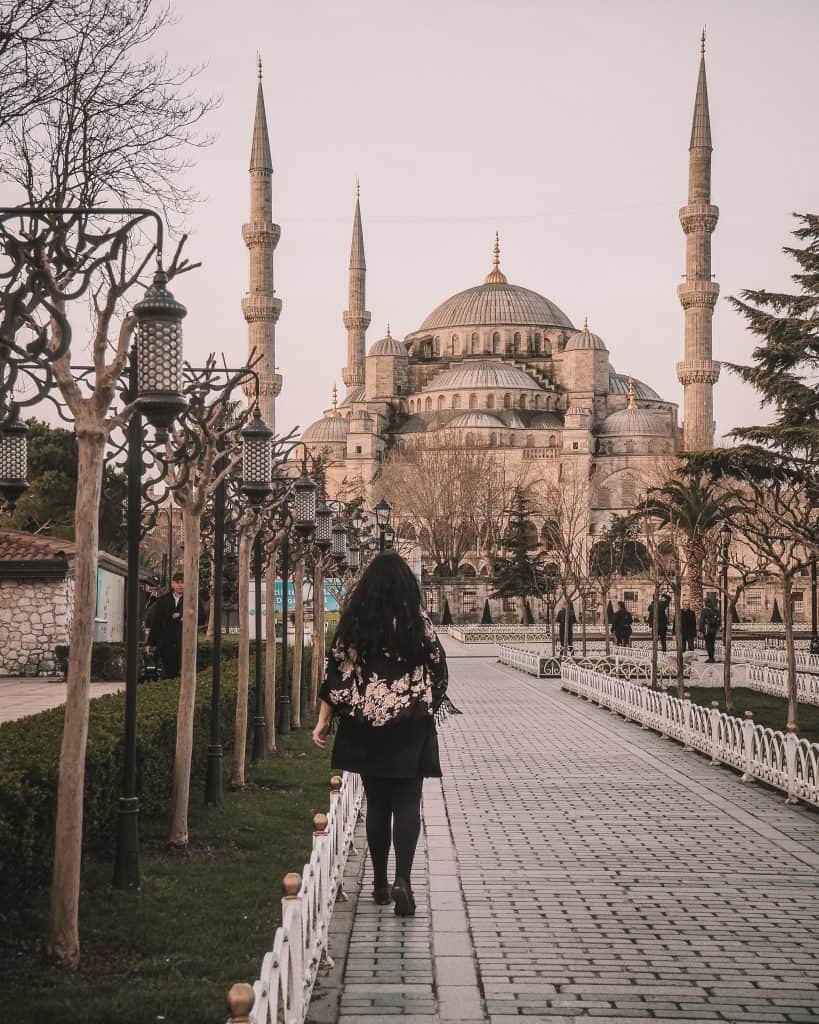 How to reach Istanbul
The easiest way is to fly into the city via their two airports.
Now, depending on which airline you choose (and the price you pay), you'll land in either one that's close or one that's far away.
Ataturk airport is more convenient if you're stuck for time as it's closer to the city, but you'll probably pay a premium as the majority of flights in this one are Turkish airlines.
If you're on the budget side of the fence and are going to be flying in via the likes Pegasus airlines or Ryanair, you'll land into Sabiha Gokcen which is on the Asian side.
This will take a good 1 hour and 30 to reach the city if you're taking a taxi or bus as a transfer. So, leave plenty of time before your flight (I didn't and nearly missed mine on the way back due to heavy traffic).
A taxi to and from the city from Sabiha will cost you around £30, but if you're conscious of your money you can get a bus transfer from the airport which is a lot cheaper. Check out this transfer here.
Top tip: grab some free maps from the airport as they will show you how to get around the city!
Getting around Istanbul
You can easily walk around the main tourist areas of the city and sometimes this is the more pleasant option.
But, if you're stuck for time, it's definitely worth investing in an Istanbulkart for your journey's around.
It's a type of credit card that you can top up that allows you to travel around the whole city on their buses, boats (perfect for a cheap boat ride on the Bosphorus), metros, trams, and trains.
Safety warning: buy these directly from the machines and don't take any cards from anyone offering you one in the subway stations. As I was tired from travelling (and a bit delirious) I almost fell for it. They will scam you out of money!
Here's how to spend a perfect weekend in Istanbul
Day 1: First, visit Sultanhammet Cami
This is the tourist hub of the city where you can find most of the popular attractions that draw people to Istanbul.
From the jaw-dropping Hagia Sofia, the timeless Blue Mosque, the grandeur of the Topkapi Palace, and the smell of Turkish street food that fills the air, you'll have plenty of things to do here that will keep you occupied!
The square is always hustling and bustling at any time of the day and really gives you a buzz as you wander around.
Make sure while you're here to try Simit. It's a type of sesame seed bread that is super yummy as a breakfast or snack option! I had mine with Nutella (drools)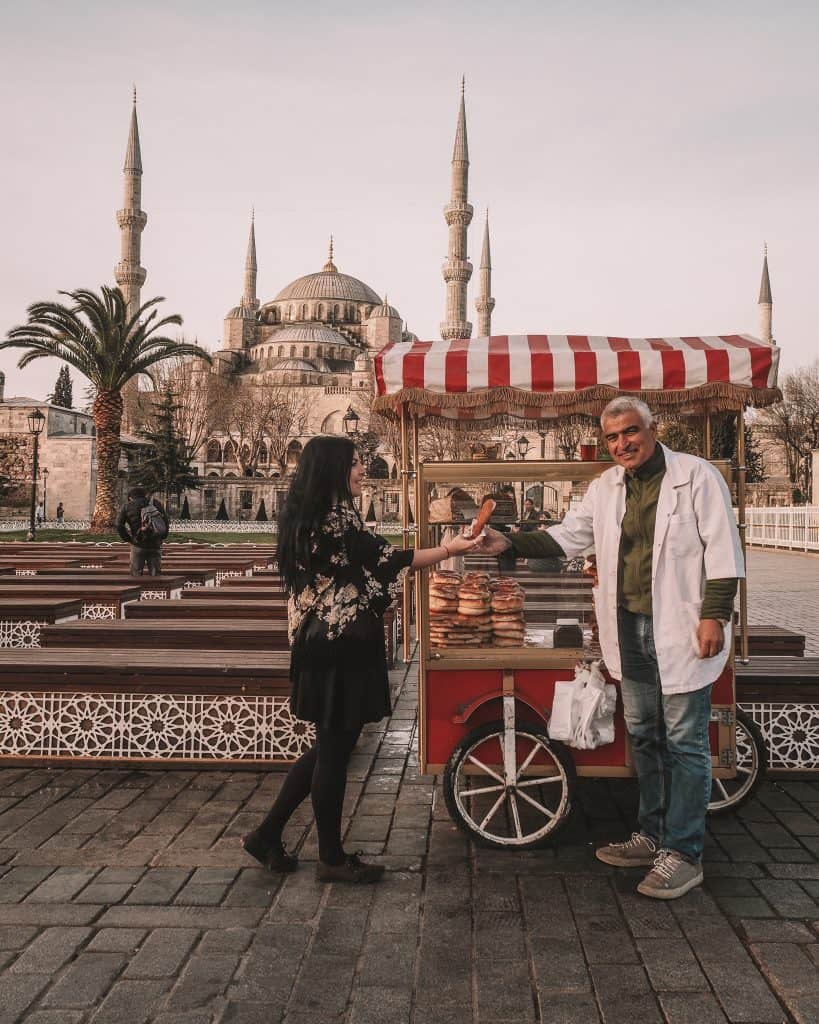 Things to do in Sultanhammet
Blue Mosque
First off I would recommend visiting the Blue Mosque, as it doesn't have a closing time.
Start out as early as possible or you may find you're surrounded by tourists.
Locally known as the Sultan Ahmed mosque, its domes and spires are unforgivingly photogenic and will make your draw drop as you draw near.
To visit make sure you're appropriately dressed (ladies this means cover-up or you'll be given one) and show the proper etiquette and respect as you would visiting any religious site as this is an active temple.
Be prepared for the inside of the mosque to close for prayer at multiple times of the day.
Book a Blue Mosque and Hagia Sofia Tour
Hagia Sophia
I would then make your way over to the Hagia Sophia for opening time, although be prepared to be queuing for tickets at any point of the day.
Due to the complex colonial history of Istanbul, the architecture here has both Christian and Islamic influences.
The high domes, colourful paintings, and cosy lighting will astound and amaze you – even through all the tour groups! Entry is free as it is now a mosque.
Topkapi Palace
Then, I would make your way over to the Topkapi Palace.
Now, this place is wall-to-wall Instagram gold and you will love all the beautiful tiles. Although it's a museum each room and building in here will make you feel a sense of grandeur as you walk around.
Prices are again 40TL (£6.60) and you need to add an extra 20 TL (£3.30) to enter the Harem. Top tip: DON'T cheap out on the Harem. It's the prettiest part of the palace and is SO worth it.
After that you're probably feeling pretty peckish for a bit of lunch, I wouldn't recommend the overpriced restaurant in the palace so I would head back to the many restaurants selling traditional Kebaps and Turkish cuisine.
One of the top recommended restaurants 'The old Istanbul restaurant' is highly recommended. Then, you can explore the Basilica Cistern and a couple of the other sites and shops in Sultanhammet!
Next up is The Grand Bazaar
No visit to Istanbul is complete without a shopping experience inside the cities oldest and largest market!
Be prepared to feast your eyes on all sorts of wonders and wares such as shisha pipes, carpets, tea sets, lanterns, evil eye, spices, turkish delight, colourful pottery, and many more things to spend your Lira.
You could honestly spend hours in there looking for gifts and souvenirs, make sure you haggle as the prices are known to be hiked up for tourists who are visiting.
The price of entry is free. Opening times are 9 am – 7 pm Monday's to Saturday's and closed on Sunday's.
Pay a visit to Eminonu and the Bosphorus
The Bosphorus is a mighty river that snakes through the city and provides a lot of the transport, trade and fishing networks.
You must go on a boat ride on the Bosphorus while you're here, it's an experience like no other.
If you head down towards Eminonu, firstly grab a local fish sandwich called Balik Ekmek from the fishing boats on the harbour.
These boats have served locals for more than a century and you'll be receiving your fish from Bosphorus to table. These sandwiches are super cheap (around £1) and taste delicious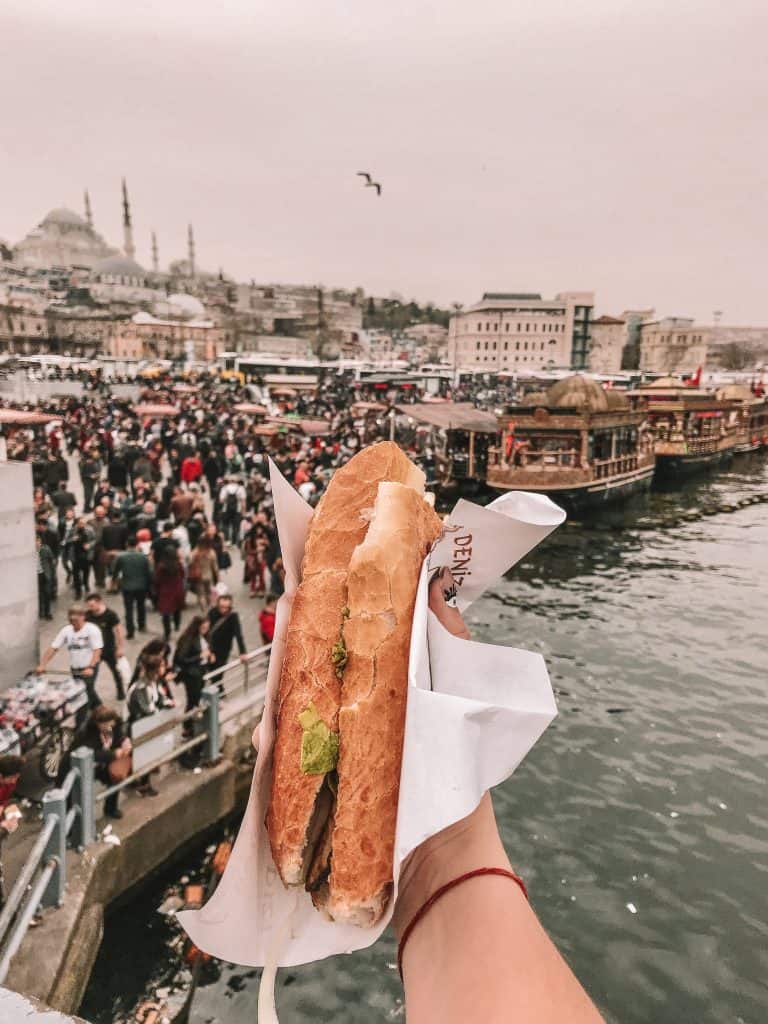 Eminonu is also the place you can find the boats for the Bosphorus tours.
Now, you can take many organised round trips that are anything from one to two hours long and trips to the Asian side which stop off for a couple of hours in the small villages and bring you back.
Be careful not to get on the wrong boat or you may be stranded and miss any plans you have (that happened to me on my first trip to Istanbul).
The rides can cost anything from 30TL (£3) to 50TL (£8) and more depending on your choice.
Or, if you're just looking for a small ride, you can use your Istanbulkart for a public ferry to Besiktas or Ortakoy which I will show you below.
The prices for these will be much cheaper but it doesn't show you the sites you may want to see or provide a commentary!
On your boat ride, you'll see sights like the Maiden's tower, the many rolling hills of the city, castles, the iconic bridges and life that moves along this river. It's beautiful.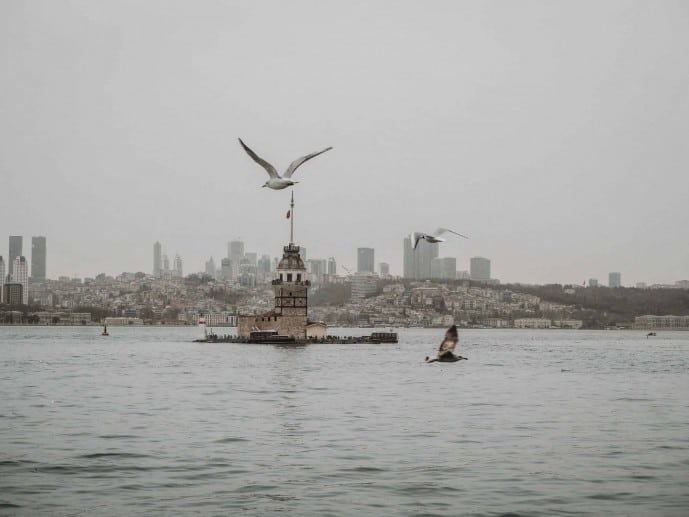 Day 2: Ortakoy
The next day on your weekend in Istanbul is to head out on the water!
As I took an organised tour on my first visit (and ended up getting lost) I opted for the safer option and to take a public ferry to Besiktas and then over to Ortakoy.
At least this way I knew I wasn't going to some unknown location for a few hours (oops).
Ortakoy is located in the swanky area of town where you'll find the likes of the 5* hotels such as the Kempinski.
But, it also has some beautiful mosques such as the one pictured below and art galleries, coffee shops, and some spectacular views of the Second Bridge which borders on Asia!
You have to check it out but be prepared for the journey to take a while. Be sure to time your journey.
Galata Tower
Ah, the iconic tower. This beauty was constructed in 1308 and still stands tall today.
Head up here for epic views of the whole city, you may be waiting a while in the queue, especially at sunset, but the views are so worth the wait.
Opening times are 9 am to 6.30 pm and the prices are 30TL (£5).
If you are heading up here for a sunset view, make sure you check out all the diverse and contemporary brasseries, bars, and funky cafés.
This is definitely the most trendy part of Istanbul and a perfect place for a few tipples.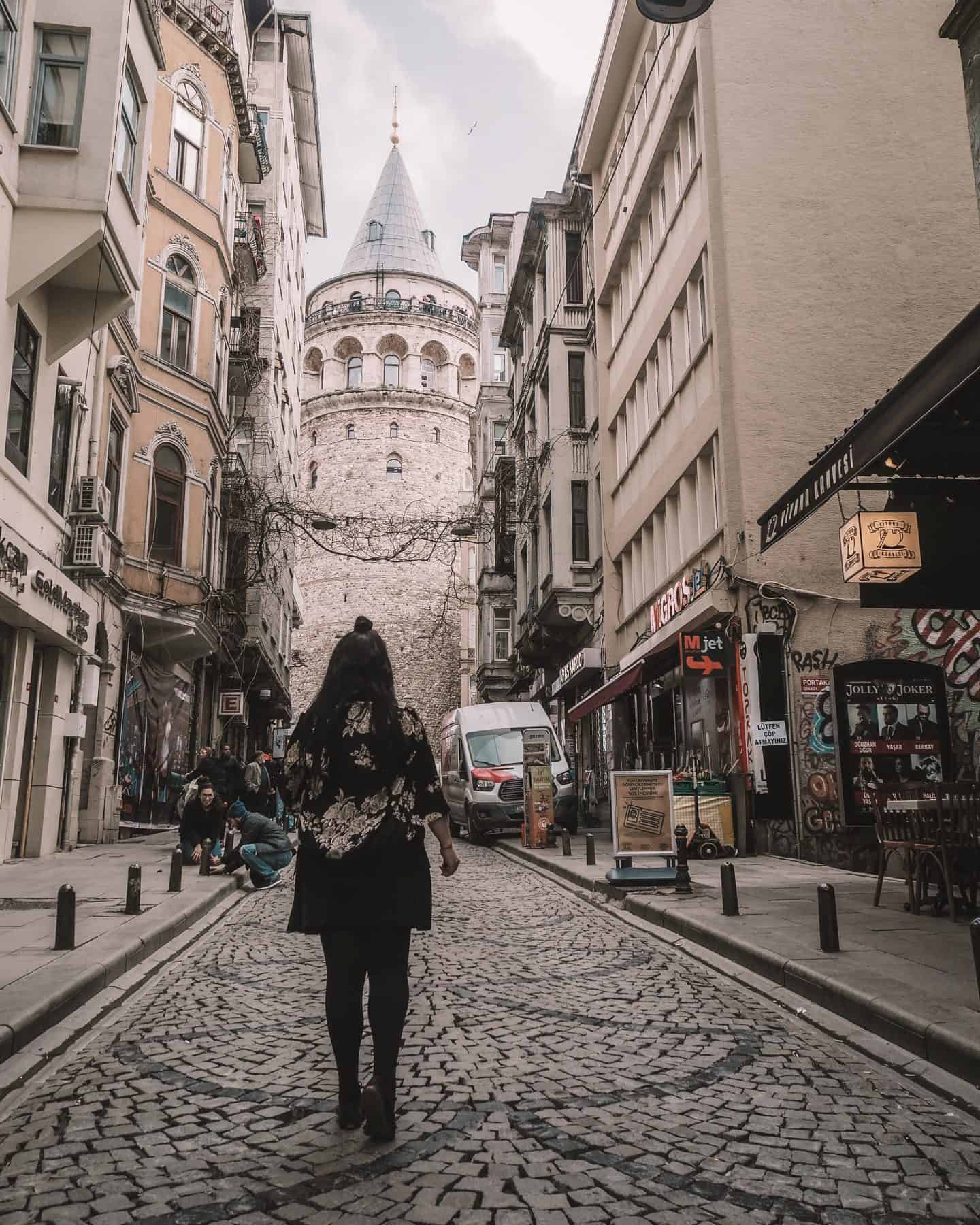 For shopping: Taksim square and Iskatal
If you're looking for more shopping, head on down to Taksim Square and Iskatal street. Here you can find an array of high street shopping, restaurants, nightclubs, cafés, and more.
This place can get pretty busy and chaotic on the weekends so be careful heading out late at night.
You'll find buskers, bands, street entertainers, street food stalls, and many more bits and pieces to stick your teeth into.
You can get the iconic red tram that heads on through the street or just walk and explore the many boutiques like the one below!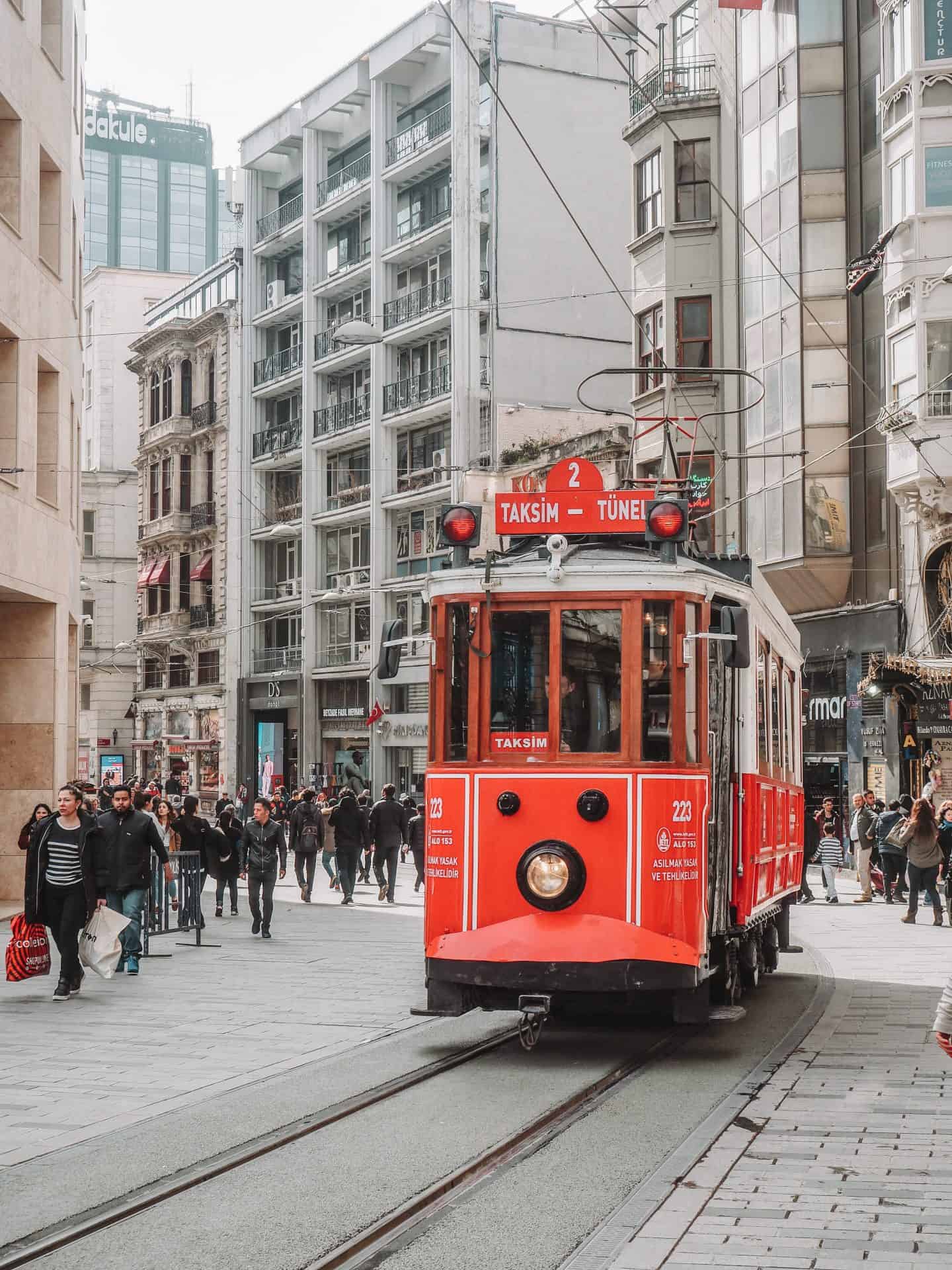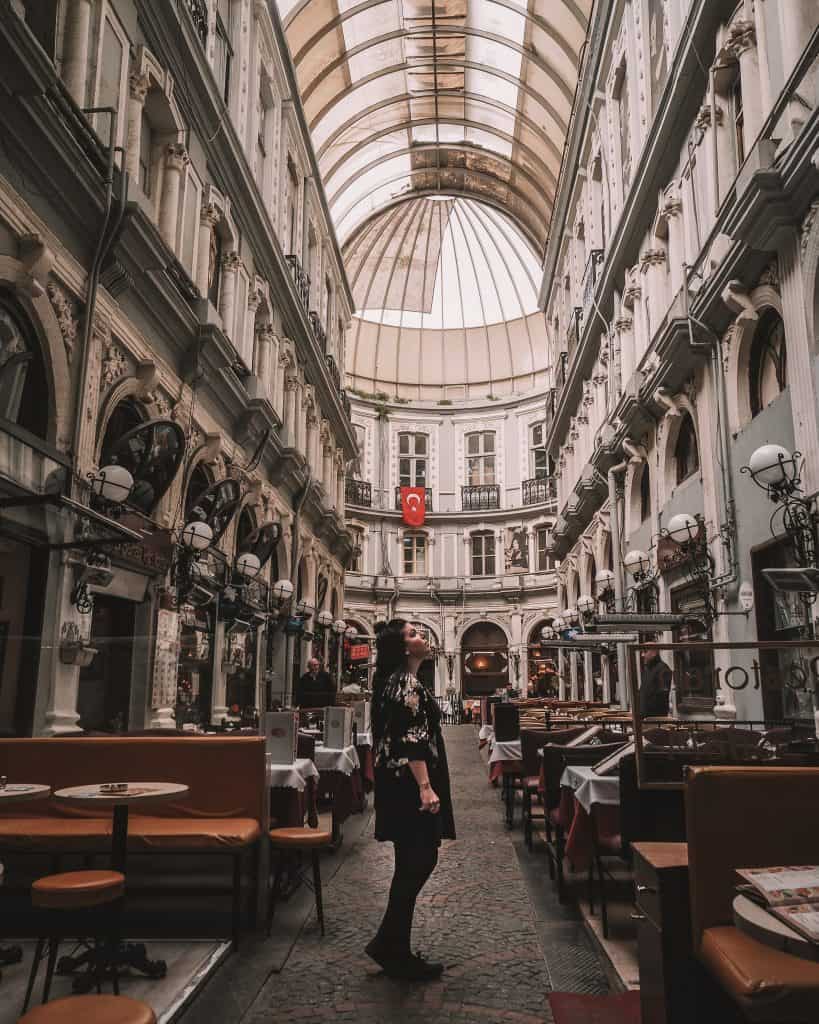 Hafiz Mustafa
Now, I really couldn't write a guide to Istanbul without mentioning one of my all-time favourite cafés and Baklava outlet!
Hafiz Mustafa has been a favourite amongst locals since 1864 and you can find many of their cafés dotted all around the city.
They sell one of the most Instagram-worthy coffees that I've seen and have the tastiest Baklava.
I love it so much, I even wrote a post about it. Be sure to check them out while you're here!
Where to stay in Istanbul
If you want a central hotel that is within all the action of Sultanhammet, then pick none other than the Seven Hills Hotel.
Not only is it a photographer's favourite because it has one of the best rooftop restaurant views of the city, it's also a boutique luxury hotel.
My room came with a buffet breakfast included in the price which was lovely and they even offered me an upgrade of a suite with a view of the Hagia Sophia! You really can't complain. I would highly recommend them.
Click here to see dates and rates available for the Seven Hills Hotel
Enjoy an amazing weekend in Istanbul
That's the ultimate guide on how to spend a weekend in Istanbul.
Of course, there are plenty more things to get up to like experiencing a Hammam spa and exploring the many bazaars that this city has to offer.
Istanbul is a city I think I will keep going back and back again to as there is just so much to see and experience.
There really isn't another city quite like it and will always have a little piece of my heart (and stomach as I eat so much Baklava lol!).
If you loved the photos in this post and want to read about how to find the top Instagram spots in Istanbul read this post which includes the story of these amazing rainbow steps!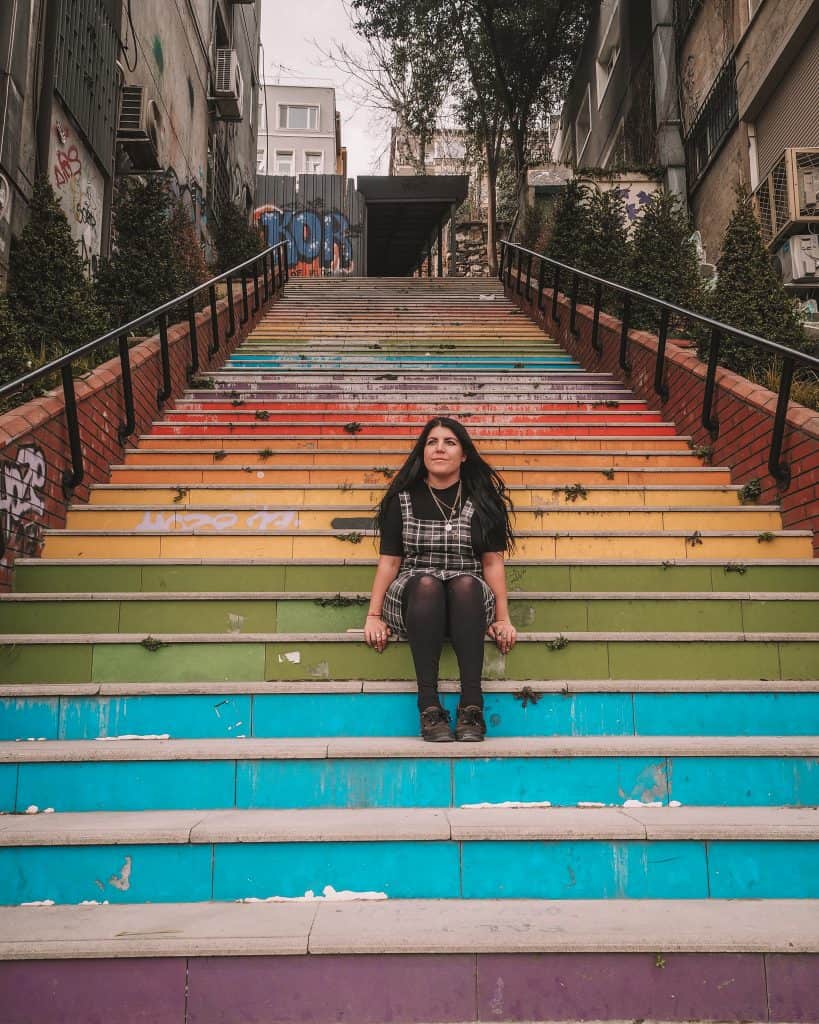 Save how to spend a weekend in Istanbul for later!