I have one question; are you ready to get this independent 3 day Luxor itinerary on the road?!
First off, when I say independent, I don't mean you're travelling solo. Just that you have chosen to explore Luxor on your own as opposed to in a massive tour group or with a guide!
Kudos to you, not many explorers choose to adventure around Luxor by themselves. But, I can say with suretyyou'll have a better time.
Not only are you free to do what you want and on your own schedule. You can beat the crowds in the process which is a win in itself! Trust me, independent travellers are a minority in Egypt and the groups can get overwhelming.
There is so much to do in Luxor that it can be difficult to prioritise and you definitely want to make sure you don't miss the best attractions. So, I've put together the perfect Luxor itinerary and I give you my express permission to steal it!
Here's everything you can get up to in Luxor in 3 days.
Things to prepare before you visit Egypt
You will need a visa for Egypt. These can be bought for $25USD at the immigration border or online beforehand. If you're going to be returning to Egypt you'll need to buy a multiple entry Visa in advance of travel. I've written a whole guide here about applying for UK citizens, but it applies for most countries.
Don't forget travel insurance! It's more than possible that you will get sick in Egypt and this covers you for camel rides etc. I always choose World Nomad's as they have competitive prices.
Egypt uses the Egyptian Pound and you can get some notes out at the ATMs here. They do accept US Dollars but it's easier to pay in local currency. I will be referring to prices in EGP (£1 GBP = £22 EGP approx).
Islam is the recognised religion in Egypt and so it is important to dress respectfully for the culture. I'd advise packing conservative and light clothing for the heat. For outfit inspirations you can check out my ultimate women's packing list for Egypt here.
How to reach Luxor in Egypt
Most tourists visit Luxor after they've wandered around the Great Pyramids of Giza or had enough of the bustling capital of Cairo. Or, some visiting from the neighbouring cities of Aswan and Hurghada.
Either way, Egypt has a variety of affordable public transport options for you to travel around the country. I'll outline some here;
How to reach Luxor by flight
Egyptair is by far the biggest airline and provides reasonably priced internal flights.
They also provide a generous luggage allowance of 23kg plus a carry on which means more shopping!
A flight from Cairo to Luxor will take roughly one hour and costs around £50-75 GBP depending on the time of year you fly and how far in advance you book.
I always use Skyscanner for the best deals for flights!
How to reach Luxor by train
Most tourists opt for the overnight 'luxury' tourist train. It's definitely far from luxurious but it does save money and time on travel as you move while you sleep!
This train usually runs from Giza or Cairo straight down to Aswan. It also stops at Luxor on the way and stopping here cuts your journey time by four hours. You don't have to get the train at night, there are also daily services.
The Egyptian railway site is here, but good luck! It's a minefield to operate. I'd recommend reading the holy grail of train travel resources for booking which is the Man in Seat 61.
How to reach Luxor by bus
Bus travel is a safe way to get around Egypt and there are overnight services from Cairo and Luxor.
I'd recommend GoBus where you can book online and they even have a handy app. This can be as little as £200EGP (£8) and some services have touch screen TV and snacks.
Click here to read my complete GoBus review
Aswan to Luxor Nile Cruise
If you're sailing the Nile by cruise ship, you'll probably end up starting or ending your journey in Luxor.
As tour groups only tend to stick to the most popular places, I'd highly recommend staying a few days to check out more of the city. There's so much to see and do!
Where to stay in Luxor
There are plenty of options to suit all budget types but my personal favourite is a classic.
The Old Winter Palace Luxor is a historic hotel and a lasting legacy from the golden age of Egyptology. Lord Carnavorn himself announced the discovery of King Tutankhamun by Howard Carter at Valley of the Kings from its very steps in 1922.
Other famous residents include Winston Churchill and Agatha Christie who stayed here for inspiration to write her infamous novel 'Death on the Nile'.
Today it's a Sofitel and a 5* resort which makes a statement on the edge of the East Bank of the Nile. For dates and rates available see here.
Read my full Winter Palace review and why it's perfect for history lovers!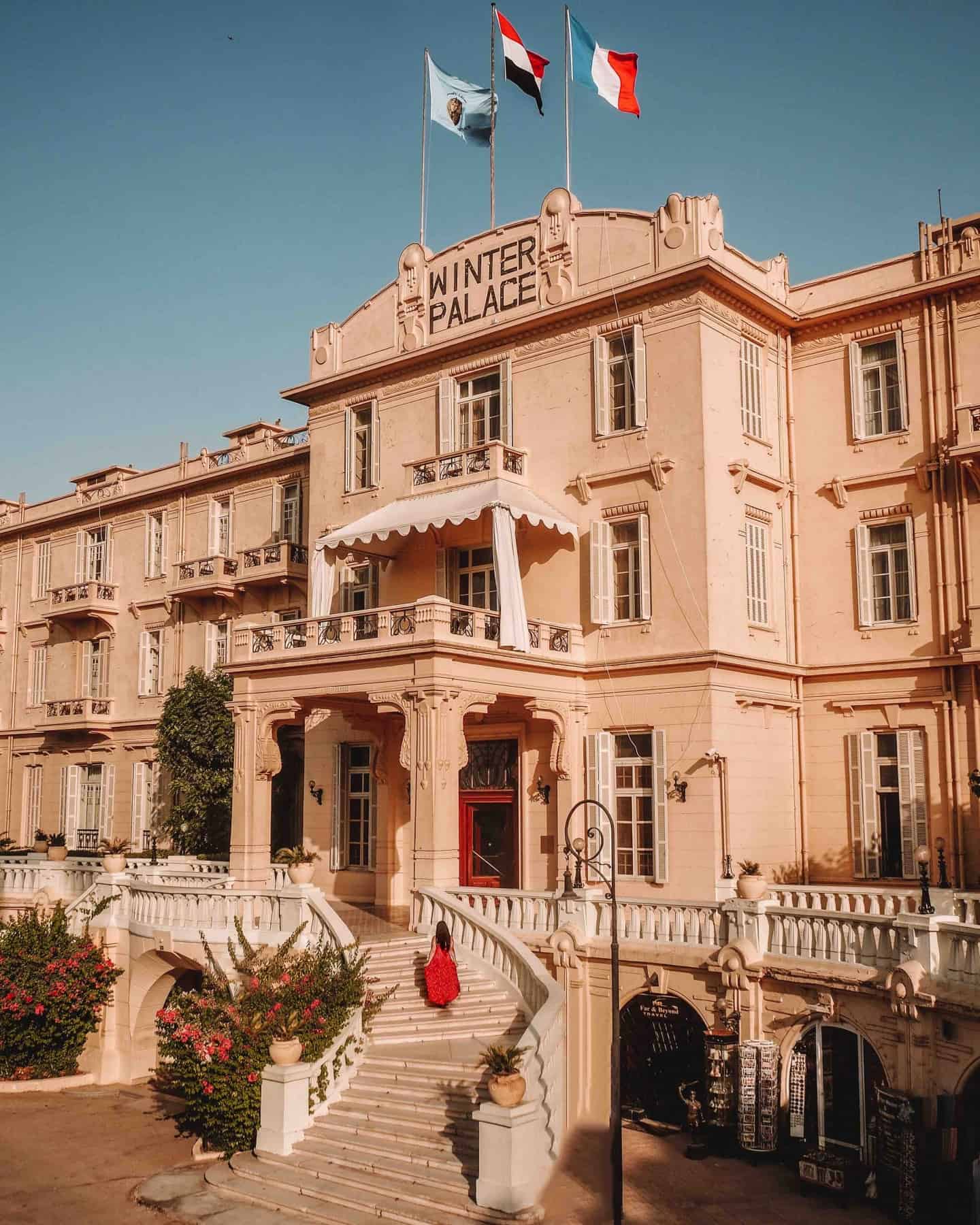 How to get around Luxor
Unlike Cairo, there is no Uber here yet! So, you will need to haggle for transport and haggle hard! People will easily mislead you here and so it's always worth negotiating and agree on the price of transport before you get in.
I will also warn you that the taxi vendors and carriage drivers are relentless here! They will hang outside hotels and pounce on you as soon as you walk out the door.
I wanted to walk to a restaurant 5 minutes away and was followed for that 5 minutes the whole way there. I walked, while he followed alongside me in his carriage lol.
It was constant and they didn't get the message. So, I would ignore it or have a means of transport pre-booked with your hotel or an agency before you leave!
There are plenty of different ways to get around Luxor;
Luxor by Car
I wouldn't recommend renting a car in Egypt, there wasn't one I saw without a dent!
I would opt to hire a private car or taxi to take you around the sites. I'd hire one to take you over to the West Bank for temple-hopping one morning.
Then another to visit Karnak and Luxor temple the next day. At night, I hired a cab to take me to Karnak both ways.
Luxor by Horse and Carriage
Luxor is very traditional and before cars were even a thing, horse and carriage ruled the scene.
Today, you will find many horse and carriages parked up along the Corniche to take you around the city. Again, make sure you negotiate.
Luxor on Foot
Luxor is safe to walk around Luxor even at night along the Corniche, to reach restaurants, and to visit Luxor Temple which is centrally located.
Karnak is a little further from the main hub of the city, so I wouldn't walk there unless your hotel is close.
Luxor engine boat/felucca
To cross over the Nile to the West Bank is actually a quicker option than driving by car. It will cut the journey by 30 minutes! Or you can visit Banana island as well. there are two options;
Falucca – a must in my opinion but not if you need to get somewhere fast! These boats are manoeuvred by hand and require wind to sail quick.
Engine boat – a modern option and goes much faster than a felucca. Perfect for hopping over to the West Bank in a hurry.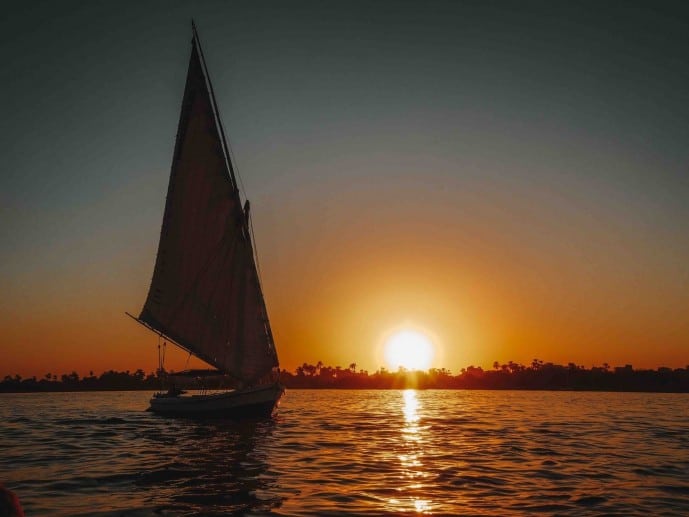 The ultimate Luxor itinerary
Day 1 in Luxor: The West Bank
Your introduction to Luxor should start off with a temple hopping on the West Bank.
Luxor is like an open-air museum and so you have endless historical sites to explore, including snooping on real-life excavation projects going on at the Theban Necropolis. These are strictly under wraps but, they're discovering new tombs all the time!
I'd recommend hiring a private car for half a day to explore. You can hire one with your hotel or head over to the West Bank to cut time and a wealth of cab drivers will be eager to give you a ride.
I paid around £450 EGP (£20) for half a days tour with a driver. No guide or attractions included.
Top tip: always agree to the price of the taxi before you get in and how long the tour is. Also, shop around for deals. I'll take you through the West Bank highlights you cannot miss.
Go to Valley of the Kings first
Ever since Howard Carter discovered the tomb of King Tutankhamun and ensued the (supposed) Curse of King Tut in 1922, it put Valley of the Kings on the map.
Thousands of tourists go every year to visit the tombs of famous Pharaohs discovered here. Now, this may seem a bit macabre but there aren't any bodies left inside them, apart from King Tutankhamun's chamber.
In fact, a lot of people visit these tombs to see the fabulous carving work on the walls.
These tombs were created solely for the purpose of transmitting the pharaoh's soul to the underworld. So, the artwork inside is scenes from the Book of the Dead, Book of Day, Night, and more. Some are well preserved, some not so much.
Practical information for Valley of the Kings
If you're visiting independently, it can be a bit of a minefield to understand the process and how to visit. It opens at 6 am and I say the earlier you get there the better. By 10 am it's overflowing with tour groups.
When you buy your ticket for £160 EGP (£6), you'll only be allowed into 3 tombs with it out of a possible 8. If you want to see King Tut, Seti I, or Ramses V & VI, you'll pay extra.
They've also lifted the photography ban and photo passes are £300 EGP (£15). But, again, you're only allowed to photograph 3, even if you buy an extra ticket.
Another problem is that you won't know what they look like until you get inside and you want to make sure they're good ones with lots of colours.
I know it sounds overwhelming, but I made plenty of mistakes so you don't have to!
I've put together a full post of the best tombs in Valley of the Kings for photos and things they don't tell you here.
Head to the temple of Hatshepsut
Hatshepsut was the longest-reigning female pharaoh in Egypt and an all-around badass chick. Known as "the woman who was king".
She reigned for twenty years here and, as a woman pharaoh was unheard of, they portrayed her in statues as a man.
She even wore a king's crown and clothes while she lived!
Her mortuary temple, which started construction in 1479BC, is now her lasting legacy.
It was excavated in 1891 and scholars finally identified her remains in 1922.
Today, it's mostly a reconstruction of the original three floors by the Polish Academy of Science from the 1990s.
Although a lot of the original temple has been preserved.
It's also one of the greatest ancient Egyptian architectural achievements due to its symmetry and astronomical alignment.
What I love about ancient Egyptian temples is that they weren't just designed and built to look pretty. They built them to coordinate with the stars, sun, and moon.
For example, the axis of Hatshepsut's temple aligns directly with the Winter Solstice sunrise! How incredible is that?! That's why if you're in Egypt in December it will be PACKED.
I'd get to this temple earlier in the day as the Theban Necropolis is like a sun trap and packed with tourists after 10 am.
You'll be praying for some shade, so bring your hat and sunglasses. Drinks and ice creams are also extortionate. I'm talking £100EGP (£4) for a Diet Coke. I mean, what? this is Egypt.
Check out Madinat Habu
A lot of tour groups skip this gem and that's exactly, why you need to go! It's not that it's rubbish either, I just think tour companies get stuck for time.
In fact, Madinat Habu is one of the most well-preserved temples in Luxor in terms of colourful paint.
Did you know that a lot of the ancient Egyptian columns, statues, and obelisks in their temples were originally painted in colour from head to toe? Well, if you didn't, you can see what it would have looked like here.
Madinat Habu is the mortuary temple of Ramses III. Unlike his tomb at Valley of the Kings to celebrate his passing into the underworld, this temple is meant to celebrate his life achievements.
Including inscriptions describing the defeat of the 'Sea Peoples' in the Battle of Delta.
I loved the peace and quiet of this temple and even though it's not completely clear of tour groups, it's far less than the Valley of the Kings.
Tickets cost £80EGP (£3) and photography is free. You will buy tickets at a central counter which is a little far from the temple itself.
Your driver will take you there where you can also buy tickets for other attractions like Howard Carter's house etc. Tripod tickets are £20EGP (£1) so make sure you buy this at the counter before you go.
Stop off at the Colossi of Memnon
The Colossi of Memnon is a famous pit stop in the West Bank. Most tour groups and taxis will stop here for ten minutes just for a quick photo op and explanation of these statues.
The Colossi are two massive stone statues of Pharaoh Amenhotep III, a pharaoh of the eighteenth dynasty.
They have stood proud in the Theban Necropolis for 3,500 years. They face Eastwards towards the River Nile and Thebes, city of the living.
These blocks of sandstone were actually transported all the way from Cairo overland as they would sink in the Nile as they weigh 720 tonnes each!
It's free to visit but you'll need to pay for a tripod ticket here (£20EGP), I took this and got told off!
Other tourist attractions on the West Bank to consider
There are plenty of other attractions to check out on the West Bank if you aren't fed up of temple hopping;
Howard Carter's house – Carter's house is now a museum and you can visit to to take a peek. It even has a reconstruction of King Tutankhamun's tomb there as it would have looked once it was discovered. £60EGP (£3)
The Valley of the Queens – In ancient times, it was known as Ta-Set-Neferu, meaning 'the place of beauty'.Hereyou can see the tombs of famous queens, princesses and female pharaohs. The most popular being QV66 Queen Nefertari, famous wife of Ramses II (£1000EGP entry). Normal ticket for three other tombs £160 EGP (£6).
The Valley of workers – or locally known as Deir el-Medina is an Egyptian village which was home to the artisans of the Valley of the Kings. In ancient times it was called "Ta Set Maat" meaning Place of truth with the workmen named 'servants to the place of truth'. The paintings are meant to be spectacular inside. Entry £80EGP (£4).
For Lunch check out Sofra in Luxor
I was quite underwhelmed with a lot of the traditional Egyptian food I had on my travels here. But, all that changed when I was recommended to try Sofra.
This restaurant's aim is to take you on a journey throughout Egypt, showcasing a menu of traditional dishes from all over the country. They only use Egyptian ingredients and flavours and their food is to die for!
I slaved over the menu for a while, struggling with what to choose as it all sounded so good! In the end, I went for Fatta Bil Moza, a lamb shank casserole served on a bed of rice and bread crumbs with yoghurt sauce. It was heavenly with a little kick!
The staff are also really friendly and were offering complimentary starters and bread. To finish I drank a super sweet Egyptian mint tea which kicked me out of my food coma. If you don't have a sweet tooth ask to hold the sugar!
It also doesn't have to stretch your purse strings, my whole meal cost me £100EGP (£4) which is a steal in touristy Luxor. The best seats are upstairs on their terrace.
Reservations are recommended for the evening, but I just turned up for lunch and got a seat straight away.
Spend an afternoon at the pool
After all that temple hopping, I'm sure you're dying for a rest. It sounds silly, but with the heat and climate, it does take it out of you.
Most tourists, divide out their sightseeing in the morning and relax during the scorching hours of the afternoon.
I would mostly relax in the Winter Palace poolside with a good book and a Stella, which is the traditional beer in these parts! Then maybe take a little swim and a siesta until sunset!
In the evening: see the Light and Sound show at Karnak temple
Once the sun goes down, the sun-kissed temples of the day truly come alive for you at night. The first time I ever saw Karnak temple was for their light and sound show which was an epic introduction.
Essentially, the show brings you back in time to where it all began. But, unlike other sound and light shows where you just sit and watch.
You actually walk around the temple while it lights up and there's narration at each part! It's so much cooler to see it this way.
For the grand finale, you sit in the amphitheatre on the opposite side of the lake. Here, you can see the whole temple of Karnak light up and it blew me away. If you only see one light and sound show (there are many) let this one be it!
Unlike Cairo, the first show isn't always in English, for showtimes and languages see here. There needs to be a minimum of ten people for the show to go ahead.
Day 2 in Luxor: The East Bank
Visit Karnak Temple for sunrise
The great thing about being here without a tour group or guide is exploring temples on your own time and beating the crowds.
Karnak temple is notoriously busy at all times of the day from around 8 am until closing.
So, my advice? Get here for the opening which is around 6 am. Not only will it be a much better experience to explore it this way, but it will also be a cooler temperature and far less crowded for photos.
Karnak was built over the reign of 30 pharaohs, including the famous Queen Hatshepsut, and took (get this) 2,000 years to complete!
So, many of them that contributed wouldn't have lived to have seen it. So, if there's one thing Karnak taught me, it's patience haha.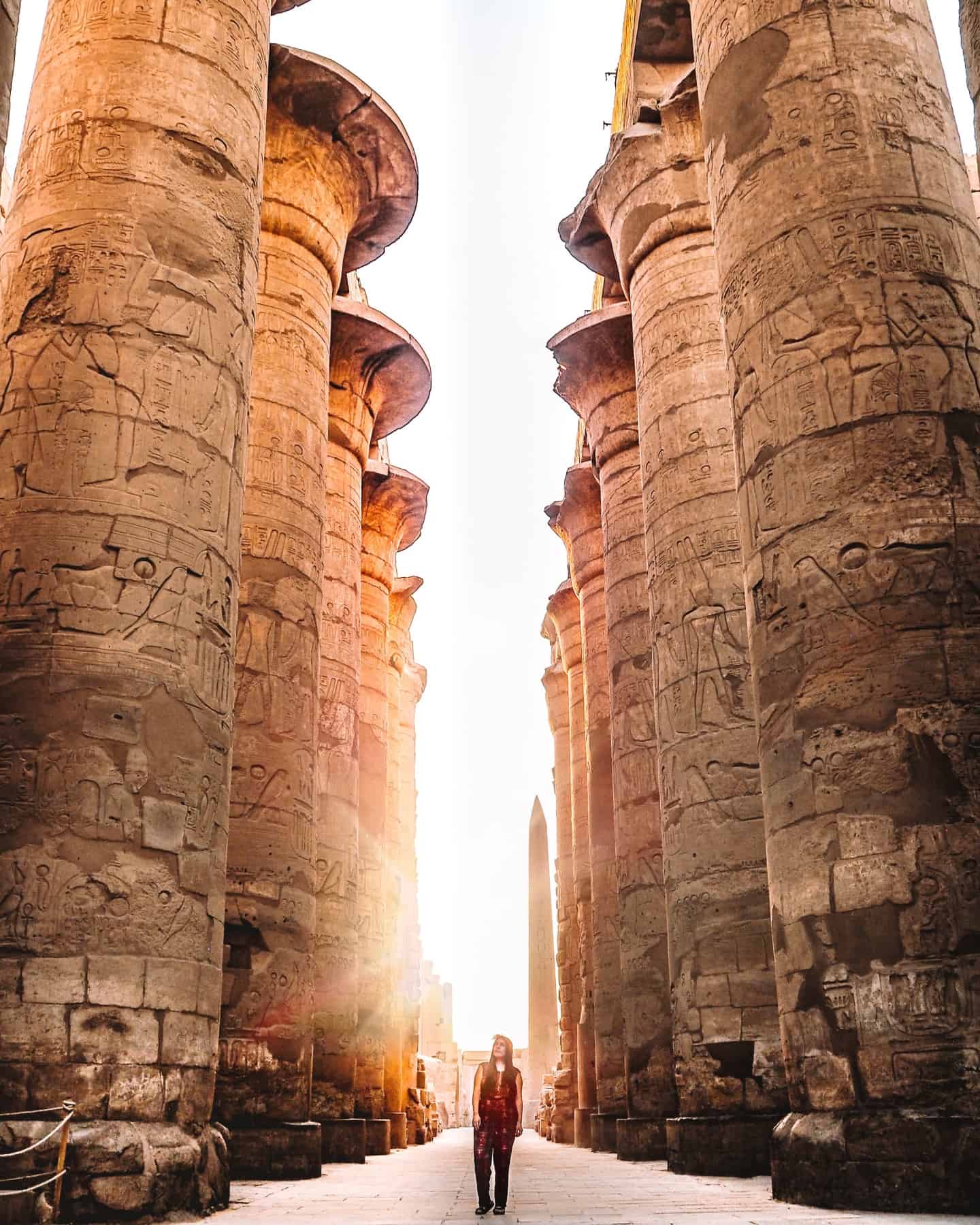 What to see at Karnak Temple
Karnak is a HUGE temple, an open-air museum, and almost like a mini citadel. So, I'd allow at least two hours to explore if not more.
Although most people only recognise the huge columns, there's actually a lot more to see like the ram road, double obelisks, the lake, Amun-Ra temples, and many, many statues.
There are 134 columns, each column is 97 feet tall and weighs 323 tonnes. It completely blew my mind. Don't forget to turn anti-clockwise 6 times for good luck around the scarab!
There are cafés inside this temple by the lake and beyond all the hustle, taking a moment to sit here with a drink and ice cream was heavenly.
Top Tip: a lot of the temple is closed off to the public, but for a small baksheesh, the guards will let you see forbidden parts! Opening time is from 6 am – 5 pm.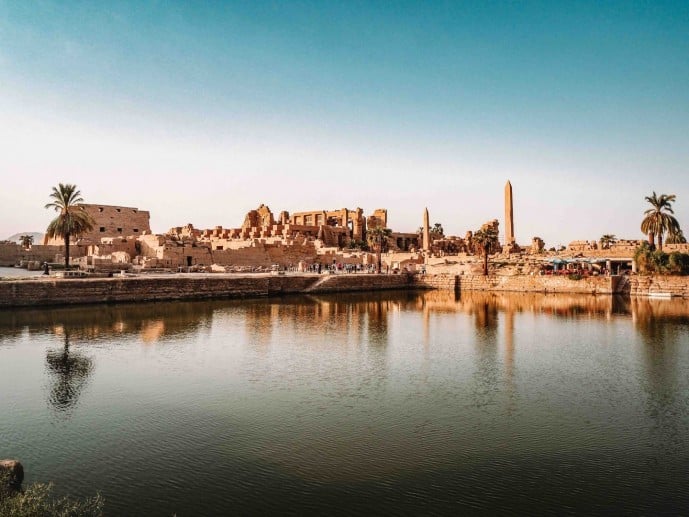 Head on over to Luxor temple
Luxor temple is another one that seems even more crowded than Karnak.
It's a smaller space and so it gets incredibly packed with tour groups. So, if you would like a photo like the one below, again, I'd recommend opening time.
It's open from 6 am until 10 pm each evening, so there's plenty of time to see it throughout the day.
Luxor Temple is centrally located and you can easily walk here from Luxor city if you're staying near the Nile.
Your Nile cruise ship will probably dock up opposite the temple and it will be a max. five-minute walk. From the Winter Palace, it was ten minutes on foot.
What to see at Luxor Temple
Did you know that the ram road at Karnak used to lead all the way down to Luxor temple so, they were connected?
So, you can walk from Karnak to Luxor on foot like in ancient times. How cool is that?!
Luxor temple was constructed in 1400BC and its dedicated to Amon, his consort Mut and his son Khons.
King Amenhotep III (1390-52BC) started its construction and it was finally completed by King Tutankhamun (1336-27 BC). It was known as the 'Southern Sanctuary' and used for Opet festivals where the statues of Amon were brought from Karnak along the ram road.
Here you can also find an old 13th century 'Abu Haggag' mosque connected to the temple and mural paintings from the Roman period.
You'll probably need around an hour here to see everything. For lunch, there are plenty of restaurants dotted around by Luxor temple. I was so sick while I was here, I wanted comfort food. There's a cheap McDonald's opposite with a good view of the temple if you fancied the same ;)
Take an afternoon Felucca ride to Banana Island
A felucca ride on the Nile just has to be done. It's sort of like visiting Paris and not seeing the Seine. You have to ride a traditional boat in Luxor!
Now, unlike the engine boats, you'll hear noisily making their way around, a felucca is a sailboat that is completely manoeuvred by hand. So, it will need at least two guys to man the sails and row.
These are great for sightseeing, but not if you want to get anywhere fast! The felucca will need a good strong wind to catch the sails to move and if the air is stagnant, so are you. I paid for a one-hour private ride for around £300 EGP (£12).
We were aiming to head over to Banana Island but we didn't make it due to lack of breeze lol. Here you can see a banana plantation, a 'zoo' with crocodiles, and get fresh sugar cane juice. Just be careful you don't get scammed here! Maybe it turned out for the best I didn't go.
In the evening: see Luxor temple at night
If you thought that Luxor temple wowed you in the day, then you HAVE to check it out at night. This sun-kissed temple lights up once the sun goes down and is, in a word, magical!
I didn't think it was possible, but I'm sure it's busier in the evenings due to tour groups loving the cooler temperatures. But, it's so dramatic against the night sky that you won't mind!
Unfortunately, you can't use the same ticket to go into the temple again. But, it won't break the bank and it's a fun thing to occupy those evening hours.
The temple is open until 10 pm. Luxor is safe at night to wander around by yourself, I walked here from my hotel alone with no issues. But, if you feel safer take a cab or a horse and carriage.
Day 3 in Luxor: Balloons, culture and shopping
Take a hot air balloon ride at sunrise
One of the most magical experiences I had was flying over Luxor in a hot air balloon at sunrise.
You can feast your eyes over Valley of the Kings, the temple of Hatshepsut, the Nile river, the local farmland, houses, and even wave at people from their rooftops below! It was the most incredible time.
The good news is that it can be factored into the tightest of budgets. I paid $50USD and it was a steal. It's one of the cheapest places to fly on in the world, so don't miss it!
Always make sure you fly with a safe company. I flew with Magic Horizon Balloons and they are the biggest fleet in Luxor.
I feel I have to tell you though that these haven't always had the best safety record, so I've put together some no-nonsense tips for riding an air balloon in Luxor that you can read here.
Head to the Luxor Museum
Although not as large as Cairo, the Luxor Museum is well worth checking out. Also, the good news here is that you don't require a guide to show you around. Most of the exhibitions have English signs so you can understand and learn about what you're seeing.
The Luxor Museum opened its doors in 1975 and displays antiquities gathered from Thebes (ancient Luxor) and the Necropolis, the Valley of the Kings.
Highlights at Luxor Museum are the red granite head of Amenhotep III, the cow-goddess head from the tomb of Tutankhamun, and a wall of 283 painted sandstone blocks from a dismantled temple in Karnak for Amenhotep IV.
Wander along the Corniche
The Nile snakes through the city of Luxor and it's always a lovely time to walk along the Corniche on the East Bank.
The best time, in my opinion, is at sunset when the temperature is cooler and you can see the most wonderful view of the sun setting over the West Bank.
If you didn't fancy walking, you can always get a horse and carriage ride along the Corniche and through the city. Here, you can see markets, mosques, and all sorts of buildings and life going on.
Go shopping
Of course, in Luxor, there is a wealth of shops! All full of interesting local Egyptian souvenirs to buy.
Beyond the typical tourist souvenirs of Anubis keyrings and Tutankhamun magnets. You can get some high-quality items like 18carat gold, alabaster, perfumes, papyrus scrolls, carpets, and spices.
But, please be careful when purchasing. There are many scams in the markets in Egypt and you may be quoted a huge price for a fake.
Speaking from personal experience, I was scammed for my 18carat gold and was charged almost $250 over what the price should be. The police got involved and I got my money back but I learned a big lesson.
Please go to an official government-approved tourist shop or institute to buy products. The price may be higher but you'll know that it comes from Egypt, it's made by local craftsmen and it's a genuine product.
Common scams are Chinese stone sold as alabaster, plastic sold as saffron, banana leaf sold as papyrus, 9-carat gold sold as 18carat or they don't tell the truth about the weight and overcharge.
Top tip: Don't shop with your guide! They usually have a relationship with the shop and will receive a commission percentage of what you bought. So, knowing that, the shop owner will bump up the price (for example in my scam it was $100 out of my pocket and I already tipped the guide a lot). If you're on a tour group, this usually isn't the case.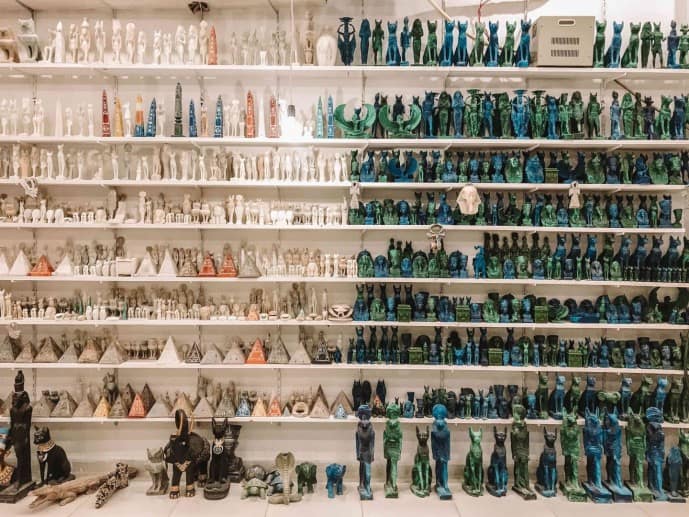 If you're stuck for more things to do in the evening
Egypt isn't a place to party or go clubbing until the early hours, but there are plenty of interesting things to do after the sun goes down.
If you get bored in the evenings or are looking for things to do and restaurants to check out, I have a whole guide about things to do at night in Luxor.
Some extra time on your Luxor Itinerary?
I'm sure that this ultimate Luxor itinerary should keep you occupied for three days, if not four if you would like to spread it out. But, there are plenty more things you can get up to in Luxor if you have extra time.
Abydos and Dendera are short road trips away from Luxor and will need another half day to explore by private taxi.
If you're not heading over the Nile by cruise ship then the temples of Edfu and Kom Ombo are easily accessible by train (there are stops for each) and are only a couple of hours away. Or, you can hire a private car.
Locally, there's also the Mummification Museum and Papyrus and Alabaster institutes where you can learn about the process.
I bought a gorgeous Papyrus scroll from a local artisan. It was of the mural that was painted on the roof of Ramses V & VI in Valley of the Kings! I love it and hang it in my room.
Have fun exploring Luxor, the world's largest open-air museum!
Read more of my Egypt articles
My perfect 2 week Egypt Itinerary
The perfect Egypt packing list
The most Instagrammable places in Egypt
My guide to the Valley of the Kings
The ultimate 4-day Nile Cruise
Top places to visit in Luxor at night
The perfect guide for Abu Simbel
My survival guide for the pyramids
Why you NEED to visit Alexandria
Top tips for riding a hot air balloon in Luxor
Like it? Pin it!