Are you ready for the wildest adventure you've had yet? This two-week Egypt itinerary is not for the faint-hearted.
But, it will guarantee to be a journey you won't forget in a hurry. Ancient temples, baron and mysterious desert, thriving cities, and tropical palm trees swaying by the crystal clear Red Sea. Egypt really has something for everyone.
Personally, I travelled through Egypt for nigh on five weeks by myself. I like slow travel but, on reflection, I could have cut down my time to 14 days in Egypt.
As well as how to spend your time with the best cities and places to visit in Egypt. I will be taking you through some top tips about transport options for travelling around, how to book hotels, safety in Egypt, and scams to watch out for.
Now, without further ado, let's begin!
Things you need to prepare before you visit Egypt
You will need a tourist visa to enter Egypt. These cost $25USD and you can buy these at the immigration border. I personally would recommend ordering in advance of travel. I have written a whole guide here about how to acquire one for UK citizens which applies to most countries
Don't forget travel insurance! It's super easy to get sick in Egypt. World Nomad's offers competitive rates and their policies cover lots of activities (sailing, camel riding etc).
Egypt uses the Egyptian Pound (EGP) and 1 British Pound = roughly 22 Egyptian pounds.
You will need to dress conservatively in Egypt to respect the local culture. I've written the ultimate women's packing list for outfit inspirations and things you shouldn't travel to Egypt without.
The language here is Arabic. It may be useful to learn a few common phrases before you fly;

Hello = Samal alikum
Thank you = Shukran
How much? = Kam Althaman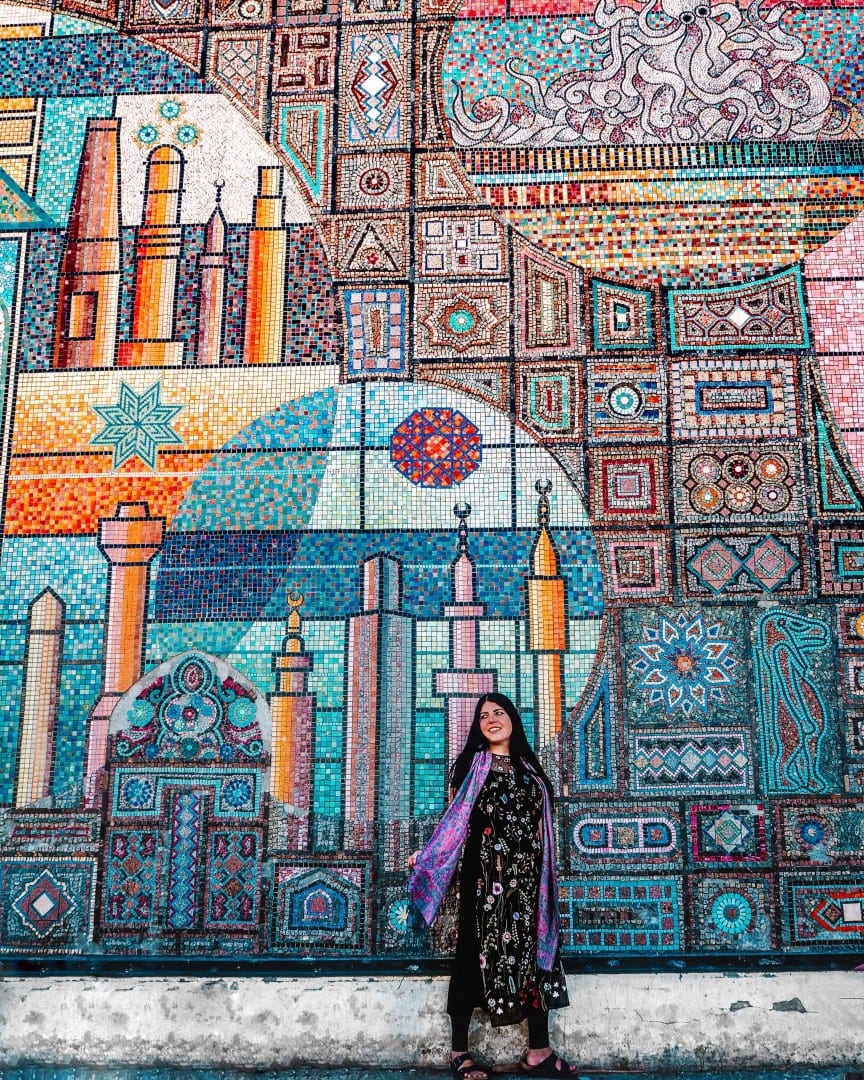 Is Egypt safe to travel to? Is Solo female travel in Egypt safe?
I always think that the word 'safe' means different things to different people. But, I certainly found Egypt to be safe.
There is a lot of security around major tourist attractions and security checkpoints on the highways. So, anyone that shouldn't be there, won't be. Public transport was also safe, trains have policemen on board.
The most common complaints are pickpocketing, scams, and catcalling. Although I didn't get any of my things stolen, I definitely was victim to a few scams while I was in Egypt (including buying gold) and being verbally harassed on a daily basis.
As a woman travelling alone for five weeks, I felt for the most part safe. Having been to conservative countries in the past, I knew the drill.
Egypt is a patriarchal society so I'm used to men seeing me as subordinate and I just remember to bite my tongue. Or, I let the wave of anger pass over my head when men patronise me.
I also dressed conservatively to draw less attention to myself. But, no woman in Egypt is immune to marriage proposals and shameless catcalling so rise above it and ignore it!
Never, allow any man to touch or treat you any more than what you're comfortable with. If you feel under threat or if someone does offend you, make sure to call it out. I always find going a little crazy and making a scene does the trick.
Transport options for Egypt
There are many public transport options to travel around Egypt for all types of budgets;
Egypt by Plane – Egyptair has the biggest fleet of planes that run all over Egypt and the Middle East. They also have a generous check-in allowance (23KG) on all flights and provide meals and drinks for even the shortest of flights. I always use Skycanner to book flights.
Egypt by Train – Trains run to most of the tourist attractions and cities in Egypt. For more information see the Man in Seat 61, the guru of all things train travel.
Egypt by Bus – I used GoBus for many journeys in Egypt. This is the cheapest way to travel around. They have an app to book on the go. I used them many times! Some of the buses have leather reclining seats, touch screen TV and coffee/snacks. You can see my full review here.
Egypt by Cruise – If you're planning to do a Nile Cruise, these only run from Luxor to Aswan (only one goes further down to Abu Simbel). Cruises from Cairo haven't sailed for years.
Should I rent a car in Egypt? I wouldn't advise it. I didn't see a car without a dent and the driving is manic putting it lightly. Leave driving to the locals.
How to get around cities in Egypt
Cities like Cairo and Alexandria have Uber to get around the cities. I would always recommend Uber in Cairo as the taxi drivers are just out for your money there. I have a whole post around safety with using it here.
Local taxis are good for shorter journeys, especially when the meter is turned on.
In Luxor and Aswan, It would be worth getting a private car to take you around the sites as some can be many kilometres apart. I paid £550 (approx. £22) for a half-day tour in Luxor. There are also rickshaws and horses and carriages to take you places.
There isn't really a thing of local buses for tourists. Most are minibusses that follow a strict local route and may not even go near the tourist sites. So, unless you're fluent in Arabic and you're prepared to take a gamble to reach your destination, I would grab cabs.
Although transport is cheap, my biggest tip would be to haggle and agree a price before you take off. Many drivers agree a price and then 'forget' at the end. Always honour your end of the bargain as agreed and don't be fooled. They will take a chance!
Booking hotels in Egypt
I would recommend booking hotels in Egypt in advance if you want to stay in high-standard accommodation, especially in peak seasons.
Sometimes you may get lucky, but it's not worth taking the risk. There are many hotel options from 5* luxury to hostels and budget guesthouses.
I always used booking.com to book my hotels throughout Egypt. These do come with a tax levy of around 20% so be prepared to pay more than the initial booking price.
Tipping in Egypt or 'Baksheesh'
A word you will hear many times in Egypt is Baksheesh which means tip. Tips are expected throughout Egypt.
From paying the toilet cleaner, taxi drivers, hotel staff, waiters, photo takers, guides, and cruise ship staff. Sometimes I paid tips to people and I didn't even know why, ha!
But, when budgeting for Egypt, I would factor in tips. Keep your small notes spare and be prepared for these to eventually add up.
The ultimate two week Egypt Itinerary
Days 1 & 2: Explore the Great Pyramids of Giza & Cairo
Welcome to Cairo, the crazy capital of Egypt! Whether you get a culture shock, breathe in the thick air or love the chaos on the roads, you're sure to be bedazzled by this city.
No visit to Egypt is complete without a trip to the Pyramids of Giza and I would actually recommend staying in Giza itself.
The view of the Pyramids from your room each morning cannot be beaten! There are lots of budget hotels in the area with a Pyramid view so it's worth looking around.
Start off your first day with a tour of the Pyramids, a wonder of the world, first thing in the morning.
I would recommend hiring a guide, you can observe the Sphinx, the Great Pyramid (the last surviving ancient wonder of the world), and some epic viewpoints! You don't necessarily need a camel on your tour but it helps to get around.
Once you're finished grab an Uber and head out to the city for some sightseeing!
Here you can check out the Citadel of Seladin or get lost in the massive Khan El-Khalili Bazaar. The next day you can visit the Egyptian Museum, visit the garbage city and find the oasis gardens in the city.
Where to stay in Giza
On my first night in Egypt, I wanted to wake up to the Pyramids in style. So, I chose to stay at the iconic Marriott Mena House Hotel where famous celebrities and royalty like Winston Churchill and Agatha Christie had stayed before me. For my full review see here.
Then, on my second visit, I stayed in the fabulously hospitable Panorama Pyramids Inn. It's bang slap opposite the Pyramids and they provide complimentary breakfast, drinks and a dinner fit for a king included in your price. You can even watch the sound and light show for free from their balcony.
There's also the Pyramid Villages Inn which is a brand new hotel in Giza. It has single rooms and suites overlooking the Pyramids and the staff will treat you like family.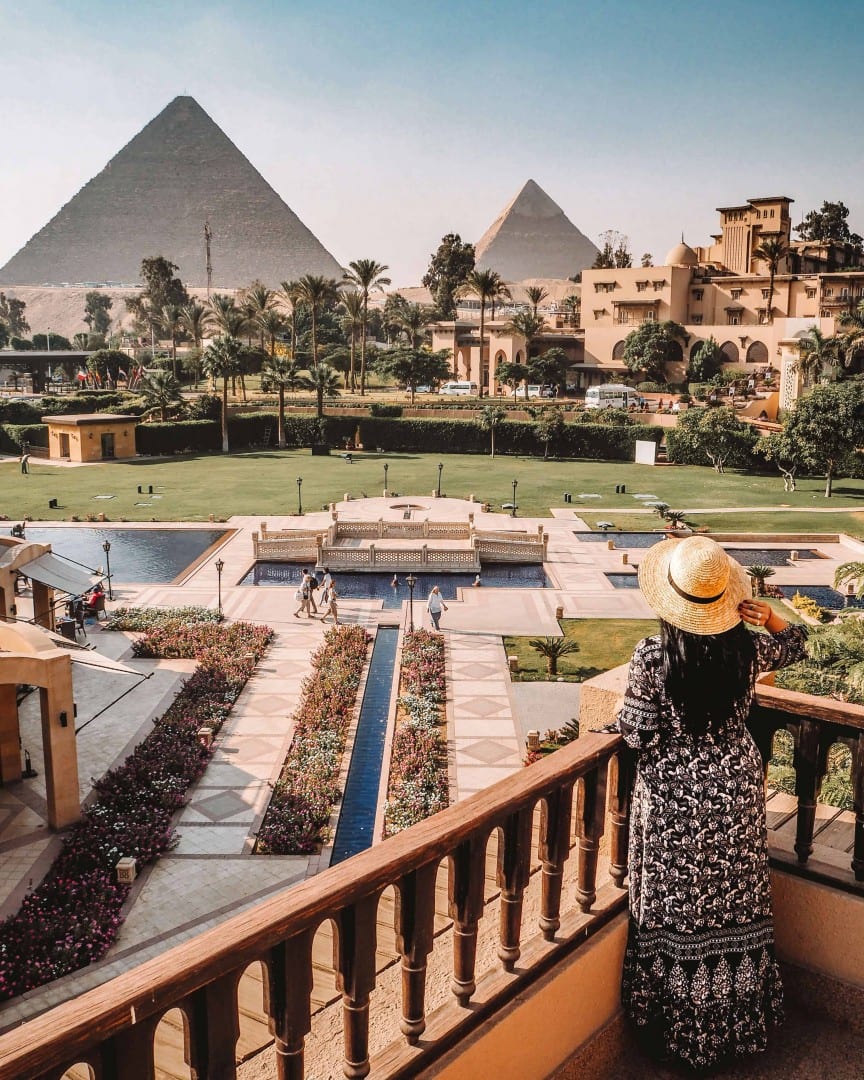 Day 3 Head to Alexandria and explore
If you hadn't considered visiting Alexandria in Egypt, I would highly recommend you reconsider. At only a 2 hour drive from Cairo, it's a fabulous day out or weekend getaway.
Although today it isn't the powerhouse of learning, philosophy, and kings it once was, you can still chase ghosts in the legacies that were left behind all those centuries ago.
Alexandria was founded by Alexander the Great and was once the location of the Great Library of Alexandria.
This wasn't just a library, it was an innovative centre of learning about worldly culture, arts, and the human mind. But, unfortunately, it was destroyed by a fire and numerous battles for power in the city.
It also used to boast an ancient wonder of the world, the lighthouse of Alexandria.
But now, the 15th-century Citadel of Qaitbay is in its place. You can also visit a medieval wonder of the world, the Catacombs of Kom El Shoqafa, and the royal palaces and gardens of Montaza.
Don't miss out a walk along the Corniche by the Mediterranean ocean or a dip into the amazing café culture here!
Where to stay in Alexandria?
I checked into the iconic Cecil hotel while I was staying in Alexandria. It is' landmark where famous figures like Winston Churchill and Omar Sherif (a famous Egyptian movie star) have slept. In fact, I was a resident of his suite while I was here.
Most rooms have a dramatic sweeping view of the ocean and the Citadel of Qaitbay from the balconies. It's the perfect place to relax with a coffee as you watch the sunset over the horizon.
For dates and rates available at the Cecil, see here.
Day 4 Head back to Cairo and then into the West Desert of Egypt
The West Desert is certainly one of the best places I had the pleasure of visiting in Egypt.
You'll question whether you're on Earth or another planet more than once here. The landscapes are like nothing I had ever seen before.
You'll wander through a black desert, white desert, the waves of a small sand sea, a magic spring, meet fennec foxes and climb a crystal mountain! If you're thinking this sounds like a fantasy, I'm living proof that this really does exist.
As you moved through all this baron and mysterious land, I felt so at peace than I did in the rest of Egypt. It really gave me a chance to reflect and disconnect for a few days.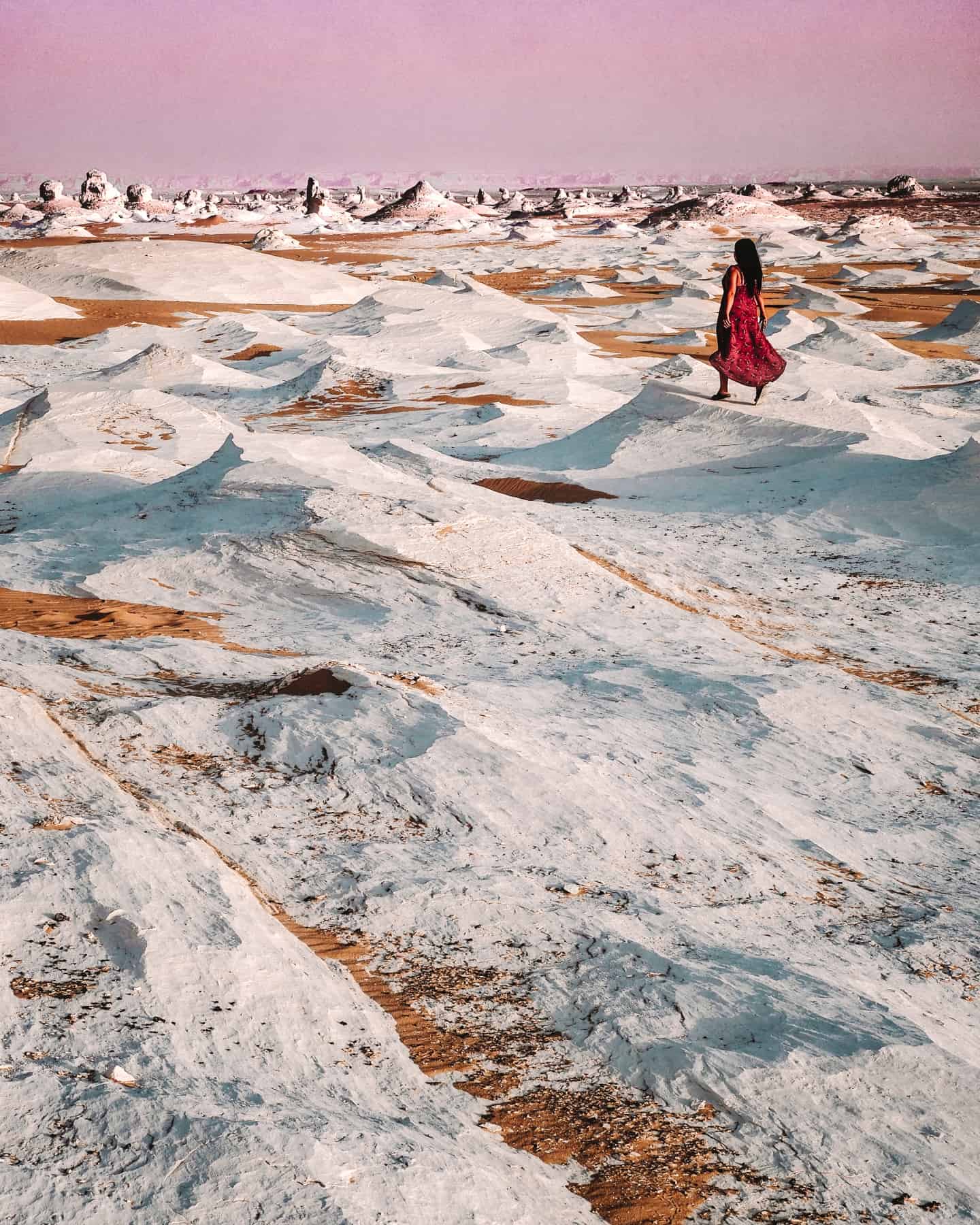 I booked my tour with Western Desert Tours. There are no permanent camps in the desert here, so your lodgings will be set up around you each evening.
You can sleep under the stars and contemplate how small we are in this big world of ours and all your food is prepared fresh over the campfire. It's a real (but safe) off-the-beaten-track adventure in the wilderness!
To see more about my White Desert adventure and why you shouldn't miss it, see my Western Desert Egypt post here.
Day 5 spend the day exploring and back to Cairo for the overnight train/flight to Aswan
If you only choose to spend one night here, the morning will start out in the White Desert. I would highly recommend getting up at sunrise to start the day. It's an incredible view from here all over and the sky, if you're lucky, it's a pale shade of pink.
You can then have breakfast and go sightseeing for some iconic formations in the rock. Observe the sphinx, the fishtail, cobra, and the iconic chicken and the mushroom.
Then, you'll head back to the safe house in Baharayia and you'll be happy for a shower and food before your journey back to Cairo.
You can get the overnight from Giza or fly to Aswan for the next part of your journey.
Where to stay in Aswan?
The Old Cataract in Aswan is a landmark that was built by Thomas Cook in 1902.
It's the most famous hotel in the area and was where Agatha Christie chose as her muse to write her famous novel 'Death on the Nile'.
She checked in for almost a year in 1937 and today you can still see her writing desk in the lobby.
Today it's a Sofitel Old Legend status property and a 5* resort of pure luxury. It's had a redesign but what I loved is that most of the original fixtures are still there.
If you do decide to become a resident of the Old Cataract don't miss out on their walking tour where you can explore both Agatha Christie's and Winston Churchill's suites which cost up to around £10k a night. The views are to die for and you can only imagine being able to afford to stay there.
You can also dine in their fabulous signature 1902 restaurant, the Moorish architecture was to die for!
If you want to read more, you can see my whole review and all the secrets I unveiled about the Old Cataract here. For dates and rates available at the Cataract see here.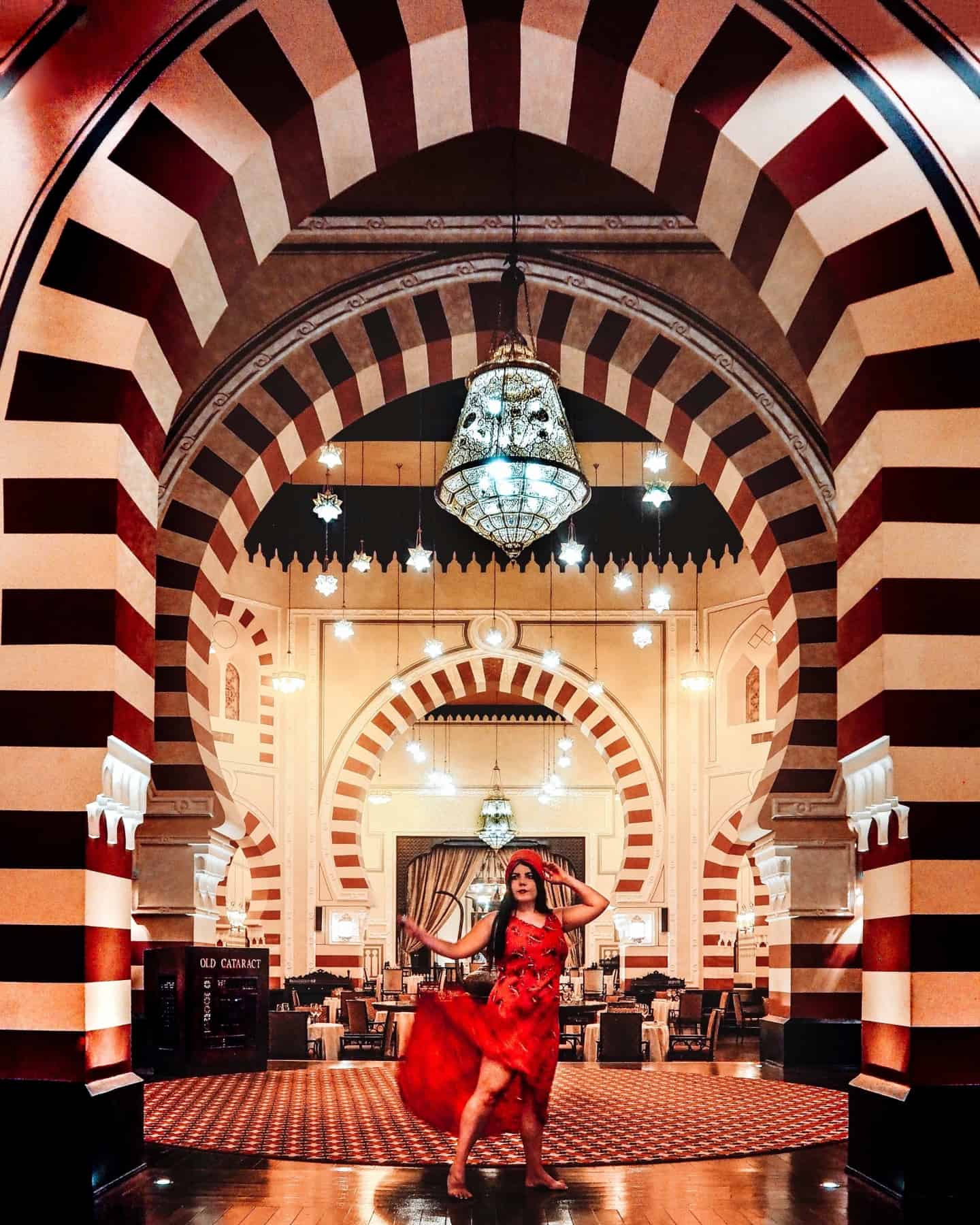 Day 6 Spend the day exploring the sights of Aswan
Aswan is the start of your ancient temple hopping and there is so much history to explore.
Start off the day at the romantic Philae Temple, also known as the Temple of Love. It's in the middle of the Aswan low dam, so you'll need to ride a boat over here, adding to the mystery of the place.
You can see facades of the temple of Isis and Hathor and the last hieroglyphics ever carved here.
Don't miss learning about the controversial Aswan High Dam where they made efforts to stop the annual Nile floods or a visit to the colourful Nubian villages.
If you're looking for some inspiration for a visit to Aswan, see my post of all the places to visit in Aswan here.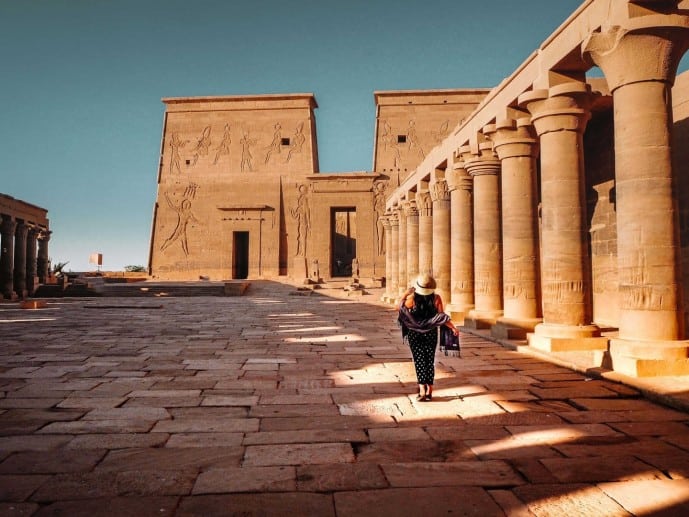 I would also highly recommend a visit to Abu Simbel if you have more time. Some say that if you miss a trip to Abu Simbel while you're in Egypt, your visit is incomplete.
Here you can explore the Great temple of Ramses II and the Nefertari temple, in honour of the wife he loved the most.
It's around a 4 hours drive from Aswan by desert road and I've put together a whole post about how to reach Abu Simbel here and without all the crowds too.
Day 7 Check into your Nile cruise in Aswan and Sail overnight to Kom Ombo
A Nile Cruise is such an iconic way to go sightseeing on your Egyptian adventure. There's nothing like cruising down the River Nile and sunbathing while sightseeing from the roof of your ship!
It had always been a dream of mine to cruise down the Nile and I ended up having a blast, even though I was on my own.
It can be difficult to choose a Nile Cruise provider. They're hit and miss on quality and you really do get what you pay for! I found it was more beneficial to book in with a tour company so my cabin and sightseeing attractions were included in my fee.
Most cruises provide full board and you want to make sure that it's a hygienic choice, it's no fun having food poisoning while you're here with the heat! I decided to book in with Memphis Tours who were amazing.
The MS Mayfair is the one I would recommend if you want a luxury cruise at an affordable price. The fresh cabins and interiors, the spectacular service and the tasty food all made for such a memorable trip.
If you'd like to read more about how to book and a review of my experience, see my MS Mayfair Nile Cruise here.
Day 8 Explore Kom Ombo, Edfu and sail overnight to Luxor
We sailed overnight from Aswan to Kom Ombo. I was so happy to wake up and have a coffee to the view of the temple from my cabin. It was like a movie set! We had breakfast and then disembarked to explore the temple with our guide.
Kom Ombo used to be a temple dedicated to Sobek, a crocodile God. Research has led scholars to believe that they harboured crocodiles in the temple as a religious way to keep crocodiles from attacking locals in the Nile.
So, you'll see many hieroglyphics explaining that in the temple. Also, you can visit the Crocodile Museum, where you will see them mummified as part of your ticket.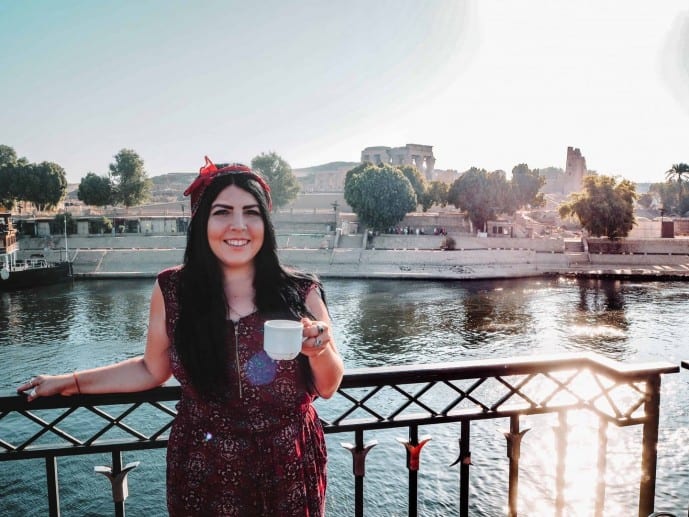 Then you will sail to Edfu temple. It's a few kilometres from the Nile dock so you'll get a horse and carriage over the ancient site. Edfu is one of the most preserved temples in Egypt and it's gigantic inside!
Most of the antechambers are still fully in tact and you can even climb up the ancient stairways.
This temple was dedicated to Horus and was home to the ancient cult that worshipped him. Inside you can still see hieroglyphics that translate to how to make perfumes and honey for offerings.
Day 9 Arrive in Luxor and Explore the West Bank
The last stop on the Nile Cruise will be Luxor. The ancient city of Thebes and capital of the New Kingdom of Ancient Egypt.
The West Bank of Luxor is popular with tourists as here you can enter the Valley of the Kings. This was made famous by Howard Carter on the discovery of the tomb of Tutankhamun and the mysterious curse of King Tut.
You'll need a bit of preparation for visiting as you can only enter three tombs, I've written a whole post to guide you through a visit to VOK here.
After that you can visit the mortuary temple of Queen Hatshepsut who was the longest reigning pharaoh of Egypt.
Her legacy is one of the finest examples of ancient Egyptian architecture due to the alignment of her temple with the sun and moon.
You can also make a stop at Howard Carter's house, The valley of the Queens, the Colossi of Memnon and the temple of Madinet Habu.
If you've seen enough on the ground an alternative way to see these sights is from the sky. Every morning air balloons fly over the West Bank and you can seem magical views for miles. I'll warn you now that these don't have the best reputation,
If you're not exploring with a tour group on a bus, you can hire a private taxi to take you around. I paid £550EGP (approx. £22GBP) for half a days tour.
For my top Luxor Air Balloon safety tips see here.
Day 10 Explore the East bank of Luxor
The next day, you'll be explore the East Bank of Luxor which is in and around the main part of the city.
Here you can start your day at sunrise in Karnak Temple. Karnak is almost like an ancient citadel with lots of places to explore so allow a few hours.
After you've passed the iconic Ram Road you can enter inside to explore the iconic pillars, temples, facades and the lakeside.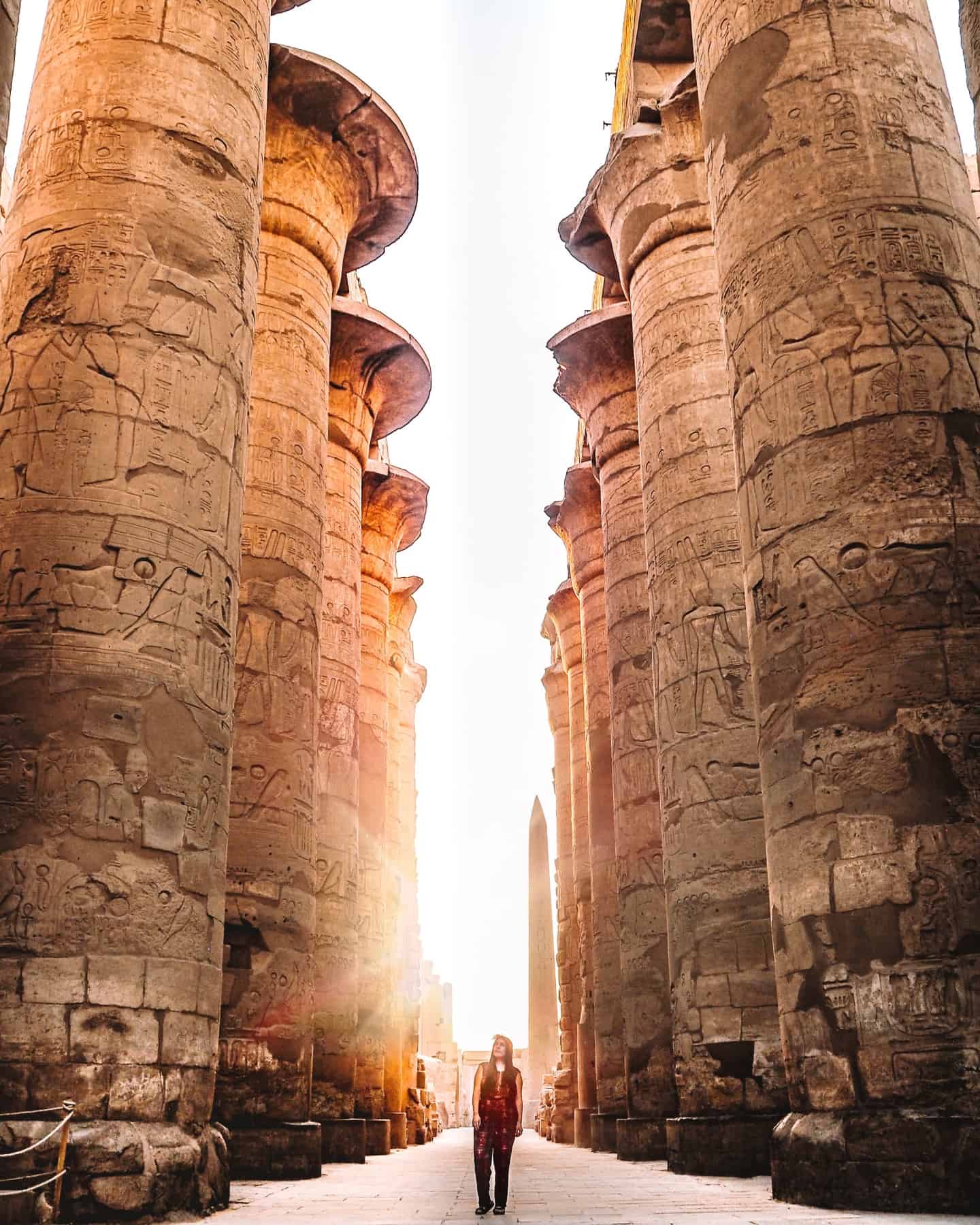 After Karnak, you can visit the smaller, but no less impressive, Luxor temple.
Centuries ago both Karnak and Luxor were connected by the Ram Road. Here you can see the statues of Ramses III and even Roman wall paintings at the back from the occupation.
Aside from this, there is Luxor Museum to explore, felucca rides to be had and you can shop 'til you drop!
In the evening, the sun kissed temples of the day light up against the night sky. Don't miss out on exploring Luxor temple at night or the light and sound show in Karnak.
To read more about Luxor, you can see my articles here;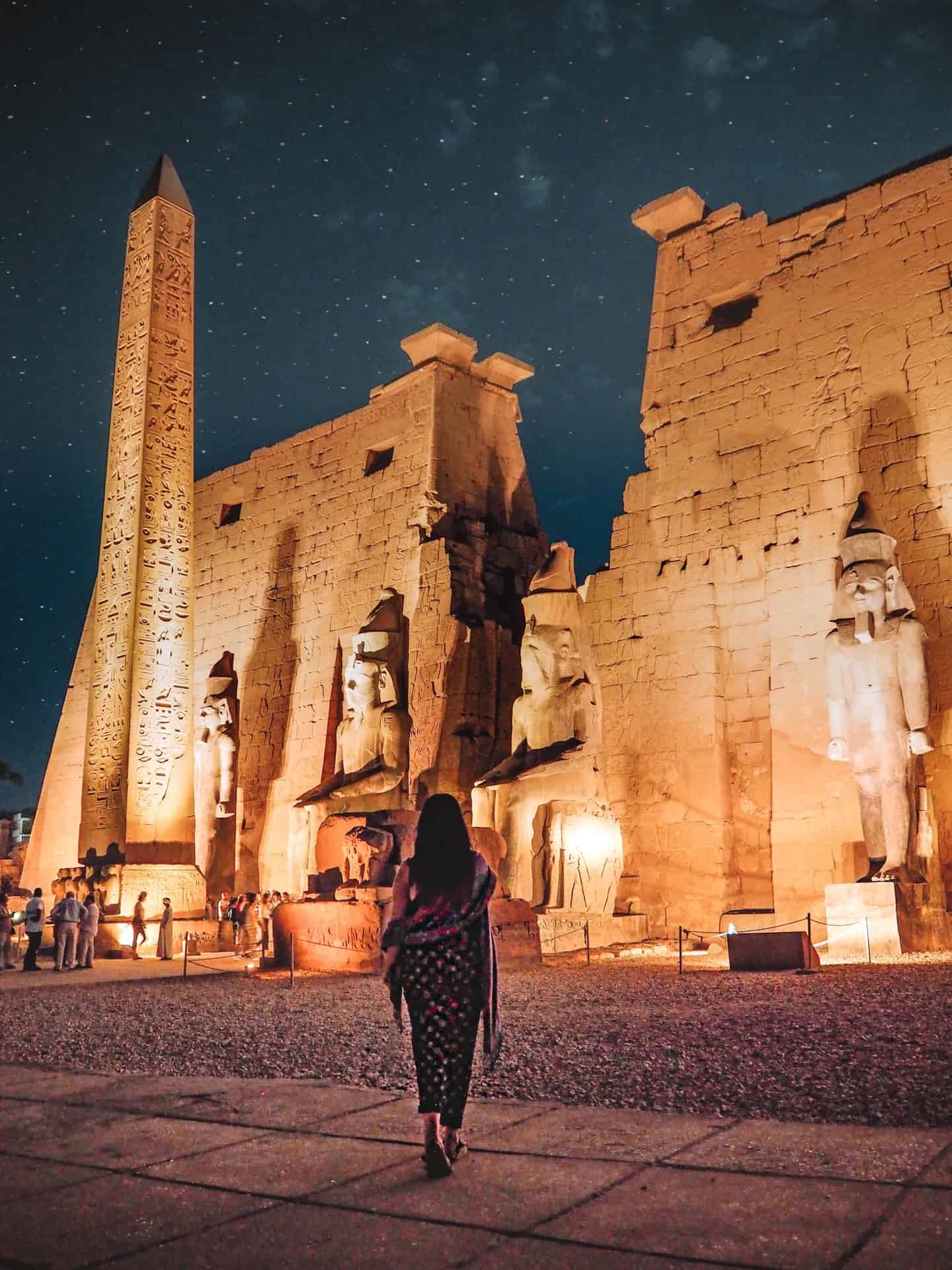 Where to stay in Luxor?
In keeping with my historic hotel binge, I decided to stay at the iconic Winter Palace. Built by Thomas Cook at the beginning of the 20th century, it's now a 5* Sofitel resort that stands proud on the East Bank of the Nile.
In 1922, Lord Carnarvon, Howard Carters Patron, announced the discovery of Tutankhamun's tomb from its very steps!
You can stay in their Nile view rooms which are fabulous paired with a balcony view at sunset or cool off from temple hopping in their oasis-like pool!
Even, if you're not a resident, it's worth checking out the hotel and dining with them in their many restaurants. Or, have a nightcap at their Royal Bar in the evening before you turn in.
To read a review about my whole experience and why it's perfect for history lovers, see my Winter Palace Review here.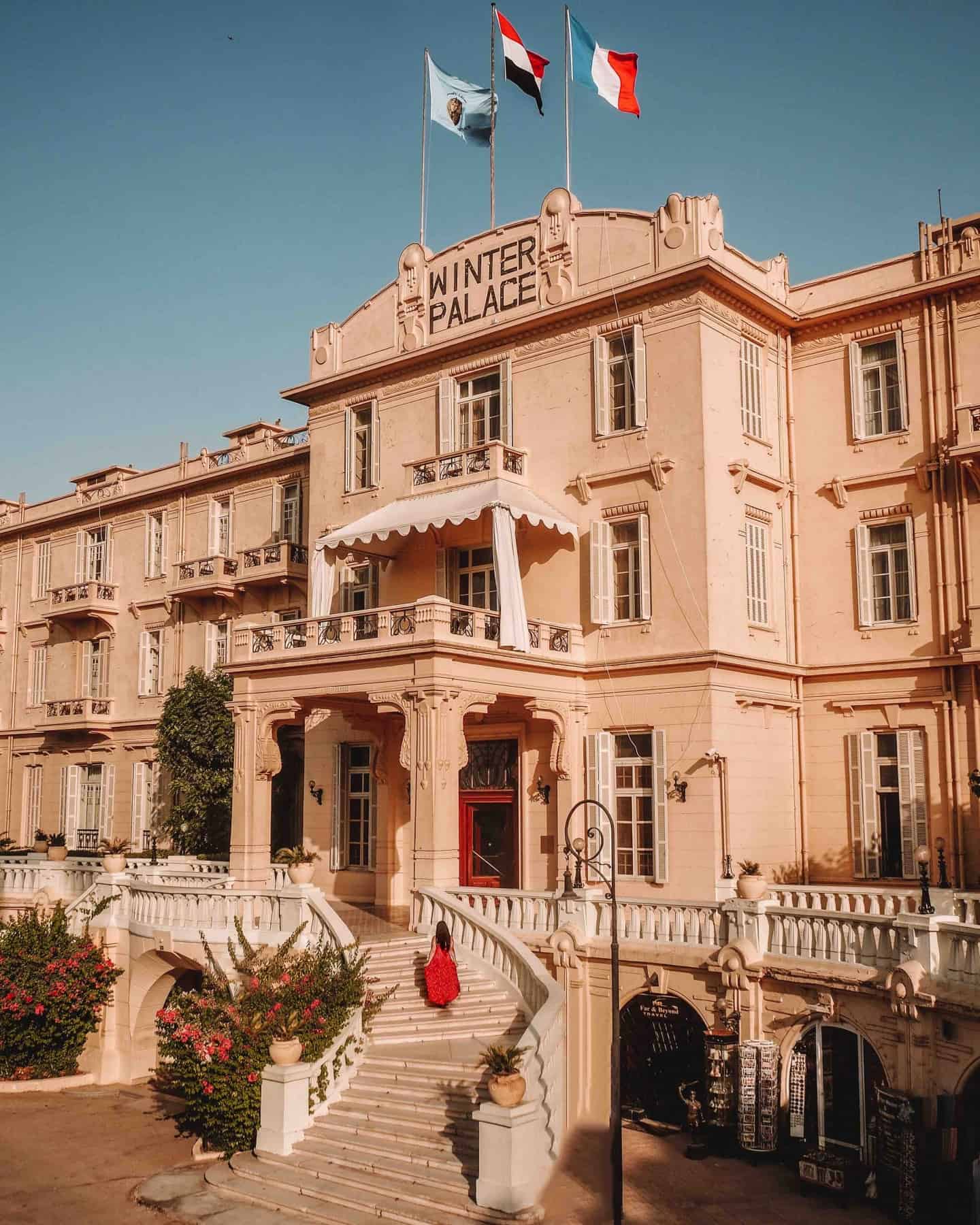 Day 11 – 14 Head to Hurghada and relax at the beach!
After all that adventure, I'm sure your body is crying to unwind so why not head over to the Red Sea?!
Hurghada is only four hours away from Luxor so it's the perfect place to get some rest and recuperation.
If you're not the type to laze away your days under a palm tree with a cocktail in hand, you can always go diving.
There are plenty of tour companies in the area that offers scuba diving, snorkelling, or glass-bottom boat trips so you can see the colourful corals!
The Red Sea here is crystal clear so it's perfect for spotting schools of fish, turtles, and octopi.
Where to stay in Hurghada?
I would highly recommend booking in an all-inclusive resort. There are plenty at an affordable rate and it's better value for money this way.
Food and drinks are notoriously expensive if not included in your rate in this area. But, saying this, I would make sure you book in with a good one!
Again, like the cruise, you don't want to get food poisoning. I would check reviews fiercely and make sure that you don't read "I got very sick", "the hotel staff tried to hard sell me tours and massages", "bad animations team" and even worse "boring or plain food".
I stayed in Meraki Resort, which was an adults-only all-inclusive. A variety of tasty food was plentiful and I always had a cocktail in hand here. It doesn't just have to be a boring buffet either.
Most hotels provide a range of a la carte restaurants and even snack bars with a variety of amazing meals. You have to think some people hideaway for two weeks in these places at a time and it would an outrage with the same meals every day!
I wouldn't miss out on a visit to the Red Sea in Egypt. If you have more time, you could head to Dahab or Sharm El Sheikh on the southern tip of the Sinai Peninsula. It's home to The Ras Muhammad National Park which has epic diving locations.
If you're bored of the beach, you can climb Mount Sinai and visit the Al Sahaba Mosque too!
Some ways to shorten this Itinerary if you have less time
Of course, you could cut this itinerary down to a week if you wanted to. A 'classic Egyptian route of Cairo, Luxor and Aswan would only need 7 days. But, here's a few ways to get more economic with your time if its limited;
Only spend one day in Cairo and skip out Alexandria or the West Desert
You don't have to get a cruise for sightseeing around the Nile. You can get between Luxor and Aswan by Train in four hours! The train also has stops at Edfu and Kom Ombo temples on the way.
You could explore all the temples of Luxor in the West/East bank in one day as opposed to two
Skip out a trip to Abu Simbel, it's a long journey and takes up a whole day to visit
Skip the Red Sea and relaxing at the end (although I would definitely recommend not skipping this)!
Tourist scams in Egypt you need to watch out for
The most common complaints from tourists in Egypt are food poisoning, cat calling and scams. If there is money to be made from you, it will be, even if it wasn't honest. So these are scams to watch out for in Egypt;
Taxi Scams in Egypt – Cairo airport and the taxi drivers in Cairo will demand a ridiculous price for journeys, refusing to turn on the meter. Or, agree a price and then not honour it at the end. To avoid this, I would get Uber taxis in Cairo/Alexandria and organise a private car in Luxor/Aswan.
Tipping Scams in Egypt – not always a scam as tips are expected for most things, but you may find that they ask for more of a tip than what is given in good faith.
Shopping scams in Egypt – watch out when buying items of value. Egyptian alabaster is famous in these parts but you could be buying a Chinese version which is fake. Also papyrus scrolls are a neat souvenir, but some retailers are actually selling you banana leaf not genuine papyrus. I was scammed out of $300 dollars for a Gold Necklace in Egypt. To avoid it happening to others I've put a whole post together with tips for buying it in Egypt.
Tour Guide scams in Egypt -watch out for anyone trying to offer you their services in the street and 'show you around' for free. Always organise an official guide with your hotel or tour company.
Don't miss out on an incredible adventure through Egypt
Egypt was a spectacular destination for many reasons; travelling through time in ancient temples, feeling like I was on another planet in the West Desert, and swimming in the crystal waters of the Red Sea.
It all made for a wild and unforgettable adventure I will treasure for a lifetime.
If you're contemplating whether you book a visit due to safety reasons, I would urge you to go ahead and book.
Egypt is very safe for tourists and you won't find any trouble due to the intense security designed to keep you from harm. It would be a shame to miss out as it's a journey of epic proportions.
I could have wandered around Egypt for more than five weeks! There is so much to explore that hasn't made it to onto this list. Book a ticket and take the ride, you won't regret a thing!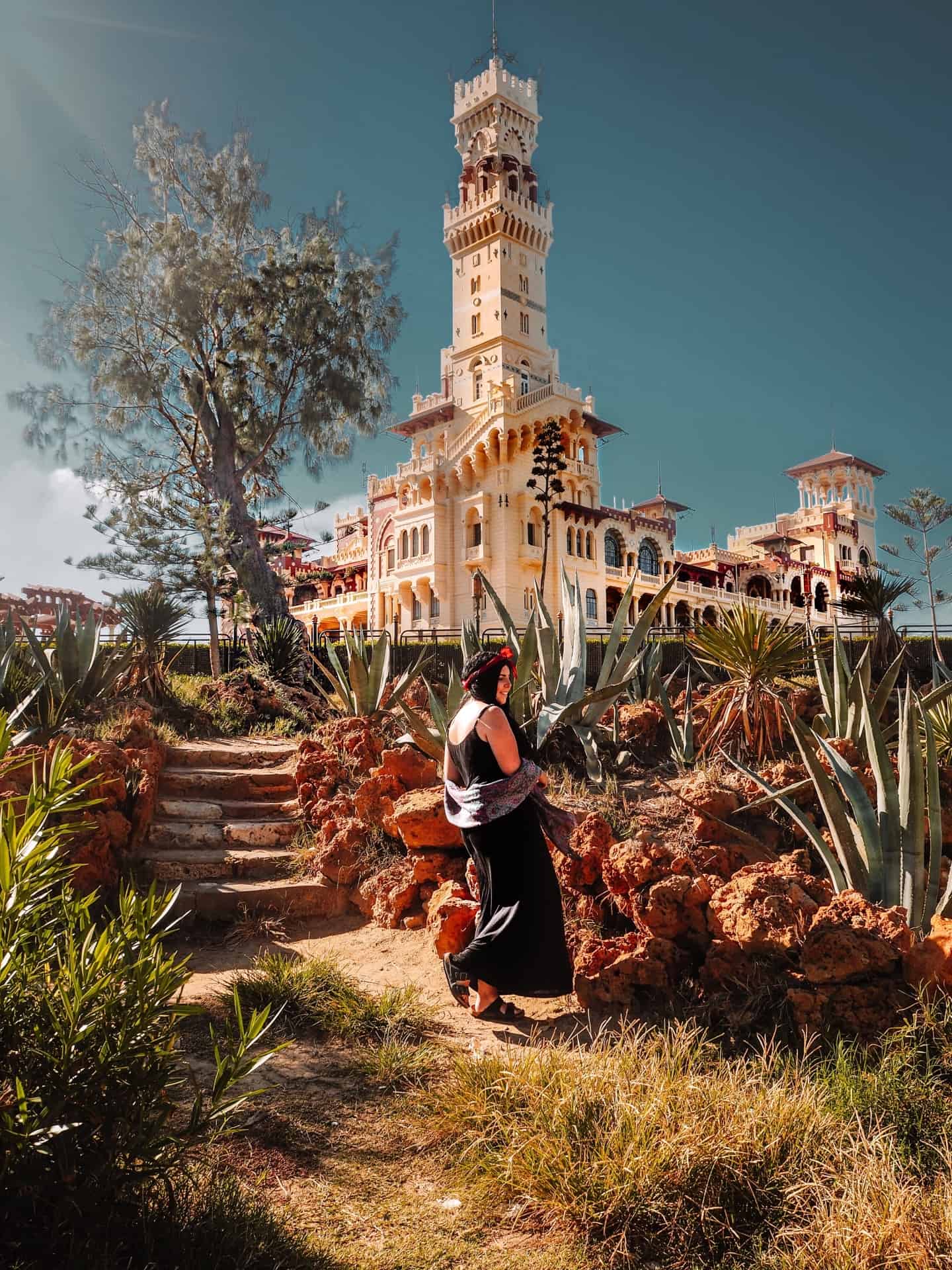 Read more of my Egypt articles
The perfect Egypt packing list
The most Instagrammable places in Egypt
My guide to the Valley of the Kings
The ultimate 4-day Nile Cruise
Top places to visit in Luxor at night
The perfect guide for Abu Simbel
My survival guide for the pyramids
Why you NEED to visit Alexandria
Top tips for riding a hot air balloon in Luxor
Save this Two Week Egypt Itinerary for later!