If you're looking for pretty photo spots in the capital of Ireland then you must visit the Umbrella Street Dublin.
It's a delightful alleyway that has a series of colourful umbrellas hanging down over those who visit and makes a great photo opportunity.
It's not the most obvious place to find as it's tucked away near a cocktail bar on Anne's Lane. But, at least when you do find it, you can treat yourself to a wee dram or a pint of Guinness!
Make sure to keep reading as my complete guide to Umbrella Street Dublin will give you all the details you need to know.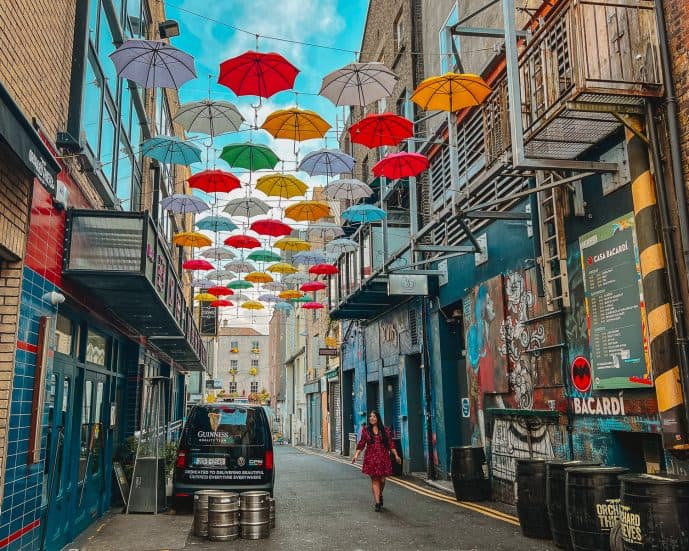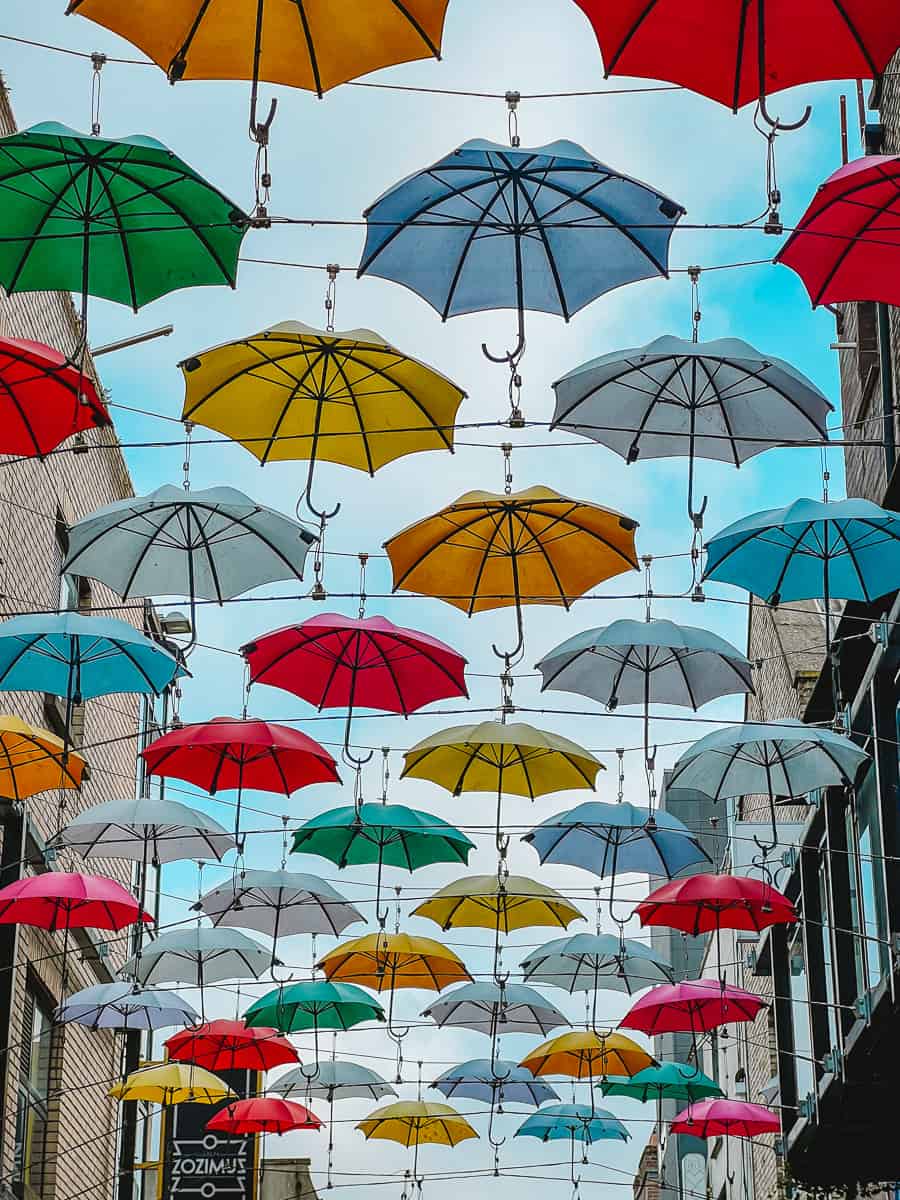 What is the Umbrella Street Dublin?
The Umbrella Street Dublin is exactly that, it's a street with a series of colourful umbrellas hanging above you.
Umbrella streets aren't new and you can find them in lots of cities now but it's still worth visiting if you find yourself in the capital of Ireland.
This rainbow installation of brollies makes a great photo spot and it's also beside the fun and lively Zozimus Bar. So, you can treat yourself to a drink while you're here too!
It's open from Wednesday – Sunday from mid-afternoon to late into the evening.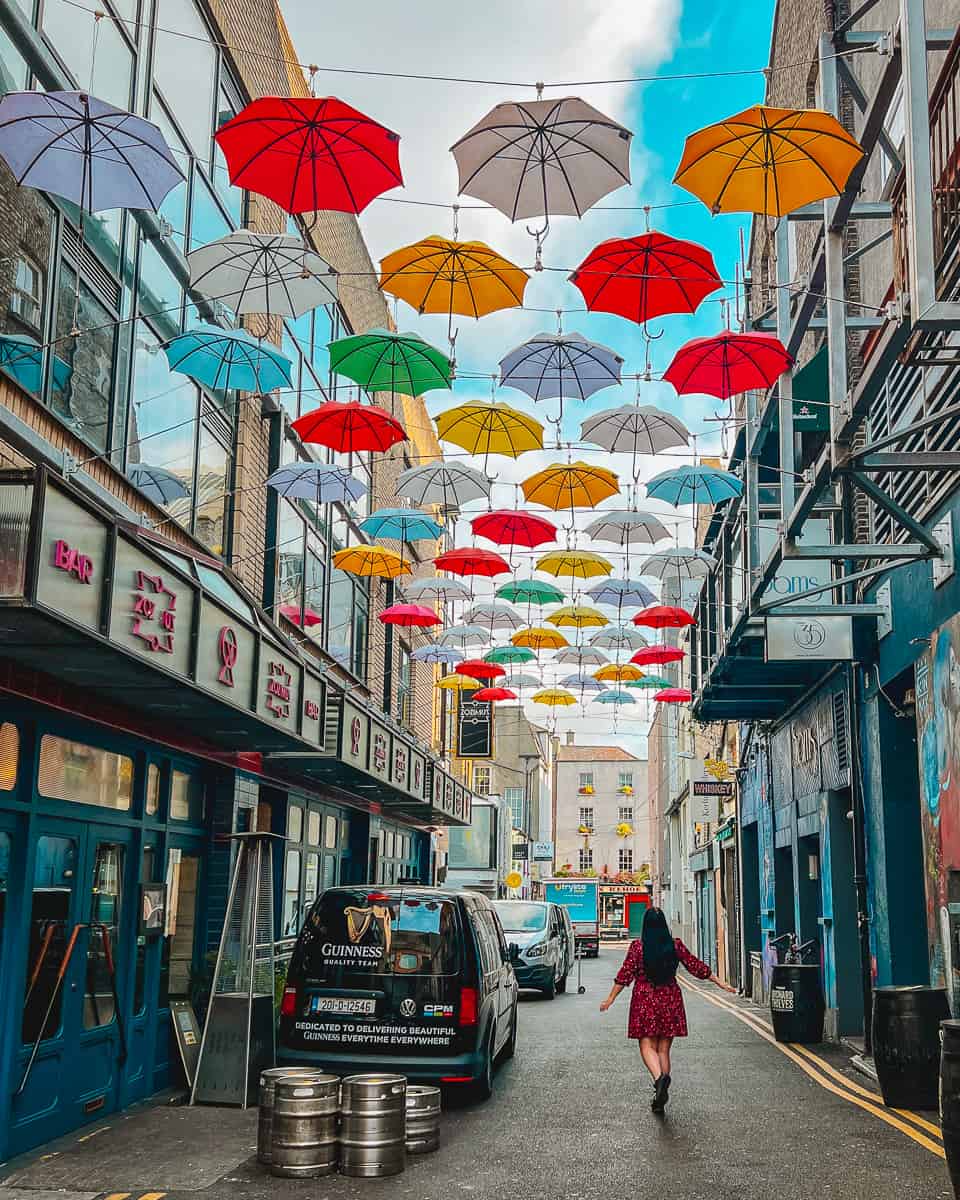 Where is the street with umbrellas in Dublin?
You can find this colourful installation of umbrellas in Anne's Lane Dublin which is in the centre of the city.
Anne's Lane is very near St Stephen's Green which is a popular park with the Yeats Memorial. You'll find the umbrellas at the far end of the lane.
It's tucked away a little bit down a back street so I would definitely have a Google Maps pin prepared as the umbrellas aren't immediately obvious.
The umbrella street Dublin can be found next to Zozimus Bar at Centenary House, Anne's Lane, Dublin, D02 AK30. Click here for a Google Pin.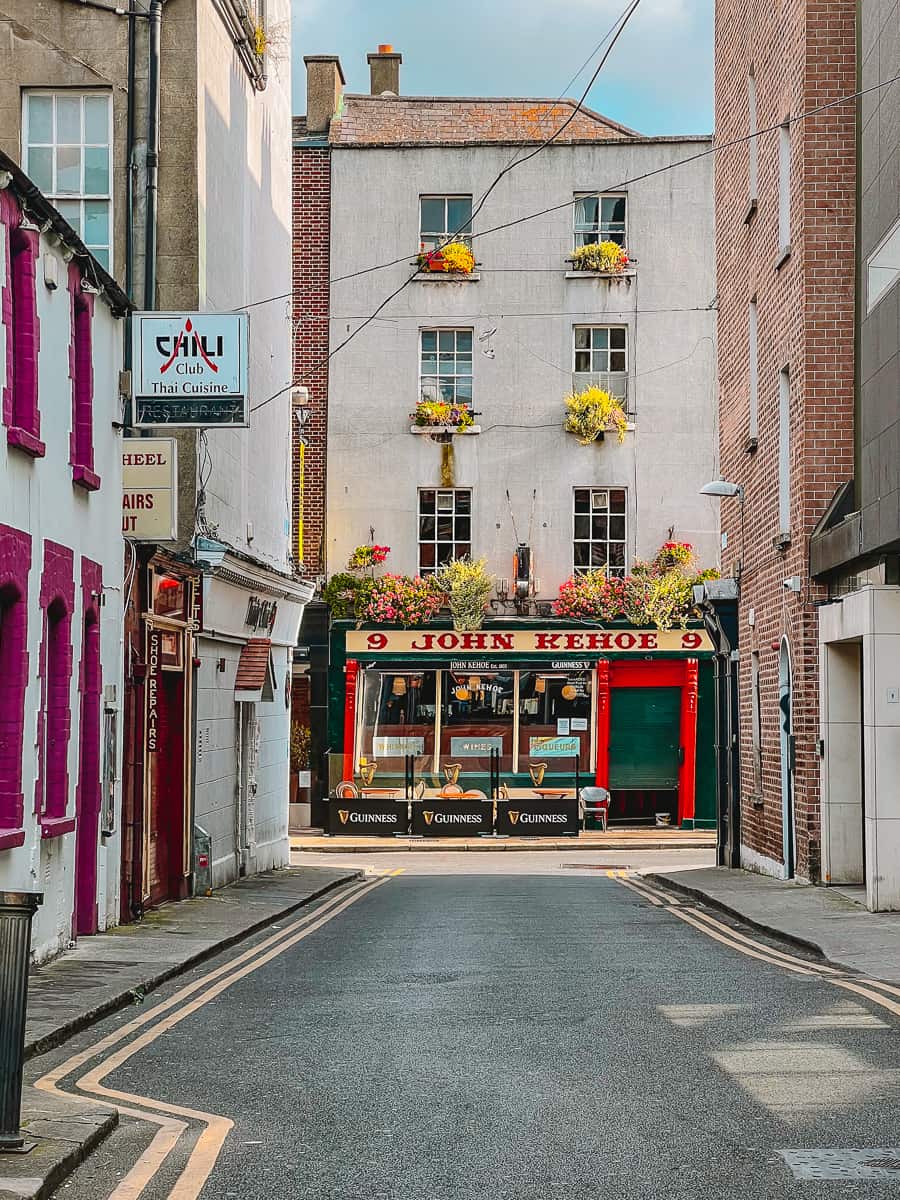 How to visit Anne's Lane Dublin
Like most cities, I wouldn't recommend driving to Anne's Lane as it's a lot of faff not to mention the fact that it's a tiny road.
Anne's Lane is easy to approach on foot in the city and you can find it close to Grafton Street which is Ireland's 'Premier Shopping Street'.
It's also easy to walk to from the likes of Trinity College, the Little Dublin Museum and St Patrick's Cathedral.
If you're using public transport to get around the city the closest bus stop would be Dawson Street. It's then a 3-minute walk to the umbrellas.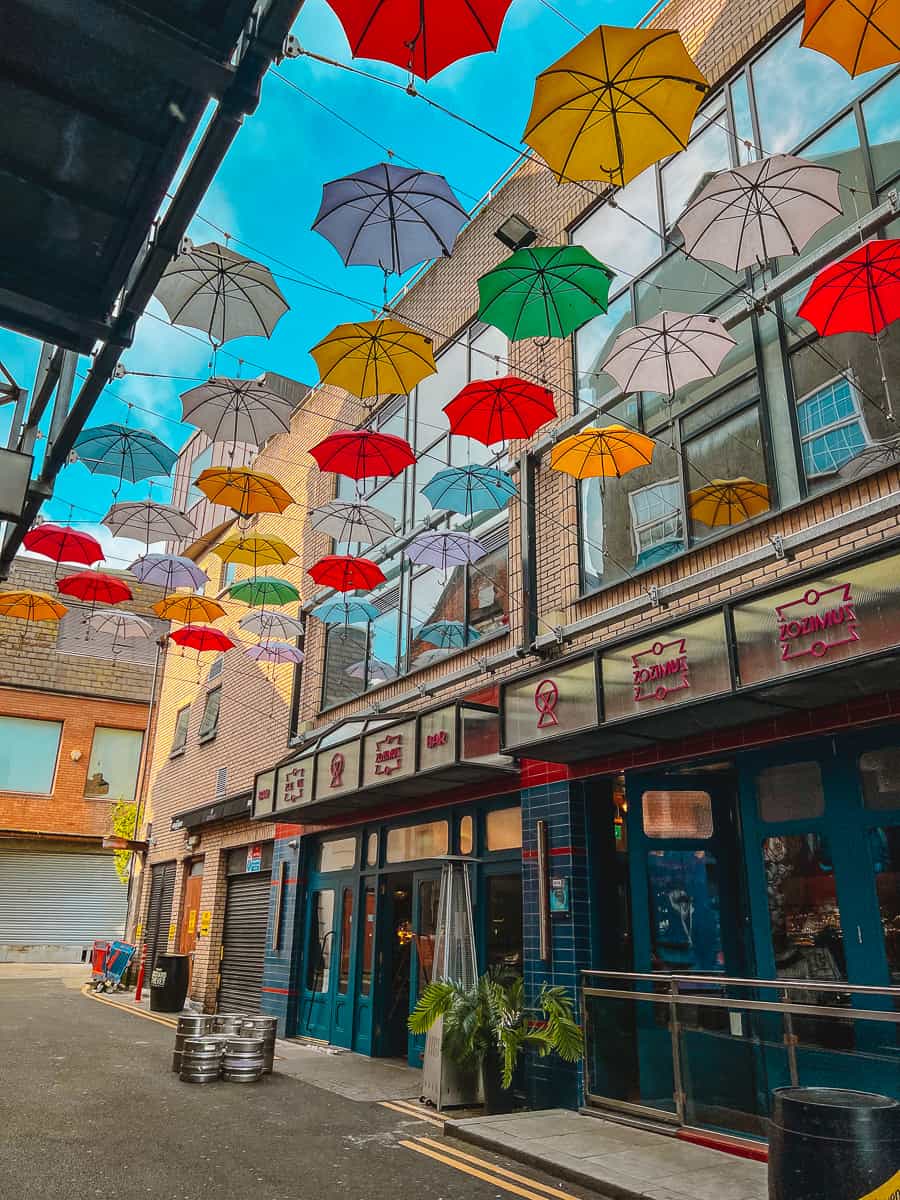 What to expect when visiting Anne's Lane umbrellas
I love visiting umbrella streets so I was really excited to set out and find the umbrella street in Dublin. It just adds a bit of colour to your day and makes a great photo opportunity.
But, I have to admit when I turned down Anne's Lane, I was surprised that the Dublin umbrellas were kind of tucked away. Almost hidden at the end of a dark street.
When you got to this end of the street, it looked quite dingy. There were lots of dumpsters dotted around and the street was quite dirty and smelly.
I also visited early in the morning to avoid the crowds on a weekday. But, that was a mistake as I found lots of delivery drivers here who were dropping crates off at the bars. It was manic with so many trucks.
There was even a Guinness van parked up out front but I thought it actually added to the photos so I didn't mind. It is Ireland after all, the home of Guinness.
I liked the Dublin umbrella street as there was lots of cool and vibrant street art beside it and it was close to a pretty cocktail bar. But, on the other hand, it was a little disappointing and looked better online.
I'm sure that the place will come alive in the evening time as it is Dublin. But, you can expect lots of crowds at that time too!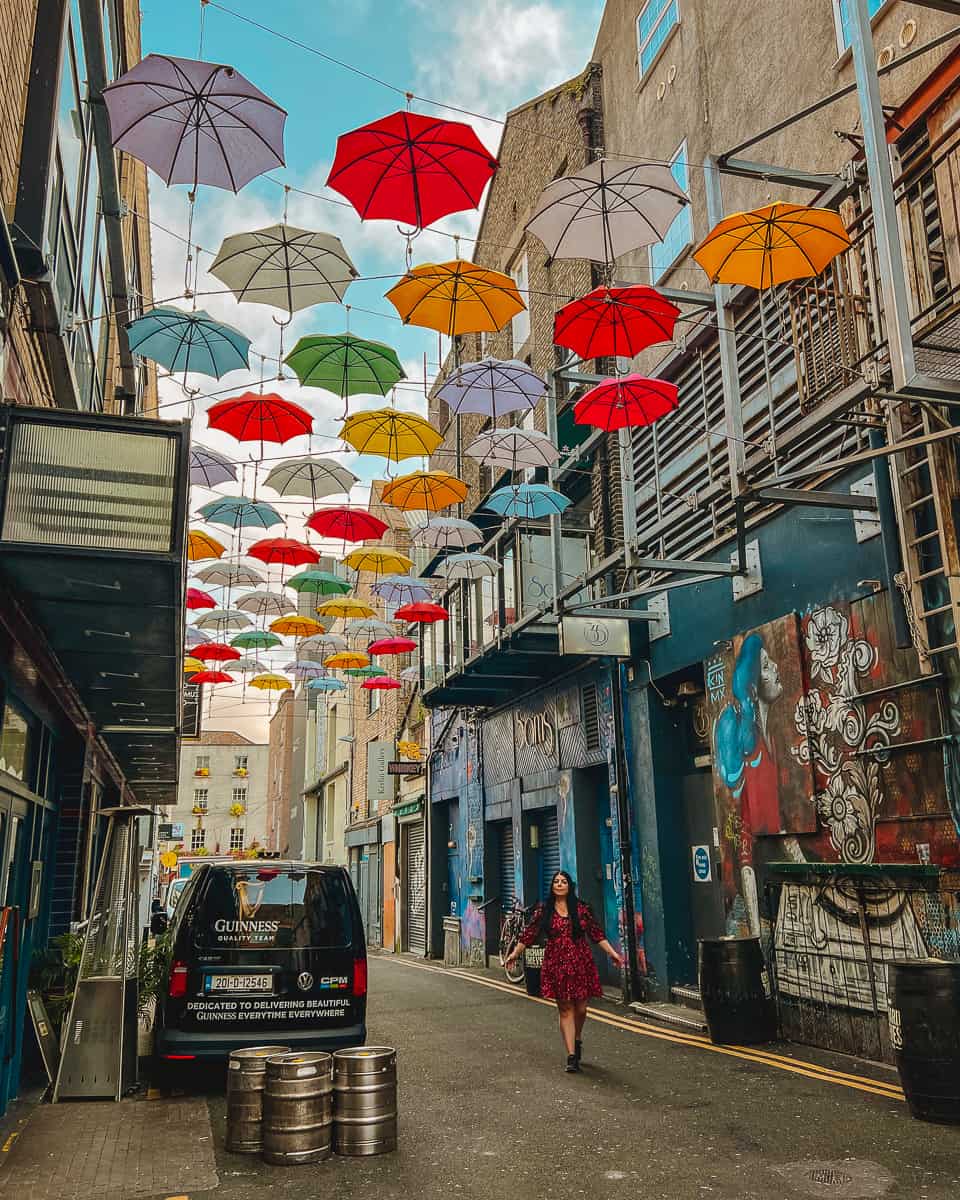 What is the best time to visit Umbrella Street Dublin?
As I said, I visited early in the morning to avoid bar crowds but I had no idea that I would also be witnessing the mania of Dublin deliveries.
I don't know if I picked the wrong day, or if it happens every day, but there were so many vans coming up and down the street and delivering to the pubs.
I was patient for a little while to see if it would end but it never did. More deliveries just kept arriving. Finally, I just decided to take my photos with the trucks as I couldn't be bothered to wait any longer.
I would still recommend visiting in the morning to avoid crowds. But, maybe wait until the delivery drivers have done their thing.
I'm sure in the evening time Umbrella Street Dublin would look awesome. It's not illuminated but the bar lights will be on.
Is visiting Umbrella Street Dublin worth it?
Hmmm, I'm torn with this one. On the one hand, it is a really pretty photography spot and adds a bit of colour to your feed.
It's nice enough and will make some people happy due to the vibrant colours. On a sunny day, you can really see the colours pop, I can't speak for a rainy/gloomy day.
But, on the other hand, I feel the location is a little dark and it's a bit tucked away down a dirty lane by a bar. So, it entirely depends on you.
I would say this is a typical case of Instagram v.s reality and it looks better online.
However, If you love getting colourful photos and wanted to see a cute art installation go ahead. I wouldn't go out of your way to visit though.
There are far better umbrella streets out there and prettier places to take photos in the city beyond Anne's Lane.
My top tips for visiting the Dublin Umbrella Street
Set your expectations – Dublin's umbrella street is very small and tucked away. It looks better on Instagram. Don't make a dedicated trip to the city to see it.
Go on a sunny day – this street is very dark so you need the sun to really make the colours pop. But, bring your brolly if it's raining, it will add to the photo.
Visit in the morning – I would recommend visiting earlier in the day to avoid bar crowds but not so early that you meet the chaos that comes with deliveries here.
Don't forget to stop for a drink – there's a cocktail bar right next door to the umbrellas called Zozimus! Make sure to grab a drink if it's the right time of day.
Looking for more things to do in Dublin?
Dublin is one of the most popular cities to visit in Europe and for good reason, it has a wealth of amazing attractions and a lively culture.
There are plenty of things to do in Dublin beyond the umbrella street and I would highly recommend you visit the Guinness Storehouse first.
It's the number one attraction in the city and one that actually lives up to the hype. You take a self-guided tour through several levels to learn the story of the famous stout. You end your tour with a pint in their Gravity Bar that you pour yourself.
You can also visit Jameson's Whisky Experience which is a similar tour with some delicious tastings.
If you're more into historical attractions, I would check out St Patricks' Cathedral, Dublinia and Kilmainham Gaol. It's Dublin's most famous prison and courthouse.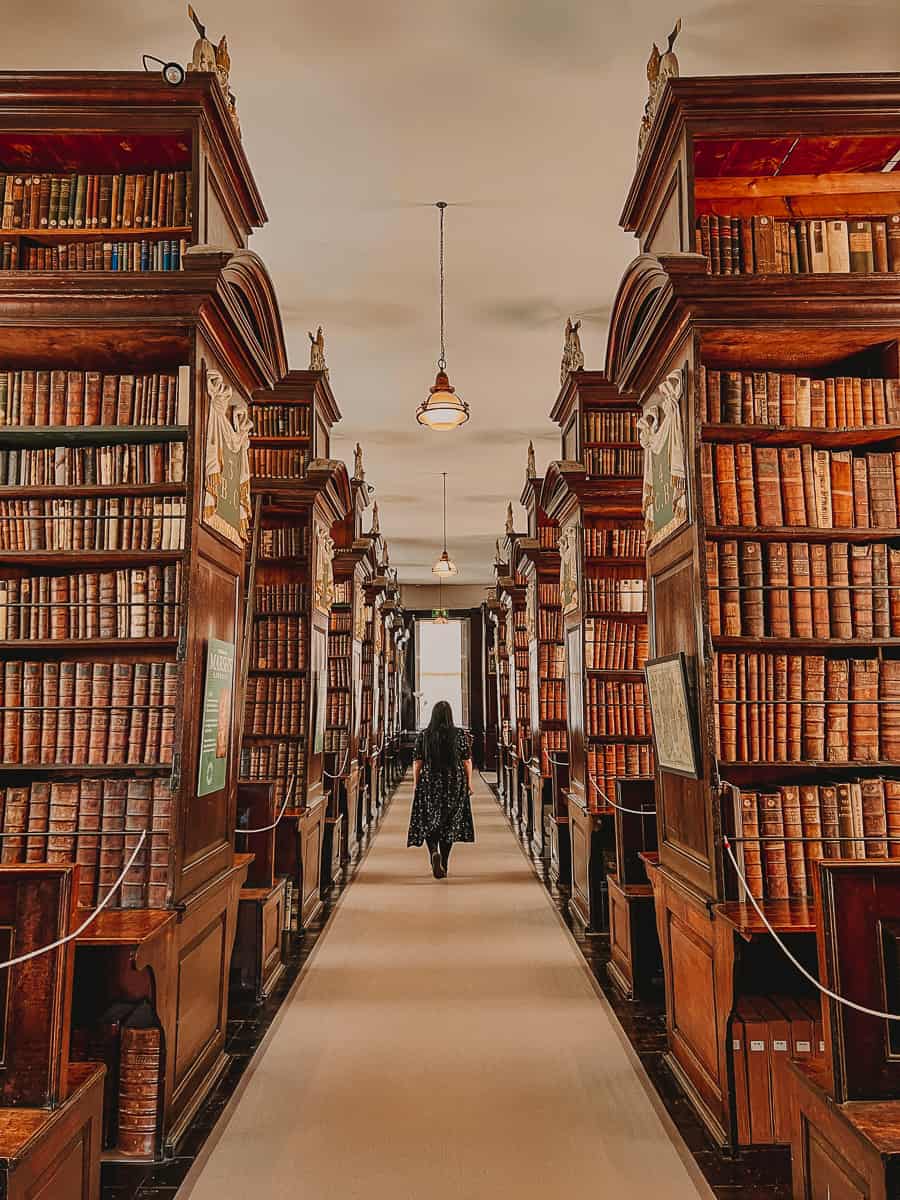 If you love literary destinations, Ireland has them in abundance. You can check out Trinity College and see the Book of Kells. You end the visit with a walk through the Long Room.
This is one of the prettiest libraries I've ever seen. But, book tickets in advance as it sells out very quickly.
If you're looking for a hidden gem library, I would visit Marsh's Library instead. It's far quieter than the Book of Kells but is no less pretty.
Take a self-guided tour through the tomes and see where Bram Stoker studied Transylvanian maps before he wrote Dracula!
You really can't visit Dublin without a stop in the lively Temple Bar filled with pubs and restaurants or why not take a walk along the River Liffey and see the Ha' Penny Bridge?!
Where to stay in Dublin
Dublin has a wealth of hotels but if you were looking for somewhere really cool to stay I would recommend the Hard Rock Hotel Dublin.
I'm a huge fan of Hard Rock hotels and Dublin's pays homage to all the famous Irish bands like U2, The Pogues, The Cranberries, The Corrs and Thin Lizzy.
One of my favourite parts was the fact that they had a Kurt Cobain's Jumper on display. Nirvana is one of my top bands of all time so I was delighted.
Despite this hotel being located in Temple Bar, it is very quiet and has excellent soundproofing. It's located opposite Dublin Castle and close to many of the main attractions.
Click here to book your stay in the Hard Rock Hotel Dublin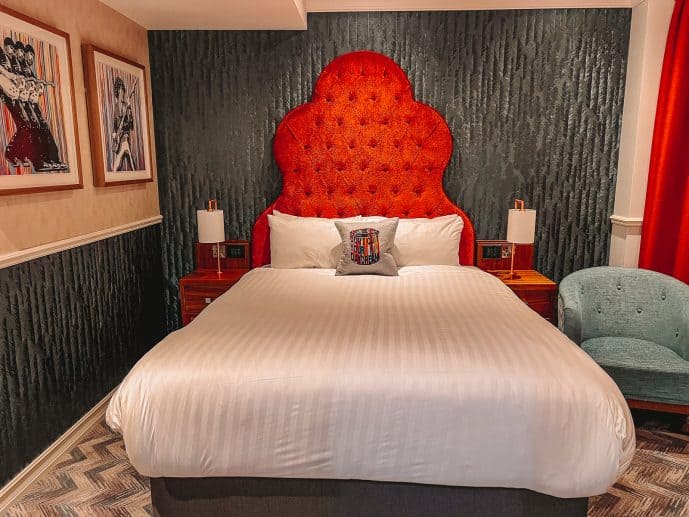 Read more of my Ireland travel guides
How to visit Powerscourt Waterfall Ireland
How to visit Torc Waterfall in Ireland
How to visit Ballysaggartmore Towers Ireland
Visit the magical Muckross Abbey ruins & yew tree
10 Game of Thrones doors to find in Northern Ireland
How to visit the Pollnagollum Cave Game of Thrones location
Tollymore Forest Park Game of Thrones filming locations
How to see the Game of Thrones Tapestry in Belfast
Glass of Thrones walking trail in Belfast
How to visit Lough Tay aka Guinness Lake
How to visit Cushenden Caves in County Antrim
How to find the Ballinastoe Boardwalk in Wicklow
Guinness Storehouse in Dublin review
Save Umbrella Street Dublin for later!