The University of Glasgow is one of the top attractions to visit in the city. As one of the oldest universities in the world and a campus that you could mistake for Hogwarts, is it any wonder why?
But, what you may not know is that it was also used as a film set in the hit TV series, Outlander!
There are a few University of Glasgow Outlander locations on campus and, the great news is, you don't have to be a student to visit them!
From the gram-worthy cloisters to the Hunterian museum and magical towers that look like you're going for a lesson with Severus Snape, there's something here for everyone.
So, without further ado, let me take you on an e-tour of the University of Glasgow Outlander locations.
University of Glasgow history
The University of Glasgow was built all the way back in 1451 and is one of the oldest universities in the English-speaking world.
It's also one of four of Scotland's ancient universities along with Edinburgh, Aberdeen, and St Andrews'.
Pope Nicholas V founded the university by Papal Bull on the recommendation of King James II. But, unfortunately, the original bull left with Archbishop James Beaton on his exile to France in the 16th century!
It used to be on Glasgow High Street until it moved to Gilmore Hill in 1870. Although originally this university was reserved for the aristocracy receiving education, it was a pioneer in providing education to the working and middle classes in the 19th century too.
Famous students include Gerard Butler, James Wilson (a founding father of the USA), John Knox, David Beaton, and Patrick Forbes.
Only recently (in fact two days after I left!), Sam Heughan received an honorary doctorate at the University of Glasgow for his charitable efforts and contribution to tourism in Scotland.
What is the University of Glasgow known for?
Along with its incredible ancient history of being the fourth oldest university in the English-speaking world, The University of Glasgow is famous for its medical and veterinary medical studies.
It ranks 65th in the top universities in the world and is a Russell Group university dedicated to the highest levels of academic excellence.
What was the University of Glasgow Outlander location?
At the beginning of Outlander series 2, we see Claire and Frank move to Boston as Frank has taken up a position as a professor at Harvard University.
The University of Glasgow main campus and some of the rooms inside others double up as Harvard University in Boston.
You can easily tell from the famous cloisters that Bree and Roger stand under before attending Franks memorial. Also, the familiar architecture around the campus when Claire and Bree leave Franks memorial too.
But, if you have been to Harvard University, (like me) you'll be a little lost in finding any similarities between the two.
Although Havard University is the oldest university in the USA, the architecture is completely different. Firstly, it's mainly red brick on campus and there are no cloisters to be seen.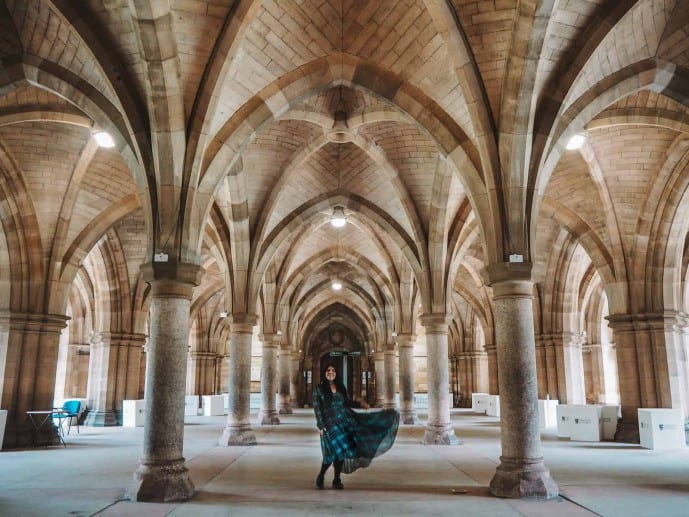 Can anyone visit the University of Glasgow?
YES! I originally thought that it was solely for students, but after a little bit of research I found out that the University of Glasgow encourages tourists to visit.
There are lots of things to see on campus including the art museums and historical buildings, so make sure you add this to your Glasgow Itinerary for your visit.
What's better is that you can choose whether you want to go on a guided tour or not. I personally love to explore self-guided, but it's nice to have a choice!
Head to the Welcome Point in the McIntyre Building to find out more information and what to see while you're here.
University of Glasgow Outlander locations
So that you don't head into the University blind, I'll point out a few of the locations on campus that you can visit to relive some Outlander moments.
I ended up visiting the University of Glasgow early to beat the crowds and, if you're a photographer, I'd highly recommend it.
As a tourist attraction and photo location, it's extremely popular. But, if you're not bothered pop along anytime during opening hours.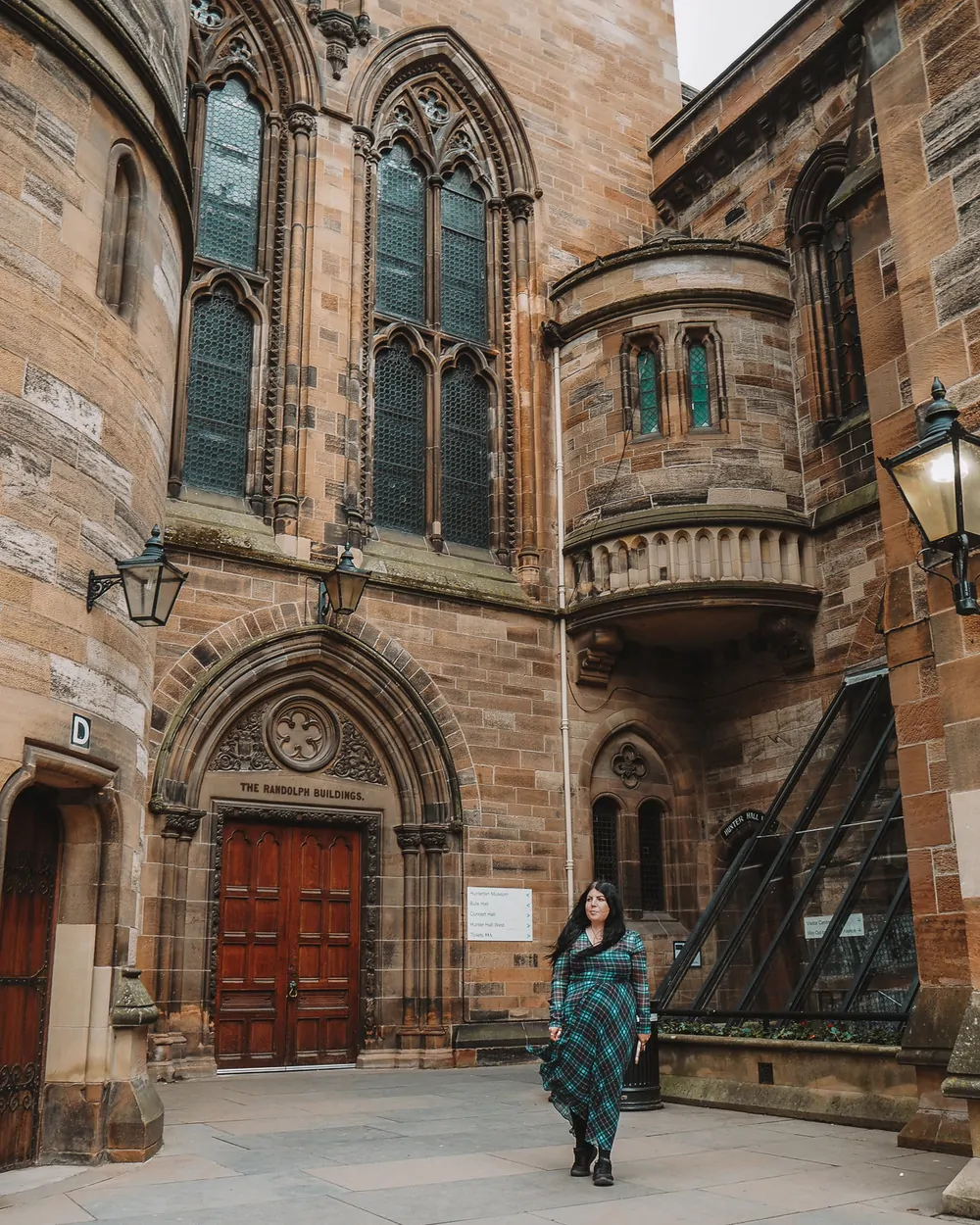 1. University of Glasgow cloisters
This is where Bree and Roger talk about Roger's visit to Harvard University in series 3, episode 5 'Freedom and Whisky'.
In the series they are called the Robinson Cloisters but, before you go and search for it, there is no such place at Harvard!
This one is easily signposted at the University of Glasgow as soon as you walk through the Gates of Remembrance at the entrance.
The University of Glasgow Cloisters, or The Undercroft, can be found right by the Bute Hall and Hunterian Museum.
Throughout the summer, this is where they hold the graduation ceremonies and so, on my visit, there were lots of boxes and 'University of Glasgow' signs.
It's one of the most picturesque parts of the campus and is totally gram-worthy!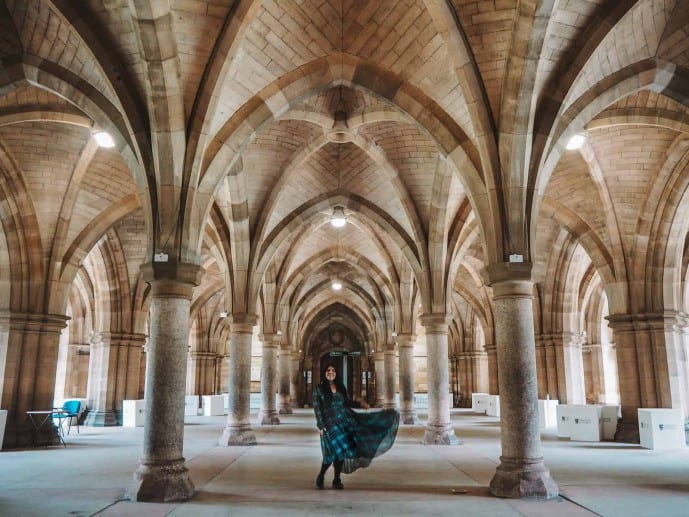 2. The Main Campus of the University of Glasgow
As well as the cloisters, there are a few scenes shot around the main campus that are used including those in episode one of series 3 where Claire meets Frank's fellow professors.
Who can forget that scene where Franks' boss tells Claire that women couldn't be physicians (UGH.)?!
Also, we see the campus again when Claire and Bree leave Franks' memorial where they are dedicating a scholarship to him.
Other than that, not much else of the main campus was used in Series 3.
3. Joseph Black Building Classroom
Another location in the University of Glasgow you may not have heard of is the Joseph Black Building.
Bree attends Harvard University but after she travels in Scotland and finds out that she is Jamie's daughter, she doesn't feel like herself.
The classroom in the Joseph Black Building was used for one of Bree's classes when they were discussing the Midnight Ride by Paul Revere.
Unlike the rest of the main campus at the University of Glasgow, it's best to enquire before your visit, especially when classes are taking place.
What else is there to see at the University of Glasgow?
Beyond an Outlander location there are lots of things to see and do around the campus, including;
Professor's Square – A row of 13 terraced houses, built by Sir George Gilbert Scott. These were built for University Professor's in the 1870s
The University Chapel – completed in 1929, it was built as a memorial for University students who died in the two world wars. It's also one of the only cathedrals where Protestant and Catholic marriages can take place.
Lord Kelvin's House – Home to Sir William Thomson, Lord Kelvin. He was the inventor of the Kelvin Scale that measured exact temperature and sent the world's first wireless telegram!
The Gilbert Scott Building – a building dedicated to a pioneer of the same name that designed many of the Gothic Revival building around the campus.
East and West Quadrangles – The most photo-worthy parts of the campus! Here you can see the old entrances to classes and it will feel like you've stepped into Hogwarts with its towers and turrets. If you're here to graduate, don't walk across the grass until you do, it's bad luck.
The Hunterian Museum – Is Scotland's oldest public museum, so if that's not worth a visit alone I don't know what is. It was founded in 1807 and much of the collections were donated by William Hunter. There are artefacts as old as the Antonine Wall on display from the 2nd century AD.
Hunterian Art Gallery – has many revered works of contemporary and classic art on display including a Rembrandt.
Mackintosh House – a reconstruction of the house lived in by artist Charles Rennie Mackintosh with his wife the artist Margaret Macdonald. It has authentic furniture from his original home.
How to get to the University of Glasgow
The University of Glasgow is easily accessible in the West End of the city. Parking is horrendous so I would visit early morning, opt for public transport or visit on foot.
Glasgow has an incredible public transport system including buses, trains, and even a subway.
I also use Travel Line Scotland to plan journeys. Or, you can opt for the open-top bus which stops right outside the University on the tour.
Tourist visiting times for a University of Glasgow tour
The University of Glasgow is open during the week for self-guided tours. But, if you just wanted some photos, you are able to access the campus way before the main attractions open, even on weekends.
Here are the opening times for the Welcome Point in the McIntyre Building;
Monday: 9.30am – 5pm
Tuesday – Thursday: 9am – 5pm
Friday: 9am – 4pm.
Saturday/Sunday: The campus grounds are open but no other attractions will be!
The University of Glasgow is FREE to visit but donations are welcome. See more information about visiting here.
Looking for more Outlander locations in and around Glasgow?
Did you know that beyond the University of Glasgow, there are even more Outlander film locations to explore?
I'll go through a handful that you may wish to add to your itinerary.
You can read my ULTIMATE list of Outlander locations in Scotland here, or read my Outlander in Edinburgh & Outlander in Glasgow guides
Dowanhill Street
If you're thinking of visiting Claire and Frank's house is in Boston, then I'm happy to tell you that you won't need to fly to the States! Dowanhill Street in the West End of Glasgow doubled up as Furey Road.
This was the house where Claire and Frank raised Brianna for twenty years! Of course, when you visit there will be signs of the 21st century like modern cars etc but the houses in the area look very much the same.
For the exact house on Dowanhill Street that was used in the series, read my guide here.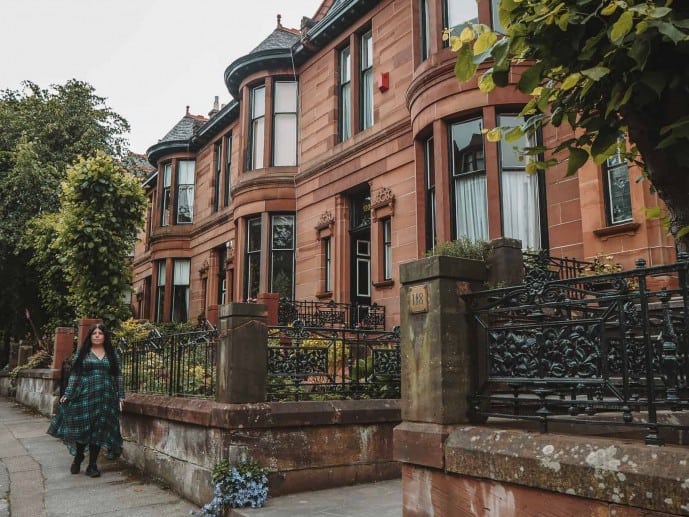 Kelvingrove Park
Another location in Outlander's Boston is Kelvingrove Park. This gorgeous spot on the West End of the city was where Claire pushes Bree in her pram and gives money to the Bagpipe Busker on her way to medical school.
This is easily accessible on foot from the University of Glasgow.
Click here to find the exact bridge in Kelvingrove Park that they used in Outlander
Glasgow Cathedral
The Glasgow Cathedral, or High Kirk of Glasgow, should be at the top of your list. It's one of the top attractions in the city to visit and the history surrounding the area dates back 1,000 years!
Good news for Outlander fans, it's also a film location too. In Series 2, Claire works at a Charity Hospital in Paris called L'Hôpitale Des Anges.
The interior of this hospital was filmed in Glasgow Cathedral in the Lower Crypt. This is also where St Mungo is buried.
Click here to read my complete Glasgow Cathedral Outlander guide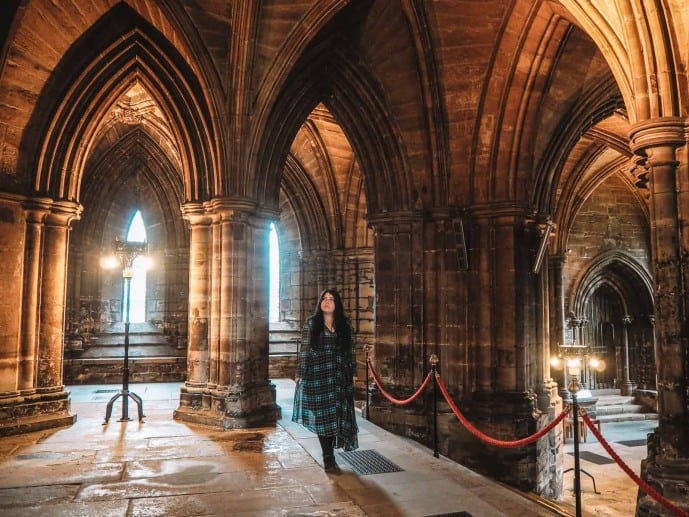 George Square
George Square or, more specifically, the Glasgow City Chambers in Glasgow doubled up for the City of Westminster. This was the spot in series 1 where Claire and Frank were married in London!
As well as exploring this area of Glasgow, a tour inside the Glasgow City Chambers is well worth turning up for.
It's a little complicated to find this spot, but I have a whole guide on this exact Outlander location in George Square right here.
Pollok Country Park
Pollok Country Park is a FREE park in Glasgow and so it makes a great budget day out. Even though it's only a few miles from the city, you'll feel like you've stepped into the countryside!
Pollok is famous for having over 360 acres of land, the ancestral Pollok House of the Maxwell family, Burrel Collection, and an award-winning herd of Highland Cattle.
As well as a gorgeous day out, there are also several Outlander locations here including the grounds of Castle Leoch. Also, where Jamie and Black Jack Randall had their duel and the Scottish Festival in series 4.
Click here to see all the Outlander film locations at Pollok House & Country Park
Devil's Pulpit
This fairytale cavern near Glasgow doubled up as the Liar's Spring in Outlander. In series 1, Dougall MacKenzie makes Claire drink from the spring to check she's telling the truth about being an English spy.
It's a stunning location hidden in the countryside and the walk to get here is pretty horrendous. But, it's worth it when you finally get here!
Legend has it that the Devil himself used to give his sermons here with a blood-red river flowing at his feet. Hence, the Devil's Pulpit.
I have a whole post about how to find the Devil's Pulpit here with top tips!
Save time and book a tour!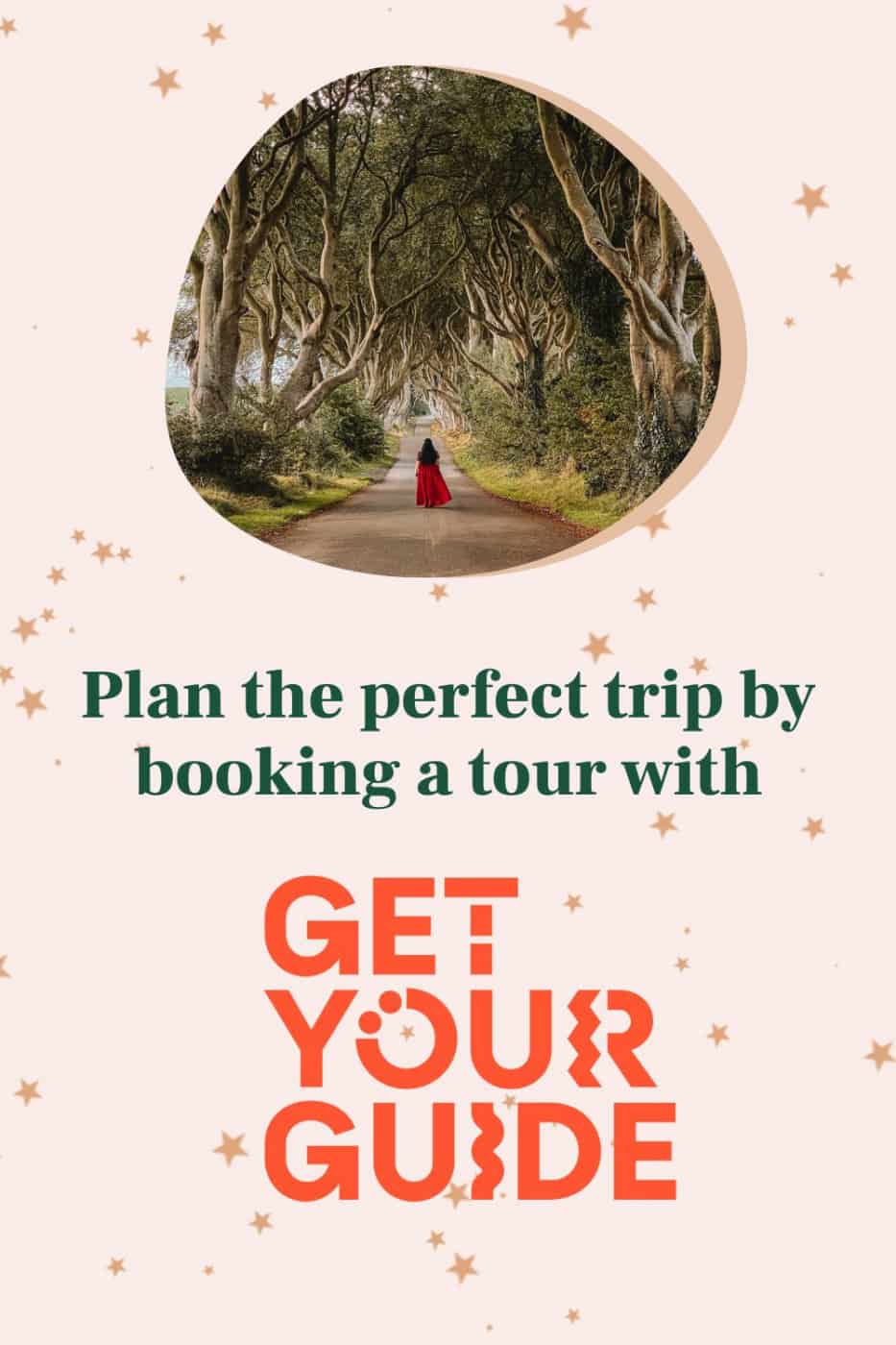 Book tours & tickets for Glasgow!
Save this Glasgow University Outlander guide for later!