Did you know that there was a University of Stirling Outlander film location? In fact, there are many on the campus you can visit and around the area.
Outlander fans love to visit places like Lallybroch at Midhope Castle, Craigh Na Dun in Perthshire, Culross that played Cranesmuir, and Bakehouse Close in Edinburgh.
But, there are also plenty of lesser-known locations in and around Stirling. So, it's the perfect place to base yourself for an Outlander adventure while in Scotland.
Here are all the University of Stirling Outlander locations to visit and the surrounding area.
Staying at the University of Stirling for your Outlander adventure
As I was a solo traveller around Scotland and on a budget, I was on the search for some reasonable accommodation to stay in the area. Little did I realise when I booked it was also an Outlander location!
You may be pleased to know that in the summer months, a lot of the University campuses open up their student accommodation for tourists to stay. It's just like a hotel but in a campus building.
Having done this many times in the past for the Edinburgh Fringe Festival I always find they're good value for money and many come with breakfast.
I was honestly blown away by the quality of the University of Stirling's campus accommodation. I had a room in the Stirling Willow Court building and it was spotless. For only £30 a night with breakfast it was a bargain.
Click here to look at booking – some are only available in summer months (May/June – September).
Can anyone access the University of Stirling?
YES, anyone is allowed to visit the University of Stirling. But, you will need to sign in at reception and ask for an access pass to have a tour.
In the summer months, this is a lot easier as it's no longer-term time.
The University of Stirling is a campus with some outstanding views of Stirling and the surrounding area, so it's well worth having a look around.
If you're not a guest of the campus accommodation, parking will cost money at an hourly rate.
Click here to read more about planning a visit to the university.
University of Stirling Outlander locations
1. The Pathfoot Building / Inverness College
At the end of Outlander Season 2, Bree and Roger visit Inverness College so that Roger can carry out some further research.
It's here that Bree meets Geillis Duncan inside the college, giving her speech about Bonnie Prince Charlie and asking for students to join the 'White Roses' rally. She also asks Bree to join.
These scenes were all filmed in the exterior and interior of the University of Stirling Pathfoot Building. Builtin 1967, it was the first building completed on the campus and is now a grade-listed building.
It's a public art space displaying many works of art produced at the university on a permanent display.
Anyone is welcome to visit the building which is free to the public and open from 9am-5pm on Weekdays. You can explore inside and browse the galleries or follow the sculpture trail.
2. The Link Bridge / Boston Airport
In series 4 of Outlander, Roger flies over to Boston to visit Brianna. This is so they can drive over to North Carolina for the Scottish Festival.
The arrivals at Boston Airport were filmed on the Link bridge at Stirling University. The Link bridge can be found between the Atrium and the Cottrell Building.
3. The abandoned Ivy Cottage / MacKenzie Village
The abandoned 18th-century Ivy cottage that sits on the University of Stirling campus was used in season 1, episode 5 'Rent' in the Outlander series.
When the MacKenzie party tour the MacKenzie clan lands collecting rents, the Ivy cottage can be seen in the background. You'll notice the amazing view of Dumyat mountain in the background!
The cottage is at risk so don't try to enter it! But, you can visit and admire from the outside.
Outlander locations in and around Stirling
4. The Bridge of Allan / Season 5 location
A possible series 5 Outlander location is the Bridge of Allan in the Stirling area.
The location around Sunnylaw Road was shut off to the public in May 2019 and fans were filming the camp that had been set up there in the area.
Looking at season 5, episode 2 'Between two fires', this location was used for the Regulators camp where Murtagh Fitzgibbons kept hidden from the Red Coats!
5. Touch House / Culloden House
This is a private residence and not open to the public. But, the family is happy for you to take photos from the driveway at a distance.
Touch House was used in Outlander as the backdrop of Culloden House for the build-up to the Battle of Culloden. Bonnie Prince Charlie held his council 'inside' and an encampment was set up outside of the house for the Jacobite soldiers.
It appears in episodes 12 and 13 of Outlander Series 2 and the interiors (which were filmed elsewhere) and is where Colum MacKenzie lies in bed and also where Dougall MacKenzie meets his end.
The Lairds of Touch were the Frasers in the 14th century, but it was nothing more than a keep at this time. In the 15th century, this was then acquired by Alexander Seton.
The 18th century is when significant work was carried out on the house by architect William Adam which is what we see today. Although Touch is nowhere near Culloden, Bonnie Prince Charlie did spend a night here before the Battle of Prestonpans.
Nowadays it's part of Touch business centre but Touch house is a private residence and closed off to the public.
6. Doune Castle / Castle Leoch
Only a 15-minute drive from the University of Stirling is Doune Castle, which has been featured in Monty Python and Winterfell in Game of Thrones.
However, Outlander fans will know this as Castle Leoch, the seat of the Clan MacKenzie in the series!
You can take a tour around the castle and take an audio tour with the voice of Sam Heughan, who plays Jamie Fraser, to show you around a few of the Outlander scenes filmed here.
It's an extremely popular location for fans and tourists alike and the parking here can be quite a nightmare. So, I would arrive earlier to grab a spot.
If you want clean photos you can visit the property anytime before or after closing too.
Read more in my complete guide for Castle Leoch here!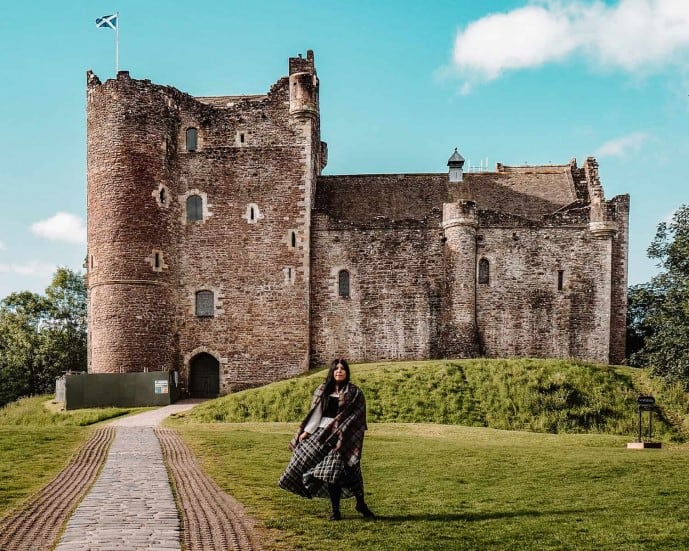 7. Deanston Distillery / Wine Warehouse in La Havre
Sampling whisky in Scotland is pretty much imperative while you're here so why not visit Deanston Distillery? Not only do they put on whisky tours for visitors but it's also an Outlander location too!
Located just a mile down the road from Doune Castle, you can take a tour of their distillery and find yourself in Jamie's cousin Jared's wine warehouse in La Havre.
The maturing room inside Deanston was used as a film location when Claire discovers the sailors carried off the ship had smallpox. This is much to the distaste of the Comte Saint-German and ends up becoming their enemy.
It's well worth a visit and there is also an amazing café and gift shop on-site too.
Read more in my complete Deanston Distillery Outlander guide here!
8. Callendar House / Duke of Sandringham's Kitchen
Just a few miles drive from the University of Stirling is Callendar House in Falkirk, a french style chateau set in the gorgeous Callendar Park.
It used to be an ancestral home to the Livingston's, who were known Jacobites, but now it's a public FREE museum.
It's home to permanent displays showcasing the history of the area from the Roman era to the present and has some art galleries too.
Outlander fans will be interested in visiting the authentic Georgian kitchens that are inside the house. This was the filming location for the Duke of Sandringham's kitchens in series 2 where Murtagh lays vengeance at Mary Hawkins's feet.
Inside the staff will give you a tour of the kitchens dressed in Georgian clothes, you can try out some of the historic kitchen utensils and even sample 18th century recipes from the period.
When I visited they had Black Jack Randall's Lavender Fudge which was taken from the Outlander Kitchen cookbook. You can buy this in their gift shop and try out the recipes for yourself back home.
Read more about how to visit Callendar House Kitchens in my guide here!
9. Dunmore Park / World War II hospital
At the very start of the Outlander series, we see a flashback of Claire in World War II at an army hospital on the front line. Moments after, everyone celebrates that the war is over!
This location can be found at Dunmore Park House which is on the grounds of the famous and bizarre Dunmore Pineapple folly!
The Dunmore Park House ruins are abandoned years ago but it's perfectly legal to visit, just be careful as you walk around as there is lots of glass and debris.
See my detailed instructions on how to find the Dunmore House ruins here!
10. Drummond Castle Gardens / Gardens of Versailles
My favourite gardens in all of Scotland are those at Drummond Castle. These gorgeous 18th century manicured grounds were used to film the scenes of gardens of Versailles in season 2.
In episode 5 'Untimely Resurrection', Claire and Jamie attend an event at the royal stables and Jamie confronts Black Jack Randall, challenging him to a duel.
These gardens are located quite far out in the Perthshire countryside but they are well worth a visit. You could spend hours here exploring, so make sure you pick a sunny day and leave lots of time.
Read my Outlander guide for Drummond Castle Gardens here!
11. Culross / Cranesmuir
Culross in Fife featured in 3 seasons of Outlander and beyond a filming location, it is one of the finest historic burghs that has been preserved in the country.
You'll notice the Outlander effect almost instantly when you arrive as it is packed with tour groups. That's because you can see the village of Cranesmuir, including Geillis Duncan's house at Mercat Cross.
Culross Palace also had many rooms used in the Outlander and the gardens outside were the herb gardens featured in Castle Leoch.
A little further west will lead you to the West Kirk which was the location for the Black Kirk where Claire discovers that Lily of the Valley was poisoning boys from the village
How to get to the University of Stirling
Stirling is a city that is often referred to as being within 'the heart' of Scotland. It's famous for the medieval Stirling castle that was once a royal residence, The Battle of Bannockburn, and William Wallace.
As a city in the lowlands, Stirling is easily accessible by car and public transport. It has a train station, central bus station, and large roads to get you through the city.
The University of Stirling campus can be accessed by car or bus, using Travel Line Scotland to plan your journey. Parking is chargeable at the site.
Other non-Outlander things to do around Stirling
Stirling is a popular tourist location for many when on a road trip to Scotland and it also has a place on the Heart-200. That's because there are many amazing attractions in the area with the most glorious backdrop of the hills.
If you're eager to explore Stirling beyond the Outlander locations here are the most popular things to do;
Stirling Castle
Along with Edinburgh Castle, this is one of Scotland's most visited castles in the country!
Stirling Castle stands on top of Castle Hill in Stirling and holds a dramatic position above the city.
It was once the medieval royal residence of Scottish kings and queens and a favourite of the Stewarts. Now, it's a museum and an incredible day out to learn the history of the castle.
Click here to book Stirling Castle tickets!
National Wallace Monument
William Wallace was a Scottish knight who became a leader of the First War of Scottish Independence.
He is famous for defeating the English at the Battle of Stirling bridge in 1297.
As a true patriot, the Wallace Monument is a legacy to his campaign for freedom. You can see standing proud on Abbey Craig overlooking the city.
Click here to find out more information about visiting the National Wallace Monument!
The Battle of Bannockburn experience
Here you can join Robert the Bruce on his spectacular defeat against Edward II in the First War of Scottish Independence.
This multi-award-winning visitor centre will give you a more hands-on experience of the events leading up to battle and the legacy. Don't forget to visit Robert The Bruce's statue in Memorial Park.
Stirling is a popular tourist location for many when on a road trip of Scotland and it also has a place on the Heart-200.
That's because there are many amazing attractions in the area with the most glorious backdrop of the hills.
Click here to book the Bannockburn experience!
Even more Outlander locations
You can read my ULTIMATE list of Outlander locations in Scotland here, or read my Outlander in Edinburgh & Outlander in Glasgow guides
The Devil's Pulpit / Liar's Spring
The Devil's Pulpit is a 40-minute drive from Stirling. Hidden in the middle of the countryside is a gorge called the Devil's Pulpit.
Legend has it that the Devil used to stand here and preach to his followers and many say that's why there is a blood-red river too.
Whether you believe that or not, it definitely does look straight out of a Grimm's fairy tale! But, unfortunately, the walk to get here is pretty tough. You will need to navigate through a slippy staircase 60 feet down into the gorge but the payoff is incredible.
You can swim or go gorge walking along the emerald green cavern while you're here.
In Outlander, this was used for the Liar's Spring where Dougall makes Claire drink from it. This is to make sure she is telling the truth about her not being an English spy.
Click here to read my Devil's Pulpit guide on how to visit!
Midhope Castle / Lallybroch
If you're an Outlander fan, you have to schedule a trip to Midhope Castle in South Queensferry.
This is, the one, the only, Broch Tuarach or Lallybroch! Home of Claire and Jamie Fraser and the Murray Clan too.
I had a bit of a surreal moment as I approached the archway I had seen SO many times and spent forever looking around. Granted, it's a small complex, but if you're a fan it's a MUST.
It does cost money and for a small estate, it gets packed out!
Click here to read my article on how to visit Lallybroch!
Outlander locations around Glasgow
Glasgow has plenty of Outlander locations, so make sure you leave lots of time. You can read my whole list here.
Kelvingrove Park is where we see Claire push Bree in her pram and walk to medical school. Or, pay a visit to the University of Glasgow to find Havard University where Frank was a professor. Or, take a walk up Dowanhill street to find Claire and Frank's house on Furey Street in Boston.
You can visit the charity hospital in Paris, L'Hopitale De'sange, from season 2 at Glasgow Cathedral and pop over to George Square to find where Claire and Frank were wed in Westminster.
Pollock Country Park has scenes from the grounds of Castle Leoch and the duel between Jamie and Black Jack Randall in Paris and Dean Castle Country Park featured in the Fox's Lair.
Save these Stirling University Outlander locations for later!