If you're looking for a Varanasi Travel Guide, keep reading. It will be one wild ride.
Varanasi is one of the world's oldest cities, founded by Lord Shiva himself and a huge sacred site for pilgrims of the Hindu faith.
It is, without a doubt, one of the craziest places you will ever have the pleasure of visiting. It will pull you into its whirlwind, spin you around, spit you out and you'll wonder what the hell happened!
But, I'll tell you, it's one hell of a ride you won't regret and it will leave its mark on you forever.
Beautifully placed by the roaring and merciless Ganges river, or mother Ganga to Indians, you can truly immerse yourself into a world of Ghats (stairs to reach the river). Temples, Sadhu's (holy men), monkeys, and more.
Since I was a young girl, I dreamed of my sunrise boat ride on the river, and finally this year – I got my wish!
This was actually the first place that I travelled alone in India and I was in for quite a shock. I had read countless blogs about what to prepare for, but when I got there, that was all thrown out of the window!
I arrived in the evening and so walking down those almost pitch black narrow alleyways, with bikes, bulls, dogs, and people at every corner was quite scary.
It got to the point that I had to give myself a bit of a pep talk to go out into the streets the next day and not just stick to the river.
Looking back, I'm so glad I did as the city was so worth it! I'm not sure much can prepare you for a visit to this lively city, but it helps to read up on a few things before you go.
So here is my ULTIMATE Varanasi travel guide with all the important things to know before you visit Varanasi.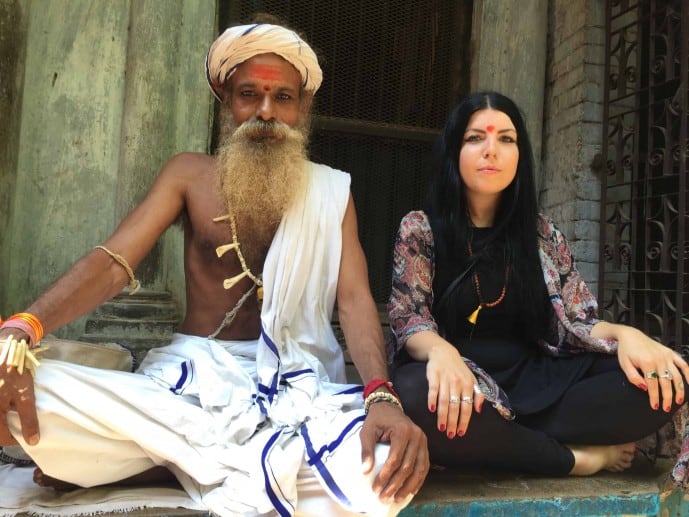 How to travel to Varanasi in India
Varanasi is located in the Uttar Pradesh state in India and so is a little further afield than the typical Golden Triangle route but it is easily accessible from most major cities;
By Train – India boasts one of the largest train networks in the world and so there are plenty of trains from New Delhi or Agra, if you're visiting from the mighty Taj Mahal.
Most travellers prefer this budget option and an overnight train is probably best to make the most of your time.
Be careful of your luggage/baggage when you reach the train station and beware of pickpockets who may be lurking around!
By Plane – There are regular flights direct to Varanasi airport daily from New Delhi. From here, you'll need a cab transfer to head into the main city which, although not so far in kilometres, will take around 2 hours due to the quality of the roads and traffic.
Read more of my Indian train tips here
The best place to stay in Varanasi
There are countless hotels, guesthouses, and hostels that are conveniently placed by the Ghats of the Ganges for you to pick for your stay.
It all depends on your budget and preference.
As this was my first time travelling alone and a big bucket list ticked off me – I treated myself to a stay at the famous Brijrama Palace which has vast and amazing views of the Ganges river and the bank.
Although it comes with a price tag, there aren't many times in your life you can say you've slept by the Ganges!
On arrival, I was picked up and taken via their private boat to the palace. I was welcomed into the glorious A/C (it was a sticky September day when I visited), handed a welcome drink, tulsi (traditional garland) and bindi (red dot) to match. I instantly felt a nice vibe here.
The hotel itself was incredible. Old fashioned, yet with modern amenities and the staff couldn't do enough to help.
I had an unfortunate incident with breaking my camera and they were all ready to assist me, which was comforting to know.
The restaurant, although quite expensive, had a good range of food. If you're not already aware, Holy cities of India are pure – meaning they do not serve meat or alcohol so don't be expecting a Kingfisher beer after a long day!
Of course, some vendors can choose to sell these things on the sly, but out of respect for the city and the holy place – I would advise you not to partake in the sale.
The top things to do in Varanasi
Attend the Ganga Aarti on the river
One of the main and best attractions for locals and tourists alike is watching the famous Ganga evening Aarti at the main ghat or locally known as the Dashashwamedh ghat.
Pilgrims gather by foot to sit on the stairs of the ghat and also arrive by boat to watch the spectacle.
Aarti is a part of the Hindu ritual of worship and the name literally means to remove darkness which is why it always involves flame or light.
During this aarti, Agni Pooja is performed in honour of Lord Shiva.
It takes place around 45 minutes after the sun goes down (6.45 pm when I visited). Make sure you get there early though to get a good view.
If you are observing from the Ghats, multiple vendors will be selling votive candles which you can release onto the Holy Ganges.
This ritual is to promote good karma and you can make a wish.
What to expect at the Ganga Arti in Varanasi
Don't have a camera? Don't have your phone? No Problem!
One of the many things I love about India is the many business enterprises you see all around.
Many Hindus try to make a trip to Varanasi once in their lifetime and you can commemorate your trip with a photo souvenir.
During the Aarti, you will see boys hopping from boat to boat selling their photos.
They will take it for you on their DSLR, run back to shore and be back with an instant print within 10 minutes.
A great souvenir to take home and will have the date printed on it! Photos should be around 30 rupees each but can go up to 50 mostly as they see you're a foreigner.
Don't be afraid to negotiate and don't pay before you receive your photo.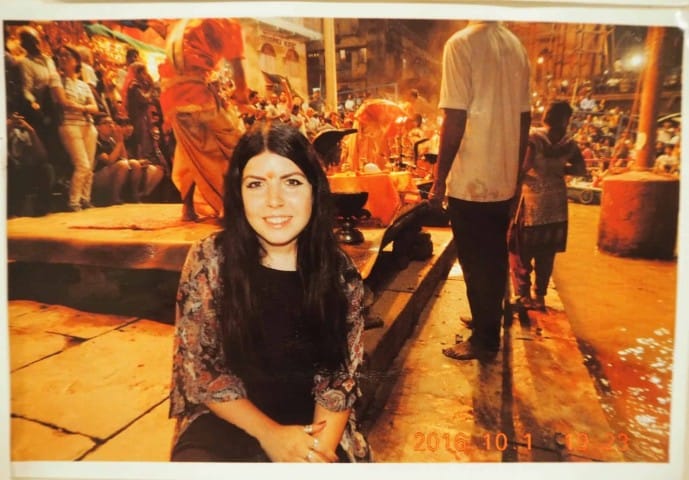 Take a sunrise boat ride on the River Ganges
My absolute favourite part of visiting Varanasi was the Sunrise boat tour.
You need to start off from your hotel early around 4.30 am (what time, you say?!) and you arrive in darkness in preparation for the Sunrise Aarti.
Once the ceremony is complete, you will be whisked away on your boat along the river to watch Varanasi come alive.
You can see the locals washing, meditating, and praying along the ghats.
See the many temples for those travelling from North and South of India and watch the cremations taking place.
Tip: make sure you put your camera away when watching any cremation ceremony taking place here or you'll most likely get shouted at. It is a funeral after all and so the proper respect should be exhibited to the family.
Read more in my complete guide for the Varanasi cremation ghats
Go on a walking tour of Varanasi – explore the labyrinth of streets
As I said earlier, it took a good pep talk with myself to force myself out of the confines of the palace and into the streets of Varanasi from the night before.
I wasn't sure where I was headed or what I'd find but luckily, I did end up meeting my amazing tour guide Ravi who showed me around.
I was warned before I got to Varanasi to avoid being approached by anyone selling anything due to the scams and all and so, at first, I ushered him away.
I laugh now at how stupid I was to ignore the fact I did need help getting around – it was like the universe sent him to me!
I ended up gaining some great insight about the city, saw some off-the-beaten-track places and it completely changed my perspective on the place entirely.
He was also a knight in shining armour when it came to protecting me from the many charging bulls, angry dogs, and pesky monkeys around.
I would highly recommend getting a guide to anyone if it's your first time. Ravi also runs a lot of charity projects in Varanasi such as creating a woman's changing room by the river so that women can protect their modesty when washing in the Ganges.
He also looks after a lot of the stray dogs, ensuring they're well-fed and watered in the heat. His story was truly inspirational.
Exploring the Varanasi Ghats on foot
There are hundreds of Temples and Ghats in Varanasi to explore and everything is easily accessible on foot.
One of my favourite experiences was meeting and being blessed by a Guru at the Bara Hanuman Ghat.
The most beautiful place I visited on the Ganges was Kedar Ghat, with its beautifully bright orange stripes.
Essential things to know before you travel to Varanasi
Okay, we're onto the most important part.
Here I would like to outline some tips for getting the most out of your trip Varanasi, staying safe, and respecting the culture.
Read more of my Varanasi safety tips here!
Watch out for the 4 B's
This isn't actually an official thing, but it was something I thought of while wandering around as there are many things to watch out for in Varanasi. But, I have summarised them into the 4 B's.
Bells
Bells mean a body.
If you're walking down the narrow streets and you hear bells behind you, look around and get to the side of the street as soon as possible.
It usually means that people are running through the streets with a body for the pyre.
Bodies
Be prepared for the fact that this is the place where Hindus wish to be burned after they die to move onto the afterlife.
Therefore, you will see open cremations at the various burning ghats on the river Ganges.
I didn't know how I would react to seeing this as in western society we treat death as a little bit of a taboo and are almost shielded from it.
But when I reflected on the cremations in Varanasi, this is that person's ultimate wish to be burned here.
So, once I changed my perspective on it, I felt comfortable in the knowledge that this meant a lot to that person.
Although they are leaving this life on earth, their next life is just beginning. You may also see some cows, animals, and/or remains floating down the river.
Bulls
Varanasi is the holy city of Lord Shiva and Hindus believe that bulls embody the soul of Lord Shiva on earth.
So, naturally, there are dozens of them around roaming free.
However, the narrow alleys, the bikes, monkeys, the various noises etc. can startle the bulls and make them charge.
At one point, my guide literally threw me against the wall to avoid a charge and so it can be quite a scary experience. Just be wary, they have been known to butt people with their horns if threatened.
Another thing to mention is to be wary of what you wear on your feet! With bulls come bull cr*p and there is a lot of it.
Make sure you wear closed shoes or sandals with a thick sole. You may find with flip flops you pick up something smelly between your toes!
Barking Dogs
There are many stray and starving dogs in Varanasi that need help.
Although they wouldn't mean to harm you, that doesn't mean that they don't bite when they feel threatened, want to protect their babies or they're hungry!
Not all dogs have rabies, but it's good to be wary of them to avoid it. Don't taunt them with food.
If you do get bitten, seek medical assistance immediately.
Popular Scams in Varanasi to look out for
There are many Varanasi scams that you should be aware of before you visit so that you aren't ripped off.
Luckily, I wasn't exposed to any due to my lovely tour guide Ravi, but he did warn me of some that take place to unbeknown tourists.
Need wood for their families funeral – you may come across people who are desperate for money and say that they can't afford wood for their funeral pyre. Our natural instinct would be to feel a pang of guilt and start handing over our rupees but I wouldn't give into it.
Hospice Scam – when you approach the burning ghat from the shore, some people may approach you to explain the burning process and ask for money for the halfway house next door. This is a place in which they say people are waiting to die and the money will be used for the wood. Again, I was advised this is a scam.
Taxi/Auto Scam – Some other travellers have advised me that they had issues with taxis from Varanasi. Some say the hotel is closed down or whatever and take them on a goose chase around the place charging more and more money.
If you're arriving from the airport, ensure you get a pre-paid taxi ticket or arrange a transfer from your hotel.
Please be wary of who you give your money to. Don't pay for a service unless you have received it.
Of course, I did give some money to those people who I took pictures of and saw it as an investment. I also donated a little money to the temples and for blessings but only a couple of hundred rupees or so.
It's no biggie and it actually serves the community and the people who use them.
What to wear in Varanasi as a woman
If you've been travelling around India already or read up on any guide relating to India, being modest and covering up is pretty much a staple tip.
It may be okay to reveal more flesh in the traveller havens like Goa but in Varanasi, it's a big no-no.
You have to think that this is a Holy city and it's good practice to be respectful of what it represents.
So, make sure your shoulders and legs are covered to avoid any unwanted attention.
What I would do differently in Varanasi next time
I would have been braver and accepted Varanasi for the beautiful city it is off the bat.
I think we build expectations in our minds of how we imagine a place to be. Yet, reality can give us a big slap in the face!
Once, I started to embrace where I was and be present, I started to feel great and just enjoyed the energy and connections it gave me.
Save this Varanasi travel guide for later
So there we have it, a guide to the amazing Holy city of Varanasi.
It may not be the first or last place you'll visit in India but it will certainly make its mark on you.
Just be open, brave, and prepared for a little crazy and you'll have an amazing time. Om Namah Shivay.
Want to read more on Varanasi?
I've now been to Varanasi 4 times!
Each time I have gotten more used to it and discovered more incredible things to do. Click here to read my guides below;
The things you must NEVER do in Varanasi
Tips for females travel solo in Varanasi
What to expect on a ride to the Varanasi Ghats
Read more of my India articles
The ultimate Rajasthan itinerary
My complete guide for Rishikesh