Looking for a Varanasi to Kathmandu bus? There is a direct bus available!
If you're like me and want to skip a rather expensive flight ticket, heading overland from India to Nepal is the way to go.
When researching how to get from Varanasi to Nepal it can be a bit of a mystery. No one can ever confirm if there REALLY is a Varanasi to Kathmandu bus.
I looked online, on the government website and we even asked in the newly opened 'tourist information' kiosk at the bus stand.
All were useless and no one could confirm for sure it was running.
Well, I'm happy to say that there really is a direct bus from Varanasi to Kathmandu which will take you there via the Sonauli border!
And what's better is it's run by the Uttar Pradesh government so you're guaranteed to actually get there scam free and not get dumped at the border – yippee!
But, there's a catch. It's LONG and I mean REALLY LONG.
We thought we were going to be on the bus for 15 hours but it was doubled to 30! It was a nightmare. But, a means to an end.
So, if you're prepared for it, keep reading on how you can take a Varanasi to Kathmandu bus via the Sonauli border…
The Kathmandu to Varanasi bus
The direct bus from Varanasi to Kathmandu bus is a plush air-conditioned Volvo bus which will guarantee a pleasant journey (well, as pleasant as a long haul can be).
It runs every other day. One day it will be coming back to Varanasi and the other it will be heading out to Kathmandu.
So, to avoid my mistake of turning up on the wrong day – make sure you know which day it is running!
Although more expensive, a direct 'luxury' bus totally beats getting the cheaper local buses which will take twice as long and will be twice as sweaty.
The traditional way used to be to head to Sanauli, then grab a bus from there to Kathmandu/Pokhara. Or, head to Gorakhpur by train then Sanauli by bus, and finally a bus to Kathamandu.
Click here to check the dates for the Varanasi to Kathmandu friendship bus here
How long does the bus journey take from Varanasi to Kathmandu?
We were told that a trip to Sanauli via the local bus would take 9-10 hours.
Having taken many local buses now in India, I knew this would be nothing but a horrendous dirty, hot and hectic journey. So much so, I decided to book another hotel for the night and wait until the next day to take this one.
A Varanasi to Kathmandu bus simply takes out a lot of the hassle.
Our 'nice bus' also took around 11 hours, so the local bus would have been around 15-20 as local buses seem to stop everywhere, for anyone and for any amount of time.
It leaves at 10 am from Varanasi and arrives in Kathmandu the next morning.
We were at first told it was going to be 2 am, then it was 5 am, but we ended up getting there at 4 pm the next day!!
To be fair, this was due to landslides and some naughty bus drivers heading the wrong way and blocking the road. Tut, Tut.
How to buy tickets for the Varanasi to Kathmandu bus?
Although it is a government 'friendship' bus between India and Nepal and a lot of forums say that you can book via the government website, you won't be able to find it there.
If you want to book an advance ticket, your best bet is Redbus.in.
They sell you a ticket and charge you a 100 rupees service fee. You can also get pretty good medical travel insurance for 20 rupees. But, when I tried to pay international cards weren't accepted.
Travel agencies also will book for you but they literally are just booking through Redbus too. Then they will take a commission on top of the service fee and so you end up paying even more.
Your best bet is to turn up at the bus stand on the day at 9.30 pm.
The bus leaves at 10 pm and so this gives you a nice window to sit on the bus, confirm your place, freshen up and grab some drinks and snacks.
Update: It seems that a private company called 'Asian Shinas Tours and Travels' has taken over the Varanasi to Kathmandu bus service starting from mid-February. I did not have any experience with this company. So, make sure to read reviews. This now runs at 10 pm at night from Varanasi bus station. Also, if you're trying to book too far ahead (let's say 3 months) you won't find any buses. You can only book these a few weeks ahead of travel plans.
If you're worried that the Varanasi to Kathmandu bus will be full, Redbus can also confirm how many seats are available. So, you know you're not turning up only to be turned away.
But, it never gets packed up as it's a pretty tough journey. Don't book via the unofficial stall at the bus stand (pictured below), he will also charge commission.
Just get directly on the bus, the bus driver has a ticket machine inside.
How much is the Varanasi to Kathmandu bus?
Tickets on the Varanasi to Kathmandu bus are 1424 rupees. Cash only. On Redbus.in this is now 1535 Indian Rupees.
If you did want to head to Pokhara, you can get the same bus to the Sanauli border only for 850 rupees.
From here, there will be a ton of buses leaving for Pokhara.
But, after we arrived at the border at 9.30 pm, I would take caution in being in Sanauli alone at night.
In a word, Sunauli is DODGY. Especially on the Indian side of the border.
Tip: don't book buses on the Indian side of the border, these will most likely be fake. Always book an onward bus via the Nepal side.
Where to catch Varanasi to Kathmandu bus?
The Varanasi to Kathmandu bus leaves from the Varanasi government bus stand by the Cantt railway station.
The price for an auto-rickshaw (Tuk-Tuk) or battery Rickshaw (tam-tam) from the Main road nearest the Ghats should be 200 rupees maximum.
The tourist information here is pretty awful, so I would definitely check with Redbus if the bus is definitely running to save an unnecessary trip to the bus stand.
The bus and railway stations in Varanasi are notorious for pickpockets. So, make sure you lock your luggage and it's safely on the bus before you leave.
Never leave baggage unattended. I always keep my hand over the opening of my handbag to make sure. Better to be safe, than sorry!
Bus stations in India are pretty gross but Varanasi is a particularly grim breed. Don't stay longer than you need to!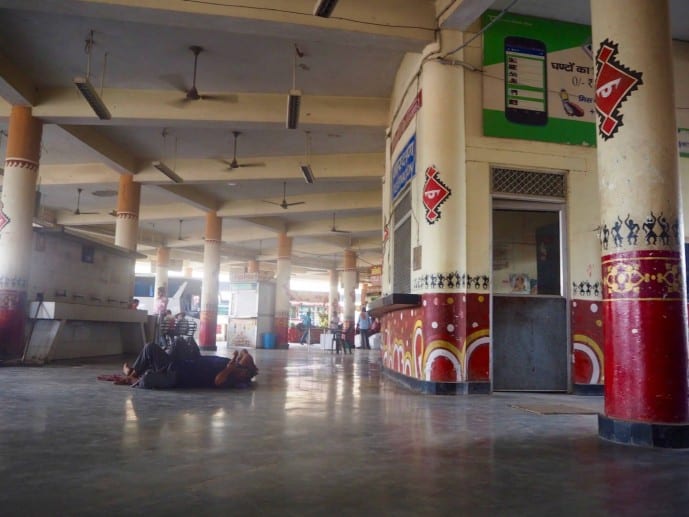 Warning's for the Sunauli border
Sunauli, especially at night time, is dodgy.
We arrived there around 9.30 pm at night, just before the border is closed for vehicles.
The border is open 24 hours a day for people to walk through, so if you did reach here later via the local bus, you can easily cross into Nepal by foot.
Once the bus drops you off, you all head into the Indian immigration counter to get stamped out of India.
This is also where they will ask you if you need any money changing. I would personally be careful with these guys.
Don't swap all your money if you feel the rate is bad. I'll explain more further down.
Then, once you've been stamped, you have a pretty creepy walk through a ghost town of Sunauli to the Nepal immigration.
It just had a really bad vibe to the place. Luckily, we were with other travellers and our bus driver so we all stuck together.
A rickshaw driver offered to drop us off at the Nepal immigration saying that the roads were flooded, this simply wasn't true.
Watch out for people trying to drag you off places. If you were thinking of staying in Sonauli, I would be careful of where you pick and be careful heading out at night time.
Once you get to the Nepal immigration, you will need to fill in a form with your details, provide a passport-sized photo and hand over some money.
For more detailed information about this Sonauli border, see here!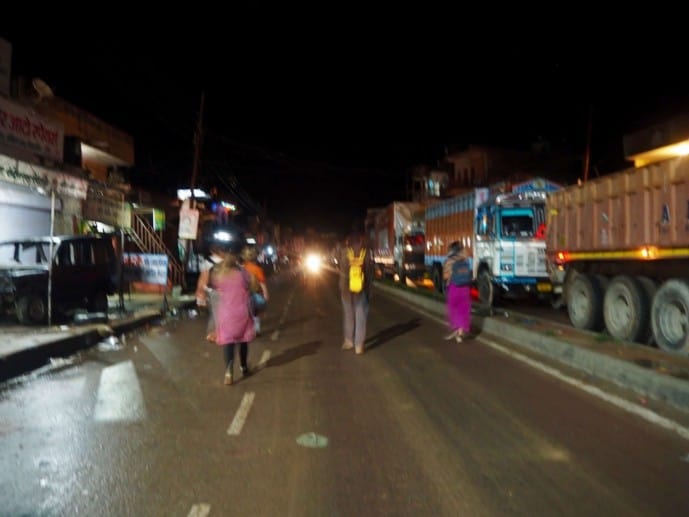 Be careful converting your money
Conversion rates at the Indian side of the border are a con and you may be pressured as you have no choice.
Luckily, I had my conversion app out and so was ready to negotiate for a better deal. It was definitely a better rate for Indian rupees into Nepalese than Indian to USD.
People on the Indian side at the currency conversion counter will give a wealth of excuses around why you need to change all your money now.
"It's a festival"
"you won't get money the other side"
"they won't take Nepalese money" etc.
I would try to avoid this and get USD beforehand.
Two of the travellers I was with had USD which was older than 2003.
They will not accept these at the Nepal border for some reason, so, make sure your US Dollars are 2003 versions or newer.
Always check and recount what you've been given, don't accept any ripped or notes which have been written on in pen.
Tips for a smooth immigration into Nepal
Always check the Nepal government website for the latest tourist VISA requirements.
In 2020, it was 15/30/90 day tourist VISAs for USD $25/40/100.
Nepalese rupees are accepted (but I literally had to beg and play on the fact that the Indian side made me change my money lol) but it's best to try and get some USD before you board the bus.
I ended up paying around $8 dollars more for my 30-day VISA but I had no choice.
Bring some passport photos with you for your immigration form. If you don't have any there are plenty of photo studios in Varanasi that will print for a cheap price.
I got 8 printed at Fujifilm for 40 rupees (60p). 2 more sheets accidentally came out the printer so I ended up with 32 at no extra charge. It's a steal compared to the £5 for 4 in the UK photo machines!
If you forget, they will need a Xerox photocopy of your passport. Your bus driver will direct you to where it's located on the Indian side.
You can apply online for a tourist VISA via the Nepal government website to save any waiting time.
When I attempted to do this, I had a load of errors and after the fourth time I gave up.
If you have more luck, the tourist VISA ticket is valid for 15 days. After you've applied you need to make sure you use it within this time.
What to expect on the Varanasi to Kathmandu bus
The only downside to a Varanasi to Kathmandu bus is the travel times.
After we headed on through the Sonauli border and all got through immigration (which seemed to take a lifetime due to money requirements) we were finally through to Nepal!
From here, I thought it was going to be plain sailing and we would be in Kathmandu in the early hours…how wrong I was.
As Nepal is notoriously a mountain country and the narrow winding roads were heading upwards towards the capital, a lot of travelling smoothly highly depends on good roads.
Unfortunately, on our journey, the roads were blocked due to landslides. We were deadlocked in a queue for 3 hours until the road was rebuilt.
During this time, I tried to get some sleep as the bus was still for a change but it was a pretty uncomfortable night.
Plus, a farting baba (priest) in front of me kept letting off the most atrocious farts (to the point it woke me up).
When we finally got through the queue, we stopped at a nearby town for breakfast at 9 am and everyone was happy to get a chai and go to use the toilet.
Then, we were on our way and were told we only had 3 more hours to go! Wrong again.
On the way, some bus driver decided to head the wrong way down a one-way street, meaning we were blocked!
A police officer took the bus driver away in a car and so the bus was just left there in the road.
This meant that all the vehicles and buses had to reverse out and head up in the opposite direction to get moving. Nightmare!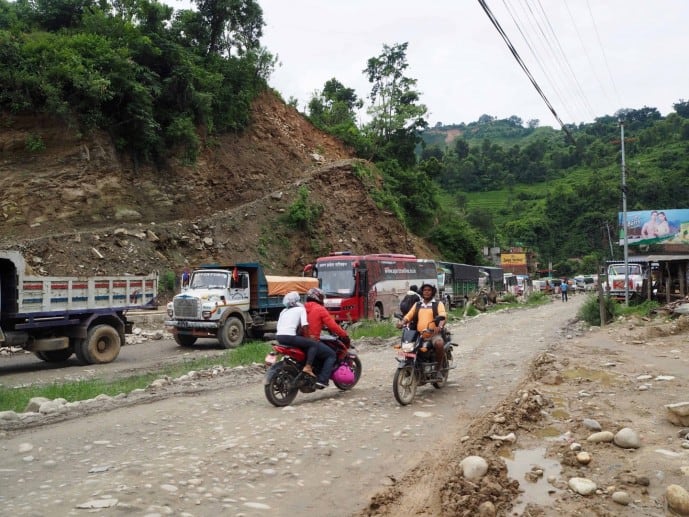 Toilet and food stops
There were hardly any toilet stops. In fact, I think we 'officially' stopped for the toilet and food twice in 30 hours.
Most of the time, people would just ask the bus driver to stop and we had to pee on the side of the road.
For girls, this isn't the most ideal and at one point there were people stopping for a look (?!). But if you gotta go, you gotta go!
We stopped for food around 4 pm on the first day.
There are limited places where the hygiene is good so we stopped at a hotel roadside buffet type of deal.
The bus driver calls them beforehand so it's freshly prepared food and it was pretty cheap at 130 rupees.
Then we didn't stop for food until 9 am the next day and then at 4 pm when we reached Kathmandu!
My advice? I would come prepared with snacks and water to make sure you don't go hungry.
Finally, we arrived in Kathmandu!
When the bus finally pulled into Kathmandu, all us backpackers couldn't do much more than cheer and clap! We made it! Delirious and a little beaten up but we made it.
The poor bus drivers did an amazing job of keeping us safe and getting us here in one piece.
They were brilliant and it can't be easy driving over those bumpy roads. At one point they were knee-deep in mud, trying to move some of the blockages to get us moving.
Personally, I think that the Indian and Nepali government have done a bit of a solid with this service, even if it took a long time. It's cheap, safe and it's relatively comfortable if all goes to plan!
If you were thinking of heading overland from Varanasi to Kathmandu via direct bus, this is the way to do it and it should usually take only 15-20 hours. But, as nothing is ever plain sailing when travelling, prepare for delays.
Is the Varanasi to Kathmandu bus worth it?
Hmmm questionable, I actually felt like crap for a day or two after and needed a hell of a lot of sleep despite being sat on my ass for 30 hours.
But, for these views in Kathmandu? HELL YES!
If you want to see what to get up to in Kathmandu, you can see my 'Ultimate Kathmandu Bucket List'!
Heading to Nepal?
I travelled extensively through Nepal and have written these informative articles for you I think you'll love;
What to expect at Pashupatinath Temple
A guide for Garden of Dreams in Kathmandu
Everest Flight from Kathmandu – is it safe?
How to get from Kathmandu to Pokhara
Why you must visit Chitwan National Park
My top travel tips for visiting the Birthplace of Buddha
Travelling overland from Nepal to India
Or read more of my guides on Varanasi
Taking a sunrise boat tour on the River Ganges
Solo female travel tips for Varanasi
Save this Varanasi to Kathmandu bus guide for later!