If you ever find yourself in the capital of the Old British Raj, then the one thing you need to do is visit the incredible Victoria Memorial Kolkata.
This enormous, gleaming white building is located on Queen's Way and was built to celebrate the life of Queen Victoria. She was the Empress of Great Britain during that time and ruled over India.
Although this area by Chowringhee Road is filled with the noise of traffic and honking of horns, you can escape into a peaceful oasis through the acres of gardens.
As one of the top attractions in Kolkata, you really can't miss a visit. But, there are also a lot of interesting facts and mysteries that surround this building too.
So, here's a complete guide for visiting with 11 amazing Victoria Memorial facts you didn't know before.
11 fun facts you didn't know before about the Victoria Memorial Kolkata!
So, now we've covered a little bit about visiting the Victoria Memorial in Kolkata, you're probably after a bit of background about what the building is and why it is here!
What on earth is a huge colonial building doing in the middle of West Bengal's biggest city and why was it here?
Well, there are a lot of fun facts and interesting stories that surround this iconic place. So, here are 11 of the best ones.
1. The Victoria Memorial was constructed to honour Queen Victoria after her death in 1901
During the time of the British Raj (1958-1947), Calcutta was the capital of India and Queen Victoria was the Empress that wore the British Crown that ruled over the sub-Indian continent.
When she died in 1901, an emergency meeting was held in Kolkata by Lord George Curzon. He was the Viceroy of India during that time.
He proposed that a museum should be created to honour her memory with huge gardens.
He wanted it to be so grand, that all tourists visiting Kolkata for years to come will see the past revived before their very eyes and remember her.
Today, I think we can all agree, he did just that. Thousands of tourists flock to see this gorgeous colonial building each year.
If you look near the gate of the gardens you can see the inscription "VRI".
When I read other articles claiming this was a 'mysterious' text, I did chuckle a bit. It stands for Victoria Regina Imperatrix which means Queen Victoria Emperor in Latin.
We see this on postboxes and palaces everywhere in the UK. So, if you ever see 'ER' anywhere, it stands for Elizabeth Regina (Queen Elizabeth).
Also, you can find the French motto of the British Monarch 'Dieu Et Mon Droit' which means 'God and my right'.
It appears on the royal families coat of arms, which you can find on British passports too!
Another fun fact: Queen Victoria, has the record of being the second longest-reigning monarch in the history of Britain. She was surpassed by her Great-Great-Grand daughter Queen Elizabeth II in 2015.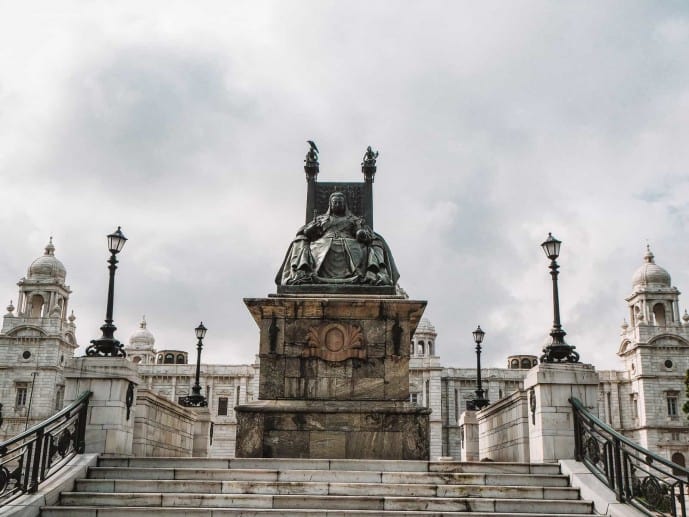 2. King George V laid the foundation stone in 1906
Although the meeting was held in 1901, the first foundation stone of the memorial was laid by King George V in 1906.
Back then, he was the Prince of Wales and he didn't become Emperor until his father Edward VII died in 1910.
Another fact about George V is that during his grand tour of India, he was disgusted by the racial discrimination of the Indian people by the British.
So, he campaigned for more Indian nationals to be involved in politics and the governing of the country.
He also made the switch over of the capital of India from Kolkata to Delhi when he was Emperor in 1911!
3. The Victoria memorial wasn't finished until 20 years after her death in 1921!
Although Queen Victoria died in 1901 and the foundation stone was laid down in 1906, the memorial wasn't officially opened to the public until twenty years after her death in 1921.
Construction officially started in 1910, so it took 11 years to build and was designed by Sir William Emerson, the President of the British Institute of Architects.
The construction of the building was completed by Martin & Co. of Kolkata and took thousands of hours of hard labour.
To shape the details into the marble, design the interiors and carve all the statues.
Martin & Co was a partnership of Sir Thomas Acquinas Martin and Sir Rajen Mookerjee from Kolkata. Rajen Mookerjee received a knighthood after its construction!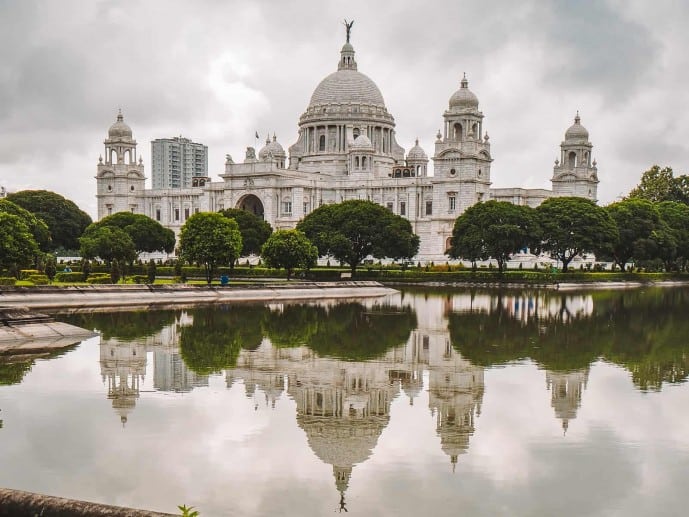 4. Before the memorial was here, it was the location of the Presidency Jail!
The most shocking thing I read in all of the amazing facts is that before the Victoria Memorial was built here, this land was where the Presidency Jail stood!
This prison was where political prisoners of the British Raj were held on Her Majesties pleasure.
Some of the most famous prisoners held in the Presidency Jail were Sri Aurobindo, a philosopher, and Subhas Chandra Bose, an Indian Nationalist. Kolkata airport was named after him!
After plans were made for the construction, the jail moved over to Alipore and is now known as the Old Alipore Jail.
5. The whole building was created using white Makrana marble and drew inspiration from the Taj Mahal
If you quickly glimpsed at this building, you'd be forgiven for mistaking it as the Taj Mahal!
The inspiration for the Indo-Saracenic Rivalist or Indo-Gothic design was taken from Mughal architecture and blended with British elements.
For those architecture lovers out there, it also has inspiration from Egyptian, Islamic, Venetian, and Deccani structures too.
It was made completely out of carved Makrana marble which is what the Taj Mahal is made of in Agra. Martin & Co. set up special quarries in Makrana in Rajasthan to dig up the marble!
It's a huge building that's over 56 metres in height, It has a large central dome and four smaller domes.
There are also domed octagonal chaatris, high portals, and domed towers at the corners. Finally, there is a large terrace.
6. The funding came from voluntary contributions from Indian royalty
It may surprise you to know that the British Raj didn't shell out much for this building!
Which I feel is a little unfair considering it was their idea for this to be built in the first place.. but, hey ho..
Lord Curzon put out a public appeal for voluntary donations and the country gave generously.
Indian royal families and wealthy politicians from all across the country dug deep in their pockets to provide rupees for its construction.
The British government did shell out a small amount to oversee the construction of the memorial, however.
In the end, the Victoria Memorial cost one crore, five lakhs rupees to build. Or, £162,377.25 in pound sterling.
But, back in the 1900s, £1 would equal £122 today. So, due to natural inflation, the construction actually cost over £19 million pounds in today's money!
7. The rotating 'Angel of Victory' spins with the wind!
If you look on top of the tallest dome, you'll see a 16-feet tall angel. It's called 'The Angel of Victory' or the Victoria Memorial Angel.
This is based on Nike, the ancient Greek Goddess of Victory. It was designed by Lindsay Clarke in England and cast into bronze by George Mancini.
It was then shipped all the way from Cheltenham in England across the sea to India in 1920.
The Angel now sits on the top of the memorial and weighs over 3 and a half tonnes.
I don't know how it works, but apparently the angel moves or 'flies' with the wind!
Around the central dome of the Victoria Memorial, you can see many other symbolic statues that were carved during the construction.
They include Charity, Art, Justice, Prudence, Learning, Motherhood, and Architecture.
Another fact is that when the British rule in India was over in 1947, the city moved a lot of the colonial statues dotted around the city into the gardens!
8. There are 57 acres of land to enjoy around the memorial too
The 57 acres of planned gardens that you can visit around the memorial were designed by Lord Redesdale and David Prain.
Beyond the memorial, this was one of the favourite parts of my visit and you could spend hours wandering around.
As you have to pay to enter, the park was very well maintained, clean and safe too. I felt I could sit and read a book without being bothered and it was a lovely place to photograph the memorial too.
The best part for me was the reflection lagoon, where you can sit and enjoy a crystal clear mirrored view.
Inside the gardens, the highlights are the statue of Queen Victoria wearing the robes of the Star of India, The King Edward Memorial Arch with a statue of Edward VII and Lord Curzon, the reflection lagoon, and the Esch's bridge.
There are huge walking paths and gardens to take a peaceful stroll here, so plan to spend a few hours enjoying it.
9. Inside is the Victoria Memorial Gallery museum that has over 30,000 artefacts
If you were keen to visit inside the Memorial Gallery, you're in for quite a treat. The building is a museum that has 26 galleries that you can visit and inside is 30,000 artifacts.
You have the Royal Gallery which has many portraits of Queen Victoria and Albert. Also, chapters of her life include her coronation.
There are also paintings of members of her family like Edward VII marrying Princess Alexandra and their son George V.
Inside you'll also find weapons, an armoury, stamp collections, coins, textiles, and Queen Victoria's personal writing desk and chair.
You'll find rare editions of William Shakespeare and the Rubaiyat by Omar Khayyam.
In the Calcutta gallery, you have a visual history of the city which was introduced in the 1970s.
10. The Victoria Memorial was painted entirely black in World War II
Something I couldn't quite believe was that once upon a time the whole of the Victoria memorial was painted black during World War II in 1943.
In fact, the British stopped all photography of monuments, fearing that some would fall into the hands of Japanese spies.
Similar to the Blitz in the UK, the building was camouflaged so it wouldn't be a target of Japanese air raid bombings.
As it is a huge gleaming white building that can be seen for miles around, even from the sky, they painted it black so it wasn't an easy target!
Bonus Fun Fact: There are rumours that there was a Black Taj Mahal mausoleum built in Agra mentioned in poems by Sajo Ojas Hizra II from 1655!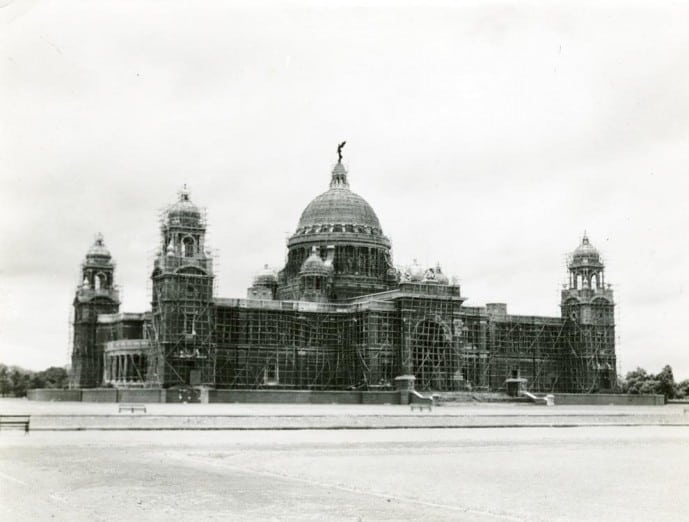 11. In the evening you can watch a sound and light show here
Every evening there is a light and sound show that takes place at the Victoria Memorial. This is something I didn't get to see as it was Durga Puja which is a Hindu holiday.
There was enough entertainment in the evening as it was with the likes of Goddess Kali parades. But, if I had more time, this is something I would have loved to watch!
The light and sound show takes place first in Bengali and then later in English.
You can see the whole building light up in different colours with music against the night sky. Plus, the fountains will light up and you'll see the water dance.
The entrance fee costs 30 rupees per head. The light show doesn't take place on Mondays, public religious holidays or from July – September.
How to reach the Victoria Memorial Kolkata
The Victoria Memorial is located on Chowringhee Road in Kolkata on Queen's Way.
So, if you plan on visiting there are a couple of ways that you make your way over there in the city;
Victoria Memorial By Metro – Maidan stop
Kolkata has an amazing underground subway system that can help you navigate your way around the city and it's really cheap.
You simply pay at the booth for a token (around 10 rupees) and then you can get on the subway.
The metro stop for the Victoria Memorial is Maidan and from here you can walk over in around 10 minutes. Unlike Delhi, the subway system here has no air-conditioning, so it's sweaty work but worth it if you're on a budget.
Victoria Memorial by Taxi
There are many yellow ambassador taxis that make their way around the city and will gladly take you there. But, they can scam tourists if you're not careful.
Ask them to put on the meter or negotiate a price beforehand.
Personally, I would use Uber to get there to get a fair price. See my article on using Indian Uber with a special discount code for your first ride!
What time does the Victoria Memorial open in Kolkata?
There are actually two parts to the Victoria Memorial in Kolkata. The gardens surround the building and the Memorial Gallery museum inside the building itself.
The Victoria Memorial gardens are open every day from 5.30 am – 6 pm and are a popular spot with local joggers and dog walkers. Plus, it's a great time to beat some of the crowds for photography and empty photos!
The Memorial Gallery museum opens from 10am – 6 pm and this is when it gets really busy with tour groups and crowds. The gallery is closed off to the public on Mondays.
Victoria Memorial ticket prices
Another great thing about this attraction is that there are two separate ticket prices for the Victoria Memorial Gardens and the Gallery Museum;
The Memorial Gardens only cost 20 rupees to enter. So, if you didn't want to go inside and see the gallery, it costs next to nothing to enjoy the monument.
Perfect if you're on a budget or are visiting early like we were.
The Memorial Gallery tickets are 30 rupees for Indian Nationals and those from SAARC countries. But the tickets for foreign nationals are 500 rupees each. Closed on Mondays.
Photography at the Victoria memorial
Photography and videography are allowed in the Victoria Memorial Gardens and are completely FREE without needing to purchase a separate photo ticket.
But, you're not allowed to take photos inside the Gallery or the exhibits inside.
They are super strict with security on that as a lot of artifacts are on loan to the museum and they need to protect entrances and exits so that intruders don't break in!
Important: Drone photography is strictly NOT allowed at the Victoria Memorial
Other things to do in Kolkata after the Victoria Memorial
Kolkata is a HUGE city and you could honestly spend months here and not get everything done. I even extended my trip to 5 days and I feel I only scratched the surface.
There really is something for everyone in Kolkata, so I'll list out a few of my favourites below;
Or click here to read my ULTIMATE Kolkata travel guide with a list of amazing things to do!
Go Temple Hopping
If you're on a pilgrimage, or just simply curious about the mix of religions here, there are lots of temples to visit.
The Hindu Kalighat Temple is the most popular in the city or marvel at the architecture of the Catholic St Paul's Cathedral.
The Jain Temple in Kolkata had some of the most impressive mirror work I've ever seen and St John's Church has a memorial for the infamous Black Hole of Calcutta.
Mother Teresa is also a big name in this city, many call her Saint Teresa. She was a missionary and an Albanian-Indian Roman Catholic Nun.
Although she taught for many years in a convent, she was disturbed by the poverty and illness in the city.
So, she started and ended her medical work here in Calcutta until her death and rubbed shoulders with the likes of Mahatma Ghandi Ji in her time. So, a visit to her memorial is a must.
Mullick Ghat Flower Market
If you're looking for a little bit of a culture shock and to see lots of colour and chaos then you must visit the flower market at Mullick Ghat.
Every morning thousands of flower sellers gather by the Hooghly river to sell their blooms to temples and businesses. There are kilos upon kilos of freshly cut flowers for sale.
This market is the ultimate muse for photography and you'll get to experience some of the real-life in the city by watching and meeting the locals.
As well as the memorial, this is one of the biggest things to do in Kolkata. So, don't miss it!
Click here to read my complete guide about visiting the Kolkata Flower Market and top tips for what to expect
South Park Street Cemetery
One of the hidden gems of Kolkata is tucked away on Mother Teresa Sarani.
I would have never heard of it unless my friend said it was somewhere she wanted to go.
I'm so glad we went in the end, as it turned out to be one of the most peaceful and interesting attractions I visited in the city.
South Park Street Cemetery was established in 1767 and was a place where a lot of the British colonial residents were buried.
Unfortunately, migrating to India meant a lot of tropical diseases which couldn't be treated back then, so many died very young.
It only remained open for burials until 1790 and completely closed in 1830. Now, it's preserved as an archaeological site.
There are many famous gravesites here including Walter Landor Dickens, the son of Charles Dickens.
We paid a small donation to enter and a kind man guided us around the graveyard giving us a commentary as we went. We tipped him for his time.
Click here to read my complete guide on this abandoned cemetery!
Kumartuli (pottery street)
An incredible place to visit, especially during holidays, is Kumortuli or the Potters quarter.
This is the area of the city where locals make huge effigy statues of Gods and Goddesses for Hindu festivals.
While we were here, they had just celebrated Durga Puja. The statues were made for them to be thrown or immersed into the Ganges river.
Although I usually see the statues fully made, it was amazing to see how the locals make them from scratch.
Click here to read more about the Kolkata statue village
Cruise on the Hooghly River
Another thing that you can do in Kolkata is to take a cruise along the Hooghly River at sunset.
It was a great way to see the city from a new perspective. We chose to go with the highly recommended Vivada Cruises who run services daily.
Your ticket includes a ride on the river, light snacks onboard (which were really filling), and a tour of Belur Math.
This temple complex over the river has many temples and some dedicated to the famous philosopher Swami Vivekananda.
It was an unexpected stop as we didn't know it was happening lol! But, it was really lovely as we arrived for the evening aarti. All the locals were praying and singing.
This is one of the best evening experiences in the city so make sure you book a cruise!
Click here to read my full Kolkata Ganges Cruise review
Where to stay in Kolkata
I stayed in the beautiful Oberoi Grand Kolkata. This was like an oasis to return to after a hot sweaty day out exploring in the monsoon!
Their hotel is almost an attraction in itself and an icon of the city as it's the second oldest hotel.
You can stay in one of their beautiful deco-like rooms with four-poster beds and it has a gorgeous washroom with a bathtub.
I would highly recommend booking a room indoor facing as the traffic is quite loud, especially during festivals.
Their delectable buffet breakfast at ThreeSixtyThree comes included and they have a refreshing pool with free smoothies!
Click here to book your stay at the Oberoi Grand for the night
Save these Victoria Memorial Kolkata Facts for later!