If you're looking for some unique & free things to do in Oslo, then I would recommend the bizarre Vigeland Sculpture Park.
This weird and wonderful sculpture installation by Norwegian artist Gustav Vigeland consists of 212 sculptures. All of them are naked human figures in all kinds of situations.
You'll find flying babies attacking people, women fighting lizards, children having tantrums, and a whole lot more.
It's now one of Oslo's most popular attractions located in the historic Frogner Park.
This is one of the coolest places I went to on my visit to Oslo. As it was the winter season, the whole place was covered in ice.
No visit to the capital of Norway would be complete without it!
Here's a complete guide for Vigeland Sculpture Park including the history, highlights, and how to visit!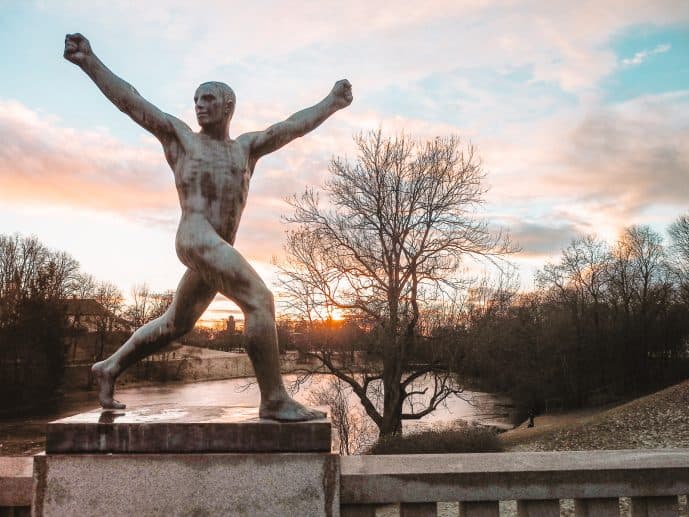 What is Vigeland Sculpture Park?
Vigeland Park is the world's largest sculpture park installed by a single artist.
Located in the historic borough of Frogner, within the baroque Frogner Park, it contains 212 bronze and granite statues exploring humanity.
The permanent sculpture installation, which includes statues, fountains, and bridges, was created by the famous Norwegian sculptor Gustav Vigeland between 1924 and 1943.
It's now one of Norway's most visited attractions that sees over 1 to 2 million people visit every single year! It's also protected under the Norwegian Heritage Act.
Who was Gustav Vigeland?
Gustav Vigeland was a famous Norwegian sculptor who is a big name throughout the sculpturing world.
He was born 'Adolf Gustav Thorsen' in 1869 in a small municipality called Halse og Harkmark (Mandal) in Norway.
As a small boy, he was sent to Oslo to learn the craft of wood carving. But, the sudden death of his father saw him back in Mandal to look after his grandparents.
Eventually, he returned to Oslo in 1888 with the ambition of being a professional sculptor. He drew the attention of another famous sculptor, Brynjulf Bergslien, and received training from him.
He later decided to change his family name to Vigeland based on his hometown. Vigeland travelled around Europe to the likes of Copenhagen, Paris, Berlin and Florence to further his training. He also helped with renovations on the Nidaros Cathedral in Trondheim.
After, he hosted several exhibitions showcasing his unique work on human existence where he received critical praise.
He slowly gained a name for himself and, eventually, he became the most recognised sculptor in the whole of Norway!
Today, Vigeland is most famously known for creating the Vigeland Sculpture Park and for designing the Nobel Peace Prize Medal.
He died in 1943 and his ashes are scattered in the bell tower of his studio in Nobels Gate. This is now the location of the Vigeland Museum.
The history of the Vigeland Sculpture Installation
The funny thing about the Vigeland Sculpture Park is that it was never meant to exist in the first place! In fact, these sculptures were meant to be installed in downtown Oslo in Eidsvolls Plass.
Once Norway gained its independence from Sweden in 1905, there were numerous changes being made around the city.
The people wanted to remove any evidence of Sweden being there and transform the capital by showcasing Norwegian art and culture.
As Vigeland was one of the most famous sculptors of the time, he received numerous commissions for pieces to be created around the city.
He proposed a huge fountain to be installed in front of the Parliament Building. But, a long, drawn-out dispute stopped this from ever happening.
In 1920, the city decided to demolish Vigeland's house and studio in order to build a library.
Obviously, Vigeland was furious but negotiated that he be granted a new studio to live and work from. In exchange, he promised to donate sculptures, carvings and artwork to Oslo.
So, the Norwegian government organised a studio in Nobels Gate on the fringes of Frogner Park.
As promised, Vigeland got to work and spent the next twenty years building a sculpture park. This is centered around the fountain he had originally designed to stand outside Eidsvolls Plass.
He called it "Vigelandsanlegget" or the Vigeland Sculpture Arrangement. It eventually evolved into 212 bronze and granite statues that circulated around a huge central monolith covered in humans!
Unfortunately, Vigeland died in 1943 and never got to see the park fully complete. Many of the gates and statues he had designed years earlier were erected shortly after his death.
However, his legacy lives on and today it's one of Scandinavia's top attractions!
Highlights of Vigeland Sculpture Park
To say that the sculptures within Frogner Park are unique would be an understatement!
Firstly, they are all naked, and secondly, they take many weird and wonderful forms.
There are many poses and themes within each of these statues. Some even border on the supernatural!
From flying babies, dancing women and a heap of dead bodies; all 212 of them are meant to explore human life in its purest form.
Here are some of the highlight statues that you cannot miss while you're here!
The Fountain / Fontenen
The Fountain was the original work created by Gustav Vigeland. This was the monumental piece that should be sitting outside the Parliament Building.
It's a magnificently huge structure that is surrounded by 20 statues. They are all 'holding' the fountain up and represent the cycle of human life.
The Monolith / Monolitten
The Monolith is now one of the most recognisable features of the park. All the statues seem to be circulating around this huge 14-metre pillar made of bodies!
You'll find that around 120 statues on the plateau are all fighting each other to get to the top.
The people trying to climb the column are all in different cycles of their lives. So, you'll find babies, adults and a 'Heap of Dead Bodies' here.
It was amazingly carved out of a single piece of granite that was over 46 feet tall. This is also one of the best views you can get of Frogner Park.
The Wheel of Life / Livshjulet
The Wheel of Life or Livshjulet was one of the last pieces to be sculpted by Vigeland in 1933.
The 'Wheel' is meant to represent a symbol of eternity. The statue is made up as a garland with women, children and men all holding on to each other.
Man Attacked by Babies / Man Fighting Genii
Oddly, this was one of my favourite pieces in the entire park!
The Man Attacked by Babies sculpture shows a man that literally has babies crawling all over him. It almost looks like the babies are flying everywhere.
This abstract work is meant to represent a father who is nervous at the thought of parenthood.
Others say this is called the Man fighting off genii, or evil spirits.
Angry Boy / Sinnataggen
This is another popular statue in Frogner Park located on the bridge. This toddler having a tantrum is called Sinnataggen. This loosely translates in English to "Raging Boy/Lad".
He is a bronze statue that doesn't look like he's having the best day, bless him!
Although this is one of the less than positive emotions displayed by Vigeland, it's a great photo moment.
Dancing Woman
This lady was another one of my favourite statues in Frogner Park. It shows a woman happily dancing in bronze!
I love the way she's looking through her long locks.
What to expect and how long do you need for a visit?
As one of the busiest parks in the whole of Norway, you can expect plenty of crowds here. Many locals visit this park for picnics and meeting up with friends.
So, if you wanted to visit at a quiet time I would recommend during the week. Either in the morning or early afternoon.
I would also recommend at least 2-3 hours to visit Frogner Park.
If you're based in central Oslo, getting to this borough is a little far out of the city centre.
So, I'd allow enough time for travel and exploring. We left it a little too late as we didn't realise how long it would take to get here on the trams.
We were losing daylight as we explored around 3 pm plus it was freezing as it was the start of January. However, the sunset from here was incredible and well worth seeing!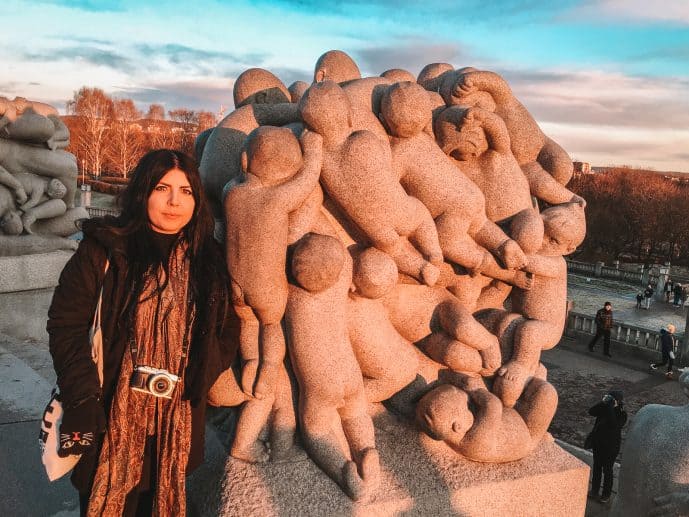 Where is Vigeland Sculpture Park in Oslo and how to get there?
Vigeland Sculpture Park is in the Frogner Borough of Oslo at the Nobels Gate. This is on the fringes of the baroque Frogner Park.
If you are staying in central Oslo, you will need to find public transport to take you to Nobels Gate in the city.
If you're arriving by car, you can follow Ring Road 2 to Majorstuen, Kirkeveien.
You can take Bus Number 20 or the Tram number 12 to Vigeland Park.
The best and most convenient way is to buy a Ruter Ticket. This is a transport card you can use to travel around Oslo. Your Ruter ticket will grant you passage on the trams, buses, ferries, and trains in the city. Click here for details.
Frogner Park opening times and ticket prices
Vigeland Sculpture Park is open 24 hours a day and 365 days of the year.
It's also completely FREE to visit this amazing attraction in Oslo. So, it's a great activity if you're trying to save some money on your travels.
Oslo Attractions to visit next
If you're looking for more places to visit around the area or you want to learn more about Gustav Vigeland.
Here are some places I would recommend visiting next;
Vigeland Museum / Vigeland–Museet – If you were interested in learning more about Gustav Vigeland and to see more of his work, then you can visit the Vigeland Museum. This is located at Nobels Gate where he used to live. The statues here were all created in his studio! Click here to find out more.
Frogner Manor House & Oslo City Museum / Oslo Bymuseum – This impressive baroque manor house was built in 1750 and owned by Major Hans Jacob Scheel. Ever since 1905, it has been home to the Oslo City Museum! Here you can learn the story of Oslo. Click here for details.
Frogner Open Air Swimming Pool / Frognerbadet – Located in Frogner Park is a public Lido that you can visit. It's extremely popular in the summer with locals. Click here for open days and prices.
Where to stay in Oslo
Oslo accommodation is incredibly expensive but you can find some amazing hotels at reasonable prices.
We stayed at the delightful Thon Hotel Cecil in Oslo. The rooms were really comfy and it was only around £100 a night. This is a steal for central Oslo.
Not only did our room rate come with a huge breakfast but they also provided a free 'Smorgasboard' dinner in the evenings. It was a lifesaver with Oslo restaurant prices!
Read more of my articles on Oslo
How to see the FREE Changing of the Royal Guard Ceremony
Save this Vigeland Sculpture Park guide for later!