Cherrapunjee is like an oasis amongst the states of North East India.
It's untouched and therefore It's full to the brim with gorgeous nature, lush greenery, cascading waterfalls, trekking trails, fresh air, and the world-famous Double Decker Living Root Bridges.
You could spend days or even weeks exploring this natural paradise and you wouldn't get bored.
It's known as the wettest place on Earth or was before a small town nearby trumped them by an inch of rainfall. But, best to visit in the winter season (Nov – Feb) to avoid a complete washout!
Many tourists flock here to explore its green pastures and I was eager to follow in their footsteps.
What I experienced here was like none other, the scenery was just so… EPIC.
Here are the 11 reasons why you need to visit Cherrapunjee (known as Sohra to locals).
How do I visit Cherrapunjee?
Cherrapunjee is in the state of Meghalaya on the East side of the Khasi hills and can easily be accessed by a brand spanking new and pot-hole-free National Highway 6.
If you have your own transport you can easily drive here within 3 or so hours from Guwahati, the gateway city to North East India.
To read my beginner's travel guide to Guwahati, click here
By public transport, you will need to travel to Shillong first. Unfortunately, there is no direct public transport to Cherrapunjee from Guwahati.
I travelled by sharing a car, stayed one night in Shillong, and then the next morning I headed off to Cherrapunjee by another sharing car.
If you're not familiar with sharing cars or Sumo Jeeps, they're the public transport here.
You simply hop in the car or sumo at the stand, wait for it to fill up with passengers, and head on out.
Despite them being private vehicles, they're relatively cheap and it's rare to be ripped off in North East.
To read about where to stay, eat and play in the city of Shillong, click here.
Do I need a permit to visit Meghalaya?
You don't need a permit to enter the state of Meghalaya or report to a police station that you're visiting.
You're free to come and go as you please!
Leaving Cherrapunjee
It's good to note that if you were planning on heading to Kaziranga National Park or Guwahati the gateway, you have to go back the way you came via the National Highway.
You can travel by the country roads through Meghalaya but it will take you twice or three times as long (not all roads are that good here!).
Best to go back to Guwahati to proceed onto other places in Assam and other states.
I didn't make it here but It's worth checking out Dawki while you're on this side of the state.
It's the closest you'll get to the bordering country of Bangladesh and has a famous clear water lake.
Again, if you don't have your own transport, you can access this by sharing a car. Or, hire a private one between you for 3000 rupees. It sounds a lot but between 4/5 of you, it's pretty reasonable.
Here's a picture from a fellow traveller friend of mine Thanveer, the boat looks like it's floating! Check out his Instagram here.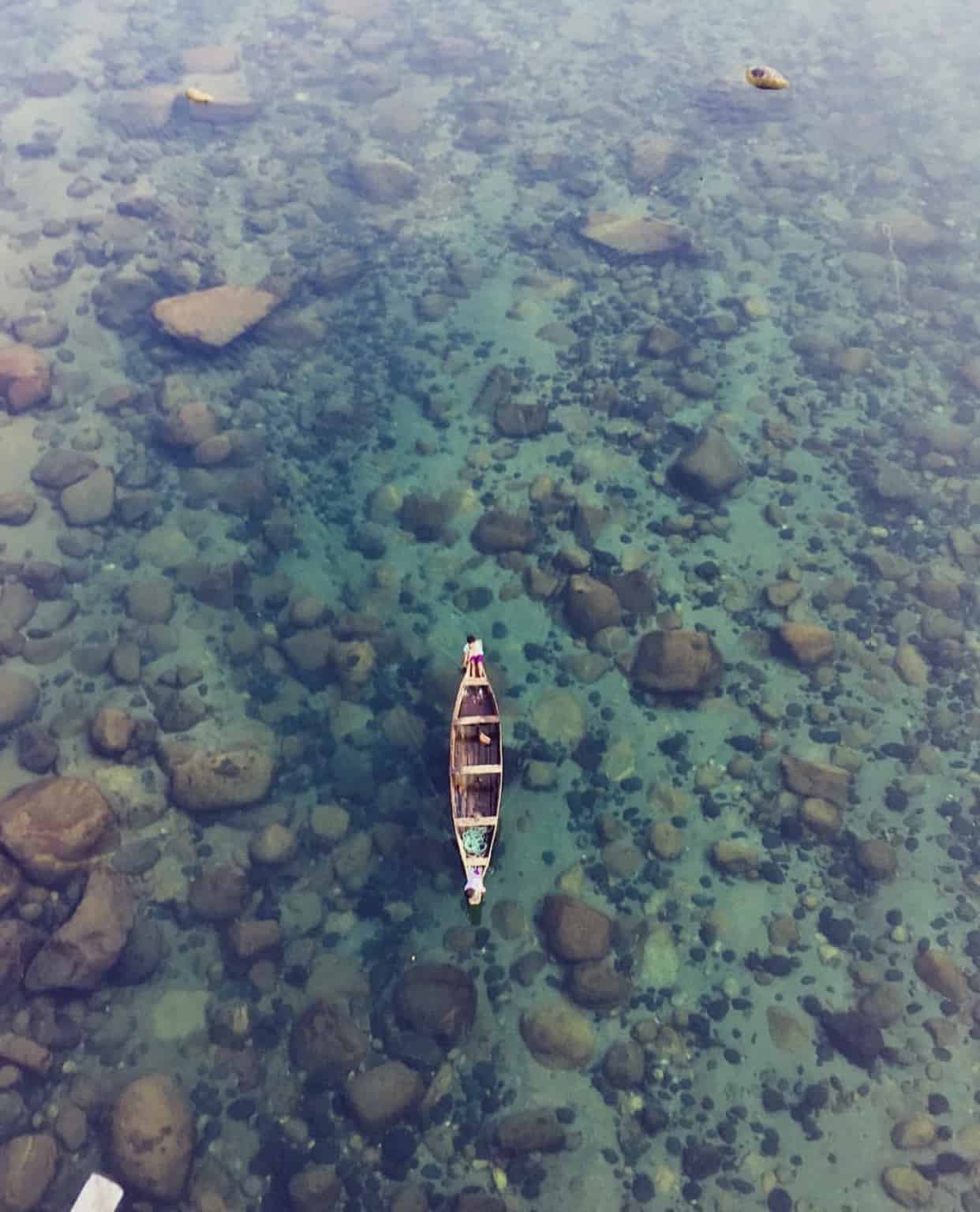 Budget places to stay in Cherrapunjee
If you're backpacking there is an awesome guesthouse called By The Way.
I stayed in a really clean private double room with an outdoor shower and toilet for 500 rupees a night.
This is a steal compared to the cheapest traveller guesthouse usually costing 2000 rupees!
I believe there is still a hostel-type room open which is 250 rupees per guest per night also.
Unfortunately, this cannot be booked online, no email either but there is a number below you could try. I was just lucky I turned up and there was a room available.
Heprit who owned the guesthouse was such an awesome guy that gave me good information based on my time and budget, cheap taxi service, and endless tips for my journey in North East.
Due to the popularity of Cherrapunjee and especially if you're travelling in the peak season of winter, expect rocket high prices for this area.
Hotels like the Polo Orchid are the luxury resorts to stay in if you have the budget. To check dates and rates click here.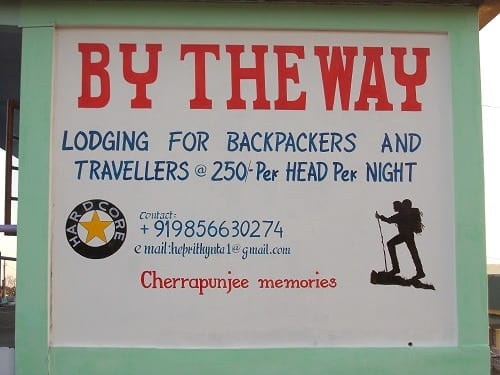 Here are all the top reasons to visit Cherrapunjee
1. It's home to the Double Decker Living Root Bridges
This is probably why most people venture here as these Living Root Bridges are one of a kind in the whole world.
They're not actually in Cherrapunjee but in a little Khasi village called Nongriat.
I have to say that this place is absolutely stunning but be warned that you will have a bit of a mission getting here.
The walk is not easy with 3,000 steps in front of you… Each way!
BUT, it's totally worth it in the long run to see them and the awesome views you'll come across.
I decided not to stay down here which other travellers thought was insane. To be fair after doing this hike in one day, I have to agree with them. So, this may be an option to consider.
Apart from the Living Root Bridges, there are Rainbow Falls and plenty of other pretty scenes to discover down in Nongriat.
To read my epic trekking Root Bridge guide on how to reach them and where to stay, see here.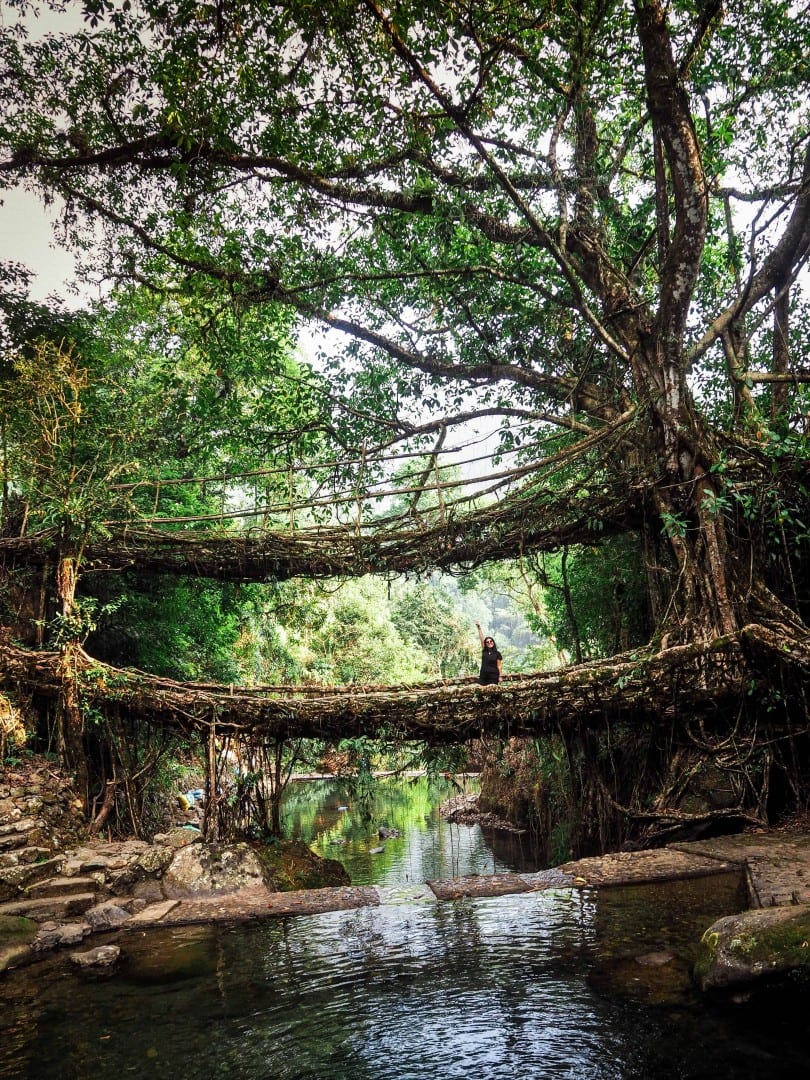 2. You can chase the most amazing waterfalls
I love chasing a waterfall especially when they're big ones!
When you visit Cherrapunjee, you'll find it's full of jaw-dropping falls but I'd say if you only want to go and visit one then Nohkalikai falls should be it!
Not only will the views surrounding it make your jaw drop, but you'll also see the jade blue waters too!
The entrance to this falls is kind of like an 'entrance/exit through the gift shop' but it was cute to see all the local food and souvenirs on sale.
The legend of Nohkalikai falls
The legend surrounding this was pretty interesting too.
According to legend a young lady named Ka Likai had a daughter from a previous marriage and married another man.
Her new husband hated the stepdaughter. One day Ka Likai returned home and was surprised to see that her husband had prepared dinner.
Ka Likai ate the meal without suspicion but later found her daughter's fingers in the betel-nut basket.
Unable to bear the grief, she threw herself over the cliff. Now the falls are named Nokalikai which means the leap of Ka Likai.
Visiting Nohkalikai falls
The entrance is 30 rupees per person.
Make sure you grab a chai at the cute little shop here. You get a view of the falls from outside too.
3. It's untouched with limited population and pollution
What I loved about visiting Cherrapunjee in North East India, in general, was how untouched many parts were.
There were hardly any cars, traffic or pollution. It was untouched and that made it all the more pleasant.
Here, you'll find that the air is so fresh and It's good for your soul. Lap it up!
4. The views all around you are outstanding
The first thing you'll notice as you enter, even on the drive here, is that the views are jaw-dropping.
If you have your own means of transport there are many stop-off points to take photos of.
I'd make use of them because it's hard to describe what meets the eye.
You'll see valleys filled with the greenest trees, cliffs that go on for days, open plains into the neighbouring country of Bangladesh, endless waterfalls, hills, trekking trails, and more. You need to leave time to explore.
5. You can explore mysterious caves with ancient fossils
Another thing that Cherrapunjee is famous for is the mysterious caves that have ancient fossils and tunnels.
I personally paid a visit to Arwah Lumsina caves.
Not only did it have amazing views on the walk towards them, but the cave was also huge!
It cost 25 rupees to enter and a camera fee of 50 rupees. Surprisingly, there's a 1000 rupee charge for the video!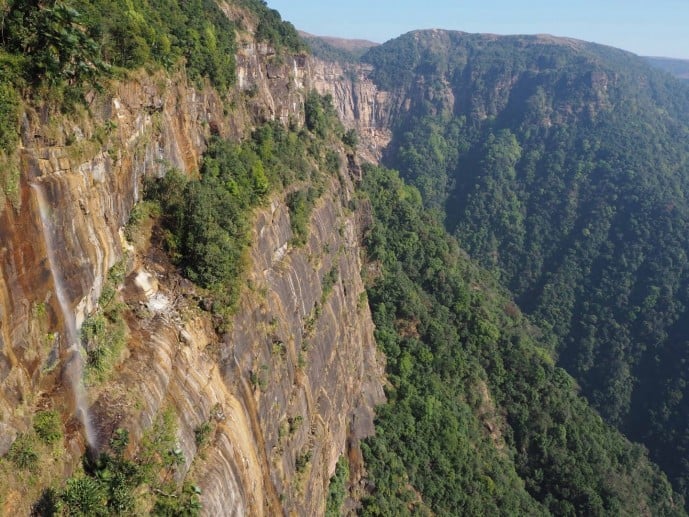 6. It's home to some of the friendliest people
A lot of the locals didn't like me taking photos as they were super-shy but they were so friendly!
I travelled here solo but people were so welcoming. They were curious to know where I was going, where I was from, and how long I was planning to stay.
They loved the fact people visit their side of the world. Make sure you take some time to meet the locals while you're here. It gives you a different insight.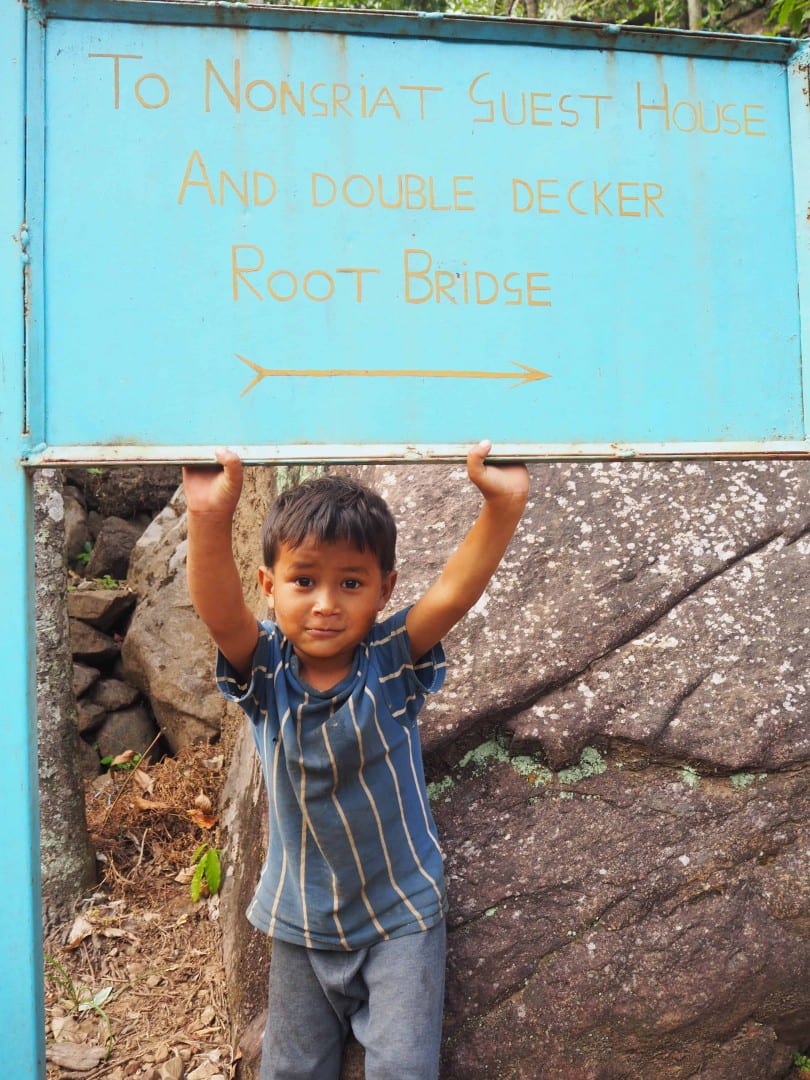 7. You can hike in paradise for days
You may be pleased to know that there are endless hiking trails in Cherrapunjee so you may have a hard time choosing just one!
If you were planning on staying for just a few days, I would reserve time for the Double Deckers. Then, pick one other place to go.
There's never really a 'set' trail or path however that may be the best part about it!
Make sure you take a map. Due to the limited population and phone signal – you don't want to get stuck!
There's a trek to the lesser-known Umkar Root Bridge, the 'splashing park', Mawshamok on the Lover's Road and walks through the village of Laitkynsew for Nongwar village and viewpoints.
For more information on Cherrapunji treks, check out this website with detailed directions!
8. It's near the border of Bangladesh
Did you know that Meghalaya is bordered by Bangladesh? In the peak season of winter, you can see It on a clear day.
It's in the distance on the way to the Double-decker root bridges and Dawki.
Make sure you make a stop to have a peek. This may not be so clear if you visit in the rainy season though, apparently, you won't see a thing!
9. It has some of the bluest waters you'll ever see in India
If you want clear water, Meghalaya has many a place.
When I was trekking to the root bridges I couldn't take my eyes off how blue the water was.
It's meant to be jade, but it looked blue to me.
It was like a siren drawing me in and, to be fair, I was so hot I could have dived off the bridge then and there and bathed in it!
You can also get a natural fish spa at the Double Decker root bridge, again the water is so crystal clear. Locals were swimming in it after the long hike!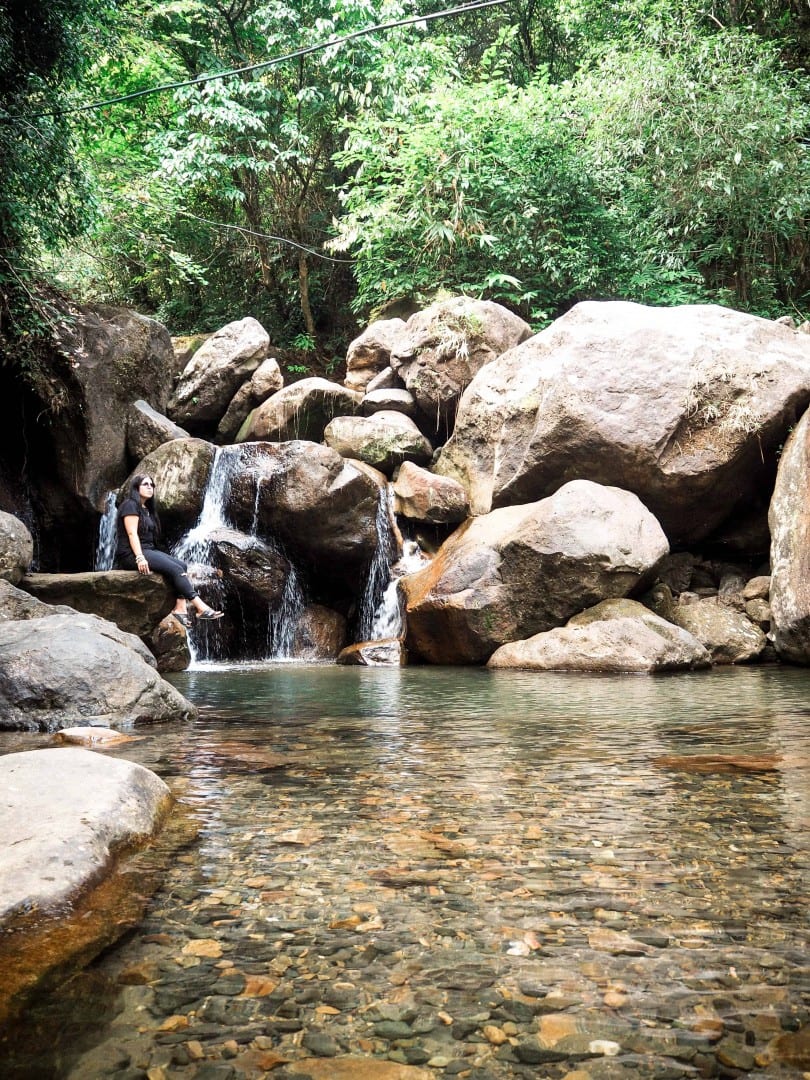 10. It's the wettest place on Earth
Maybe not a selling point but the heavy rains are what make this place so lush and green!
When I'm in Asia, the one thing I miss is greenery and nature, so I found paradise in Cherrapunjee.
But it does get amazingly wet throughout the year, so definitely make sure you bring a raincoat! It's not called the wettest place on Earth for nothing.
On the flip side, the waterfalls at this time of year are twice as many and look even more dramatic.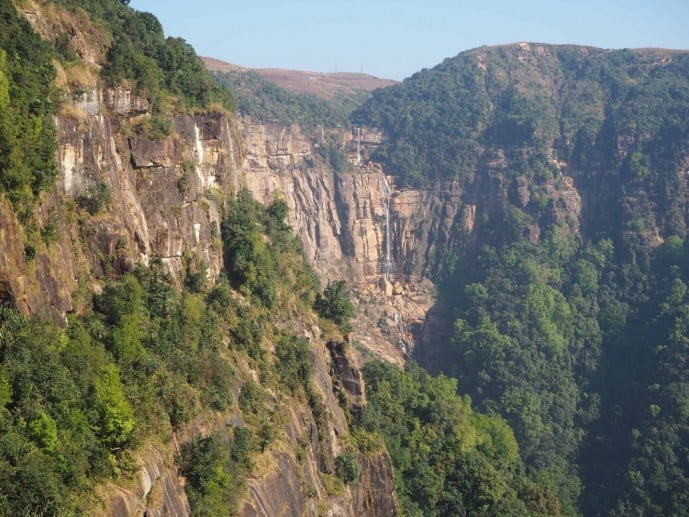 11. If there was a heaven on this planet, Cherrapunjee would be it!
When you visit Cherrapunjee you'll find an emerald paradise full of hidden gems.
Explore mysterious caves, majestic waterfalls, unspoiled views, hiking trails with no path, and the world-famous Double Decker Living Root Bridges.
It's the perfect escape from busy city life and chaos; you can just immerse yourself in nature and breathe in the fresh air.
Discover Cherrapunjee, the Scotland of the East!
For more information on Meghalaya, make sure you read these posts…
The ultimate shopping guide to Shillong: top tips for the bustling bazaars
An epic step by step trekking guide of how to reach the Double Decker Living Root Bridges of Cherrapunjee
Read more of my North East India articles!
Top things to do in North East India
A complete guide for Hornbill Festival
Best places to visit in Arunachal Pradesh
My ultimate Tawang travel guide
A complete travel guide for Guwahati
A complete Kaziranga Safari guide
My top North East India travel tips
Like it? Pin it!