Have you ever wondered where the real Dracula's Castle is in Transylvania? The one that inspired Bram Stoker's home of Count Dracula?
It's called Bran Castle and it is located in Romania, tucked away in the Carpathian Mountains near the city of Brasov.
It's the most famous medieval castle in the entire country that sees over 800,000 visitors each year and is a must-visit attraction.
On your guided tour you can learn about Romanian royalty, Transylvanian legends, and the literary connections to the famous bloodthirsty vampire of Count Dracula.

I'm obsessed with vampire stories so visiting here was an absolute dream.
Here is a complete guide on how to visit Dracula's Castle in Romania or Bran Castle in Transylvania!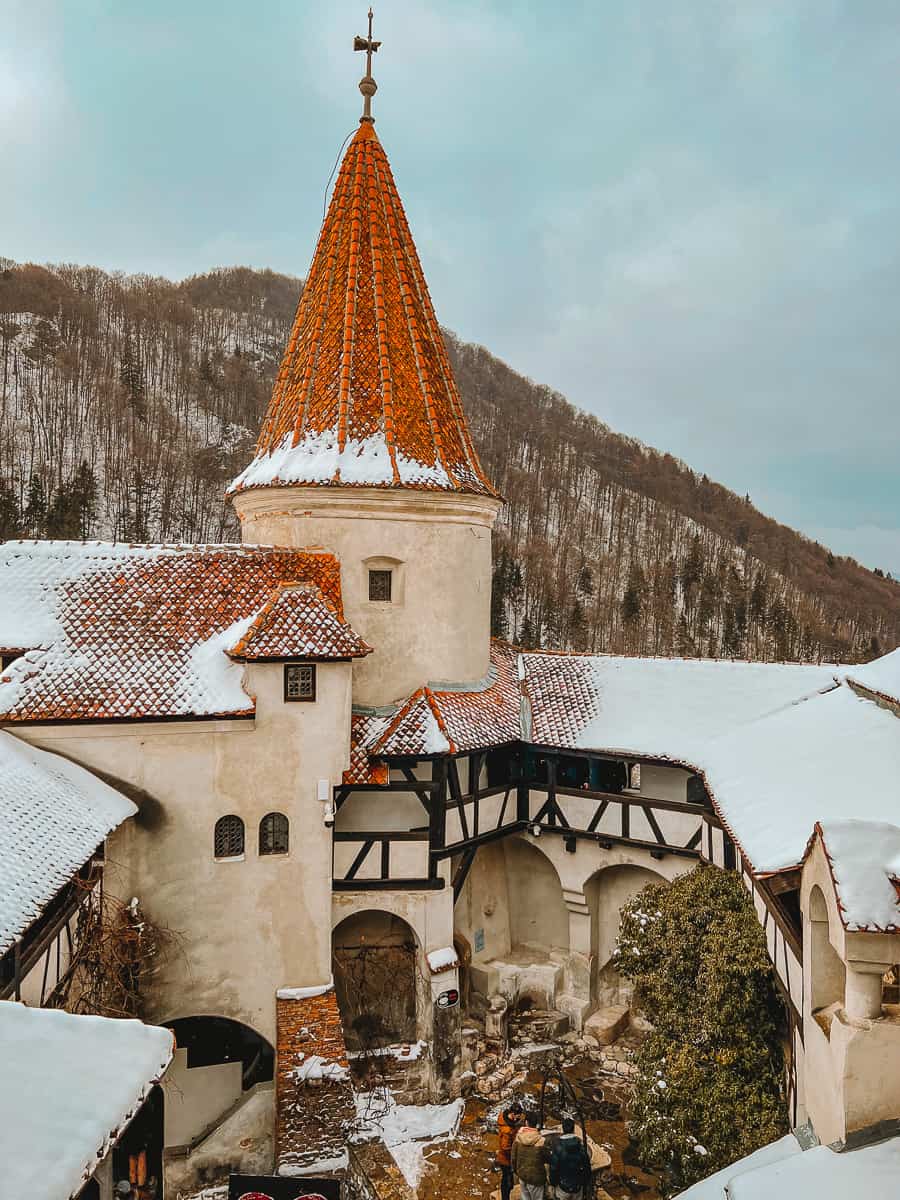 Bran Castle history
There has been a fortress on this site since 1212 when the Teutonic Knights built a wooden lookout tower to keep an eye on trade routes in the area that were often under threat.
The wooden castle was destroyed by the Mongols in 1242 but was later rebuilt in stone in the 14th century. The first documented records mention Castle Bran in 1377.
King Louis I of Hungary gave permission for Saxon settlers to build this castle with their own funds as a defense against the Ottoman Empire.
It later became a prominent strategic fortress and customs post on the mountain pass between Transylvania and Wallachia.
This was around the time that Vlad Tepes was a Prince of Wallachia and many believe that he had a connection with Bran Castle.
Vlad the Impaler aka the 'real' Dracula!
Vlad Tepes or Vlad III of Dracul, better known as Vlad the Impaler, was a ruler of Wallachia from 1448 to 1478.
His region and trade routes were often under threat from Ottoman and Hungarian forces and he was merciless while defending his territory.
Vlad had a tremendous appetite for brutality and is famous for committing unspeakable acts of torture against his enemies!
It is estimated that Vlad Tepes is responsible for the deaths of over 80,000 people. His favourite form of torture was impaling his enemies on spikes hence the nickname 'Vlad the Impaler'. He was also rumoured to drink the blood of his enemies
It was these gruesome stories that inspired Bram Stoker to create his legendary vampire and why Vlad Tepes is known as the 'real' Count Dracula.
Although he is largely associated with Bran Castle, it is generally agreed that Vlad Tepes never set foot in this fortress. He may have fought in battles nearby but he didn't live here or even visit.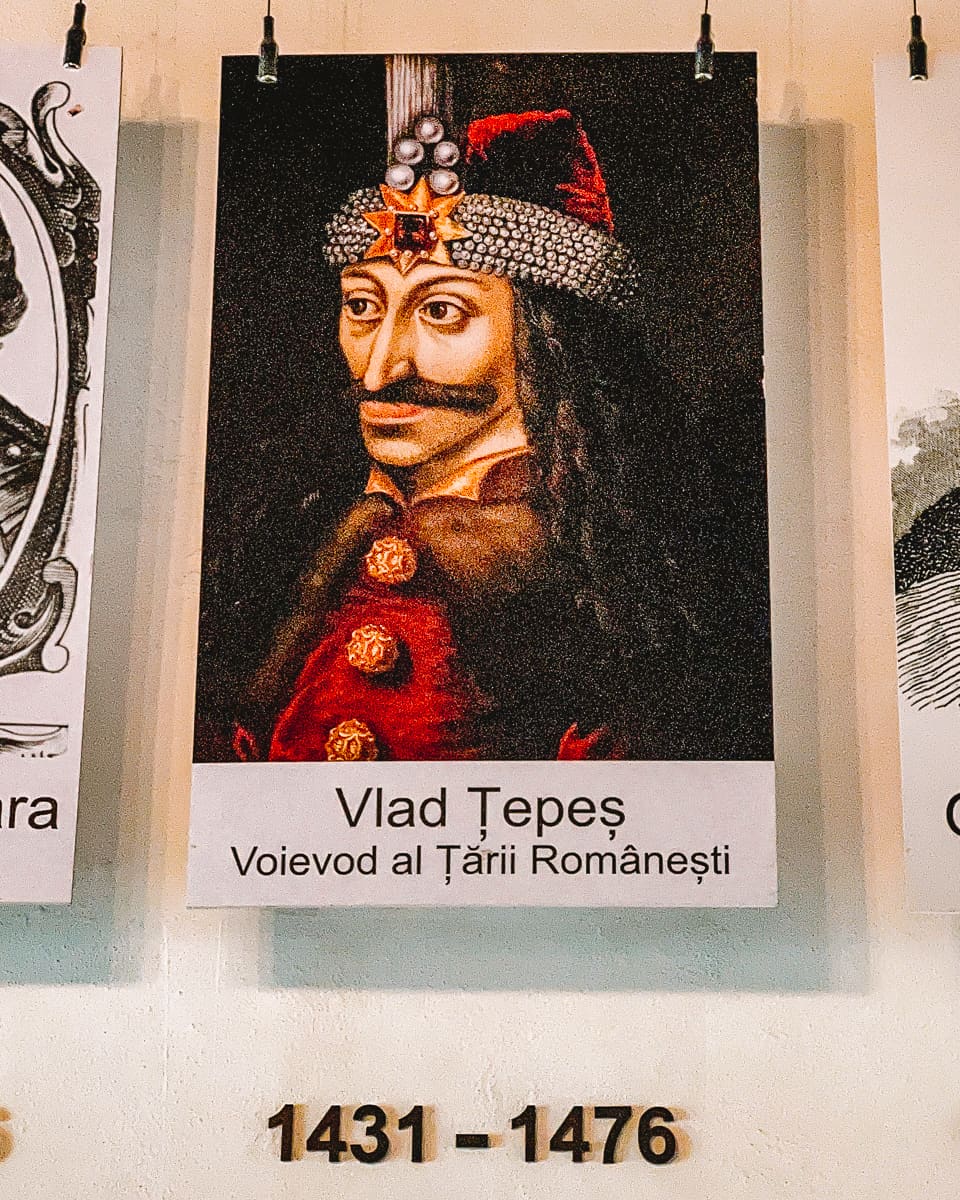 The Bran Castle Bram Stoker connection
Bran Castle is one of the most famous medieval castles in the country and it owes a lot of its fame to Bram Stoker and his novel Dracula set in both England and Transylvania.
But, it may surprise you to know that Bram Stoker never visited Bran Castle or even Romania before writing his 1897 novel.
He did use descriptions of Transylvania, the legends of Strigoi's, and the bloody stories of Vlad the Impaler to paint a spooky picture for his tale.
The funny thing is, although the medieval prince Vlad Tepes fought battles in Translyvania, there are no records of him visiting Bran Castle at all.
In fact, he wasn't from Transylvania. His residence was Poenari Castle in Wallachia. But, some say he visited Bran Gorge to fight.
In the novel, Dracula's Castle is described as "…on the very edge of a terrific precipice…with occasionally a deep rift where there is a chasm and silver threads where the rivers wind in deep gorges through the forests.".
This is very similar to Bran Castle! But, there are a great many medieval castles in Transylvania that match this description too.
So, I guess we'll never know if this fortress really was the inspiration for Dracula's Castle. But, why let the truth get in the way of a good story (and making some serious money)!
Related post – Fang-Tastic Dracula Attractions in Whitby, England!
Queen Marie & Dracula's Castle today
Another reason why Bran Castle is so famous is due to the fact that Queen Marie of Romania made significant improvements to the castle in the 19th-century and made it a royal residence. She lived here until her death in 1938.
Her daughter, Princess Ileana, took up residence here afterward and established a hospital at Castle Bran during World War II.
After the Russians took over Romania, the country fell to the Red Army and converted to Communism. Once Michael I of Romania abdicated the throne, Princess Ileana and the Romanian royal family were exiled from the country in 1948. Bran Castle then became a museum.
Princess Illeana only returned to Romania in 1990. The family finally was able to take back their legacy in 2005. In 2009, the castle is now owned by Archduke Dominic of Austria-Tuscany.
Today, Bran Castle sees almost a million visitors every year who want to see the home of Count Dracula for themselves.
How to visit Dracula's Castle in Romania
So, if you wanted to see the home of Count Dracula for yourself, you must make a stop at Bran Castle in Transylvania. As one of the most popular castles in the country, it's very easy to do.
There are many ways that you can visit Bran Castle in Romania. It all depends on how much time you have and where you choose to stay during your visit!
The most popular options are visiting Bran from Brasov or the capital city of Bucharest:
Bran Castle from Brasov
Most travellers who visit Transylvania base themselves in Brasov to visit Bran Castle.
This is a popular ski resort/hiking town in the Carpathian Mountains and has lots to offer in terms of attractions, hotels, and restaurants.
It's only a 30-minute journey to Bran Castle from Brasov by road and so it's the perfect place to stay if you wanted to visit Dracula's Castle in Romania.
Driving to Bran Castle: If you have your own transport, it will be a nice and easy journey from Brasov on the DN73/E574 road. Parking is 4 Lei an hour.
Brasov to Bran Castle by bus: regular buses run to Bran from Auto Gara 2 bus station in Brasov. You will need to make your way to Auto Gara 2 by Uber or bus. Then, look out for a Bran – Rasnov bus service at the station. A bus ticket to Bran costs 8 Lei (£1.35/$1.86) one way. The journey will take around 50 minutes to an hour. You'll be dropped off in Bran village and it's a short walk to the castle from there.
Brasov to Bran Castle by taxi: There is the option to take a taxi which is around £20/$30 USD one way. Uber works there but I don't know if they would run all the way to Bran unless there's someone wanting to be picked up. Doesn't hurt to try though!
Read more – the very best things to do in Brasov in Transylvania
Bran Castle from Bucharest
If you were stuck on time and can't stay in Brasov, it's really easy to travel from Bucharest to Bran Castle on a day trip!
There are regular train services that run from Bucharest to Brasov daily and the journey takes around 2.5 hours. From here, you can take a bus/taxi to Dracula's Castle (as above).
I made the train journey to Brasov on a day trip from the capital and found booking train tickets really simple to do online.
It's the perfect option if you wanted more freedom to explore the region rather than a guided tour.
Click here to book train tickets on the official Romanian railway website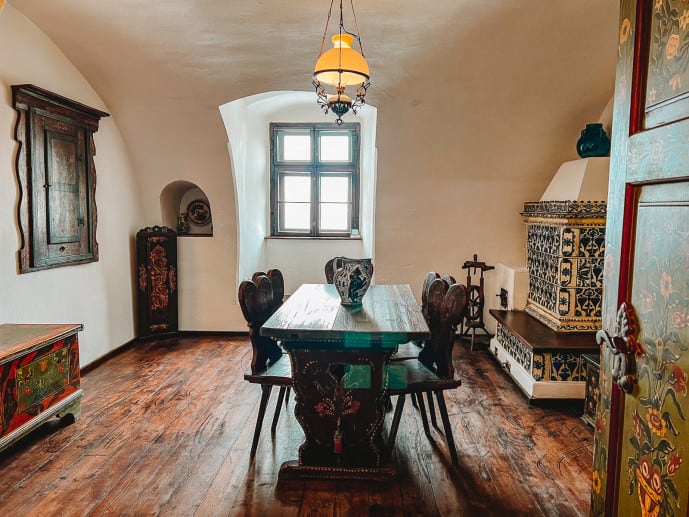 Bran Castle tour
If you were stuck for time and wanted to see a couple of castles and places in one day, there is the option to book a castle tour.
As it was snowing on my visit, I personally took a castle tour from Bucharest and we visited Peles Castle, Bran Castle, and Brasov in one day! It seemed safer and quicker to me as I didn't want to be exploring by myself in the heavy snow.
It was a long day trip and tiring but totally worth it in the end. It's more economically friendly to your wallet, the environment, and time on your holiday.
You can also take a guided tour from Brasov but this stops at Rasnov Fortress instead of Brasov. Each tour has 'skip the line' options to avoid some of the longer queues.
Bran Castle opening times and ticket prices
Bran Castle's opening times in winter are typically Mondays from 12-4 pm and Tuesday – Sunday from 9 am – 4 pm. The last entry is 4 pm.
In summer, the opening times change to Mondays from 12-6 pm and Tuesday – Sunday from 9 am – 6 pm. The last entry is 6 pm.
Bran Castle ticket prices are:
Adults – 45 Lei (£7.60/$10 USD)
Seniors – 35 Lei (£6/$7.70 USD)
Students – 25 Lei (£4.20/$5.50 USD)
Children – 10 Lei (£1.70/$2.20 USD)
As well as the standard Bran Castle tour, you can pay extra to visit some of the bonus exhibits at Bran Castle. These are:
Bran Castle Medieval Torture Instruments – 10 Lei (£1.70/$2.20 USD)
Bran Castle Time Tunnel – 20 Lei (£3.30 / $4.40 USD)
Top tips for visiting Bran Castle
As one of the most famous castles in Romania, you can expect this site to be busy all year around. In the summer months, you will wait in massive lines. To avoid long queues, I would get here as early as possible.
If you book through a tour company like GetYourGuide, you will have a 'skip the line' ticket option.
If you're booking castle tickets on the day it's easier to pay in cash as the mountain region often means card payments are tricky.
There is a really steep hill to access the castle and lots of steps which may be hard for some as you explore the fortress. There is a 'lift experience' you can buy as an extra if you are unable to climb.
The castle has some really tight spaces and winding staircases, like the secret tunnel, which may be uncomfortable for those with claustrophobia.
Things to do at Bran Castle
So, once you arrive at Bran Castle what is there to actually do here?! Well, you may be surprised that there is quite a lot.
As well as touring the castle, you'll learn the legends of Transylvania, who lived here and all about the Dracula legend too.
Here are the best things to do in Dracula's Castle Romania.
1. Explore the Bran Castle grounds
When you enter Bran Castle, there are large grounds at the base of the castle that is open for you to explore before you make your way up to the medieval fortress itself.
This small green area has lots of walkways and actually provides some of the best photo opportunities of Dracula's Castle from below.
As the castle is so high up, you'll find that the closer you get the harder it is to take photos of it. So, I would definitely spend some time admiring it from the lower grounds.
Did you know? Before her death in 1938, Queen Marie asked that her heart be interred in a chapel in the town of Balchik near the Black Sea. However, it was later moved here to Bran Castle. You can see her heart grave on the west side of the base of the fortress!
2. Explore the medieval rooms
There are 57 rooms at Bran Castle and your guided tour will allow you to see many of the most important ones on your visit.
They are quite spartan rooms and are mostly recreations of how the castle would have originally been furnished when it was built.
You'll walk through sitting rooms, dining rooms, studies, bedrooms plus many exhibition rooms with medieval costumes of what the Teutonic Knights or Vlad Tepes used to wear!
3. Climb the secret tunnel
Some of Bran Castle really lives up to its spooky name and many of the stairways you climb through are really creepy!
Did you know that there is a secret tunnel in Bran Castle? In the 1920s, Queen Marie asked for some castle renovations to be made.
During the excavations, the workers discovered a secret tunnel that connected the first floor with the third. It had been there for generations and wasn't on any map of the castle beforehand.
It was a cleverly concealed escape route behind a fireplace so that the monarch living there could break out of the castle if it was under attack!
You'll climb through this tunnel on your visit and it can be quite uncomfortable to say the least.
4. Take a picture-perfect photo of the Donjon
Once you've seen some of the many rooms, you'll have the opportunity to take some incredible photos of the medieval round tower and The Donjon!
This was by far my favourite part of the tour and there are balcony windows and barracks that give you plenty of opportunities to take some brilliant photos.
It can be quite busy in Bran Castle, so you may have to be patient while the crowds make their way through but it's totally worth the wait.
My top tips for photography would be to get here as early as possible or visit at the last entry time and wait for the tourists to start shuffling out. You'll most likely have it to yourself near the end.
5. Admire the magnificent views of Bran & the Carpathian Mountains
Dracula's Castle is built on a mountain top which was the perfect vantage point to scout out encroaching Ottoman enemies in medieval Transylvania.
But, one of the great benefits of being so high up in this fortress today is that you can see breathtaking panoramic views of the Carpathian Mountains.
On your tour, you'll make your way up to the very top floors of the castle and stand on the rooftop looking down on the village below.
Make sure to have your camera ready as these are photo opportunities you won't want to miss!
6. Learn about the legend of Dracula
Dracula is Bram Stoker's invention but the inspiration did come from Vlad the Impaler. Some say the inspiration for Count Dracula's home came from this very castle!
So, you can expect there to be lots of Dracula-themed exhibits and references on your visit. Even the walk up to the castle had signs that said 'Private Tours with "Count Dracula", try to avoid walking alone at night'.
Since the novel, there have been hundreds of movie & TV adaptations and so you'll find a great exhibit called 'Dracula and the Movie Industry' where you can see a collection of clips. One of my favourite Dracula movies is Bram Stoker's Dracula (1992) starring Keanu Reaves and Gary Oldman.
As part of this exhibit, they also have some props, costumes, and photo stills from the movies to learn more.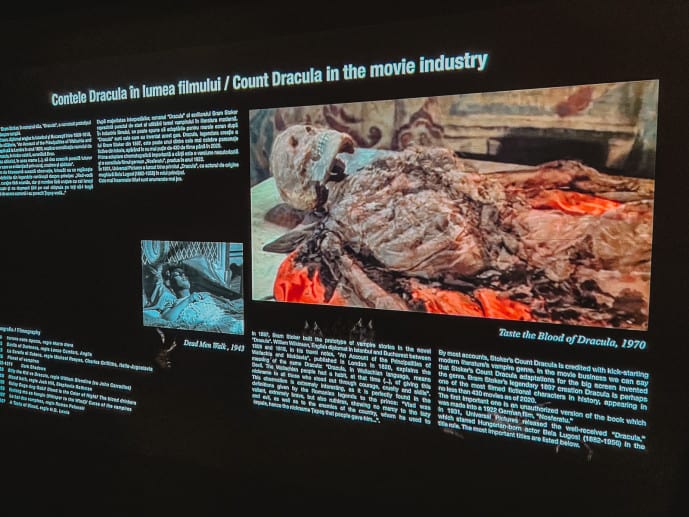 7. Be amazed by Transylvanian myths, storytelling & legends
Something that I found absolutely fascinating about Transylvania was how many of our modern horror stories, myths & legends originate from this region of Romania.
I guess you could compare Bram Stoker's Dracula to the Strigoi that are troubled spirits said to rise from the grave at night. Just like Vampires, they gain vitality from the blood of their victims and hate garlic.
The Iele are mythical creatures like faeries or nymphs that have magic and a powerful seduction of men. They dance by moonlight and perform rituals in forest glades.
The Vârcolac or 'wolf-person' could be compared to a shapeshifting werewolf who has the ability to shift on a full moon.
Also, Transylvanian dragons are a thing. Vlad the Impaler's father took their name from the Order of the Dragon. Also, he had the nickname of the son of Dragul (the son of the Dragon).
You can learn all about these legends in their fabulous interactive exhibit. It's amazing how many of these ancient legends still appear in modern horror stories today!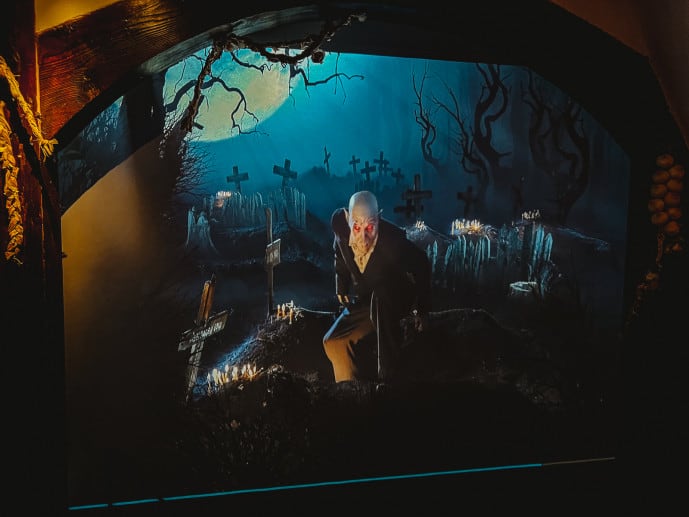 8. Pay extra to see the Torture Chamber & Dungeon
Vlad the Impaler gained his moniker of 'Impaler' and the real 'Dracula' from his bloodthirsty and brutal torture habits.
So, it stands to reason that his fortresses would have lots of torture implements and a dungeon to keep his tormented prisoners in.
Although this is not his castle, for an extra fee you can visit a torture chamber to see some of the devices that he would have used to inflict pain during that time.
Tickets cost 10 Lei per person and can pay for your ticket at the ticket counter before you go inside.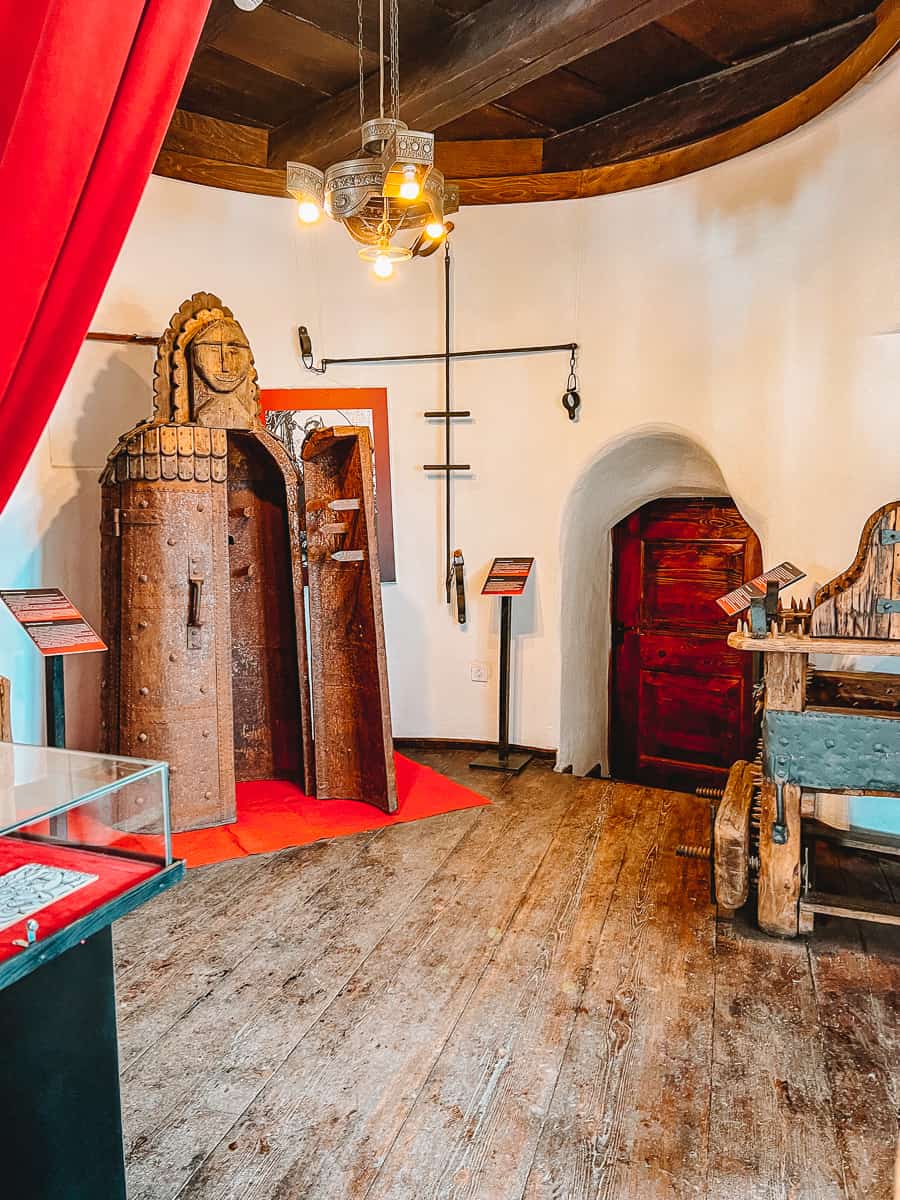 9. Exit through the Dracula gift shop
Would it be a tourist attraction if there wasn't a gift shop at the end? Of course, before you leave you to have to check out the souvenirs available in the Bran Castle gift shop.
There is plenty of Dracula-themed merchandise to stick your teeth into including pens, postcards, magnets, and keyrings. There are even vampire socks and t-shirts of Count Dracula to buy!
You'll even find some local spirits which look like potion bottles and some spooky chocolates which make great gifts.
Like any tourist attraction, souvenirs can be pricey here. So, if you're on a budget I'd wait for the markets just outside the castle grounds on your exit.
10. Shop in the Bran Castle markets
Before and after you visit Dracula's Castle, you'll walk through a cute little market stall area that is worth exploring while you're in Bran.
It sells all sorts of tourist souvenirs, clothing, and food like local cheeses and wines that have been made in Transylvania.
There is no café or restaurant at Bran Castle itself, but there are some hot food stalls and a café down here if you're feeling peckish.
They also have a cheesy house of horrors that you can experience if you're visiting for all the Dracula tourism.
I didn't personally go inside but I have to admit I love a bit of cheese – when in Transylvania, no?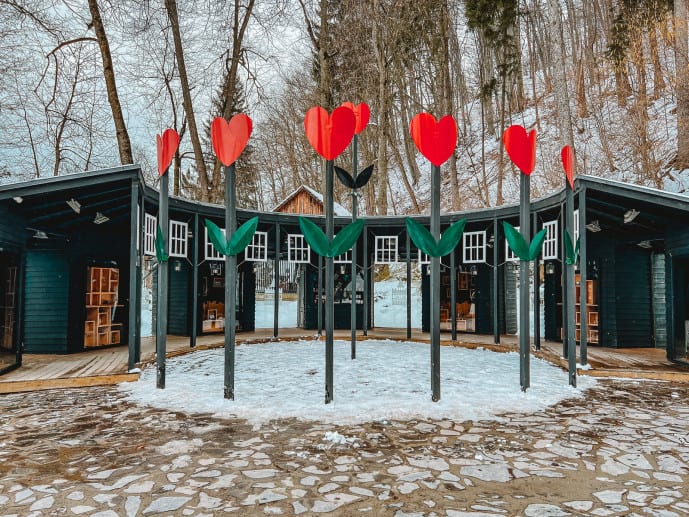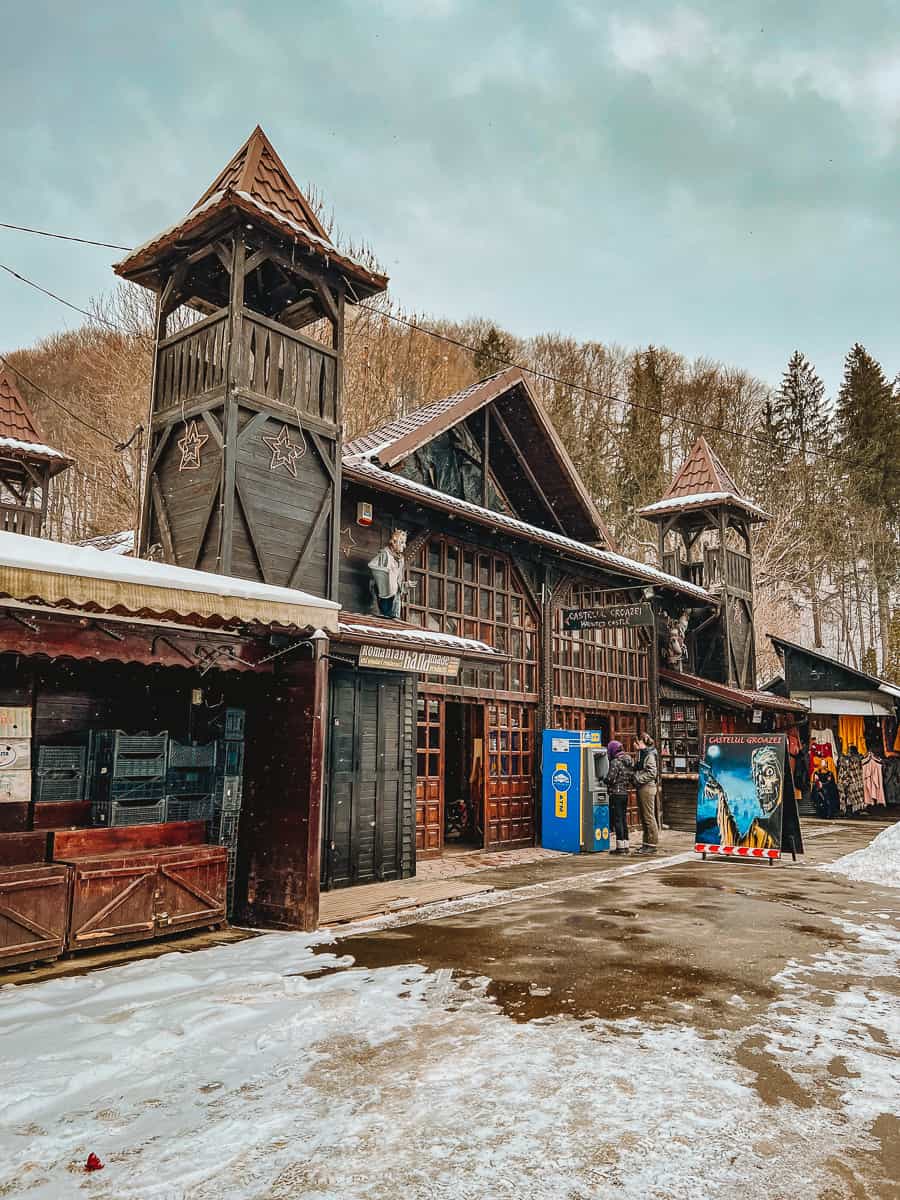 Can you stay in Bran Castle Romania?
Although not a regular accommodation option, the castle does often have competitions where you can win the chance to spend the night there for Halloween.
They held one with Air BnB a few years ago and you were escorted to the castle by carriage, had a banquet and they even had comfy coffins to sleep in It actually sounds like my kind of dream.
They may have competitions like this again so it's always worth checking their website for updates.
Where to stay near Bran Castle?
Although you can't stay in Bran Castle, there are places to stay in Bran. Some of them even have views of Bran Castle from your window.
Personally, I would opt to stay in Brasov over Bran and travel to Bran Castle from there. Brasov has a lot more infrastructure like hotels, restaurants, attractions, and transport links.
Click here to look up and book accommodation in Brasov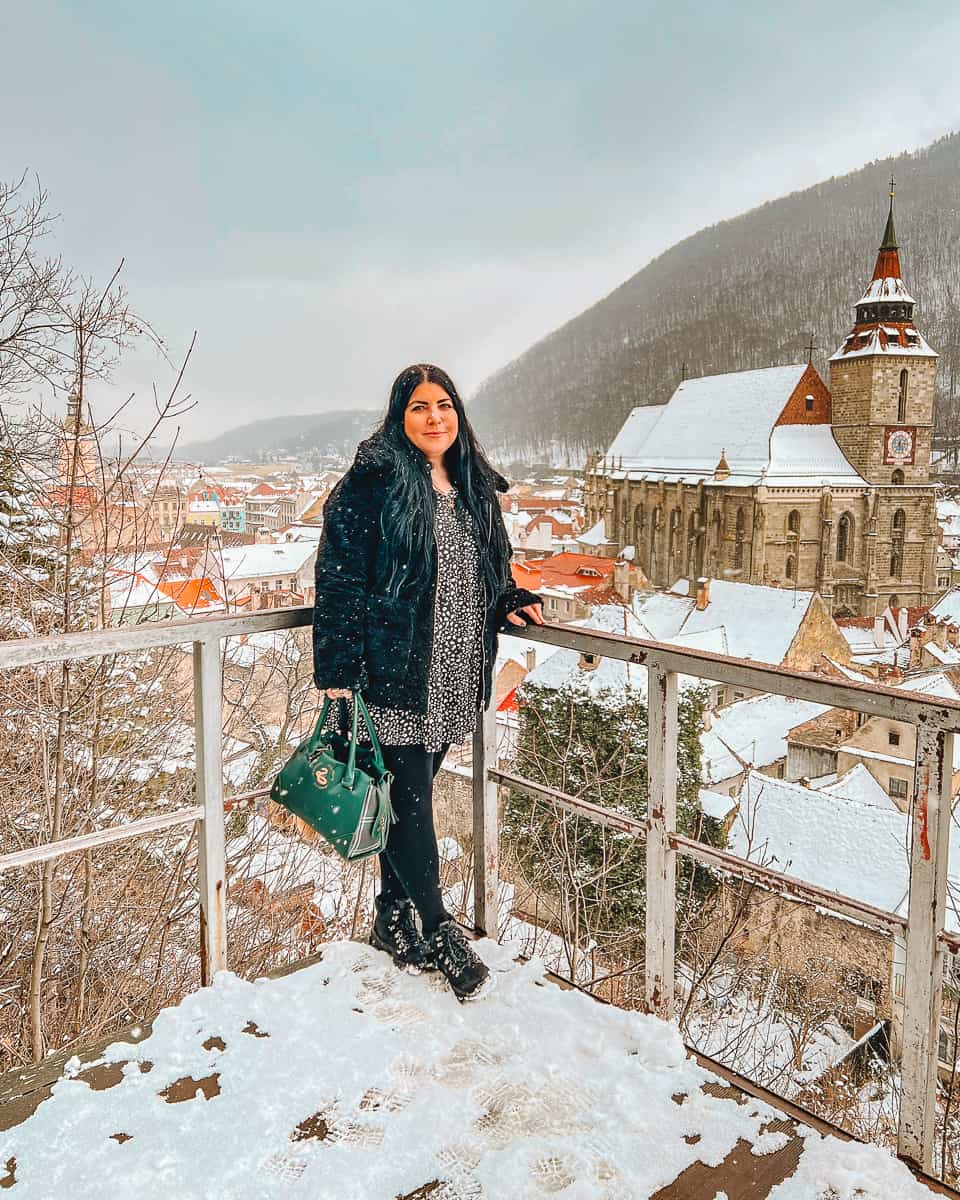 Dracula's Castle Romania FAQs
Is Transylvania real? YES, Translyvania is very much a real place and it's located in Romania! It was one of three ancient territories (Wallachia, Transylvania, and Moldavia) before the country united as one. Transylvania is the most famous region by far and has its very own flag!
Where in Romania is Dracula's castle? Dracula's Castle is located in Transylvania Romania in a little village called Bran in the Carpathian Mountain region. This is near Brasov.
Is there a real Dracula's castle? YES! Bran Castle is often seen as the 'real' Dracula's Castle as Vlad the Impaler got the nickname from brutal torture escapades. It was Bram Stoker who used these stories to create his classic novel and bloodthirsty character!
Why is Bran Castle so famous? There are many reasons. 1. This was a region visited by Vlad the Impaler or the real Dracula. 2. Bram Stoker used him and this castle to inspire his story Dracula (1897) and 3. Queen Marie used this as her favourite royal residence until her death in 1938.
Did Dracula live in Bran Castle? No. Although Vlad Tepes was the inspiration for Dracula in Bram Stoker's novels he never visited Bran Castle. He lived in Poenari Castle in Wallachia.
Does anyone live in Bran Castle? Not now. It used to be home to the royal family but it is only a museum for tourists today. Bran Castle is owned by the Archduke Dominic of Austria-Tuscany.
Read more of my Romania travel guides
The best things to do in Brasov
How to visit the Brasov Hollywood Sign
A complete guide for Rope Street
Is Caturesti Carusel the prettiest bookshop in Romania?
How to visit Peles Castle from A Christmas Prince
Save how to visit Dracula's Castle Romania for later!