When I first arrived in Beddgelert, I was naturally charmed by this quaint village in the mountains of Snowdonia National Park. It's hard not to be, as every corner looks like a scene from a postcard!
However, its beauty is not why I still remember this place. In fact, it was my visit to Gelert's Grave and learning about the upsetting legend of Gelert the dog that really stuck with me!
I still think about it, even now, and it's been weeks since I left.
I'm not alone in my thinking either. Even early travellers like J.M.W Turner and Thomas Pennant were inspired by this story. They went on to immortalise him in their works.
Although it's a folk tale that is supposed to have happened way back in the 13th-century, the legend of Gelert the dog is still one of the most popular folktales in Wales today!
Thousands of people visit this village every year to pay their respects to the forever faithful hound.
Here's a complete guide on how to visit Gelert's Grave in Beddgelert with the tragic story that is sure to tug on even the toughest of heartstrings!
Warning: if you're a dog lover, this tear-jerker of a story may make you a little sad.
Who was Gelert the dog?
Gelert was the brave and faithful wolfhound who belonged to the Welsh Prince, Llywelyn the Great, in the 13th-century.
Some legends say that Gelert was a gift from the Bad King John of England.
Llywelyn of Gwynedd was one of the most powerful rulers in Wales at the time and had a palace built in Beddgelert.
The prince built this palace so he could easily go hunting in the wilderness here and Gelert was his favourite hunting dog.
As well as being a faithful friend, always at his side. The hound was fierce in protecting his master and family from harm.
Nothing was too scary for Gelert. He was always the front of the pack and his bravery knew no bounds.
The tragic story of Gelert the faithful hound
One day, the prince decided to go on yet another hunting trip.
He blew his horn to call for Gelert to join him. But, Gelert did not appear. So, Llywelyn decided to go on the hunt without him.
When the prince returned, he was shocked by what he saw. Gelert was dripping with blood around his mouth and his son's crib was turned over.
He couldn't believe that his faithful dog could have killed his only living son and heir!
In a moment of grief and rage, the prince plunged his sword into Gelert's heart for his treachery.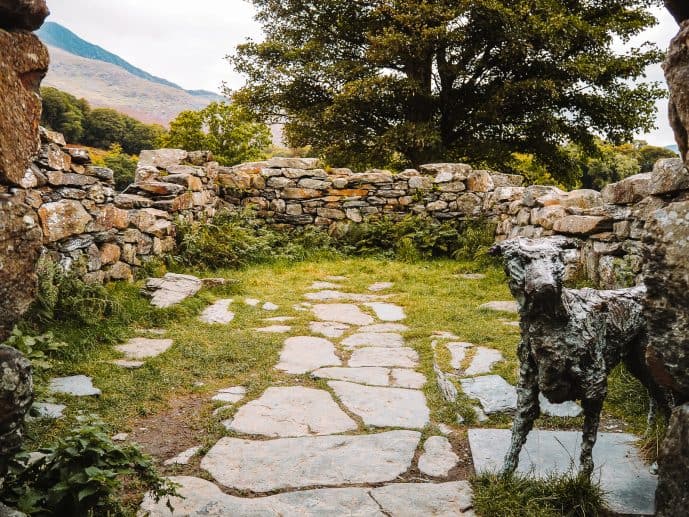 As Gelert let out a howl, it was at that moment the prince heard the soft whimpers of his son crying from under the crib.
He instantly felt relieved and ran over to cradle his son. He checked him all over and didn't have a scratch on him.
It was only then that he saw the dead wolf who was lying next to the crib in a pool of blood. It had been killed in a grisly fight.
The prince suddenly realised what had really happened. Gelert had killed this wolf to protect his son from harm all along!
However, it was too late for the faithful hound. The prince held Gelert in his arms as he passed away.
Prince Llywelyn was so stricken with grief that he carried his loyal friend himself outside the castle walls.
He buried him in the open so that everyone could see the grave and learn the story of this brave hero!
Some legends say that the prince never smiled again and he regretted his decision for the rest of his days…
Is the story of Gelert the dog true?
If this sad tale brought a tear to the eye and a few sniffs. It may bring you some comfort to know that this legend is thought to be just a story. The truth in it is wildly debated.
Many people will swear on their lives that Gelert the faithful hound was real. After all, there really was a Prince Llywelyn the Great that died in 1240. So, the dates of the story do tie together.
It's also said that this story of the hero hound is how Beddgelert got its name. Beddgelert in English meaning 'Gelert's grave'.
However, there was a settlement here way before this legend even came to be in the 13th-century! So, others suggest that the village actually got its name from the 8th-century Celtic Saint Celert.
The reason why this legend comes into question so often is that there are similar tales to Gelert's that are told all over the world. From Europe and all the way to India!
Plus, the stones that are left at Gelert's gravesite date back to around 200 years ago.
This was around the same time that a landlord named David Pritchard moved to Beddgelert and built the famous Royal Goat Hotel.
A genius marketing strategy?
It is thought that David Pritchard was the one who made up the story to increase tourism in the area.
Pritchard would tell the sad tale to his guests, who were obviously moved by it. They would then spread the word to others and so forth….
Eventually, it became so popular, he had two slate stones made for Gelert's grave. He laid them down in a field near a sarsen stone to attract even more visitors.
Famous early travellers like J.M.W Turner and Thomas Pennant were inspired by Gelert's story. He was painted and referenced in travel books and poems.
Even Queen Victoria stayed at the Goat Hotel and visited his grave. Her visit is why it's now called the Royal Goat!
However, just because there are two newer stones placed at the gravesite. That doesn't mean it's all a clever marketing ploy. It could very well have happened all those centuries ago.
If it is just a story, it's kind of genius if you think about it. The 'Gelert effect' is still in full swing two centuries later!
Whatever the case may be and whatever you choose to believe. This poetic folktale is still popular and kept alive in the hearts of thousands today.
Visitors flock to the village in their droves to pay respects to the ever faithful and loyal Gelert the dog.
Where is Gelert buried & How to visit Gelert's grave
If you'd like to visit this place yourself to pay respects to the faithful hound, you only need to head to the quaint village of Beddgelert.
This is in the county of Gwynedd and within Snowdonia National Park in Northern Wales, UK.
His burial site is still there for all to see and anyone can pop by and learn of his story.
The grave is free to visit and open 24 hours a day, all year round. It's easily accessed on a short and easy scenic walk from the village.
Just like the tale suggests, Gelert is buried in an open field near where the legendary 'Beddgelert palace' used to stand.
This is the area just beyond the grounds of the Church of St Mary beside the River Glaslyn.
Whether this is the original location that Prince Llywelyn chose to bury his faithful hound is up for debate. However, this is known as the official Gelert grave location today!
This huge natural space is owned and beautifully preserved by the National Trust. So, it has a nice flat concrete path for strolling. There is no risk of getting muddy boots here.
How long is the Gelert's grave walk?
When you reach Beddgelert village, it will be really easy to locate the gravesite as there are tourist signs all over the place pointing towards it. It's what it's famous for, after all!
As the village is so small, this short walk will only take you around ten to fifteen minutes. At whatever place you start in.
For example, you'd expect to walk ten minutes from the popular Saracen's Head pub and hotel. But, if you're staying or parked by the Royal Goat Hotel, it will take you around five minutes tops!
Gelert's grave parking
I personally parked up in the public car park by the Royal Goat Hotel to visit. This is the car park nearest to the visitor information centre. I found it the most convenient place as it's only a few minutes from here!
There is a fixed charge of £3 for four hours of parking. Card payments are available.
If you're worried about the price. I'd say you could definitely spend over four hours here. For such a small village there is, surprisingly, a lot to do!
Directions for the Beddgelert to Gelert's grave walk
If you are parking up near the Royal Goat Hotel or any of the other public car parks in Beddgelert.
It's easiest to start your walk by navigating towards the famous River Colwyn Bridge.
This is the iconic arched stone bridge that sits in the centre of the village.
It's hard to miss it really as it's where most of the pubs, shops, and hotels are located! Plus, you may have driven over it as you arrived.
Once you have reached the River Colwyn Bridge, you'll see a sign that points towards 'Gelert's grave'. From here, you'll follow the path beside the River Colwyn.
It's really scenic and you'll pass the National Trust shop, Gwynedd Crafts and Gwynedd Woodcrafts too. Fun Fact: this building was the filming location of 'The Inn of the Sixth Happiness'.
Once you reach the end of this pathway, you'll pass the free public toilets on your right and see a pretty-looking teal footbridge.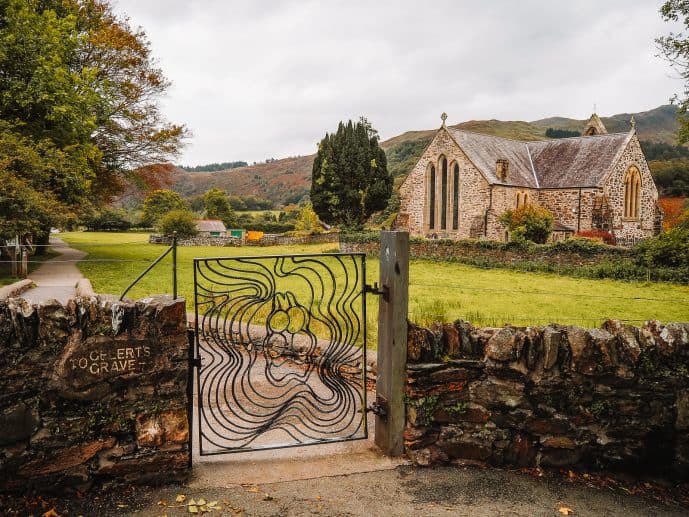 There is a right turning just before you cross over this footbridge.
You'll walk through a cute gate with a dog paw on it and there will be a sign on the wall saying 'To Gelert's Grave'.
After you walk through the paw gate, you'll enter a field and the path allows you to walk alongside the River Glaslyn.
If you head straight down this flat pathway, you'll pass St Mary's Church on your right. Continue on ahead and you'll eventually reach Gelert!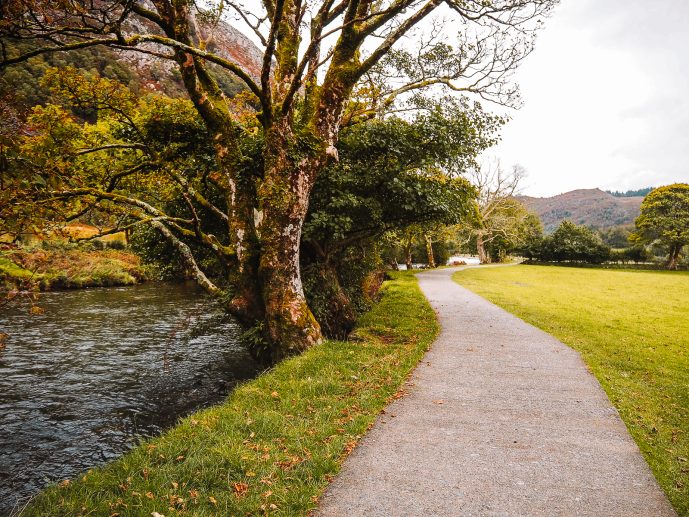 What you'll find at Gelert's Grave
So, I wasn't really sure what to expect when I got here. I had done little to no research before my visit. This is rare for me!
But, I was pleasantly surprised by how peaceful this area was. The short walk was surrounded by mountains and the cascades of the river. It was such a beautiful place to be.
When I arrived, I saw the famous cairn stones here with two memorial slabs. One with the legend of Gelert in Welsh and the other is translated in English.
It's here that I first learned the story of the faithful hound and, I have to admit, it really touched me! As I say, it's something I still think about now, long after I've left.
There is a pretty tree that grows over the site and the grave area is now protected by a circular fence.
But, that doesn't stop visitors from leaving little dog treats, coins, flowers, or sticks for brave Gelert! Aw.
Is the Gelert's grave walk dog friendly? Yes, so you can take your own loyal furry pals to see him! But, they must be kept on a lead at all times due to grazing animals.
Don't forget to visit the cute Gelert dog statue in Beudy Buarth Gwyn!
Many people visit the grave and then turn back towards the village but I would recommend that you don't.
You see, if you carry on walking down the path beyond Gelert's grave, you'll eventually reach a traditional stone monument.
It's called Beudy Buarth Gwyn and it looks like an abandoned farmhouse without a roof.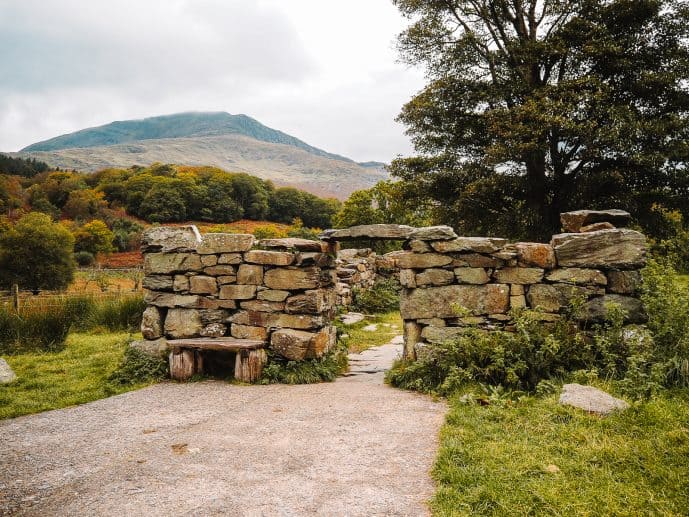 He's a little hidden away inside but this building is where the famous bronze Gelert the Faithful Hound Statue is located!
As you enter, you'll see the Gelert standing at the doorway. He's ready to defend the baby prince from harm!
It was a lovely touch that allows you to put a furry face to the legend as it were.
He's something that's really popular with children and big kids alike! So, don't miss out and get your cameras ready.
Looking for more things to do in Beddgelert?
Of course, the main reason why people visit this village is to see Gelert's grave. However, I would definitely recommend sticking around for a bit longer to explore what this beautiful village has to offer!
You can continue your National Trust walk alongside the River Glaslyn and head towards the Ynys Dol-leian or the majestic Aberglaslyn Pass.
If you head back into the village, you can go shopping in the range of antique and craft shops. There is no end of souvenirs that have Gelert's face on them!
Why not pop inside the historic Church of St Mary on the way or see Beddgelerts oldest building, Tŷ Isaf?
I personally loved The Real Coffee Shop here for a pick me up. But, there is also the famous Glaslyn Artisan Ice Cream & Pizza which is really popular with visitors.
In terms of tourist attractions, there is the Sygun Copper Mine or you could take a steam train journey on the Ffestiniog & Welsh Highland Railways!
It's a gorgeous village and you could spend hours wandering around here taking in its charm.
Click here to read my guide with all the places to visit in Beddgelert
Where to stay in Beddgelert
Royal Goat Hotel – Why not stay at the hotel that started it all?! It's where Queen Victoria stayed on her visit so you'll be following in the footsteps of royalty. Nowadays, it's a friendly family-run boutique hotel that oozes with character! Dogs welcome. Click here to book.
The Saracens Head – One of the most popular pubs in Beddgelert also has some cosy accommodation to book for the night upstairs! So, you won't have to walk far after a tipple. Their rooms have recently had a refurbishment and it's also dog friendly. Click for rates.
Read more of my Snowdonia articles
How to find the Lonely Tree of Llyn Padarn
Why is the Ugly House called Ugly
When does Tu Hwnt I'r Bont tearoom turn red?
Visit the Cauldron Falls at Pont-y-Pair bridge
How to find Sappers Suspension Bridge
A complete guide for Swallow Falls
How to visit the magical Fairy Glen Gorge
The ancient Penmachno Bridge location
A complete Conwy Falls & cafe guide
Look inside the Smallest House in Great Britain!
A complete guide for the Conwy Town Walls
How to do the Llyn Idwal Circular Walk
A complete guide for the Dinas Emrys Walk & Dragon legend
How to see the Bodnant Garden Laburnum Arch
How to visit Pistyll Rhaeadr Waterfall
Gladstone's Library – Stay in the UK's only residential library
How to visit Dinorwic Quarry Wales
Save this Gelert's grave Beddgelert post for later!