If you're looking for spectacular viewpoints in Pembrokeshire, then I would recommend visiting the Green Bridge of Wales!
A dramatic limestone archway that stands over the sea on the rugged and wild coastline.
It's easily Pembrokeshire's most iconic attraction and the views will seriously take your breath away!
Although it's a natural formation on the cliffs, visiting here isn't always easy due to its location on a military range. So, planning your visit in advance is essential.
Here's how to visit the Green Bridge of Wales in Pembrokeshire
What is the Green Bridge of Wales?
The Green Bridge is a natural arch that has formed on the cliffs of the Pembrokeshire coastline.
It's similar to that of Durdle Door in England and is formed from Carboniferous Limestone towering some 80 feet over The Wash bay!
This dramatic rock formation has amazed those visiting for centuries. But the limestone is thought to date back to millions and millions of years ago.
It is steeped in rich geological heritage and there have been many fossils found here.
That's why the area is a Site of Special Scientific Interest (SSSI), a Special Protected Area (SPA), and a Special Area of Conservation (SAC)!
How was the Green Bridge of Wales formed?
Although it's hard to pinpoint when exactly the archway formed on the ancient cliffs, the Carboniferous period dates back 358.9 million years ago to the time of the dinosaurs!
According to scientists, the arch would have happened naturally from erosion over many millennia.
A number of things would have made an impact including rainfall, high winds and the sea crashing over the rocks.
The pebbles found in the waves would have dissolved parts of the limestone forming caves in the cliffside. It is believed that two of these caves eventually met and created the bridge we see today.
It is quite a miracle that this archway didn't end up like the Elegug stacks close by. It is thought that the Green Bridge of Wales has survived as it was formed over tougher limestone.
The Green Bridge of Wales damage and collapse
This limestone arch has faired well for thousands of years but it isn't completely immune from collapsing.
Unfortunately, in 2017, Storm Ophelia meant that the Green Bridge of Wales suffered irreparable damage. It lost a lot of its limestone rock and a huge chunk fell into the sea.
Saying this, although we do get to see it as an archway today eventually the arch will erode away completely and it will be a bridge no more. Similar to the famous 'Azure Window' in Malta that collapsed recently.
Although this bridge isn't going anywhere for many years, only time will tell when it eventually collapses. So, it's best to visit now and see it while you can.
Amazing Green Bridge of Wales facts
The name Green bridge of Wales comes from the vegetation that grows on top of the archway!
The bridge is about 24 metres high or 80 feet. It also has a span of 20 metres wide or 66 feet
It was formed naturally over millions and millions of years and the limestone dates back to the time of the dinosaurs!
Although it's called a bridge, you cannot walk over it. Climbing does take place on the rock but only at certain times of year due to bird breeding seasons
Elegug Stacks nearby get their name from the Welsh word 'Elegug' meaning guillemots. They make a nest here and once featured on the Pembrokeshire Coast National Park logo.
There is no timeline for how long this archway will last as natural erosion is unpredictable
Where is the Green Bridge of Wales & how to get there?
The bridge is located in the Bosherton area of Pembrokeshire and is near to St Govan's Head – the most southerly tip of the county!
You can find it close to Broadhaven Beach and it's a highlight stop on the famous Pembrokeshire Coast Path trail.
Notable places around this area include Bosherton Lily Ponds, St Govan's Chapel and Barafundle Bay. So, it makes a perfect addition to a Pembrokeshire road trip itinerary!
The Green Bridge is located in a pretty remote part of Pembrokeshire. So, by far the easiest way to access this amazing location would be to drive.
The Green Bridge of Wales postcode is SA71 5EB
You'll be driving down narrow and winding single-track country roads with passing places for most of the journey, so prepare for cars coming the other way.
There are some travel line bus services to the bridge but it will include a long walk from the stop. Click here to plan your bus route.
Heads up – you'll be driving over a military firing range!
The area surrounding the Green Bridge of Wales is a military base, MOD army tank and firing range. So, for your safety, they often close this area of to tourists if they are training.
If the road to enter the area is closed off, unfortunately, the bridge viewpoint will be too. But, public access is normally available.
You can check if the bridge will be open by checking Castlemartin Firing Range website for training announcements. Or, you can call Pembroke Visitor Centre on 01437 776499 or Castlemartin Range on 01646 662367.
As you drive down towards the bridge there will be lots of scary warning signs from the military. But, be assured that if the road is open, it's completely safe as they won't be firing that day!
Just keep to the designated roads and paths and don't take photos of anything other than the cliffside area. As it's a military base, photos or videos of operations are forbidden.
Green Bridge of Wales parking
As soon as you arrive on the country roads, you'll find a huge parking area that has been provided on the cliffside.
It's completely free to park in and it's big enough for large cars and camper vans. But, you cannot park overnight.
There aren't any facilities here like toilets but there is a small information board explaining more about the area and some benches to perch on.
Opening times and prices
The Green Bridge of Wales is open 24 hours a day 7 days a week.
The only time it closes is when the military is training in the area. Public access is normally avaialble.
So, to avoid disappoint always check for training announcements before you drive over.
The Green Bridge of Wales is also completely FREE to visit. So, it's a great budget activity!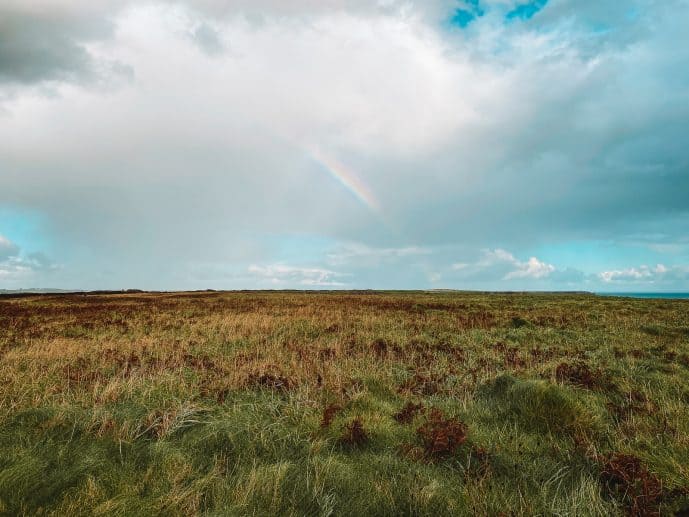 What to expect when you get here
Once you've parked up in the car park, you'll see a sign pointing you in the direction of the bridge to the right.
The path takes you on an easy 5-10 minute stroll over the cliffs to the bridge. It's a nice flat path!
From the path, you'll get breathtaking views of the dramatic Pembrokeshire Coastline all around you.
The path will eventually lead you down to a small viewpoint where you can view the bridge from the cliffs.
You can choose whether to get close to the cliffside, or view it from the upper viewpoint a little further back.
There are no fences or barriers on the cliffs so if the weather is windy, make sure to keep back from the edge for your safety!
There are no benches at the viewpoint itself but there are some situated along the cliff path if you wanted to sit down awhile and enjoy the views.
Tips for photography
You will definitely want to have your camera at the ready here. The view from the cliffs is spectacular especially as you can see the waves crashing onto the shore below.
I would go as far as to say that you can't really get a bad photo here. However, the lighting is nicest at sunset or sunrise.
There is lots of room to set up tripods but the landscape is quite rugged. It's also exposed on the cliffs so it can get quite windy which is difficult for sharp focus.
I visited on a pretty hectic day with the weather. It was partly sunny and partly chucking it down with rain!
But, the weird weather meant I got to see a lovely rainbow in the distance and some sunlight on the arch when it was setting. It turned out to be perfect.
Note: this area is strictly a no-drone zone!
Can you walk on the Green Bridge of Wales?
I was shocked to find out that you can actually walk over this bridge on the top. But, personally I would not recommend it. It simply is not safe.
Although it is called a 'bridge', it's definitely not something that is encouraged to walk over. It stands far away from the cliff on a narrow path, so it's quite a risky feat.
As well as the limestone foundations being delicate, there are no bridges or fences to protect you should you slip and fall!
There are some Green Bridge of Wales climbing activities that happen around here which would be safer. But, it's only at certain points of the year.
Check out the Elegug Stacks nearby!
If you want to see a before and after of what the Green Bridge will eventually look like, I would recommend heading over to the Elegug Stacks.
These are a couple of spectacular limestone pillars that jut out of the ocean by the cliffs!
Their name comes from the Welsh word 'Elegug' meaning guillemots who make a home here.
You'll find that many birds like razorbills, kittiwakes and fulmars nest here around the clifftops. So, you'll see them swarming about the place and making a noisy racket!
To find them, head back to the car park. There will be a sign pointing you in the direction of the stacks. It's only a five-minute walk on a flat path.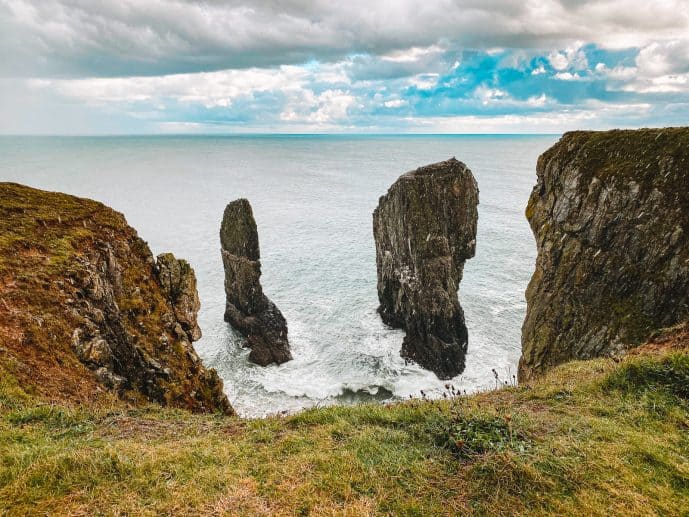 Why not head out on the Green Bridge of Wales walk to St Govan's Chapel?
The Pembrokeshire Coastal Path walk is a huge national trail that spans over 186 miles.
But, you can enjoy a small portion from here and the walk will take you over the dramatic coastline to the Bosherton area.
The hike is on a circuit to Bosherton with the famous Lily Ponds and Broadhaven Beach!
Quite close to the bridge is the mysterious St Govan's Chapel. A hermitage that was founded in the 6th century. Later, a small chapel was built here on the cliffside!
There are many legends surrounding this area and St Govan. It is said that the cliffs opened and closed around him to protect him from a pirate attack.
This magical place really blew me away on my visit to Pembrokeshire and I would highly recommend you visit here next.
Click here to read my visitor guide for St Govan's Chapel
Read more of my posts on Pembrokeshire and South Wales
Discover the magical Blue Lagoon in Wales
Why you must visit Stackpole Quay
How to find Dobby's Grave at Freshwater West Beach
The best bookshops in Hay-on-Wye
How to visit the ancient Llanthony Priory
The Crooked Church of St Martin's in Cwmyoy
Save how to visit the Green Bridge of Wales for later!