Minack Theatre is by far one of the most amazing stages to perform on in the entire world!
It's a dream of many artists to tread the boards or the clifftop here. To perform in front of an audience under the open skies and overlooking the Cornish coast.
As a previous performance art student, this amphitheatre was the ultimate dream. My theatre friends and I would always talk amongst ourselves about where we'd love to perform and this would always come up.
Although this theatre looks like it was built thousands of years ago by the Greeks, it's actually only a century old.
It's a labour of love and life's work of the wonder woman Rowena Cade who built this entirely by hand.
Here's a complete guide for the Minack Theatre Cornwall and why you must visit!
What is the Minack Theatre?
The Minack Theatre is an open-air theatre in Cornwall that has been carved out of the granite cliff tops over a gully.
Minack means a rocky place, 'meynek' in Cornish.
It lies off the west coast, just above the spectacular Porthcurno Beach, and overlooks the Lizard peninsula in the distance.
As well as being a theatre that's open for performances throughout the summer, it's also a major tourist attraction.
Thousands visit every year to see this architectural masterpiece and enjoy the incredible panoramic views.
The Minack Theatre boasts some beautiful coastal gardens, an exhibition, a sea view café, and a gift shop.
The amazing history of the Minack Theatre
You could easily mistake this amphitheatre for being here thousands of years ago. With the ancient Greeks or Romans cheering on Gladiators!
But, it may surprise you to know that the theatre is just under 100 years old. It was made by hand with only basic tools and became the life work of Rowena Cade who was born in 1893.
Her father tragically died in World War I and her families fortune's soon dwindled. They needed to move from their stately home in Cheltenham.
So, Rowena Cade decided to buy Minack headland for £100 in 1920. She then built Minack House that you can still see today.
Rowena loved to perform and she was part of the Shakespearean society in the area.
In 1929, the production was The Tempest and the artists wanted to perform the show by the sea. So Rowena offered her headland for the show.
But, where was the audience going to sit? She started to carve seats out of the rocks.
Eventually, over many years, she built this whole theatre by hand with her gardener Billy Rawlings.
There was no large construction equipment. They used only basic hand tools. The seats and the steps were all made with a mix of concrete and sand. Something Rowena would collect and carry herself in sacks from the bay.
It was to become her life's work and it evolved into what we see now.
Today, her legacy of this magnificent open-air theatre is famous all over the world. It still puts on performances every year!
Can you visit the Minack Theatre in Cornwall?
YES you can, in fact, it's open seasonally throughout the year for visitors, even when there isn't a show going on!
As well as visiting during the day, the theatre is open for evening performances too.
They recommend booking a performance as far in advance as possible as events are extremely popular!
Minack Theatre opening times & ticket prices
From the beginning of April to the end of October, the theatre is open daily. See the website for winter opening times.
Opening times vary depending on performances, so check the Minack website for details.
When the Minack Theatre is open, tour tickets prices are;
Adults £10
Under 16s £5
Guided Tours £20
Advance booking is essential for all visits, tours and performances during school holidays, and advisable at other times.
Magical reasons why you need to visit Minack Theatre
So, is the Minack Theatre worth visiting? It's a hard YES from me. There are so many reasons to visit this open-air theatre in Cornwall.
From the magnificent views from the cliff tops, the captivating story, the delightful café, shopping, performance arts, and more.
Here are all the reasons why you should visit the Minack Theatre.
1. Every piece of the theatre has a story to tell
As Rowena Cade's life work, there is so much to this theatre. Each layer and stone has a story to tell.
Like, did you know that after every performance that was shown here, the name of the production was carved into the seats on the rocks? It all started with The Tempest in 1929.
After a while, it became too much to carve every play into the stones. But, you can see hundreds of them around here. Mostly Shakespearean productions!
Another thing to look out for is a seat dedicated to Henry Rawlings, one of Rowena Cade's most ardent helpers.
You can sneak off into tunnels, nooks, and crannies, traipse down the steps and sit in the booths and seats. There is so much to find.
You can find all the details about the Minack theatre story in their exhibition. They have a timeline from the very beginning to the present day.
2. It has the most incredible coastal views
One of the main draws for the Minack Theatre is the majestic views you can swoon over on the coast.
From all over the amphitheatre you can get views of mouths in the jagged cliffs, the pretty coves on the shoreline with turquoise waters, and the Lizard peninsula, the most southerly point in England!
It's not an easy place to walk around by any means. The theatre is perched on a headland and it's a labyrinth of slipways, rocky steps, and steep cliffs.
But, everywhere you look there is something gorgeous to see. As the cliffs are so close to the cliffs, you can spot so much wildlife here.
Pods of dolphins, seals in the surf, seagulls overhead, and plenty of migratory birds too. Make sure to keep your eyes peeled.
3. You can explore the beautiful Minack gardens
Another thing that makes Minack Theatre breathtaking is the fact it's now living art. For the past few decades, it's been home to tropical coastal gardens.
It started off with a small bed of flowers by the Trustees of the Minack. Now, it's developed into a huge 1.5 acres of floral paradise and it makes the theatre pop with colour!
In any season, there is something amazing to see blooming on the cove. Despite its position against the wild sea, they really thrive.
The gardens showcase flora and fauna from all over the world. Palm trees, daisies, succulents, and blooms in all colours of the rainbow!
It's perfect for garden lovers. They have even introduced garden tours for those that are green-fingered. You can meet the head gardeners. Click here for details.
4. The architecture is mind blowing to see and capture!
Knowing the full story and how this place was built, as soon as you stand from the top of the cliffs, it will blow your mind.
Imagine the amount of work and toil it took to create such a place on the cliffs. It's astounding.
It's like a maze of seating, rocky outcrops, winding slipways all-encompassing the theatre at the bottom of the cliff.
Years ago, before it became the whopping place it is now, there were no handles or rails to hold on to.
In fact, if you were a punter in the 1930s, you'd most likely be standing, clinging to the rocks, or sitting on a granite boulder.
I cannot stress enough how much you need to bring your camera here. It's a dream to photograph.
There are endless angles you can capture. It's the perfect blend of colourful gardens, marvellous architecture all with the background of the Cornish coast!
5. Indulge in their Minack Theatre café
As well as admiring the views and exploring the theatre, there is also the added benefit of visiting their sea view café.
It's perfect on a sunny day or to hide in when the weather isn't so pleasant. There is plenty of seating inside.
They serve breakfast in the mornings, light lunches, and, of course, a quintessentially Cornish cream tea!
This café does get really popular and, on the day we visited, it was packed with no seats left inside! So, you may be waiting a while on a busy day.
Only those who have paid to enter the theatre may use the café. But, you can purchase takeaway items in the visitor centre.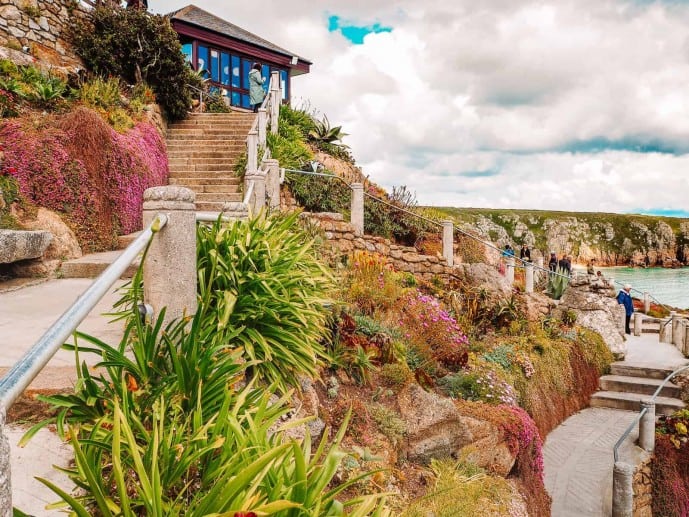 6. You can watch a performance under the stars!
As well as visiting the theatre during the day, one of the highlights of a trip to Cornwall is to see a performance at the Minack Theatre.
It must be a magical feeling to watch a show under the stars with the twilight coast in the background! What an atmosphere!
There are plenty of shows that take place throughout the season during the day as a matinee performance and in the evening.
From Shakespeare, contemporary shows, musicals, opera, orchestra, and storytelling for children.
How much does it cost to watch a show at Minack Theatre? Prices vary depending on the show and seating plan. Click here to see the latest programme. It is recommended to book your seats as far in advance as possible as shows do send to sell out!
7. From here, there's lot's of south Cornwall to explore
With its dramatic position on the south coast of Cornwall, Minack Theatre is the perfect stop on a road trip of the area.
There is free parking here for those who are going to be visiting and you can then head off to other beaches and villages.
Minack overlooks the popular Porthcurno Beach and you can explore the historic village which used to be a famous hub of international communication.
It used to have a huge telegraph station and you can visit the museum which tells you all about it!
You can also visit some hidden beaches and coves like Porthgwarra or Nanjizal Beach.
They are perfect gems that see fewer crowds than the likes of Porthcurno and Kynance Cove.
You're also perfectly situated in between the Lizard and Land's End. Land's End is the most westerly point in England and you can get a photo with the famous sign. Or, head to the Lizard to see the most southerly point of England!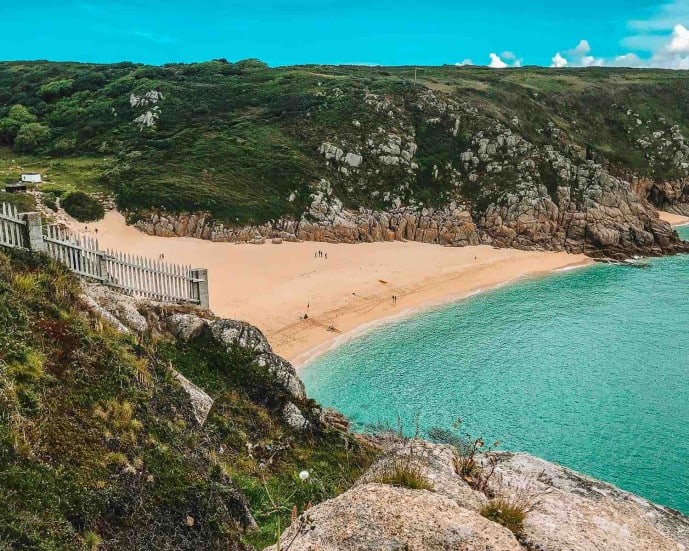 Helpful travel tips for visiting Minack Theatre
Allow enough time to explore – I'd allow at least an hour minimum to explore the site. There is plenty to see including the full story, the theatre, the café, and the shop. Plus, you'll be mesmerised by the view.
Getting here can be a challenge – Most of Cornwall has steep single-track lanes and Minack is no different. Except Minack is on top of a cliff! So, you'll need to be careful navigating the way and use passing places. On busy days, you can face a bit of a queue.
Steep steps and stairs – Minack Theatre has plenty of steep steps and pathways. There are rails to hold onto but it isn't always accessible. If you are unable to venture down, the views are still amazing from the top. You can enquire with the staff about accessibility options.
The theatre is exposed – the theatre is open air and is exposed on the coast. So, it can get nippy with the breeze. I would bring a spare layer with you and something to protect you from the rain.
Minack Theatre in the rain – Performances are only cancelled in exceptionally stormy weather. So, you'll need to come prepared, umbrellas are not permitted during performances.
Wear good walking shoes – walking around this theatre is quite a challenge, trying to navigate in high heels would be almost impossible. There is lots of uneven ground, so wear some good walking shoes.
Minack Theatre is dog friendly –During visiting hours, dogs are allowed here on a lead. But, they are not allowed in during performances. In storytelling shows they are only permitted at the top level.
Where is the Minack Theatre Cornwall?
Minack Theatre is perched high on the cliffs of Porthcurno in Cornwall. It's just a little bit further from Porthcurno Beach.
Porthcurno lies on the west coast and getting here can be quite a challenge with small track roads and infrequent bus service.
How to get to the Minack Theatre
It is more convenient to have a car to travel to the Minack Theatre. But, it is also possible with public transport during the day and there are some evening services on performance evenings too.
From Polgigga, you can turn off the B3315 road and take The Valley road towards the coast. The postcode for SatNavs is TR19 6JU.
Parking for Minack Theatre: There is FREE parking available at the theatre for those who plan to visit, who are watching a performance, buy from the café or want to book tickets. Although there is ample parking right outside the theatre, there is an overflow for busy days and it can easily pack out!
Minack Theatre Bus: The nearest train station is Penzance. From here, you can take the First Group A1 Kernow service towards Porthcurno. This service also stops at Land's End. You can take an evening bus when performances are running from St Ives, that stops at Penzance but these will need to be booked in advance.
Minack Theatre Cornwall FAQs
How do you pronounce Minack Theatre? It's pronounced Min-ak Theatre.
How old is Minack Theatre? It was built in 1932 so it's 88 years old!
Who built the Minack Theatre? Rowena Cade built it by hand with the help of a small team.
How was the Minack Theatre built? It was hand-carved into the rocks and built using sand from the nearby beach and cement.
Who owns the Minack Theatre? Since Rowena died in 1983, Minack Theatre is owned and managed by the Minack Theatre trust, a registered charity.
When is Minack Theatre open? It opens up for daily visitors between April – October. Summer performance season take place on select days throughout May – September.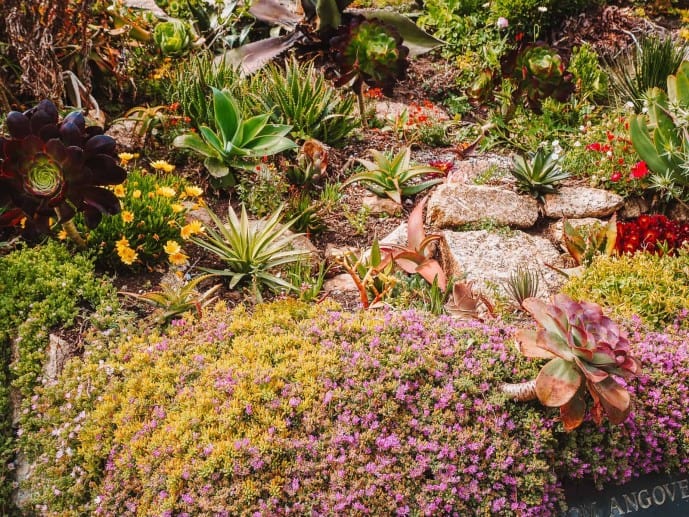 Where to stay near Minack Theatre
There is no option to stay near The Minack theatre itself but there are plenty of accommodation options in Porthcurno or Penzance which is nearby;
Porthcurno Bay View – is a holiday home which overlooks Porthcurno cove and has fabulous terrace views to enjoy. It has 3 bedrooms to sleep big families. Click here for rates.
Barristow Farm – is a quaint bed and breakfast located in St Levan around 2 miles from Porthcurno. There are cosy rooms and fabulous gardens to enjoy. Click to book.
The Artist Residence – in Penzance is a bespoke 17th century hideaway with chic boutique rooms. The property is decorated with artistic works from British and global artists. Click for rates.
Campsites – Treen Farm Campsite is the closest to Porthcurno and is a popular spot for those with camper vans. You can pay to pitch your tent or park your van on their large grounds near Treen farm. Click to enquire.
I recently stayed in a brand new propery by St Aubyn Estate Cottages that is perfect for visiting the Minack Theatre. Click here to read my detailed Pendower Cottage Porthgwarra review.
Things to do near Minack Theatre in Cornwall
As Minack Theatre is right in the heart of the West coast of Cornwall, there are a number of gorgeous beaches, coves, villages, and attractions nearby to enjoy.
You could venture out on the South West Coast Path on foot, or plan a road trip hitting up a number of beauty spots in the area.
Porthcurno Beach
As you are standing at the top of the clifftops in the Minack Theatre, you may be wondering what the beautiful sand beach is below.
Well, that is Porthcurno Beach and is one of Cornwall's most popular spots. It's also shot to fame recently for being a Poldark filming location!
It's a gorgeous beach and the village of Porthcurno is also worth visiting. There are a number of shops and attractions.
Did you know that Porthcurno was once at the forefront of international communications overseas? Porthcurno had one of the largest telegraph stations in England.
Today, it's a museum that you can visit with their Eastern House, coastal areas and underground tunnels used in World War II.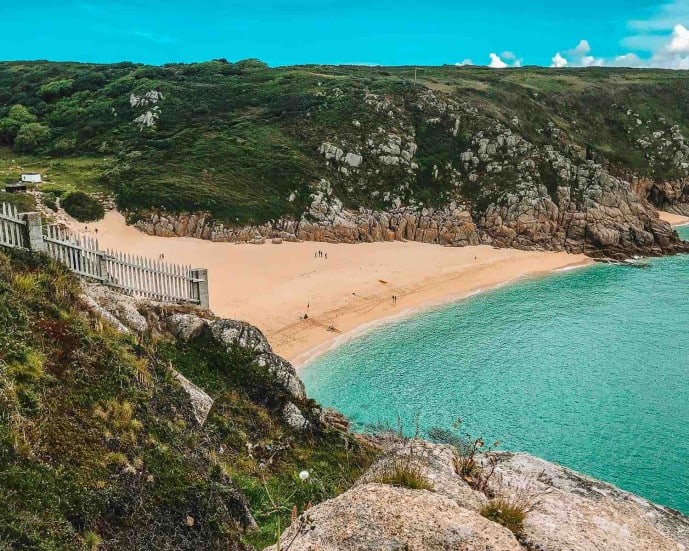 St Levan Church
St Levan is a gorgeous rural parish that sits in the west coast of Cornwall and is only a few miles from Porthcurno. It lies between Sennen and St Buryan near the sea.
Here, you can meander around coastal paths through farmlands, villages, clifftops, find hidden beaches and sneak into adorable chapels.
The parish church of St Levan is a development of the religious site that has been here since the 4th century!
It was originally created by Duke Padern, a saint of Cornwall, who made a Dukedom for himself here.
It was called St Levan and named after his uncle St Soloman (pronunciation is Celtic).
As well as exploring the church, you can find St Levan Stone outside which almost looks like it's been split in two.
For centuries, this stone was a pagan site that has been connected with fertility. Nearby is also the site of St Levan's Holy Well.
Porthgwarra
Porthgwarra is a stunning hidden cove in the parish of St Levan which you can only get to by walking or meandering down some seriously narrow lanes by car. But, the journey is totally worth it to visit this tiny harbour.
There is a tunnel that has been carved out of the cliff to give easy access to the beach and here you can swim in the clear waters.
This is a popular spot for snorkelling and rock pooling, plus you can see many seals in the surf around here who come to say hello.
In the high season, there is a café that is open nearby.
Poldark fans will not need reminding that this is the place where the famous swimming scene was shot. It includes a certain brooding captain taking a skinny dip while his kitchen maid watches on..!
This is a great area to explore the South West Coast Path and you can walk from here to the top-secret Nanjizal Beach!
Click here for more information about this secret cove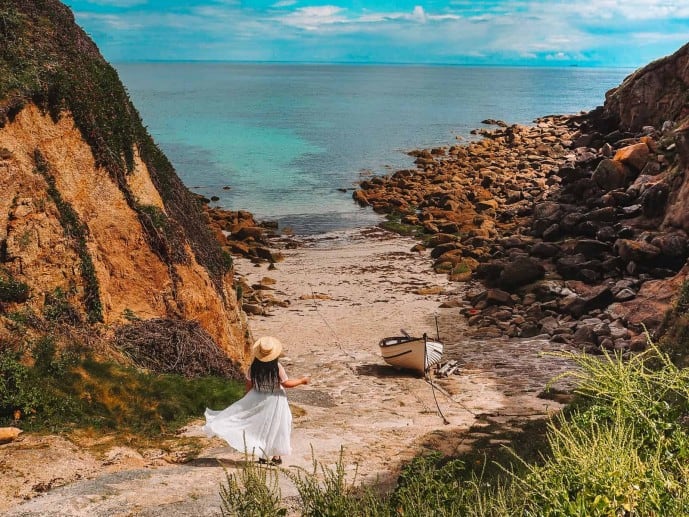 Land's End and Sennen Cove
No visit to the south of Cornwall would be complete without a stop off at Land's End to see the very end of England. This landmark has been attracting tourists for nearly 400 years!
Nowadays, it's a whole complex that you can visit. The Land's End Landmark attraction is FREE although many of the things inside it do come with a charge and you will pay out the nose for parking.
You can make a phone call at the end of England, send a postcard stamped at Land's End, have the most southerly Cornish pasty, take a photo with the Land's End sign and go on the wealth of pretty walks around the area.
There really is something for everyone here and it can be as cheap or as expensive as you like.
Or, head on over to the history Sennen Cove which is a popular beach and surf spot. The First and Last Inn is also worth a look in to see some of the old smuggling tunnels!
Read more about all the things to see and do at Land's End
Read more of my Cornwall guides
How to visit Tregothnan Estate in Cornwall
Things to do in Mousehole Cornwall
How to visit St Michael's Mount in Cornwall
Things to do in Charlestown Cornwall
The Museum of Witchcraft in Boscastle
How to visit the Lost Gardens of Heligan
Things to do at the Jamaica Inn
How to visit Golitha Falls in Cornwall
A complete guide for the Cheesewring Hike
Secrets of the Admiral Benbow Inn
Where is Driftmark filmed in House of the Dragon
How to visit Holywell Bay from House of the Dragon
Magical things to do in Kynance Cove
Save the Minack Theatre for later!