One of the places that truly blew me away on my trip through Pembrokeshire was the mystical St Govan's Chapel.
A dramatic medieval church that is nestled in the limestone cliffs and was founded all the way back in the 6th century.
This magical place is steeped in history and has an air of mystery to it. Local legends tell stories of this church being involved with abbots, angels, pirates, and miracles!
Although it is a popular attraction in Pembrokeshire, you will need to plan your visit wisely as this area is often closed to the public.
Here's a complete guide on how to visit St Govan's Chapel in Pembrokeshire with the legends, history, directions, and the best time to go!
The legend of St Govan's Chapel
Although most of the structure on the cliffs today is dated back to the 13th-century. The area was actually founded in the 6th-century.
It is believed that a Hermit, St Govan, established a small hermitage here when he was making his escape from pirates!
According to the story, in his time of need, the cliffs opened around him and closed before the pirates could attack him.
St Govan reported that he was held so tightly by the cliffs his ribs made a marking on the stone. To this day, you can still see these marks!
He then lived in the hermitage surviving on fish and the holy well which provided fresh water.
A while later, he made a small bell on the rocks to warn others if pirates visited again. So say, he would tap on this bell if he needed the angels to help him.
You can still see the bell rock today with Govan's rib markings (minus the actual bell). It is rumoured that if you turn around three times and make a wish whilst standing in the crevice of the rock it will come true!
There is also another legend that St Govan's Chapel plays a role in the Arthurian Tales.
Sir Gawain, Arthur's nephew, is thought to be buried here. It is said that this place is where he lived out the rest of his days after Arthur's untimely death.
St Govan's Chapel history
St Govan's hermitage in the sixth century was more of a cave and he lived there until his death.
In the centuries that followed, the area became known as St Govan's Head and it turned into a popular religious site.
Eventually, a stone structure was built for pilgrims in the 13th-century which was a small temple of 20 feet by 12 feet.
It was tucked down here on the cliffside by the hermitage and it hasn't changed much since it was first constructed!
The church is mainly hollow inside with a simple altar. It is said that St Govan himself is buried beneath it.
In medieval times, the temple and holy well near the church became a place of pilgrimage for cripples seeking a cure. Also, people with eye infections used the holy water to heal them!
Today, it remains fully intact and still nestles perfectly on the cliffs. It's a Grade I listed monument that has an air of mystery and magic about it!
It has to be one if the most beautiful churches that I've ever visited in Britain. You have to see it for yourself if you're visiting Pembrokeshire.
Where is St Govan's Chapel in Pembrokeshire?
St Govan's Chapel is located in the Bosherton area of Pembrokeshire and is near to St Govan's Head – the most southerly tip of the county!
You can find it nearest to Broadhaven Beach and it's a highlight stop on the famous Pembrokeshire Coast Path trail.
Notable places around this area include Bosherton Lily Ponds, The Green Bridge of Wales, Barafundle Bay and Freshwater West Beach.
So, it makes a perfect addition to any Pembrokeshire road trip itinerary!
What is the best time to visit?
The best time to visit St Govan's Chapel would be when it's dry weather and low tide so you can access the cliffside beach below.
It's dangerous to walk down to the chapel at high tide and, during adverse weather or storms, the whole area closes altogether for safety.
The steps leading down to the cliff get slippy and high winds can make it a scary walk down.
So, be sure to check the tide times before you go and try to plan your visit around a dryer day. Although, admittedly, these aren't always possible in Wales.
You can check St Govan's Chapel tide times here!
How to get to St Govan's Chapel
The chapel is located in a pretty remote part of Pembrokeshire. So, by far the easiest way to access this amazing location would be to drive.
You'll be driving down narrow and winding single-track country roads with passing places for most of the journey, so drive with caution and prepare for cars coming the other way.
St Govan's Chapel postcode is SA71 5DR. But, this leads you to a military base entrance! Once you get there, the military has some detailed directions on a sign for you to follow.
A small warning – you will be driving on a military firing range!
The area surrounding St Govan's Chapel is actually a military base, MOD army tank, and firing range. So, they often close this area to tourists for safety during training.
If the road to enter the area is closed off, unfortunately, the chapel will be closed off too.
To avoid disappointment, it's always best to check that the roads will be open before you drive over!
You can check if St Govan's Chapel is open by checking the Castlemartin Firing Range website for training announcements.
Or, you can call Pembroke Visitor Centre on 01437 776499 or Castlemartin Range on 01646 662367.
As you drive down to the chapel over the military base there will be lots of scary warning signs about army tanks and firing ranges.
This can be quite worrying but be assured that if the road is open, it's completely safe as they won't be firing that day!
Make sure to keep to the designated roads and pathways. Also, don't take photos of anything other than cliffside area. As it's a military base, photos or videos of operations are forbidden.
St Govan's Chapel parking
Once you reach the cliff's head, you'll find a large car park right next to the chapel!
The walk over to the steps down towards the chapel is less than 100 metres away.
It's completely free to park in and is large enough for bigger cars and camper vans too.
You'll find a small information board there welcoming you to the area and it provides some detail about the chapel and wildlife found here.
Is there a bus to St Govan's Chapel?
Yes, you can access the chapel by public transport and walking!
If you were planning on getting a bus, there is a stop off at Trefalen Car Park with Traveline Services making a stop there. But, the walk over to the chapel from there will be around 2 miles!
Of course, many people visit St Govan's Chapel as part of their hike on the Pembrokeshire Coastal Path or the St Govan's Chapel circular walk from Bosherton/Broadhaven Beach.
The Pembrokeshire Coastal Path is a walk of 186 miles around the area. But, you can enjoy this smaller portion on this spectacular hike!
Does it cost money to visit the church?
Nope, St Govan's Chapel is completely FREE to visit in Pembrokeshire as well as the circular walk along the clifftops.
This makes it a great budget thing to do on a road trip through the county!
What to expect on the walk down to the chapel
So, once you leave the car park you'll take a short scenic stroll over the clifftops towards an opening in the cliff.
You can see for miles and miles along the dramatic Pembrokeshire coastline and it's breathtaking.
As you reach the inlet in the cliff, you'll see 52 steep steps that lead you down towards the medieval chapel nestled in the cliff!
Always check the weather and tide before you head down the cliffs. If it's been raining or it's windy it could be treacherous. There are some rails for safety if you need them.
There is another local legend that states there are more steps going up than going down here. So, you may have to count them on your visit to see if this is true!
Things to do at St Govan's Chapel
The pathway down certainly has an air of mystery to it and I couldn't wait to see what was below!
The fact that this chapel has been tucked away on the cliffside for over 700 years is mind-blowing to me. It has a fairytale atmosphere and it really does look like something straight from the Arthurian legends.
St Govan's is a tiny place but there is surprisingly a lot to see in this area. Here's what to look out for on your visit!
Explore the ancient hollow church
The steep stairs down will firstly lead you inside the ancient chapel that was built in the 13th-century.
It's completely made of limestone and the whole building measures a tiny 20 feet by 12 feet.
There are no doors or glass windows, so it's completely wide open. You'll find it quite breezy and it smells of the fresh sea air!
There is nothing to see inside except a small alter which is supposedly where St Govan is buried. However, it is still really interesting to explore.
There are two chambers, one larger room, and some steps that lead up to a smaller space. The best part is being able to see the rocky cove and the sea out of the small open windows!
There is a small area outside of the chapel where the medieval Holy Well used to be located. But, unfortunately, this has completely dried up!
Walk along the rocky cove beach
Once you step outside of this medieval chapel, you'll be amazed at where you find yourself standing!
If you turn around, you'll see that the chapel is quite literally built on the cliffside. So, you exit facing a small cove area on an inlet beside the sea.
It's by no means a sandy beach, it's full of huge rocky boulders. However, it can be a sun trap and you'll often find visitors sunbathing on the rocks if it's sunny.
If you weren't up for sunbathing, there is a small walk you can take to explore the area. Once you exit the church you'll find a small beaten pathway that leads you around the rocky cove.
From here, you can see some amazing formations on the cliffs and places where you can look out at the dramatic coastline.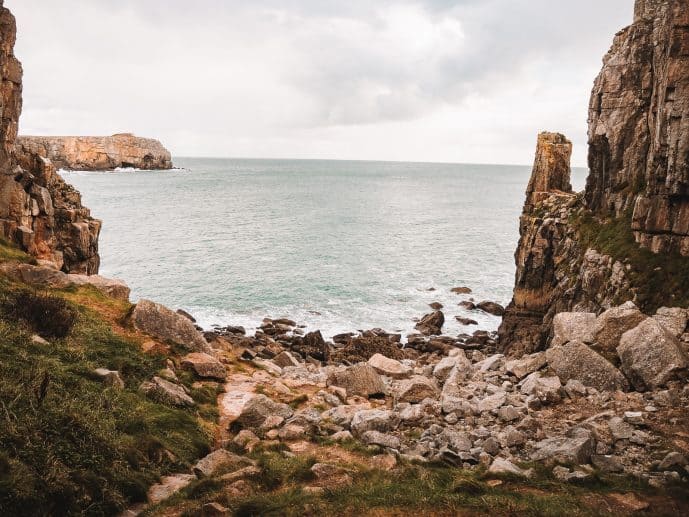 Make a wish beside the Bell Rock
One of the most popular parts of St Govan's Chapel is paying a visit to the Bell Rock.
According to the legend, a small miracle happened when St Govan was under attack by pirates. The cliffs magically opened and then closed around him to protect him from harm!
He was squished so tight against the rocks that his ribs were crushed and you can still see these markings today.
St Govan placed a small bell at this site to warn others when pirates attacked and he would ring it when he needed assistance from the angels.
A while later, the bell was robbed by the pirates but divine intervention saw that the pirate ship sunk during a terrible storm.
Today, the Bell Rock is still here and you can see the rib markings. It is said that if you stand inside the crevice and make a wish whilst turning around three times – your wish will come true!
Take St Govan's Chapel circular walk
Once you've walked down to the chapel and made your way back up the steep steps. You can carry on the St Govan's Chapel Circular Walk.
This is a brisk hike along the coastal path to Bosherton that includes the Lily Ponds and Broadhaven Beach!
You can start this walk at either Broadhaven Beach or St Govan's Chapel as it runs on a circuit via the access road over Trevallen Downs.
The boundaries of the firing range are clearly marked with red flags when training is going on. So, make sure that you steer clear when the area is closed to the public.
For more information on this walk, see here
Visit the Green Bridge of Wales & Elegug Stacks next!
Another major attraction of Pembrokeshire is The Green Bridge of Wales. It's a dramatic archway that has been formed in the limestone cliffs similar to Durdle Door in England.
It's an incredible photography location so have your camera at the ready for this one.
When I arrived here, it was partly sunny and partly chucking it down. So, aside from getting drenched, I got to witness a beautiful rainbow over the sea!
A little further along the cliffs, you can find the Elegug Stacks which are a set of stunning limestone rock pillars that stand away from the clifftops.
It's really close to St Govan's Chapel so it makes the perfect place to head to next on your road trip.
Once again, this area is located on the Castlemartin Firing Range so make sure to check if it's going to be open before your visit.
Read my complete guide on how to visit the Green Bridge of Wales here!
Read more of my posts on Pembrokeshire and South Wales
How to find Dobby's Grave at Freshwater West Beach
Why you must visit Stackpole Quay
Discover the magical Blue Lagoon in Wales
The best bookshops in Hay-on-Wye
How to visit the ancient Llanthony Priory
The Crooked Church of St Martin's in Cwmyoy
Save how to visit St Govan's Chapel for later!