The Major Oak Sherwood Forest is one of the most famous trees in all of Great Britain.
It is consistently voted as Britain's favourite tree, is the largest oak tree in all of the UK and is famous all over the world!
Not bad for an ancient tree sitting in the middle of a forest in the countryside. So, why is The Major Oak so special?
Well, there are plenty of reasons including the fact that it's estimated to be nearly a thousand years old and was once a hiding place for Robin Hood!
I have been to Sherwood Forest twice now and every time, I fall in love with this place. Not only am I'm slightly obsessed with the legend of Robin Hood but this twisted tree also has a certain magic to it.
If you haven't made a trip to England to see it yet, I would highly recommend doing so. Here's a complete guide to visiting The Major Oak Sherwood Forest!
What is The Major Oak Tree?
The Major Oak Tree or the mighty oak is the largest oak tree in Britain.
It's an English Oak Tree and if you want to get all scientific its official name is Quercus robur.
The trunk alone has a circumference of 11 metres (33 feet), it has a canopy of 28 metres (100 feet) and is thought to weigh over 23 tons! That's a BIG tree.
No one really knows the exact age, but it's thought to be between 800 – 1100 years old.
It became a popular Victorian tourist attraction in the 19th century and the introduction of the railways made it a superstar.
Today, it's estimated that over 350,000 people visit The Major Oak each year.
Where is The Major Oak located?
The Major Oak sits inside the royal Sherwood Forest. This is located in the county of Nottinghamshire in the heart of England, the East Midlands.
I always thought that Sherwood Forest was close to Nottingham from all the Robin Hood TV shows and movies I've watched over the years. But, it's actually around a 40-minute drive from there.
Sherwood Forest used to be a royal hunting ground and was over 100,000 acres and also the legendary home of Robin Hood!
Today, it's a nature reserve that is owned and managed by the RSPB (Royal Society for the Protection of Birds) and has around 450 acres of public land to explore.
Sherwood Forest is also special as it has the largest collection of ancient oak trees in the UK, in fact, there are 997 giants to explore if you're interested and have the time.
Where is the Major Oak located in Sherwood Forest?
As a major attraction in the UK, Sherwood Forest is really easy to visit. They have just made a brand new visitor centre with a huge (but expensive) car park. More on that later…
From the Sherwood Forest Visitor Centre, you can take The Major Oak trail to visit the Major Oak. It will take you around 15 minutes to walk it.
The trail is clearly signposted, so you really can't miss it.
After you've finished, if you want to go back to the visitor centre it's an easy loop.
The whole trail takes you around 1.5 miles around the forest and is a 45 minute round trip. So, make sure you leave enough time.
9 amazing facts about The Major Oak Sherwood Forest
So, an oak tree that's this old has quite a few stories to tell!
Here are some amazing Major Oak facts that you didn't know before;
1. No one really knows how old The Major Oak tree really is!
Although we can make a really good guess based on studies, no one can really pinpoint how old The Major Oak is. It is estimated to be between 800 – 1100 years old!
So, it has survived through the Vikings, the Normans, Henry VIII, Shakespeare, Queen Victoria and two World Wars – this veteran has seen it all and survived. What a trooper.
It also still stands tall despite numerous fires, storms and deforestation over the years too. So, it's a small miracle it has survived through the ages.
Today, The Major Oak is surveyed and protected by the RSPB and the team have worked hard to make sure it survives for more centuries to come. There doesn't seem to be any sign of it falling down.
2. The Major Oak has long been associated with Robin Hood
Another reason why this tree is so famous is that it is thought to be the old hideout of the legendary Robin Hood!
If you don't know who Robin Hood is (although I'm not sure where you've been), he was a heroic outlaw who robbed from the rich and gave to the poor with his band of Merry Men!
Robin Hood is thought to be a legend that only lived through ballads and stories, but many believe he was a real person too.
As he lived outside of the law, he used Sherwood Forest as his stomping ground to hide from the authorities.
Robin Hood is meant to have used the hollow trunk of The Major Oak to hide in and also this is where his Merry Men slept. Some even say that he hid some of his loot here too!
Although nowadays its insects, animals and birds hide inside the Major Oak, it still inspires people to visit each year to discover the legend of Robin Hood.
Read more – the BEST Robin Hood Nottingham Locations!
3. It got it's name from Major Hayman Rooke
I always thought the Major Oak got its name from its sheer size. But actually, the Major Oak is named after Major Hayman Rooke.
He was a soldier and a passionate antiquarian who in his retirement published a series of sketches in 1790. His book was called Remarkable Oaks in the Park at Welbeck and he made a name for himself.
Later, he then published a pamphlet called "A sketch of the ancient and present state of Sherwood Forest".
This pamphlet inspired more tourists to visit and see the old oak tree, so people started to call it the Major Oak in his honour.
Before this, it was called the Cockpen Oak due to people keeping fowls inside it for cockfighting!
4. It was a major Victorian tourist attraction
Over time, it's hard to fathom just how many people would have looked at or climbed on The Major Oak over the years. It's inspired and amazed so many who stumbled upon it in the forest.
But, it was really 'discovered' and brought to light as an attraction through the Major's sketches.
Once the railways had opened up in the UK, this pretty much kick-started mass tourism in the Victorian era.
If you think about it before train travel existed you'd spend days in a stagecoach not getting very far. So the concept of going out for the day and being back by dinner time was exciting!
The railways advertised a visit to "The Dukeries" on posters with the Major Oak right up there as the main event. This was over huge historic attractions like Chatsworth House and Rufford Abbey. So, people would flock to see it and word would spread.
Ever since it's been attracting thousands of tourists each year.
5. It has been voted as Britain's favourite tree
The Major Oak is pretty much legendary in the UK so it's no surprise that it consistently wins awards.
Not only has it been voted Britain's favourite tree in 2014, but it also voted as 'England's Tree of the Year'!
It's also been called one of the Seven Natural Wonders and a Wonder of the Midlands.
6. The Major Oaks trunk is a whopping 33 feet!
I think the thing that really amazes me is its sheer size. The trunk alone has a circumference of 33 feet and its knarled branches canopy across 100 feet.
That's the same length as 9 storey building! It also is thought to weigh around 23 tons. That's just under the weight of a Blue Whale.
This makes The Major Oak the largest oak tree in Great Britain!
7. The inside is mainly hollow due to a fungal infection
You'd think that if Robin Hood and his Merry Men were hiding here, that the hollow trunk inside the Major Oak was man-made.
But in fact, the poor tree suffered a fungal infection many years ago which made it hollow.
It is said that in order to preserve it, concrete was placed inside the tree in order for it to still stand. But, I'm not sure if that's true.
However, since the 1950s, the tree has been constantly surveyed and protected to ensure it survives.
In 1908, a series of chains were placed over the tree, the same ones we see today!
8. The Major Oak has been fenced off in order to protect it
On my visit, I got talking to a local lady around the area who told me how she used to visit as a kid and had photos of her climbing inside and on the branches of The Major Oak.
It used to be open for all, but unfortunately, significant damage was being made to the tree by the footfall and weight of people climbing on it.
So, in the 1970s a decision was made to fence off The Major Oak to keep it healthy. Plus, some more supports were placed on the tree to keep it standing. This means that you can admire The Major Oak from afar.
The team regularly hold talks here beside the Major Oak in the summer holidays and weekends where you can learn more about it and their plans to protect it.
9. It produces around 150,000 acorns a year!
The Major Oak produces as many as 150,000 acorns on a good year. If you weren't aware, an oak tree has a cyclical crop of acorns.
So, a good year or a 'mast' comes every 3-4 years! I guess the squirrels here must have a field day while preparing for hibernation.
Tree scientists have started to build plantations with the acorns of the Major Oak for studies. In fact, 260 saplings are located in Dorset.
Another fun fact is that there was an internet scam a few years ago where a mystery seller was auctioning acorns illegally from the Major Oak on eBay.
Some were selling for as much as £250! The park does allow you to plant acorns for scientific purposes or interest but with their explicit permission.
Facilities around The Major Oak
So, aside from the Sherwood Forest Visitor Centre, there are a few facilities and things around The Major Oak.
It's a popular picnic spot with some benches just outside of it, so you could have a spot of lunch whilst overlooking this grand oak tree.
In the spring and summer months, there is also an ice cream truck serving up ice creams and lollies.
As it was a hot day, I treated myself while I was here. I was kind of hoping for a Robin Hood themed ice cream or something but no dice.
If you did need to use the washroom, wanted a hot drink or some lunch. There is a small café inside the visitor centre.
Other places to visit in Sherwood Forest
So, once you've visited The Major Oak, there are plenty more things to do in Sherwood Forest.
I would recommend first visiting the Sherwood Forest Visitor Centre which will have detailed information and leaflets about the forest and all the walking trails that are in the area. Inside there's a gift shop and café.
Outside the visitor centre, they have a small sculpture trail of some Robin Hood Statues, plus a small play area for children.
If you were on the Robin Hood Trail, click here for a more complete guide with more spots to visit around the area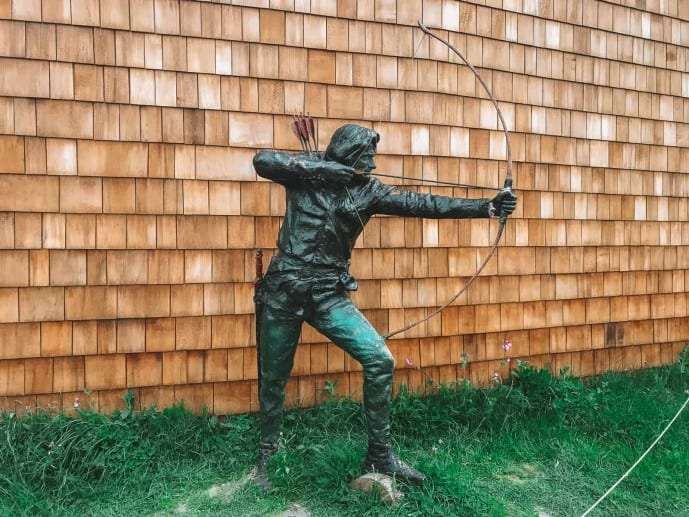 In terms of Sherwood Forest walks, as well as the Major Oak Trail, they also have the Giants Trail which is a nice short walk and will take you to their oak tree collection.
There is also the Greenwood Trail and the Wildwood Trail which are longer walks and will take you to the highlights of the forest.
Just a few minutes walk away from the forest, you also have the quaint town of Edwinstowe that is home to St Mary's Church.
This ancient place of worship is supposedly the spot where Robin Hood and Maid Marian were wed. It's an excellent alternative to find out the history of Robin Hood as I found the new visitor centre quite lacking!
How to travel to Sherwood Forest
Despite the TV programmes and films making it look like Nottingham is a hop, skip and a jump away from here… Sherwood Forest is actually a 40-minute drive north of Nottingham in the countryside!
By Car: If you're arriving by car you can use the postcode NG21 9QB on your SatNav. From Nottingham or the south navigate to the A614. From the North, take the A1 motorway to the A614. Turn onto the B6034 and follow the brown tourist signs.
By bus: There is a dedicated Sherwood Arrow service run by Stagecoach that runs from the Victoria Bus Station in Nottingham. It runs on the hour and takes around an hour to reach. It will drop you directly outside the Sherwood Forest visitor centre.
By train: there are no train stations in Edwinstowe. But, you can hop off at Shirebrook, Mansfield or Mansfield Woodhouse and take a bus/taxi from there.
When does Sherwood Forest open?
Sherwood Forest is open 24 hours a day, 7 days a week for anyone to enjoy all year round.
But, the visitor centre is only open from 10 am – 5 pm from March to October and 10 am-4.30 pm from November to February.
So, if you didn't want or need to visit the visitor centre you could pop along at any time!
I would personally recommend the minimum time of an hour to visit Sherwood Forest to visit the Major Oak.
How much does it cost to visit Sherwood Forest?
Entry to the forest, the visitor centre, The Major Oak and the walking trails are completely FREE.
The only price you need to pay is for parking if you're arriving by car which is quite steep.
Sherwood Forest Parking
Parking at Sherwood Forest is a little steep at £4 for the whole day. It's free for RSPB members.
This is quite good if you're really going to be here for the whole day, but if you're planning to be here for just an hour or so it's quite steep.
It's also good to note that the car park is opposite a busy road to access the visitor centre. So, be careful – when I went there was no crossing.
Sherwood Forest Accommodation
If you're planning to spend a little longer in and around Sherwood Forest or you are backpacking through England. You'll be glad to know that there is the Sherwood YHA youth hostel right outside the Forest.
So, you could spend as long as you like and access the many beautiful rural walking trails around Nottinghamshire.
Other hotels near Sherwood Forest are The Forest Lodge Hotel in Edwinstowe that's nice and cosy and just a few minutes walk away.
Read more of my Robin Hood guides
Places to visit on the Robin Hood trail
Robin Hood attractions in Nottingham
Where is the Robin Hood Statue in Nottingham
Facts about the Ye Olde Trip to Jerusalem
How to visit Little John's Grave
King John's Palace in Clipstone
Like it? Pin it!