Chitwan has a beautiful and mysterious National Park which is home to all sorts of wild animals.
Wild elephants, tigers, rhinos, sloth bears, deer and crocodiles all live here.
I've never actually been to a wildlife park where you had the option to trek inside.
Even in India, you can only access the likes of Ranthambore and Sariska by jeep/car for your safety!
So, when I heard you could do a walking safari in Chitwan National Park I was a little curious, dubious and, admittedly, terrified.
I was going to be walking in a park, with wild animals, that had sharp pointy horns and claws that could attack at any moment and no jeep to escape. Am I crazy?!
At first, I completely dismissed doing it as I calculated the risk in my head. But, when I found out that the only way to enter the park itself was to walk due to flooding, It was the only way to go.
Here's what to expect on a walking safari in Chitwan National Park.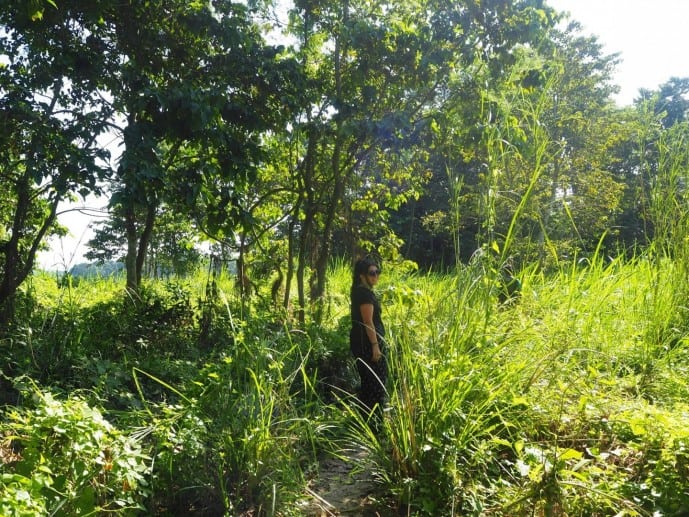 Where to stay in Chitwan National Park: Sauraha
If you're looking for where to stay after your walking safari in Chitwan National Park. Most tourists stay in Sauraha which is directly opposite Sauraha.
The Rapti river splits the park from the town and the town has all the stuff tourists love like nice hotels, restaurants, shops, tourist information etc.
You cannot stay directly in Chitwan National Park but if you wanted to stay a lot closer to spot wildlife, you can book a night in the Jungle Tower (I didn't stay here as it sounded dirty and I would get bitten by bugs all night).
I stayed at Jungle Wildlife Camp in Sauraha. It had a beautiful balcony on the banks of Rapti River and I could spot wildlife from there!
For only £26 ($35), I had the most amazing views, good wifi, air conditioning, hot water, and free breakfast!
For available dates and rates for Jungle Wildlife Camp see here.
Chitwan National Park permit fee
You don't need a Chitwan National Park Permit to stay in the town of Sauraha but you will for any activity which is in Chitwan National Park.
This includes the Buffer Zone, community forest, and 20,000 Lake.
For foreigners, the fee is 1650 Nepalese rupees per day (850 for locals or Indian/SAARC countries).
So, if you're backpacking or on a budget, I would try to do all your safari activities in one day.
Read next: The ultimate guide for Chitwan National Park
How to book a walking safari in Chitwan National Park
There are many guide offices in the town but I would recommend doing some research before you go ahead and book.
Most guide offices can plan a whole itinerary for you around the time you have and budget.
One photographer, we met organised a 6-day trek into the jungle to try and capture the elusive tiger (which is always hard to spot).
I personally went with United Jungle Guide Service as they have a reputation of not ripping tourists off. They charge a fair price and, as it's unionised, they all charge the same.
There are numerous offices around the town. Another reason why I went with these guys was that they do not endorse elephant safaris!
To me, that completely confirmed that the elephants don't get treated well here. They could make a lot of money but would rather have a loss than see animals hurt.
The guides were extremely professional and knew the park well. Most, have inherited the wildlife guide skills from their fathers and will pass them onto the next generation. I.e. they know their stuff and the best places to go to spot wildlife.
It's also worth telling them what you want to get out of the safari. What animal do you want to see most?
They can then tailor the tour around that for you.
For a shared hour canoe ride, private 3-hour walking tour, and private jeep safari, including the park permit and guide fee it cost 5,500 Nepalese rupees each (£40).
A very reasonable price for a whole day of safaris! See more info here.
You cannot enter the park without two guides for your safety
For safety, you must have two guides to accompany you into Chitwan National Park.
This is a requirement of the Nepalese government to ensure tourists are kept from harm.
Although you do have to pay for two guides for your walking safari in Chitwan National Park, I was more than happy to be accompanied.
One will go in front of you and the other behind to look out for wildlife. Make sure you listen and follow their instructions and try to keep as quiet as you can!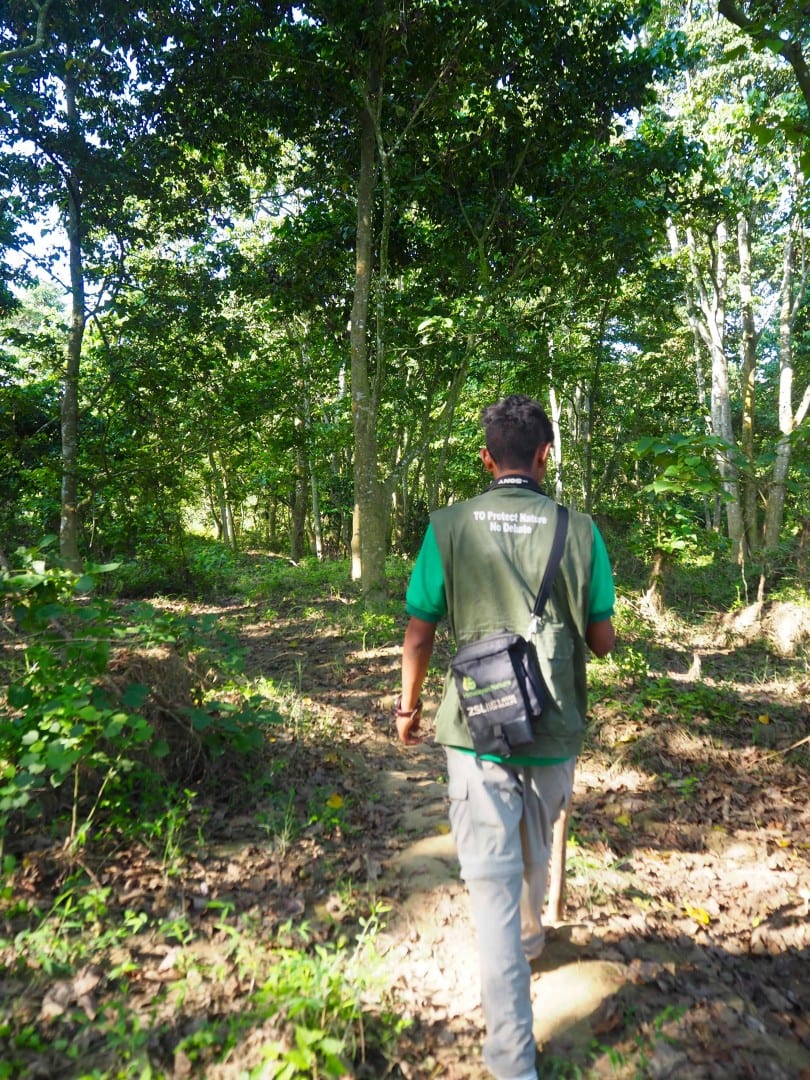 This isn't a zoo or Disneyland, wild animals live here!
I've done the nicey-nicey safe safari at Animal Kingdom in Disney world but this ain't it!
I'm usually an adrenaline junkie and have also done many wildlife safaris in Asia but this one was and felt very different. The risk is so much higher.
You only have you and your guides, no jeep to escape in. You could encounter wildlife at any point and you can't guarantee they won't get angry.
You're invading their home. You're in their territory now.
Before we entered the park we had a safety brief that covered what to do in wildlife attack situations.
For big animals like rhinos or elephants, you had to run zigzag into the jungle, for sloth bears you had to join together, be as big as you can, and even hit their nose! Then, for tigers, run and pray haha.
Your guides are here to help you too, don't forget. Saying this, hundreds of people come into the park every day and don't come across any trouble.
It's mainly government officials who are there to watch out for poachers who are more at risk. But, it is something to think about before you head inside.
How to get to Chitwan National Park from Sauraha
There are no bridges to enter the park over the Rapti river and so the best way to enter is by a canoe ride.
We opted for an hour-long ride which was also a great way to spot wildlife from the water!
Here, we saw crocodiles (and a lot of leafodiles as I kept thinking every water bubble, stick or leaf was a croc), snakes swimming, and a lot of tropical birds.
It was pretty exhilarating coming so close to crocodiles in the water. The canoe goes quite deep in the river and requires balance so keep your hands inside!
What you can expect to see on your walking safari in Chitwan National Park
I was so excited as around 15 minutes from entering Chitwan National park we saw our first wild rhino!
These were the animals I desperately wanted to see (I mean, they're pretty much a living unicorn) so I was over the moon.
We were really close and had to keep really quiet. I got some good photos and we moved on when we were ready.
After that, we didn't see much. I saw a few tiger tracks and smelt tiger pee but we didn't see a tiger.
I'm not sure how I would feel coming face to face with a wild tiger anyway!!
My guide told me they only get spotted 2/3 times in a year so not a big loss. I wanted to see a sloth bear but they were nowhere to be seen.
I also didn't see any rhino babies which other travellers said they had seen the previous day.
I guess if I was on the full-day trek I'd have more chance but even 3 hours was killing me from the heat alone. There's just no breeze and it's so humid.
We saw loads of birds again, monkeys, elephant grass and trees!
Although it was disappointing on the wildlife front, I LOVED the trek.
It was definitely the highlight of my tour!!
I think this is the best way to see nature, no petrol fumes, no animals abused riding elephants. Just leaving footprints.
Magic mushrooms
Ahaha, you read that right! Surprisingly, you could find these everywhere here.
There's no control over them; you can pick them, take them home and use them absolutely free!
Even one of my guides was picking them for his mates who were arriving from Kathmandu!
My guide was also talking about how taking them once a year can make you more social lol.
But, I would be use caution in taking them away especially if you've never tried them and don't know how to prepare them before consuming them.
A Chitwan National Park walking safari checklist of what to bring with you
Suncream and bug spray, when I was here early October it was BOILING. It's a great time to see wildlife but I was bathing in my own sweat. Take proper precaution against the sun and a hat if you have one. Bug spray is a must as it's crawling with them. Honestly, they hang out in armies, especially around the rhino/elephant poo!
Clothes which cover your body, you will be walking through so much Jungle! Some have spiders and bugs living there and you could get bitten. My boyfriend got a bad reaction to the plant life and had a rash which looked like poison oak.
A bottle of water. I would recommend 1 litre if you're only here half a day and 2 /3 if you're here for a full day trek. Remember, you'll be carrying it with you and there is no filtered water facility or shops in the park itself.
Closed shoes, I only had sandals and although I could survive 3 hours it was a big mistake. There were red and black bugs EVERYWHERE and were crawling on my feet. You also need to check your feet and ankles from time to time for leeches (gross)!
Your camera, a must for capturing wildlife. Bring a high zoom lense as most animals were in the distance. You won't get too close for safety. Although we're we're pretty damn close to the rhino!
Hayfever tablets/antihistamine, I suffer massively from hayfever in U.K. and in Asia it's no different. All the pollen from the plant life made my eyes water and I was sneezing a lot. So, if you have the same, take an anti-histamine before you go inside.
Leave valuables like your wallet, passport etc. in your hotel. If you do have to run away from an animal they say that throwing your backpack will distract the scent. So, make sure you don't take valuables with you or you could lose them!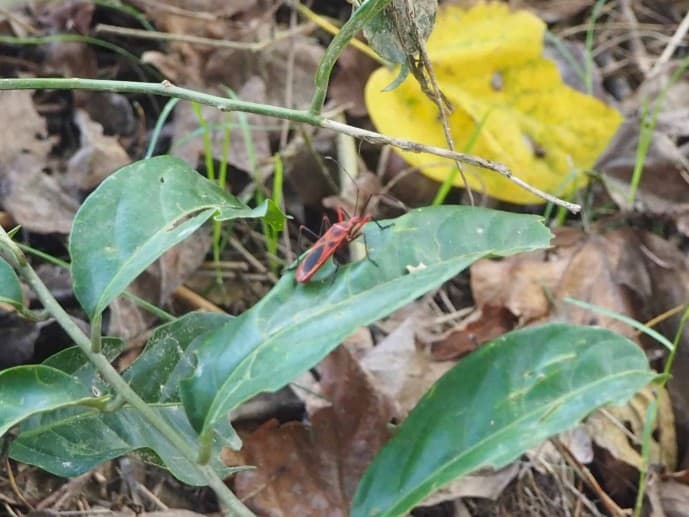 Leave only footprints
Like any National Park in our beautiful green world, you should leave only footprints when visiting.
Do not drop rubbish, cigarette butts, water bottles, plastic, tissues, or food.
These could be harmful to the animals if they end up eating them. Also, it's good to note that you shouldn't make lots of noise.
This will also heighten your chance of seeing wildlife in the park and limit the danger! Talk softly in a whisper if necessary.
At one point we were stuck behind a tour group making so much noise, we quickly tried to avoid them as we wanted to see wildlife.
And finally…
Enjoy the experience! There are limited places on this earth nowadays that you can allow you to come so close to animals and be at one with nature.
So if you have the opportunity, I'd say take it.
Sure, it comes with risk but so does leaving your front door!
Your guides will keep you safe and make sure you have a wonderful time.
A walking safari in Chitwan National Park is the cleanest, greenest, and most wonderful way to see wildlife here. Take the leap!
Read more about Chitwan National Park
My complete guide for Chitwan National Park
Why you should NEVER take an elephant safari in Chitwan National Park
Heading to Nepal? Read more of my posts!
The ultimate Kathmandu Bucket List
What to expect at Pashupatinath Temple
A guide for Garden of Dreams in Kathmandu
Everest Flight from Kathmandu – is it safe?
How to get from Kathmandu to Pokhara
My top travel tips for visiting the Birthplace of Buddha
Travelling overland from Nepal to India
Save this Chitwan walking safari guide for later!