Walltown Crags is a spectacular section of Hadrian's Wall and viewpoint in Hexham, Northumberland National Park.
From here, you can see the Roman Walltown Turret, walk along a section of Hadrian's Wall and capture amazing views all around you of Whin Shill.
I was going to skip this on my visit and I'm SO thankful I didn't. Walltown Crags is one of the best places to see Hadrian's Wall and what's better is that it's very easy to visit from the roadside.
Here is the easiest way to visit Walltown Crags on Hadrian's Wall in Northumberland!
What is Walltown Crags?
Walltown Crags is 400 yards of Hadrian's Wall that have been preserved in Hexham, Northumberland.
Hadrian's Wall ran for 73 miles from Wallsend to Bowness-on-Solway to protect the Northern Frontier during the Roman Empire. But, it is estimated that only 10% of the original wall exists for us to see today.
Walltown Crags is one of the best places to view Hadrian's Wall as you have spectacular views of Win Shill from Walltown Turret.
This section is also a great example of how the Romans overcame obstacles in the landscape while building the wall.
You can see how they adjusted direction over the dramatic and craggy peaks of this wild and unforgiving landscape.
Walltown Crags history
Hadrian's Wall was built in 122 AD on the orders of Emperor Hadrian during the Roman Empire in Britain.
It is thought that Walltown Turret, or Turret 45a, was built here due to the panoramic views which were perfect for a watch on Hadrian's Wall.
Watchtower turrets were placed every mile or two along the wall. Larger watchtowers are also known as milecastles.
It is believed that Walltown Turret was a signal tower during the earliest stages of building the wall for the comfort of Roman soldiers.
A boulder with a Latin inscription was found at the site that recorded the achievement. Carved into the rock is a message that 80 men built this tower from the tenth cohort of the 20th Legion Valeria Victrix under the command of Flavius Noricus.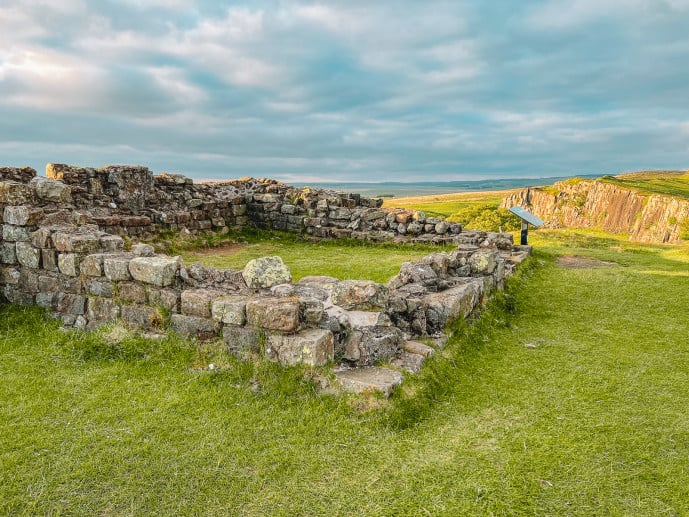 How to visit Walltown Crags on Hadrian's Wall – the EASY way!
Walltown Crags is located near the Roman Army Museum, Walltown Country Park, and Steel Rigg Car Park on Hadrian's Wall. It's one mile north of Greenhead off the Greenhead B6318 road.
Most people visit as part of their Hadrian's Wall Walk in Northumberland. But, if you just wanted to visit this part the easiest way is to drive here.
If you head towards the Roman Army Museum, you'll find a sign for Walltown Country Park directly in front of you.
Make a right at the turning and you'll see a sign for Walltown Crags. Drive down this narrow country lane until you eventually find a small car park.
You can then walk up to the viewpoint and Hadrian's Wall in around 5 minutes! It's one of the easiest and most dramatic places to visit the wall in my opinion.
Walltown Crags postcode is Greenhead, Hexham, Northumberland, CA8 7JD. Click here for a Google Pin!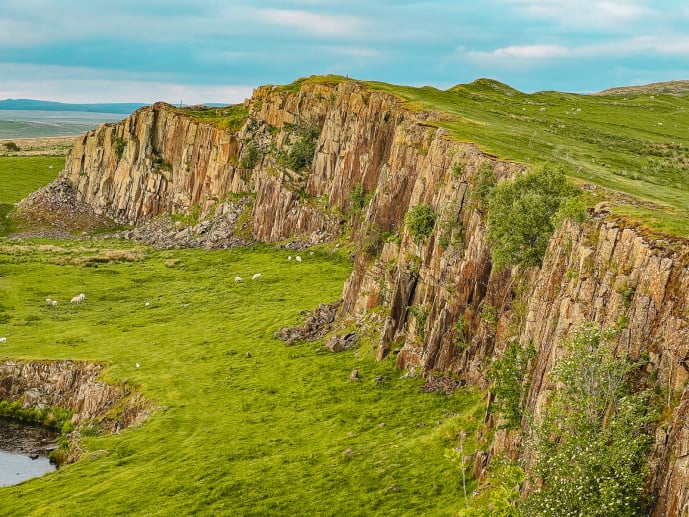 Walltown Crags parking
After you turn right at the Roman Army Museum and the Walltown Country Park car park, you'll head down a narrow country road with limited passing places.
This will be marked with a dead-end sign and a 'not suitable for most vehicles' warning at the start but you can access the road.
Keep driving on this small lane until you see cars parked on the left. This will have a wooden marker to let you know where the public access path to Walltown Crags is.
It is a very small off-road car park with enough places for around 5-6 cars. So, always try to plan your visit earlier in the morning or later in the afternoon to guarantee a space.
If there is no parking available, you can park in the Walltown Country Park car park and walk here but the walk will be a lot longer.
Walltown Crags opening times and prices
Walltown Crags is open from dawn until dusk so you're not restricted when you visit on Hadrian's Wall.
Many walkers taking the Hadrian's Wall walk see this part of Hadrian's wall on their way from Cawfields to Steel Rigg.
I would always try to visit with enough daylight. There is no artificial lighting at all on Walltown Crags or around Hadrian's Wall in general.
Walltown Crags on Hadrian's Wall is also completely FREE to visit in Northumberland
How long is the Walltown Crags walk?
From the small car park located on Greenhead lane, it is around 5 minutes max to Walltown Crags.
You are on private land but there is a permissive pathway that allows you to walk up to the viewpoint with spectacular views of Win Shill, Hadrian's Wall, and Walltown Turret.
If you wanted to extend your walk, you can visit here from Walltown Country Park.
It is also possible to head in either direction along the wall. You can head towards Cawfield Quarry & Milecastle which is around 4 miles from here.
Then onwards to locations like Steel Rigg, Sycamore Gap, Housesteads Roman Fort, and the Temple of Mithras.
Or, head in the other direction towards Walltown Quarry to places like Thirlwall Castle and Birdoswald Roman Fort.
Walltown Crags walk directions
From the small roadside car park, you'll find a wooden marker that points in the direction of Walltown Crags.
Follow the direction of this marker on the grass. You'll see a scarred pathway to the right that loops up to the viewpoint.
Keep walking upwards until you reach the top and you'll find you're on the very edge of Walltown Crags.
You should arrive at the viewpoint of Win Shill but you can walk back towards the Walltown Turret and Hadrian's Wall.
Although there is no right or wrong way to reach the top, it's best to follow the marked path as it's private land and there is wildlife that grazes in this field.
Things to see at Walltown Crags
So, once you get up here, there are lots of things to see at the top of Walltown Crags!
Here are all the things to look out for on your visit;
1. Spectacular views of Whin Sill
From Walltown Crags, you can see an impressive view of the Whin Shill ridge where they built the wall.
This rock face was here way before the Romans landed in Britain and is thought to have been here 295 million years before the Roman Empire.
From the viewpoint, you can see beneath the dramatic crags and you'll see a small rock pool below. There's even a tree that looks like the Whomping Willow from Harry Potter.
There are lots of rare whin plants here such as thyme, chives, stonecrop, rockrose, and mountain pansy. You may even spot some birds like snipes, curlews, and skylarks!
2. The Walltown turret
Just behind the viewpoint of Win Shill, you can find what remains of Walltown Turret or Turret 45a.
As soon as you arrive, you'll instantly realise why the Romans chose this location for a watchtower. You can see for miles all around you!
It is thought that Roman soldiers were stationed all over the 73-mile-long wall and these towers were built for their comfort on the watch.
The information board here tells you a bit more about it and they have an artist's impression of what it would have looked like in 180 AD!
3. Hadrian's Wall
Walltown Crags has a fabulous section of Hadrian's Wall that has been preserved for you to visit.
It's around 400 yards of the wall and it gives you some insight into the construction and how tough it would have been to build on this landscape.
It's rare to find a part of the wall that is so easy to access from the roadside, especially with panoramic views.
Most Hadrian's Wall sections require a bit of a walk to visit so this is a really great place to choose if you just wanted a quick pitstop.
You can walk along the wall for as long as you fancy. You can either just see this part of it or carry on your walk to either Birdoswald, Cawfields, Sycamore Gap, or Housesteads!
Read more – My complete guide for the Steel Rigg to Sycamore Gap walk on Hadrian's Wall!
4. Walltown Country Park & Walltown Quarry
From Walltown Crags, It's easy to follow the wall and visit Walltown Country Park and Walltown Quarry.
It was a working quarry up until the 1960s and was blasted with dynamite to expand the road network around here.
It closed in 1976 and was transformed into a country park. There are plenty of walks to take here in the woodlands and around the lake. There is also wildlife to spot and a picnic area.
The Walltown Visitor Centre can be found in the car park and gives you more information about this area throughout history. They sell light refreshments throughout the day.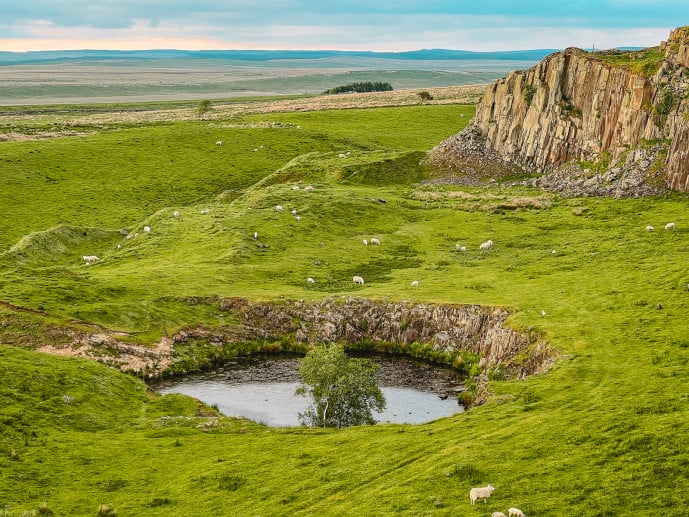 5. Cawfield Quarry, Roman Wall, and Milecastle
If you walk towards the dramatic Win Shill, you'll follow the path along the wall to Cawfields Roman Wall, Milecastle, and Cawfields Quarry.
It's around 4-miles from Walltown Crags along Winshield Crags and has some of the most spectacular views of Hadrian's Wall along the walk.
It's some of the highest points on the wall so bring your camera as spectacular views are guaranteed!
Top tips for visiting Walltown Crags
Access – the land you're walking on is private with a public access path to Walltown Crags.
Wildlife – there are lots of sheep grazing here. Be especially cautious during lambing season as families want to protect their young. Dogs must be kept on a lead.
Weather – this is Northumberland so it may very well be cold and/or raining! Always take a raincoat and lots of layers. Hadrian's Wall is very exposed with no shelter.
Drive with care – the track to access Walltown Crags is very narrow with limited passing places. Drive slowly until you reach the car park.
Mind the edges – there is a wooden fence with a tiny wire barrier blocking you from reaching the very edge. But, always visit with caution as it's so windy up here. Keep an eye on children and your furry family members.
Explore even more of Hadrian's Wall
Whether you are choosing to explore Hadrian's Wall on foot or by car there are plenty of places you can visit on the tourist trail.
You can enjoy many walks along Hadrian's wall from Walltown Crags. The most popular is the Sycamore Gap from Steel Rigg car park.
If you're looking for more information I would visit the Sill Discovery Centre which has a lovely café!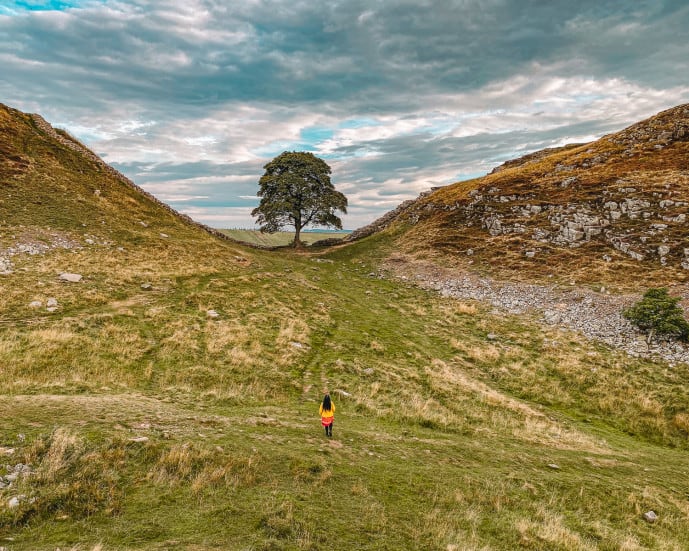 Nearby you have the Roman Army Museum, Vindolanda, and Birdoswold Roman Fort.
There is also Housesteads Roman Fort where you can climb up to the remains of a military garrison. They have some impressive latrines that have remained intact.
Next, you can visit the Temple of Mithras which was a meeting place for a Roman religious cult!
Chesters Roman Fort is also a great place to visit. There is an impressive Bath House here beside the River Tyne.
You can also see a commander's house which has one of the famous Hadrian's Wall phalluses. Over the river is the Chesters Bridge Abutment which has another.
Although not on the wall itself, Corbridge Roman Town is also worth a stop. The museum has some impressive excavated statues!
Read more of my Northumberland blog posts
How to visit the Angel of the North
A complete guide for Ford and Etal
Harry Potter filming locations in Alnwick Castle
Everything you need to know about the Alnwick Cherry Blossom
Magical things to do on the Holy Island of Lindisfarne
A Last Kingdom's Fans guide for Bamburgh
The best time to see Puffins on the Farne Islands
Craster to Dunstanburgh Castle walk
Visit the magical Barter Books in Alnwick
Why you must visit Bamburgh Castle at Christmas
Save Walltown Crags Hadrian's Wall for later!