One of the best restaurants in Disneyland Paris for food has to be Walt's An American Restaurant.
It's an entire eatery that honours Walt Elias Disney, a pioneer of American animation who founded the Disney Company.
Without his imagination and genius, none of the Disney movies and later theme parks would have been possible. So, it's a nice way to celebrate him and the magic he brought to the world.
All of the food on the menu has been inspired by his life, where he lived and his personal tastes. So, you can expect some wholesome American cooking and flavours.
What I loved most about eating at Walt's was the fact that you're on an upper level of Main Street USA and so you can get an amazing view of the parades from the window seats if you book at the right time!
Here is a complete Walt's Disneyland Paris review and why you should book to eat there on your trip.
What is Walt's An American Restaurant in Disneyland Paris?
Walt's An American Restaurant is a Victorian-themed dining room serving a menu of contemporary American cuisine on Main Street USA.
The entire restaurant is dedicated to Walt Disney, his life and achievements. So, the menu is completely inspired by the flavours of his hometown and personal tastes.
The address out front is 1401 Flower Street which is the address of Walt Disney Imagineering in Glendale, California.
Inside, it almost acts like a museum designed as a turn-of-the-century American home with lots of photos and artefacts related to Walt in the Grand Lobby & staircase.
The main eating area upstairs has 6 themed rooms to dine in that are inspired by areas of Disneyland Park.
It's a gorgeous setting to enjoy some delectable American cuisine. Plus, you have great views of Main Street USA as you're seated on the top level!
Important information for Walt's An American Restaurant
You must have a valid park ticket to eat at Walt's Disneyland Paris
Walt's An American Restaurant is a table service and can be found on Main Street USA just before Lilly's Boutique. It's quite camouflaged in between all the other shops. I actually didn't realise it was there for ages!
Disney Meal plans are accepted starting from Standard to Extra Plus
It is open for both lunch and dinner. The first slot for lunch is at 11.30 am and the last table sitting is usually around 60-90 minutes before the park closes.
You must make an online reservation via the Disneyland Paris app, website, or reservations team. Book early as it's likely to sell out!
Vegetarian and Vegan options are available
The restaurant is on the top floor of the building but it is completely accessible with a lift to get up to the top floor to avoid stairs. Also, you can bring pushchairs and wheelchairs.
What is it like inside Walt's Restaurant Disneyland Paris?
As soon as you walk into Walt's you'll feel like you've stepped back in time to the Victorian era.
The Grand Lobby is so beautiful with a sweeping staircase and lots of bric-a-brac and gold framed portraits relating to Walt Disney.
You'll find a bust of him in the foyer, as well as photos of major events in his life on the Grand Piano. You can even see pictures of him as a baby with his parents Elias and Flora Disney.
Then, as you ascend the stairs and pass many more portraits, you can choose between 6 themed rooms to dine in.
What are the themed rooms in Walt's Disneyland Paris?
So, there are 6 themed rooms at Walt's An American Restaurant inspired by areas of Disneyland Paris Park and each one has different features;
Fantasyland – A Gothic Style room based on European fairytales such as Alice in Wonderland, Pinocchio, and Sleeping Beauty.
Adventureland – A room themed on the east with a tented area and sketches of the Pirates of the Caribbean ride. There are also sketches of Captain Jack's Restaurant.
Discoveryland –A room inspired by Jules Verne and his Nautilus from Twenty Thousand Leagues Under the Seas
Disneyland Hotel – A small room with original sketches from the initial design of the Disneyland Hotel
Grand Canyon – A quiet room that is next to Frontierland that has sketches of the Grand Canyon to inspire Thunder Mesa and Big Thunder Mountain.
Frontierland – This is the room I was in and it was awesome with dark academia influences. It's inspired by Phantom Manor and Thunder Mesa. It has a vintage library and lots of antiques along with dark wallpaper and velvet curtains. It was a vibe! Phantom Manor is one of my favourite rides at the park so I was in love with the decor.
Magic Tip: If you want a specific themed room, put in a request with the host but it's never a guarantee. The only way you can guarantee your table is if you book the first slot of the day!
What food does Walt's Disneyland Paris serve?
You can expect a menu of contemporary American cuisine at Walt's but everything has been inspired by Walt Disney's past.
All of the ingredients, flavours and items have been inspired by Walt's favourite foods, his hometown and his ancestry.
He was a Midwestern boy from Marceline, Missouri and his wife Lillian said he liked 'basic foods'.
So, you'll find meat and potatoes on the menu. One of his favourite dishes was chilli with crackers so there is a special Chilli con Carne dish.
Walt liked pie whether sweet or savoury. So, you'll find a Chicken Pot Pie and Lemon Meringue Pie. His favourite fruit was pineapple so you'll find a Pineapple Upside-Down cake.
You'll also find that many of the dishes have Isigny cream or butter. This is because Walt's ancestors were from there.
Despite all the meat, butter and cream, there are vegan options on the menu too.
Although they are simple meal choices and not very exotic, everything has lots of flavour and is presented to perfection with little Mickey Mouse influences.
How much does it cost to eat at Walt's Disneyland Paris?
Unlike most Disneyland Paris table service restaurants, Walt's only has a set menu. There are no A La Carte options.
Most people go for the set menus anyway in the parks as it's the best value for money.
The set includes a starter, main course and dessert and it's called the 'Walt's Menu' which costs 55 euros per adult.
It doesn't include drinks so you can have tap water or purchase a soft drink. Or, you can go big with wine, champagne, beer or alcoholic cocktails.
There is the option to upgrade your meal to have a wine selection with each course at a 20 euro supplement which brings the total to 75 euros. It is France after all!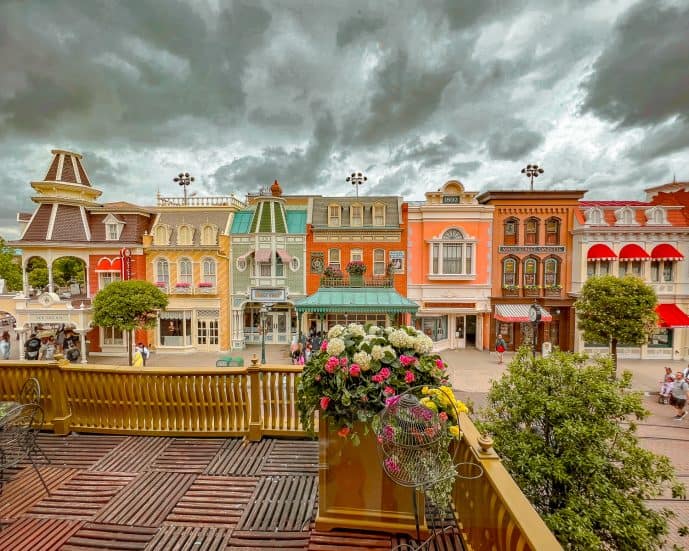 Walt's Menu Review
So, like most patrons, I decided I would go for Walt's Menu. I wasn't sure what to expect with the food here as it was my first time.
Usually, any American-style restaurant in Europe just doesn't hit the mark like it would if you were actually in the States.
But, I have to admit, all the food on this menu sounded appetising and everything I ordered was really, really tasty!
Walt's Starters
On the Walt's Menu starters you have a choice of;
Sweet Corn Soup with Isigny Créme
Chicken Pot Pie with crunchy salad
Fruit Slaw with Carrot Coulis (vegan)
I'm going to be completely honest and say I wanted to pick one of the soup or pie options due to the cute Mickey-shaped crusts!
I ended up going for the Chicken Pot Pie, one of Walt's favourite dishes, and the presentation was so adorable.
The entire 'pot' for the pie was edible and it came with a Mickey-shaped crust on top which was inspired by Walt's favourite recipe. The salad was also really tasty and fresh.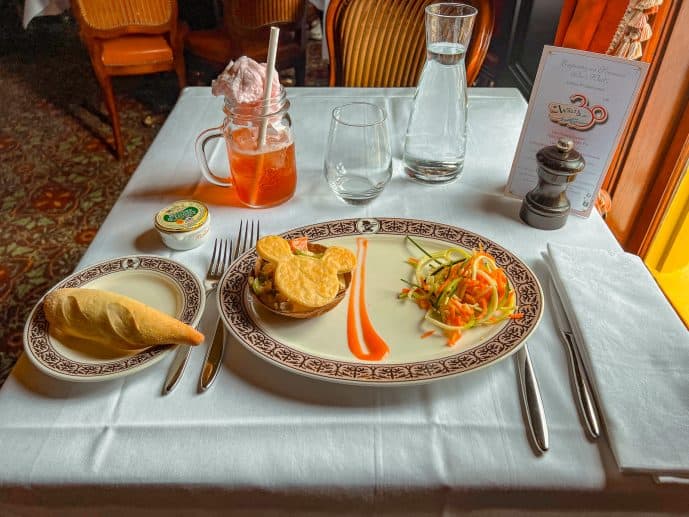 Walt's Main Course
The mains all sounded incredible and you had a choice of;
Cajun-Spice Atlantic Char
Apparently, Walt loved roast chicken and would eat it with anything as long as it came served with potato and gravy!
Mine came with mashed sweet potato, green asparagus, pan-fried gem lettuce and chicken jus and it was so yummy.
I had a hard time concentrating whilst eating though as the parade came by! But, the chicken was really juicy and the sweet potato mash was plentiful.
Walt's Desserts
In the dessert menu, you have the options of;
Pineapple Upside-Down Cake
Warm Giant Chocolate Chip & Hazelnut Cookie (vegan)
Walt was more into his pies than cakes, so I decided to treat myself to the Lemon Meringue Pie.
It was beautifully presented and it had a little Mickey-shaped meringue on top that was so sweet.
Beyond the presentation, the flavour was also zingy and delicious. It was one of the best desserts I've had in the parks!
Disneyland Paris does desserts very well as they aren't overly sweet so they don't give you that sickly feeling afterwards.
Walt's Cocktails – Main Street USA candy floss cocktail
Like other Disneyland Paris restaurants, Walt's has their own selection of exclusive cocktails that you can only order here.
Many of the alcoholic cocktails were inspired by Hollywood Icons. For example, you can treat yourself to a Shirley Temple.
Shirley Temple presented Walt Disney with a special Oscar for his feature-length animation of Snow White and the Seven Dwarfs in 1939.
But, I personally liked their exclusive Main Street USA cocktail or 'mocktail' inspired by the area. The cocktail was berry favoured with grenadine and had candy floss on top!
It came served in a mason jar and was so delicious. Honestly, it tasted great even without any alcohol.
Walt's Steamboat Willie Menu
If you have little ones with you, there is a children's menu that is called the Steamboat Willie Menu (3-11 years).
Steamboat Willie is a 1929 animated short film by Walt Disney starring Mickey Mouse.
It was a landmark in animation as it was one of the first animated movies to have synchronised sound. It ended the silent era and it took the world by storm!
On the child menu, you'll find miniature versions of the adult options but with less pizazz. It's a little cheaper at 30 euros a child and includes a soft drink like water, juice or milk.
Make sure to ask a cast member for one of their Disney quizzes that will keep them entertained for a while.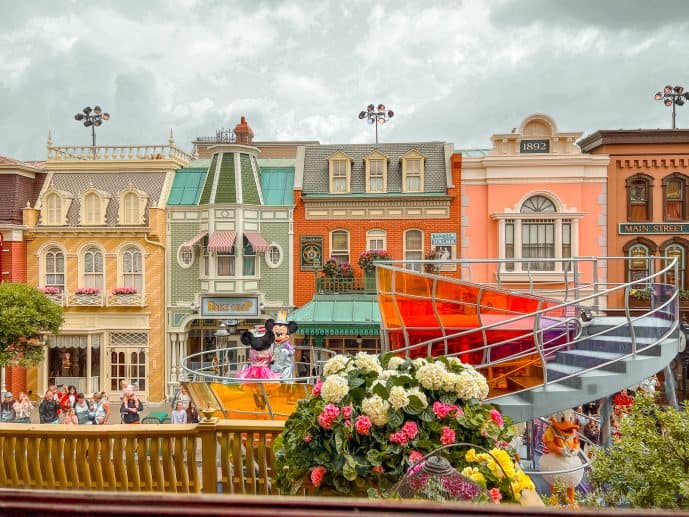 Watch the parade on Main Street USA
The best part about eating at Walt's An American Restaurant is snagging one of the window seats where you get elevated views over Main Street USA.
If you're lucky enough to book a reservation at the right time, you may be able to catch the parade heading down Main Street towards the Castle Central Plaza stage.
I had a great view from my window table in the Frontierland Room and got to see Mickey, Minnie, Pluto, Alice, Mad Hatter, Donald, Peter Pan, Goofy, Chip and Dale and many more characters go by!
I got some great photos and it was such a relaxing atmosphere to watch the parade. I felt like a VIP.
How to make a Walt's Disneyland Paris reservation
You do need to make an online reservation for Walt's Disneyland Paris before you arrive to eat.
There may be a walk-in on the day but you may be waiting a while and it's not a great use of park time.
It's far more convenient to have a reservation. Here is how to make a reservation at Walt's An American Restaurant on the Disneyland Paris app:
From the home screen click 'Book a table'
Find Walt's – An American Restaurant from the restaurant list
Click on the date you are visiting the parks
Select the number of people
Then select your time slot when you want to visit
Input your contact information, and special requests and confirm
Then you're all booked folks! Make sure to check for an email from Disneyland Paris to confirm your table reservation to make sure you're booked.
If you would prefer you can call the reservations team to make table bookings but it often costs money from abroad to call. It's far easier to book online or through the app.
How long does it take to eat at Walt's Disneyland Paris?
The only thing I find about table service restaurants at Disneyland Paris is they take lots of time.
I wouldn't recommend booking a restaurant like Walt's if you only have one day at the parks and you want to maximise your day.
I've eaten in many of the fine dining restaurants at the parks now and I always say you need to plan at least 90 minutes to two hours to eat at Walt's An American Restaurant.
Most people get the set menus as they are great value for money and this is three courses. So, take your time, enjoy them and relax.
Try not to make any important bookings (shows, parades, fireworks, trains etc.) around your dining time!
My top tips for Walt's An American Restaurant
Book two months in advance – Disneyland Paris restaurant reservations sell out very quickly! So, make sure to book ahead.
Keep checking the app – if you didn't manage to get a reservation or you're booking last minute, keep checking the app for cancellations. I always get mine a week or so before. There's less choice but it beats waiting around for an opening.
Book an early slot to choose your room – if you want a specific themed room or window seat try to book for early in the day for the best chance.
Try to get a window seat and book around parade time – if you sit by the windows you may be lucky enough to watch the parade as it goes by on Main Street USA from your table.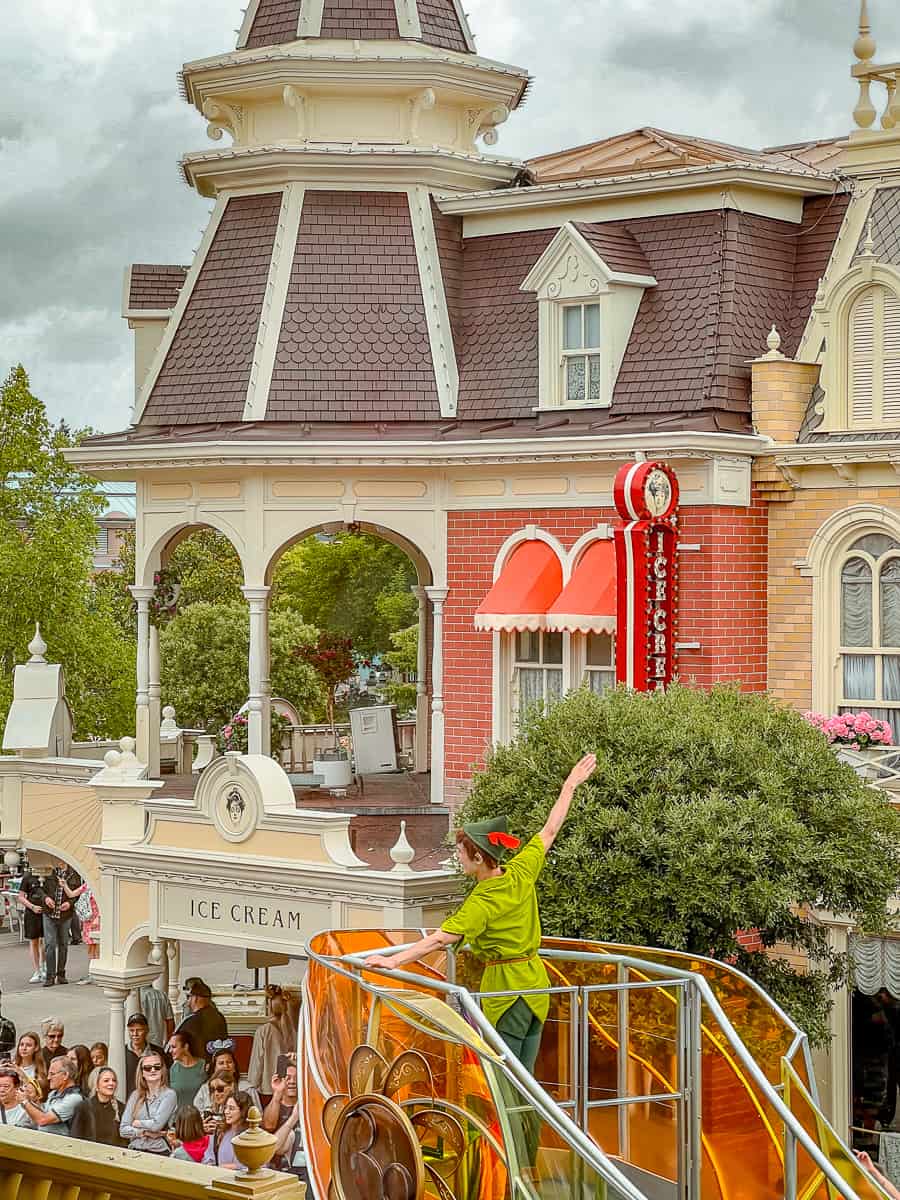 Is Walt's An American Restaurant worth it?
100% YES, Walt's Disneyland Paris is SO worth booking. It's a very relaxed atmosphere and makes a much-needed break on a busy park day.
Not only is the food really tasty and well presented but the themed rooms are so luxurious and have lots of beautiful pieces to discover.
It's an incredible place to honour Walt Disney, the genius who started it all with a dream.
As an entrepreneur myself, I find it incredibly inspiring what can be achieved and manifested from a vision and imagination.
The best part is that if you time your reservation right, you can enjoy an elevated view of the parades that head down Main Street USA.
Don't skip Walt's An American Restaurant when you visit Euro Disney.
Discover more secrets on Main Street USA
Although many people make a beeline through Main Street USA to get to the rides, I would recommend having a look around to discover its many secrets after your dinner at Walt's.
Beyond the City Hall, bakery and boutiques there are many hidden gems that you can find in this area of the parks.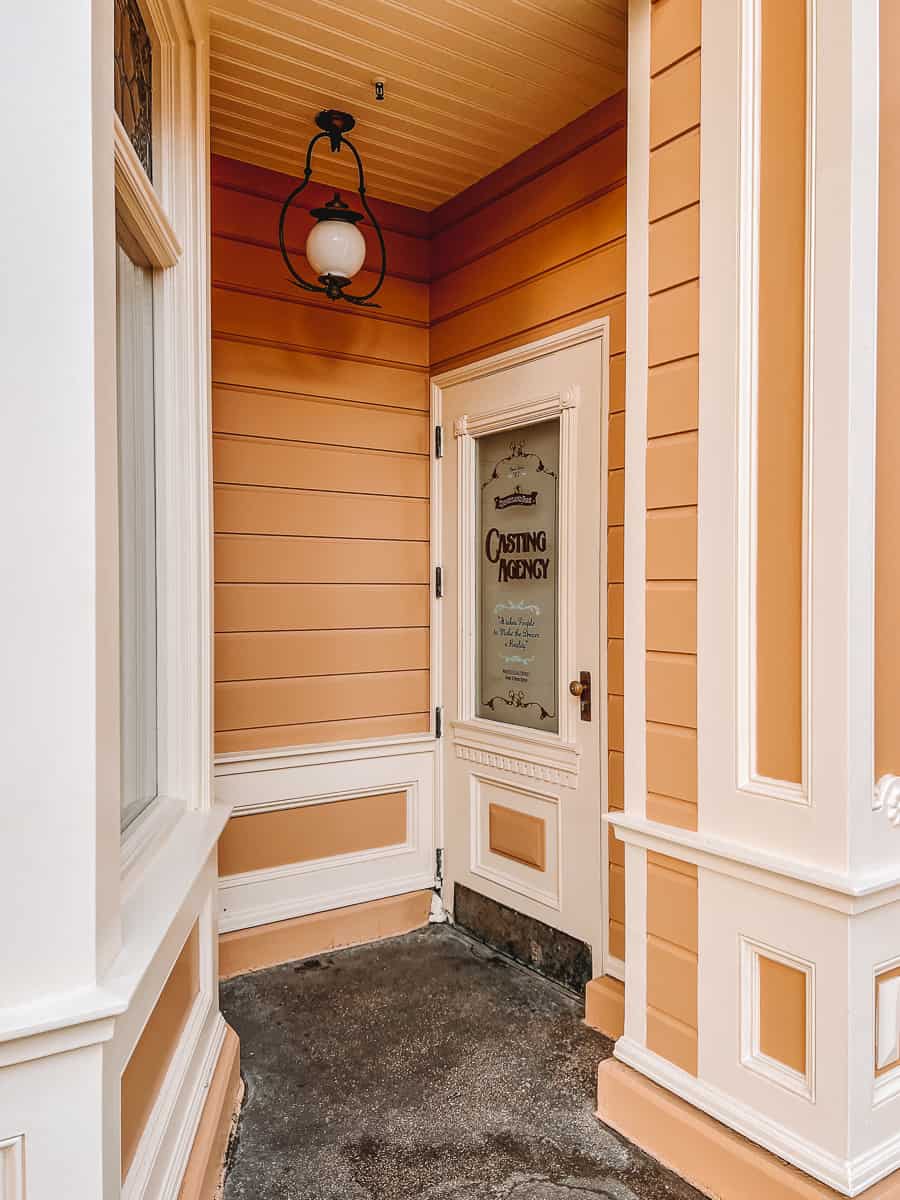 For example, did you know you can get a haircut or close shave at Dapper Dan's? It was a heartfelt nod to Walt's father Elias Disney who was a barber.
You can also find a Casting Agency Door, a working vintage telephone in Market House Deli and some glass windows inspired by Walt's favourite Inventors.
Don't sleep on exploring Main Street USA, there is so much more to this area than what first meets the eye.
Related post – 55+ Disneyland Paris secrets & hidden gems to uncover!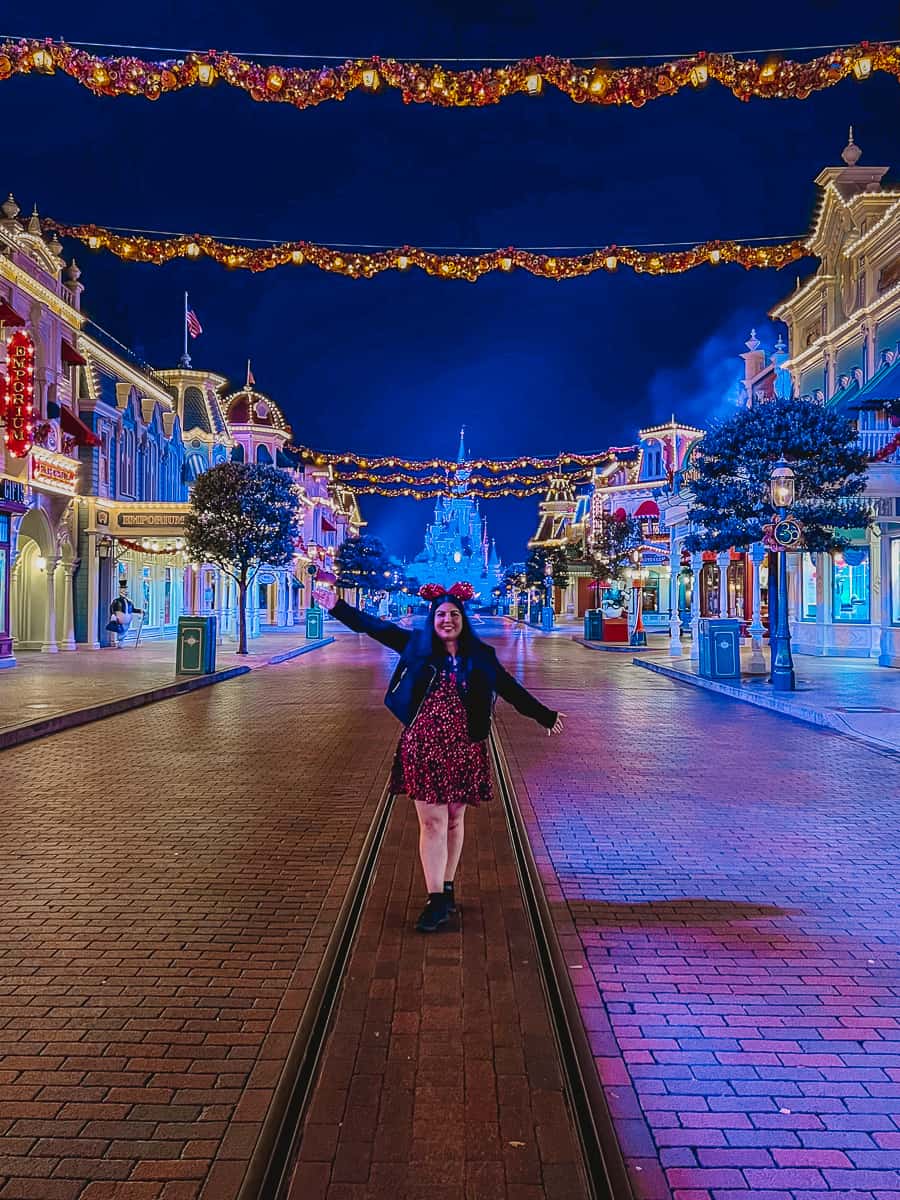 Book your tickets for Disneyland Paris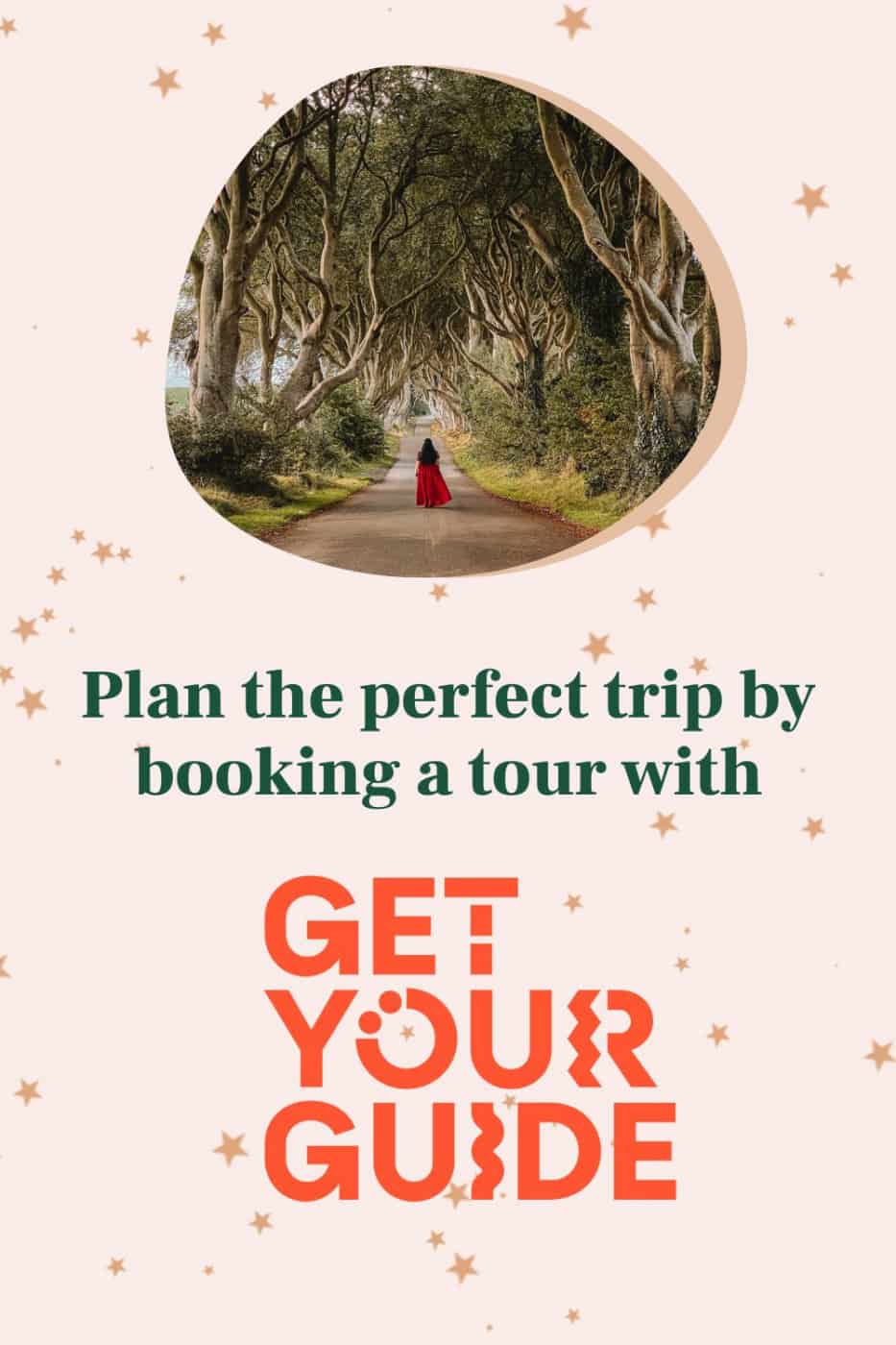 Pre-book tickets to Disneyland Paris!
Read more of my Disneyland Paris guides
50+ Instagrammable places in Disneyland Paris
25+ Things to do in Disney Village Paris
Newport Bay Disneyland Paris Review – Is Compass Club worth it?
How to visit the Disneyland Paris Dragon under the castle
Honest Bistrot Chez Rémy review – Paris Ratatouille restaurant
Pizzeria Bella Notte Review – Lady & The Tramp restaurant
Toad Hall Restaurant Review at Disneyland Paris
Is Auberge de Cendrillon Princess Dining worth the price?
Save this Walt's An American Restaurant review for later!