If you're heading to Poland, you'll most likely land in its capital city of Warsaw.
A lot of travellers recommend skipping it or getting the hell out as soon as you can! But, I would totally disagree. It's an amazing yet underrated city that deserves a little bit of credit.
Not only does it boast a beautiful old market square to wander around, but it also has a lot of history, swanky bars, and cafés!
This was my favourite city, even compared to Krakow, due to its laid-back, less touristy vibe. Warsaw has a pretty complex wartime history, which is worth researching before you visit.
The independence, the attacks during the war, the Warsaw Rising, and the rise and fall of communism here all contribute to this amazing triumphant city and what it is today.
Here's the ultimate Warsaw travel guide to help you explore the incredible Warszawa!
How to travel to Warsaw in Poland
If you're like me and love a bargain bucket flight, there are plenty of cheap flights which head to Warsaw daily from London, Bristol, and the East Midlands.
This makes it a great city break from the UK as it's only 2 hours away.
But, with cheap flights comes A LOT of people! The poor little Modlin airport can't really handle all the tourists who come through here each day.
This means long delays, in and out.
You'll be herded through queue after queue for passport control and security which can be an unpleasant chaotic experience, to say the least.
If you're heading here by train, there are plenty of intercity train connections from Wroclaw, Gdansk, and Krakow and vice versa.
Train travel is relatively cheap in Poland at certain times of the day, make sure you check your train ticket prices at the information counter.
They can print you off all the options which suit your price and budget.
How to travel around Warsaw
Warsaw has an extremely large and efficient transport system including metro, trams, and buses to get you around the tourist attractions.
A lot of the stops aren't in English, so you will need to check your map for the name of the stop you need.
I used Google maps pretty much the whole time to guide me.
You may wonder why people aren't paying for the buses, this is due to the locals having travel passes and you having to pay for a ticket beforehand. Don't risk not paying, you could be faced with a big fine!
Top tips for Warsaw travel
In Poland, English is not widely spoken here at all, so things like buying train tickets, ordering food, or getting around can be a little bit of a challenge.
This isn't the case everywhere, but it was something that regularly came up as a barrier.
At one point, my friend and I had a kind lady come in and act as our interpreter whilst buying train tickets! So, it's best to do your research.
The Zloty is king here and it's best to pay in the local currency to get a better rate, rather than the Euro.
You'll get around 5 zloty to each pound.
Being in Eastern Europe, Poland is pretty cheap compared to its western counterparts, so it's perfect for a backpacker's budget.
The top things to do in Warsaw
Old Market Square
I was told that Warsaw was a pretty drab and grey city before I got here, but if you head into the Old Town Market Place there's no chance of that!
All the architecture and buildings were so vibrant and colourful. Each little narrow cobbled street had another shop, house, or hidden gem to explore.
Horse-drawn carriages are driven in the square and street performers entertain you. It was like a fairy tale city. You cannot miss it!
There are plenty of restaurants, cafés, souvenir shops with competitive prices, and street food vendors here to grab some cheap eats.
This market square is the main draw of tourists who are heading to the capital and in the summer months can be extremely busy.
The best bet is to beat the crowds by getting here early in the morning.
If you'd rather look down than be on the ground, I would recommend paying a visit to the viewing terrace by St. Anne's church, for 6 Zloty (around £1) you can get some amazing views.
Click here to read my complete guide on this amazing viewpoint!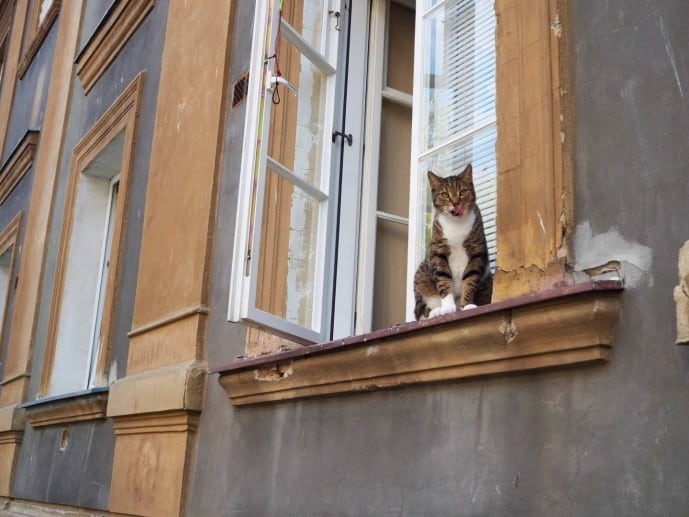 The Warsaw Rising Museum
If you're in Warsaw, you really cannot say you've visited until you've understood its complex history.
The Warsaw Rising in 1944 saw the deaths of nearly a quarter of Warsaw's population at the time.
This museum is a memorial and tribute to the brave Polish souls who fought to free Warsaw from German occupation.
The highlight for me was the 3D film "City in Ruins", this short 6-minute clip really brought the whole story of the Rising home for me.
The city which we had been wandering around that day wasn't there. Nearly every building in Centrum had fallen to the ground.
What I liked about this museum also was the fact it was completely interactive.
It wasn't just your typical things behind glass with a placard type of place.
You can watch movies, hear stories, collect map pieces etc. For 20 Zloty (£4), it's a great place to visit and explore history.
Wilanów Palace
This luscious lemon palace is a little further out than the central tourist attractions in Warsaw, but is well worth a visit if you have the time.
Originally constructed as a pleasure palace in 1677 for King Jan Sobieski III, today it's a museum that is open for tourists to explore.
You can wander around the baroque rooms and be transported back in time to a land of royalty!
Throughout the ages, it holds the title of Warsaw's first museum and exposition for the arts since 1805, so it houses a fine gallery of portraits and antiques.
My favourite part was wandering around the rose gardens outside the palace, it reminded me of a mini Gardens of Versaille.
The great thing is you can just pay to go inside the gardens and skip the palace if you're on a budget.
The palace ticket is 20 Zloty (£4) but the park and gardens are only 5 Zl (£1), bargain.
Getting here is easy, simply catch the 519 bus from Warszawa Centrum!
To get a really good peek inside the palace, read about my visit here.
Palace of culture and science
This art deco building was Stalin's "gift" to Warsaw and is a focal high-rise building that can be seen from all over the city.
The Palace of culture and science houses a plethora of businesses, tourist information, sports clubs, theatres, a cinema, and more.
Beyond having a peek inside, it's a really pleasant place to come and have a walk around in the gardens outside.
Click here to read the most Instagrammable places in Warsaw!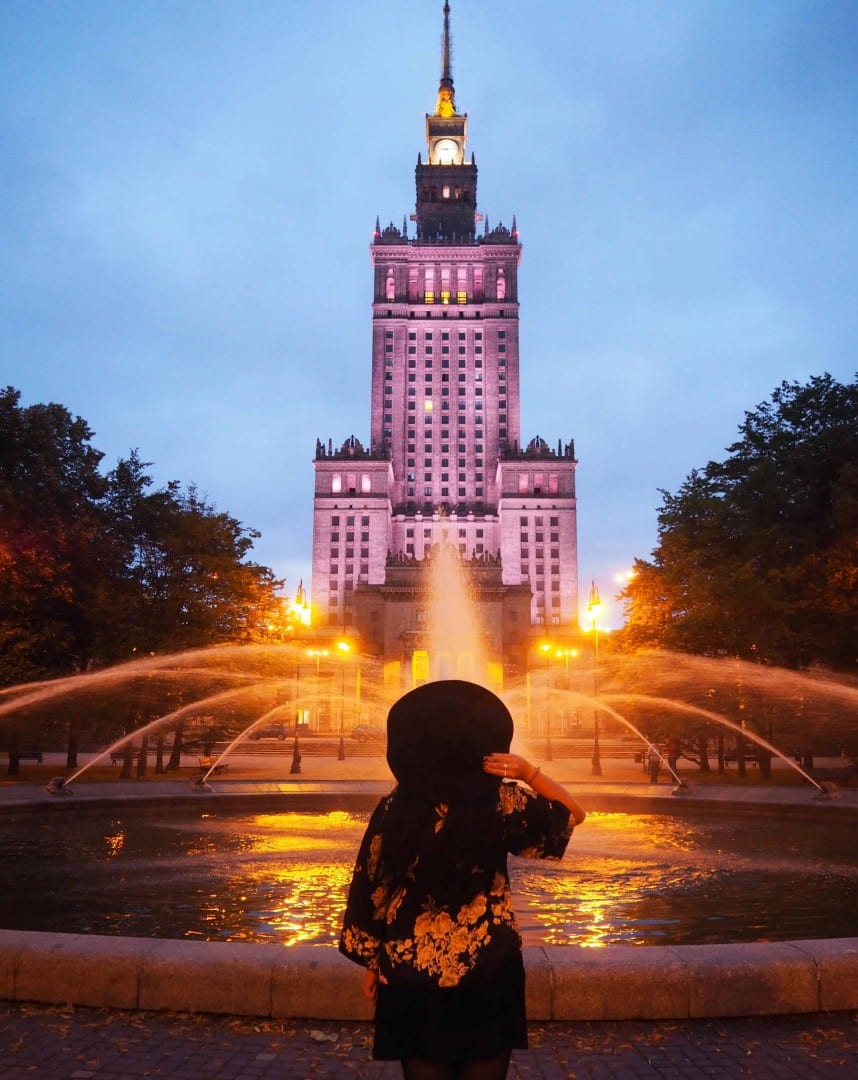 Where to eat in Warsaw
Milk Bars
Something which is unique to Warsaw and should be on every travellers bucket list when in the capital of Poland, is the Milk Bar.
It's not a bar serving alcohol and it doesn't just sell milk either. It's essentially a cheap Polish eatery.
This is the perfect choice for those wanting to sample some quintessential Polish cuisine. I decided to visit the famous Bambino bar when I was here.
Now, I'm not claiming to be an expert but I'll pass on my limited knowledge to you about how to handle ordering food in a milk bar.
The menu will be in Polish, the staff will only speak Polish and so it's best to research what you're after before you arrive.
This is especially important in the lunch rush as it's a busy and hectic time of day.
What to expect in a Polish Milk Bar
Being new to Poland, I wanted to try some traditional dumplings called Pierogi. We also wanted some beetroot soup and so we came prepared.
As my Polish pronunciation was going to be pretty shocking, I just showed the lady a picture of what I wanted and paid!
Although it would have been part of the fun to try and attempt Polish, it's so much easier just to show her.
She did have a chuckle at my expense but you know, you gotta do what you gotta do! Next, you receive a set of tickets which you'll need to give to the person serving at the counter.
If it's ready, you'll get served your dish straight away. If not, you'll be told to sit down and wait. You'll then be called over.
This can get quite confusing if you can't speak Polish and it's a bit of a potluck who'll be served first and in what order. But hey, ho it's an adventure!
It's honestly really tasty and filling. What's more, it's cheap, so you can fill your boots. A beet soup, meat dumplings and Coke (not very traditional, sorry) cost €4.50. Bargain!
Indulge in afternoon tea
I love indulging in an Afternoon Tea wherever I go and Warsaw has one of the best value high teas around.
Make sure you visit Hotel Bristol as they will serve tea in their luxury lounge for only £13!
I've written a full article on the experience here.
MOD
A Ramen and doughnut shop isn't the most likely of combinations but somehow at MOD, it works.
Located in Leoandrow 8, the friendly staff serves up a mean choice of tasty homemade Ramen dishes, even vegan!
But the reason why my friend and I decided to pay it a visit and even walked 30 minutes in the rain to get there was their selection of artisan doughnuts we had been spying on their Instagram!
They're just so damn pretty. Freshly baked in-store each day they have a wide selection of Oreo, chocolate, cream, hibiscus, and matcha to choose from. So, dig in.
As they say, a doughnut a day keeps the doctor away! :P See their official website here.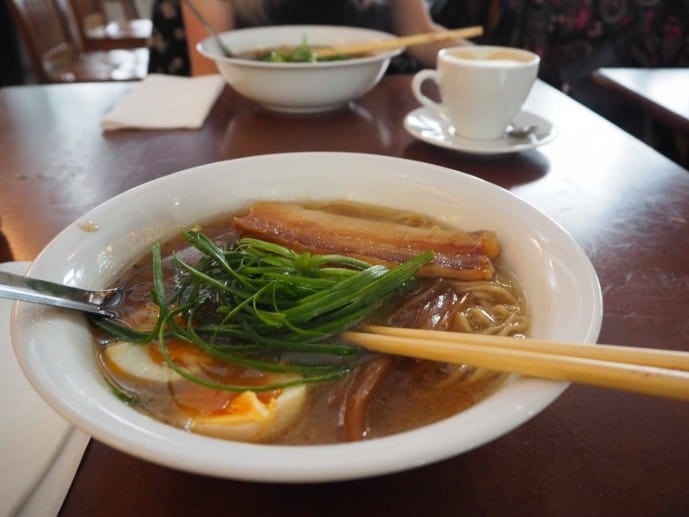 Things to do in Warsaw at night
Another thing you have to try when you're in this city is the 1€ shot bars!
Pijalnia Wodki i Piwa (Vodka and beer) is a popular chain in Warsaw that serves up cheap booze for a night out.
You can order some of their magical potion shots, beer, wine, and even coffee or tea for 4.30 Zl or 1€, it's a bargain if you're on a budget!
Craft beers bars are also very popular here. My personal fave was Jabeer Wocky!
Apart from having an awesome name, it served up a huge variety of craft beers to order from all over Poland and the world.
Where to stay in Warsaw
There a lot's of choices of where to stay in every budget for Warsaw but I would personally recommend the Hotel Rialto.
It's an Art Deco style hotel which had a beautiful setting and is in a quiet part of town.
So that's my Warsaw Travel!
So, that's the end of my Warsaw travel guide for the capital of Poland. As you can see, there is plenty to do to keep you occupied!
Enough to justify staying for at least a couple of days if you find yourself in this friendly, vibrant, capital city.
Don't skip travelling to Warsaw, stay awhile and enjoy it!
Why not read my Warsaw photography guide next?
Save this Warsaw travel guide for later!