It's official, Warwick Castle's Dragon Slayer show is back!
If you're not already aware it's an epic nighttime spectacular that has medieval fantasy, valiant knights on horses, a fire-breathing dragon, fated romance, and fireworks!
As the sun sets, you can take a seat in the courtyard arena to watch the castle come alive with creative projection mapping, stage performers, and special effects.
It only happens on select nights in August so you should run not walk to book your seat when you get the chance.
As a lover of all things medieval, fantasy, and magical, I can truly say that the vibes and aesthetics were immaculate and it was a summer evening to remember.
Here is a detailed Warwick Castle Dragon Slayer review and why you should book tickets to see this nighttime spectacular!
Warning: there are some Dragon Slayer spoilers in this review plus lots of photos and a video. So, if you'd rather it be a surprise, proceed with caution.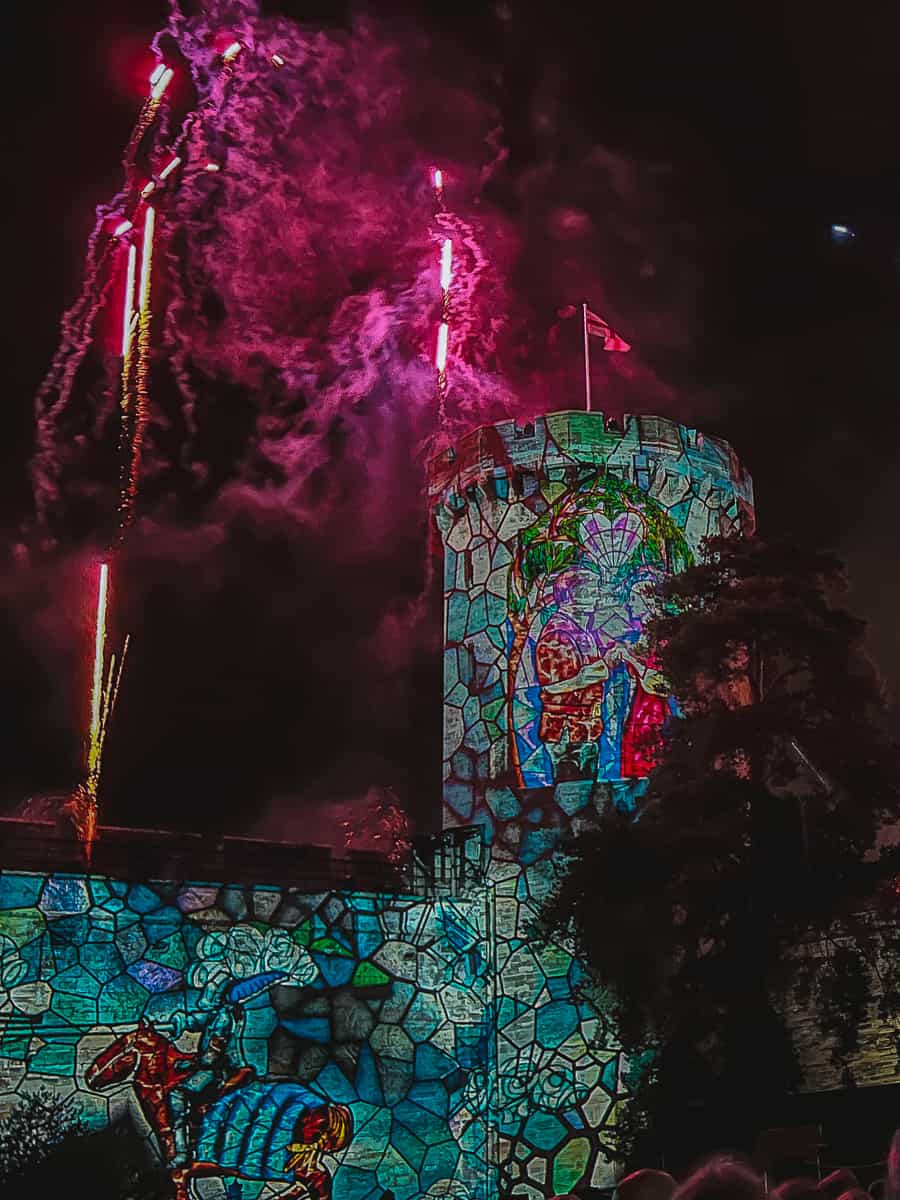 What is Warwick Castle's Dragon Slayer show?
Dragon Slayer is a nighttime show brought to you by Merlin Entertainment. The performance follows Guy of Warwick on his heroic quests to win the love of his fair Felice.
Warwick Castle has paired up with Knights of Middle England (KOME) who are a professional jousting and stunt display team to deliver the show.
The last time that Dragon Slayer was on was 2019. But, this had a completely different format where it would first take place in the jousting arena and then finish in Warwick Castle courtyard with the audience sitting on the floor.
Dragon Slayer 2.0 has a completely new format with even more projection mapping, special effects, and fireworks but everyone has a seat in the Castle Courtyard Arena for the entire performance.
It's a 360 degrees 'in-the-round' show so there will be amazing things happening all around you throughout!
Watch my full Dragon Slayer review video on YouTube!
Is Dragon Slayer just a fireworks show?
No! Although there are fireworks involved, there is lots more to it than just flames and illuminations.
Warwick Castle's Dragon Slayer is a completely immersive performance that will keep you gripped and entertained fully for just over 90 minutes.
The majority of the show is a stage performance with talented actors and horses. You'll meet knights, noble ladies, evil dukes, Vikings, giant trolls, and more!
You'll then see part two when night falls and this is where more of the projection mapping will come into play. You'll see a fire-breathing dragon lay waste to the castle and mythical creatures like the minotaur.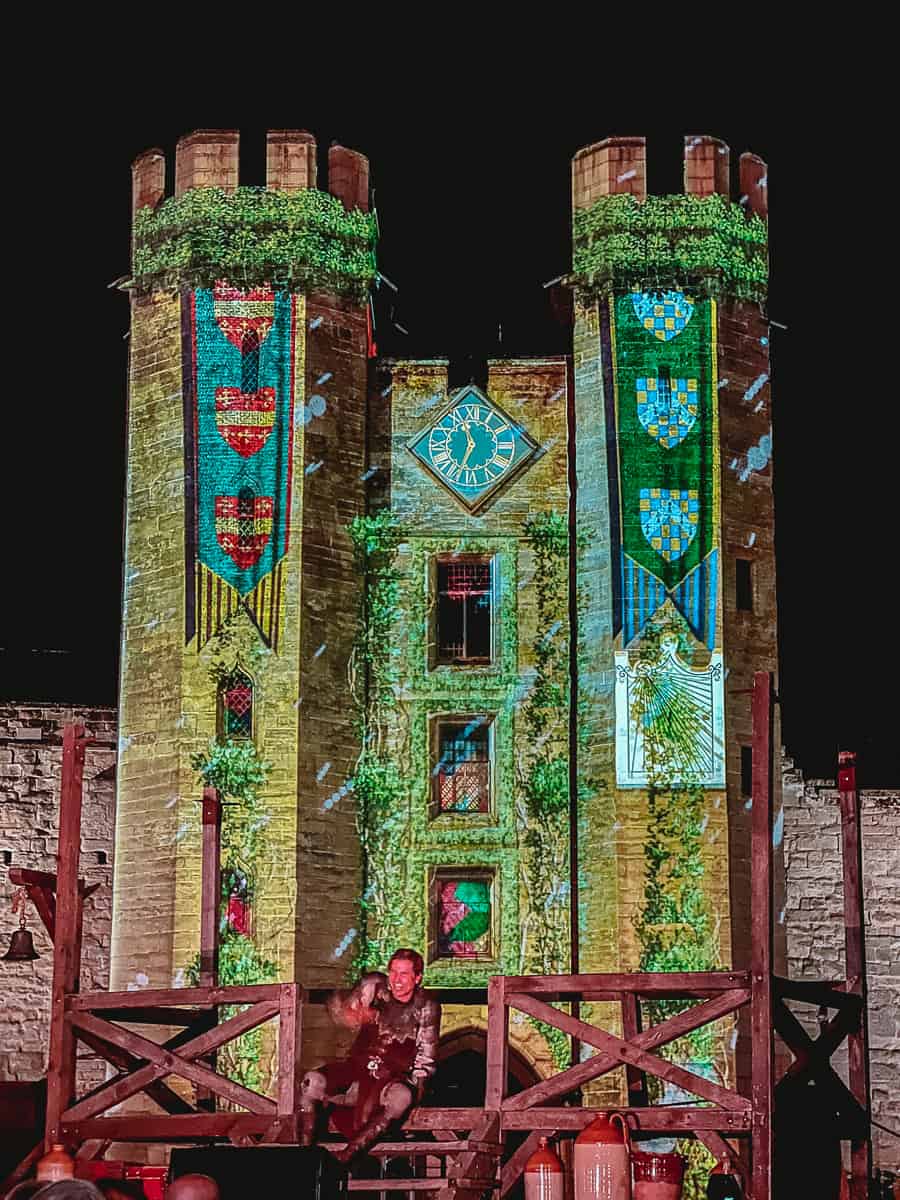 Amazing reasons to book Warwick Castle's Dragon Slayer!
1. A gripping storyline delivered by incredible performers
I really loved the storyline of Dragon Slayer. I actually watched A Knight's Tale before I visited Warwick Castle for the jousting (for the aesthetics, not historical accuracy) and it follows the same rags to riches tale.
To not give too much away, it follows the story of the chivalrous Guy of Warwick who competes against Knights in a tournament for the fair Felice's hand in marriage.
Guy then wants to prove his mettle and be worthy of her love. So, his quest for glory takes him across the globe to battle evil dukes, defeat Viking raiders, and finally slay a huge dragon!
It's an incredible storyline but it was the performers who brought it to life on the stage. The acting, sword fighting, shield walls, and romantic scenes were all so gripping.
The only thing I would say is that is a little bit of a bitter-sweet happily ever after if I'm being honest. It doesn't end with the wedding and happily walking into the sunset which would have been fine. But, I guess that's life!
2. Jaw-dropping projection mapping and special effects
I've seen projection mapping before in Europe, Disney World, and Vivid Sydney in Australia but I haven't seen it so cleverly done for a show as I did in Dragon Slayer.
The fact that the projection mapping wasn't just a backdrop, it was actually part of the show was a stroke of genius.
The dragon part of the performance is a really great example of this. You'll see the dragon destroying the castle mapped onto the castle and they use flame throwers for the dragon to breathe fire. All the while, Guy of Warwick is fighting it off on the castle walls. My mind was blown.
They also had projection mapping of stained glass windows, battleships riding over the seas, and wedding bells.
As a fantasy book lover (or if we're being honest Romantisy), I loved all the parchment and tomes reflected on the towers!
3. You're watching it in a real castle
Another thing that's incredible about the Warwick Castle Dragon Slayer show is the fact it's set in a real castle not a made-up stage or a set.
Warwick's Castle has over 1000 years of history and so being here after dark was a really special experience in itself.
I've been going to Warwick Castle since I was a kid but I felt that the entire place had a different mood in the evening compared to during the day.
The fact that you get to watch dragons, monsters, and battle scenes mapped out on it was a bonus.
4. Breathtaking fireworks
Of course, the performance comes to an epic close with a show-stopping finale and you'll see the night sky lit up with fireworks!
I was really impressed with the number of fireworks that were set off above the tower and on the castle. It seemed to go on forever and I was here for it as I absolutely love anything that sparkles.
It was the best end to the Dragon Slayer show and you can give a big round of applause for the talented actors while this was happening.
When is Dragon Slayer on at Warwick Castle?
Dragon Slayer is only on at Warwick Castle on select dates throughout August each year.
This is usually around the middle of August. So, make sure to book your tickets for the show before they sell out!
Click here to book your tickets for Dragon Slayer
Is Dragon Slayer included in a Warwick Castle ticket?
No, Dragon Slayer is not included in your day ticket to Warwick Castle. Tickets for the night show must be purchased separately and in advance.
It's easy to see why there is a separate charge as the show is spectacular with lots of actors, horses, costumes, combat, special effects, projection mapping, and fireworks!
Not to mention the crew that are hard at work making sure that it all runs seamlessly behind the scenes.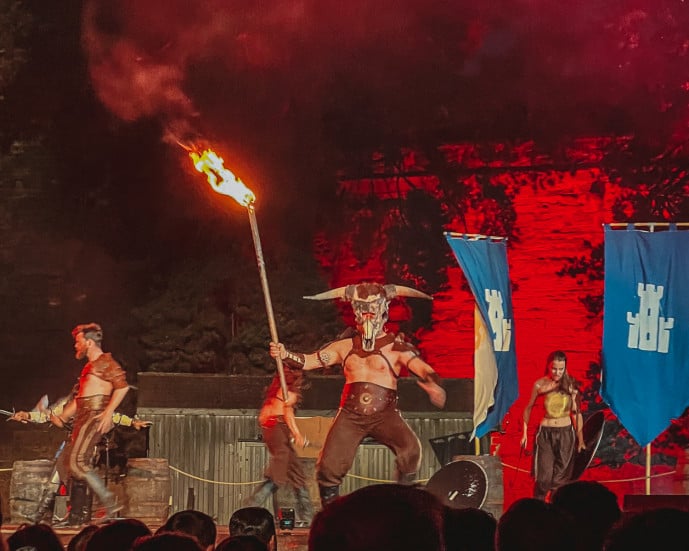 In my opinion, it is well worth splurging the extra cash to come and you don't want to miss it as it only happens for around 9-10 days each year.
The nighttime spectacular really makes a great ending to any day spent at Warwick Castle! Or, you can visit the night show on its own as it's a standalone event.
If you are planning on visiting Warwick Castle during the day, you do have to leave the castle at 5 pm and then come back an hour or so later in order to see the show.
But, as the castle is centrally located in Warwick town, there are lots of things to do while you wait.
How much are Warwick Castle Dragon Slayer tickets?
Tickets for Dragon Slayer start at around £19 for an adult. These can all be booked online via Warwick Castle's website.
The best seats nearer the front do tend to sell out early. So, make sure to look out for when tickets are released;
Standard Dragon Slayer tickets – the standard tickets start at £19 per person for the back seats in the arena. There are then £25, £32 and finally, £36 category tickets the closer to the stage you get.
Show & Banquet Dragon Slayer tickets – You can book a banquet and show ticket which costs around £95 per person. This has a three-course dinner and exclusive entertainment in the Great Hall.
Remember: Merlin Annual Pass members receive a 20% discount, this is applicable for all tiers of membership. Make sure to check the Merlin annual pass website for the discount code before you book!
How long is the Dragon Slayer show?
The show time is from 8.15 to 10.15 pm but the entertainment itself lasts for around 75-90 minutes.
Although it can seem like a long evening (especially for little ones), the show is so gripping that time seriously flies!
But, here is a little about what to expect on the night;
The arena for Dragon Slayer opens at around 6 pm. This is to allow you enough time to arrive and grab some dinner before the show.
You can wander around the Castle Courtyard but most people were hanging around outside of it on the Oak Tree Lawn.
Here, there are food vans, a gift shop, a well-stocked bar, and even some 'have a go' sword fighting lessons going on to keep the kids entertained.
You can buy your Dragon Slayer programmes, souvenirs, and even Dragon Slayer masks that the kids will love putting on for the show.
Everyone takes their seats at 8.15 pm for the performance to start at 8.30 pm! There is a 30-minute interval around 9.15 pm and then it all ends in a spectacular finale around 10.15 pm.
They leave the Dragon Slayer projection on the castle for a while after the show for some great photo opportunities.
The gates will shut promptly at 10.30 pm so start making your way out of the arena quickly after it finishes!
Where to eat during Warwick Castle's Dragon Slayer
Those who have booked a banquet ticket can head straight to the Great Hall for their three-course dinner.
But, those who have a standard ticket will be allowed into the Oak Tree Lawn outside of the castle courtyard from 6.15 pm to grab some food.
There will be lots of food vans here to grab dinner. You'll find burgers, hotdogs, chicken, fries, noodles, pizza, and even a smoked grill!
There are also coffee vans, cold drinks outlets, and a place to grab a beer or glass of wine before the show begins.
I had a cheeseburger here and it set me back around £7 and also a pint of lager which was around £5.
If you prefer, you can pack a picnic and enjoy it on the lawn before the show starts instead!
But, it's good to note that you can't eat inside the castle courtyard or during the performance so make sure to have your fill before the show begins.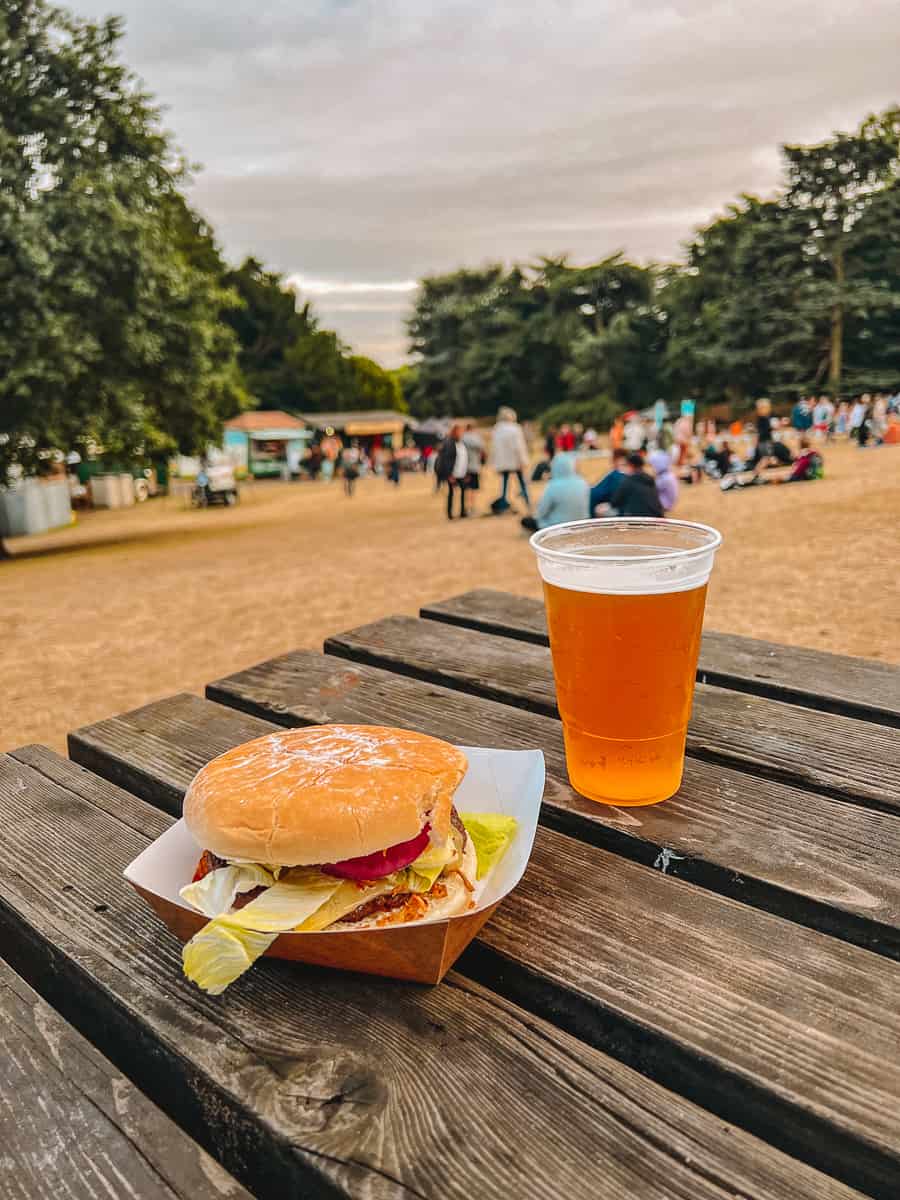 My tops tips for watching Warwick Castle's Dragon Slayer
Bring a jacket – Although the show is in August, we do get cold summer evenings in the UK. So, make sure to pack an extra layer just in case it gets a bit chilly.
Bring a raincoat – the show must go on even when it's bad weather. You can't put up your brolly so bring a waterproof jacket if rain is forecast! Warwick Castle does have a 'rainy day guarantee' so if it's soggy ask a staff member about the next steps.
Pack some food and water – There are food vans available outside the castle courtyard. But, it can be expensive for families so I'd bring a picnic to eat before. You cannot eat or drink during the performance.
Have a torch of some kind – I couldn't believe how dark the castle gets once the sun sets! There are illuminated pathways back to the car park but I'd have a torch spare (even the one on your phone is fine) as its pitch.
Try to get a seat in the aisle – as the seating is not tiered, everyone is seated at the same level. The aisle seating was great as it didn't block your view as much!
Is Warwick Castle's Dragon Slayer worth it?
Yes, aye, arr, all the YES! Dragon Slayer is SO worth seeing if you get the chance. I was honestly blown away by it.
I've loved dragons ever since I read The Hobbit as a kid and I've been reading so much fantasy this year including the Throne of Glass series with the wyverns and now Zodiac Academy which has gold-obsessed dragon shifters (big up to my book boyfriend Darius Acrux).
So, it's safe to say, I was really looking forward to seeing this show as it's a medieval fantasy lover's dream.
As well as being a spectacular evening of entertainment it was so cleverly done. I've never seen projection mapping and pyrotechnics used like this before to create such a breathtaking display!
It has a great storyline, intrigue, action, battle, and romance plus beautiful horses that make an appearance with the knights.
The cast and crew must have worked so hard to put on such a great performance so a big thumbs up and bravo to them!
Everyone in the stadium, of all ages, was enraptured by the whole thing. I would go back to see Dragon Slayer all over again in a heartbeat.
Don't forget to visit Warwick Castle during the day
Warwick Castle is always such an awesome place to visit all year round but it's especially great during the summer holidays (late July – August).
As well as visiting their top attractions like King Maker, Great Hall, Zog playground and the Castle battlements – summer is when you can see some jousting take place!
Each summer, Warwick Castle runs their War of the Roses LIVE event. It's an action-packed show that plays out the dramatic events between House Lancaster and House York.
Click here to read all the things to do in Warwick Castle
These are historic chapters of British history, involving the Earls of Warwick, that shaped the future of England forever.
You'll get to choose your side of either the White Rose (York) or Red Rose (Lancaster) and then watch knights ride out to joust, sword fight, and battle for the crown!
There is also an amazing birds of prey show called Falconer's Quest where you can watch over 60 birds take to the skies.
You'll see Bald American Eagles, Harris Hawks, Barn Owls, and even Andean Condors that fly through the crowds and over your head (quite literally).
Click here to read my ultimate Warwick Castle review!
Extend your stay in Warwick Castle Knight's Village
As Dragon Slayer doesn't finish until late in the evening, it may be a good idea to stay overnight.
Did you know that Warwick Castle has its very own Knight's Village that is packed with medieval-themed accommodation?
You can choose to glamp in one of their tents or they have a selection of cosy lodges. You'll even get to meet a knight while you're here!
All of the Knight's Village stays come with breakfast, free parking, a one-day pass to Warwick Castle, and exclusive evening entertainment in their banquet hall.
Click here to book your stay at Warwick Castle Knight Village!
How to get to Warwick Castle
Warwick Castle is located centrally in the town of Warwick which lies on the banks of the River Avon in Shakespeare's county of Warwickshire;
Warwick Castle by Car – Warwick Castle can easily be accessed from the M40 by coming off at junction 15, from here it's an easy 2-mile drive that's well signposted.
Warwick Castle by train – From London Marylebone, there is a direct train heading to Warwick Castle that should take you around 1 hour 45 minutes. If you're heading from Birmingham you can get a direct train from Birmingham Snow Hill to Warwick. After that, it's a one-mile walk to the castle. Check rail routes with National Rail.
If you are heading here by public transport, be aware that the show doesn't end until after 10 pm and you'll need time to get to the station.
Make sure to plan your onward journey in advance. If you're coming from far away, I would consider staying the night.
Warwick Castle's address is Warwick Castle, Castle Lane, Warwick, CV34 4QU. Click here for a Google Pin!
Warwick Castle Dragon Slayer parking
Dragon Slayer parking can be found at the normal Warwick Castle parking area which is located on Stratford Road car park.
This is a 10-minute walk to the castle entrance but blue badge parking is available which is much closer.
You do have to pay for parking at Dragon Slayer but in the evening the price goes down to £3 per car.
On entry, the barriers will lift to let you into the car park. Then, you buy a token at the parking machines by the castle before you leave. Make sure to present this at the barriers when you exit!
Read more of my Shakespeare County articles
Amazing Shakespeare things to do in Stratford upon Avon
Why you must stay at the Arden Hotel in Stratford
Things to do at the RSC theatre
Why you must visit Anne Hathaway's Cottage
How to visit the Confetti Flower Fields in Wick
Things to do in Honington Cotswolds
Visiting the Primark Disney Café in Birmingham
Save this Warwick Castle Dragon Slayer review for later!
With thanks to Warwick Castle for inviting me to see their Dragon Slayer show. Although I was gifted this experience, all opinions, images, and video footage are my own.