Wayland's Smithy is an ancient site in Oxfordshire that has an air of mystery and magic surrounding it.
It's extremely atmospheric and when you encounter it inside a copse on the historic Ridgeway Trail, you'll be blown away by the ruins.
This chamber of the dead is thought to date back over 5,000 years and legends say that it's home to Wayland, the Saxon god of metalworking.
Many also confirm that J. R. R. Tolkien visited this barrow and it inspired Middle Earth in his Lord of the Rings trilogy!
Today, it's a burial mound that sits around a mile away from Uffington White Horse and makes a fantastic stop on a walk through the countryside.
Here's an essential guide for visiting Wayland's Smithy and what you can expect.
What is Wayland's Smithy?
Wayland's Smithy is a Neolithic burial site and chambered long barrow. It actually has two phases to the mound.
The first structure was made of earth, stone and wood and housed 14 early humans, Their remains date back to around 3,500 BC. These were 11 men, 2 women and one child.
The second was a larger stone chamber mound, which doubled in size and was built on top of the original one.
It was used for around 100 years with many generations of settlers here. These are the remains we can explore today.
It's estimated to be around 56 metres or 185 feet long by about 13 metres or 43 feet wide.
The legend and history of Wayland's Smithy
The early settlers at this site would have buried their ancestors in this tomb around 5,000 years ago.
The first barrow that was made here was only used by a single generation for around 15 years. Then a second barrow was made on top of it around 100 years later.
According to archaeologists, this type of chamber was unusual for the time period due to the fact it resembles long barrows that were built some 200 years earlier. For example, the West Kennet Longbarrow was found near Avebury stone circle.
The reason can never be proved as to why they built it this way, but many believe it was to honour their ancestors. It was used for ancient burials for over 100 years, then eventually abandoned.
It has attracted interest from travellers ever since the Saxon Era around the 10th century AD.
Wayland's Smithy was mentioned in a charter on the landscape here. Back then, Wayland was believed to be a Saxon God of metalworking as the people thought that smithing was a magical practice. This is supposedly the forge he made for himself on the Downs.
His legendary swords have been gifted to the likes of Merlin in the Arthurian Tales and he was even mentioned by Alfred the Great in his chronicle.
There is a local tradition that says if you leave your horse tethered at the long barrow with a coin, Wayland would magically shoe your horse for you!
Many antiquarians throughout the years, such as John Aubrey, noted the site and this continued well into the 19th century.
Eventually, it was one of the first sites to be officially protected in 1882.
Modern excavations
Due to a public outcry, there was a need to further excavate the site in order to protect it and make it a more suitable tourist attraction.
So, from 1919 to 1920 an excavation was carried out. But, it was poorly done with little or no organisation and recordings made. But, they were able to confirm it was a burial site due to the remains they found.
In the 1960s, more official studies were carried out and they were able to reconstruct the site to how it might have looked all those thousands of years ago.
Later on, English Heritage was able to use a technique called Radio Carbon to properly date the site. It was a groundbreaking project that overturned many theories on the Neolithic Age!
Nowadays, the ruins remain very much unchanged and the public is free to roam and explore the ancient chamber.
Was J.R.R. Tolkien inspired by Wayland's Smithy?
Having been a fan of Lord of the Rings and the Hobbit since I was a child, I have always been slightly obsessed with Tolkien's legendary world of Middle Earth.
As Tolkien was an academic of Oxford, there are plenty of sights around the area that allow you to follow in his footsteps and discover inspirations for his books.
He often explored the Berkshire Downs and was known for taking long hiking tours on the Ridgeway. Much of this beautiful area was incorporated into his Lord of the Rings Trilogy including Wayland's Smithy.
This is thought to have been the model for the Barrow Downs, where the Frodo Baggins and the other hobbits are captured by an evil barrow-wight.
Tolkien also felt quite an ambivalent connection with barrows and their cycles shown in other parts of his books.
For example, when Arwen is lain to rest in a barrow, her name, fame and memories fade and the mound is all that's left of her life.
Further along the Ridgeway, you can visit the famous Dragon Hill. As well as being the spot where St George slayed a fire breathing dragon, this is thought to be Weathertop where Frodo is stabbed by a Ringwraith.
Plus, the nearby Uffington White Horse resembles the symbol of the Kingdom of Rohan.
Luckily, while you're exploring there won't be any evil wights or Ringwraiths to come and get you!
However, you can definitely sense the timeless magic which Tolkien effortlessly created through the pages of his novels.
Click here to read my Lord of the Rings guide to the Cotswolds
Where is Wayland's Smithy?
If you wanted to experience this amazing site for yourself, then you'll find it tucked away on the Oxfordshire Downs which is an Area of Outstanding Natural Beauty (AONB).
It's located around a mile away from the Uffington White Horse and is a stop along the famous Ridgeway National Trail. This runs for 87 miles from Overton Hill in Wiltshire to Ivanhoe Beacon in Buckinghamshire.
Like the burial chamber, this road dates back 5,000 years and it's Europe's oldest road. You'll be following in the footsteps of early man, Romans, Saxons, Danes and even Alfred the Great!
It's in a very remote and exposed area of the countryside, near the village of Ashbury in south-eastern Oxfordshire.
How to get there
The only way that you can access Wayland's Smithy is by walking to it along the Ridgeway. Unfortunately, there is no nearby parking at the site itself.
The easiest and most convenient area to park would be in the Uffington White Horse car park. Then, you can access the smithy from here along the walking trail.
The walk is just over a mile and will take you around 20-30 minutes each way. Once, you're here there is plenty of space to rest up before you make your way back.
The Ridgeway is a really old road and, although it is maintained, the pathways are often hard to walk on. Plus, it's completely exposed so best to bring sun protection and a good pair of walking shoes. There are little to no breakpoints or benches along the way.
Wayland's Smithy opening times: The smithy is FREE to visit and open 24 hours from dawn until dusk but, personally, I wouldn't be brave enough to visit at night time!
Can you drive to Wayland's Smithy? No, the only way you can reach the site is by walking. You could park in the village of Ashbury and access the Ridgeway from there but it's definitely easiest to access the barrow from the White Horse Hill at Uffington.
What to do and expect while you're here
As you enter the site, you'll honestly be amazed at the four huge stones that welcome you into the chamber!
There is a small signboard from English Heritage that explains more of the history, the chamber plan and the recent excavation works.
You're allowed free rein over the site and so you can climb all over it and go inside if you wanted to.
When you enter, you'll find three chambers. One at the far end which is like a Dolmen Chamber and then two 'rooms' on either side.
Most people tend to visit to find some peace and relax on top of the long barrow as it makes a great sunbathing spot. Plus, a much-needed break if you are hiking along the Ridgeway Trail.
It provides a welcome respite with the shade of the trees. You could pull up and have a picnic here but I don't think I would have much of a stomach for it eating on top of a gravesite!
After that, there isn't a wealth of things to do. There is a small forest opposite you could explore which is very pretty or carry on the trail to find more ancient sites at Uffington.
Visit more ancient sites on the Ridgeway Trail & beyond!
After you've visited Wayland's Smithy, there are plenty of ancient sites to explore along the Ridgeway. Some are really close by and can be accessed in less than 30 minutes from the long barrow.
Uffington White Horse is a 3,000-year-old geoglyph that was marked onto the hill in the Bronze Age. Although you can no longer climb on the site it can easily be seen from the visitor's car park and access area. Click here for more details.
Nearby is Dragon Hill that was mentioned in the legend of St George fighting the dragon or you can head up to Uffington Castle which is a rare Iron Age Hill Fort!
Click here to read more on the Dragon Hill legends surrounding this mound!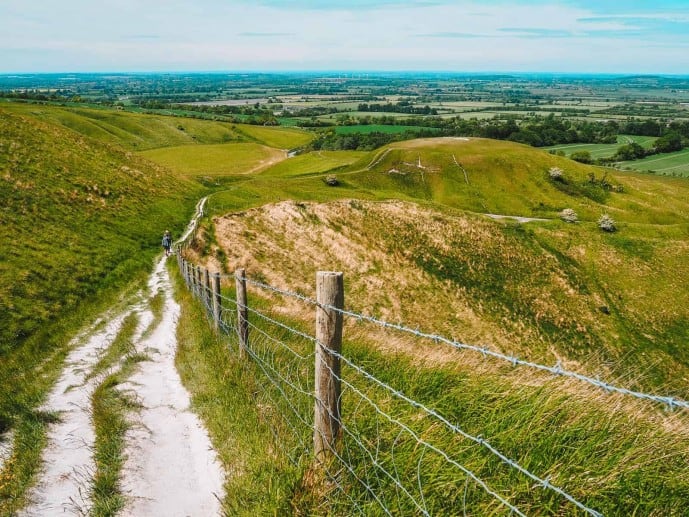 A few miles away in the village of Kingston Lisle you can visit the famous Blowing Stone that makes a loud noise if you blow through it!
Legend has it that this stone was used by Alfred the Great to call his armies from White Horse Hill to march against the Danes at the Battle of Ashdown of 871.
Minster Lovell Hall is a lovely ancient spot near the River Windrush or heads to North Leigh Roman Villa so you can explore the remains of a Roman courtyard.
Beyond ancient sites, there are also a few more worth a mention. Uffington Village is a lovely spot and the location of Tom Brown's Schooldays or visit the Faringdon Folly Tower – the last folly built in Britain by the famous eccentric Lord Berners.
Find out more quirky things to see in Faringdon here.
Read more of my posts on Oxfordshire
Discover the Gateway to The Cotswolds, Burford!
Explore the ancient ruins of Minster Lovell Hall
How to visit the magical Badbury Clump bluebell woods
Visit the Rollright Stones Circle near Long Compton
Visiting the Downton Abbey Village of Bampton
How to visit the Harry Potter Tree at Blenheim Palace for free
Like it? Pin it!