As a girl from Swindon, I always love to spend a weekend in Bristol. It's like the cultural hub I never had here in the countryside. Bristol is a powerhouse of history, artists, and bohemian independent spirit.
You can find yourself in a 17th-century pub one minute, a boat built in the 1800s the next and then explore the historic streets of Bristol admiring ever-changing modern street art.
There are so many things to occupy a weekend in Bristol, you may have a hard time choosing. So, I've made a list below of my favourite ways to spend a weekend in Bristol if you love art and history.
There will be something in here for everyone and for all types of budgets. Did you know that many museums and attractions in Bristol are FREE to visit? Well, you do now!
here's how to spend the perfect weekend in Bristol!
Where is Bristol in UK and how to get here?
Bristol is a city-based in the South West of England and the River Avon snakes through it.
It's famous for its maritime history and, back in the day, was a famous and powerful trading port. You can reach Bristol a few ways;
Bristol By Car: From London or Wales take the M4 and alight at Junction 19 for the M32. From the M5, you can take junction 20.
Bristol By Train: From London, Bristol takes around an hour and forty five minutes. This is due to the switch at Bristol Parkway. Bristol Temples Meads is the central city station and from here its a ten minute walk to the centre or you can take the Bristol ferry. From Bath Spa station, Bristol Temple Meads is only fifteen minutes by train. Here's the official train website in UK to book.
Bristol By Bus: Probably the cheapest way, you can take the Megabus or National Express coach to Bristol from London. The journey will take around two hours. Check their websites for times and prices. National Express one way coach prices can cost as little as £5 on selected times and dates.
How to travel around for your weekend in Bristol
The majority of Bristol you can explore on foot. It's far more exciting this way and you never know what you're going to find! There seems to be something new around every corner.
But, there are Bristol bus and ferry services which can connect you with attractions all over the city. Especially if you're planning to head up Park Street towards Clifton and the Suspension Bridge, that walk can be quite steep and tiring.
If you're caught in the rain like I was, Uber works in Bristol and is a popular option for getting you from A to B in a hurry.
Where to stay in Bristol
You're probably wondering, where is the best place to stay for a weekend in Bristol?

If you're looking for a centrally located hotel with character then The Berkeley Suites in Berkeley Crescent is just the ticket. Transformed from an old Georgian townhouse, these apartments are modern and luxurious hideaways!
My suite came with a sumptuous lounge area, kitchenette with cooking utensils included, and the all-important espresso machine! A comfy double bedroom and walk-in bathroom with a huge bathtub. I loved the Elemis toiletries which added a touch of indulgence.
On arrival, I received all sorts of complimentary snacks and even had free access to the minibar. I also celebrated with a glass of Bristol Cream Sherry on the house which was utterly delicious.
If you're an art lover then you may be interested to know that Berkeley Square Hotel was Bristol's first art hotel and many of the rooms and suites have art pieces and a video gallery. My room had a projector screen as the TV and a gallery channel so I could watch some of the video paintings as I relaxed.
These suites are apartments separate from the Berkeley Square hotel, but as it's under the same umbrella you get the hotel service which is just around the corner. This also means an incredible buffet breakfast in their restaurant area. I loved the boutique design of the hotel with art for sale from local painters on the walls!
It's the perfect place for your weekend in Bristol.
For information about booking the apartments, see my full review.
Here are 15 ways to spend a weekend in Bristol if you love art and history
1. Visit the S.S. Great Britain
If there's one attraction you should splurge on for your weekend in Bristol this should be it!
The S.S. Great Britain was a steamship that was, until 1854, the longest passenger ship in the world.
It was a highly advanced ship for its time and designed by the eccentric architect Isambard Kingdom Brunel, who was quite a daring risk-taker. He installed a 1000 hp steam engine and screw propeller that had never been used before in its time, cutting journey times overseas.
The ship first made its way over to Australia carrying over 700 passengers, then over the Atlantic Ocean to New York carrying cargo.
Eventually, a storm hit it in 1886 and the damages were too expensive to repair. She was then sold to the Falkland Islands and left to rust.
Eventually, a rescue mission took place to bring her back home to Bristol some 8,000 miles away.
In 1970, she returned to where she was originally built and restored back to her prime.
Nowadays she stands proud in Bristol Harbour and is an amazing museum to learn about what life was like on a ship in the 19th century.
I loved how interactive this museum was! There was so much to see, do and learn and it really played on all your senses.
You could lie in a bunkbed, smell the cargo, hear the coughing, conversation, and sounds of what life would have been like!
I couldn't imagine spending months of my life on a ship. Makes me grateful for plane travel!
There are also lots of friendly historians on board to answer any questions you have.
Don't forget to see the incredible views on deck for 360-degree views of the harbourside and beyond.
I also particularly enjoyed the Being Brunel Museum. This really gave you an indication of what the man behind many architectural achievements in Bristol was like.
Isambard Kingdom Brunel was a visionary, but he was also relentless in his mission bringing wrath in his wake. They have a video where you can be inside his mind and a recreation of his office in London. It's a great addition and you shouldn't miss out.
See the official website to book tickets. Opening times are 10am – 4.30pm. If your name is lucky enough to be Isambard, bring your ID along and you get free entry to the museum!
2. Take a stroll around Bristol Harbour and Wapping Wharf
Bristol harbour, with its links to the River Avon, has been in use since the 13th century and has long since been a thriving trade port in the city.
Pirates, traders, slaves, merchants, and prisoners though history would have all been present on this harbour to board a ship, be deported, or arrive on Bristol shores in some form or another.
Famous Bristol sailers like John Cabot, would set sail from Bristol harbour to find trade in the New World or discover new lands.
In fact, Edward Teach, or Blackbeard, was born in Redcliffe by the Bristol harbourside.
Bristol used to be nicknamed the Sugar Loaf due to its huge links to slavery and sugar trade in the 18th century which would take place here.
Today, a lot of the Bristol harbourside has been transformed boasting trendy bars, shops, and restaurants.
Wapping Wharf is a new, fashionable area of the city which has been made using old shipping containers and is worth a stop on your visit here.
3. Walk across the Clifton Suspension Bridge
This was one of my favourite ways to spend a weekend in Bristol.

Another one of Isambard Kingdom Brunel's genius works is the Clifton Suspension Bridge. A lot of people say that if you don't visit this, your visit to Bristol is incomplete.
For centuries, there had never been an easy route to cross over the Avon Gorge for pedestrians or horses.
So, In 1830 there was a competition held by Thomas Telford for the best engineering design of a bridge that could connect both sides of the city. Isambard Kingdom Brunel, who was just 24 at the time, won and started work on the bridge.
Unfortunately, Brunel was not alive to see the opening of the bridge. There were many financial difficulties and construction blunders that stopped progress.
In 1859, when he died, the Civil Engineers in Bristol actually funded and completed the bridge as a memorial to his tremendous life and achievements.
Today, you can head up to the pretty village of Clifton to catch a glimpse of it.

Pedestrians and bikes can cross over the bridge for free. From the bridge you can get some incredible views of the Avon Gorge and West Country, heading into the peaceful Leigh Woods. Cars can also cross the bridge at a cost of £1.
They also have a visitor centre (open 10 am-5 pm) which is FREE to visit and gives you lots of information about the bridge's history and creation. You can go on a free walking tour with them at 3 pm on weekends and there's free Wifi too!
If you're after a photo spot, head up to the Clifton Observatory where you can get some great angles. Also, it's worth heading into the Observatory and the Cliffs below. You can follow the route to the Giants Cave inside, down to a viewpoint in the middle of the Avon cliff!
Opening times for the observatory and caves are 10am – 4pm. Click here to book tickets online.
4. Take in the views from Cabot Tower
Another free attraction that is perfect for a weekend in Bristol is Cabot Tower on top of Brandon hill. If you can stomach the hill walk and stairs, you will be greeted with fabulous views of the whole city.
You can even see the Clifton Suspension Bridge from here, Bath, and parts of Wales on a clear day!
The Cabot Tower was built to commemorate John Cabot, a famous Bristol sailor, and explorer who sailed to North America.
It's a great photo spot to encapsulate the whole city in one image.
Brandon Park is actually Bristol's oldest park in the city. During the 18th century, the city was highly populated and polluted with illness and mortality on the rise.
So, Brandon Park was gifted to the people as a means of getting fresh air and into nature.
It still has this purpose today with local resident joggers, dog walkers, strollers, and children playing in the park.
Entry is FREE, Opening times are 8.15 am – 5.15 pm.
Click here to read my complete guide for visiting Cabot Tower
5. Spot a Banksy
If you haven't heard of Banksy, then you need to change that right now!
Whether you think of him as a vandal or genius, he's fast become the most famous street artist in the world.
He's also gained a place amongst Bristol's most famous figures as he was born in the city.
His work became some of the first pieces of legalised and protected street art in the UK due to the increase in tourism it brought to the city and people's vote to keep it.
He's also since then created free art galleries and exhibitions in Bristol, which drew in thousands of people from all over the world, to give back to the local community.
Banksy spotting has become a popular thing to do in Bristol and you can find many of his works dotted around on the walls.
The most famous that still remain are a 'Well Hung Lover' that can be found at the bottom of Park Street and 'Mild Mild West' which is found in the Stokes Croft area.
If you're into your street art then Stokes Croft is the district for you! As you walk under the Bear Pit and into the Bohemian Stoke Croft you can see all sorts of street art and murals which bring amazing colour and creativity to the area.
Make sure you check out The Canteen as well which is a popular art gallery, bar, and restaurant.
6. Take a Blackbeard 2 Banksy walking tour
I love a walking tour to get my bearings around a city and what could be better than one that takes you to all the historic and art spots?!
This entertaining walk was a great way to find out about Bristol's colourful past and vibrant present on your weekend in Bristol.
Our 2 mile walk started outside Bristol Cathedral took us through Park Street, College Green, the Hatchett Inn, Orchard Avenue, The Harbourside, Queens Square, the Llandoger trow, Leonard lane, St Nicholas street, the Corn Exchange and plenty more!
We learned about Normans, Lords, Kings, Pirates, Merchants, Sailors, Street Artists, Brunel, and others.
It was so full of information and facts that my head was bursting after! But, the passion that these guys have for Bristol and its history and culture is phenomenal.
Every building in Bristol had an interesting past and, as these tours are run by street artists themselves, they are really well informed about the street artists in the area which I've always been curious about. As usual, street artists remain anonymous for obvious reasons.
I think this walking tour was my favourite thing I did on my visit to Bristol and I would highly recommend it as an introduction to the city.
It's a really gentle pace and the time flew as it was full of things to see and learn about.
Tours start at 11.30 am from Thursdays – Sundays. To book a spot, see their official website here.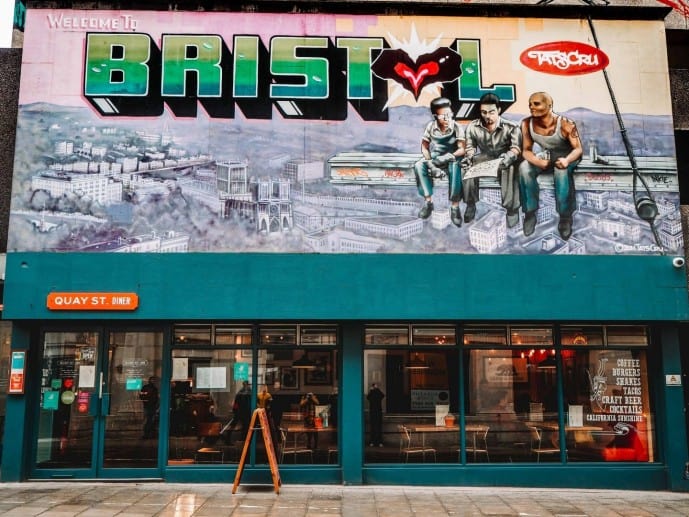 7. Visit the classical art galleries in Bristol Museum
Although I do love modern art, classical painters and their portraits have always been my favourite pastime.
There's something about them. Maybe it's the time they would have taken or the fact they transport you back in time. Either way, I love a visit to a classical gallery.
Bristol Museum is another amazing attraction that you can enter absolutely FREE if you're on a budget weekend in Bristol.
Here, you can visit the ancient Egyptian wing, learn about the prehistoric era, or marvel at the galleries which boast creations from famous painters such as Thomas Gainsborough and John Constable. Opening times are 10am – 5pm.
8. Drink a pint in Blackbeard's old haunt
If you're looking for a quirky pub on your weekend in Bristol – let the Hatchett be it!

On my Blackbeard 2 Banksy walking tour, I was rather taken by the Hatchet Inn, Bristol's oldest pub.
It dates back to 1606 and, supposedly, Blackbeard the pirate drank here.
Legend has it that the heavy front door used to have the skin of dead men under the black tar which covered it.
In fact, this door was so famous that many visitors offered to pay thousands of pounds to take it away with them!
I loved having a pint in here and learning about how the pub used to have rat-catching games, bare-knuckle boxing matches and cock fights inside!
There's so much history behind this place. Nowadays, there are metal gigs and events happening all year.
If you're looking for another famous historic pub, then the Llandoger Trow will be your next stop built in 1664. This smugglers bar is famous due to it being the birthplace and inspiration of two classic novels!
Robert Louis Stevenson was inspired to write Treasure Island after a visit to the alehouse and Daniel Defoe met Alexander Selkirk, a famous castaway, here which inspired him to write Robinson Crusoe.
9. Grab some lunch in the St. Nicholas food market
The St Nicholas Market is a famous lunch spot in the city and it's a Georgian arcade full of shops and street food vendors.
Rain or shine, it's a great place to go as it's covered all year. It's also Bristol's largest collection of independent retailers.
You can find food to eat from all over the world, healthy shakes and shots and shop in the markets 'til you drop.
Did you know that Pieminister, which can now be found all over the country and even in supermarkets, was first born here in Bristol?
Make sure you check them out, when I visited they had a scratch card competition to win the Golden Pie. This meant free pies each week for one year!
St Nicholas Food Market is open from 9.30 am – 5 pm from Monday to Saturday.
10. Feel like you're in Diagon Alley with the Christmas Steps
The Christmas Steps is a historic street in Bristol, dating back to the 17th century and the four flights of steps and surrounding shops are Grade II listed buildings.
Today it's Bristol's oldest market with lots of independent retailers and a Christmas Steps Art Quarter.
There's actually a lot to do in the area, with shops, a museum, and a theatre. Don't forget to pop into the historic Christmas Steps pub, which has their own 'Crack beer and ales' or the Board Game Café Chance and Counters at the bottom.
Click here for more things to see and do in Bristol's Art Quarter here
At the top you can find another fantastic Grade II listed building, John Fosters Almshouse, that looks like it's popped straight out of a Harry Potter book!
It was founded by a merchant in the 15th century, John Foster. Connected to that is the Three Kings of Cologne Chapel and the design was based on Foster's travels to Germany.
It's not open to the public but you can take a peek from outside! Click here to read more about this hidden gem.
11. Visit the Colourful houses on Cliftonwood Crescent
Not history per se, but a kind of street art. These houses do bring a lot of colour and life to a city full of industry and high-rise buildings.
The streets of Cliftonwood Crescent, Argyle place, and Ambrose Road all have a vibrant rainbow of colourful houses to explore.
It's quite high up from Bristol harbour so bring some good walking shoes! But it's a fab picture opportunity. Just be respectful of residents in the area.
If you would like more information about where to find the colourful houses in Bristol see my full post with directions for Cliftonwood Crescent here. You simply must visit on your weekend in Bristol.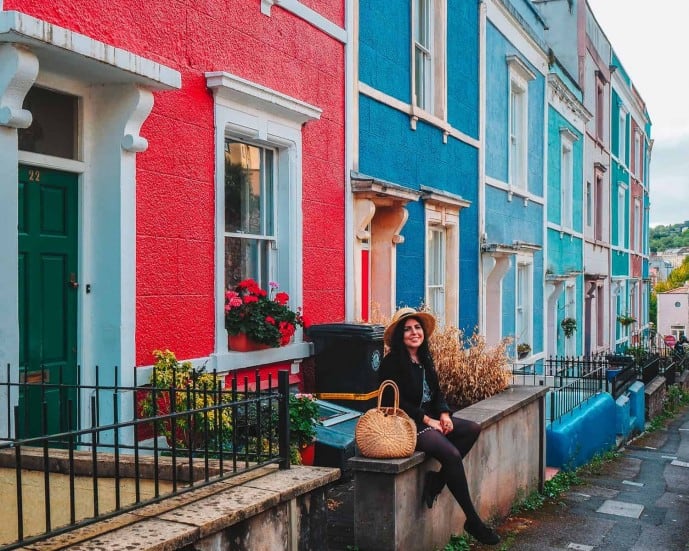 12. Pop into the M-Shed
The M-shed is another FREE attraction located in Bristol Harbourside which explores the history of the city and the lives of the people that shaped Bristol.
From art to music, cultures, traditions, and festivals you can learn all about what makes Bristol unique. It's full of fun, colourful, and interactive exhibits to enjoy.
Don't miss out on a trip to the top floor to see the fabulous view of the Harbour.
When I got there, the heavens decided to open so it was a mad dash to head inside! But, for the few moments I got to enjoy it I loved the view. Opening times are 10am – 5pm.
13. Drink a cocktail in the Florist café
I absolutely love the new craze of artsy flower walls, they're just so pretty!
The Florist Café on Park Street is fabulously decorated with all sorts of botanic decor and has a fabulous range of potions and cocktails to enjoy.
It's a really popular spot for locals to take a drink so get here early if you would like a photo of the famous flower wall.
All their drinks come with the cutest decorative garnishes like lavender, cucumber and rose petals etc. I highly enjoyed my visit and would go back again! Opening times are 12pm – late.
Click here to see all the Instagram spots in the Bristol
14. Marvel at Bristol Cathedral
Bristol Cathedral sits in the middle of the city centre and is an impressive Medieval church, founded as an Augustinian Abbey, in the 12th century (1140) by the first Lord Berkeley.
The most impressive historic piece of this cathedral is the Chapter House, dating back to 1160 which is a must-see.
The main glory of the church is one of the finest Medieval church hall examples in the country and I definitely felt small under those huge archways.
If you know anything about our history in the UK, a lot of the abbey's in England were demolished when Henry VIII decided to become a protestant Christian over catholic.
So, a lot of the abbey was unfinished but thankfully retained, until the late 1900s when the cathedral finally had a nave built.
Today, it's an incredible place to visit. There is so much history in these hallowed halls and architectural genius to admire through the centuries. It's free to enter, but on a donation basis.
15. Check out more incredible street art in Leonard Lane
A place I had never visited before was Leonard Lane, off Corn Street, and I found out on my Blackbeard 2 Banksy tour that it's Europe's longest environmental art thoroughfare.
It's part of a project called Human Nature that explores the growing concerns of climate change.
There are so many fabulous creative pieces here by artists and can be found even in the most unlikely places!
If you're interested in seeing more street art around this area then head over to Quay Street and St Nicholas Street where you can find many huge murals on the buildings here.
It really brings a positive and colourful spin to these old buildings.
If you find yourself in Bristol in July, there is Europe's largest street art festival in Bristol called Upfest, where street artists come from all over the world to create and sell their artwork.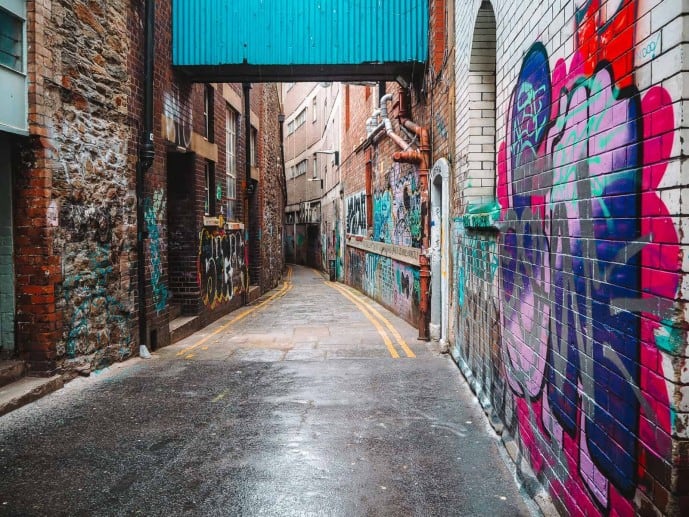 That's 15 ways to spend a weekend in Bristol, but there's so much more to see and do here!
It was difficult to choose just 15 items for this list, but there is many more ways to spend a weekend in Bristol that I haven't covered here.
You can visit Castle Park and see the ruins of the Norman castle, enter St Nicholas' church or St Mary's church in Redcliffe which is the tallest building in Bristol. You can also take a visit to the Blaise castle folly and the Ashton Court Manor House with its 600-year-old deer park.
You can wander around the beautiful village of Clifton, go vintage and record shopping on Park Street and visit Cabot Circus for some high street retail therapy.
There are many festivals you can coincide your visit with like Harbourside fest, St Paul's Carnival, and the Annual Balloon Fiesta. Or, catch a performance at the Bristol Old Vic and the Hippodrome.
I think I could come back to Bristol again and again and find something new and interesting to do. If you find yourself in UK, don't miss out on a visit to Bristol. You won't regret a thing.
For more information, do check out Visit Bristol's website who has many resources of things to do!
Third Eye Traveller was kindly hosted by Visit Bristol and The Berkeley Suites. As always, thoughts, pictures, and opinions are my own.
Save this weekend in Bristol post for later!