If there is one thing you must do in Egypt, it's to go off the beaten track and into the West Desert or the White Desert in Egypt.
I took a trip with Western Desert Tours and had a blast! It was completely safe and felt like a 'real' adventure into the unknown.
I constantly had to question myself whether I was on Earth or a different planet! The landscape was like nothing I had ever seen before. The vast and baron lands were so different and unique. Every scene was like something from a Sci-Fi movie and I had to pinch myself to believe it!
For me, travelling to the Desert is the ultimate escape and reset for your body and mind. The Sahara is almost therapeutic for me.
I think of all the things I did in Egypt, the West Desert with Western Desert Tours was my favourite. I only meant to stay one night, but I loved it so much I ended up staying for two
So, I'm going to take you through everything you need to know about a trip to the White Desert in Egypt and why you need to visit with Western Desert Tours.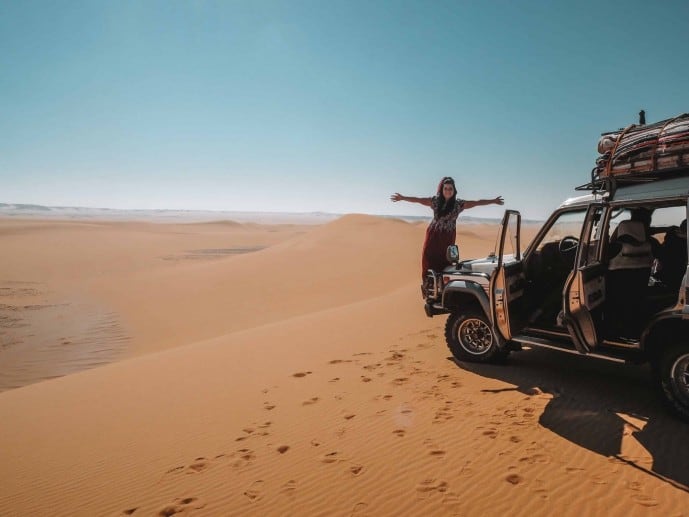 Things you need to prepare before you visit Egypt
You will need a tourist visa to enter Egypt, these are $25USD and can be bought at the border or in advance. I have written a whole article about how to get a tourist Visa for Egypt here but this applies to most countries
Don't forget travel insurance, it's really easy to get sick in Egypt. As you're going off-road this is especially important. I always choose World Nomad's.
Egypt uses the Egyptian Pound. I would get so confused when people told me things like taxis were £100 pounds! But, don't worry, £22 Egyptian pounds converts to around £1 British Pound.
Egypt is an Islamic country and you will need to dress to respect the culture here. In the West Desert, there isn't anyone around and I felt safe with my tour guides to wear what I wanted. If you need more inspiration for outfits and things to pack, see my ultimate packing list for Egypt here.
Are White Desert in Egypt Tours Safe?
Yes! Security checks are tight on the road down to Baharayia and the roads near Libya are blocked off at the moment. So, there shouldn't be any trouble and no one is going to be there that shouldn't be.
Bahariya Oasis is a city but once you're in the desert itself you will hardly see anyone! I think while I was here I saw one or two cars with other people on the whole journey.
The guides with Western Desert Tours can be trusted and will look after you on your trip.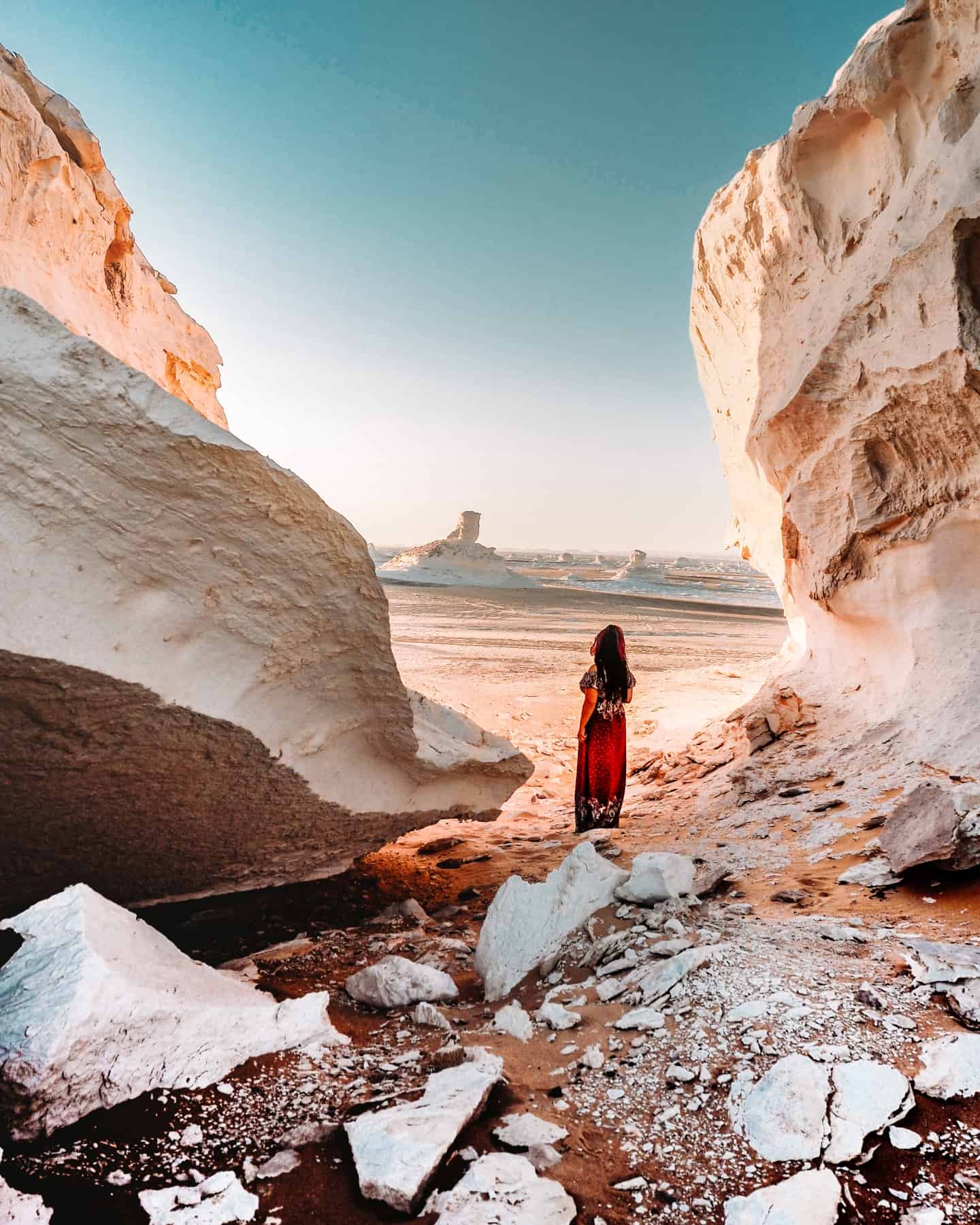 Is the White Desert in Egypt safe for female travellers?
100% YES! I was alone on my tour of the White Desert in Egypt and felt safe the whole time.
I was driven in a private transfer from Cairo to the safe house in Bahariya Oasis. Then, taken around in a Jeep through the desert.
There was never any disrespect or uneasiness with my tour guides and I didn't feel scared sleeping outside. Everything was tailored to make you feel comfortable. Most of the time, they let me explore by myself and do my own thing.
White Desert in Egypt packing list and my top tips!
Although the Desert is super hot during the day, it gets mighty chilly at night. Especially in the peak season of Winter (November – March). Bring warm clothes; a thick jacket, socks and layers for the nighttime. You will be given thick blankets to sleep but you're out in the open under the stars. So, the more layers the better.
Sand storms are common and, in fact, the first night it didn't stop all night! Luckily, there was an enclosed tent for me to sleep in to stop the sand. But, I would pack a scarf/hat and sunglasses to protect from the storms.
Bring bug spray! Although my guides said we wouldn't have any mosquitos there were plenty in the White Desert and I got bitten all over, including my face.
Protect your electronics, sand gets everywhere! Bring pop lock bags or cases to make sure that the sand doesn't ruin your equipment.
Bring portable battery chargers, although the Jeep did have a charging port (thank goodness!), there will be no electricity for a few days. I always have an Anker portable charger that charges my phone four times!
Bring baby wipes and anti-bacterial hand wash, there is no water in the desert so you'll not be able to wash. Not even the magic spring has water in it anymore.
Always remember suncream and to drink plenty of water (the guides will provide lots of safe bottled water) the harsh conditions here can be taxing.
If you're wondering about toilets, it's very much as nature intended! You will be peeing outside behind a dune or a rock. If you need a number 2, you get given a shovel to bury it. Used toilet paper gets burned to leave no trace. Yep, it's not pretty but there are no toilets in the White Desert of Egypt!
How to get to the White Desert in Egypt
With Western Desert Tours Egypt, they arrange a private, air-conditioned, car transfer from Cairo.
So I was picked up from my hotel and driven down the desert road to Baharaiya Oasis.
The drive was approximately four hours away from Cairo. We stopped halfway for a toilet break and for coffee and snacks.
From then I was taken to the safe house and we had lunch there. Then, we set off after that for another hour or so until we reached the Black Desert as the first location.
There is a lot of driving around in the Jeep but the scenery is so good you won't even care!
It is not advised to rent a car and drive yourself to the West Desert. There are many security checkpoints and you won't pass and will be sent back! Always book a tour with a guide to take you into the West Desert.
17 reasons why you must visit the White Desert in Egypt with Western Desert Tours
1. You will be immersed in a real, off the beaten track, adventure
Of course, Egypt is full of adventures. It's hardly a tame location! From Karnak in Luxor, to the Pyramids of Giza in Cairo, to Philae in Aswan and Abu Simbel.
There are so many things to discover! But, here, when we were driving into the desert, it felt like a real adventure.
There was no houses or people to be seen for miles on end, the landscape would change before my very eyes, we were so isolated yet free to roam, taking everything we needed with us. It was the best feeling.
No electricity, no social media, no technology, just nature.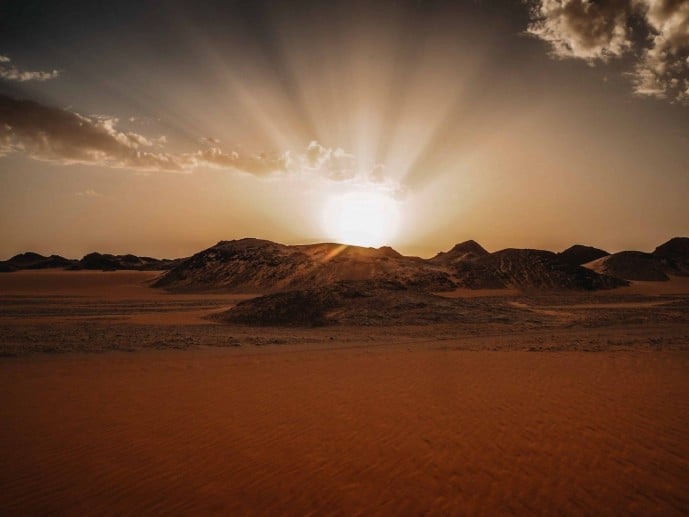 2. Your camp will be set up for you each day
The Jeep you travel in with Western Desert Tours is your means of transport, your bedroom and your source of food for the day. Everything you need for the adventure is packed in or on top of that Jeep.
Each lunch and evening time, the guides will set up an open tent with three sides. One side will be the Jeep and the other two will be a Bedouin-style camp. There will be mats on the floor, a table to eat on, a kitchen area set up, mattresses, blankets and pillows for sleeping.
Even stools around an open campfire. My favourite part of the evening was sitting around the fire and having a tea which was cooked in a kettle on the flames!
3. They concentrate on sustainable tourism in the West Desert
Looking after the land that serves them is of the utmost importance to Western Desert Tours.
All water is recycled, rubbish is taken with them and they leave only footprints (and tyre tracks!) as a trace.
One of the main ways of doing this is to not leave any materials in the desert, paper, metals or plastic due to slow decomposition.
Also, when you go to the toilet, you need to bury your business in the sand with a shovel and burn your loo roll with a lighter!
4. You can hike up to the Black Desert
Our first stop was the Black Desert which was a landscape with golden brown peaks that looked like they had been dusted with dark chocolate!
Although it was called the black desert, it wasn't as black as I imagined it to look. But, it was no less mesmerising.
We pulled up next to the highest peak and my guide told me it would take around ten minutes to climb to the top.
Looking at the height of it, I knew for sure it would take me double or triple that time. For a second, I debated putting on my trainers but my guide assured me I would be fine in my sandals.
It was a big mistake, the gravel and the floor crumbled beneath my feet. But, I couldn't back out, I was nearly at the top. When I made it to the summit, the view I had was so worth the climb. I was panting and sweating but so hypnotised by the view.
There was only one problem now…getting back down! The jeep seemed a thousand feet down and I was slipping everywhere. I'm clumsy at the best of times but this was an accident waiting to happen. So, I screamed for help haha! Then one of my guides came to my safety and helped me back down.
Luckily, that was the only climb I had to do on that trip! Lesson learned; bring trainers or proper climbing shoes!
5. You will sleep underneath the stars
There are no hotels in the White Desert in Egypt, so your bedroom will be on top of the Jeep and set up each evening. There will be wind guards, mattresses, thick camel blankets and a pillow if you would like it.
There are a few options for sleeping in the desert;
You can sleep in the wind guarded bedouin camp area and there can be 'rooms' or 'quarters' set up here for privacy
You can sleep outside and under the stars, this was my favourite option!
There is the option to sleep in an enclosed tent if you prefer. I chose this on the first night due to the sand storms as sleeping in the open would have probably meant I would wake up with a thick layer of sand over me! But, this can be hot and the wind makes a terrible noise each night.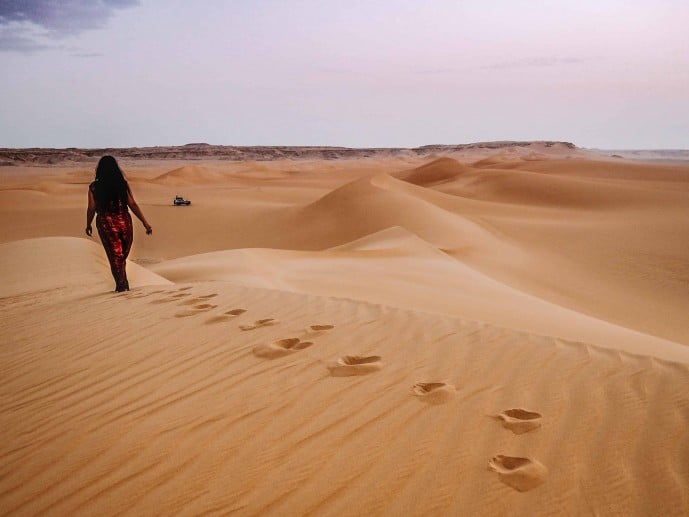 6. You can sandboard on the Small Sand Sea
The Small Sand Sea is a dunes area of the West Desert where you can see waves of sands that stretch on for miles!
The patterns in the sand change overnight, especially when there is a sandstorm afoot, so no two visits will ever be the same.
The name derives from the Great Sand Sea near Libya. This is a treacherous two-week journey into the West Desert to visit which requires a physician and an engineer to accompany everyone in case of emergencies.
It's meant to be an incredible once in a lifetime sort of trip but it's banned at the moment due to the security near Libya.
My guide told me smugglers from Libya attempt this journey over the Great Sand Sea to carry contraband into Egypt.
It's a risky business and many don't make it through. We saw lots of tyre tracks from the smugglers, they follow the tour jeeps trail to find their way safely.
But, the Small Sand Sea was just as fascinating. Western Desert Tours always bring a board if you would like to try sandboarding. I love doing it but every time, I fall and roll off halfway down getting a lovely mouthful of sand haha!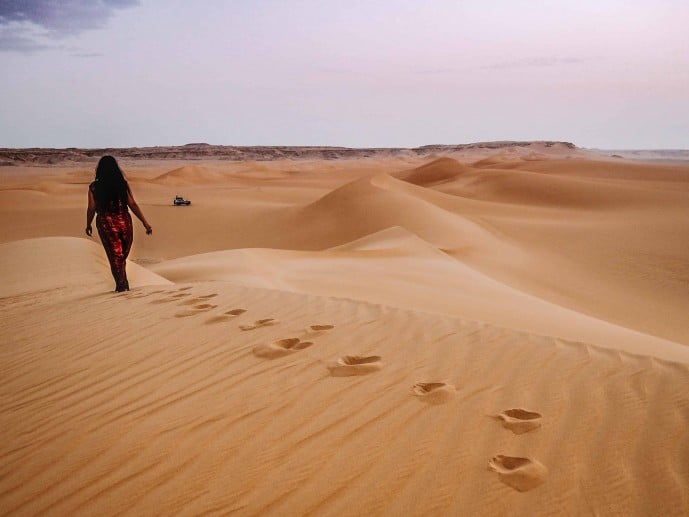 7. You will never go hungry and will eat fresh food in the most epic picnic spots
What I loved is that a lot of the food was cooked fresh on the stove!
Each morning we would have a breakfast fit for a king with fruits, eggs, bread and coffee. For lunches, we would have fresh salads, meats and fish in bread.
Each evening we would get a fresh meal of beef or chicken, with rice or pasta. Accompanied by water, fizzy drinks and tea by the fire! It was amazing to be able to eat fresh food in the desert.
All the fruits and vegetables were prepared in distilled water and all the food was well cooked, with hygiene and food safety in mind.
Plus, we always had an epic view with our meals! We'd pull up somewhere pretty which provided shade.
8. You'll wonder if you're on a different planet in El Agabat Valley
Once we had left the Small Sand Sea, we came across a valley in Farafra called El Agabat.
The formations down the valley looked like we were on a different planet! The panoramic views before me were breathtaking! It was so untouched.
Another part I loved near here was the 'window into the desert', it was a hole in the rock which looked like a window or a mirror! A pretty cool photo stop.
9. The White Desert in Egypt will be like no other place you have ever seen
The highlight of my tour had to be our stopover in the White Desert for the night. This was worth the two-day trek through the desert to see.
This whole desert used to be submerged under the sea, so the white rock is like salt formations. Amazingly, you can still find the shells and shark teeth embedded in some of the white rock.
The White desert has only recently been founded by Egyptian standards. In fact, it only became a protected area and National Park in 2002.
Each formation, which has no doubt been here for thousands of years from the fossils and magma found everywhere, is unique in shape. The guides have come up with names for them and it was almost like going on a White Desert Safari.
You could find an elephant, snake, sphinx, wolf, bird, or dragon. The most famous is the chicken sitting under the mushroom. This is now the logo for the National Park.
10. You can meet cute Fennec foxes in the White Desert National Park
Foxes…in the desert?! When my guide told me I couldn't believe it! But, we sat by the campfire, patiently waiting for the foxes to arrive to eat some of the food which had been left out for them.
At first, we just heard a squeaking noise in the distance, I couldn't see much as it was so dark! My guide told me they were siblings fighting. Then out of nowhere, we saw the fox running over for his dinner!
They're really quick and you have to be fast to get a picture of them. Sometimes they will come right over to the campsite if they're feeling brave. I was happy enough to see him scurry along.
They usually eat a little bit and then bury the rest to come back for it later. I guess it was protecting its meal!
11. Discover Crystal Mountain in Egypt
When I first booked the Crystal Mountain tour, I really didn't know what it meant.
I had this image in my head of a big shiny glittering mountain! I guess I was partway correct as Crystal Mountain is a few big mounds where every stone on them is a crystal!
I couldn't believe my eyes, there were so many precious stones everywhere. Every rock had beautiful unique patterns and energies. You could find clear stones with black lines, and yellow stones, I even found one shaped like a pyramid.
Although it is tempting to just bring a whole suitcase to take them all home, you really should put the stones back where they belong. Take one or two as a souvenir, but no more.
On our way to find a hot water spring in the West Desert, we ended up driving through a local village called Bawiti. We ended up driving through a grove of date palm fruit trees in the valley!
I love Dates but have never eaten any straight from the source before. Usually in UK all our dates are dried or imported. These were actually super yum! Half was not so ripe and yellow, but the other half was sticky and yummy! I couldn't stop eating them haha.
We also met some local children who were a little hesitant to try any when I offered them some! They were really sweet kids and eager to find out more about me.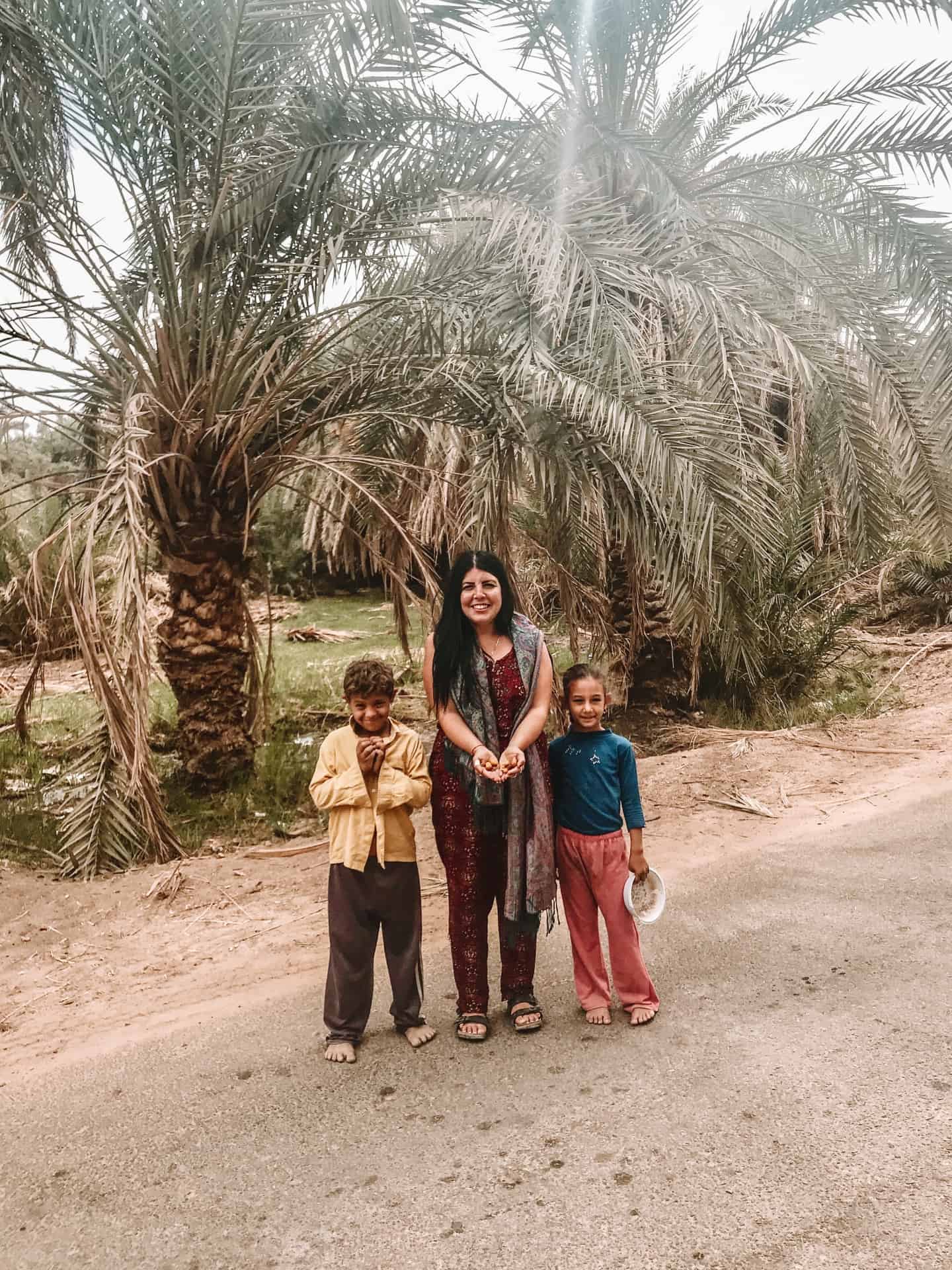 13. Cool off in hot springs at Bahariya Oasis
What I found amazing about the Western Desert is their water source. Water is a rare commodity in the desert and the community has really come together to allow water to be provided to most of the villages in the area.
In Bawiti and the surrounding villages, a lot of water can be found in the Western Desert depressions. But, it's all underground!
So, it needs to be siphoned from below to the surface into wells. Most of the wells in the West Desert are hot water wells. Probably due to the heat from the sun and the water being just below the ground.
The cement well acts as the main body of water, then a gutter is added to allow the water to flow for many kilometres into the smaller villages. This way the villagers have access to water for drinking, bathing and washing dishes!
Lots of locals, as well as tourists, bathe in these hot springs. Women should bathe in their tops and trousers to respect the local culture. I only dipped my legs in as didn't want all my clothes to be wet.
Bathing in these hot springs at night under the stars is meant to be an unforgettable experience!
14. Visit a Magic Spring from the Roman era
Talking about bodies of water in the desert, something that piqued my interest was the Roman "Magic Spring" or Ain El Serw.
Anything that has magic in it, instantly makes it sound incredible to me and I certainly was curious to find out more.
It was used in Roman times as a famous outpost to give the camels and men a rest stop while they were travelling through the desert.
Legend has it that the name "Magic Spring" derives from the tubs of water in the spring filling up as people arrive and emptying when they leave. I guess we'll never know for sure.
What I do know is that when we went we didn't have any water there at all to bathe in, so it wasn't so magic!
The water could be found if you dug deeper under the ground, but usually, the tubs here would be flowing with water, enough to bathe in. Luckily, the palm trees there did provide some nice shade on our way through.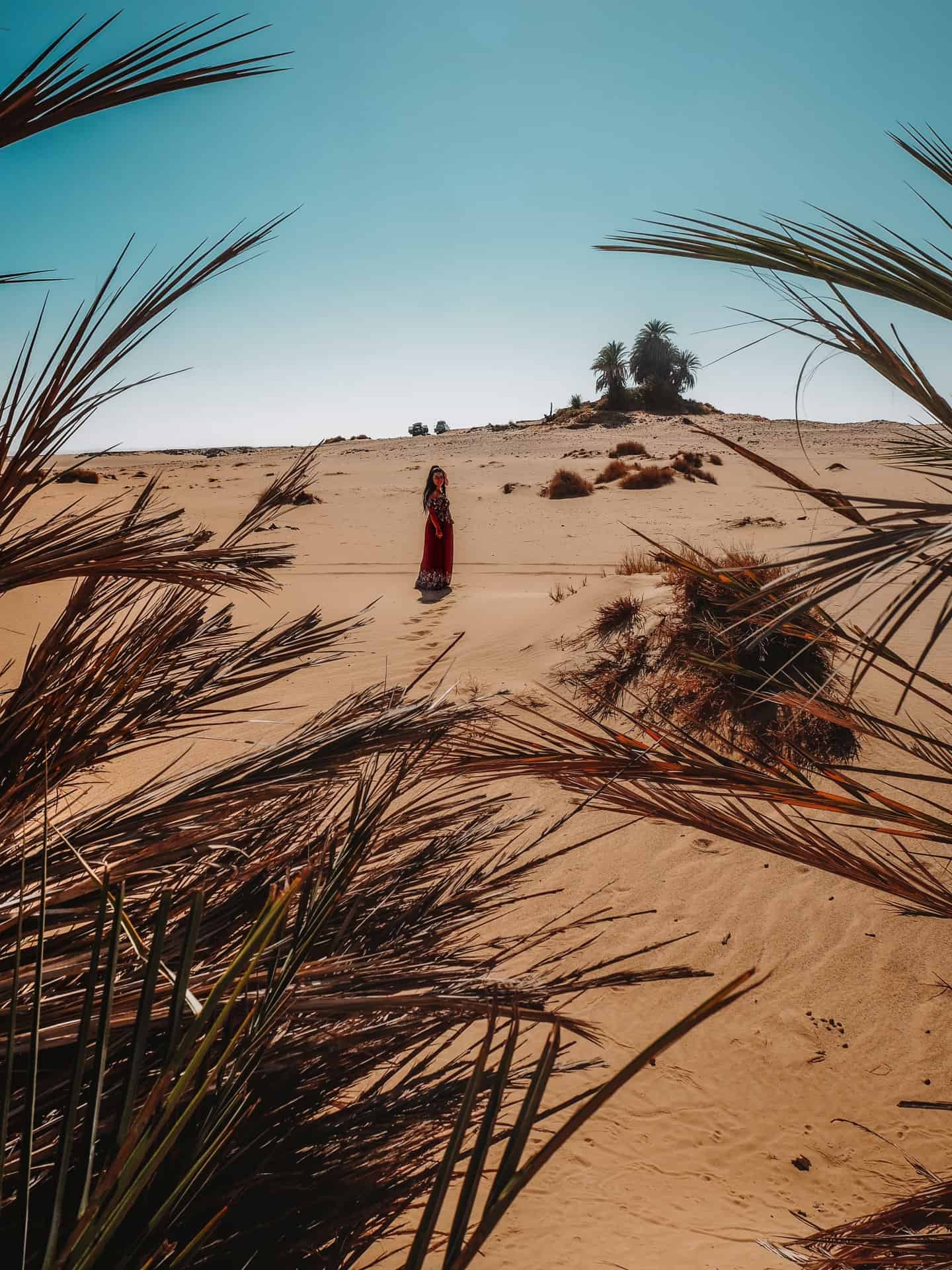 15. Discover rocks formed thousands of years ago
When you are travelling through the Western Desert, prepare to travel back millions of years through the lava rocks and fossils found here! I was absolutely amazed by some of the things we found.
Fruit, axes, weapons, and keys were all in the volcanic rock left by people who used to live and roam here thousands of years ago.
One theory which was backed by research has led us to believe that the Volcanic pumice here originated from the Greek Island of Santorini with the Minoan volcano eruption.
This eruption killed over 35,000 people and It is meant to have reached as far as Turkey and the Sinai Desert. This is what has given the Western Desert its unique volcanic landscapes.
The Great Sand Sea is not only famous for its big dunes, but it also has a stone called 'Libyan Desert Glass'.
Famously worn in jewellery by King Tutankhamun, the desert glass was formed by meteorites millions of years ago crashing into the sand. The heat from these meteorites was so searing hot, that the sand instantly transformed into glass.
You can still find this glass near Egypt-Libya border today but you will need to travel a long way to find it!
16. It will be paradise with hardly anyone around you
What I noticed as we were driving around was how baron everything was! There was no living thing anywhere close, it was just us driving through the desert in our Jeep.
After all of the crowds in the main tourist sites in Egypt, it was nice to just be free and have some peace and quiet. At night in the desert, you could hear a pin drop.
I was completely cut off from the outside world and It was paradise. I didn't want it to end!
17. It will be the best thing you do on your tour of Egypt!
Looking back this White Desert in Egypt tour was one of the best experiences I had in Egypt! Some people find calm on the beach, some in the jungle, but for me, it's the desert.
It gives me time to reconnect with myself rather than modern-day distractions. To see the beauty of nature and be present, rather than immersed in my phone and laptop screen.
I think it would be a shame to miss out on a visit to the West Desert while in Egypt and I would highly recommend anyone to go with Western Desert Tours, click here to see how to book. They are by far the best in the market and make the whole experience a safe and unforgettable one.
Discover for yourself the mystery and magic of the White Desert in Egypt!
Read more of my Egypt articles
My perfect 2 week Egypt Itinerary
The perfect Egypt packing list
The most Instagrammable places in Egypt
My guide to the Valley of the Kings
The ultimate 4-day Nile Cruise
Top places to visit in Luxor at night
The perfect guide for Abu Simbel
My survival guide for the pyramids
Why you NEED to visit Alexandria
Top tips for riding a hot air balloon in Luxor
Like it? Pin it!