Planning a holiday in Egypt can be both an exciting and daunting experience. Trying to plan activities and places to go whilst making sure you have enough time in each place.
Believe me, I've been there. But, knowing what NOT to do in Egypt is just as important.
Egypt doesn't have the best track record for safety and it is seriously one wild ride of an adventure.
I went here solo for around 5 weeks and got to know the place pretty well when I left. But, there were so many things I wish I knew before I went.
If it's your first time visiting the country, it's good to know what you're getting yourself into before and during your trip. Scams to avoid, what to pack, taboos etc.
So, this post will tell you what not to do in Egypt but also what you should do instead!
Things to prepare before you visit Egypt
You will need a tourist visa to enter Egypt for travel. These cost $25USD and you can buy a visa at the immigration counter at the airport. I personally would recommend ordering in advance of travel to save time. I have written a whole guide here about how to acquire one for UK citizens which apply to most countries
Don't forget to buy travel insurance! It's super easy to get sick in Egypt. World Nomad's offers competitive rates and their policies cover lots of activities (sailing, camel riding etc).
Egypt uses the Egyptian Pound (EGP) previously Lira, and 1 British Pound = roughly 22 Egyptian pounds.
The language here is Arabic. It may be useful to learn a few phrases before you visit;

Hello = Salam Alaikum
Thank you = Shukran
How much? = Kam Althaman
This is what NOT to do in Egypt and mistakes to avoid
1. Not researching the culture & country before you go
This is probably the most important, which is why it's a great thing you found this post!
Egypt is a predominantly Islamic Culture which means it's also a conservative one.
Depending on where you've travelled from, it may be quite a culture shock. Egypt is hot, loud, raucous, full of traffic with people everywhere. It's beautiful chaos.
Personally, I LOVED it. But, I understand it's not for everyone.
The downside is you'll have people shouting at you pretty much all the time, to catch a cab, buy something, hire them as a guide etc. it's constant.
To avoid this, I would travel with a guide at a certain tourist attraction or politely say NO, or Lal Shukran which means no in Arabic.
Unfortunately, for women, this includes catcalling. On this front, I'd take the high road and ignore it completely. It will be easier if you're travelling with a man. Also, blonde girls will receive a lot more attention than brunettes.
2. You don't pack culturally appropriate clothing
Yes, it's excruciatingly hot at most points of the year and covering up is not ideal in the heat. Also, as most temples are out in the open with little shade, you'll be a sweaty mess.
But, as Egypt is an Islamic country it is to be expected. Remember, everyone is in the same boat.
Wearing shorts, strappy tops, mini skirts, clothing that reveals too much flesh is a big NO. It will draw a lot of attention and, most importantly, it's seen as disrespectful to locals.
That doesn't mean you have to wear a burqa, but packing loose, light, conservative clothing that covers your shoulders, knees, and chest is best.
Some outfit ideas;
Cotton blouses and loose fitted trousers
Maxi dress and skirts
Strappy tops with your shoulders covered with a pashmina
Jumpsuits
Read more: a complete guide on what to pack for Egypt!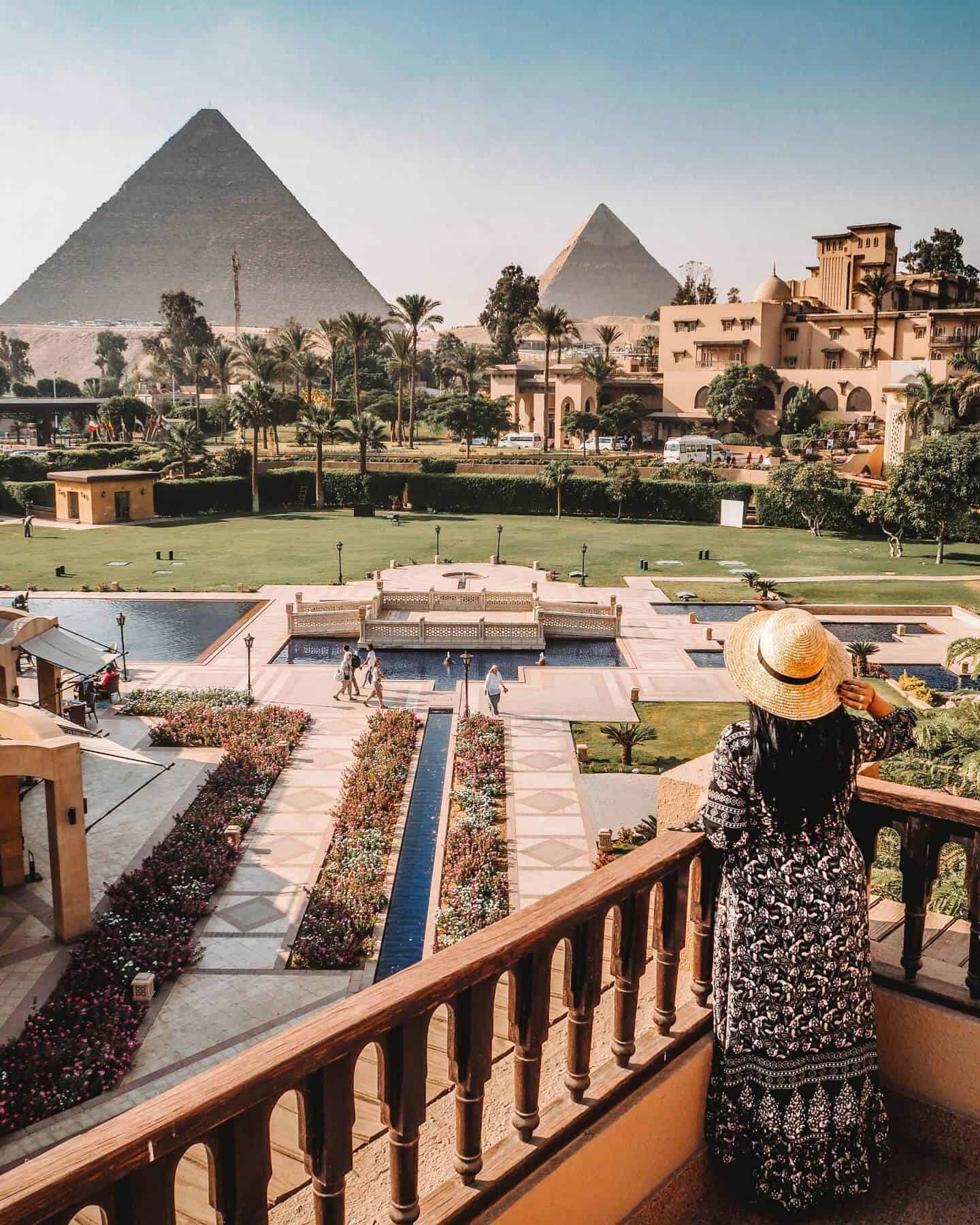 3. Not booking your Nile cruise first
If you're keen on doing a bucket list Nile cruise while you're in Egypt, it's best to plan that first before you book the rest of your travels.
Nile cruises only run on certain days of the week. It's not a show-up and book-on-the-day kind of deal.
It's good to note at this point, no cruises from Cairo. Nile cruises run from Luxor to Aswan and back.
Most of the cruises will be 3 nights 4 days from Aswan to Luxor or Vice Versa or 6 nights and 7 days which will be Aswan to Luxor and back again.
Some cruises depart only on Mondays, or Wednesdays some only Fridays. So, to save you from getting disappointed always check out your cruise days, times, and prices before you plan anything else.
I cruised down the Nile on a premium cruise ship MS Mayfair. It was luxury at an affordable cost. Click here to see my full cruise review.
4. Not hiring a guide for certain tourist sites
Okay, so you don't technically need a tour guide for the attractions. It's more than easy to pay at the kiosks at the temples and guide yourself around.
But, having a tour guide will help you avoid a lot of harassment while you travel around the site. As a woman travelling solo, I felt this helped massively!
I saw a lot of tourists losing their temper at the temples as people were bugging them the whole time, trying to sell them stuff or offer guide services. I didn't have any of that.
At the pyramids, I hired a guide and felt like I had a much better time than if I went solo. I mean, you only get to see a wonder of the world for the first time once and I didn't want it to be spoiled by people annoying me all the time haha.
Unless you're booking a tour guide for the whole of Egypt, I would recommend booking a guide once you're in Egypt. Guide services booked online can be double or even triple the price.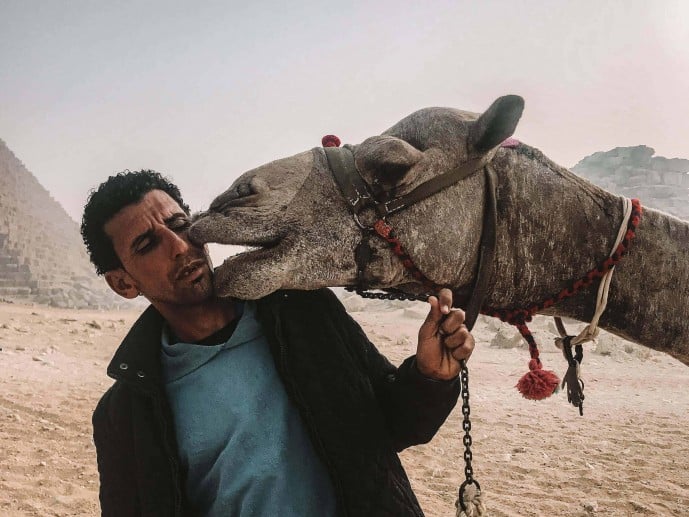 5. Travelling without a currency converter app
I never travel without a currency converter app so I can check the prices of things. This is especially important in Egypt.
As most people that travel to Egypt will be converting their pounds or dollars while they're here, it's important to check the current currency rate of the day before you trade your money.
This doesn't apply to everyone, but some Egyptians can be masters of scamming you out of your doe and anyone, who is anyone, can set up a currency exchange.
My advice would be to do so at a reputable currency exchange like a bank. Not your five-star hotel or a random guy in a bazaar. But, saying that, if the currency exchange there is good and it's genuine money, go for it.
Read more: the best apps for travel
6. You forget to tip
A tip or a 'baksheesh' in Egypt is part of the culture. You'll be tipping EVERYONE here.
A Cleaner tidied your room? tip. Used the toilets? tip. Someone took your photo? tip.
You get the picture! But, it's to be expected.
Now, how much do you tip while you're here? Well, while I was travelling in Egypt, my first hotel told me to reserve bigger tips for tour guides, cabin crew, drivers, and hotel staff. But, save the smaller change for toilet attendants, photo takers etc.
I would personally budget for tips in your travel spending and make sure you always have small notes and coins at your disposal for these situations.
7. Not haggling for shopping and taxis
I get it, haggling isn't for everyone. Some people don't feel comfortable about it, or they just don't do it out of principle. But, I would highly recommend doing it in Egypt.
Egypt has had a decline in tourism in the last ten years due to multiple terrorist threats and political issues. So, money is tight and business is suffering.
But, you also don't want to be paying £12 for a ten-minute taxi journey when a local would pay a fraction of that cost!
The private taxi drivers are a nightmare in Egypt and will always try to oversell, so I would recommend Uber instead that has a fixed rate. See my guide on how to use this here.
For shopping, it's the same. Haggling is important to avoid being ripped off. Here are some tips:
Don't shop with your guide or someone who is bound to take a huge commission.
Shop around first and see what the going price of a product is
Go to a fixed price shop
Avoid shopping in tourist bazaars, go to a reputable workshop or retailer
8. You're not prepared for so much attention
In Egypt, it's pretty hard for a tourist to avoid unwanted attention. You'll stick out like a sore thumb and being honest, a lot of people see you as a walking ATM.
It's not like Europe where hard selling doesn't happen, the hard sell is part of the culture. So, it's important to get used to the thought of being spoken to on a daily basis, heckled at, hassled etc. It happens.
If you go to any local market in Egypt, it happens with locals too. People will want your attention to buy things, or hire them, or drive you around.
We've briefly touched on this before but women especially should prepare for catcalling. In most cases this is harmless, it will be a marriage proposal or someone calling you attractive etc. It's frustrating but I would recommend ignoring it.
It rarely gets to the point where someone touches you. But, if you feel seriously under threat, alert the police. You'll notice with most tourist places in Egypt there are shed loads of army and police forces around, with guns, who don't take violence against tourists lightly.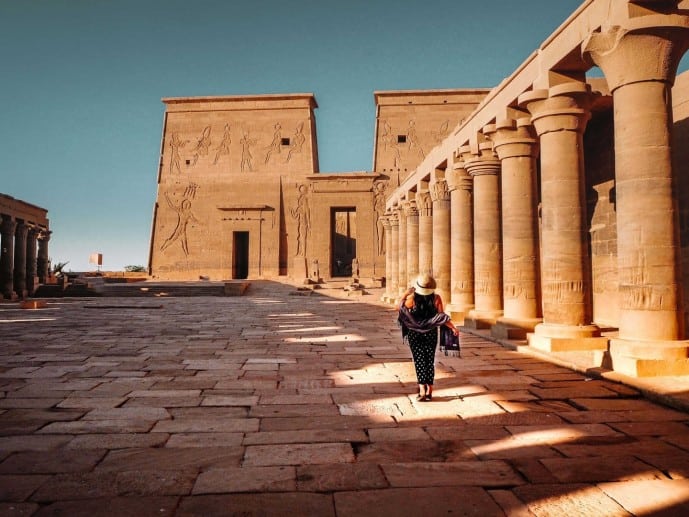 9. Buying gold without doing your research
Lots of tourists wish to buy gold in Egypt as it's purer and a lot cheaper than back home. But, unfortunately, Egyptians know that too and so there are a lot of gold scams.
Egyptians are taught how to buy gold from a young age, but as tourists, we aren't always blessed with this knowledge.
Whether the gold is weighed incorrectly, it's 9-carat gold being sold as 18-carat gold, or it's been grossly overpriced. It's important to know a few things before you go gold shopping.
I myself fell for a gold scam and was conned out of almost $300 while I was here. Luckily, with the help of the authorities, I was able to get that money returned. But, it also meant I learned a lot of lessons during the process.
Here are my top tips for gold shopping in Egypt!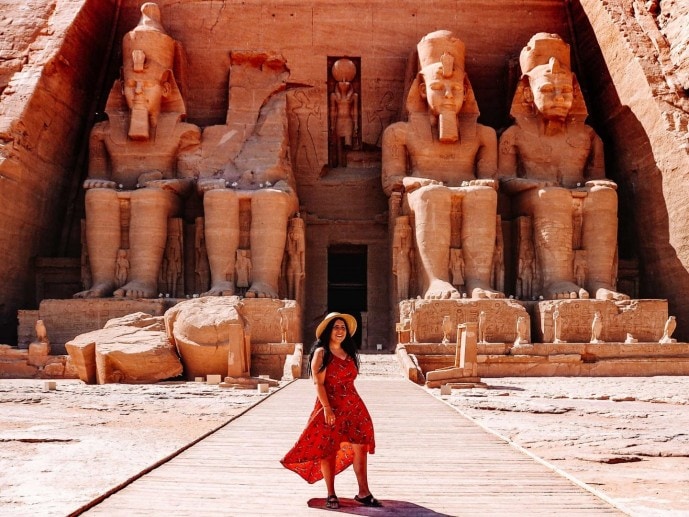 10. Not packing the appropriate medicines
You may know this already, but it's really easy to get sick while travelling in Egypt.
The water quality, the food not being cooked enough, touching dirty surfaces, pollution, the heat. it can all contribute to sickness and it's not fun to get sick while you travel.
I got sick for almost a week in Cairo with a chest infection and that stayed with me for months after my trip.
Although there are many doctors and pharmacies that sell known brands of medicines while you travel, it's always best to pack ones you know.
Some over-the-counter products I would recommend are paracetamol/ibuprofen (do NOT bring codeine), cough sweets, Imodium, plasters, and mosquito repellent.
Always have a doctor's note from your GP for bringing prescribed medications into Egypt, check before you go as some have restrictions (i.e. Methadone) which could mean you face jail time.
11. Showing way too much PDA
As Egypt is an Islamic and conservative country, showing too much public display of affection with your other half is a big taboo. Even holding hands can be seen as disrespectful.
While you're in your resort, this is not as much of an issue, just like wearing a bikini is allowed etc. But, when you're out and about exploring the sites or in the bazaars keep it to a minimum.
12. Not researching safe places to visit and places to avoid
It's always a good idea to check travel advice from your respective government website before you travel. This will also include areas of Egypt that you should avoid.
Cairo, Alexandria, Luxor, Aswan, and Hurghada are usually on that 'safe' list and, as these are the main tourist spots in Egypt, security is tightly locked so you shouldn't face any issues.
But, places like the West Desert, Abu Simbel, and Sinai can be touch and go. I visited all of these areas with no issues, but things change all the time.
Always check safety developments before you plan to travel to certain areas of Egypt and use your instinct. If you don't want to travel there because you're concerned for your safety, don't go.
Read my guides for more information;
Why you need to visit Alexandria
Which one is better? Hurghada or Sharm El Sheikh
13. Telling people you're an atheist or discuss politics
95% of Egyptians identify as Sunni Muslim and the rest are Coptic Christians. So, to say that you're not religious is kind of like saying the sky is red. They may not understand that concept as religion is a big part of their culture.
In terms of identifying your religion, if you're a Christian, Jewish, Buddhist, Hindu, there will be little to no prejudice in that. But, to say you don't believe altogether, is quite hard to comprehend.
I just told people I was a Christian as it's easier.
I would also avoid discussing politics of any kind about current relations in Egypt with locals. It is not your place and although your opinion may be valid, it's best to stay out of it.
14. Not preparing for the weather
Egypt can be extremely hot and I've always associated the desert with head. But, it's not like that all year round.
When I visited at the start of October, it was so hot I thought I was going to melt. But, by mid-November, it was freezing in the evenings.
So, depending on the time of year, you need to prepare for the weather;
Hot Summer: May – October the temperatures will be unbearable, especially in the south. Tour groups will visit temples latest 5am to beat the heat. But, you'll still need to cover up, so bring lots of light cotton clothing.
Mild Winter: November – April the temperatures drop significantly and it's pleasantly warm. These are also the most popular months of travel, so expect lots of tourists. Bring a warm jacket and closed shoes as evening temperatures are really cold.
See my Egypt packing list for more ideas.
16. Keeping an eye out for scams
Like with most countries, scams are everywhere in Egypt. So, it's best to be aware of them as to avoid them.
Here are some examples of tourist scams in Egypt;
A massively overpriced taxi from the airport – use Uber
Terrible rates for currency conversion – always take a currency converter app
Selling fake merchandise like Banana leaf as papyrus, or fake alabaster – always go to a reputable workshop
Getting ripped off for gold – see my guide here
Following or buying unlicensed tour guides – always check their government license.
17. Worry about not having an amazing time!
There are a lot of things that can go wrong on a vacation in Egypt without taking the proper precautions and advice. But, there are also a lot of things that can go right too!
Visiting Egypt with thousands of years of history at your doorstep is a dream come true. Seeing the pyramids at sunset, wandering around ancient temples, diving in the Red Sea. It's all here for you. So, don't sweat too much.
Although Egypt wasn't safe a few years ago, security has been tripled with tourist safety in mind. So, you should face little issues while you're here.
So don't forget to enjoy it!
If you need help to plan your Egypt trip, then you can read my perfect two weeks Egypt Itinerary here. Or, if you want to know how much attractions will cost you read my Egypt photography guide here.
Read more of my Egypt articles
My perfect 2 week Egypt Itinerary
The perfect Egypt packing list
The most Instagrammable places in Egypt
My guide to the Valley of the Kings
The ultimate 4-day Nile Cruise
Top places to visit in Luxor at night
The perfect guide for Abu Simbel
My survival guide for the pyramids
Why you must visit Naguib Mahfouz Cafe in Cairo
Why you NEED to visit Alexandria
Top tips for riding a hot air balloon in Luxor
Like it? Pin it!