Ah, the important question; what to wear in Morocco as a woman? Or, travelling to and through Morocco for that matter.
Well, it's a tricky one, especially with the conservative religious culture and the intense heat of the summer months. But, not to worry, I've got you covered.
In this article, I'm going to go through all my top tips for your travels to Morocco with cute but most importantly practical outfits.
Use this as your girly guide for what to pack, how to creatively reuse what you already own and accessorise, what not to leave behind, and most certainly what to leave at home.
So, let's get shopping and packing for Morocco! This is what to wear in Morocco as a woman. Yalla Habibi!
Important things to know before you buy anything or pack!
Morocco is a conservative country that is predominantly Islamic with 99% of people practicing the religion here! So, it's best to keep that in mind before you start to plan your outfits.
Although Moroccan men are allowed to wear pretty much what they like, the high majority of local women are expected to cover up head to toe.
Common scenes will be a woman with a hijab and conservative clothing or a full-on burqa/abaya (full cover) situation.
Older women wear quite traditional clothing whereas some of the younger generations will be wearing jeans, long-sleeved t-shirts, and a headscarf. But, before you panic, as a Westerner, you are not expected to dress like that!
Locals are fully aware that most tourists who visit Morocco are not practicing Muslims so they wouldn't expect you to wear local clothes or even to cover up fully. It's also not expected for you to wear a headscarf either although bringing a scarf is handy for when you enter a religious place.
But, it is thoughtful to plan what to wear in Morocco as a woman before you go. Make sure you're being respectful and responsible.
This means covering your shoulders and legs and not showing too much flesh. By all accounts, make sure to leave enough to the imagination!
I did see some women wearing strappy tops, dresses, and shorts but it's not something I would personally feel comfortable in or would recommend.
To many, it would come across as highly offensive and could give the wrong impression to men which will encourage catcalling or harassment.
What NOT to wear in Morocco
Here are some things I would personally recommend NOT packing and leaving at home;
Shorts/short skirts – I know it's hot, but showing your legs fully can draw unwanted attention
Short dresses – unless you're pairing them with leggings, I'd leave them at home
Jeans – although it's cold in the winter months, in summer this would just be sticky
Low cleavage tops/dresses – if you really must, bring some safety pins to pin it up!
Of course, wearing these types of things in your Riad is acceptable.
Also, things like a bikini/swimming costume for the pool are fine. But, if you're outside at the beach make sure you bring a cover-up with you.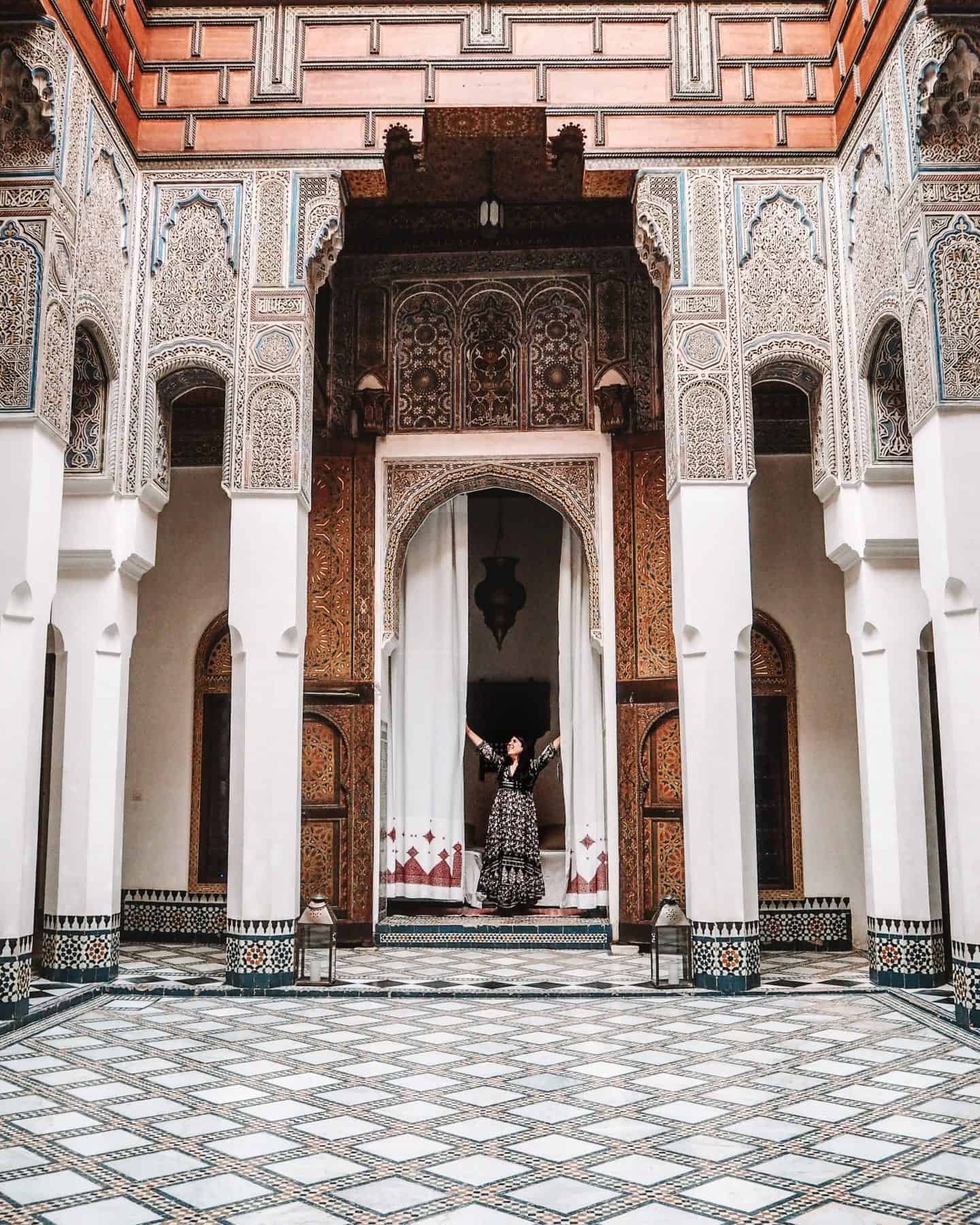 What to wear in Morocco as a woman – Morocco packing list!
The first time I went backpacking, I was told to bring a load of plain clothes, including the dreaded zip-off trousers shudder, because they would get ruined anyway.
But, I found that was such bad advice (don't worry, I didn't go near those beastly zip-offs) and I wanted to burn everything in my backpack in exchange for prettier clothes.
Don't fret, I'm not going to recommend that here. It is definitely possible to dress cute but practically while you're travelling so you don't despise how you look when you go outside and in photos lol.
That doesn't mean necessarily buying a whole new wardrobe either. You can pair up clothes to make them more conservative;
You can pair a strappy top with a pretty pashmina and trousers/maxi-skirt
You can pin up a maxi dress that shows too much cleavage or wear a cami top underneath
You can wear leggings underneath a short dress or skirt.
There are so many different ways that you can make your existing wardrobe Morocco-proof!
I'm going to go through some outfit inspirations below but I wanted to list out some staples which I have found work for me;
Jumpsuits – my new favourite outfit for conservative countries. A complete cover up but they can be fashionable too!
Two piece (trousers and top) – Kind of like a jump suit but more practical for toilet situations haha
Maxi dresses – a lovely flowy dress can be great in the heat and cover you up
So, I'll take you through some possible outfit ideas and what to wear in Morocco as a woman for your trip!
Outfit Inspiration 1: Jumpsuits
Jumpsuits are a staple item I pack for conservative countries as they are affordable, fashionable, and cover you up without too many layers.
This means that you can avoid getting overheated but also be assured you're not showing off too much!
Outfit Inspiration 2: Maxi Dresses/Skirts
Maxi dresses are also my favourite as they are comfy, conservative, and flowy which allows more air in and makes you cooler while covering you up.
Just make sure you bring some safety pins to pin up any low-neck ones.
Outfit Inspiration 3: Trousers and blouse/shirt
A two-piece or flowy trousers and blouse is also a great idea. I usually like to buy a matching two-piece but also I like to mix colours too!
This way you can be comfortable and they're easier to go to the loo than in a jumpsuit (think squatting loos!).
The possibilities are endless here to mix and match.
Outfit Inspiration 4: Dress and Shawl
Some VERY old photos of me when I first went to Morocco!
Most dresses I own have sleeves but if I have any dresses that are strappy, I opt to pair it with a light scarf or shawl. This way I cover up my arms and avoid sunburn on my shoulders too!
This is a great way to reuse what you already have without buying a more conservative outfit.
Outfit Inspiration 5: The secret weapon – a pashmina!
My secret weapon is a pashmina. I always pack a pashmina on all my trips whether the country is conservative or not! These are the different ways you can use one;
A beautiful accessory to liven up an outfit
Cover for your head when entering mosques
Cover up for when your shoulders are on show
A towel for when I'm on the beach
I can't tell you the endless benefits of carrying a pashmina here but trust me, it will become your new best friend.
If you don't have time to buy one before you go, you can bag one really cheap in the souks of Morocco. These are usually made in India (not a Moroccan souvenir, unfortunately) but they're around £4 so you can't go wrong.
I have lots of these in different colours so I can coordinate them with my outfits. It's a no-brainer.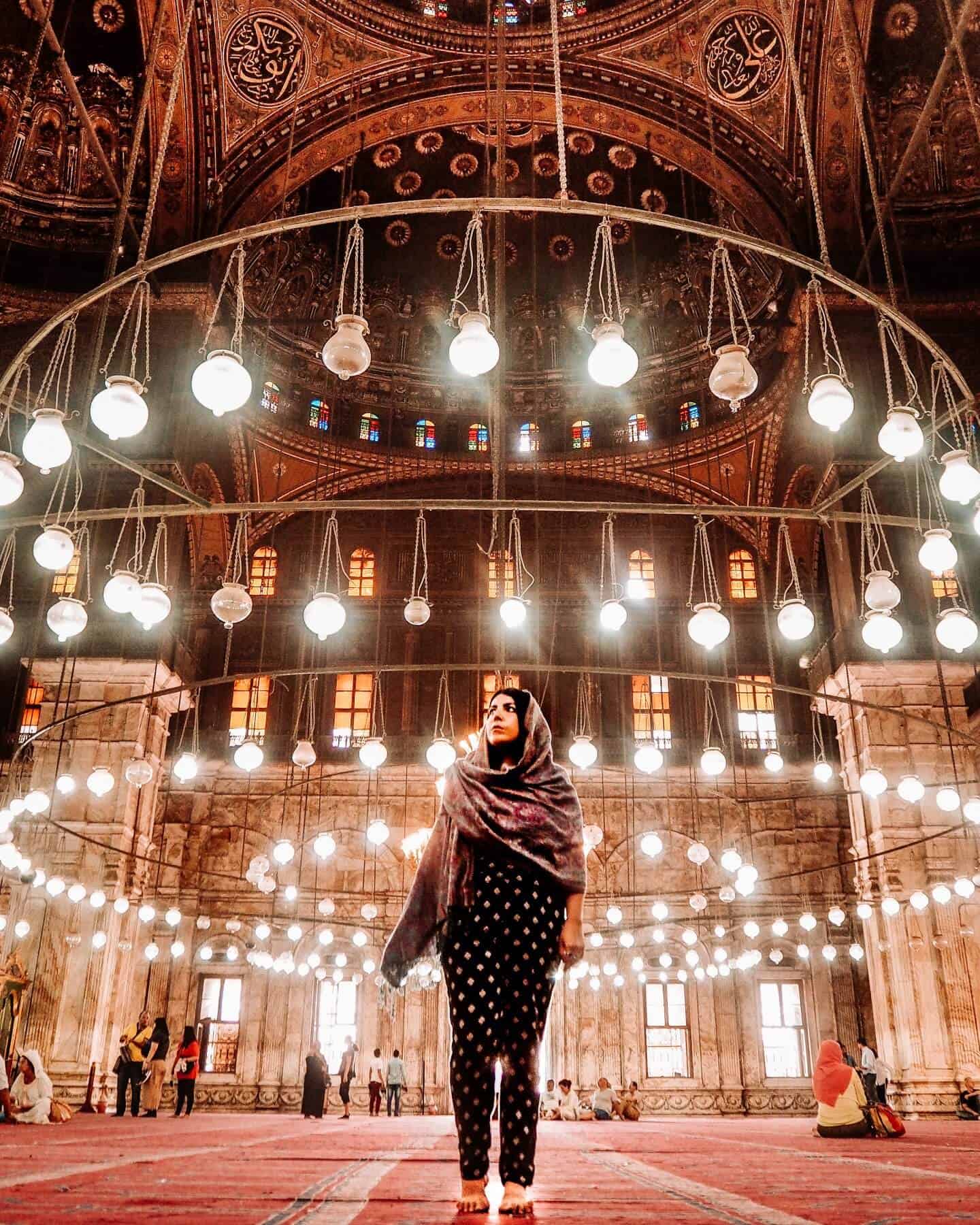 Remember, don't sweat it too much!
Yes, Morocco is a conservative country, but don't stress too much about what to wear in Morocco as a woman.
As long as you remember to cover your shoulders and knees and carry a pashmina with you for any situations where it requires it, you should be just fine.
Ultimately, remember to have fun and enjoy Morocco for the beautiful country that it is!
Heading to Morocco? Read more of my articles!
The ultimate 2 weeks in Morocco itinerary
The top things I wish I knew before travelling to Morocco
Solo female travel tips for Morocco
How to avoid scams at Fez Tannery
Visiting the Golden Doors of Fez Royal Palace
Trying a Camel Burger in Morocco
Is Riad Fes worth the price tag?
Taking a Sahara Desert Tour from Marrakesh
Top places to visit in Chefchaouen
Like it? Pin it!