If you're like me planning a trip to Scotland, you're probably searching for the 'pink castle in Scotland' that looks like something out of a fairytale.
So, I hope with this blog post, I can help you find out what and where that castle is but also how to visit it!
The popular pink castle you're looking for is Craigievar Castle that's located in the beautiful Aberdeenshire.
This county is full of amazing castles to visit and even has its own castle trail, but there is nothing quite like a visit to Craigievar.
So, here is a complete guide to that pink castle in Scotland and all you need to know.
Why is Craigievar Castle Pink? A short history
The question everyone is dying to know is why is Craigievar castle pink?! Well, I'll give you a short history lesson.
In 1626, William Forbes purchased the property from the Mortimer Family. There were the owners at the time but fell into bankruptcy. They had owned the estate for 300 years before this.
Back then, the castle had a huge defense wall, some of which you can still see on your visit to the grounds.
He built the seven-story castle we see today and much of the original structure is unaltered since then!
Unfortunately, the castle fell into decline around the 19th century, and the ancestor Sir John Forbes, asked an architect to check on the castle. He considered knocking it down to rebuild something more fashionable.
Thankfully a local architect, John Smith, convinced him it was one of the finest examples of a historic Scottish Castle for the time it was built.
So, they went ahead and renovated it, adding new harling. Bringing it back to its former glory.
So, wait why is the castle pink then?
I'm getting there… Did you know the castle wasn't always pink? John Smith painted the whole house in cream at first with the new harling.
But, later, Forbes and Smith both agreed they wanted to add a pigment that resembled granite to the castle. The result was a beautiful pink colour!
People have been amazed by this curious castle for centuries, even Queen Victoria herself!
She lived around 20 miles away in Balmoral Castle and decided to pay an unannounced visit with Prince Albert. The family wasn't home, so they let themselves in!
I bet the staff was not expecting that… She famously said it was a "strange and curious old castle".
Safe to say when the word was announced of her visit, the family rushed back to greet her personally!
Also, as royalty were like celebs or modern-day influencers in those days, her visit encouraged plenty more to see the castle which became a bit of a tourist attraction.
The Forbes family continued to live inside the castle for 350 years. Then, William Forbes-Sempill, the 19th Lord Sempill, sold the property to the National Trust for Scotland in 1963.
Much of what we see in the castle today is unchanged since Queen Victoria's visit!
Craigievar Castle facts
Who owns Craigievar Castle? The Castle was sold to the National Trust for Scotland in 1963

by William Forbes-Sempill. The 19th Lord Sempill.
Who lives in Craigievar Castle? No one anymore! Yet, the families artefacts still remain after it was sold. It's now uninhabited and a tourist attraction in the spring and summer.
Who are the National Trust for Scotland? They are a charity that own and lovingly look after 129 historic buildings, castles and homes across the country. Click here to look at purchasing a pass that will get you entry to all of their attractions.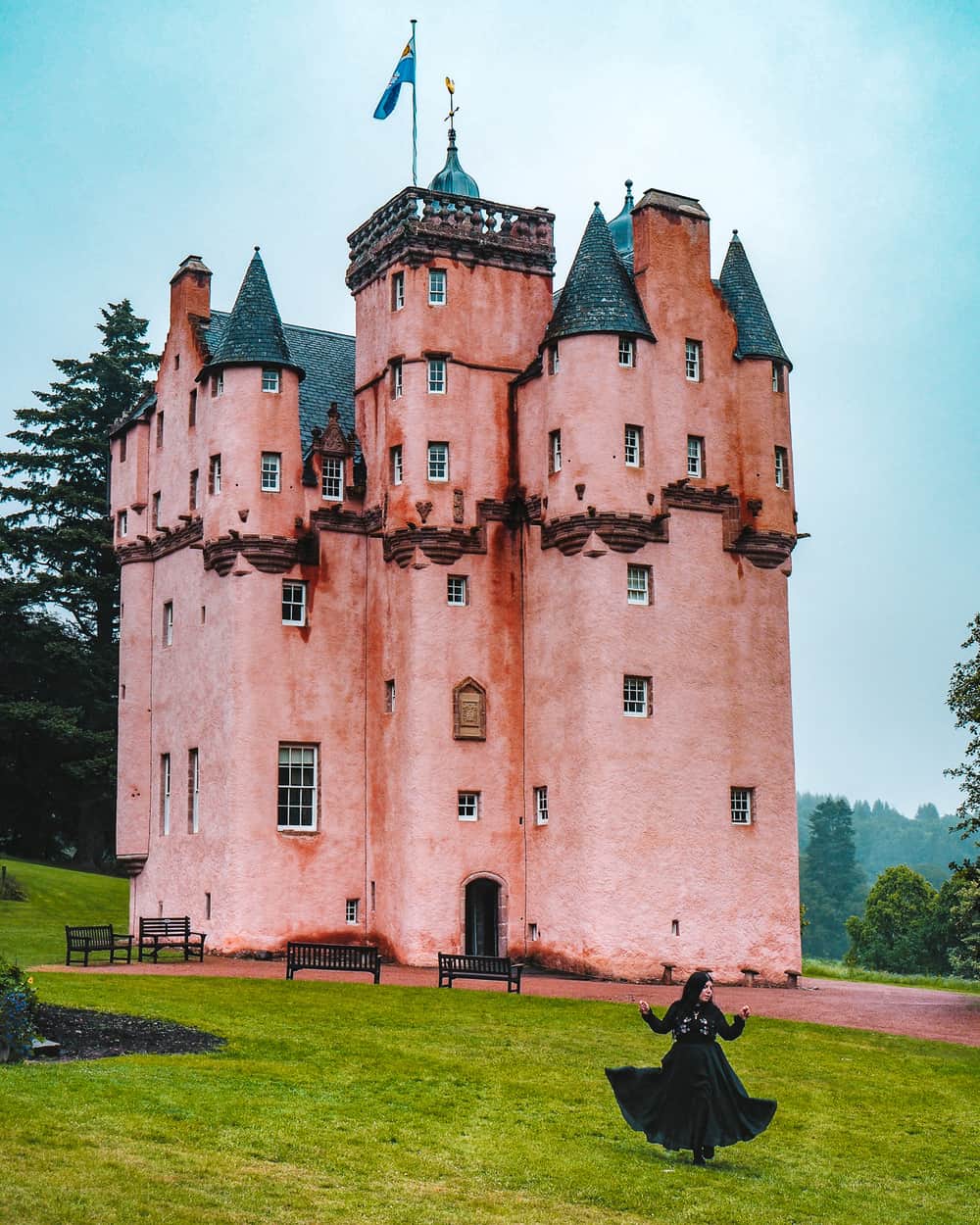 Was Walt Disney inspired by Craigievar Castle?
So say, this castle was an inspiration for Walt Disney and it inspired him to create Cinderella's Castle. Or, that's what people say!
It is true that Walt Disney and The Disney Studio shot movies on location in Scotland.
This includes, "People and Places" (1958), "Rob Roy, the Highland Rogue' (1954), and "Greyfriar's Bobby" in 1962.
So, it is highly possible that on one of Walt's visits to Scotland, he came to visit the castle and liked what he saw. Or, he simply saw photos of the castle in a book somewhere and based his ideas on that!
However, there is more evidence to suggest he was inspired by Neuschwanstein Castle in Germany.
But, I say, who says there can't be more than one inspiration?! Plus, remember, there is more than one Disney castle…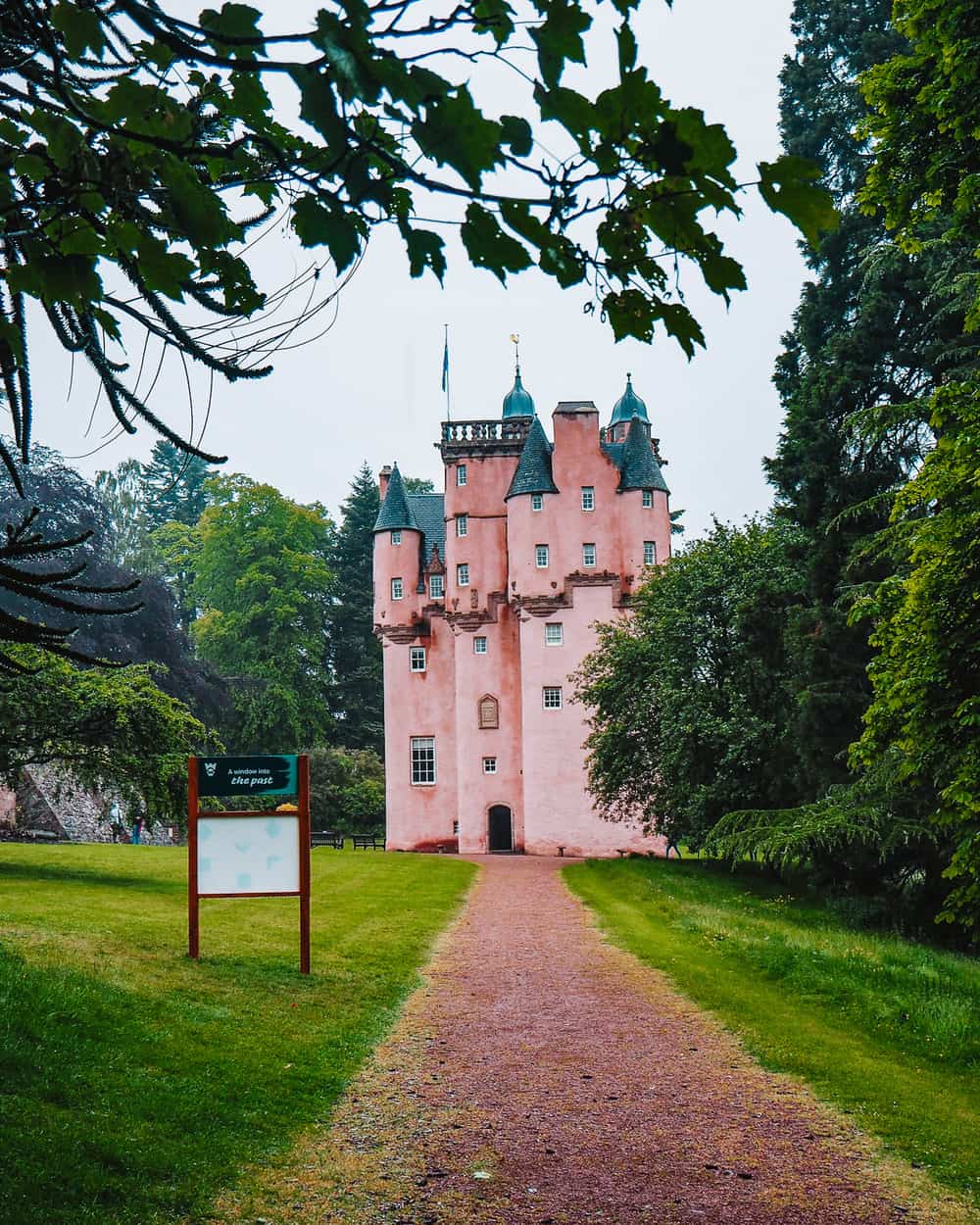 Where is the pink castle in Scotland or Craigievar Castle?
I've mentioned that Craigievar Castle is located in Aberdeenshire, but what I didn't mention is that it's a HUGE area!
It's also in quite a remote location in the countryside, far away from any town or city with infrastructure.
This is because years ago lairds of clan lands would isolate themselves for protection from other clans. Hence why you'll also find castles are miles apart from one another.
Craigievar Castle is located around 6 miles south of Alford and around 30 miles away from Aberdeen.
So, I'll give you more specific instructions on how to get to Craigeivar Castle below.
When I was driving here the weather was SO bad, like heavy rains all day and the country roads seemed to go on for miles. But, eventually, I found it!
How to get to Craigievar Castle from Aberdeen
The easiest place to stay to visit Craigievar Castle is from the city of Aberdeen. This has the most infrastructure of hotels, restaurants etc.
From here you can drive over to Craigievar Castle via the country roads on the A980 and reach there within 50 minutes to an hour depending on traffic.
If you're driving through the Cairngorms National Park, Craigievar is located to the west.
So, it can make a nice little pit stop on your road trip. There are also routes from Ballater and Inverness that take you onto the A980.
Once here, you will see a sign for Craigievar Castle.
Make sure that you follow the National Trust brown signs to Craigievar Castle on the A980 as some routes will send you to the south entrance which is privately owned. The postcode is: AB33 8JF and Latitude and Longitude coordinates are 57.176575 & -2.716753.
Can you reach Craigievar Castle by public transport?
This is a little more difficult as there is no direct transport that can take you outside of Craigievar Castle.
There is a bus service from Aberdeen, the number 202, that stops at Lumphanan (The Crossroads Hotel).
It takes around two hours to reach the stop, services can be infrequent going back to Aberdeen. It will be around a 22 minute / 1-mile walk from there.
Or, you could order pre-order a taxi to pick you up from the bus stop. A return taxi from Aberdeen will be extremely expensive at £30 – £50 return.
I always used Travel Line Scotland to plan journeys
Tips for visiting the pink castle in Scotland or Craigievar Castle
You are allowed to park up and visit the grounds of the castle for FREE without any sort of ticket or tour for exploring inside the castle.
The grounds are open 24 hours a day. So, if you arrive before or after opening times you can still get photos! This is perfect if you want to avoid crowds.
The car park, however, is £4, cash only, and this is free for National Trust for Scotland members.
It's set in beautiful parkland which makes a lovely and scenic day out after you've taken some photos of the castle. There are some self-guided walking trails too.
You can only go inside Craigievar Castle on a guided tour, these run from the beginning of April – the end of October. It's closed in the winter season.
There are no toilets inside the castle itself but there are toilets in the car park that are clean and free to use.
Dogs are allowed here but must be kept on a lead around the castle
Taking a tour inside Craigievar Castle
Of course, you could just visit the castle, snap a few Instagram photos and be on your merry way to the next fairytale fortress.
But, if you do have time, I would highly recommend that you take a guided tour of Craigievar Castle!
The castle tours are limited to 10 people per tour and run every 30 minutes during opening hours. The tours last 40–50 minutes and are truly fascinating!
Our entertaining host told us a lot of the history of the castle. It included ghost stories from old lairds who used to live here, the stories behind the small windows, and bullet holes in the walls.
They even showed us some of the secret doorways and staircases in the castle. It was well worth the money in my opinion if you're here while it's open!
Craigievar Castle ticket prices
£13 for an adult
£10 for concessions

£30 a family
£25 for a single adult family
Photography inside Craigievar Castle is strictly prohibited. Which is a shame but rules are rules.
Click here for more Craigievar Castle information and tour times
Where to eat near Craigievar Castle
During the open season, there is a small castle kiosk that is open on the castle grounds.
This is quite limited to coffees, teas, and snacks like pre-wrapped cakes really. There is no tea room nearby either.
You are more than welcome to bring your own picnic along with you to the castle grounds and they have picnic benches and facilities outside of the castle too!
If you are heading over to Castle Fraser nearby (another National Trust for Scotland site), they have a small café there with hot drinks, soups, and sandwiches.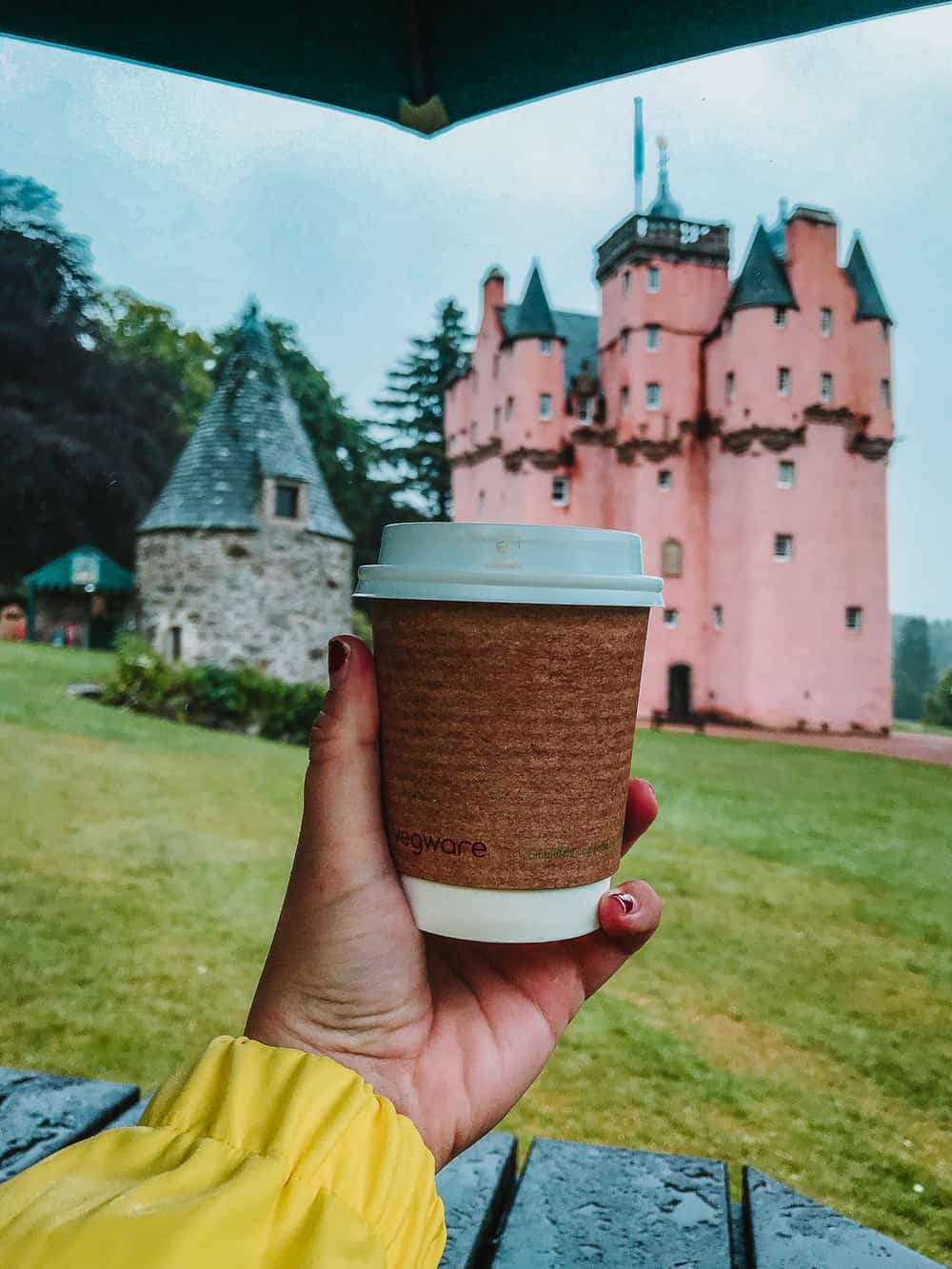 Places to go on the castle trail around the area
Balmoral Castle – Owned by the current Queen Elizabeth II and the official Scottish home to the Royal Family. It was purchased by Queen Victoria for Prince Albert in 1852. The castle is open from April to August for guided tours. See here for more details.
Castle Fraser – Outlander fans may squeal in delight as this is the official seat of the Fraser Clan, they even had a life-size cut out of Jamie inside! It was home to the Fraser family for over 400 years since the 1450s. You must take a guided tour, see here for more details.
To find more castles on the Castle trail in Aberdeenshire, take a look at this itinerary and this map!
Where to stay near Craigievar Castle
I stayed in the gorgeous Thainstone House which was an old manor home. The decor was traditionally Scottish and the breakfast was delicious too.
The rates are also really reasonable for a hotel in this category. In the countryside nearer to Craigievar, you do have some gorgeous ancestral homes like Douneside House.
You have the boutique Macdonald Noorwood Hall Hotel. Plus, your chain Holiday Inn Express, Doubletree by Hilton, and a Village Hotel too.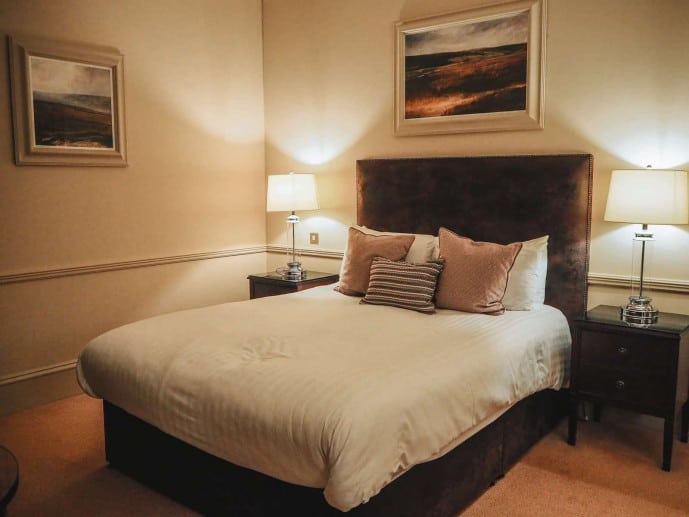 Are there other pink castles in Scotland?
Drumlanrig Castle – home to the Douglas Family but is more of a rosy sandstone colour. You can read about this here. It's located all the way down in Dumfries and Galloway, the southwest of Scotland.
Terpersie Castle – More of a tower house found in Aberdeenshire built in the 16th-century.
Fyvie Castle – some say that Fyvie Castle in Aberdeenshire also looks pink, but I wouldn't say so. It looks way more peachy and faded than Craigievar.
Pink House on Loch Glass – Okay, granted this is not a castle. But, it's still a beautiful folly. Here is a guide on how to find Culzie Lodge.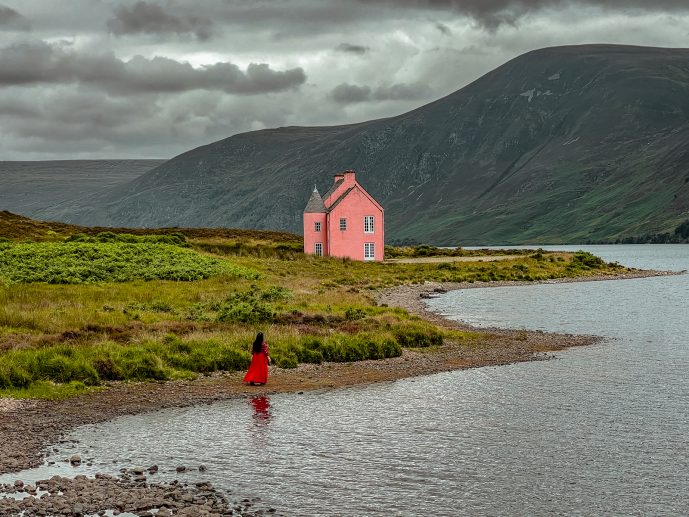 Read more of my posts on Scotland
Why you must visit the Kelpies
Harry Potter locations in Edinburgh
All the Harry Potter filming locations in Scotland
How to see the Hogwarts Express at Glenfinnan
My ULTIMATE Edinburgh bucket list
A complete list of Outlander filming locations in Scotland
Cove Beach on the Scottish Borders
How to find the Devil's Pulpit
How to visit the Dunmore Pineapple House
Manuela's Wee Bakery in Scotland!
Magical Fairy Glen on the Isle of Skye
Fairy Pools walk on the Isle of Skye
Like it? Pin it!