No visit to the "Queen of the Midlands" would be complete without a visit to the Robin Hood Statue in Nottingham.
It's easily one of the most popular photo spots in the whole city and on weekends, you could be queuing to get your shot!
Robin Hood was a legendary outlaw that has close connections with the city of Nottingham through the various songs and ballads.
They talk of him robbing the rich and giving to the poor and also his battles with his arch-nemesis the Sheriff of Nottingham. So, it's quite fitting that there is a statue honouring him right outside the Nottingham castle walls.
Whenever I drop by Nottingham, I always find myself gravitating back here to get a photo and to look around.
Robin Hood is one of my all-time favourite tales. I was also slightly obsessed with the Robin Hood BBC TV series starring the dreamy Jonas Armstrong as Robin Hood and Richard Armitage as Guy of Gisborne…but I digress…
Here's a complete guide to what this place is all about and how to visit the Robin Hood statue in Nottingham!
Who is Robin Hood?
If you don't know who Robin Hood is, where have you been?! No matter, let's change that right now…
Although Hollywood and Disney movies have pretty much taken over how we see Robin Hood today, he actually started out as a character in folktales.
Robin Hood is mentioned in books and songs as a legendary heroic outlaw who was a skilled archer and sword fighter.
In stories dating as far back as the 14th century, he is meant to have robbed from the rich and given back to the poor and downtrodden.
He was famous for protecting villages and fighting battles against tax-hungry nobleman like "Bad" King John and his arch-nemesis the Sheriff of Nottingham.
Although the ballads are the only evidence of him existing, there are many theories that he was a real nobleman of Loxley born in 1160.
He eventually falls outside of the law, becomes an outlaw, and recruits a band of merry men.
There were thought to be over 150 in his army, but the main Merry Men we hear about in the tales are Little John, Will Scarlet, Friar Tuck, Much, Alan-a-Dale and his sweetheart Maid Marian.
Together they plot to take money from the authorities in Nottingham, help villagers and hide out in Sherwood Forest.
He's now one of the most popular stories ever told!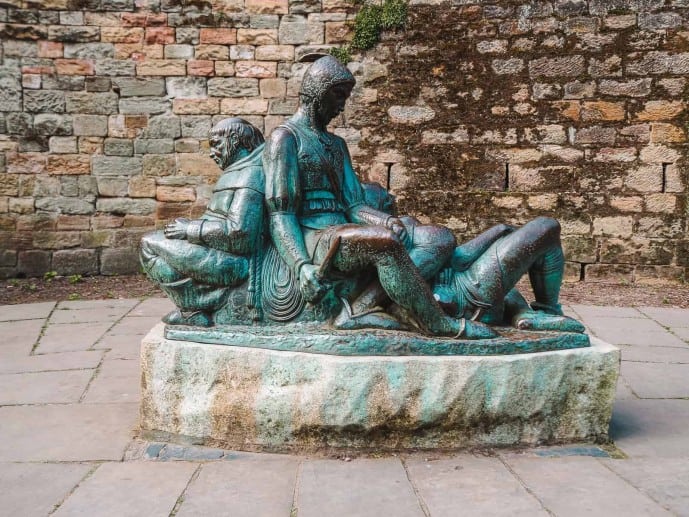 What does Robin Hood have to do with Nottingham Castle?
Robin Hood is thought to have been a major supporter of Richard the Lionheart, a king and crusader who went to the Holy Land during the Third Crusade. During that time Prince John, or "Bad" King John ruled in his place.
Robin fell out with the law in many ways and was captured and held in the Nottingham Castle Gaol by his adversary The Sheriff of Nottingham.
The gaol was a series of caves underneath Nottingham castle and Robin managed to escape through the tunnels and passageways!
This officially kick-started his career as an outlaw and he would use Sherwood Forest as his hideout.
You can still visit these caves and secret passageways today in Nottingham Castle and the Ye Olde Trip to Nottingham! More on that later…
Another legend says that the castle green is where Robin Hood saved Will the Bowman from being hanged by the Sheriff of Nottingham. There is a statue of him of here with the rest of the merry men.
Click here to see all the attractions in Nottingham that have connections with Robin Hood
What is the Robin Hood Statue in Nottingham
A statue of Robin Hood. Duh?! haha, I'm just kidding! The Robin Hood Statue is way more than just that.
It's a cast-iron statue that was made in eight pieces of thick bronze and shows him aiming his arrow. It's 7 feet tall and weighs a whopping half ton!
It sits on top of a two-and-a-half-ton block of Clipsham stone and it's estimated that this statue could last for over 6,000 years!
Although it used to be only one lone statue of Robin Hood, it's actually now a series of statues, plaques, and sculptures in one area outside of Nottingham Castle.
Initially, the Robin Hood statue was going to be placed inside the castle. But, they decided that as Robin was an outlaw, it was better than he was outside of the castle. He was pointing his arrow at the gatehouse and authorities!
The other statues play out notable events in Robin Hood's legendary life and also feature some of his merry men too.
So, it's definitely worth exploring the area rather than taking one snap with Robin Hood and leaving.
When was the Robin Hood statue in Nottingham built?
So, who built the Robin Hood statue in Nottingham and when?
Well, it was built on the site by a Royal Academy sculptor James Woodford to make the statue and plaques.
It was commissioned by Philip E F Clay, a wealthy businessman in the city at the cost of £5,000. It was made as a commemoration of Queen Elizabeth's visit to Nottingham in 1949.
At first, he wanted to remain anonymous for bringing the gift of Robin Hood to the city. But, when the day came to reveal the statue in 1952 he was talked out of it.
It was finally unveiled by the Duchess of Portland. There was a huge banquet to celebrate with lots of traditional English mead!
Surprisingly, this statue actually caused a lot of controversies when it was first revealed to the public.
Although the movies with stars like Errol Flynn show Robin Hood wearing the traditional pointed green hat and feather, in history it really wouldn't have looked like that.
In Robin's time, around the 12th century, a medieval forester would have worn a traditional rounded leather cap like the one of the statue. So, the artist made it true to form from paintings and sketches. Apparently, the council still gets lots of complaints about this every year!
Where exactly is the Robin Hood statue in Nottingham?
The Robin Hood statue is located on Robin Hoods Lawn or Nottingham Castle Green to the left of Nottingham Castle gatehouse. It's not hard to miss Castle Road as you approach it as the statue in the middle is huge!
Nottingham city is split into a series of zones or districts. Although these are set up for parking, it does help to locate attractions in the city as well.
You've got the Lace Market zone, Victoria zone, Royal Zone and Broadmarsh zone etc.
These are all labelled across the city and no prizes for guessing that Nottingham Castle is in the 'Nottingham castle zone'.
You can easily access this by car, taxi, using public transport or on foot while exploring the city.
How to visit the Robin Hood Statue in Nottingham
By Car: Nottingham is easily accessed from the North and South on the M1. The nearest car park to Nottingham Castle is the Nottingham Castle Canal Street Car Park in the castle zone. There is also Uber in the city.
By train: Nottingham has a central train station and it will only take you around 2 hours to reach from London. From the train station the Robin Hood statue is only a 10-minute walk.
By Bus or Tram: Nottingham is really well connected with public transport. There are both trams and buses connecting you around the city. I got an all-day ticket on the city buses. The nearest bus stop is on Maid Marian Way outside St Nicholas' Church.
On Foot: Nottingham Castle is a 10-minute walk from the central railway station and 5 minutes from the Old Market Square. The city is really well-signposted with directions to the castle.
Strike a pose with Robin Hood!
So, when you finally arrive here, the first thing that anyone does is get a standard photo with the legend himself!
Not just tourists either, celebrities too.
It's actually quite fun to people watch and see the various poses that people make in front of it.
There are a few cafés opposite with tables outside…you're Welcome!
As there have been numerous attempts to steal his bow and arrow in the past, it now rock solid with no chance of anything breaking for 6,000 years.
You can't possibly damage any of the statues by climbing on top of him. So don't be shy…
My biggest photo tip for getting a picture would be to come early, especially on weekends and summer holidays.
As the Robin Hood statue is the most photographed landmark in the whole city, people are queuing throughout the day for photos. Plus it gets quite crowded for a clean shot.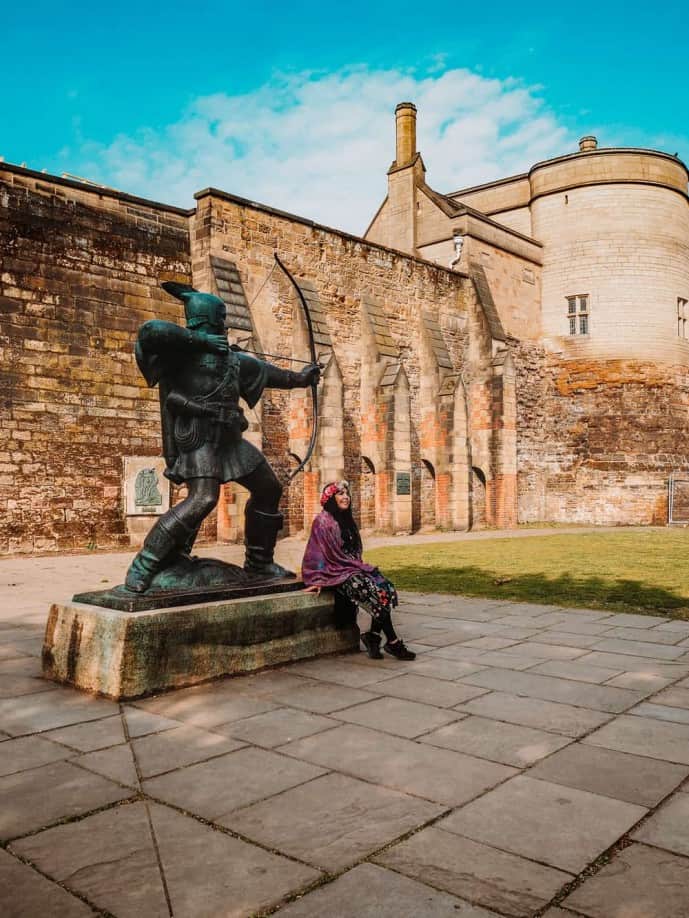 What else is there to see around the Robin Hood statue?
So, once you've captured enough cheesy photos with you and Robin. Don't run off just yet!
There's plenty more to see around the area!
On the day the Robin Hood statue was revealed, there were also a series of plaques against the wall behind him. Plus, two more statues were installed with some of his merry men.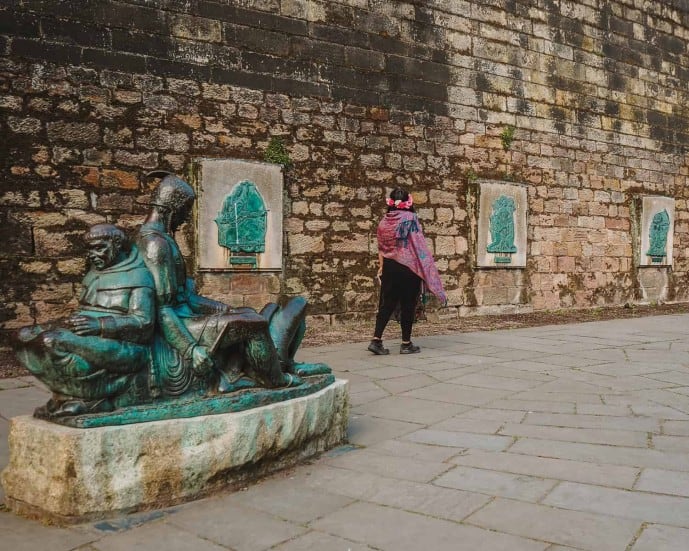 The statue of Friar Tuck, Will the bowman and Little John
Behind the Robin Hood statue to the left is a statue of three of Robin Hood's merry men leaning against each other.
You'll find Friar Tuck with a bible on his lap, a very tall Little John and Will Stutely or Will the Bowman.
A lot of people think this is Much, the miller's son but it isn't.
This is probably due to the fact that Robin Hood is meant to have saved Will from the hangman's noose here.
Will Stutley was mentioned in some of the earliest tales and is meant to have been one of his most trusted merry men too.
Friar Tuck is an outlaw monk and Little John is a second-in-command of the Merry Men.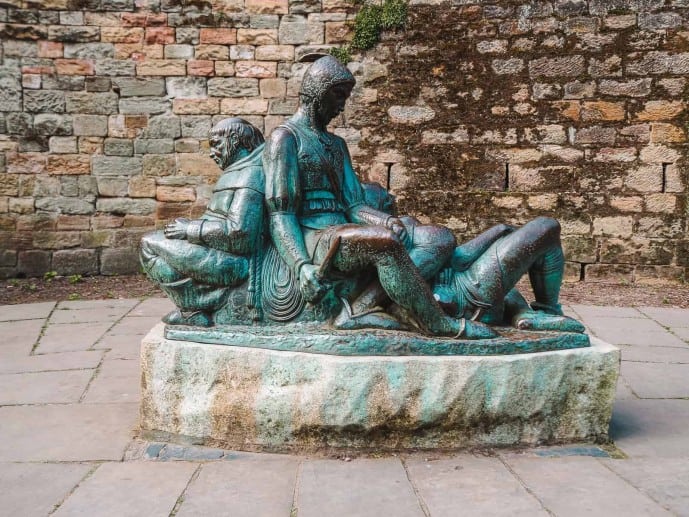 The statue of Will Scarlet and Alan-a-dale
If you turn around you'll then see Will Scarlet leaning against Alan-a-dale. Some of Robin Hood's most famous Merry Men.
Will Scarlet is also mentioned in some of the earliest stories of Robin Hood in the 14th century. He's featured as a bit of a conceited person here or a 'dandy' as he was portrayed in the movies in the 1950s.
Alan-a-dale is seen in his usual style as a wandering minstrel playing songs for the rest of the Merry Men. He usually plays the lute but here he has a harp.
Fun fact: he was portrayed in the Disney cartoon as the rooster narrator who sings throughout!
The Robin Hood plaques along the wall of the castle
Along the castle wall behind the statue is also a series of plaques that play out some of the notable events through Robin Hood's life.
Beyond the statue, these were some of my favourite pieces. These were also made by James Woodford in 1949.
Robin Hood fighting Little John
The story of how Robin Hood and Little John met was anything but plain sailing. Although Little John is his name, he is said to have been anything but little.
The tale goes that one day Robin Hood was bored looking for an adventure so he left without his merry men. He was crossing a bridge when a 'tall stranger' i.e. Little John wouldn't give way.
The two got so fed up with each other they started to fight and Robin Hood lost.
After this, his merry men wanted to fight him but Robin Hood instead asked him to join them.
This seems to be the most popular way to present these two together and you can see a statue of the same story outside the Sherwood Forest visitor centre too.
Robin Hood, Maid Marian and Friar Tuck fighting Guy of Gisborne
The next shows Robin Hood, Friar Tuck, and Maid Marian with some hounds to fight Guy of Gisbourne.
According to legend Guy of Gisbourne was hired to kill Robin Hood by the sheriff of Nottingham and also he was a rival to wed Maid Marian too!
They constantly fight and have competitions against each other. Eventually, Robin kills him with his sword.
King Richard blessing the marriage of Robin Hood and Maid Marian
One of the most famous stories and a favourite of most girls is the legend of Robin Hood marrying Maid Marian.
The legends say that two were married outside of the Parish Church of St Marys in Edwinstowe under the archway of the door.
Back then, as Robin and Marian were both outlaws they weren't allowed to enter the church itself. The church was built over the original gravesite of St Edwin of Northumbria who died in 633 during the Battle of Hatfield Chase.
I actually paid a visit to the very spot where they were married in Edwinstow. Read my post all about where Robin Hood and Maid Marian were married here!
Robin Hood's last arrow
The last plaque is quite a sad tale about Robin Hood's death, where he shot his last arrow.
According to the most popular ballad, Robin Hood goes to get bled by his cousin Elizabeth de Staynton who was a prioress at Kirklees Priory. Back then, bloodletting was a form of medical healing.
She purposely takes too much blood, essentially killing him as revenge for him taking the family title and lands.
Before he dies, he shoots one last arrow in the meadows and asks to be buried where it lands.
Little John who was by his side wanted to avenge him but Robin forbade it as he would never harm a lady. What a gent.
Why isn't there a Maid Marian statue?
I thought it was a little bit of a shame they didn't build a Maid Marian statue here along with the merry men.
After all, she was his sweetheart and one of the main members of his outlaw gang. But, the sculptor believed it would be too sentimental to have something of her here ( I mean, really?).
Luckily, Edwinstowe near Sherwood Forest has the answer to that. In the sleepy village, there is a life-size statue of Robin Hood proposing to Maid Marian!
So, if you're heading up to see the hideout of Robin Hood and The Major Oak, you should walk over to visit.
Some interesting Robin Hood Statue facts
The Robin Hood statue is predicted to last over 6,000 years!
The statue and mount weigh 3 tons
The bow and arrow of the Robin Hood statue have been stolen many times in the 50s and 60s
Eventually a previous sheriff of Nottingham (ironic!) fixed the bow and arrow solidly. But, it still faces vandalism and its arrow is stolen almost every year.
Celebrities like Cilla Black and presenters of The One Show have filmed in front of the statue
The Robin Hood statue has appeared on the front page of the New York Times
It's now been awarded a Grade II listed building status!
Ticket prices and opening times for the Robin Hood Statue
The Robin Hood statue is completely FREE to visit in the city and it's open around the clock, 24 hours a day.
Places to visit after you've seen the Robin Hood Statue
So, that's everything there is to know about this amazing statue in the city of Nottingham. Who knew there was so much to it?!
If you were looking for more Robin Hood or historical things to do in Nottingham, there are plenty of attractions that are perfect for your day trip.
Click here to read my complete list of all the things to do around Nottingham with connections to Robin Hood
Nottingham Castle & Caves
Nottingham Castle is also an awesome attraction and has recently reopened after three years of closure.
It was established in 1068 by William Peverel on orders of William the Conqueror as a Norman stronghold. This is how it got the original name of Peverel Castle.
It's built on top of "Castle Rock" which is a 130-foot sandstone cliff. In the middle ages, it was used as a main royal stronghold for monarchs like Richard I, "Bad" King John, Henry II, Edward II & III. It was also used during the Civil War.
I would definitely make an effort to visit as there is now a brand new immersive Robin Hood exhibition.
Plus, you can take a guided tour of the caves beneath and see the Gaol! Look out for Mortimer's Hole.
Click here to book your tickets to Nottingham Castle
Ye Olde Trip to Jerusalem – England's oldest inn
The Ye Olde Trip to Jerusalem stakes a claim to be England's oldest inn dating all the way back to 1189. It's built at the bottom of Castle Rock underneath the castle battlements.
Some of the cellars beneath the castle also formed part of the old Malthouse for Nottingham castle dating back to 1068!
'Trip' in medieval terms used to mean a halt on a journey and it's thought the pub got its unusual name from crusaders who would break up their travels to the Holy Land here.
Richard the Lionheart was also a commander in the Third Crusade and is thought to have drunk here with his men.
Some of these caves beneath the pub used to lead directly in and out of the castle and some say this is how Robin Hood escaped the gaol!
There are so many legends, myths, stories, and even ghosts to uncover here so it's almost like a living museum.
Of course, they also have a tasty menu and choice of locally brewed ales like their own premium ale "Olde Trip".
Read more – secrets of the Ye Olde Trip to Jerusalem!
The National Justice Museum and the City of Caves
Nottingham has a huge cave system of over 800+ caves underground! After the extensive excavations made over the years, many of these caves are now popular tourist attractions you can visit.
The City Of Caves is a fantastic chance to see what life was really like down here. Many people used to live in these caves and made them a home.
Some of the caves were tanneries, breweries, storehouses and it was also used as an air-raid shelter during World War II!
You can go on a City of Caves tour that gives you the chance to explore some of the 500 caves they have uncovered under the National Justice System. Just make sure to book in advance as tours sell out quickly!
The National Justice System is also a really awesome museum… It takes you through the history of criminal justice, prisons, and eventually prison reforms.
Highlights of their collection include Oscar Wilde's cell door, the bath from the brides in the bath murders, and some of the force-feeding equipment used on the Suffragettes.
Click here to find out how to book!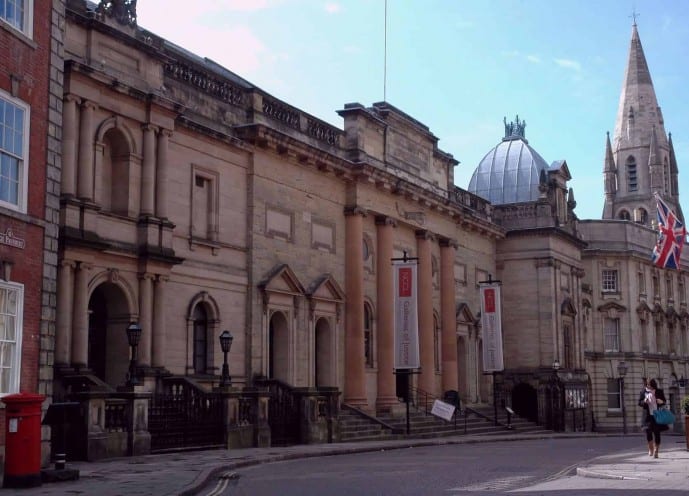 Take the Robin Hood Trail
If you are on the Robin Hood Trail in Nottinghamshire, Nottingham is a great place to start. But, there isn't much else about him here to see apart from the castle and statue.
The Robin Hood Trail is a road trip that you can take to hit up some of the top spots that relate to the legendary outlaw.
From Nottingham, you can continue up the country towards Sherwood Forest. This is and the area surrounding it has lots of places you can visit.
Firstly, I would head to Sherwood Forest. Here you can visit the Visitor Centre and visit The Major Oak. It's the oldest and largest oak tree in Britain and is meant to have been Robin Hood's hideout. See all the things to do with Robin Hood here.
After taking a quick walk into Edwinstowe nearby to see where Robin Hood and Maid Marian were wed at St Mary's Church. Don't forget to visit the statues of Robin proposing to Marian too!
You can also visit the ruined King John's palace, Robin Hood's Pot where he kept his treasure, Thieves Wood, and even gravestones of his merry men.
You could even go further on to the Peak District to visit Little John's Grave.
If you wanted to read more about this road trip, read my complete Robin Hood Trail guide here.
Where to stay in Nottingham
Nottingham is a huge city with plenty of accommodations to suit all budgets and just a few minutes away from Nottingham Castle and the Robin Hood Statue.
The St James Hotel is also close by that looks super cosy and boutique with a fabulous location in the centre just minutes away.
If you're looking for a hostel, The Igloo Hybrid is meant to be a great choice for budget backpackers with a friendly vibe.
Save this Nottingham Robin Hood Statue guide!