Did you know that one of the most famous legends of English kings is the one where King Alfred burnt cakes?
That's right, King Alfred the Great, leader of Wessex and defeater of the Danes is most commonly known for the time he managed to burn some loaves of bread by accident!
This legendary story happened after the Danes took over Wessex and Alfred was forced to seek refuge in the Somerset marshes in a little place called the Isle of Athelney.
Although much of Alfred's Athelney is gone today, you can still visit to see the place where this important event took place.
Fans of the Last Kingdom will love to see some of the real locations that inspired the epic TV series.
Here is how you can visit where King Alfred burnt cakes and King Alfred's Monument in Somerset!
Which English king burned the cakes?
There are many great stories about English kings & queens throughout our history as a nation.
Monarchs who have fought legendary battles, married seven wives, fought the Spanish Armada & murdered their heirs in the Tower of London.
But, one of the most popular stories is the one about the king who burned the cakes and this terrible baker was King Alfred the Great.
Despite his many achievements as king like the Anglo-Saxon chronicle, the invention of the candle clock, and defending much of England from the Danes which earned him the moniker of 'Great'. People tend to fixate on his admittedly less-than-great culinary skills and how he managed to char some innocent cakes!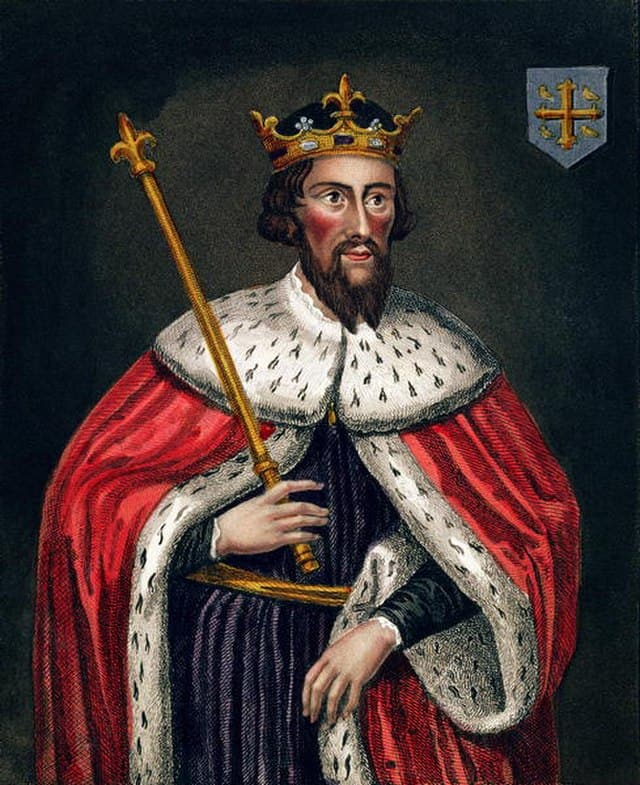 What is the legend where King Alfred burnt cakes?
Christmas Day in 877 for King Alfred the Great was definitely one to remember! Instead of celebrating with his family, he was running for his life as Wessex was overrun with Viking warriors led by Guthrum!
He was taken to the swamps of the Somerset marshes and sought refuge in a little place that we know today called the Isle of Athelney. It was the perfect place to hide as the conditions were impassable.
In complete contrast to his grand stronghold in Wessex, Alfred was lying low as a common soldier and was taken in by a peasant fisherwoman and her small hut on the marshes.
While he was here, the woman asked Alfred to look after her griddle cakes, which were small loaves of bread in Saxon times.
They were baking by the fire but as Alfred was just a wee bit distracted by his whole kingdom being taken over by Danes – he left them to burn by mistake!
As Alfred was keeping a low profile, the lady didn't realise that this was indeed King Alfred of Wessex. So, she began to scold him for burning her cakes and beat him with her broomstick.
According to the legend, even though he was a royal he didn't let on and just apologised. Gladly accepting his punishment.
Did Alfred really burn the cakes?
So, why do we love this story of how King Alfred burnt cakes above others such as his epic battles against the Danes?
Well, one of the reasons why this story resonates with so many is that the king is shown as fair. He was wrong in burning the cakes but he ultimately apologised and didn't use his royal status to avoid punishment.
But, how much of this story is a fact, and what is fiction? Well, there is no record or evidence that this story happened at all. Not even in Alfred's Anglo-Saxon Chronicle.
The first surviving record of this story being mentioned is around 300 years after it was meant to have taken place!
Whether fact or fiction, the tale has survived through the ages and today the Isle of Athelney is known as the 'Birthplace of England'.
King Alfred's Athelney
Athelney loosely translates into the Saxon word for 'prince', which is ætheling. This was a status reserved only for Saxon nobility eg. his daughter, Queen of Merica, was called Æthelflæd.
Back in King Alfred's time, Athelney was a swampy marshland on the Somerset Levels. The whole area was a huge wetland and water network of 'impassable marshes'!
It was the perfect place for Alfred to seek refuge when Wessex fell to the Vikings as the boggy conditions made it impossible to be discovered easily.
Although he was stuck here for just over seven weeks, he wasn't idle! He managed to find time to order Alfred's Fortress to be constructed in 878.
His time here allowed him to plan a strategy to take back Wessex and he went on to launch a surprise counterattack at the Great Battle at Edington.
He was able to defeat the lead invader Guthrum with allies from Wiltshire, Somerset, and Hampshire.
Peace was eventually made with Guthrum which resulted in the Treaty of Wedmore. It saw Gurthrum baptised as a Christian and he then became King Guthrum of East Anglia!
Despite it being a harrowing time, Alfred never forgot the kindness and loyalty he received in the marshes. So, he founded Altheney Abbey in 893.
The Isle of Athelney today
Today, the Isle of Athelney looks nothing like it did back when Alfred sought refuge here.
It is still a wetland prone to flooding every year. But, most of the water has been drained to make use of cultivating the farmlands. So, you'll find it is mainly miles of fields, green countryside, and hills.
There is nothing that remains of King Alfred's Fortress and Athelney Abbey was demolished as part of the Dissolution of the Monasteries with King Henry VIII.
Although this site is of extreme significance in England's history, the only evidence that King Alfred ever sought refuge here is a statue erected a millennia later.
King Alfred's Monument was built here in 1801 on a hill above Athelney Farm. It's a small and unassuming token but it has a huge story to tell and is worth a visit if you're ever in Somerset!
King Alfred's Monument
King Alfred's Monument is the only evidence that our once-great king visited here and eventually built his fortress.
The statue was erected by John Slade of Maunsel in North Newton to commemorate this important event in history! It was repaired by the Somerset County Council in 1985.
It is quite a small monument on the hillside dedicated to King Alfred that has been fenced off to protect it. But, you'll find a carving of his face and an inscription of his story that reads;
"King Alfred the Great in the year of Our Lord 879 having been defeated by the Danes, fled for refuge to the Forest of Athelney, where he lay concealed from his enemies for the space of a whole year. He soon after regained possession of his throne, and in grateful remembrance of the protection he had received under the favour of Heaven, erected a monastery on this spot and endowed it with all the lands contained in the Isle of Athelney to perpetuate the memorial of so remarkable an incident in the life of that illustrious prince this edifice was founded by John Slade, Esq. of Mansel [Maunsel House], the proprietor of Athelney Farm and lord of the manor of North Petherton"
You can visit King Alfred's Monument yourself by heading over to East Lyng in Somerset Levels!
How to visit King Alfred's Monument in Somerset
Today, the Saxon Isle of Athelney is a district simply called Altheney. The area where King Alfred sought refuge is between East Lyng and Burrowbridge in the Sedgemoor district.
It's marked by a small statue called King Alfred's Monument and can be accessed behind Athelney Farm. There is no public access but a small permissive pathway that allows you to visit.
The nearest large towns are Glastonbury Bridgwater, and Taunton and you can access Althelney on the A361 road.
It's easiest to have a car as there are limited public transport options. There is a regular bus service from Taunton but it will be quite a walk to the monument from the main stop.
There is a small amount of parking space on the road from East Lyng beside the River Tone which is a short walk away.
The King Alfred Monument can be found on a hill above Athelney Farm. Grid Reference is ST 3432 2925. Click here for a Google Pin!
Visit Burrow Mump or Alfred's Fort next!
Just nearby East Lyng village is the famous 'Hill Hill' of Burrow Mump which is often known as King Alfred's Tower.
There are legends that Alfred used this hill to scout out for the Danes while he was seeking refuge.
It's not too farfetched to assume this happened as the River Tone connects this hill with the Royal settlement of Athelney.
This hill, with its strategic position, would have been the perfect lookout to spot any Danes who were approaching to attack! You can see Altheney from the hill and vice versa.
Unfortunately, there is no evidence to prove any of this. However, many fans of the Saxon king still visit Burrow Mump as part of Alfred's journey here.
It provides amazing views and it's far quieter than the famous neighbour of Glastonbury Tor.
Click here to read my complete guide on Burrow Mump!
Visit more locations from the Last Kingdom series
The highly successful Saxon Chronicle novels by Sir Bernard Cornwell have now been turned into a hit TV series called The Last Kingdom!
The Netflix series follows the story of Uhtred of Bebbanburg who is a Saxon-turned-Dane but he pledges allegiance to King Alfred to help him fight for Wessex.
You can visit many of the locations from The Last Kingdom series across England including Winchester which is around two hours drive away from Athelney.
You can also see the Alfred Jewel at the Ashmolean Museum in Oxford. It famously has an inscription AELFRED MEC HEHT GEWYRCAN – 'Alfred ordered me to be made' on there.
The majority can be found in the north of England. Here, you can find famous locations like Efowic or York. This is a famous Danish settlement and you'll find lots of Viking history here including the Museum of Jorvik.
Durham Cathedral has the shrine of St Cuthbert and nearby you can visit Blast Beach where The Last Kingdom filmed Iceland on the Heritage Coast.
Another famous area is the Holy Island of Lindisfarne in Northumberland where the Vikings first invaded England. Also, you can sail by boat to the Farne Islands where St Cuthbert used to live in his hermitage.
Just a few miles from there is Uhtred's birthright of Bebbanburg which is modern-day Bamburgh. You can visit the famous fortress here known as the 'King of Castles'!
Click here to read how you can visit Uhred's Bebbanburg!
Read more of my Somerset blog posts
What happened to Birnbeck Pier in Weston-super-Mare?
Why you must visit Rickford Chapel
Clifftop Cheddar Gorge walk guide
Visit the Roman Baths at Night
House of Frankenstein in Bath review
How to visit SEE MONSTER in Weston-super-Mare
Save the legend where King Alfred burnt cakes for later!