The one thing that really surprised me about Helsinki was how delectable the food was there.
I knew it wasn't going to be a cheap city to eat, but my, the Finn's know how to cook some good grub for your money!
So, I was really keen to show off where to eat in Helsinki with its very own dedicated post.
Finnish cuisine is very primitive in its origins and traditional Finnish dishes have been curated from what's around them; the forest.
Fish, meats, berries and root vegetables play big parts in the local cuisine. Also, it's not uncommon to see elk, reindeer or even bear on the menu!
But, don't fret, they're not just carnivorous. It's also a progressive city with many vegan options around.
You may also be surprised to learn that Finland drinks the most coffee in the world and love to socialise with a brew. So, you're never more than a few feet away from a good caffeine boost.
Plus, there's also loads of fashionable drinking spots in the city to enjoy happy hour cocktails with a view once the sun goes down.
So, without further ado, here's where to eat in Helsinki with the most delicious food and drink spots!
Warning: I hope you're not too hungry while you're reading this as afterwards you're going to be craving Finnish food!
How much do I need to budget for food in Helsinki?
As before, Helsinki is not the cheapest place in Europe to dine out. But, the value for money you're getting with meals is generally really good.
It all depends on your budget and style of travelling.
On reflection, I didn't have one bad meal out and I'm quite picky when it comes to my food.
If you're heading out for evening meals…
If you're going for a three-course meal in a restaurant with alcoholic drinks, I'd say you need to budget around 50-80 Euro per person.
Most of the set menu's with three courses were around 50-60 Euro's and wine was a more expensive option compared to the local beer.
Saying this, if you're just going to have one course in the evening, you can get traditional meals like Elk meatballs with mash from as little to 15 Euro. Plus a beer, it will be 20 Euro's max. Vegetarian options were slightly cheaper.
Lunch breaks
Lunches are a lot cheaper ranging from 7-15 Euros if you're eating at a café or Deli.
Café Fazer was a great option with wholesome food like sandwiches and traditional Salmon soup with bread which will set you back around 7.50 Euro.
Coffee and cake stops
Coffee: the standard prices for a coffee and a cake stop would be around 5-8 Euro. Filter coffee was relatively cheap at 2-3 Euro a cup but the cakes can add on some extra cents.
A night on the town
Drinking out is not cheap in Helsinki, probably why I didn't see so many stag or hen do's here!
Longkero, which is the traditional drink (similar to gin and tonic) would cost around 7-10 Euros.
If you're getting cocktails at a bar there would be around 15 Euros a pop! Beer is a lot cheaper with house draft beers starting from 5 Euro.
If you'd rather make your own meals
If you're looking to save money while you're in Helsinki it may be worth shopping at local supermarkets, like K supermarkets, while you're here.
I had a self-catered apartment with Aallankoti Apartments in Helsinki so I could prepare food if I didn't fancy eating out.
FYI: the local cinnamon buns from the bakery were the bomb, you're welcome!
Table reservations in Helsinki
The first thing you will hear if you walk into any restaurant is "do you have a reservation?". Now, this doesn't mean you always need one but it's a very Finnish thing to do to reserve a table, especially in the evenings.
Luckily, with many restaurants in Helsinki, you can book and reserve a table slot online.
Many restaurants have a website that is available in Finnish and English. It's really simple to do, you just insert your details in a form or email the front desk. It only takes a few minutes to confirm and they will even send a confirmation to your mobile phone.
I am not a planner but I would highly recommend you make reservations as much as possible for your time in Helsinki and Finland, even for their saunas! Or, you may be disappointed and not bag a seat.
Where to eat in Helsinki: the best food and drink spots
1. Savotta Restaurant
What could be better than a traditional dinner with a view of Helsinki Cathedral?! Savotta Rivantola is located right in the heart of Senate Square and many of its tables have a jaw-dropping view of the city's iconic attraction.
Traditional Finnish folk songs fill the air, the waitresses are dolled up in traditional attire and the restaurant is head-to-toe Finland! Finnish tablecloths, furniture, classic posters the works.
They do have a classic set menu which is typically Finnish. You'll start off with a 'taste of Finland' platter which had reindeer sausage, bear salami, caviare, traditional Karelian pastries or Karjalanpiirakat, Leipäjuusto (more cheese) and lingonberries! It was mouthwateringly delicious.
Then, I had a topside of reindeer with mashed potatoes, root vegetables with cranberry sauce and a sweet ending of Sisu ice cream, with traditional liquorice flavours and crumble. All washed down with a Finnish Longkero drink!
It was probably one of the best meals I had in Helsinki with a cracking view. I would definitely suggest late evening time when the cathedral will be lit up. I went earlier on and it was full of tourists and coaches.
2. Ateljee Bar
I absolutely love sky bars in any city as it's always better to drink cocktails with a view. Ateljee Bar is located on top of Sokos Hotel Torni and provides birds-eye panoramic views.
From here, you can see the Helsinki Cathedral, Helsinki harbour, The Uspenski cathedral, and even Suomenlinna island! I loved watching the sunset from here and the city lighting up.
Now with any sky bar, drinks are never cheap but you're really paying for the experience and the view. They have an amazing range of concoctions to choose from and all are around 15 Euros each.
My friend and I met up for the evening and treated ourselves to Raspberry Mojito's but there are also classic cocktails to choose from.
If you did just fancy wine or beer they have an extensive list and it's slightly cheaper than the cocktails!
It does get super crowded most evenings in the bar area and the terrace can be quite chilly up there even in spring but, they do have blankets to keep you cosy.
The toilets are also quite entertaining as it looks like the whole world can see you on the bog! But, don't worry, the windows are mirrored on the other side ;)
3. Café Regatta
I challenge you to find a more cute café in Helsinki than Café Regatta! It looks like it's been transported from Santa on his sleigh straight from Lapland!
A minute's walk away from the Sibelius monument, set in a traditional Scandinavian hut on Seurasaarenselkä bay, it's some serious Instagram goals my friends. It was built all the way back in 1887 before Helsinki became a city!
Popular with locals and tourists alike you can come inside their cosy hut for a traditional Finnish filter coffee and some scrumptious cinnamon buns straight from the oven! You can sit inside in their hut when it's cold, or sun yourself on their terrace by the water when it's warm.
As well as coffee, they also sell sausages that you can put on poker and roast on the fire!
Despite it being out of the main hub of the city, It's a really busy spot and you'll be queuing out of the door on weekends. So, I would get there early or at an off-peak moment in the week.
Read more about this Instagrammable café here!
4. Löyly
Sauna culture is part of the Finland identity, they invented them after all and gave us the word to use around the globe.
In fact, the only two countries that don't use the word 'sauna' are the Swedes and the Russians, two countries that colonised Finland before it gained its independence.
There are roughly two million saunas in Finland and more saunas than there are cars!
Löyly is the ultimate luxury sauna experience if you're travelling to Helsinki. Even to locals, it's rated as one of the top sauna experiences.
It's the perfect combination of all four elements. Earth for the wooded sauna, water as you can bathe in the Baltic Sea, fire to heat the sauna and to relax by afterwards and air to steam the room!
After your sauna experience, you can enjoy a meal in their delicious restaurant with beautiful views of the Baltic sea.
As it was my first evening in Finland, I decided to go for a traditional dish of Elk meatballs, with mash potatoes and lingonberries with some of their house wine.
Then a treat of French toast with strawberry preserve. It was the perfect ending to my spa session and I felt really relaxed and satisfied afterwards.
I would definitely make sure that you reserve your sauna session and your table at the restaurant. I visited on a Monday night and it was packed!
Read more – Sauna Etiquette in Finland!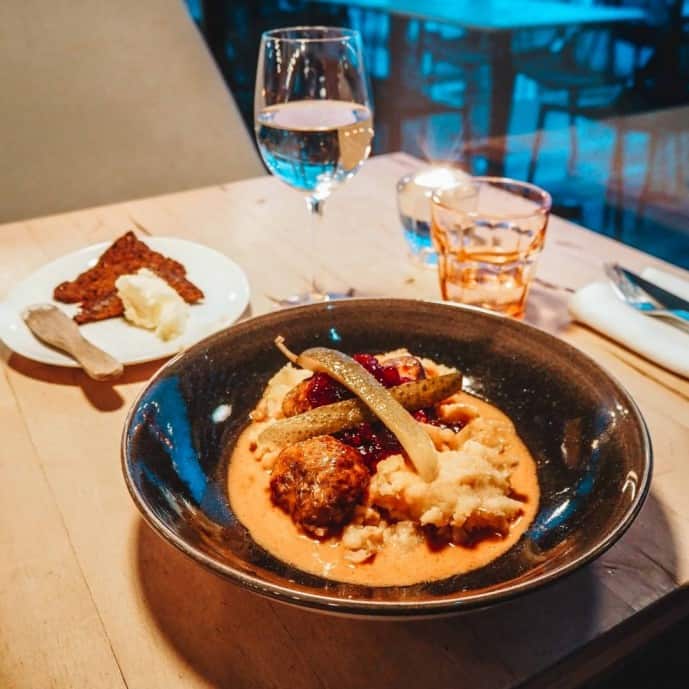 5. Moomin Café
I definitely found my happy place in Helsinki at the Moomin Café.
I've been a big fan of the Moomins since I was a child and so knowing that I could pop in for tea with my favourite Moomin Friends was enough to make me skip right over there!
If you don't know who the Moomins are and you're in Helsinki, you need to change that right now!
The Moomins are a Finnish troll family that are round and white with big snouts. The Moomin family made up of Moominmama, Moominpapa and Moomintroll, live in their Moominhouse of Moominvalley along with their friends.
Tove Jansson, the original "Moomin Mama" and creator of the Moomins, was born in Helsinki.
She released eight novels, lots of short stories and picture books. It's not just for kids either, looking back at a lot of these stories cover quite mature themes!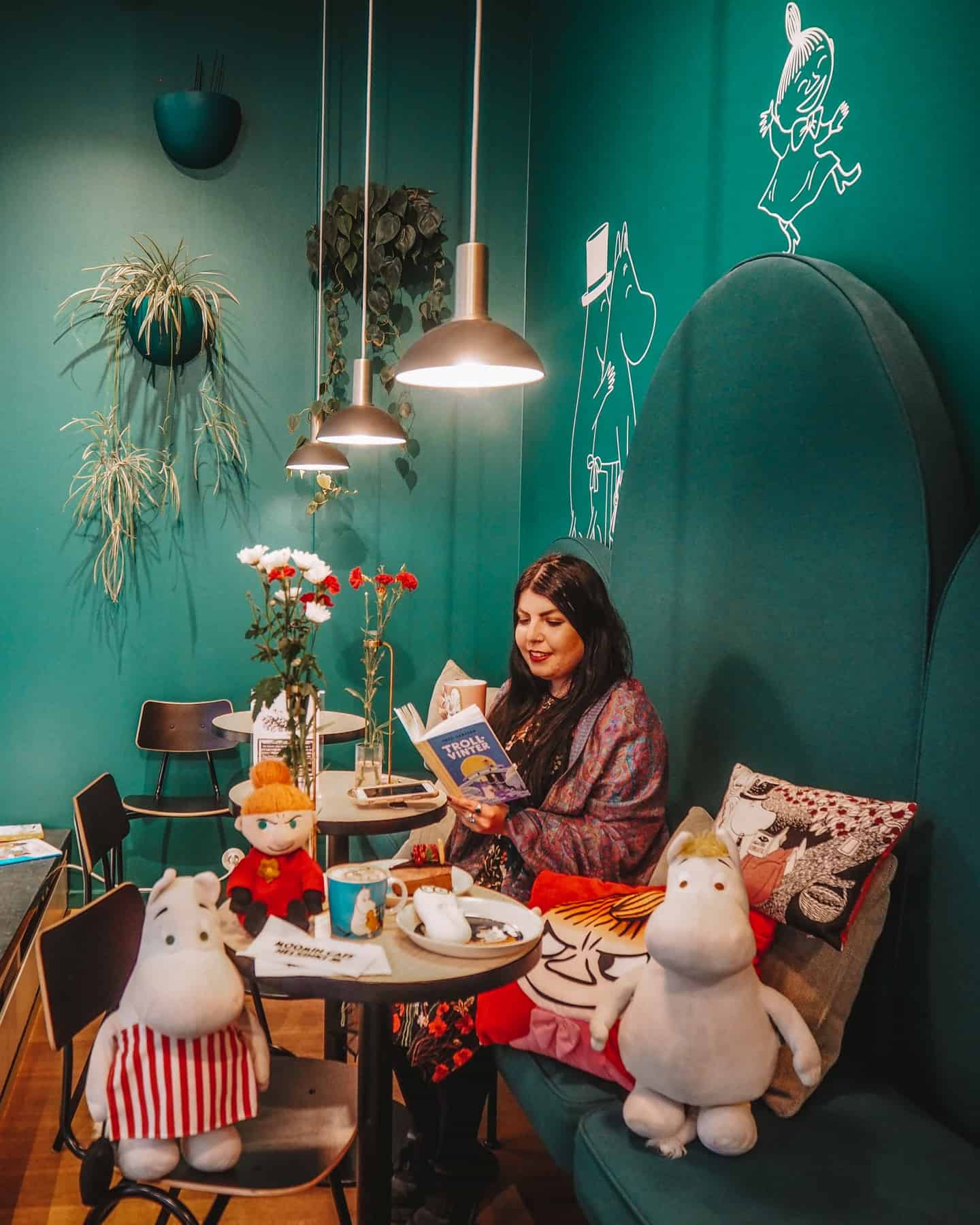 The Moomins are part of the Finnish national identity and have inspired generations! Even their national airline, Finnair, uses the Moomins as ambassadors.
Apparently, there's not a Finnish family that doesn't own a Moomin mug by Arabia in their house. So, you're honouring their culture by visiting the Moomin Cafe.
Centrally located at a five-minute walk from the Helsinki Cathedral, the Moomin Café is a dream for adults and children alike.
You can treat yourself to a coffee, hot chocolate, berry tea (a Moomin favourite) and lots of cakes and treats all specially created with the Moomins in mind. Don't forget to grab a Moomin to join you at your table!
The experience was priceless and I fell in love with this place. So, I ended up visiting twice! Here's a full post about the Moomin Café experience.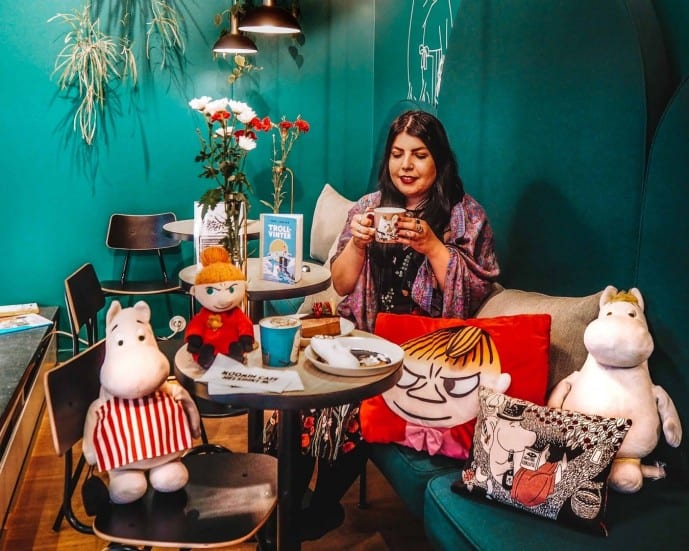 6. Allas Sea Pools
Another sauna experience sitting right on the edge of the Baltic Sea by Suomenlinna island ferry port is Allas Sea Pools. It gets its name from the pool that is filled up from the sea.
Traditionally, after a sauna experience, the Finns will bathe in the sea, snow or ice! So, you'll be following in the footsteps of a true Finn if you take part.
The sea pool is the temperature of the sea at the time and when I swam in there it was only three degrees celsius!
Afterwards, you can warm up in their heated pool with amazing views of the sea and Helsinki Skywheel. At 27 degrees, it wasn't actually that warm but definitely warmer than the sea haha.
Afterwards, you can treat yourself to lunch or dinner in their fabulous restaurant on the second floor. They have a well-stocked bar to accompany your delectable food! I had their fillet of beef with mash on the side and an incredible dessert of ice cream and crumble.
The views from here are incredible and you can see the pool, sea and the Helsinki Cathedral while you dine.
Click here to read my full Allas Sea Pools experience
7. Kaffa Roastery
Coffee is a big thing in Finland, so you must try some of Kaffa Roastery's filter coffee.
They are an independent business here in Helsinki and their motto is why to drink bad coffee when you could be drinking good coffee?!
They also donate some of their proceeds to Coffee Kids, which is an organisation that hopes to unite coffee plantation workers with coffee traders in the industry. So, they can create fairer working conditions, mentoring, financial support and a bond.
They are completely transparent about their Fair Trade and how much they pay for their coffee beans. In fact, they pay more money than any other coffee outlet in Finland. – that's a forward-thinking trader!
I met Kaffa Roastery at the Helsinki Coffee Festival and was able to taste some of their brews there. It was delicious! You have to check them out at their coffee shop in Helsinki.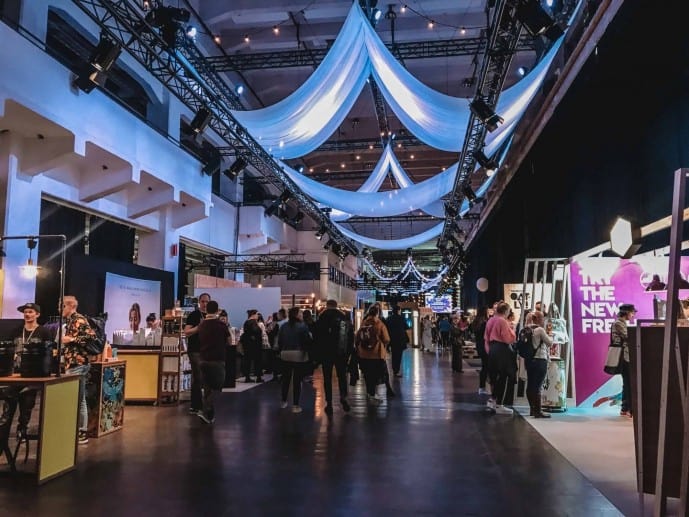 8. Ravintola Werner
I met my friend for dinner in Ravintola Werner and I was really excited as soon as I walked in, you could look right into their kitchen and see some incredible food being served up!
Werner is a chic restaurant that cooks food on an open flame grill and it smelt amazing inside. As we were so close to the sea I was eager to try some of the fish, and their speciality.
The fish was served whole and chargrilled with fennel and smoked potatoes! It was a huge meal and I couldn't finish all of it but I always find white fish to be quite refreshing and light to eat.
To finish (there's always room for dessert right?!) we had their seasonal grilled rhubarb and strawberry sorbet which was incredible.
I really loved their friendly service and attitude in Ravintola Werner, you could even go inside the kitchen after and meet the chefs!
They were so friendly and, at the time, one of them was cooking a beef entrecôte which was HUGE. It was hotter than hell inside so I don't know how they keep calm while cooking up a storm.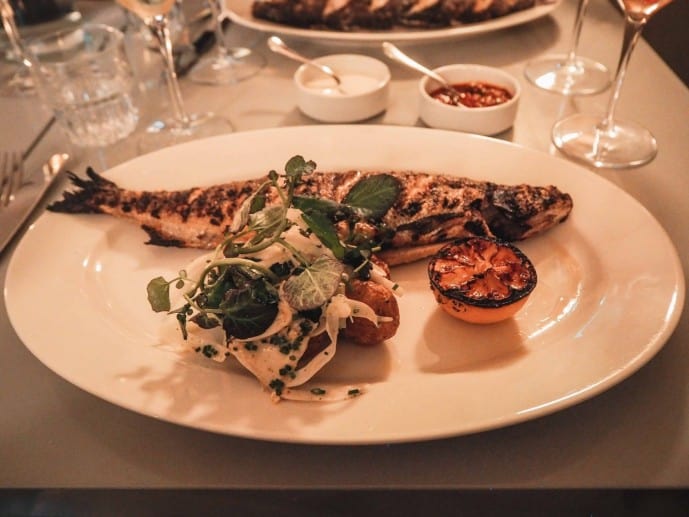 9. Kuurna
Kuurna is a bistro situated near the Uspenski Cathedral, in Kruununhaka, and is a small and intimate dining experience. Tables are lit by candlelight which gives it a friendly and warm atmosphere.
I was treated to a three-course meal here and, as I had heard good reviews, was excited to try it. All of their menu is clean and fresh from local farms and providers.
The most impressive part for me was their range and knowledge of wines for pairing with your meals. I'm hopeless when pairing drinks with food.
Of course, I know the basics like red meat goes with red wine and white wine with white meat or fish and of course dessert wines with sugary dishes. But, other than that I have no expertise.
The guys in here are sommeliers or, wine experts and are at hand to help! I actually got a wine flight here and asked the waiter to surprise me with the ideal company for my meals. I had wine from France, Spain, and Brazil. A very worldly evening.
Their menu changes every two weeks according to the season. So, you know you're getting it fresh!
10. Ekberg Café 1852
Ekberg is Finland's oldest patisserie and bakery and has a big name for itself in Helsinki. A popular spot with locals to buy their daily bread, they also have an amazing restaurant next door to stop for a tasty breakfast or brunch.
The breakfast is a buffet with bread, cereals, pastries, eggs, sausages, bacon, yoghurts, salad, and meat. With juices, tea, and coffee – you can have your fill as it's all you can eat!
I would definitely say that brunch is a better value for money and happens on the weekends from 9 am. There is a much bigger choice of food and drink options for the brunch.
Locals will reserve tables so make sure you do too and guarantee your seat. The brunch is extremely popular so you may find the buffet area crowded!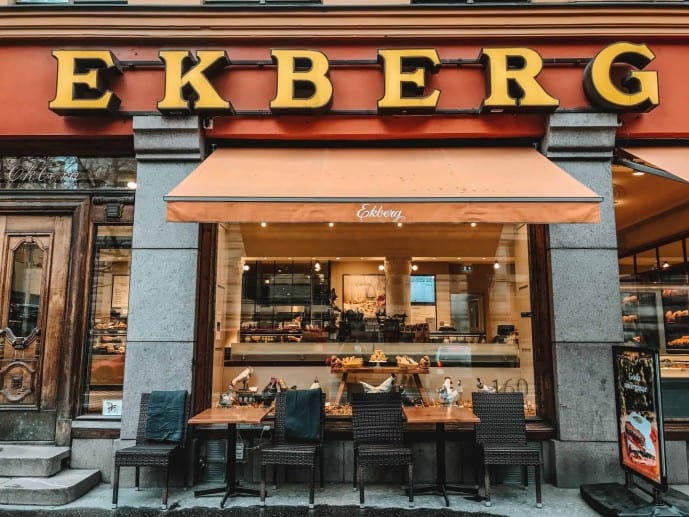 11. Juuri
The Juuri café chain is a great value-for-money lunch spot.
There are a few dotted around the city including one inside the Helsinki Design Museum. They often sell a sort of tapas called sapas which centre around Finnish cuisine.
Also, as part of their chain, they have Pikha restaurants which are casual lunch venues. I popped into Pikha Kasarma.
You were entitled to treat yourself to salad, a hot lunch, water, coffee and a dessert! So, it's great value for money. The hot dish of the day was a vegetarian curry which was perfect for the cold weather outside.
It was set at the bottom of an office block but I didn't really notice at all. The decor and design of the place were beautiful and it was a casual friendly setting.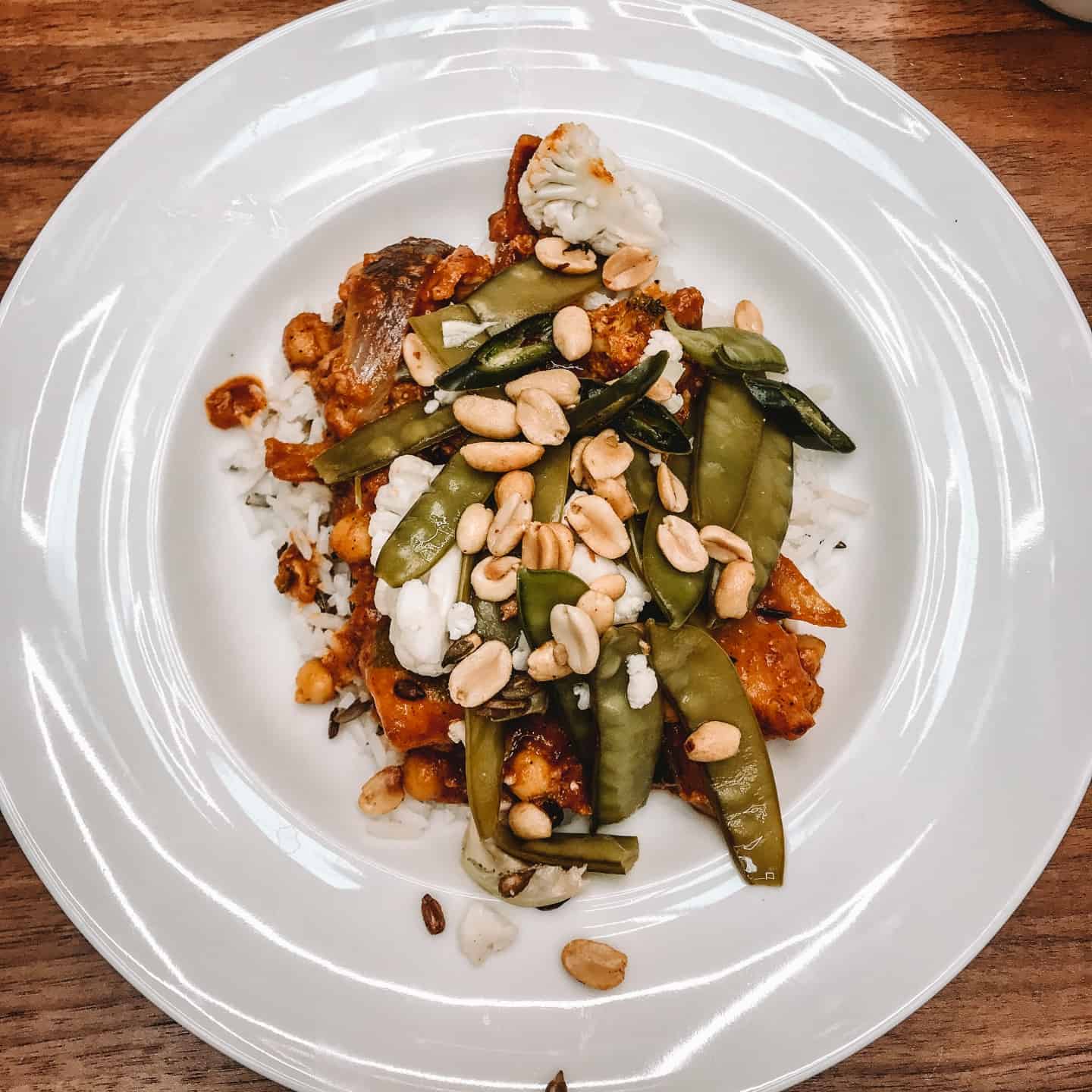 Read more articles on Helsinki
The top places to visit in Helsinki
A photography guide for Helsinki
Why is Finland so obsessed with Moomins?
Cafe Regatta – the most Instagrammable café in Helsinki!
Why you must visit Allas Sea Pool
Finnish Sauna rules for tourists
The Ultimate Suomenlinna Fortress guide
Taking a ferry to Tallinn from Helsinki
Like it? Pin it!
With thanks to My Helsinki for inviting me on this trip and the mouthwatering food. Although I was a guest, all opinions and photos are completely my own.