Are you looking for all the traditional Lithuanian foods in Vilnius you can try? Great! But, I hope you're not hungry, as there will be some serious food porn in this post.
Trying some of the local foods in a new country is one of my favourite things to do. You'll often find me cooing in a window of a pastry shop or eating street food with the locals.
So, when I was invited on a Flavours of Vilnius food tour with Urban Adventures, I jumped at the chance.
We went on an edible journey in Vilnius Old Town, eating and drinking our way through the cobbled streets! Learning about the history of Lithuania as we went.
As well as this food tour, I also sampled some amazing local dishes on my own too. So, without further ado, here is my list of what and where to eat in Vilnius!
Heads up: My 'Flavours of Vilnius' food tour was a gifted experience by Tinggly with Urban Adventures. Although I was a guest, all photos and opinions are my own.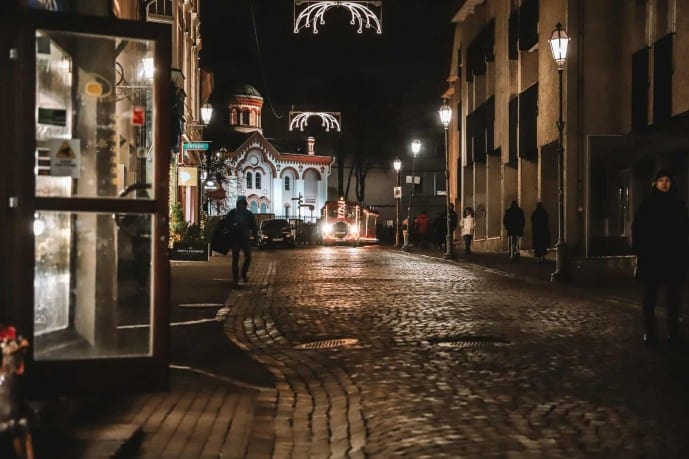 Things to know before trying Lithuanian Cuisine
Lithuania sees harsh winters that reach subzero temperatures. So, most of the traditional cuisine is heavy and is made for comfort, energy and warmth.
You'll find a lot of dishes are potato-based including dumplings, pancakes, puddings and even sausages! So, expect a lot of stodge!
Due to Lithuania's colourful colonial history, you'll also find that countries like Poland and Russia have had an influence on traditional dishes over the centuries too.
So, meals like cold beetroot soup and herring salad will show up on the menu that you may have seen before.
1. Cepelinai (Zeppelin / Lithuanian Potato Dumpling)
If there is one food you have to try while you're in Vilnius it's the potato dumplings, Cepelinai. They have the nickname Zeppelin due to their shape looking like the airship, as opposed to the band lol.
Now, these aren't like the typical dumplings you'd see in Poland or even Asia. These dumplings are HUGE! Almost the size of a Jacket Potato in England and the potato is really heavy and stodgy.
I ordered one as a starter before my main on the first evening and instantly regretted it. It was the size of a whole meal! (A Lithuanian would normally have two as a main).
Commonly served with sour cream and pork scratchings, you can have these boiled the traditional way, deep-fried or baked with meat or cheese fillings in the middle.
It's the national dish of Lithuania and a classic and you really can't leave without sampling one.
Where to eat in Vilnius: Etno Dravas on Pilies Street. They're famous for their dumplings and have a wide range of selections too! You can eat them fried, or baked.
2. Šaltibarščiai (cold pink beetroot soup)
Although highly Instagrammable (c'mon you know you're ordering for a snap), Šaltibarščiai is also extremely delicious and popular in this city.
It's a cold beetroot soup, which is made with beets, dill, onions, cucumber, lashings of buttermilk, sour cream and an egg to garnish! Also, this is usually served up with some hard-boiled potatoes on the side as an extra.
Although you'll find this on the menu all year round, It's extremely popular in summer due to it being refreshing.
But, if you're here in winter and craving comfort food, you can sample a version of this beet soup hot too.
Where to eat in Vilnius: Snekutis! This cheap but cheerful eccentric bar chain sells Borscht on a budget!
3. Bulviniai blynai (potato pancakes)
Another national dish is the extremely popular Bulviniai Blynai. Years ago, labourers in the fields would only eat one meal per day. So, these potato pancakes were perfect as they would fill you up in no time.
You make these bad boys by getting shredded potato and adding eggs, flour, some seasoning and maybe some onions as well.
You usually eat these with sour cream or there may be mushrooms served on the side.
I wouldn't recommend trying both the pancakes and the dumplings in one sitting as you may find it's just too much potato and won't enjoy it!
Where to eat in Vilnius: Lagaminas. Their Traditional Lithuanian restaurant is popular and packs out almost every night!
4. Kibinai (mutton and onion pastries)
In the 14th century, The Grand Duke Vytautas, called upon a community of Karaites to protect him and his court. He ordered to build a town for them to settle in, which is known as Trakai today.
With the Karaite community settling in the area, along came with it some of their traditional culture and cuisine. These foods over time have now become local favourites.
One of those dishes is the traditional Kibinai pastry with is typically stuffed with mince and onions. But, there are different varieties made with cottage cheese too.
The most famous place to try this is Trakai, where you can also see the famous Trakai Castle on an island in Lake Galvé. It's only 30 minutes from Vilnius and makes an epic day trip.
But, if you're not in the city long enough, you can try these in Vilnius too. They're extremely moreish and make a great lunch.
Where to eat in Vilnius: Senoji Kebinine. I tried mine in Trakai where they originate from. But, they do have a branch in Vilnius too.
5. Kepta Duona (Fried bread) / Rye Bread (Juoda Duona)
Rye Bread or Kepta Duona is the oldest of Lithuanian foods and has been enjoyed by Lithuanians for centuries. It often has the nickname "black bread" due to its dark colour.
Lithuania was the last country to convert to Christianity in the 14th century and before this they were Pagan. Rye bread was even used in some rituals. It is almost considered Holy and treated with great respect. So, you may also be greeted at a Lithuanian wedding with Rye bread!
Fried Bread with garlic is also another popular snack to be enjoyed with a craft beer here. Typically, you take the fried bread and rub a clove of garlic onto the bread until you're satisfied. Then dig in!
This was honestly a work of genius and went down swimmingly with my beer. I would highly recommend it.
If you're feeling really adventurous, why not try a Lithuanian Rye bread drink called Gira or Kvass? It's considered to be a non-alcoholic drink but there is a small percentage of alcohol just in case you're allergic.
How to try: order some of the rye or fried bread with your craft beer at any bar as a snack! Sometimes this comes with garlic and you rub it on to make garlic bread.
6. Šakotis (traditional tree cake)
As I visited Lithuania at Christmas Time, I was curious to see the local cakes that looked like a Christmas Tree!
Šakotis or Raguolis is a Polish-Lithuanian cake that is made over a spit. Supposedly, this 15th-century recipe was a secret held by monks for years and served only to royalty. Now it can be found in bakeries everywhere.
To make this you add butter, eggs, flour, sugar and cream and rotate the mixture over an open fire until cooked.
The result is a cake that has spiked branches or peaks and looks like those of a tree. It's a special cake that is served on occasions like birthdays, weddings and especially at Christmas time.
Usually, you'll see this sold plain. But many put chocolate, icing, or flower ornaments to give it some extra flavour.
Personally, I found this cake quite dry. But, maybe it wasn't served fresh off the spit!
Where to eat in Vilnius: If you're here in the winter, then head to the Christmas Markets! Or, buy some at Halle Market in the bakery section.
7. Lietuviskas obuoliu suris (Lithuanian Apple Cheese)
Lietuviskas obuoliu suris translates into Lithuanian Apple Cheese but, don't worry if you're lactose intolerant, as it is a type of cheese made entirely of apples!
When you first have a look at it, it does look like some sort of layered meat. But, it is a fruity treat that's lovely and sweet to taste.
The recipe requires raw apples to be mixed with sugar, taking all the juice out of the apples. The liquid is reduced and it's then mixed with apple chunks and cinnamon. The mixture is poured onto a cheesecloth and flattened.
It is then hung for up to 45 days and the result is a yummy chewy sweet you can enjoy with honey or tea!
We tried this on our Flavours of Vilnius tour and found some in a local supermarket! It makes a great snack or souvenir to take home.
Where to eat in Vilnius: Usually this Apple cheese is served with honey as a dessert in most traditional restaurants in the city. Or, look for a packet at the supermarket for a snack!
8. Kiaulės Ausis (Pigs ears)
In the UK, pigs' ears are usually sold for dogs to chew on. So, I certainly didn't expect to see this on the menu as a delicacy in Lithuania!
But, Kiaulės Ausis or Pigs Ears are extremely popular with locals.
They are usually served smoked, boiled and served with vegetables as a main meal. Or, they are cut into strips as a snack and served with craft beer.
We tried some on our food tour with some mustard on the side and I have to admit, it really didn't taste that bad! The texture was a little chewy so I didn't have too many of them.
But, putting what it is aside, you may be surprised at how good it tastes!
How to try: Pigs' ears are often served with mustard as a snack while drinking beer.
9. Grybų Sriuba (Mushroom Soup)
Mushrooms are a staple ingredient in Lithuanian dishes and you'll often see them sold by the kilo or hanging out to dry in markets in winter.
Wild mushroom picking is a big tradition in the country every autumn and there are thought to be over 400 varieties found in Lithuanian forests. People head out with their baskets to collect a hoard to keep in their pantry.
To preserve them, people usually dry them out and then reuse them throughout the winter.
In mushroom season, you'll typically see dishes that have mushrooms as the main ingredient and a favourite is Grybų Sriuba. This is an oily or creamy mushroom soup that is sometimes served in a bowl made of loaf rye bread!
This is the definition of comfort food and the bread soaks up the soup into mouthwatering pieces to eat.
You may have also heard of the famous Grybukai or Mushroom Cookies. But, the name is misleading as they are just cookies that look like toadstool mushrooms. They are a sweet treat though so I would certainly try!
When to try: The mushroom season in Lithuania begins around September. During this time everyone is picking mushrooms and making mushroom cuisine.
10. Layered/ Dressed Herring Salad (Shuba)
This traditional salad dish originates from Russia and is often nicknamed a Herring under a fur coat!
As Christmas was banned during the Soviet Era, including Lithuania, people usually served this dish up on New Year for the special occasion.
It typically comes with chopped herring at the bottom and layers of chopped potato with mayonnaise, and carrots and topped with a layer of bright pink beetroot. Then, some whole or grated eggs are placed on top to garnish.
If you're worried about the fish tasting too strong, don't worry. I actually couldn't tell there was fish in my salad! All the flavours complimented each other so well and it was so indulgent.
As well as Russia and Lithuania, you can find this dish on the menu in Ukraine, Belarus, Latvia and Kazakhstan.
Where to eat in Vilnius: Lagaminas again. Their layered herring salad on my food tour was divine!
11. Džiugas Cheese
This legendary hard cheese originates from Lithuania and has a unique flavour to it.
It originates from Telšiai, which is a town in the Žemaitija / Samogitia region and the story begins with a man nicknamed Giant Džiugas.
He was a fearless knight, who was famed for defeating Teutonic knights with one swoop of his sword. He was so large and powerful, that many believe he created Telšiai with his bare hands.
The cheese was created to celebrate his marriage to the love of his life. Many say that if you eat Džiugas cheese, you will inherit the giant's qualities too!
We finished our evening in the Džiugas store in Vilnius. I didn't sample the hard cheese as I'm lactose intolerant but the others on my tour said it was super tasty. Best sampled with a shot of '999'.
Where to eat in Vilnius: at the Džiugas store on Ausros Vartu Street. They sell it in large pieces, or even as a cheesecake too! Maturity is 12, 24, 36 and 48 months!
12. Kūčiukai (poppy seed pastries)
Another dish you will find in Vilnius around Christmas time is Kūčiukai.
Originally, these little pastries were made into bread loaves and given as an offering to the spirits or Vélés.
Nowadays It's a small pastry, that is made with leavened dough and poppy seeds. Usually, these are sweet and so they taste yummy on their own but may have these in a bowl served with poppy milk too.
You'll often find these in the bakeries and locals buy these by the kilo! But, you can just buy a small bag to sample some. It's incredibly cheap and a yummy snack.
When to try: traditionally Kūčiukai are served at Christmas time and locals buy these by the kilo to give to family or serve at the table. You can buy them from most bakeries and I also saw them at Halle Market too.
Book a Lithuanian food tour of Vilnius!
My traditional Lithuanian Food tour was organised by Urban Adventures and is called the 'Flavours of Vilnius'.
It was an entertaining 3-hour tour through the Old Town, where you hopped from bars to traditional restaurants and we also got to learn some of the history of Lithuania too.
Our guide Jelena was born in Vilnius and she was very knowledgeable. She handcrafted the tour ensuring we got a diverse range of cuisines and drinks which reflected Lithuania.
With every dish we were told the ingredients, the traditions behind it and how to eat it like a local!
So, if you're struggling with where to eat in Vilnius, I'd highly recommend trying a sample of a few things while you're here.
Click here to book a Flavours of Vilnius Food Tour
What to Drink in Vilnius
So, we've been through what to eat in Vilnius, but now we'll explore where and what to drink in Vilnius too.
If you're looking for the perfect pairing for any of the dishes above, Lithuania has some amazing alcoholic (and non-alcoholic) beverages to try!
From traditional Mead (my weakness), an amazing craft beer scene and some flavourful spirits; you'll have no end of choice. But, pace yourself as some of these poisons are strong!
Here are some of my personal favourites that I would recommend you sample while you're here;
1. Lithuanian Mead (Lietuviškas Midus)
Oh, Baltic mead, how I have missed thee!
In England, our mead is served up like wine. So, I can't drink it in huge quantities without falling flat on my face.
But, with traditional Lithuanian mead, you can drink it cold and by the pint; it's absolutely delicious!
Lietuviškas Midus is the main brand of Mead served up around here and I was on the hunt for the best spot to try some. Šnekutis came highly recommended, so that's where I went! I wasn't disappointed. The mead from here was incredible.
But, if you want to get involved in a proper tasting session, I would recommend visiting Lietuviškas Midus's Brewery. They have slots available daily. See here for details.
Where to try: Šnekutis Bar, they have 3 of them in the city!
2. Craft Beers
Lithuania is definitely a beer country and you can find typical drafts served on tap like Švyturys from the oldest brewery in Lithuania.
But, in recent years the craft beer scene in the country and especially Vilnius has gone off the charts.
Every bar you walk into will have specially crafted beers to buy. I tried cherry beer, IPAs and sour beer too.
Some of my favourite bar recommendations are Šnekutis, Špunka and Bambalynė to name a few. The bartenders will always be able to pick out the perfect pint for you!
3. '999' Triple 9 Vodka
This herbal liqueur tastes similar to Jägermeister, so if even smelling it brings back memories of being smashed in the past I'd avoid it haha.
Stumbras 999 is one of the oldest producers of strong alcohol in the country heading all the way back to 1906.
Herba Devynia 999 is a great pairing to go with the Lithuanian hard cheese, Džiugas. So, make sure you ask for a tipple while sampling.
4. Some weird and wonderful flavours of Lithuanian spirits!
On our flavours of Vilnius food tour, we did sample some very unique alcoholic spirits on our way around.
We firstly stopped into Decantus Vyninė which used to be a tea shop, noted from the crockery that is placed on the walls on the outside!
Here we sampled some spirits by "Pakruojo Dvaro" and were asked to guess the flavours. I'm rubbish at this, but the food connoisseurs in the group quickly identified them as beetroot and smoked meats!
It was a very odd sensation drinking a meaty liquor but, I'm not going to say it was bad. It was quite addictive to sip on it!
5. Rhubarb Wine
Another thing you have to try while in Vilnius Rhubarb wine! We sampled a glass by Roksala which was again made in Lithuania with a very unique flavour. It has a sweet but sour taste and, for me, it went down a treat.
Rhubarb is extremely popular in the country and they even have their own Rhubarb cake! So, this is a great choice if you want a locally fermented drink.
You won't find this in many of the traditional Lithuanian restaurants but the Vilnius bars almost always have it on the menu.
Want something other than Lithuanian Food?
I get it, sometimes traditional foods can get a bit much and you just need a change of palette. Well, there is one place you need to try while you're here in Vilnius.
Drama Burger is an epic chain of restaurants in the city and you can find the best one on Gediminas Avenue.
Inside they serve up gourmet burgers, signature fries and even beers on tap! I had their Phillie cheese steak burger and it was layers of bread, juicy beef and yummy cheese (I know I'm lactose intolerant but I choose my battles, okay?!). Omg, I'm still dreaming over that place.
It's still a Lithuanian brand, so I think it counts and honestly you won't regret a thing.
Click here to see Drama Burger's website and menu.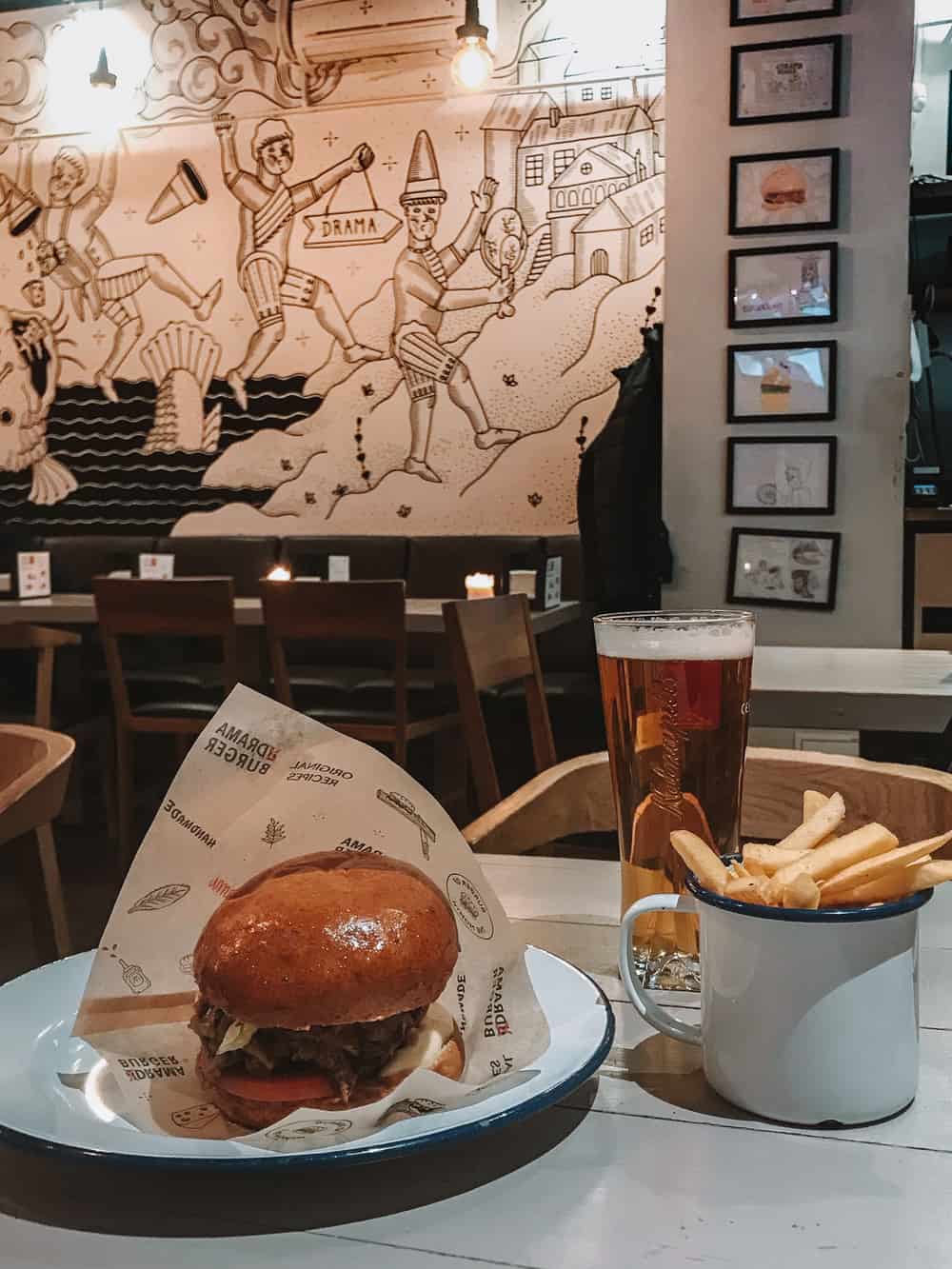 Looking for more travel inspiration in Lithuania?
So, hopefully, you're not feeling too hungry after that post (sorry, not sorry). But, I definitely fell hard for Lithuania and loved spending a week in Vilnius.
I explored this city in detail and took some day trips out to Trakai, Kaunas and The Hill of Crosses too.
So, as well as where to eat in Vilnius, make sure you read some of my helpful travel guides for your trip;
The ULTIMATE Vilnius travel guide
The best viewpoints in Vilnius
The ultimate guide for Three Crosses Hill
The Instagrammable Love Story Cafe of Vilnius
Why you should visit Vilnius in December
The Hill of Crosses: How to visit from Vilnius
My complete Trakai travel guide
Like it? Pin it!